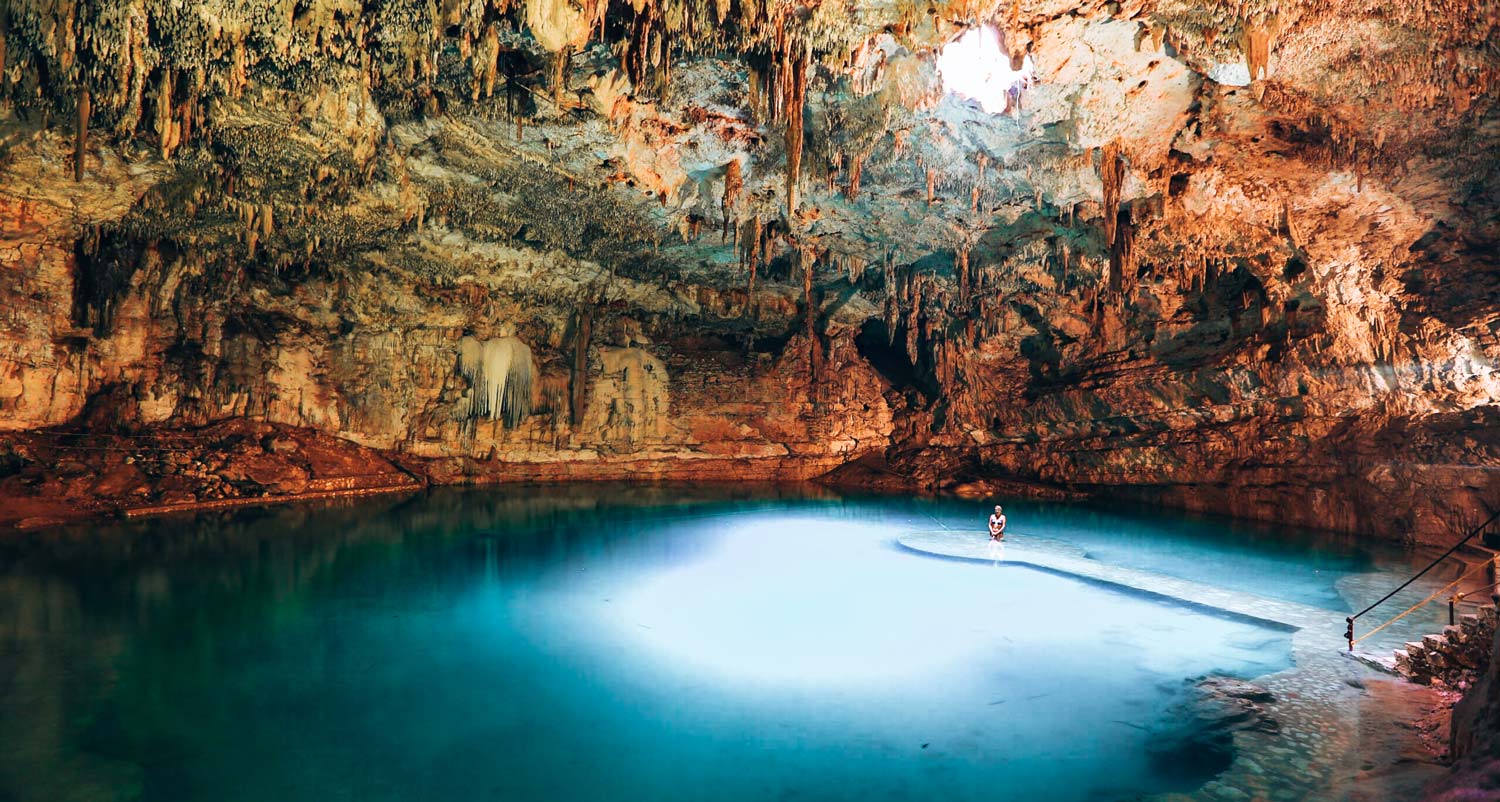 Discovering the Secrets of Cenote Suytun in our Ultimate Guide
Since our first visit to Tulum, we were absolutely in love with the city's bohemian atmosphere and rich natural beauty. However, it wasn't until we discovered the wonder of cenotes, a natural phenomenon well-known among locals, that our experience of Tulum's paradise truly became complete.
But what exactly is a cenote? In technical terms, it's a sinkhole formed by the collapse of limestone bedrock that exposes groundwater. In simpler terms, it's like a natural pool where one can swim  in an underground landscape that feels like something out of a fairytale.
Our visit to a cenote was nothing short of amazing and we highly recommend that anyone visiting Tulum should include visiting a cenote in their itinerary, to explore these natural wonders for themselves. With that in mind, we'd like to share our guide to discovering the magic of Tulum's cenotes with all of you! In this article, we're going through a really popular cenote, located in Valladolid, Mexico. (Valladolid is an incredible city located about 1 hour and a half driving from Tulum!)
TRAVEL TIP: Get FREE concierge service to explore Tulum and its surrounding areas! After enjoying a swim in stunning cenotes, why not discover all Tulum has to offer? Connect with our friend Virginia on WhatsApp to discover the best hidden spots in town. With her guidance, you can savor the best of Tulum's cuisine scene, enjoy the best parties and nightlife, have the best day trips and activities without having to worry about anything. Best of all, Virginia's services are FREE! So, don't hesitate – get in touch with her today and treat yourself to a memorable vacation in Tulum!
HOW SUYTUN CENOTE LOOKS LIKE?
PERFECT FOR: Taking amazing pictures in an otherworldly landscape, swimming, taking a photo of some Mayan warriors, or even renting the whole cenote for a photoshoot! 
This amazing cenote of Valladolid has proved not just to be a great and almost incredible spot for nature lovers, but also for amateurs and professional photographers looking for taking that perfect unbelievable photo. But why is it so special? 
Well, basically because of the mystery of its shape and low light. Cenote Suytun is a partially open cenote, which means that it has a small opening at the top but is otherwise enclosed. The opening allows natural light to filter through and create a beautiful spotlight effect on the water below. The cenote is located in a cave-like structure, with limestone formations surrounding the pool, adding to its stunning beauty.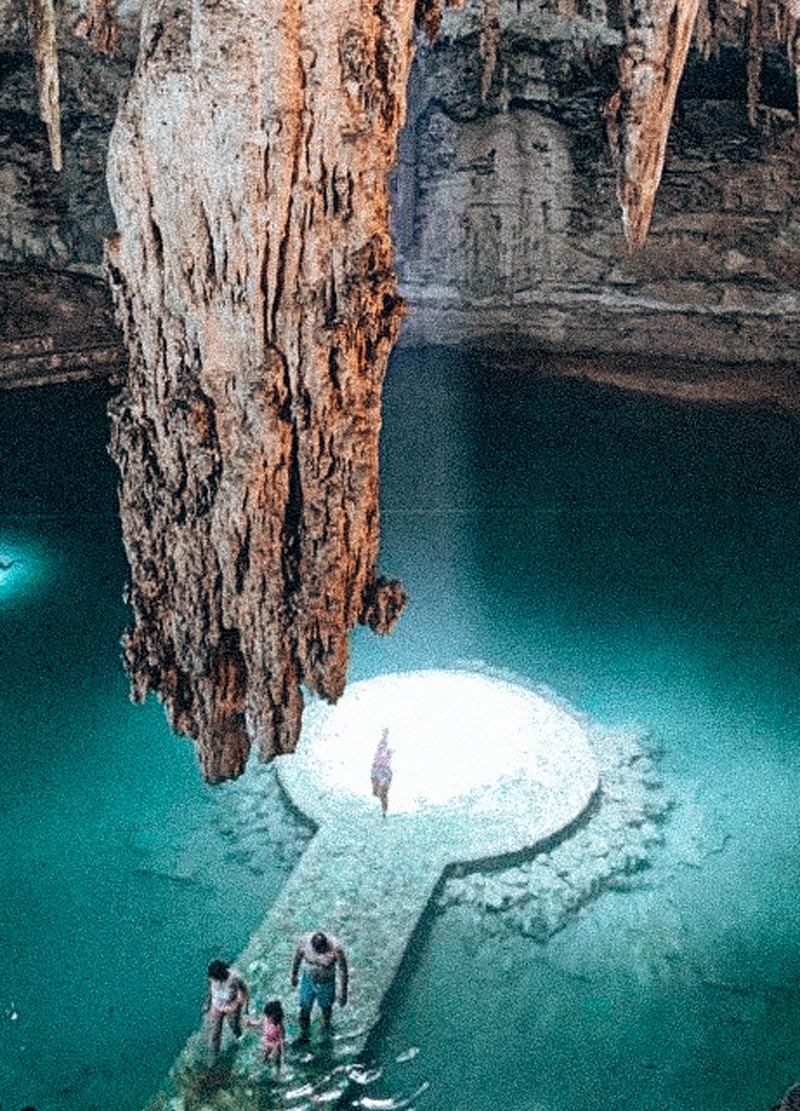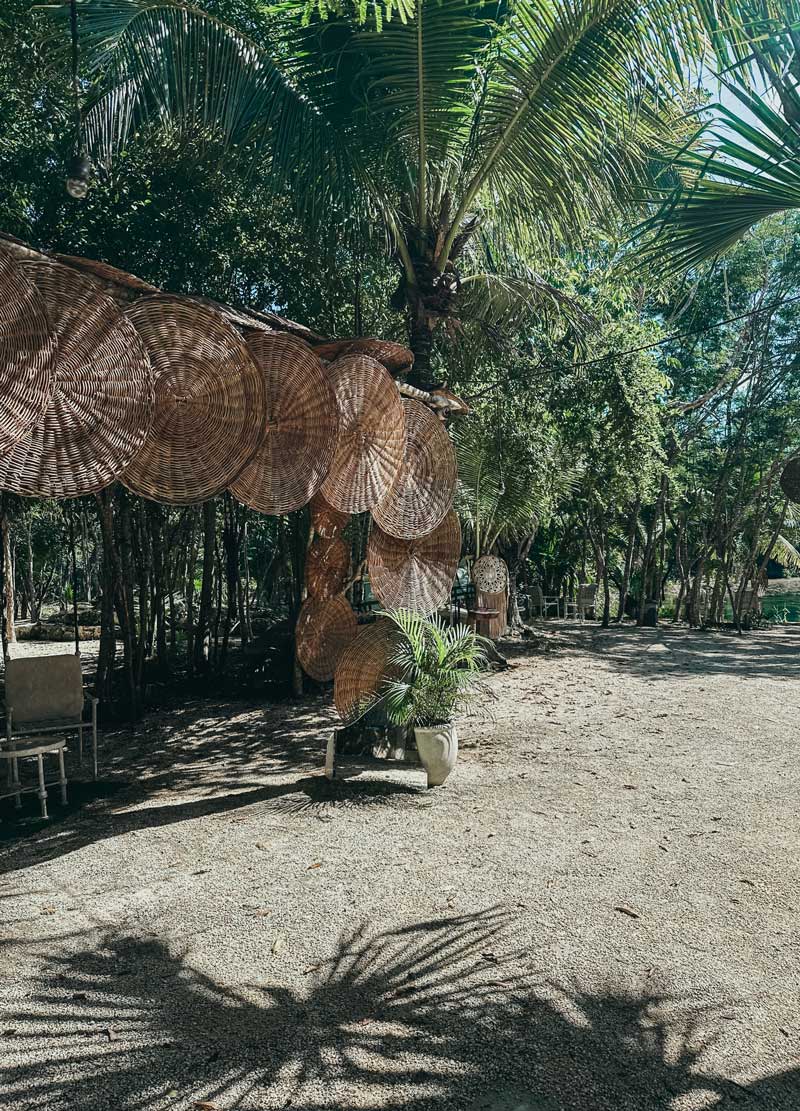 WHEN AND HOW TO VISIT SUYTUN CENOTE- THE MAGICAL POOL IN VALLADOLID
Cenote Suytun Location: Carretera Ticuch Km 8 S/n, 97780 Valladolid, Yuc., Mexico
CLOSEST CITIES (approximate driving time):
Valladolid: 10-15 minutes
Tulum: 1 hour and 20 minutes
Playa del Carmen: 1 hour and 40 minutes
Cancun: 2 hours
ENTRANCE PRICE: 
For children: 130 MXN pesos
For adults: 150 MXN pesos
OPEN HOURS: 9:00am to 5:00pm 
As Cenote Suytun is a very popular destination, people tend to opt for large tours. And as you can imagine, this can often result in overcrowding. Therefore, we highly recommend you to arrive early to enjoy the beauty of the place without the hassle of too many people.
HOW TO GET TO CENOTE SUYTUN
This will all depend on where you stay exactly, but you have a few options!
If you are in Valladolid, the closest city to the Cenote Suytun, you can either rent a car, a scooter, take a taxi or a bus (Some people even rent a bike!). 
If you take a taxi, it would cost you around 100 MXN pesos, and if you are with your friends in a group, you could split the cost. 
Another popular alternative from Valladolid is renting a scooter, which can cost around 500 MXN for 24 hours, and this allows you to move from one place to another the whole day, at your own times!
From Tulum, Playa del Carmen or Cancun
On the other hand, if you are staying in Tulum, Playa del Carmen or Cancun will be a bit longer, so renting a bike wouldn't be the best option! However, you can take the ADO bus, book a guided tour or rent your own car. 
In our opinion, renting a car is the best option! It will allow you to enjoy your privacy, playing the music you want and talking as loud as you can, and of course (and most important) managing your times and destinations. Thankfully, we know a very nice and trustable car rental in Tulum – and also the cheapest one – Check out their availability and travel from A to B without any problem!
However, if you are not in the driving mood during your holidays, you can book a tour that will take you and your group door-to-door, and you won't have to worry about GPS at all!
TOURS TO VISIT SUYTUN CENOTE FROM TULUM - Are they worth it?
Embarking on a tour from Tulum to Cenote Suytun is undeniably worth it, as it promises an unforgettable experience in a captivating natural wonder. However, when it comes to ensuring a tailored and personalized journey that perfectly fits your needs and budget, we can't recommend anyone more than our dear friend Virginia. With her expertise and deep knowledge of the region, Virginia specializes in curating custom-made tours that exceed expectations. Whether you're seeking a budget-friendly adventure or a luxurious exploration, Virginia will carefully craft an itinerary that caters to your desires. So, leave the planning in her capable hands and get ready to embark on a journey that will leave you with cherished memories of Cenote Suytun and beyond. The best of all? It is FREE! Contact her today clicking the button below.
Get The Perfect Tour To Cenote Suytun
HOW LONG TO STAY IN CENOTE SUYTUN
An average time to visit a cenote would be between one and two hours. This time would allow you to swim, take a nice photo, eat something nice and drink a good wine. However, it depends if you go on a tour or not, they will probably set a time for each activity! On the other hand, if you go on your own and plan on grabbing a bite to eat or checking out the gift shop, you might consider staying a bit longer to fully enjoy the experience and take another memorable photo, when most people may be gone.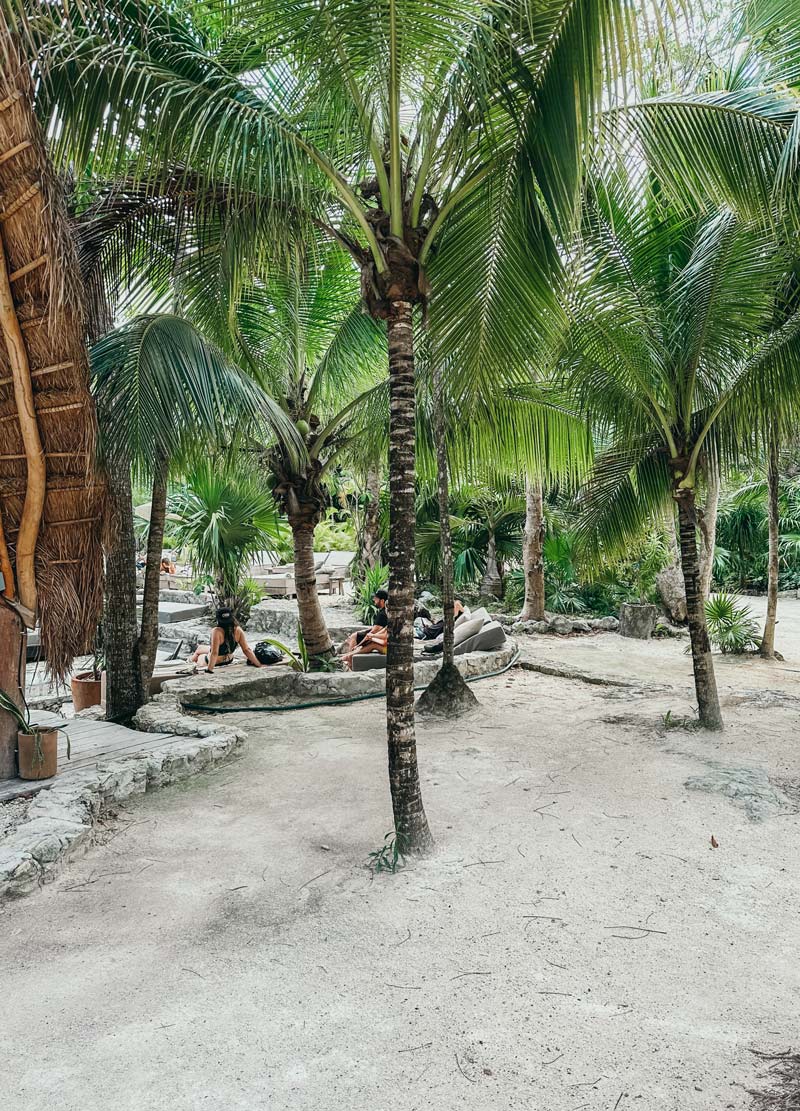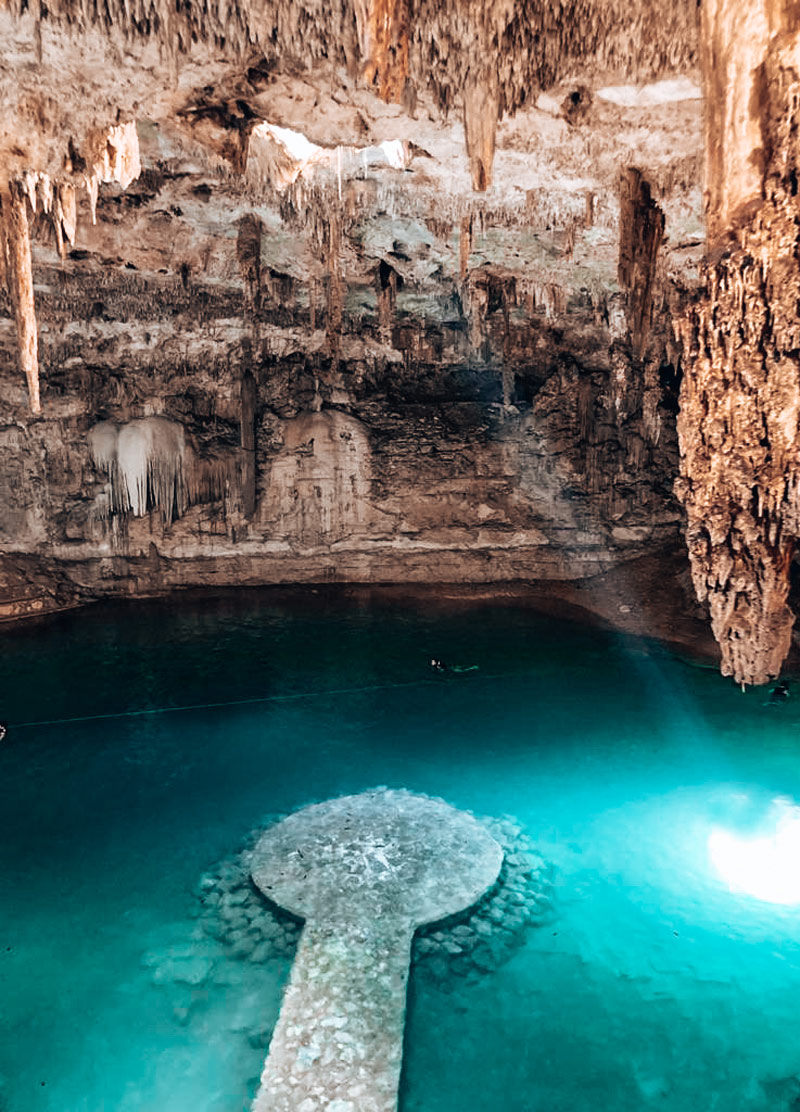 ACTIVITIES IN CENOTE SUYTUN: BEST THINGS TO DO DURING YOUR VISIT
Most of the visitors that reach Cenote Suytun, are looking for amazing photography sessions that you will definitely keep for a lifetime, So, even if you are not into the photography world, try to take your artistic side out, take amazing photos and capture some wonderland landscapes here! However, the main activity that cenotes in general offer is the possibility of swimming through turquoise waters, and in Cenote Suytun you can swim with an amazing view. You will feel like you are swimming underground! 
If you're feeling a bit adventurous, you can try your hand at snorkeling and marvel at the underwater beauty of the cenote. And if you just want to relax and take it easy, there are plenty of lounge chairs and hammocks where you can kick back and soak up some sun. Trust me, you won't run out of things to do at Cenote Suytun!
Take Advantage Of Free Concierge Service
As excellent to explore Tulum and its surroundings alone, you may need help figuring out where to start. To make the most of your money and time, contact Virginia and Kelly - two incredible Mexican girls living in Tulum for more than 15 years. They're familiar with the ins & outs of the Tulum town and hotel zone like the back of their hand! 
Since we arrived in Tulum 2 years ago, many adventures wouldn't have been possible without their help - they know literally everybody in Tulum and can perfectly organize every moment of your stay. Get the best tables, skip queues and get on the guest list of the coolest places in Tulum - this's only the beginning! 
They are ready to offer you guys FREE concierge service in Tulum for the time of your stay: take advantage of it, contact them on Whatsapp and live the best experience!
Get FREE Concierge Service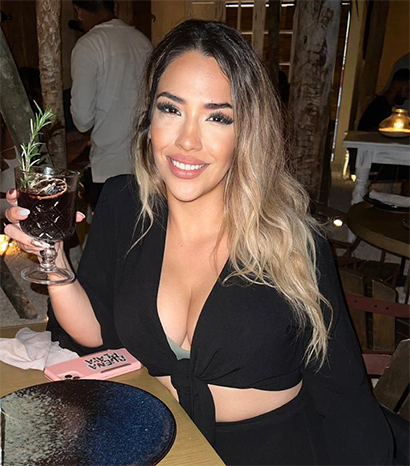 "Virginia Will Transform You In A Tulum Insider"
VISIT The SURROUNDINGs OF CENOTE SUYTUN: THE MAGIC CONTINUES
After exploring the beauty of Cenote Suytun, there are still amazing activities you can do in the Riviera Maya. Beaches to see, parties to attend, foods to try, people to meet. And one of our favorite spots is Tulum! Chill atmosphere, boho vibes, vibrant nightlife, just perfect. However, here's a list of other cities close to Cenote Suytun, and what makes them so great to visit!
Valladolid is a charming colonial city located in the heart of the Yucatan Peninsula. Known for its colorful streets, historic buildings, and delicious food, it's a must-visit destination for anyone traveling through Mexico. It 's also home to Cenote Suytun, one of the most beautiful cenotes close to Valladolid, and one of the most instagrammable cenotes!
Tulum, definitely one of our favorite cities, is a bohemian beach town on the Caribbean coast of Mexico. It's famous for its turquoise waters, white sand beaches, and ancient Mayan ruins. From Tulum, you can rent a car or book a tour to reach Cenote Suytun, and a lot of other magical spots, like the Mayan ruins! However, if it's night and you don't want to miss a sec during your travel in Mexico, you can enjoy Tulum's vibrant nightlife, which is amazing! Beautiful beaches, great bars and restaurants, and a FREE concierge service for you to plan your best time in the city.
Playa del Carmen is a vibrant city located on the Riviera Maya. It's a popular destination for travelers looking to soak up the sun, enjoy the nightlife, and explore the local culture. A visit to Cenote Suytun is a great way to experience the natural beauty of the Yucatan and escape the hustle and bustle of the city.
Cancun is a world-renowned tourist destination famous for its stunning beaches, turquoise waters, and vibrant nightlife. It's the perfect place to base yourself for a Yucatan adventure, and a visit to Cenote Suytun is a great way to experience the natural beauty of the area.
If you are into history, mythology and Mayan culture, this is your place to be. Chichen Itza is one of the most important archaeological sites in Mexico and a UNESCO World Heritage Site. Located near the city of Valladolid, it's a must-visit destination for anyone interested in Mayan history and culture. After exploring the ancient ruins, a refreshing swim in the waters of Cenote Suytun is the perfect way to end the day.
OUR EXPERT TIPS FOR MAKE YOUR VISIT TO SUYTUN CENOTE UNFORGETTABLE
Transportation: Best Ways to Reach Cenote Suytun
The easiest way to get to Suytun Cenote is by car. You can rent a car or take a taxi from nearby cities like Valladolid or Tulum. If you prefer public transportation, you can take a bus from Valladolid to Cuzama and ask the driver to drop you off at the entrance to the cenote.
Safety -
Always follow the safety guidelines provided by the staff at Suytun Cenote. Listen to their instructions and don't dive or jump from the platform into the water. If you are traveling with children, take in count the depth of the Cenote, and keep an eye on them when they are swimming.
Booking a Tour -
If you want to have a hassle-free experience, consider booking a tour that includes transportation, entrance tickets, and a guide. There are many tours available that will take you to Suytun Cenote as well as other nearby attractions like Chichen Itza.
How to Pay - Cash Only?
Suytun Cenote only accepts cash payments, so make sure to bring enough pesos. There is no ATM on site, so it's best to bring cash with you.
What to Bring -
Wear comfortable clothing and shoes that you don't mind getting wet. Bring a swimsuit, towel, sunscreen, and insect repellent. You may also want to bring a waterproof camera to take photos in the crystal-clear water. And don't forget to bring some snacks and water, as there are no food or drink vendors at the cenote.
FAQ about Cenote Suytun
Is it safe to swim in Cenote Suytun?
Yes, it is safe to swim in Cenote Suytun. However, visitors should be cautious and follow the rules and guidelines set by the staff.
Is there food available at Cenote Suytun?
Yes, there is a restaurant on site that offers traditional Mexican food and drinks. Visitors can also bring their own food and enjoy a picnic by the cenote.
What is the best time to visit Cenote Suytun?
The best time to visit Cenote Suytun would be during the dry season, which runs from November to April in the Yucatan Peninsula of Mexico.
What is the best city to stay in when visiting Cenote Suytun?
The best cities to stay when visiting Cenote Suytun and other nearby attractions, such as Chichen Itza, are Valladolid, which is located just 15 minutes away from the cenote and has a rich history and cultural attractions, and Tulum, which is located about an hour away and is known for its beautiful beaches and laid-back vibe. Both cities also offer a variety of accommodation options to suit different budgets and easy access to other nearby attractions in the Yucatan Peninsula.
Great, let's feature the "MYSTICAL SUNSET /OLIVER HUNTEMANN" event at Mia Restaurant & Beach Club in Tulum on Wednesday, 29 November 2023. Here's the HTML snippet for your event: ```html
👉 WEDNESDAY, Nov 29
MYSTICAL SUNSET /OLIVER HUNTEMANN 🌅
📍
Mia Restaurant & Beach Club, Tulum
💵
Tier 1 Tickets: Mex$ 660 (incl. fees), Final Tier: Mex$ 880 (incl. fees)
📩
Contact Virginia
here
to book a table
Join us for an unforgettable evening at Mystical Sunset with Oliver Huntemann. Contact Virginia here to book your table and be part of this magical night on the beach! 🎶🔥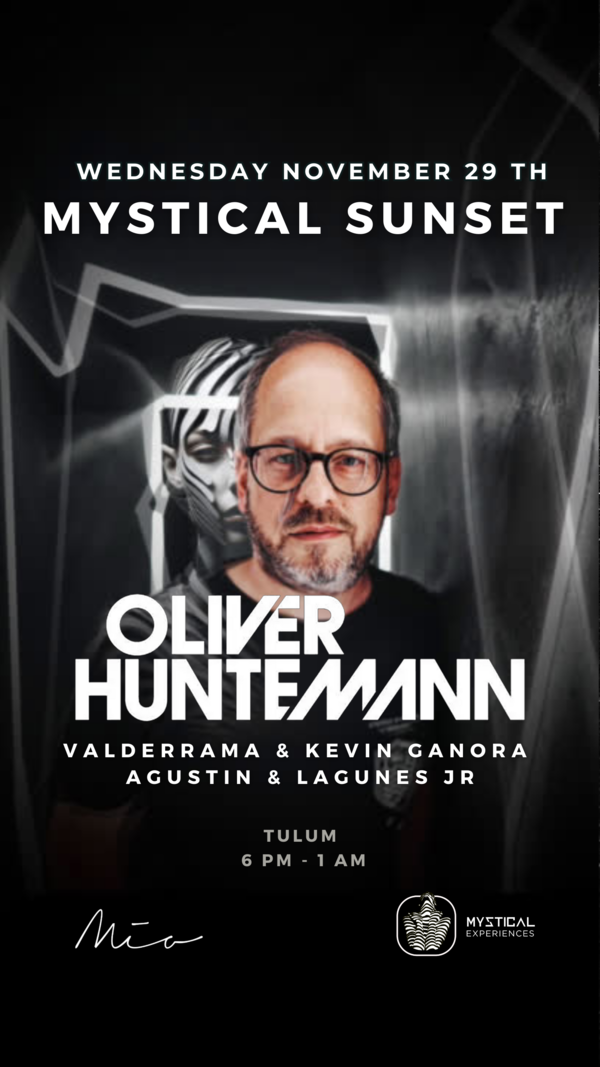 Top Parties and Club Events
23rd November - VAGALUME SESSIONS KEENE @VAGALUME
26th November - VAGALUME SUNDAZE MITA GAMI @VAGALUME
30th November - VAGALUME SESSIONS VALDOVINOS @VAGALUME
3rd December - VAGALUME SUNDAZE VALENTIN HUEDO @VAGALUME
7th December - VAGALUME SESSIONS MUSTAFA ISMAEEL @VAGALUME
30th December - PIKNIK POLO CORP & LEO LEONSKI @VAGALUME
31st December - NEW YEAR´S EVE @BAGATELLE TULUM
31st December - NYE PARTY 2024 @VAGALUME
13th March - LOCUS Tulum 2024