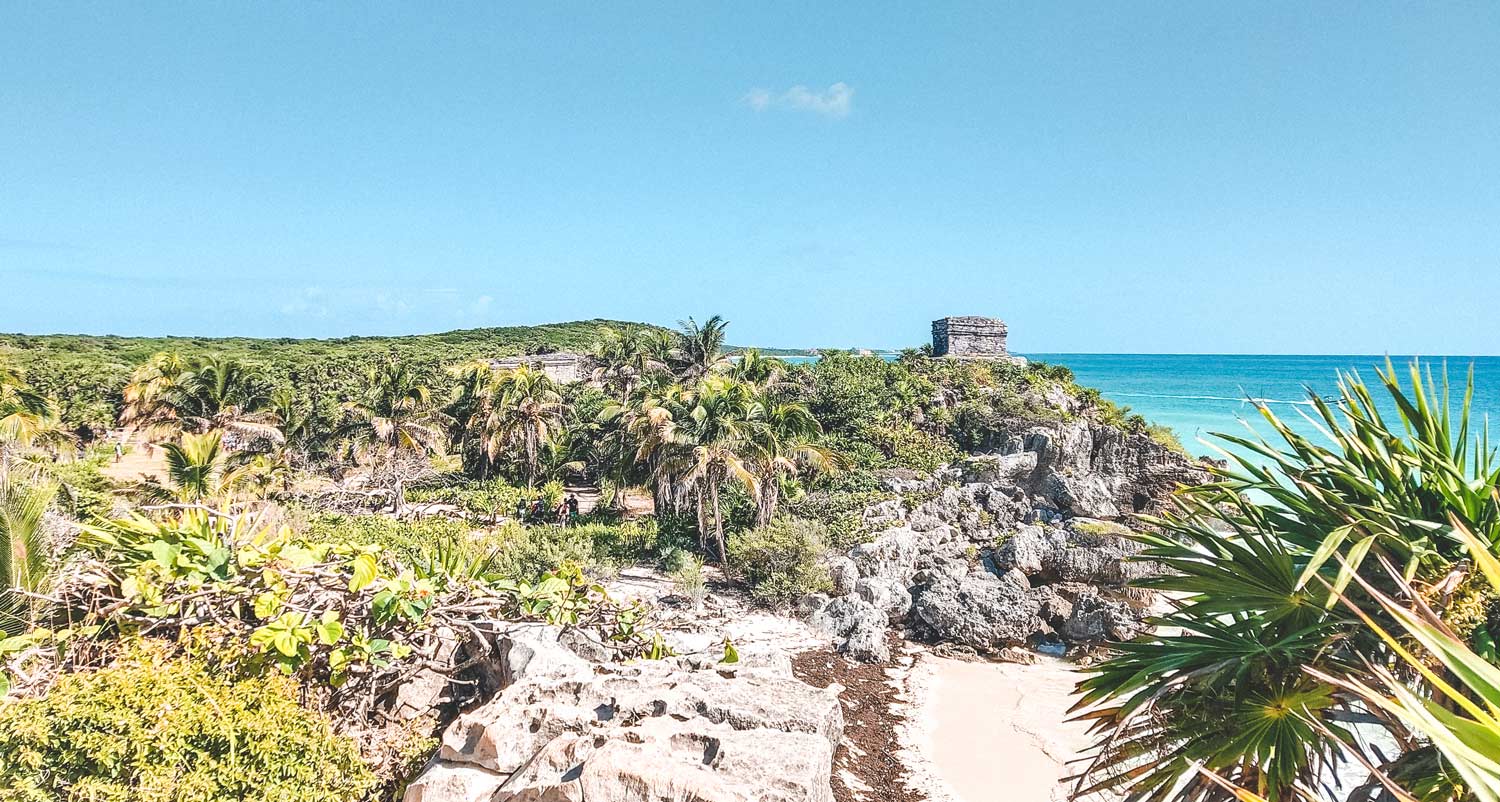 The Best Tulum Ruins Tour You Can't Miss
We know that you are already excited about visiting – maybe for the first time – the famous Mayan ruins. You are heading to Yucatan for a revitalizing trip, you can't wait to know more about Mayan history and you want to visit one of the most beautiful archaeological site of the region – Tulum Mayan ruins site overlooking the Caribbean sea. How to blame you? 
We were really excited as well when we first headed to Tulum because before that moment, we only saw Mayan ruins in history books. So if you are planning a trip in this area of Yucatan, make sure to save some time to visit Mayan ruins, like the famous Chichen Itza, Coba or the Tulum one. Regarding these last ones, we met a guy at a party that was in Tulum as a nature conservation ranger and of course benefited from advantageous rates to access all of the Natural and Archaeological Parks. After a few shots of Mezcal, he was kind enough to give us a friends and family code offering a discount from 40 USD to 33 USD per person; here below, you can still benefit from this discount. 
Now, after living in Tulum for more than one year, we made this guide to share with you the experience we had thanks to this ranger. Curious? Check out our article to know how to organize a perfect day stepping back in the past! 
*Be part of the craziest secret parties in Tulum without being on the list*
3 Interesting Facts About Mayans Civilization in Mexico
We read many guides about Mayans when we started exploring Cancun, Playa del Carmen, Tulum and Yucatan. Beyond the historical information regarding their constructions – nowadays ruins – we want to share with you three historical facts about Mayan that left us without words!
The Maya Civilization Didn't Vanish
A sure thing is that many of the great Maya cities were mysteriously deserted, but the people didn't disappear. In fact, the descendants of the Maya are still around today, many of them living in their ancestral homelands in Yucatan, Riviera Maya and even in Tulum, where they are an active part of Mexico's population.
The Mayans had a hieroglyphic writing system
It may seem incredible, but yes – the Mayans had a writing system where they used hieroglyphics! Hieroglyphics are signs that make up sounds and words, and there were up to 800 glyphs in their writing system. Nowadays, Mayan writing is preserved on buildings, stone monuments, rare books, and pottery you can see in Mayan museums in Yucatan and Riviera Maya, or directly during your visit at the ruins. 
They Loved Eating Chocolate
Archaeological evidence suggests the Maya were processing cacao at least 2600 years ago – Can you imagine that? Though the drink they produced wasn't anything like the hot chocolate we drink today. The Maya would mix cacao with water, honey, chili peppers, cornmeal, and other ingredients to make a foamy, spicy drink. Maya art and hieroglyphs suggest drinking cacao was an important part of celebrations and rituals – and how to blame them? Make sure to try Mexico's chocolate during your travel to taste something really unique!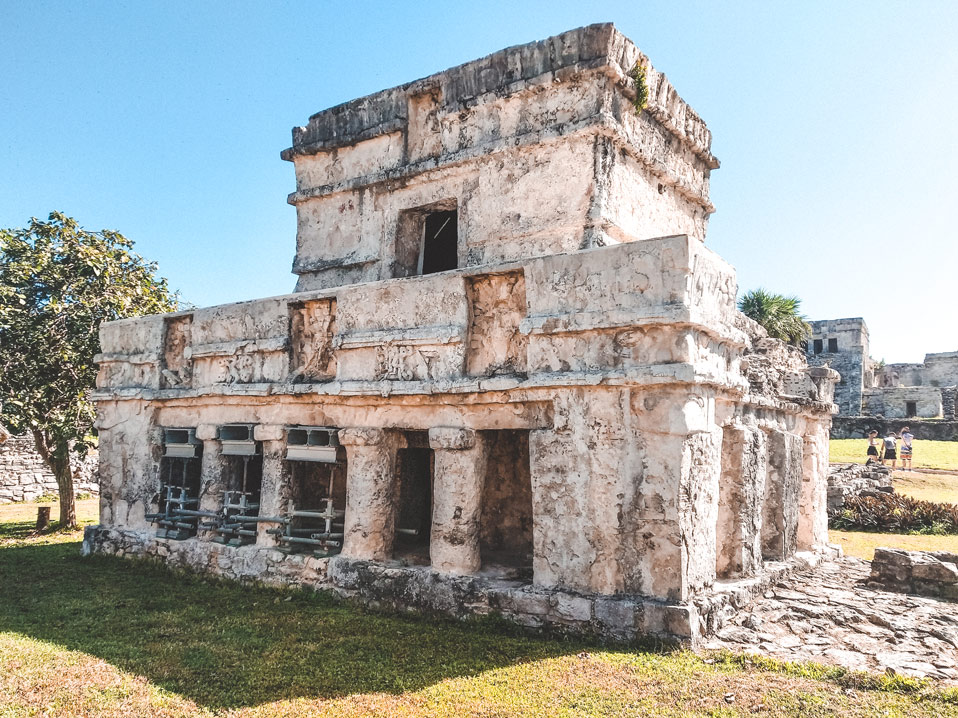 "The Temple Of The Frescoes"
Our experience touring Tulum Mayan ruins with a guide
After these cool insights about Mayan history, we are ready to share with you our personal experience visiting Mayan ruins you can get with the guided tour you can book with the friends and family code. Are you curious yet?
We visited the archaeological site in Tulum both with a private guide and by ourselves – here below you will find our review, you will discover which is the best transportation to the ruins and inside the site, how many hours the visit will take you, how far you will be from the beach and the city, where to buy the tickets and which are the best things to pair with this activity.
In a nutshell – you will know everything you will need to spend the best day ever during your trip in Tulum!
Where to buy the tickets for the archaeological site
When you decide to visit Tulum Mayan ruins by yourself, you can buy the tickets directly on site. Be sure to bring with you some cash because it's not always said that the credit card is accepted. Otherwise, you'll be able to buy your tickets taking advantage of the friends and family code you can use to book the tour at Tulum Ruins site. In this way, you will not have to wait in the queue under the sun and you will save time!
How to book your guided tour at the Tulum Ruins Site
If you are hesitating or wondering how to tour Tulum Mayan ruins with a guide, we'll explain to you here how to do it.
You can book your entrance ticket directly at the reception and the cover will be 40 USD. In our adventure we had the chance to get a friends and family discount code and get our ticket at 33 USD instead of 40 USD! We don't know till when this code will work, but if you wanna try it out you can go on this page and try to use it: XF78PQS.
With this code we saved 15 USD per 2 adults on the complete tour of the Tulum Mayan Ruins: it was really a great value for money and moreover, after the tour, you are free to stay as long as you want in the park or head to the close beach.
You can thank us later 😉 If the code is still functioning, we would really appreciate it if you guys could leave a comment here below!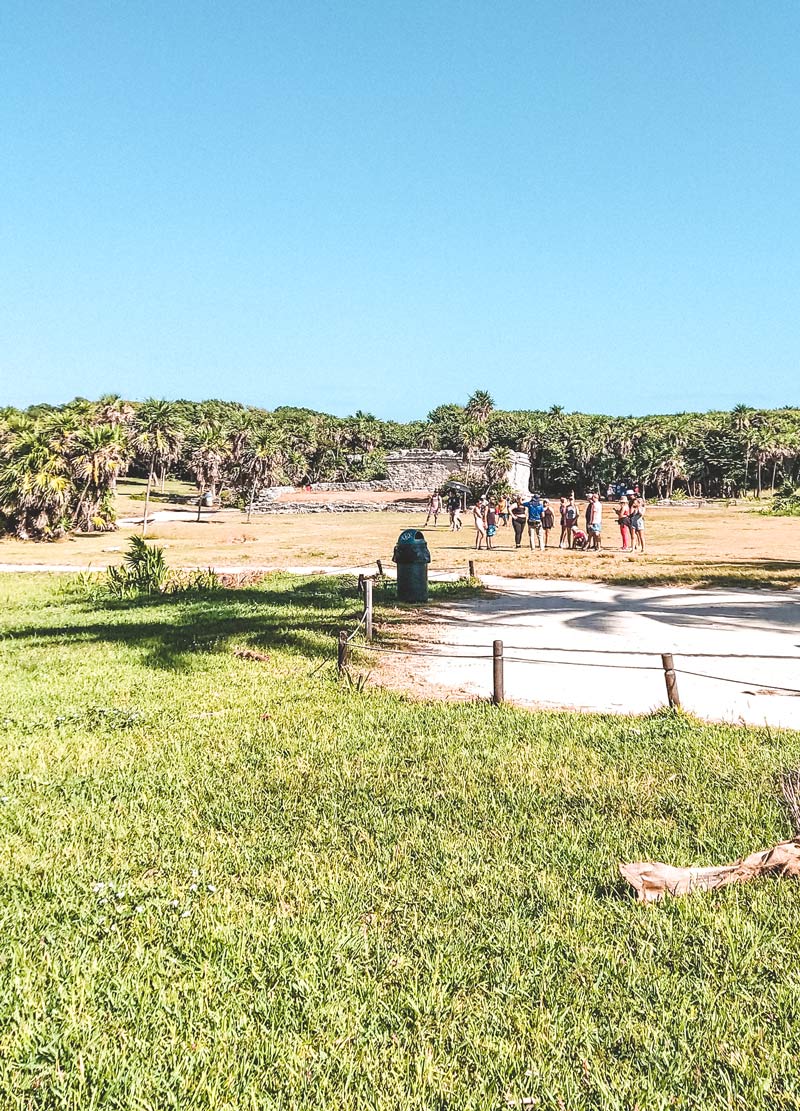 "Get Lost Between One Temple And Another"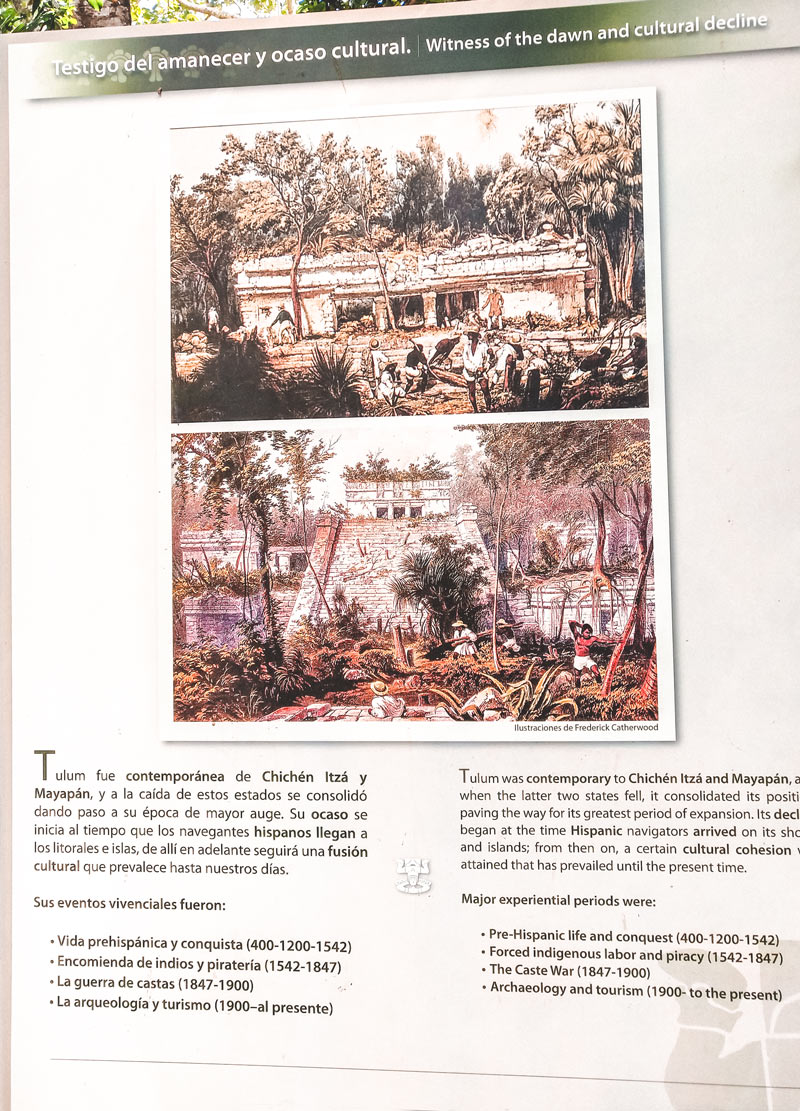 "A Few Historical Hints"
Our review on Tulum Mayan Ruins
We simply loved Mayan ruins in Tulum! The park of the archaeological site is really beautiful and it will not take you more than 2 hours to visit. The real highlight of the day was reaching the free beach below the ruins and swimming in the Caribbean sea – so refreshing after visiting the ancient ruins!
It's definitely one of the main things to visit during your trip to Tulum. No matter about good or bad reviews, you will be amazed by the Mayan ruins and how well they preserved during all these years.
A few advices we can give you are:
Wear comfortable clothes and shoes – leave your high heels for Tulum nightlife;
Bring with you some water and snacks – you will need it under the hot sun!
Don't forget the swimming suit – you won't regret a nice swim in the dreamy beach close by.
Mayan Ruins Best Transportation
If you are in Tulum city center or beach, you will not have to worry – the ruins are not so far away like Playa del Carmen or Cancun! If you are in the centro you will have a few options: the first will be to reach the ruins by walking and once you will be there you will be able to rent a bike and tour the ruins having fun and saving time! Moreover – and this is an important thing – from November the 15th you will not be able to enter with any vehicles, except for bikes or your foot. So if you want to know more about how to rent a bike in Tulum, make sure to check out our Tulum biking guide!
If on the other hand you want to reach the ruins from the beach zone, where most probably your hotel is, don't worry – you can take a cab to the center or directly to the ruins, and once there you can rent a bike and move freely – Trust the locals!
Which are the best things to do after visiting the Mayan ruins?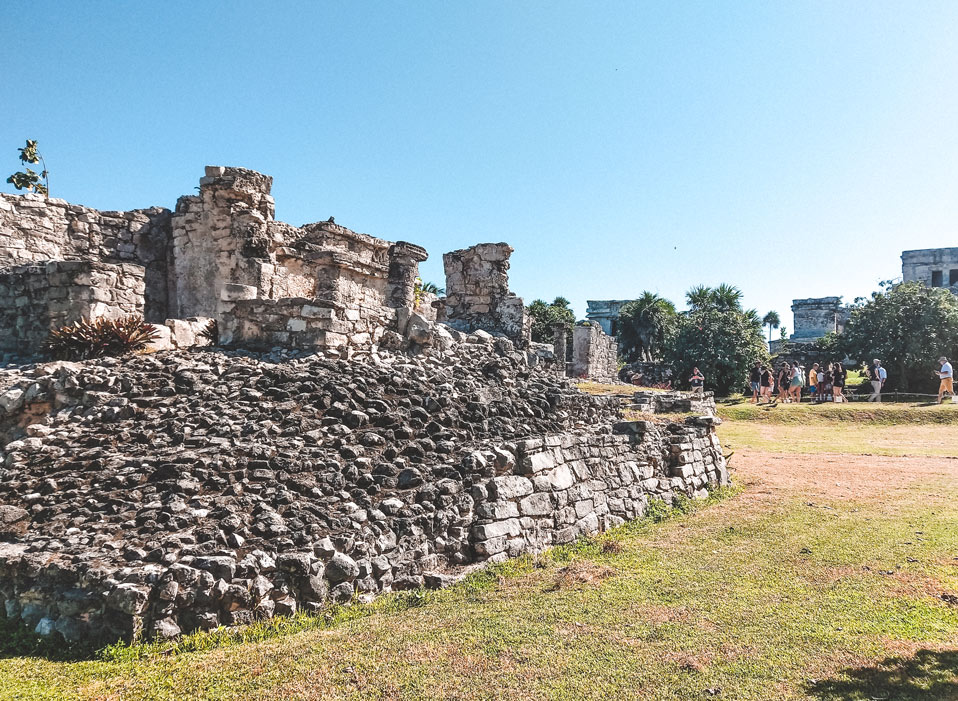 "The Beautiful Park Of The Mayan Ruins"
Take Advantage Of Free Concierge Service
As excellent to explore Tulum and its surroundings alone, you may need help figuring out where to start. To make the most of your money and time, contact Virginia and Kelly - two incredible Mexican girls living in Tulum for more than 15 years. They're familiar with the ins & outs of the Tulum town and hotel zone like the back of their hand! 
Since we arrived in Tulum 2 years ago, many adventures wouldn't have been possible without their help - they know literally everybody in Tulum and can perfectly organize every moment of your stay. Get the best tables, skip queues and get on the guest list of the coolest places in Tulum - this's only the beginning! 
They are ready to offer you guys FREE concierge service in Tulum for the time of your stay: take advantage of it, contact them on Whatsapp and live the best experience!
Get FREE Concierge Service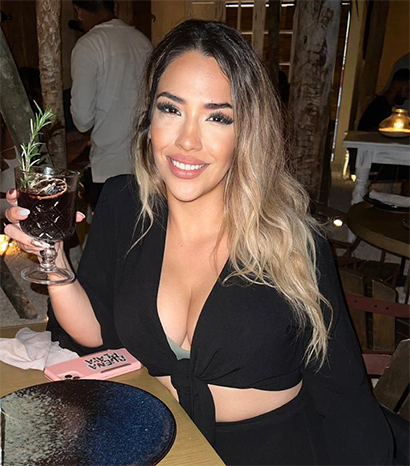 "Virginia Will Transform You In A Tulum Insider"
We hope you will enjoy your tour at the ruins and don't forget to let us know below how it was – we can't wait to read your adventure between ancient Mayan ruins in Mexico!  
Top Events to Make Your Trip Unforgettable
DOMINIK TULUM @MIA TULUM
When: September 9, 2023 7:00 PM
Where: Mia Restaurant & Beach Club, Tulum
🌴 Join Us for An Unforgettable Night at DOMINIK - TULUM at Mia Tulum! 🌴
Friends, clear your schedules and get ready for a magical experience at Mia Tulum! This stunning location will host DOMINIK - TULUM on Saturday, September 9th, from 7 pm to 1 am. This isn't just another event; it's a fusion of nature, culture, and sound featuring an incredible line-up with GIORGIO STEFANO, AUDICTIVE, and MAURO TORRETA. At DOMINIK, you'll find the perfect blend of Tulum's lush jungles and pulsating underground beats, creating an environment where genuine connections blossom.
🎟️ Secure your tickets now:
Early Bird: $575 MXN ($38 USD), includes a welcome drink 🍹 (Limited Availability)
Tier 1: $805 MXN ($52 USD), includes a welcome drink 🍹 (Limited Availability)
Final Tier: $1150 MXN ($75 USD), includes a welcome drink 🍹 (Limited Availability)
Dinner + Party: $1380 MXN ($90 USD) 🍽️🎉 (Limited Availability)
See you there for a night you won't forget! 🎶✨
Ready to join us? Get your ticket now! Early bird tickets are already selling out, secure them at 632 pesos (only 15 tickets available).
Hurry – spots are filling up fast! 🙀 We can't wait to see you there!
Top Parties and Club Events
17th September - ANCESTRAL SOUL @BONBONNIERE TULUM
22nd September - TONY ROMERA @BONBONNIERE TULUM
29nd September - TIM BARESKO @BONBONNIERE TULUM
4th November - HOT SINCE 82 @BONBONNIERE TULUM
13th March - LOCUS Tulum 2024