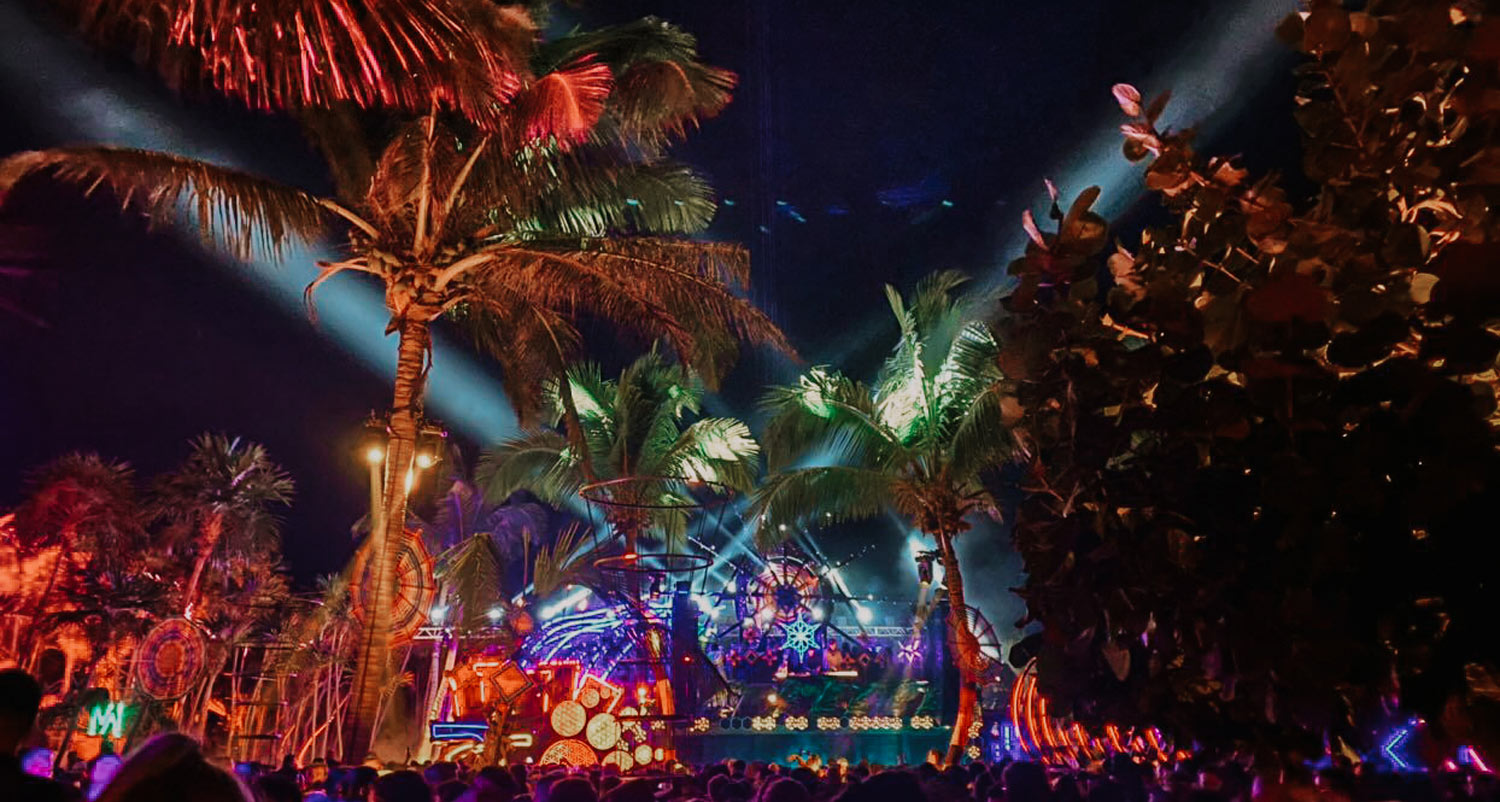 Is Tulum Nightlife Expensive? Clubs Entry Costs And Prices
Are you excited to dive headfirst into the enchanting nightlife of Tulum, Mexico? Known for its ancient ruins, tranquil beaches, and various party events, you might wonder how expensive the nightlife is at this paradisiacal beach town. Like us, we also can't help but wonder about the prices and our budget, and we need to know how much we should spend when we first travel here. But after exploring Tulum's daylife and nightlife for more than two years, we have the answer to all your questions!
Tulum is unlike its neighbors, Cancun and Playa del Carmen. This beach town offers an exciting nightlife concept where you can enjoy various experiences on any budget. You will see it for yourself as you can stroll across the hotel zone or the town, visit popular restaurants & bars, and spend time at clubs to party. It will never bore you.
But of course, in the end, you will learn if the nightlife in Tulum is for you and if it is worth the time and budget? Let's find out!
THE BEST OF TULUM NIGHTLIFE: WHAT IT'S LIKE?
During a lovely sunny day, Tulum is perfect for adventures like exploring a cenote, taking a trip to the paradise beach, and time traveling back to visit the ancient ruins. However, the real fun continues as the night approaches.
Across the main street of Tulum's beach and hotel zone, it's the best strip to visit to immerse in the Tulum nightlife at its finest. Indulge in the mesmerizing experience of authentic food and drinks, hip beach clubs to party the night away, and find popular live performances that everyone talks about! But Tulum Town also has great clubs and more affordable restaurants. Check out our nightlife article to learn more!
Remember, you're here. We go deep into the prices, budget options, and places to visit. Find out below!
This list will give you an idea of how much you will spend during the night. While also figuring out your budget for food, drinks, and party in Tulum.
| | |
| --- | --- |
| Item | Price per person |
| Drinks and Beverages | 5 – $15 USD // 50 – 300 pesos |
| Pint/Beer | 8 USD // 150 pesos |
| Cocktail | 18 USD // 350 pesos |
| Bottle (hard/champagne/wine) | 50 – 1,315 USD + // 1,000 – 25,000 pesos +  |
| Party ticket/Entrance fee | 25 – 150 USD // 500 – 3,000 pesos |
| Food | 13 – 42 USD // 250 – 800 pesos |
The average total price of a night out in Tulum at the beach/Hotel zone (table + food + drinks + party): 370 USD – 580 USD // 7,000 – 11,000 pesos per person
The average total price of a night out in Tulum at the town (table + food + drinks + party): 53 – 105 USD // 1000 – 2000 pesos per person
Tips: Get the most out of these experiences with a great friend, Virginia, who helped us get the best tables, skip lines, and get the best deals at most places. Her services are free, and you can contact her anytime clicking the button below!
Overall, most beach clubs, nightclubs, and restaurants in Tulum have a minimum spend of about 100 USD / 2,000 pesos.
Get The Best Table + Ticket Here
EXPERIENCE NIGHTLIFE WITHIN YOUR BUDGET
Now, let's find out how much, on average, you will spend at these locations in Tulum. The prices show the average cost you will spend to enjoy nightlife with food and drinks.
| | |
| --- | --- |
| List of Locations | Price per person in USD |
| Stroll the Town at night  | 15-30 |
| Straw Hat Rooftop Bar Tulum | 30-45 |
| Bagatelle Beach Club | 45-60 |
| Vagalume Tulum Beach Club | 60-80 |
| Papaya Playa Project Beach Club | 80-120 |
| Bonbonnière (parties) | 120 + |
BEST VENUE OPTIONS FOR A BIG BUDGET NIGHT
With a big budget, you can experience most of the best things Tulum nightlife offers. Whether in town, at the beach, or in the hotel zone, you can enjoy all the events and a variety of haute food and drinks. Here are some great places to start spending your night with yourself and your loved ones.
BEST NIGHT EVENTS: PAPAYA PLAYA PROJECT & VAGALUME
Experience our two most recommended beach clubs to party at. Each beach club features its iconic concept with curated live music, delicious food and drinks, and a hip vibe at the most beautiful beaches in Tulum, Mexico! These two have popular shows, so check out more details of Papaya Playa Project events or Vagalume Venue.
Book Your Table Here For Free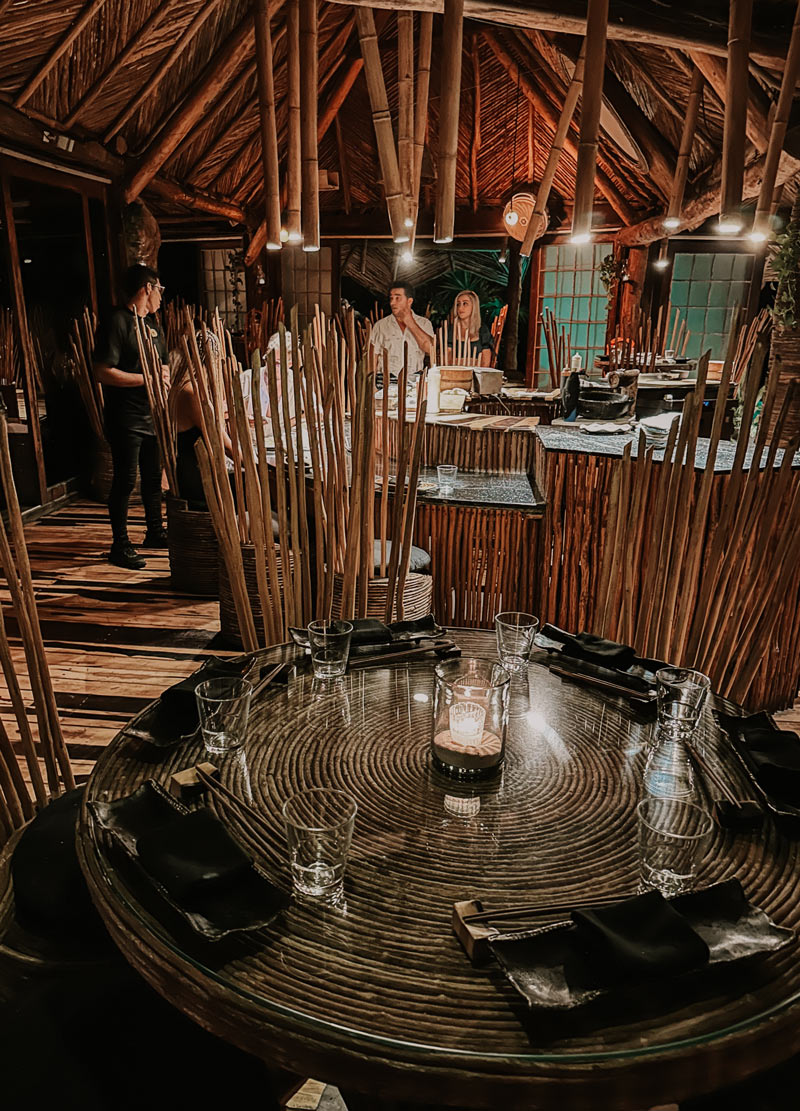 FINE DINING & LIVE SHOWS: BAGATELLE & ILLIOS
You should travel to these two places if you are looking for fine dining and live shows. Bagatelle is best for its signature French Mediterranean cuisine that offers the finest champagnes in Tulum and does champagne showers during events. While Illios is a popular Greek restaurant by the beach that features live performances every night after 10pm.
Book Your Table Here For Free
NIGHT CLUBS: ZAMANIK & BONBONNIÈRE
To end the night, visit Bonbonniere, located by the beach, or Zamanik, located in town. Both are popular nightclubs in Tulum featuring renowned DJs to bring you an astonishing atmosphere that makes the crowds go wild!
Book Your Table Here For Free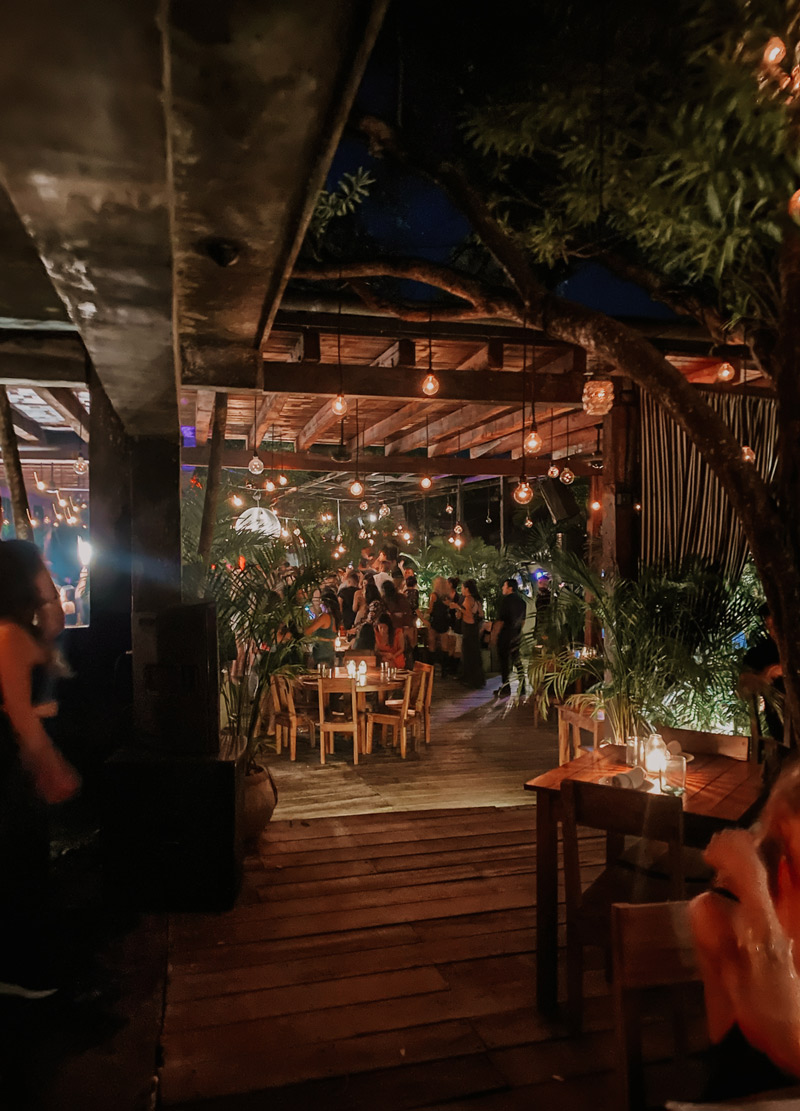 BEST VENUE OPTIONS FOR A BUDGET-FRIENDLY NIGHT
You still have many fun options at night if you have a low budget, under 50 – 80 USD per person. Here are our favorites!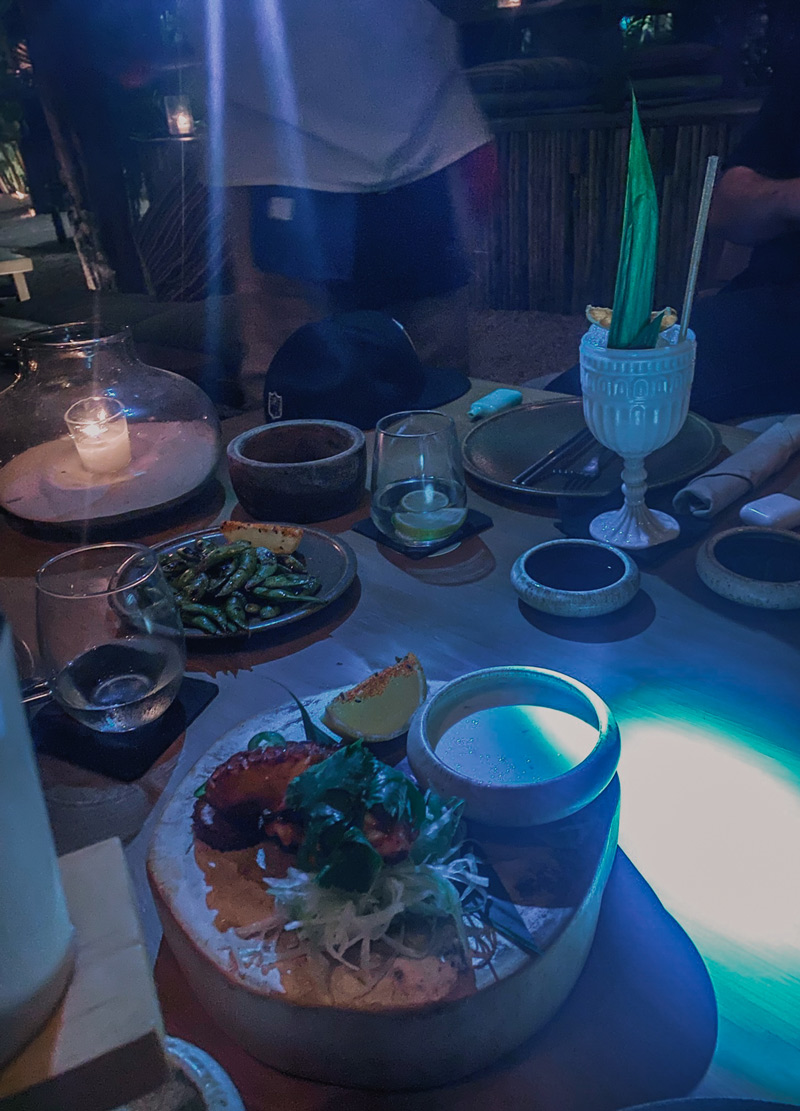 STROLL THE TOWN ON WEEKENDS
Here you don't have to spend a dime. Explore the town, especially near the centro, you can find a good restaurant and bar while seeing the beautiful sights of the town at night. Our favorite thing is to visit local street food vendors to eat marquesitas or dine in restaurants in town. With 50 USD / 1000 pesos, you can get the most appetizing food on the menu, cold beverages, and desserts, all for two people anywhere!
Book Your Table Here For Free
DANCE AT STRAW HAT'S ROOFTOP BAR
The best place to dance, drink at the bar, and party in a budget-friendly way! The parties at Straw Hat Rooftop Bar get crazy here too! Open until the morning, spend your night on a rustic rooftop under the vibrant neon lights and energetic music, and dance with others. Plus, the drinks are way more affordable here compared to other clubs!
Book Your Table Here For Free
IS TULUM MEXICO EXPENSIVE?
The answer is No. There are plenty of options to do in Tulum. You can visit dance clubs, and beach restaurants, stroll the town or the hotel zone, and more. With many places to travel offering a variety of experiences, Tulum is open to all budgets. Although there are cheaper options to have a great night in Tulum, spending more can grant you a sophisticated experience at popular beaches in Tulum.
To help you with your trip, we recommend contacting Virginia, who has helped us to get the most out of Tulum during the day and night when we were new here. Her services are free and give you great perks such as getting the best tables, cheaper price deals, tickets, and more! Regardless of your budget, group size, or place, she can surely help you. We love her so much!
Finally, remember to consider Tulum as something different from Cancun and Playa del Carmen. When you're free of the thoughts of comparing Tulum, you will have a great time and enjoy it more for sure. Happy exploring!
Contact Virginia Here To Get The Best Table
Tulum's Hottest Event - Crypto Fest 2023
Spice up your vacation with a seductive blend of crypto expertise and Tulum's tropical beauty?
Tulum Crypto Fest 2023 is the perfect opportunity for you to immerse yourself in 4 days of active learning, socializing, and networking, all in the breathtaking backdrop of Tulum. Join other like-minded individuals and gain insights from over 30 renowned speakers on the latest blockchain technologies, AI, tokenized real estate, and more. Participate in engaging workshops and a thrilling hackathon, pushing the boundaries of what's possible in today's technological landscape.
Experience the perfect blend of cutting-edge innovation and Tulum's vibrant expat community. Be inspired by witnessing groundbreaking projects at the captivating Whale Tank pitching session and forge invaluable connections with thought leaders from around the world, all while enjoying the unique charm of Tulum.
Register now to secure your spot and access exclusive discounts before they're gone!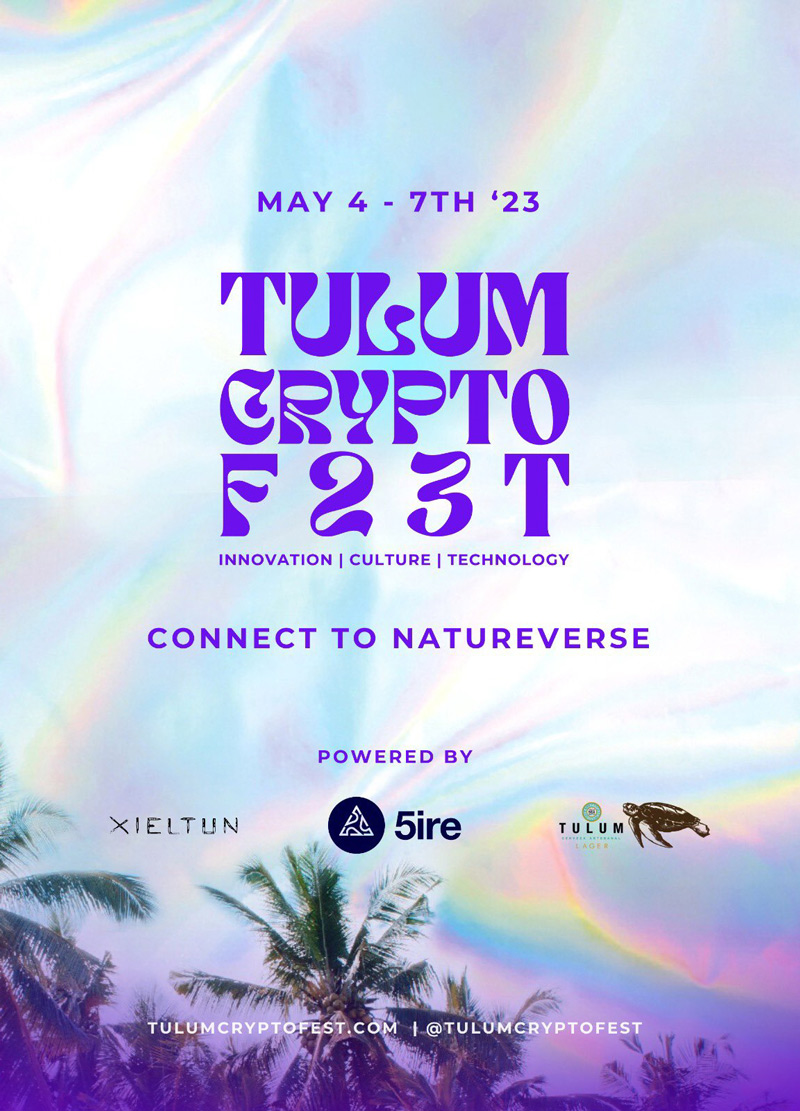 Secure Your Spot HERE
Use the promo code WELCOMETCF to receive a 20% discount on your ticket purchase.
Hurry – spots are filling up fast! 🙀 We can't wait to see you there!
Best upcoming parties in Tulum
❤️❤️❤️27th/30th April - PHILIA ART AND MUSIC WEEKEND @Papaya Playa Project❤️❤️❤️
28th March - S I N N E R Present: CRISTOPH @Vagalume
30th March - ELECTRONIC ELEMENTS @MIA TULUM
30th March - VAGALUME SESSIONS SOUND OF RITUALS @VAGALUME
30th March - POPOF @BONBONNIERE TULUM
31st March - TEN IBIZA @VAGALUME
1st April - BONOBO @Papaya Playa Project
1st April - HANNAH WANTS @BONBONNIERE TULUM
2nd April - VAGALUME SUNDAZE ROY ROSENFELD @VAGALUME
6th April - TOM & COLLINS @BONBONNIERE TULUM
8th April - PIKNIK @VAGALUME
8th April - THE FULL MOON @Papaya Playa Project
15th April - SIGNATURE @Papaya Playa Project
15th April - NIC FANCIULLI @BONBONNIERE TULUM
16th April - ANCESTRAL SOUL @BONBONNIERE TULUM
21st April - NICO DE ANDREA @BONBONNIERE TULUM
22nd April - STARVAULT @Papaya Playa Project
27th - 30th April - PHILIA ART AND MUSIC WEEKEND @Papaya Playa Project
4th May - Tulum Crypto Fest 2023 @Papaya Playa Project
6th May - THE FULL MOON @Papaya Playa Project
13th May - STARVAULT @Papaya Playa Project
20th May - ASTROBEAT @Papaya Playa Project