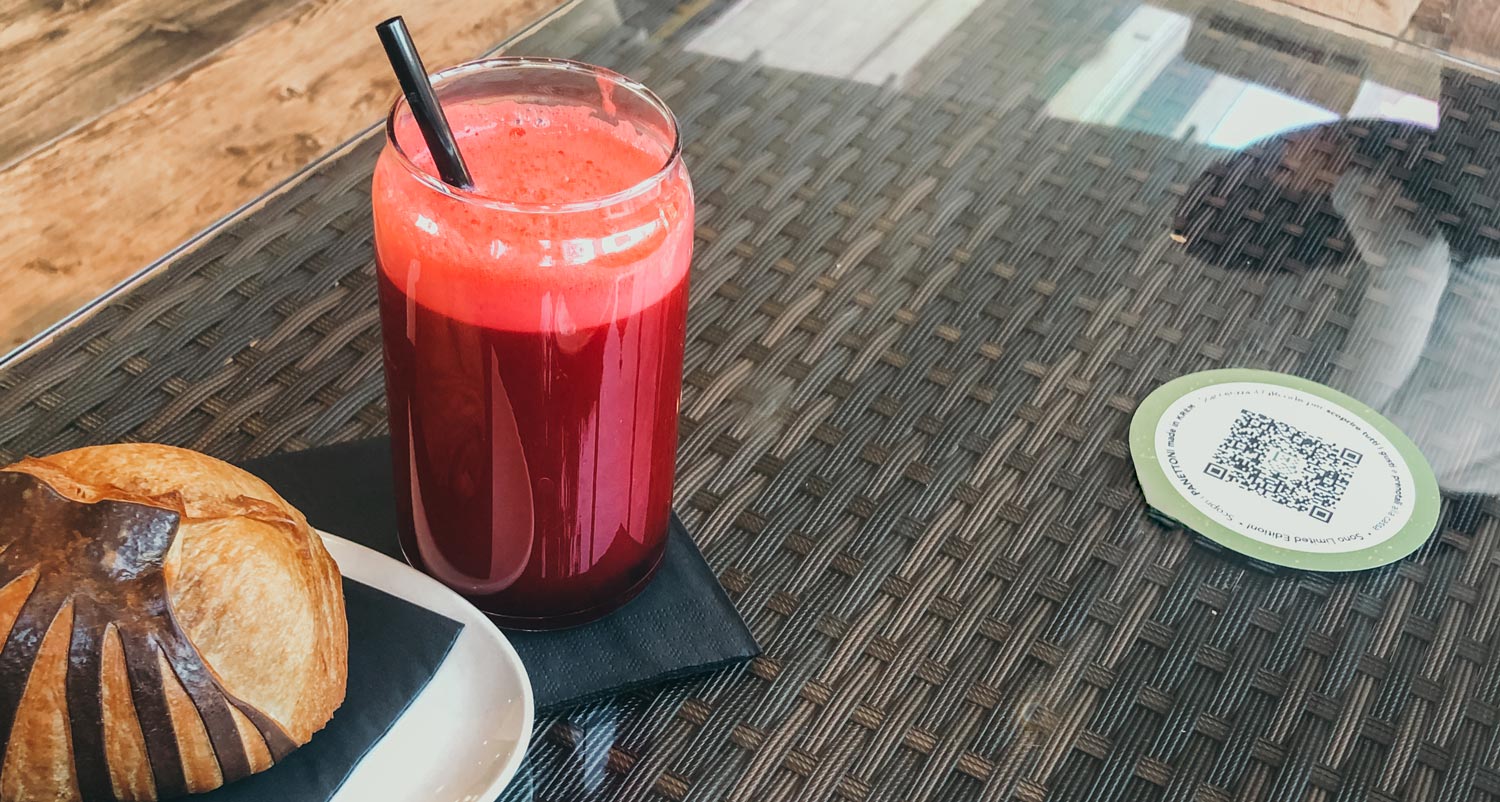 Tulum's Best Juice and Smoothie Bars: A Journey Through Tropical Flavors
Indulge in a flourishing lifestyle with the vibrant and refreshing taste of Tulum's fresh, healthy, and delicious juices and smoothies that will take your taste buds on a tropical adventure! Whether you're a health enthusiast or simply looking for a guilt-free treat, Tulum's wide range of vibrant and nutrient-packed beverages will leave you feeling revitalized and energized while satisfying your cravings for a wholesome drink!
To us, Tulum is a paradise on earth, with its crystal clear turquoise waters, pristine white sand beaches, and lush greenery. This charming beach town on Mexico's Caribbean coast is a popular destination for those seeking a fit lifestyle, thanks to its laid-back atmosphere and abundance of health-conscious options. With its focus on sustainability and wellness, Tulum is home to many vegan and vegetarian restaurants, cafes, and juice bars. All of these offer an array of refreshing and rich plant-based dishes, including their authentic drinks made from locally-sourced fruits and vegetables that will leave you rejuvenated!
So, why wait? Get ready to satisfy your cravings and enjoy the best tonic drinks at our go-to places in Tulum below! Check out!
Price range: $$$$$
Area: Tulum Pueblo
Best for: Affordability, local, and taste
Los Buenos Tiempos is a hidden gem in Tulum that offers a wide selection of juices and smoothies made with a mix of locally sourced fruits. This little shop is where we used to get fast, and tasty juices if we ever cycled to the beach in the mornings. Their menu includes a variety of fruity concoctions that are both energizing and affordable. You can get half a liter (17oz) of your favorite drinks for just 50 pesos, or if you're really thirsty, go for the one-liter (34oz) option at 90 pesos.
This local shop is open  in the mornings until 1 pm on some days, making it an ideal place to start your day or have a mid-morning pick-me-up while exploring Tulum.
Our expert tips: Since it's a small local shop, they only accept cash, and you may need to speak a little Spanish to order. It is really easier than you think!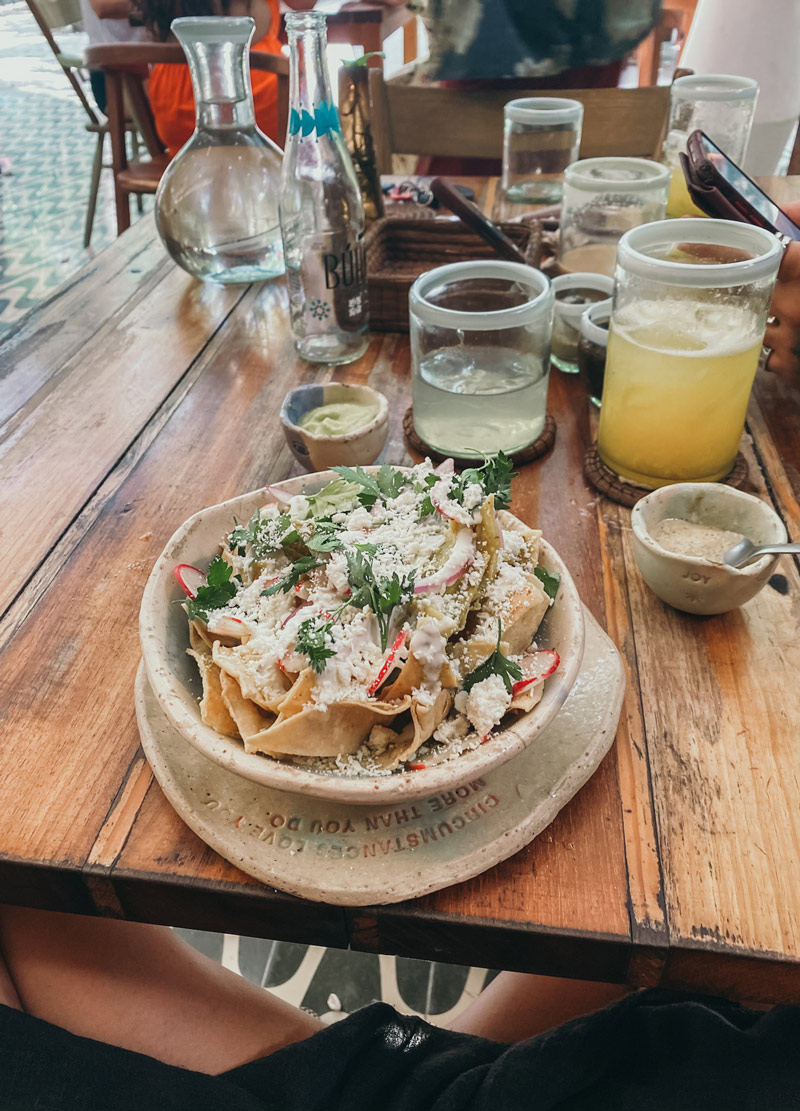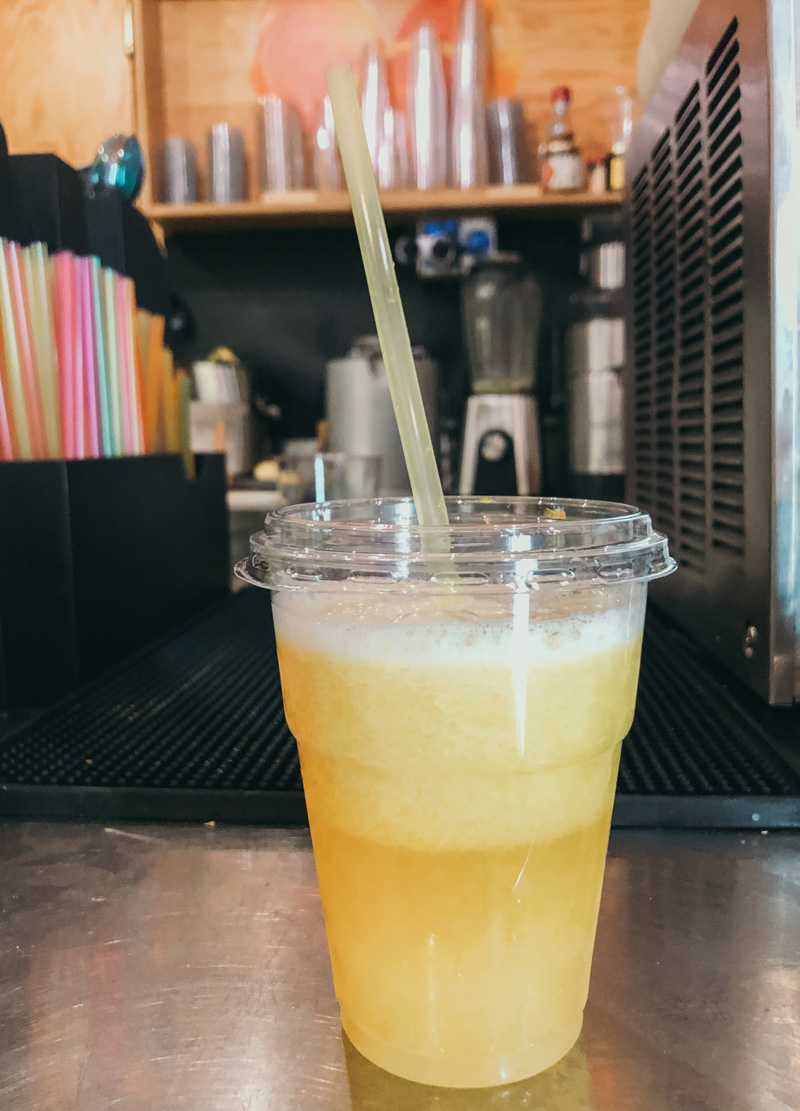 Juice Bar: Holistika Tulum Hotel
Price range: $$$$$
Area: Tulum Pueblo (La Veleta)
Best for: Atmosphere, free wifi, and co-working space
This rustic bar at Holistika Tulum Hotel offers a wide range of wholesome vegan, vegetarian, and gluten-free drinks. Among our favorites are the refreshing guava lassi, the nourishing green juice, and the fulfilling cocoa banana. With a cost of 5.5 USD / 100 pesos for a smoothie, you can relax in the bar's jungle atmosphere.
With natural elements and beautiful decor, the vibrant atmosphere will transport you to another world. It's no wonder that the bar is a well-known spot for co-working, with fast internet speed and plenty of seating options. Whether you're looking to relax with a cold drink or get some work done in a beautiful setting, this is the perfect spot!
Our expert tips: Holistika Tulum Hotel is also a well-known wellness center. Offering a variety of activities, from yoga to Temezcal, we recommend taking their classes while grabbing a refreshing drink from the juice bar or Tierra restaurant!
Price range: $$$$$
Area: Tulum Centro
Best for: healthy food and drinks, vibrant atmosphere, and live music
Botanica Garden Cafe is a true gem in the heart of Tulum. From the moment you step into this cozy spot, you are enveloped in a warm and inviting atmosphere that feels just like home. Their vision is clear: to provide a place where people can come together and enjoy simple, nutritious dishes at fair prices. And they certainly deliver on that promise. Whether you're in the mood for a traditional Mexican breakfast (with vegan options, of course) or a tasty pastry, they have you covered. And remember to try their juice of the day, whenever you visit.
With a rating of 4.7 stars and over 1,000 reviews on Google, it's clear that this restaurant has won the hearts of many patrons. They rave about the flavorful food and drinks, the lively and welcoming atmosphere, and the live music that adds to the overall experience.
Our expert tips: Whether you're looking for a cozy spot to enjoy a meal, a place to socialize with friends, or simply a break from the hustle and bustle of Tulum, this is the perfect spot to unwind and feel at home.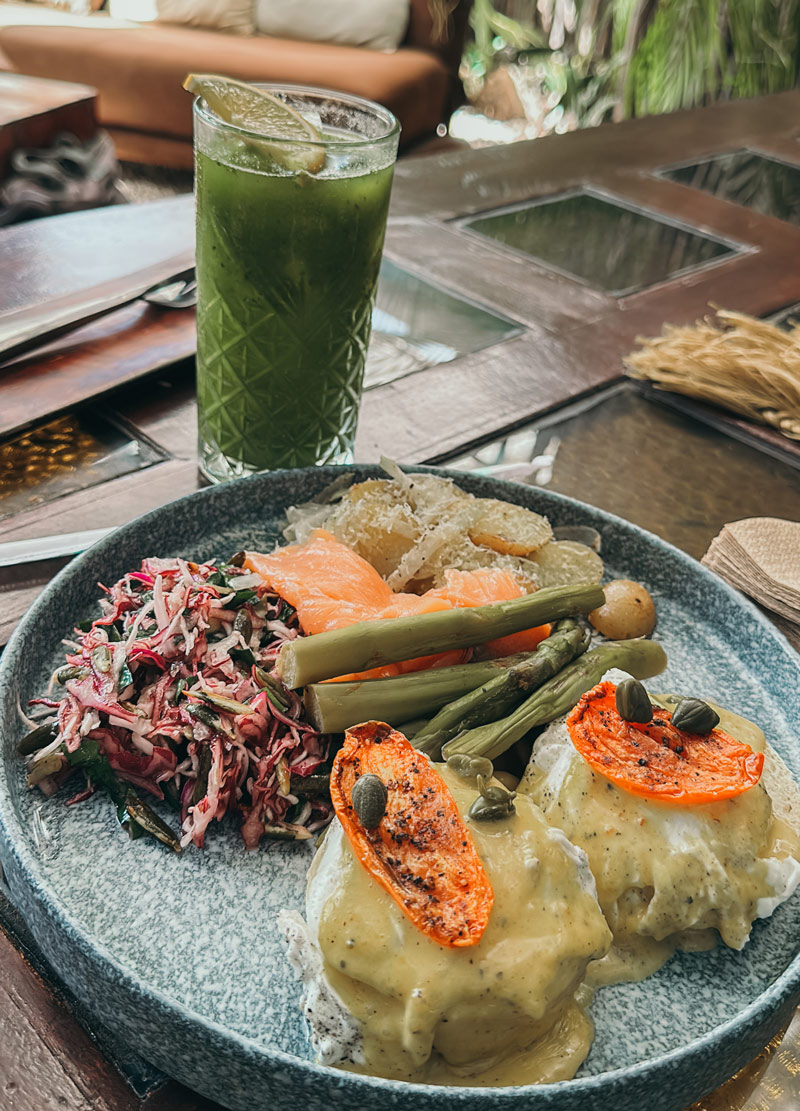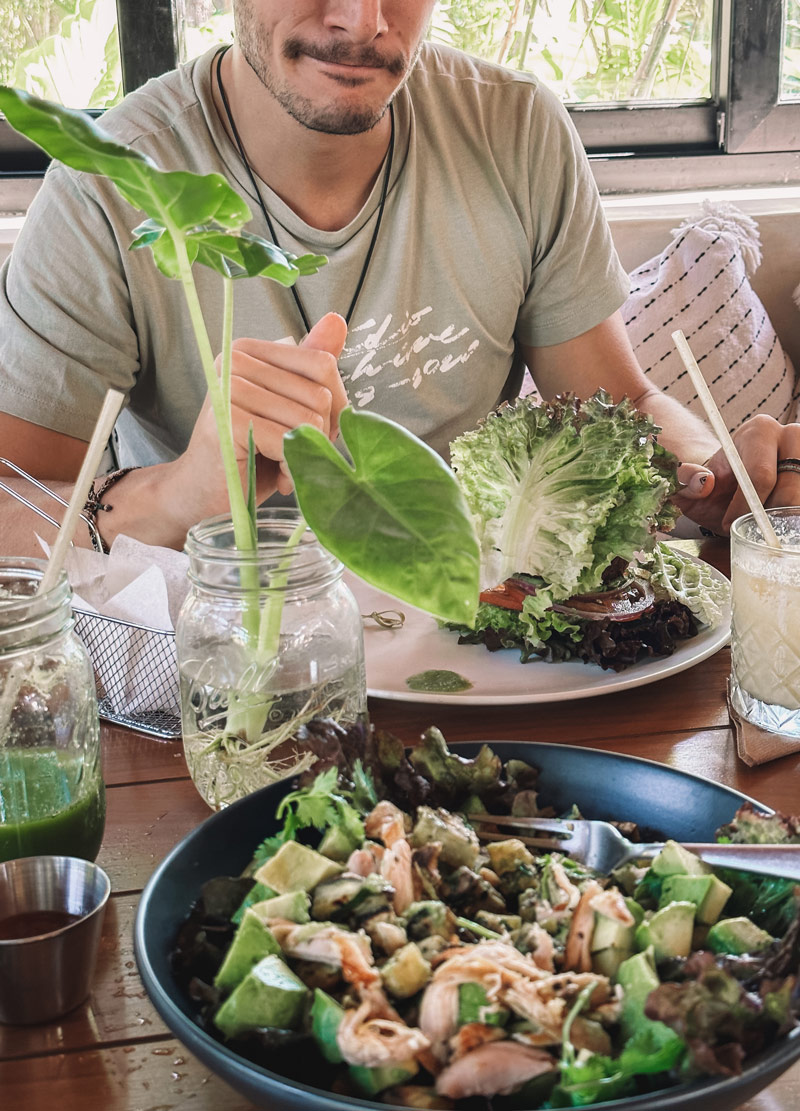 Price range: $$$$$
Area: Tulum Pueblo
Best for vegan Burritos, smoothies, and juices
Burrito Amor Tulum is a must-visit restaurant for anyone who loves burritos! The restaurant features a wide variety of burritos that cater to all dietary needs. From grilled meats to vegan dishes, customers can enjoy their favorite flavors in a gluten-free coconut tortilla option. However, what sets this restaurant apart from other burrito venues is its Apothecary menu. This menu offers an extensive list of nourishing drinks and energizing bowls that are perfect for anyone looking for a wholesome meal. Plus, their drink menu are all plant-based and gluten-free options, and some contain dairy, customers can get the perfect drink or bowl to suit their taste and dietary preferences.
Plus, they have a high rating of 4.5 stars out of 5.4k reviews on Google, which is a testament to the quality of their food and drinks. Where most customers rave about the mouthwatering flavors and the plant-based options available. 
Our expert tips: They offer a great menu whether you're looking for refreshing morning drinks or a satisfying lunch. In addition, if you prefer to stay in your comfy bedroom, you can enjoy their dishes delivered straight to your door using the Tomato.mx app.
Price range: $$$$$
Area: Tulum Pueblo and the beach
Best for: simple plant-based bowls and drinks
If you're looking for the perfect drink to sip on a hot day in Tulum, look no further than Matcha Mama! This rustic-wooden bar serves up some of the most refreshing and rich drinks you can enjoy in Tulum. Our personal favorites are the Nutty Monkey, which is rich and satisfying with almond butter and cacao, and the Lean Green, invigorating blend of kale, pineapple, and ginger. Although the menu is pricier than the ones in Tulum town (about 11 USD for a smoothie), we still recommend trying them as they have a variety of fulfilling bowls too.
There are several other branches located throughout Tulum, including one right on the beach and another in town. Whenever we pass by, we always make sure to grab a drink to cool off and energize ourselves for more adventures. If you haven't tried their drinks yet, you're in for a real treat!
Our expert tips: We also recommend trying their Matcha Latte, one of their signature drinks, which is an authentic Japanese Matcha mixed with your favorite choice of milk!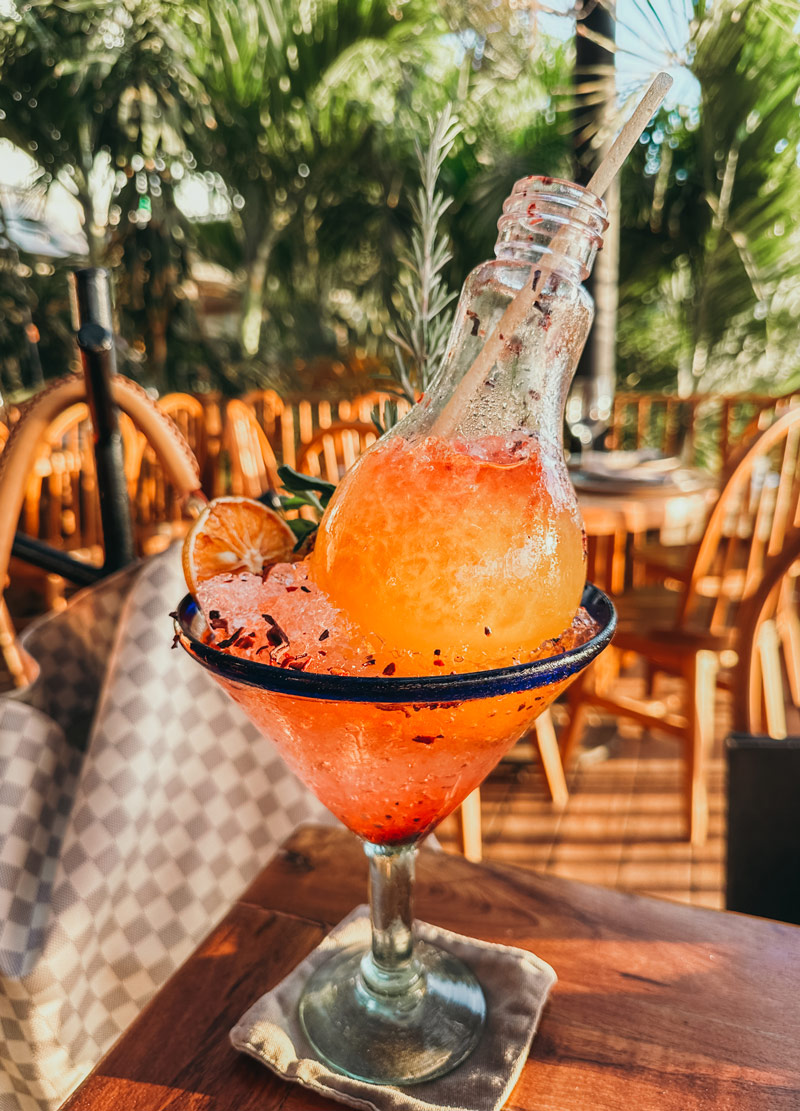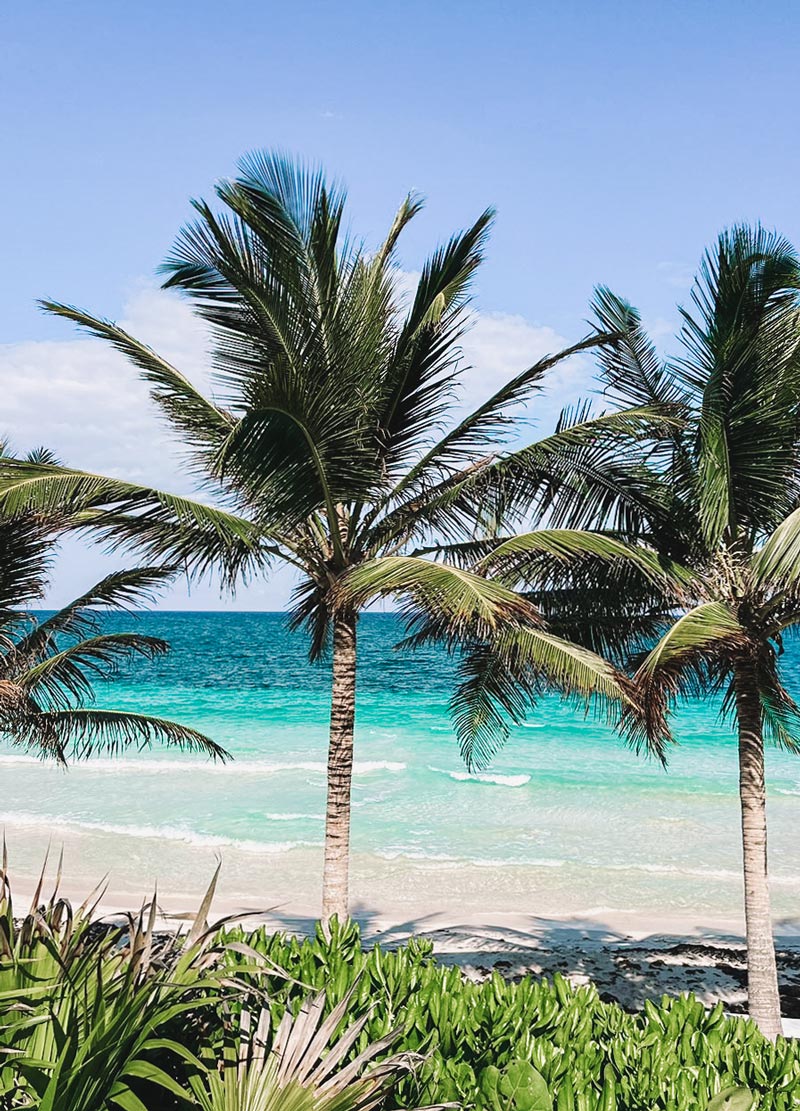 Price range: $$$$$
Area: Tulum Pueblo and the beach
Best for: laid-back atmosphere, vegetarian and vegan restaurant in Tulum
Raw Love Tulum is a must-visit spot for anyone looking to indulge in some flavorful and healthy food and drinks during their stay in Tulum. Besides their expansive menu of plant-based meals, their superfood smoothies are a real highlight and can be enjoyed either as a drink or in a bowl topped with fruits and granola that cost from 7 – 11 USD /120 – 200 pesos. No matter which option you choose, you're guaranteed to leave feeling satisfied and nourished!
Aside from the incredible food and drinks, Raw Love's locations also boast enchanting scenery. At the beach location, you can take in stunning views of the ocean while enjoying your meal or drink. Meanwhile, their cozy terrace in the centro offers a more intimate and charming atmosphere, perfect for a quiet breakfast or lunch. Perfect for whenever you're in the mood for a nourishing drink with a beach or jungle terrace scenery.
Our expert tips: Calling all chocolate lovers! You must try their Chocolate Dream! A must try drink that is made from organic cacao, banana, and almond milk and is sure to satisfy your sweet tooth without being too overpowering. We can't get enough of the rich cacao taste – it's like a dream come true in every sip.
Price range: $$$$$
Area: Tulum Pueblo
Best for: Vegan and vegetarian restaurant with simple but flavorful cuisine
La Hoja Verde is one of our go-to restaurants because of how tasty and wholesome their vegan and vegetarian dishes are. Whether you're looking for a light breakfast or a hearty brunch, their flavorful menu has something for everyone. We highly recommend starting your meal with one of their fruit juices or their invigorating green juice, which are sure to leave you feeling energized and refreshed.
During our latest visit, we decided to try their spinach smoothie, and we were blown away by how rich it was. The blend of local spinach, fruit, and other wholesome ingredients was simply perfection in a glass. We couldn't believe that something so healthy could taste so good! So, be sure to add La Hoja Verde to your list of must-visit places in Tulum. You won't be disappointed! 
Our expert tips: If you're craving something heavy, we highly recommend getting their tasty vegan tacos, pizza, and mouth-watering guacamole. Their drink options are sure to leave you feeling full and satisfied while pairing them with their juices.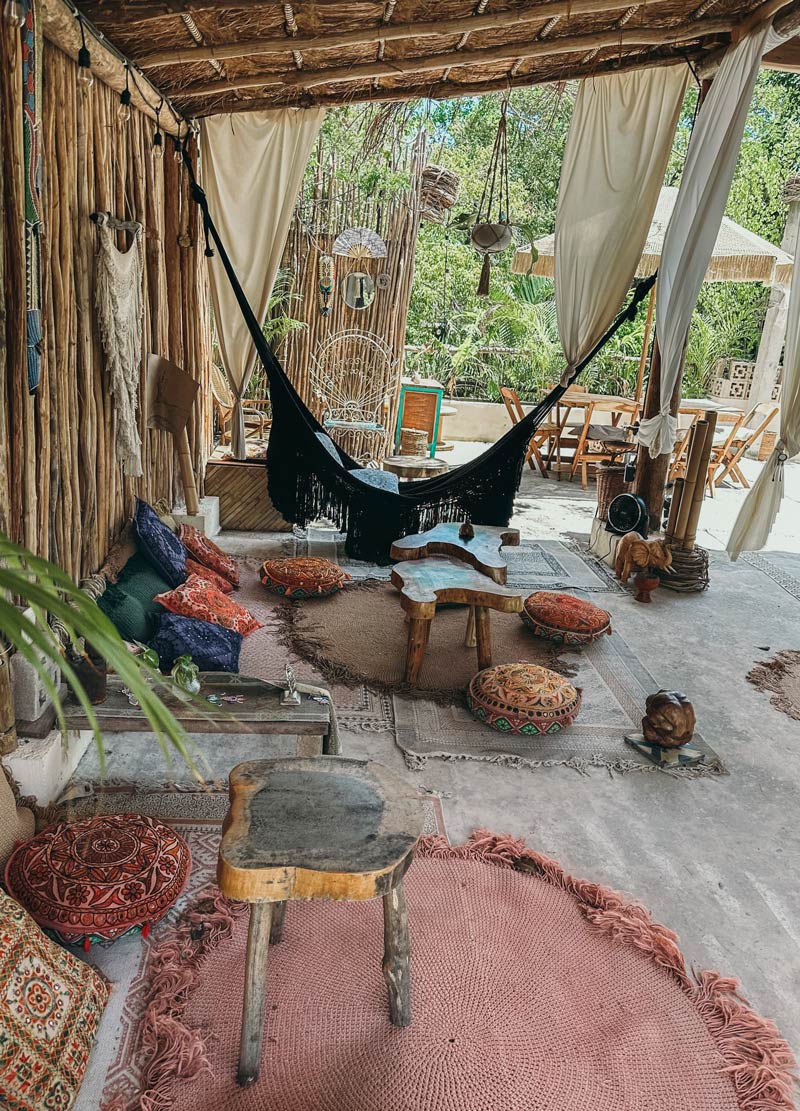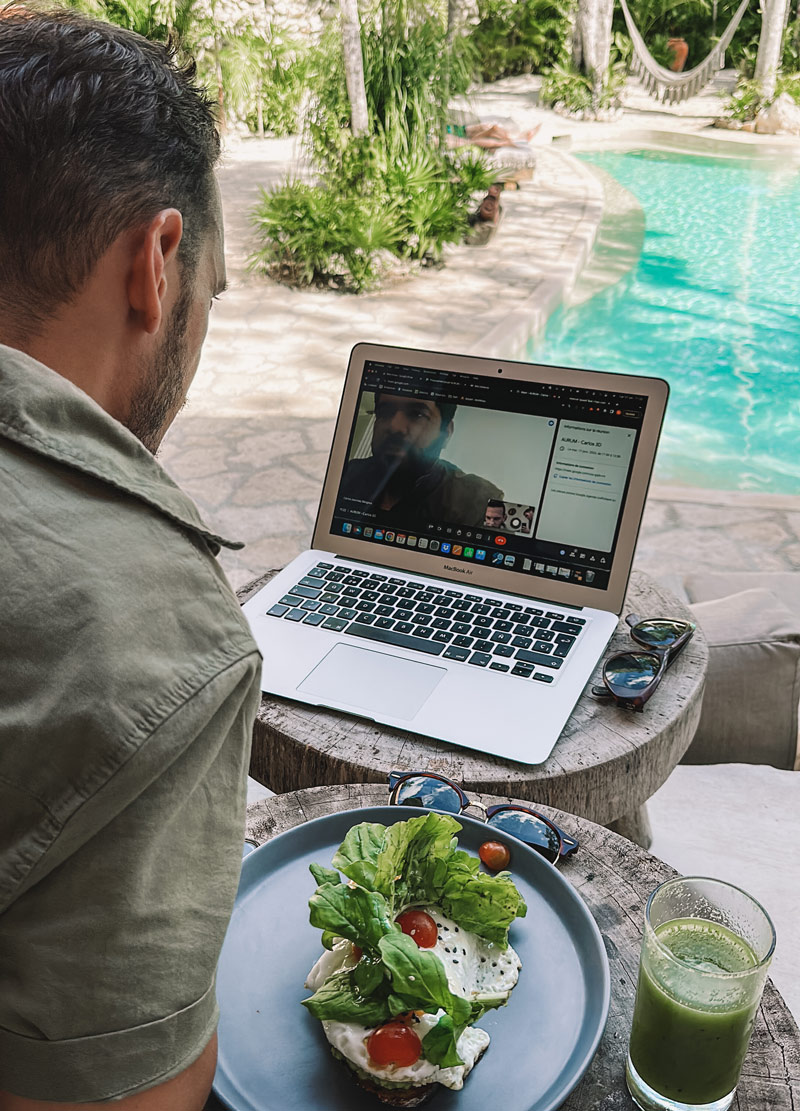 Seedling | Plant-Based & Gluten Free Store | Cold Pressed Juice Cleanses
Price range: $$$$$
Area: Tulum Pueblo
Best for: Pressed juice for detox, service, and convenience.
Seedling is our go-to destination for fresh and cold-pressed juice whenever we're in Tulum and looking for a detox routine. At 8 USD / 145 pesos for a 17oz / 500ml bottle, their juices are a steal – or opt for their package deal of six bottles for 44 UDS / 800 pesos and have a stockpile of refreshing juices to last you through your detox.
Plus, they are super convenient! You can either swing by the shop or order online and pick up your juice in-store. If you're short on time, opt for home delivery for an extra 2 USD / 40 pesos and have your juice delivered straight to your doorstep. Trust us, Seedling's drinks are worth every penny!
Our expert tips: For those undertaking a serious detox, we highly recommend checking out their website for information on their detox guidelines. It's an informative resource that can provide you with valuable insights into their recommended practices and protocols for detoxification.
Price range: $$$$$
Area: Tulum Pueblo (La Veleta)
Best for: Organic Cacao, lively atmosphere, and breakfast
Are you ready to indulge in some of the most rich and affordable raw cacao in Tulum? Look no further than OTTI, where you can savor the rich, chocolatey goodness of their signature drinks for just 5 USD / 100 pesos! What's more, they offer gluten-free options that cater to all dietary needs. And when you are still trying to decide what to choose, we recommend Almondo Cacao, RItual Cacao, and any of their bowls.
The venue itself is a delightfully simple and aesthetically pleasing scenery, with wooden tables and stools that create the perfect atmosphere for a short hangout with friends. But it's not just the tasty drinks and cozy setting that draws in crowds of tourists and locals alike – it's the lively and convivial atmosphere that makes OTTI a hotspot for socializing and meeting new people.
Our expert tips: Whether you're in the mood for breakfast or brunch, you can always expect a bustling crowd at this venue. The best part? Their friendly patrons are always happy to welcome you and may even invite you to join them at their table. We highly recommend checking out their vibe!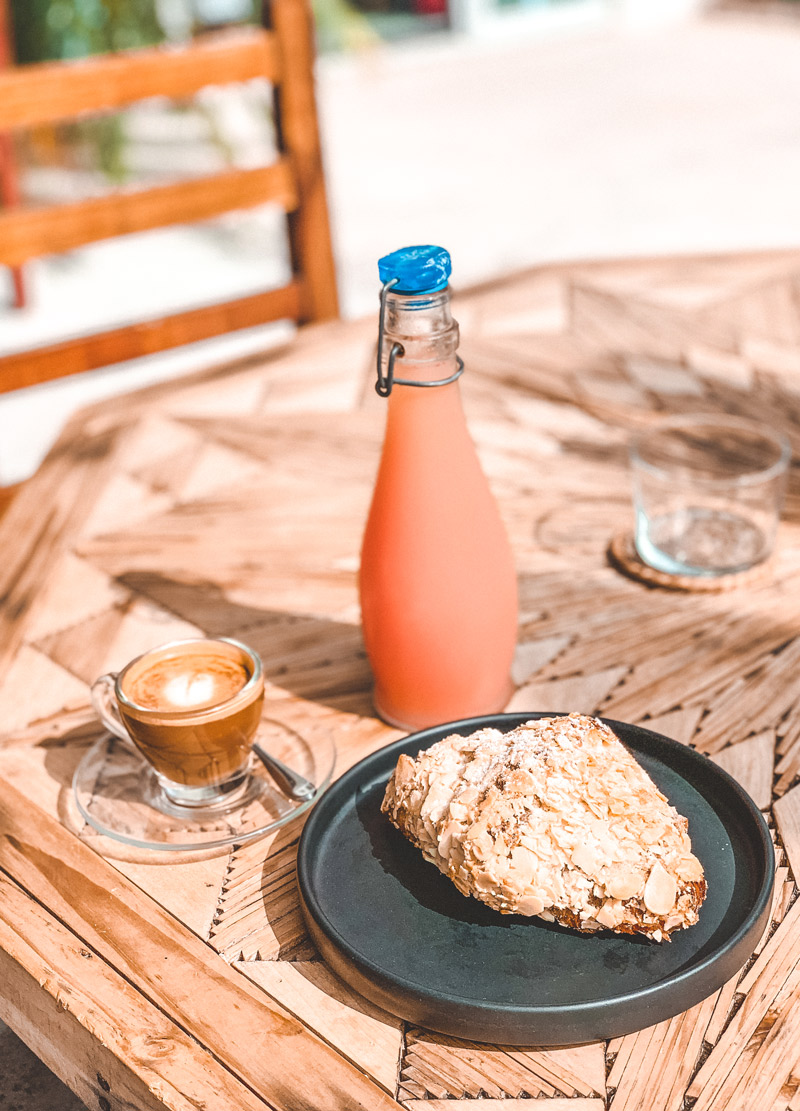 Price range: $$$$$
Area: Tulum Pueblo and the beach
Best for: drinks, beach scenery, and extensive menu options
Fresco's Tulum has got an extensive menu that's got you covered from breakfast to dinner and everything in between, including dessert and wine! But their breakfast drink menu is where the real magic happens. They offer authentic juices and smoothies that come in a 10 oz size that will have your body feeling rejuvenated! And remember their coffee and tea options; they've got you covered for all your morning cravings. Need a recommendation? Well, we suggest starting your day with a bang and ordering either the Wake Up drink or the Energizing juice! Trust us; your body will thank you later!
Now, we're not gonna lie to you; Fresco's Tulum is a bit pricier than some other spots on our list. But hear us out; if you plan hitting the beach in the morning, do yourself a favor and grab some of their refreshing drinks before diving into some beach activities! It's worth every penny!
Our expert tips: Fresco's has two restaurants, one in town and another at the beach. If you're headed to the beach location, don't worry about parking because they have a super easy and free parking lot nearby for guests! Yup, you heard us right, FREE parking! 
Experience Tulum's Juices & Healthy Lifestyle With Our Friend Virginia
Planning to explore the vibrant juice and healthy lifestyle scene in Tulum? Look no further! Virginia, your knowledgeable guide, is here to ensure you don't miss out on the best juice bars, wellness events, and healthy hotspots this town has to offer. Navigating Tulum's refreshing options can be overwhelming, especially when you're seeking a healthy and rejuvenating experience. That's where Virginia's expertise comes in handy. Let her curate your juice and wellness journey, granting you access to exclusive perks like special promotions and insider recommendations. Don't let the fear of missing out distract you – trust Virginia to lead you to the pinnacle of Tulum's juice and healthy lifestyle scene!
Discover Tulum's Finest Juice Bars Today
The top Juices and smoothies in Tulum Town
While most of them are conveniently located in town, we've narrowed down the top spots based on their incredible taste, affordable prices, and rave reviews from other customers. Get ready to indulge in some of the best food and drinks Tulum has to offer as we unveil our top picks!
Botanica Garden Cafe

–

$$

$$$ – Tulum Pueblo

Burrito Amor – $$$$$ – Tulum Pueblo
La Hoja Verde – $$$$$ – Tulum Pueblo
Holistika Juice Bar – $$$$$ – Tulum Pueblo (La Veleta)
OTTI – $$$$$ – Tulum Pueblo (La Veleta)
The Best Juices and Smoothies on a Map
We've got you covered with a simple map that will make it a breeze to navigate the top venues across Tulum's Hotel zone and town. Checkout the map!
Things you need to know about juices and smoothies in Tulum
Now that we've filled you in on the best spots to satisfy your diet, there are a few things you gotta know before making your way there. Keep on reading to learn more!
PRACTICAL TIPS AND ADVICE
Before you head out to any of these venues, there are a few important things you should keep in mind. Don't worry; we've got you covered with our guide below!
Consider adding a boost to your drink:

Add ingredients such as protein powder or superfood supplements to make it even more nutritious.

Ask the staff:

Be bold and ask the staff for recommendations or to customize your order to your liking.

Check out the menu ahead of time:

You can find most of their menu online. It's best to decide what you want to do in order to avoid feeling overwhelmed when you get there.

Keep in mind these drinks and the bowls can be filling:

Only order a little food if you plan to have a drink with it.

Consider visiting a venue in the morning or early afternoon:

To avoid crowds and lines.
How much is the average cost of juices and smoothies in Tulum?
The average cost of these drinks in Tulum can vary depending on the venue, the ingredients used, and the size of the drink. However, you can expect to pay anywhere from 3 to 8 USD / 50 – 140 pesos for a 10 -17 oz / 300 – 500 ml drink.
Additionally, some venues may offer discounts during certain hours or days, so it's always a good idea to check their website or ask the staff about any promotions. It's also worth noting that some venues in more touristy areas (like at the beach) may charge higher prices compared to those in the town or local areas.
What are the common flavors of juices and smoothies in Tulum?
These nourishing drinks are all plant-based that are mixed together. Some mixed drinks feature a variety of sweet fruits, including juicy pineapple, sweet mango, crisp apple, and more. And that's not all. They sometimes add nutritious veggies and herbs like refreshing celery, antioxidant-rich beetroot, and zesty ginger to give your body the nourishment it craves. With so many tasty and nutritious options to choose from, you'll never get bored!
What is the difference between a juice and a smoothie?
The main difference between them is the way they are prepared. Juices are made by extracting the liquid from fruits and vegetables using a juicer, which separates the fiber and pulp from the juice. While the latter is made by blending whole fruits and vegetables, including fiber and pulp, with other ingredients such as yogurt, milk, or ice. As a result, smoothies are thicker and more filling, while juice feels more refreshing and energizing to the body.
FAQ about Tulum Juices & Smoothies
What are the best juices and smoothies in Tulum?
The best juices and smoothies in Tulum are subjective and can vary depending on personal preferences. But our favorite includes some popular choices, including the green juice at Botanica and the cocoa banana at Holistika.
Where are the best juice and smoothie venues located in Tulum?
The best juice and smoothie venues are located mostly in Tulum town. Some most visited spots include Botanica Garden Cafe, La Hoja Verde, Holistika, and Fresco's.
How can I pay at these juice and smoothie venues in Tulum?
All juice and smoothie venues in Tulum accept payment in Mexican pesos, and most venues accept major credit cards such as Visa and Mastercard. Also, some venues may accept payment in US dollars cash, but it's best to confirm with the specific venue beforehand.
Can I get my drink made with almond milk or other non-dairy milk in Tulum?
Yes, most juice and smoothie venues in Tulum offer non-dairy milk options such as almond milk, coconut milk, and soy milk. However, some soy milk may have gluten, so it's better to ask the staff first.
Are there any added sugars or sweeteners in the drinks at Tulum juice and smoothie venues?
Health-conscious venues in Tulum prioritize using natural ingredients and minimizing added sugars. It's always best to ask the staff or check the menu for specific information on ingredients.
Great, let's feature the "MYSTICAL SUNSET /OLIVER HUNTEMANN" event at Mia Restaurant & Beach Club in Tulum on Wednesday, 29 November 2023. Here's the HTML snippet for your event: ```html
👉 WEDNESDAY, Nov 29
MYSTICAL SUNSET /OLIVER HUNTEMANN 🌅
📍
Mia Restaurant & Beach Club, Tulum
💵
Tier 1 Tickets: Mex$ 660 (incl. fees), Final Tier: Mex$ 880 (incl. fees)
📩
Contact Virginia
here
to book a table
Join us for an unforgettable evening at Mystical Sunset with Oliver Huntemann. Contact Virginia here to book your table and be part of this magical night on the beach! 🎶🔥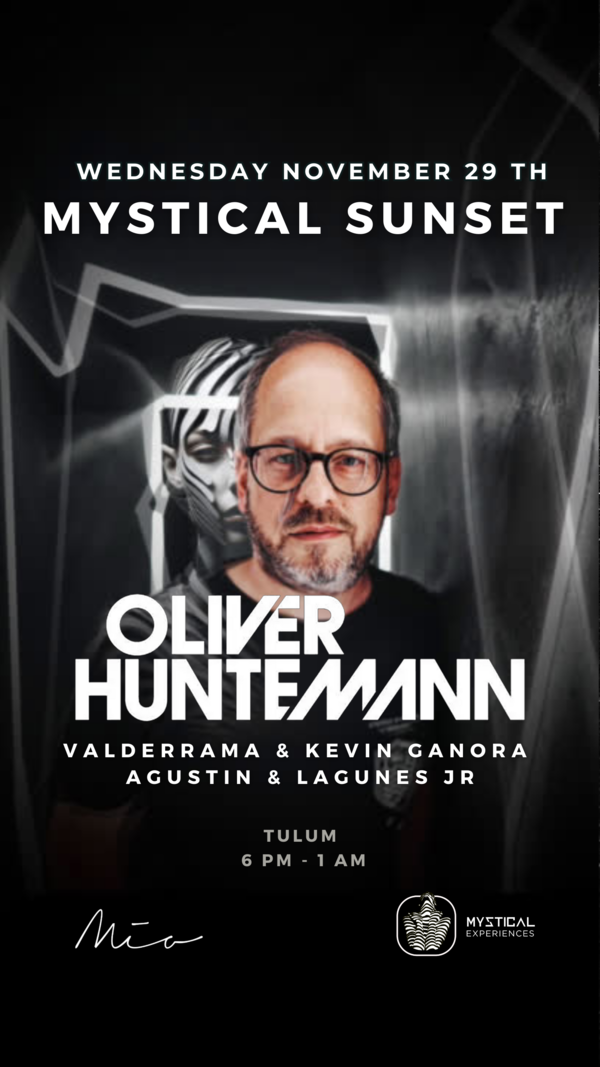 Top Parties and Club Events
23rd November - VAGALUME SESSIONS KEENE @VAGALUME
26th November - VAGALUME SUNDAZE MITA GAMI @VAGALUME
30th November - VAGALUME SESSIONS VALDOVINOS @VAGALUME
3rd December - VAGALUME SUNDAZE VALENTIN HUEDO @VAGALUME
7th December - VAGALUME SESSIONS MUSTAFA ISMAEEL @VAGALUME
30th December - PIKNIK POLO CORP & LEO LEONSKI @VAGALUME
31st December - NEW YEAR´S EVE @BAGATELLE TULUM
31st December - NYE PARTY 2024 @VAGALUME
13th March - LOCUS Tulum 2024