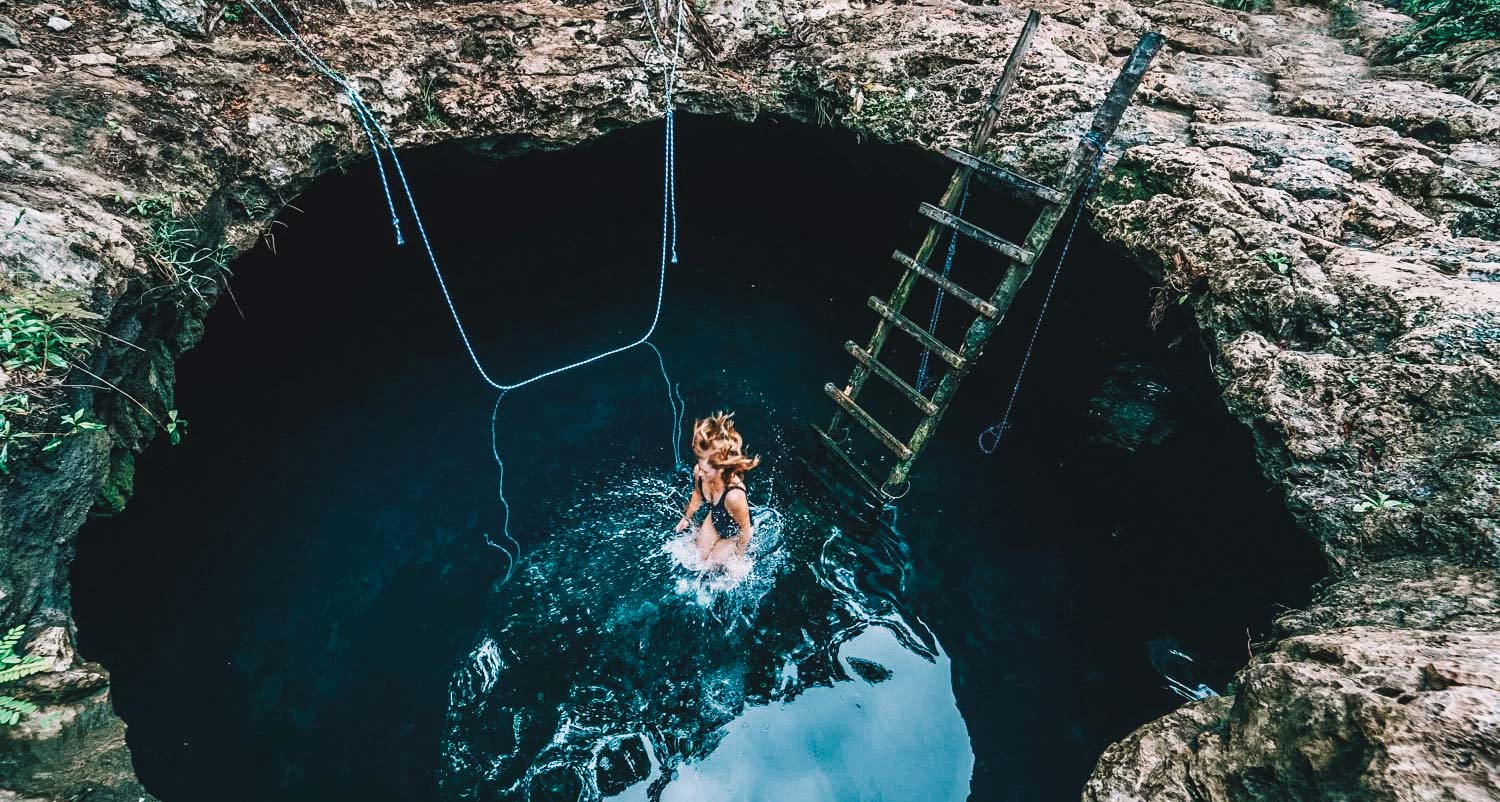 Cenote Calavera: An Unforgettable Journey into the Depths of Riviera Maya
Did you know that "Calavera" means skull in Spanish? Cenote Calavera, which means "skull cenote" in Spanish, is named after its unique shape that resembles a skull. Within the cenote there is a cave, where you can jump from small holes in the rocks into the water below for an unforgettable experience!
But wait… what is a cenote? If you haven't heard about it, let us introduce you to one of nature's best creations! A cenote is an underground sinkhole that forms when limestone bedrock collapses and reveals stunning crystal-clear water. Imagine swimming with tropical fish in a natural pool that looks like it could be from a fairy tale. That's what a cenote is like! 
Located in Mexico, each cenote in the Yucatan Peninsula will make you have a lot of fun, and one of the best vacations of your life! Since we visited our first cenote in Mexico, we fell in love and we decided to visit the most cenotes we can! And if you are thinking of making a trip and include a cenote, Cenote Calavera is an amazing option! Especially if you are into snorkeling and diving… so if you are ready to have the experience of your life visiting a cenote, keep reading and discover all you need to know!
*Why not enjoy a party in Tulum after diving into Cenote Calavera?* check out how to attend the coolest parties in town, contact our friend Virginia on WhatsApp and live the best nightlife ever based on your tastes – for FREE!
CENOTE CALAVERA: DIVING INTO A SKULL?
Why do people call it Cenote Calavera (Skull Cenote)? Well, basically because of its shape: the cenote has two smaller openings resembling the eye sockets of a skull, while the larger one looks like a mouth. However, the name adds to the allure and mystery of the cenote, making it a popular destination for adventure seekers and nature enthusiasts alike. Cenote Calavera is also called "Temple of Doom". 
PERFECT FOR: Swimming, snorkeling, diving, nature lovers.
CLOSEST CITIES (approximately driving time):
Tulum: 10 minutes
Playa del Carmen: 30- 50 minutes
Cancun: 2 hours
ENTRANCE PRICE: 250 MXN pesos per person. 
Extra fee for life vest: 50 MXN 
OPEN HOURS: 8:00 am to 4:00 pm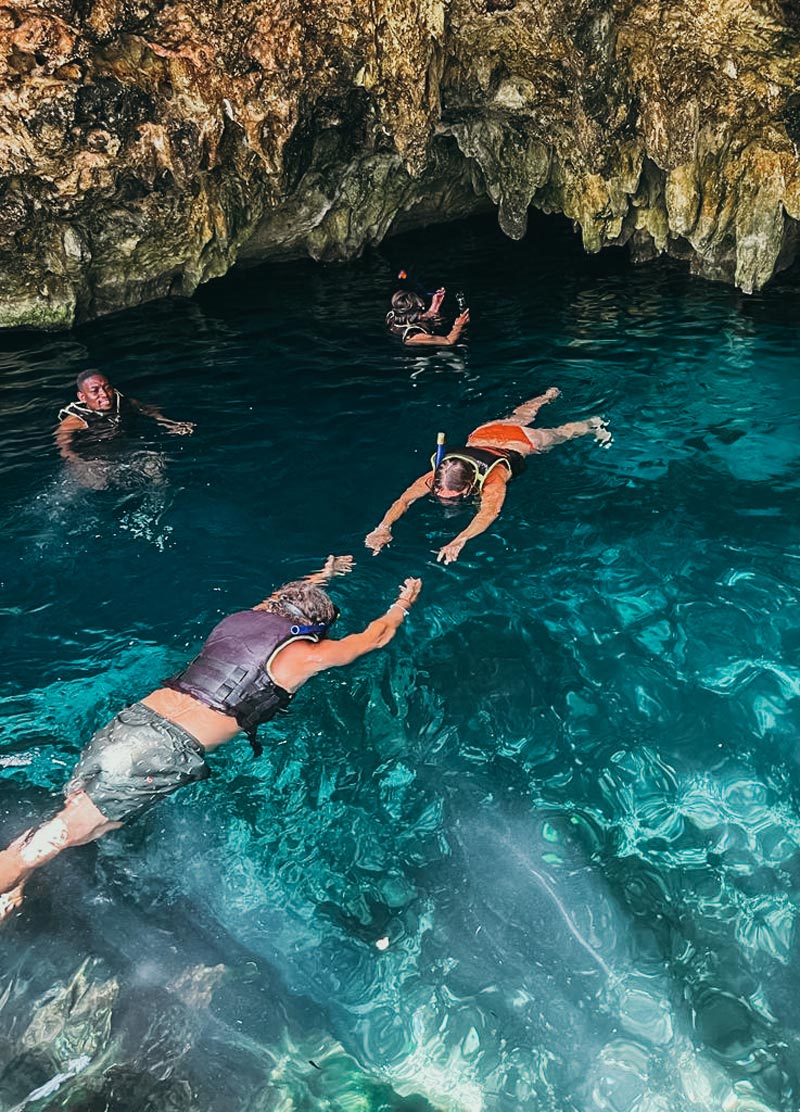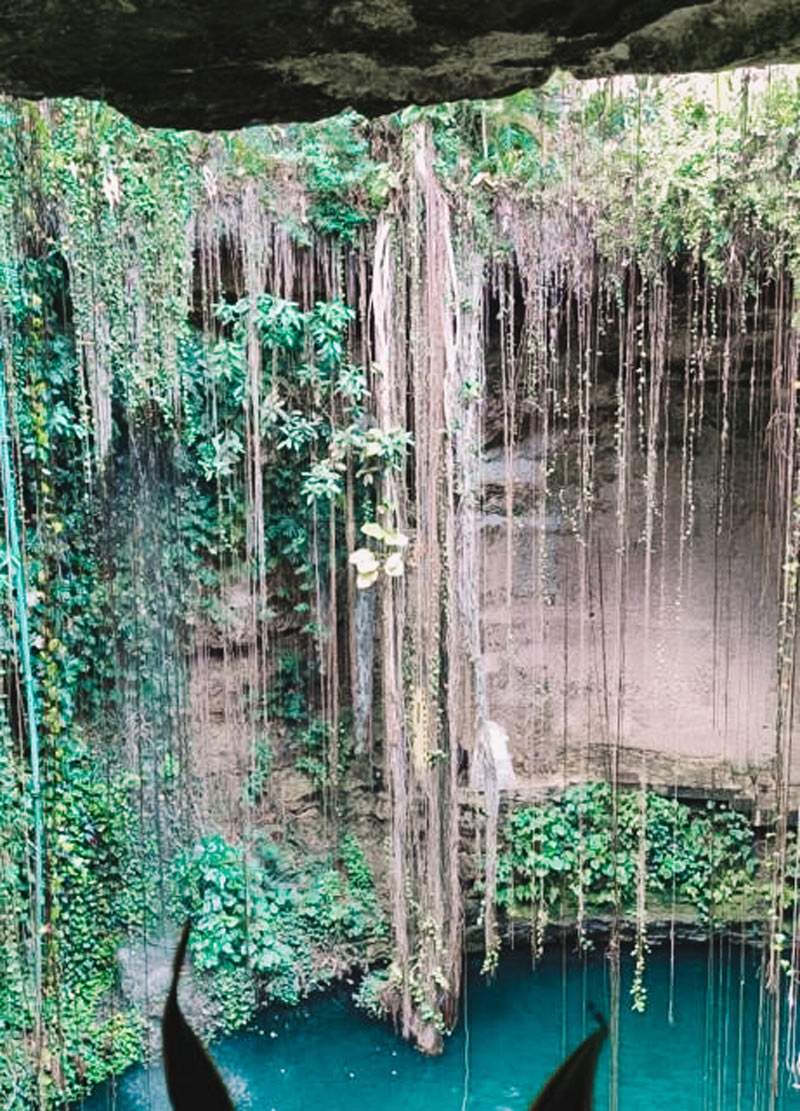 SWIMMING IN A MAYAN TEMPLE: HISTORY AND TRADITIONS IN CENOTE CALAVERA
Cenote Calavera is considered a sacred place because of its deep cultural and historical significance to the ancient Maya civilization that once inhabited the area. According to local legends, the cenote got its name from a group of explorers who were impressed by the skull-like rock formations that decorate the walls. The Maya people considered cenotes to be portals to the underworld and believed they could communicate with their gods and ancestors at these sacred places.
Cenote Calavera is also believed to have been a site for ancient Maya ceremonies, including offerings to the gods and ritual purification. The water in the cenote was considered to have healing properties, adding to its sacredness. Today, local Maya communities still treat Cenote Calavera with reverence and respect.
When you visit a cenote, we recommend you to be mindful of your behavior and to avoid leaving any trash or waste in the area. By preserving the natural beauty and historical significance of Cenote Calavera, we can continue to honor the traditions and cultures of the ancient Maya people who once called this place home.
ACTIVITIES IN CENOTE CALAVERA: BEST THINGS TO DO DURING YOUR VISIT
Cenote Calavera offers a range of activities for visitors to enjoy. One of the most popular activities is swimming in the crystal-clear waters of the cenote. Visitors can also snorkel or dive in the cenote to explore the underwater world and see the stunning rock formations up close.
If you have a waterproof camera, it's an opportunity to showcase your photography skills!
At Cenote Calavera, you can dive into a world of adventure and wonder. The crystal-clear waters of the cenote are perfect for diving, so you will explore the underwater landscape and the stunning rock formations pretty closely! If you are thinking of traveling to Mexico to take amazing pictures, you need to take advantage of the underwater landscape of the cenotes. So remember to grab your camera, because you will have a lot of amazing spots! 
But if you're looking for a little more excitement, why not take a leap of faith and jump in from the platforms around the water's edge? It's the ultimate rush and a surefire way to make memories that will last a lifetime.
Small jumping and hole diving can be enjoyed at Cenote Calavera! This incredible cenote has unique terrain. Make sure you go prepared for taking the jumping of your lifeYou'll jump from small holes in the rocks into the water below, giving you an unforgettable experience that will have you coming back for more!
It's important to note that Cenote Calavera is considered a deep cenote, and diving is only recommended for experienced divers with proper certification. The cenote features various underwater caves and tunnels that require a high level of skill and experience to navigate safely.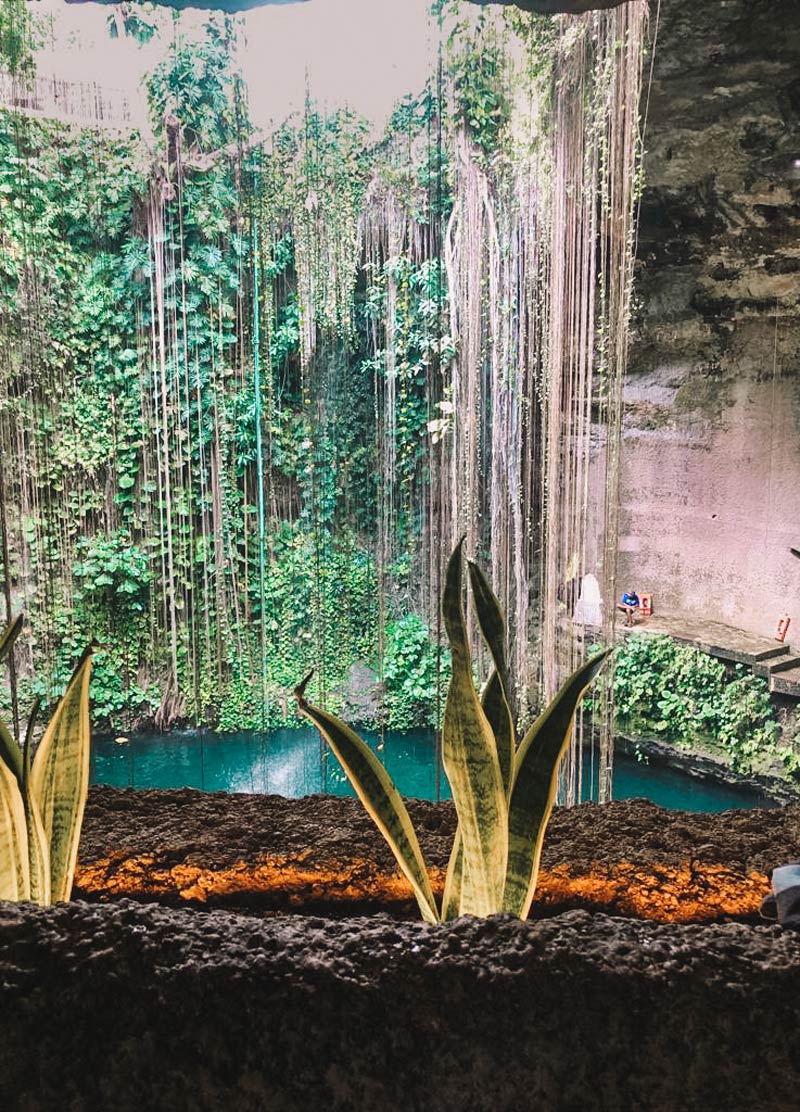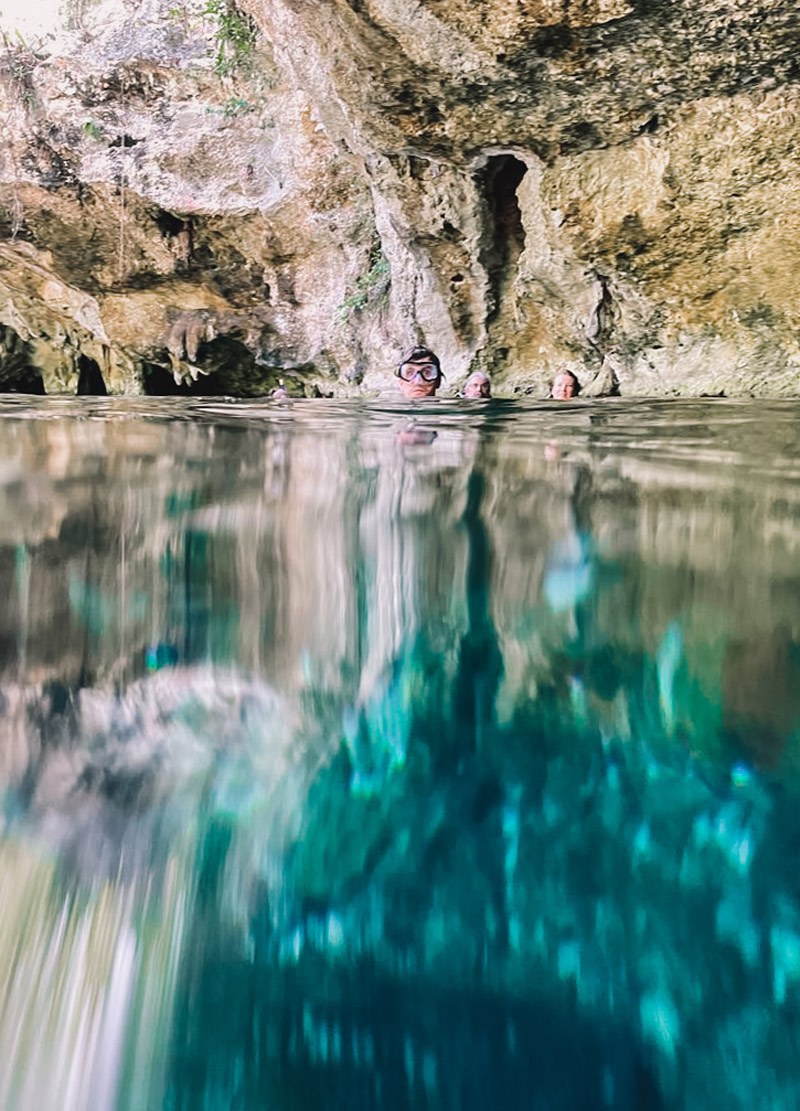 HOW TO GET TO CENOTE CALAVERA FROM TULUM TOWN: TOUR, CAR RENTAL, OR BUS
From Tulum town, take Avenida Tulum towards the north until you reach the junction with Coba Avenue. Turn right onto Coba Avenue and drive for about 3.5 km. The cenote is on the right-hand side of the road, and there is a sign at the entrance that says: " Temple of Doom". It 's hard to miss!
You can rent a bicycle in Tulum town or along the beach road and ride it to the cenote. Follow the same route as by car. The distance from Tulum town to Cenote Calavera is approximately 3.5 km, and it would take approximately 20-25 minutes to bike there, depending on your speed and level of fitness.
You can take a taxi from Tulum town or the beach road to Cenote Calavera. Make sure to agree on the price before getting in the taxi.
You can also take a colectivo (shared minibus) from Tulum town to Coba Avenue. Ask the driver to drop you off at the entrance to Cenote Calavera.
By opting for tours, transportation to and from Cenote Calavera is seamlessly taken care of by the agencies, leaving you free to fully enjoy your trip and capture stunning memories with ease. However, if you're seeking the absolute best experience tailored to your specific needs and budget, we have a special recommendation. Our dear friend Virginia is an expert in organizing personalized day trips, and she can curate the perfect itinerary just for you, completely free of charge! With Virginia's guidance, your day trip to Cenote Calavera will be an unforgettable adventure designed exclusively for you. Discover more about it in the paragraph below 😉
Take Advantage Of Free Concierge Service
As excellent to explore Tulum and its surroundings alone, you may need help figuring out where to start. To make the most of your money and time, contact Virginia and Kelly - two incredible Mexican girls living in Tulum for more than 15 years. They're familiar with the ins & outs of the Tulum town and hotel zone like the back of their hand! 
Since we arrived in Tulum 2 years ago, many adventures wouldn't have been possible without their help - they know literally everybody in Tulum and can perfectly organize every moment of your stay. Get the best tables, skip queues and get on the guest list of the coolest places in Tulum - this's only the beginning! 
They are ready to offer you guys FREE concierge service in Tulum for the time of your stay: take advantage of it, contact them on Whatsapp and live the best experience!
Get FREE Concierge Service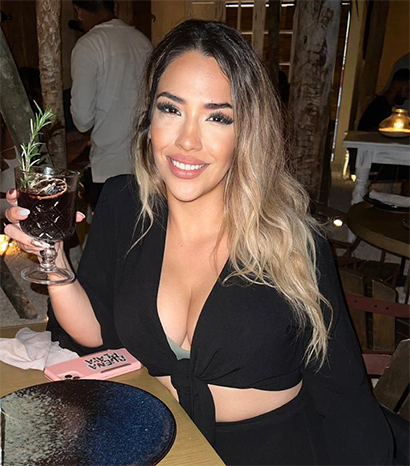 "Virginia Will Transform You In A Tulum Insider"
REASONS TO BOOK A TOUR TO VISIT CENOTE CALAVERA
If you're not into planning every detail of your trip, and prefer joining a group with someone experienced as a guide that will take care of the whole itinerary, we highly recommend you to book a tour to Cenote Calavera and beyond.By booking a tour with a knowledgeable guide, you'll have the chance to gain deeper insights into the local culture and come away with a greater appreciation for this amazing part of the world. 
In addition to the natural beauty and cultural experiences, booking a tour to Cenote Calavera and nearby destinations can be a convenient and time-saving way to explore the area. The cenote is located near other popular destinations such as the Tulum ruins, the Gran Cenote, and the beach, and a tour can allow you to visit multiple attractions in a single day without worrying about transportation. 
Moreover, booking a tour with an expert guide can provide valuable insights and help ensure your safety and comfort during the excursion. Whether you're traveling solo, with a group, or with family, a tour to Cenote Calavera can be a fun and memorable experience that allows you to explore the natural beauty and cultural heritage of the region.
THINGS TO KNOW TO MAKE YOUR VISIT TO CENOTE CALAVERA UNFORGETTABLE
Cenote Calavera offers a parking area and restrooms for visitors. To make the most of your visit, we recommend that you avoid using sunscreen, lotions or repellents to prevent contaminating the sacred waters of the cenote. 
Wear comfortable clothes and shoes, bring water and snacks to stay hydrated, and a camera to capture the beauty of the cenote. Just 1 km away towards the Cobá Archaeological Zone, you can also visit the Great Cenote.
For the activity of scuba diving, it is important to have certification and to go with certified personnel. 
FAQ about Cenote Calavera
How deep is Cenote Calavera?
Cenote Calavera has a maximum depth of around 20 meters (65 feet), with an average depth of around 10 meters (33 feet).
Can I bring my own snorkeling equipment to Cenote Calavera?
Yes, you can bring your own snorkeling equipment to the cenote Calavera. However, some tour operators may provide equipment as part of the tour package.
Are children allowed at Cenote Calavera?
Yes, children are allowed at Cenote Calavera. However, we recommend you to keep an eye on them, especially when they are swimming! 
Can I bring food or beverages to Cenote Calavera?
Yes, you can bring something as a snack, maybe a sandwich would be a nice option! However, remember that Tulum's town has a lot of amazing restaurants where you can go after your day out! 
Is Cenote Calavera wheelchair accessible?
Unfortunately, Cenote Calavera is not wheelchair accessible due to its natural terrain and the lack of accessible infrastructure.
👉 FRIDAY, Dec 1
OPENING PARTY X TEN IBIZA 🎉🍹
🎧
ORIOL CALVO, BASTIAN BUX, VITE
📩
Contact Virginia
here
to book a table
💵
First Release Tickets: Mex$ 550 (incl. fees)
Don't miss out on the chance to join us in "A Journey into House Music" tonight at Vagalume. Contact Virginia here to secure your spot for an unforgettable evening! 🌟🍹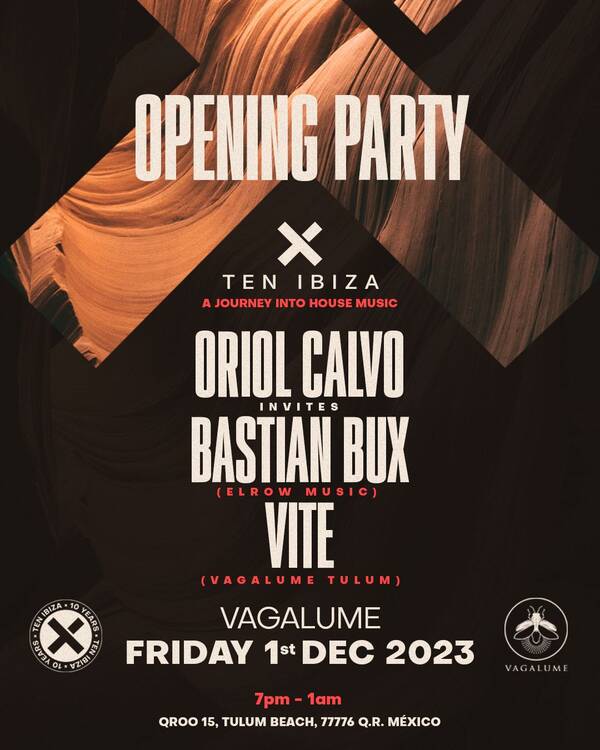 Top Parties and Club Events
23rd November - VAGALUME SESSIONS KEENE @VAGALUME
26th November - VAGALUME SUNDAZE MITA GAMI @VAGALUME
30th November - VAGALUME SESSIONS VALDOVINOS @VAGALUME
3rd December - VAGALUME SUNDAZE VALENTIN HUEDO @VAGALUME
7th December - VAGALUME SESSIONS MUSTAFA ISMAEEL @VAGALUME
30th December - PIKNIK POLO CORP & LEO LEONSKI @VAGALUME
31st December - NEW YEAR´S EVE @BAGATELLE TULUM
31st December - NYE PARTY 2024 @VAGALUME
13th March - LOCUS Tulum 2024