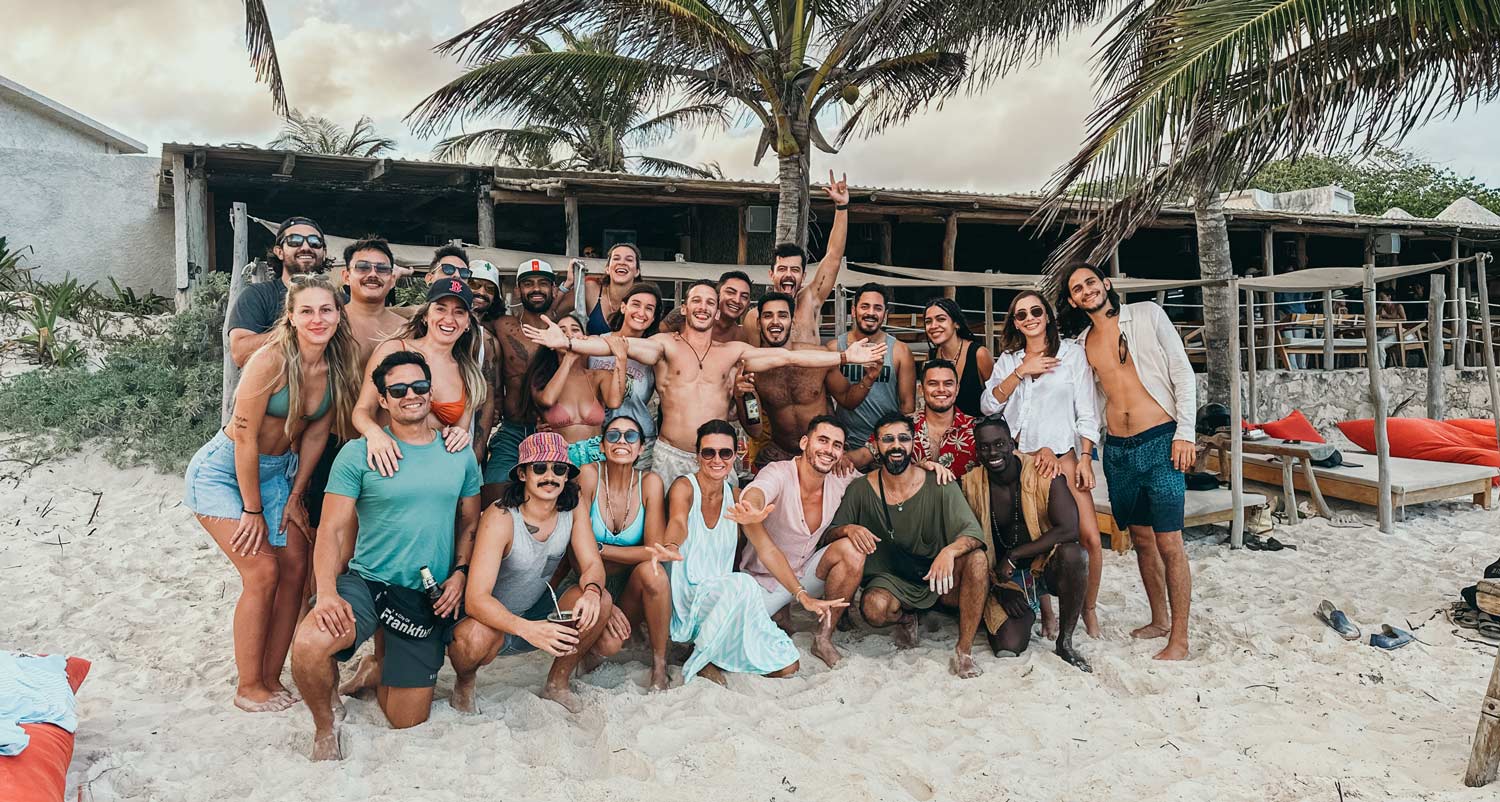 Tulum Spanish School: Your Gateway to Cultural Immersion
Hello adventurers! If you guys are considering a trip to Tulum, Mexico, because you've heard of the breathtaking beaches, the stunning Mayan ruins, and the delicious food. You may be wondering, "Is it necessary to speak Spanish to fully enjoy my Tulum adventure?" While Spanish is the official language of Mexico, Tulum has become a popular tourist destination attracting visitors from all over the world. In this blog, we'll explore the pros of speaking Spanish during your Tulum adventure, and provide tips on how to navigate the language barrier if you don't speak Spanish. 
Whether you're fluent in Spanish or don't speak a word, we'll help you make the most of your Tulum experience. So pack your bags and let's dive in!
TRAVEL TIP: If you have specific questions about Tulum's lifestyle, accommodations, and best places to go, make sure to check out the incredible FREE concierge service of Virginia and Kelly, who have been living in Tulum for over 15 years and can help you with everything you need! Check out more information below!
DO I NEED TO LEARN SPANISH BEFORE TRAVELING TO TULUM?
The short answer is no, it is not necessary to learn Spanish when you want to live an adventure in Tulum. The Riviera Maya is a very touristic place and a popular destination for international travelers from everywhere! Because of this, locals also speak English and they are always willing to help. 
Tours, hotels, beaches, everywhere you will find someone prepared to help you either with Spanish or English. However, if you want to upgrade your cultural experience and maybe be able to reach locals who are not really fluent in English, you should consider taking some Spanish classes. 
SPANISH-ENGLISH TRANSLATOR: AN USEFUL TOOL
In the case you find a local in Mexico that is not really fluent in English (yes, it may happen), you have a very useful tool in your hands: your phone! You can download Google Translator, and use it to translate everything you want: from Spanish to English, or vice versa.
Moreover, if you are more into local experiences and you want to explore more local places, sometimes you will find labels in Spanish, but you can also take a picture with Google translator, and it will translate the text on it! With time, you will start recognizing some words and within a few weeks (if you are, like us, staying more than a week) you will be able to remember them!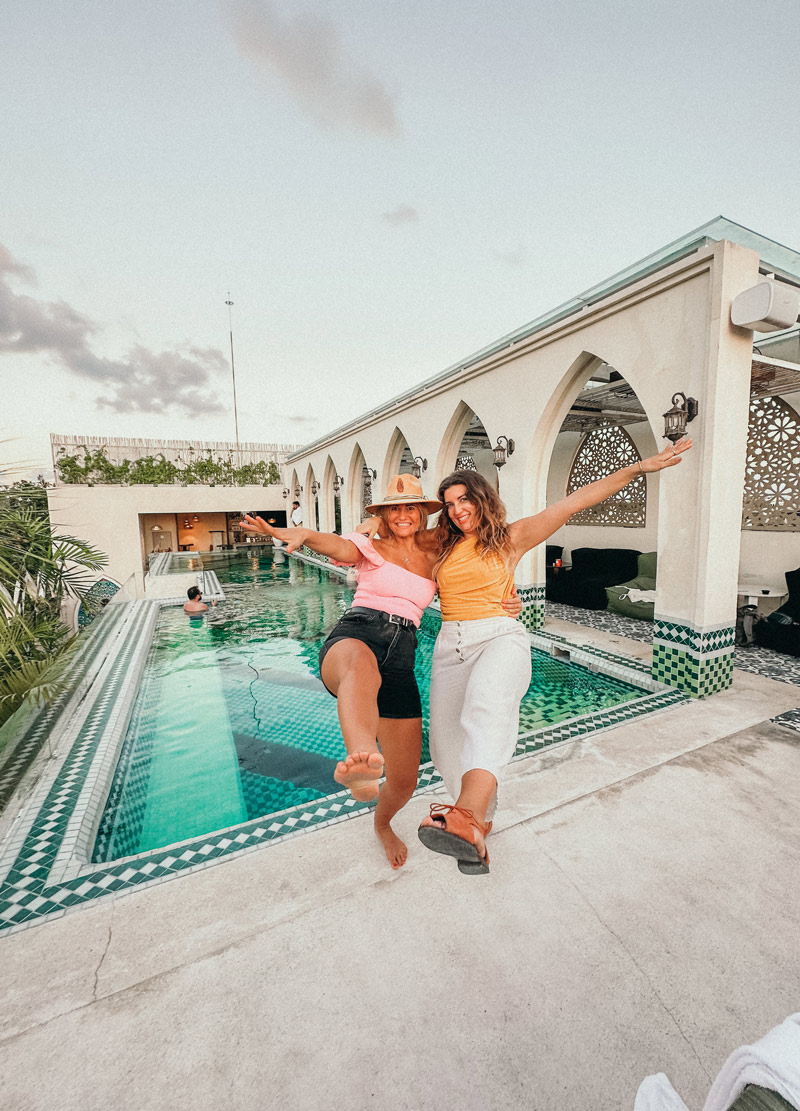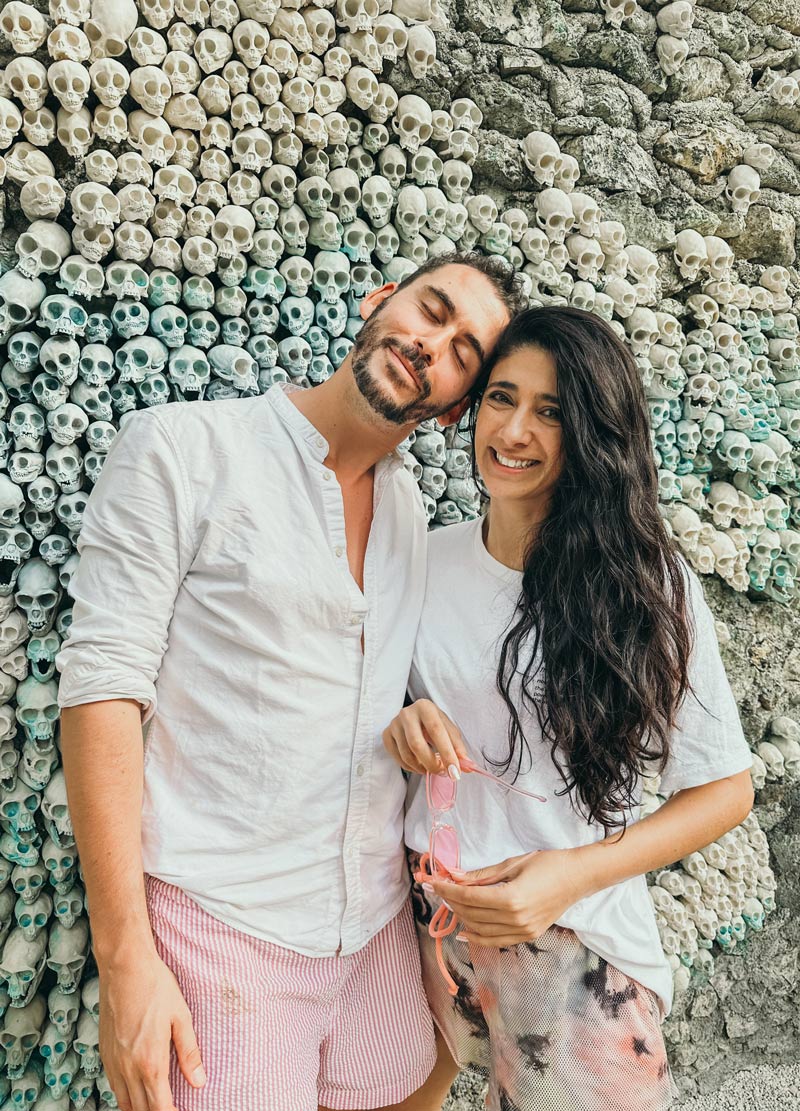 PROS OF LEARNING SPANISH FOR YOUR TULUM ADVENTURE
We have been struggling with learning Spanish since highschool, and now that we visited Mexico, we thought it was the perfect moment to jump in completely, take advantage of the immersion possibility and level up our Spanish skills. But what are the pros of learning Spanish for visiting Tulum? How would this upgrade the adventure? Let's dive into the pros of learning Spanish! 
Connect with locals -
Some locals, especially if they are grown up, don't really speak fluent English, so if you want to have an interesting conversation or listen to an unique story that happened in the Riviera Maya in first person, Spanish will be a useful tool!
Unlock a lifetime skill -
When you learn a language in an immersive way and you use it in real-life situations, you are more likely to remember these words in the future! So whether you are thinking of staying in Tulum as a digital nomad, or you are a worldwide traveler thinking of exploring South America or Spain, learning Spanish will be helpful!
Order the correct food -
So here's a funny story that happened a few months ago in a small local restaurant in Tulum. So the menu was entirely in Spanish, and the workers just knew basic English (really basic), so they didn't know words like nuts, fried calamaris, and so on. On the other hand, our friend Joe didn't know Spanish, but he was hungry and willing to have a snack in that nice place. He was trying to buy fried fish and chips, but he ended up getting a small plate with eggs and fried calamari. He was laughing and considered it a funny experience! However, learning some words could help you to get the exact food you expect!
WHY TO LEARN SPANISH WHILE VISITING TULUM - REAL EXPERIENCES
"I love solo traveling, because I can meet amazing people along the way. I stay in shared hostels and select group tours and activities. The language barrier has never been a problem in Europe or in the USA. However, when I visited Mexico, some hostels were mostly occupied by Latin American people, and they spoke Spanish with each other, and with locals! So I was just staying quiet trying to recognize a word, but I decided to upgrade my experience and became a student in a Spanish course in Tulum and connect better with my new friends!"
Learning Spanish while visiting Tulum, Mexico, or any Spanish speaking city could be really important, especially if you are a solo traveler or if you are planning a long stay in the country. You will be able to connect with locals, with South American travelers and with Spanish people as well. So get ready to unlock your language abilities and take your next Spanish course in Tulum! We are sure you will enjoy it a lot!
MEZTLI SPANISH SCHOOL: LEARNING IN A PARADISE
With a lot of happy students and good reviews, Meztli Spanish Schools aims to be one of the best Spanish learning schools in Tulum. Seriously! Some students say that they were fluent within a few weeks studying with them. 
Meztli School is special because it allows you to have an immersive experience during its classes. The teachers are native Spanish speakers with extensive experience in teaching Spanish to foreigners! 
"The teachers have been super patient with me, every class I was able to learn a new word or review the last class if I didn't remember. It's so nice!" 
Every lesson is special, and if you want to have an intensive learning course, you can also opt for adding more weekly hours! They offer group, private and personalized classes, whether online or in-person. So you can take the class that suits you the most!
Meztli Spanish School in Tulum also offers cultural immersion activities, such as cooking classes, dance classes, and visits to local attractions, so you can have a great time while spending time with other students.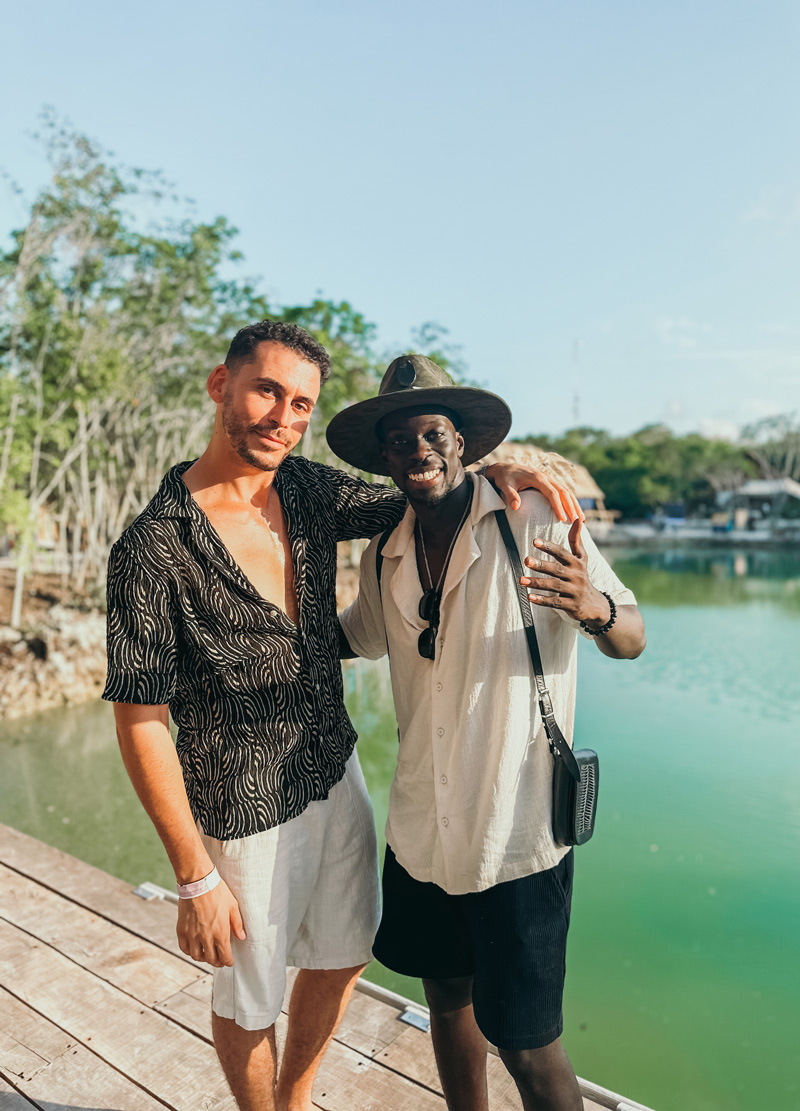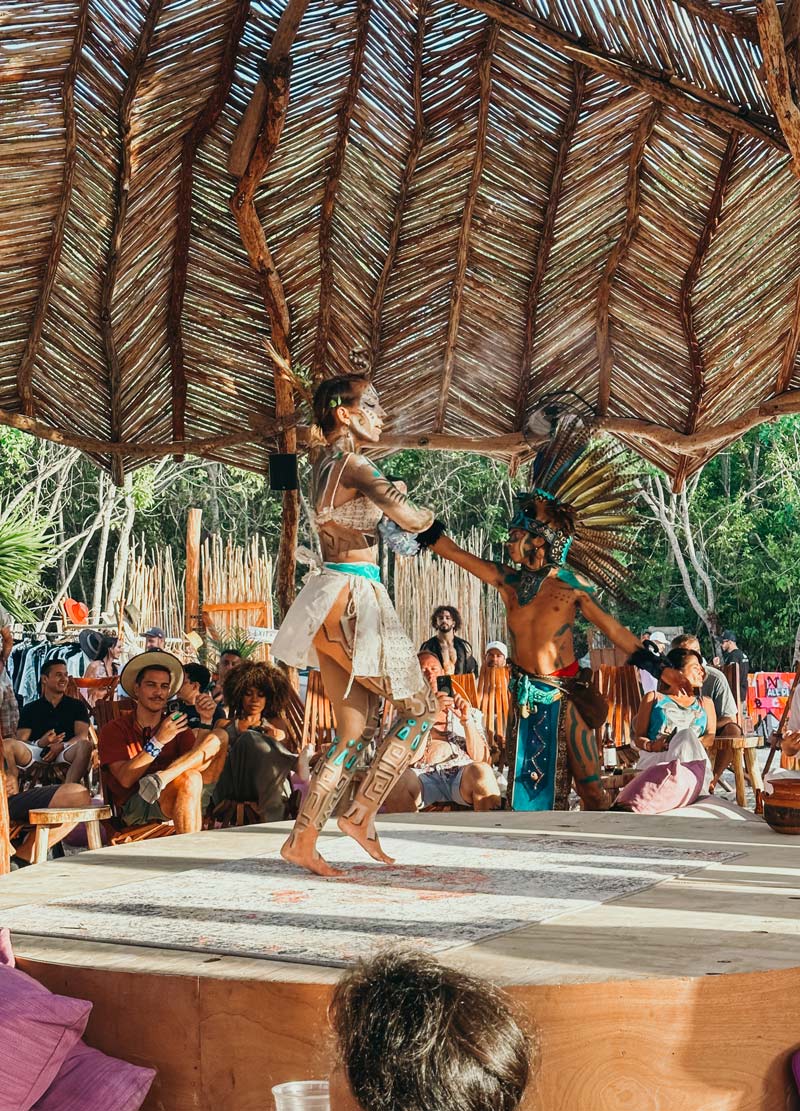 SPANISH PHRASES EVERY TRAVELER SHOULD KNOW BEFORE VISITING TULUM
Are you going to Tulum? ¡Qué emocionante! If you want to make the most of your time here, then it's a good idea to learn some Spanish phrases before you go. Don't worry if you're not fluent – just a few basic phrases can go a long way in helping you navigate the town and connect with the locals.
Here are some essential Spanish phrases every traveler should know before visiting Tulum:
Hola – Hello
¿Cómo estás? – How are you?
Por favor – Please
Gracias – Thank you
De nada – You're welcome
¿Dónde está el baño? – Where is the bathroom?
La cuenta, por favor – The check, please
¿Cuánto cuesta? – How much does it cost?
No hablo español muy bien – I don't speak Spanish very well
¿Me puede recomendar un buen restaurante? – Can you recommend a good restaurant to me?
Of course, there are many more phrases you can learn, but these should get you started. Remember, even if your Spanish isn't perfect, the locals will appreciate the effort and be more willing to help you out. ¡Buen viaje!
First time in Tulum? Our essentials tips
Welcome to what today we call home, Tulum – a tropical paradise on the stunning Caribbean coast of Mexico!
When it comes to finding the perfect place to stay, Tulum offers a diverse range of accommodations catering to various preferences and budgets. From luxurious beachfront resorts and eco-friendly boutique hotels to cozy guesthouses and budget-friendly hostels, there is something for everyone.
Whether you're seeking relaxation, adventure, or a blend of both, Tulum has an array of activities to satisfy your wanderlust. Immerse yourself in the mystical world of ancient Mayan ruins at the Tulum Archaeological Site or discover the breathtaking beauty of the Gran Cenote. Dive into the turquoise waters of the Caribbean Sea, go snorkeling or scuba diving in the mesmerizing coral reefs, or soak up the sun on the pristine white sand beaches.
Explore the vibrant local culture by visiting the lively Tulum Pueblo, where you can indulge in delicious Mexican cuisine, shop for unique handicrafts, and dance to the rhythm of live music. Whether you're seeking relaxation, adventure, cultural immersion, or a mix of everything, Tulum promises an unforgettable experience.
When it comes to finding the perfect place to stay in Tulum, there are several fantastic options to consider, each offering its own unique charm and atmosphere. Here are four popular areas to consider:
Tulum Beach: Known for its postcard-perfect white sand beaches and turquoise waters, Tulum Beach is a top choice for many visitors. This area is home to numerous beachfront resorts and boutique hotels, offering a range of accommodations from luxurious to more budget-friendly. Staying in Tulum Beach provides easy access to the stunning coastline, beachfront yoga classes, spa services, and vibrant beach clubs. Additionally, you'll find a variety of excellent restaurants, bars, and shops nearby, making it a convenient and scenic place to stay.
Aldea Zama: Situated in Tulum Downtown, Aldea Zama is a modern and stylish neighborhood that appeals to those seeking a contemporary vibe. It features upscale condos, luxury Airbnbs, and boutique hotels. Aldea Zama is known for its chic restaurants, trendy cafes, and a more international dining scene. Despite its modern feel, Aldea Zama remains close to the natural beauty of Tulum, with easy access to the stunning beaches and lush jungle surroundings.
La Veleta: La Veleta is a neighborhood that has gained popularity among travelers seeking a quieter and more residential ambiance. Located just south of Tulum Pueblo, this up-and-coming area offers a peaceful retreat away from the bustling crowds. La Veleta is known for its tranquil streets lined with lush vegetation and beautiful, modern homes. Here, you'll find a range of boutique hotels, eco-friendly accommodations, and vacation rentals, often surrounded by tropical gardens or nestled within the jungle. Staying in La Veleta provides a serene and laid-back atmosphere while still being conveniently close to Tulum's main attractions and the town's vibrant energy.
Tulum Pueblo: If you're looking for a more authentic and budget-friendly experience, Tulum Pueblo (also known as Tulum Town) is an excellent choice. This vibrant and lively area offers a wide range of accommodations, including guesthouses, hostels, and mid-range hotels. Tulum Pueblo is known for its bustling local market, delicious street food, and vibrant nightlife. It's a great option for those seeking a cultural immersion, with opportunities to explore local shops, try traditional Mexican cuisine, and interact with friendly locals.
BEST ACTIVITIES TO DO IN TULUM
If you are in Tulum, there are plenty of great activities to do in this incredible city! Moreover, if you are learning Spanish, joining tours and trying to connect with locals while you are enjoying some activities, will allow you to have an intensive learning experience! 
Discover the mesmerizing underwater world of Tulum's beaches and cenotes, where you can swim with fish and turtles. Join incredible boat tours, meet fellow travelers, make friends, and practice your Spanish while exploring this enchanting paradise. Dive into unforgettable experiences that blend natural beauty, cultural exchange, and language learning.
Embrace a challenge in Tulum, a renowned destination for wellness activities, where immersing yourself in Spanish yoga classes awaits. Push your boundaries as you practice yoga in a Spanish-speaking environment, combining physical and linguistic growth. Don't miss the opportunity to experience the harmonious blend of yoga and language. Step out of your comfort zone and discover the transformative power of this invigorating combination.
An art gallery in the middle of the jungle? Take a walk through the jungle while exploring amazing art creations that aim to bring awareness about protecting our incredible world and its nature. Moreover, it's FREE! 
If you need help or want to upgrade your trip to Tulum, check out the paragraph below and take advantage of our friend Virginia's unlimited knowledge about Tulum – for FREE!
Take Advantage Of Free Concierge Service
As excellent to explore Tulum and its surroundings alone, you may need help figuring out where to start. To make the most of your money and time, contact Virginia and Kelly - two incredible Mexican girls living in Tulum for more than 15 years. They're familiar with the ins & outs of the Tulum town and hotel zone like the back of their hand! 
Since we arrived in Tulum 2 years ago, many adventures wouldn't have been possible without their help - they know literally everybody in Tulum and can perfectly organize every moment of your stay. Get the best tables, skip queues and get on the guest list of the coolest places in Tulum - this's only the beginning! 
They are ready to offer you guys FREE concierge service in Tulum for the time of your stay: take advantage of it, contact them on Whatsapp and live the best experience!
Get FREE Concierge Service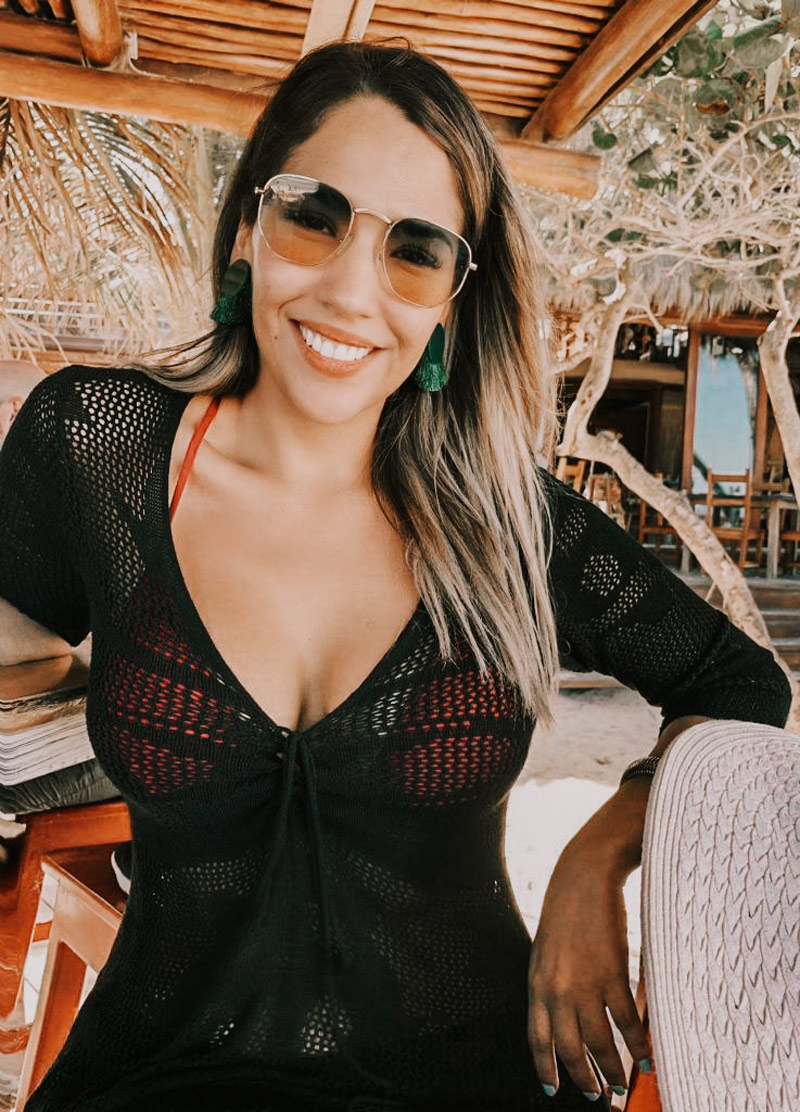 "Virginia Can't Wait To Make Your Stay Flawless"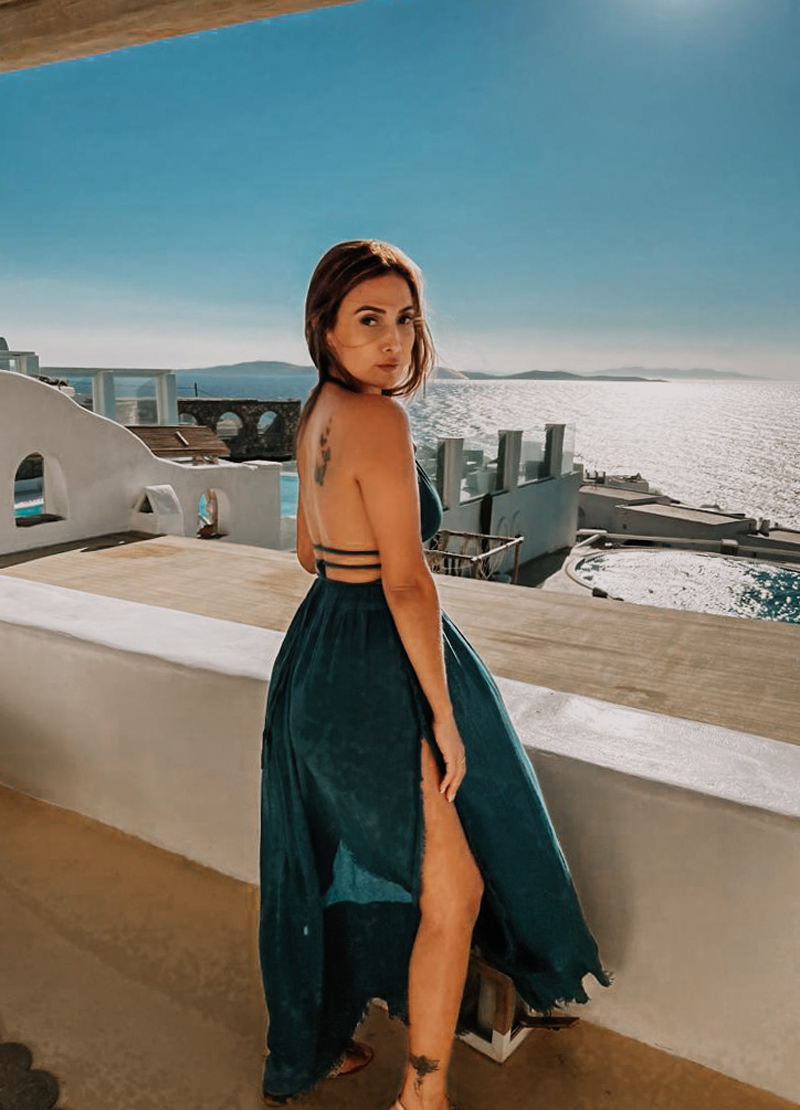 "Kelly Will Transform You In A Tulum Insider"
FAQ about Tulum Spanish School
Can anyone enroll at a Tulum Spanish School?
Absolutely! Tulum Spanish Schools welcome students of all backgrounds and ages who are eager to learn Spanish or improve their language skills.
What teaching methods are used at Tulum Spanish Schools?
Tulum Spanish Schools employ interactive and communicative teaching methods, incorporating real-life scenarios, cultural immersion, and practical language skills.
Are the classes at Tulum Spanish Schools conducted solely in Spanish?
Yes, classes are primarily conducted in Spanish to create an immersive learning environment that enhances language acquisition and fluency.
What types of Spanish courses are offered at Tulum Spanish Schools?
Tulum Spanish Schools offer a variety of courses, including intensive group classes, private lessons, specialized workshops, and cultural activities.
Are the teachers at Tulum Spanish Schools qualified and experienced?
Absolutely! The teachers at Tulum Spanish School are highly qualified, experienced native Spanish speakers who are dedicated to providing an engaging and effective learning experience.
What are some effective ways to learn Spanish while in Tulum?
There are several effective ways to learn Spanish while in Tulum, such as taking Spanish classes at a language school, participating in language exchange programs, practicing with local Spanish speakers, and immersing yourself in the local culture.
Are there language schools or Spanish courses available in Tulum?
Yes, Tulum has language schools and Spanish courses available for learners of all levels. These schools offer immersive programs and experienced instructors to help you learn and improve your Spanish skills.
Can I practice speaking Spanish with locals in Tulum?
Absolutely! Tulum is a great place to practice speaking Spanish with locals. Engage in conversations with restaurant staff, shopkeepers, and friendly locals, who are often more than happy to help you practice and improve your Spanish.
How can I immerse myself in the Spanish language and culture in Tulum?
To immerse yourself in the Spanish language and culture in Tulum, you can participate in cultural activities, attend local events, explore traditional markets, and interact with locals. Engaging in these experiences will provide you with real-life opportunities to practice Spanish and gain insights into the local culture.
Are there any language learning apps that can help me learn Spanish while in Tulum?
Yes, there are numerous online resources and language learning apps that can supplement your Spanish learning journey while in Tulum. Websites like Duolingo, Babbel, and FluentU, as well as apps like HelloTalk and Memrise, offer interactive lessons, practice exercises, and language exchange opportunities that can be accessed from your smartphone or computer.
Can I join local activities or workshops conducted in Spanish to practice the language?
Absolutely! Tulum offers a range of activities and workshops conducted in Spanish, such as cooking classes, dance lessons, and art workshops. Participating in these activities will not only help you practice Spanish but also allow you to explore the local culture and connect with like-minded individuals.
Top Events to Make Your Trip Unforgettable
EDU IMBERNON @MIA TULUM
Line Up: EDU IMBERNON, MIKE GANU & SAM SPARACIO
JUN 8TH, 7 pm to 1 am
Don't miss out on an unforgettable night of electronic music at Mia Tulum! We are thrilled to bring you the sensational talents of Edu Imbernon, a true force in the industry. Get ready to be swept away by his melodic, emotive, and energetic sounds that will keep you dancing all night long.
Join us at The Club, situated at the beautiful Mia Tulum beach, for an electrifying atmosphere that will bring together electronic music enthusiasts from all walks of life. From emerging talents to renowned international DJs, this is your chance to immerse yourself in a night of pure musical bliss. Secure your spot and get ready to vibe, dance, and create unforgettable memories at Mia Tulum!
👾👉🏼 GENERAL ACCESS
🎟️ TICKETS
● Early Bird - The entrance fee of $575 MXN ($35 USD) Includes one welcome drink.
Limited availability
● Tier 1 - The entrance fee of $805 MXN ($49 USD) Includes one welcome drink.
Limited availability
● Final Tier - The entrance fee of $1,380 MXN ($84USD) Includes one welcome drink.
Limited availability
Ready to join us? Get your tickets now! Early bird and Tier 1 tickets are already sold out. Only final tier tickets at $85 USD are still left (only 15 tickets available).
Hurry – spots are filling up fast! 🙀 We can't wait to see you there!
Top Parties and Club Events
7th June - SAGRADO TULUM @VAGALUME
8th June - EDU IMBERNON @MIA TULUM
9th June - HARVY VALENCIA @BONBINNIERE TULUM
10th June - MOONGAZE @Papaya Playa Project
10th June - BASTIAN BUX @BONBONNIERE TULUM
11th June - SONA BEACH PARTY @MIA TULUM
11th June - VAGALUME SUNDAZE JAALEX @VAGALUME
16th June - SOUNDS OF RITUALS @BONBONNIERE TULUM
17th June - SOEL [AFTERLIFE] @MIA TULUM
17th June - STARVAULT @Papaya Playa Project
24th June - ASTROBEAT @Papaya Playa Project
24th June - DEMUIR @BONBONNIERE TULUM
25th June - VAGALUME SUNDAZE OSCAR L @VAGALUME
25th June - ANCESTRAL SOUL @BONBONNIERE TULUM
1st July - THE FULL MOON @Papaya Playa Project
8th July - ASTROBEAT @Papaya Playa Project
15th July - MOONGAZE @Papaya Playa Project
22nd July - STARVAULT @Papaya Playa Project
29th July - THE FULL MOON @Papaya Playa Project
18th August - MECA @BONBONNIERE TULUM
25th August - GUYJ @BONBONNIERE TULUM
13th March - LOCUS Tulum 2024