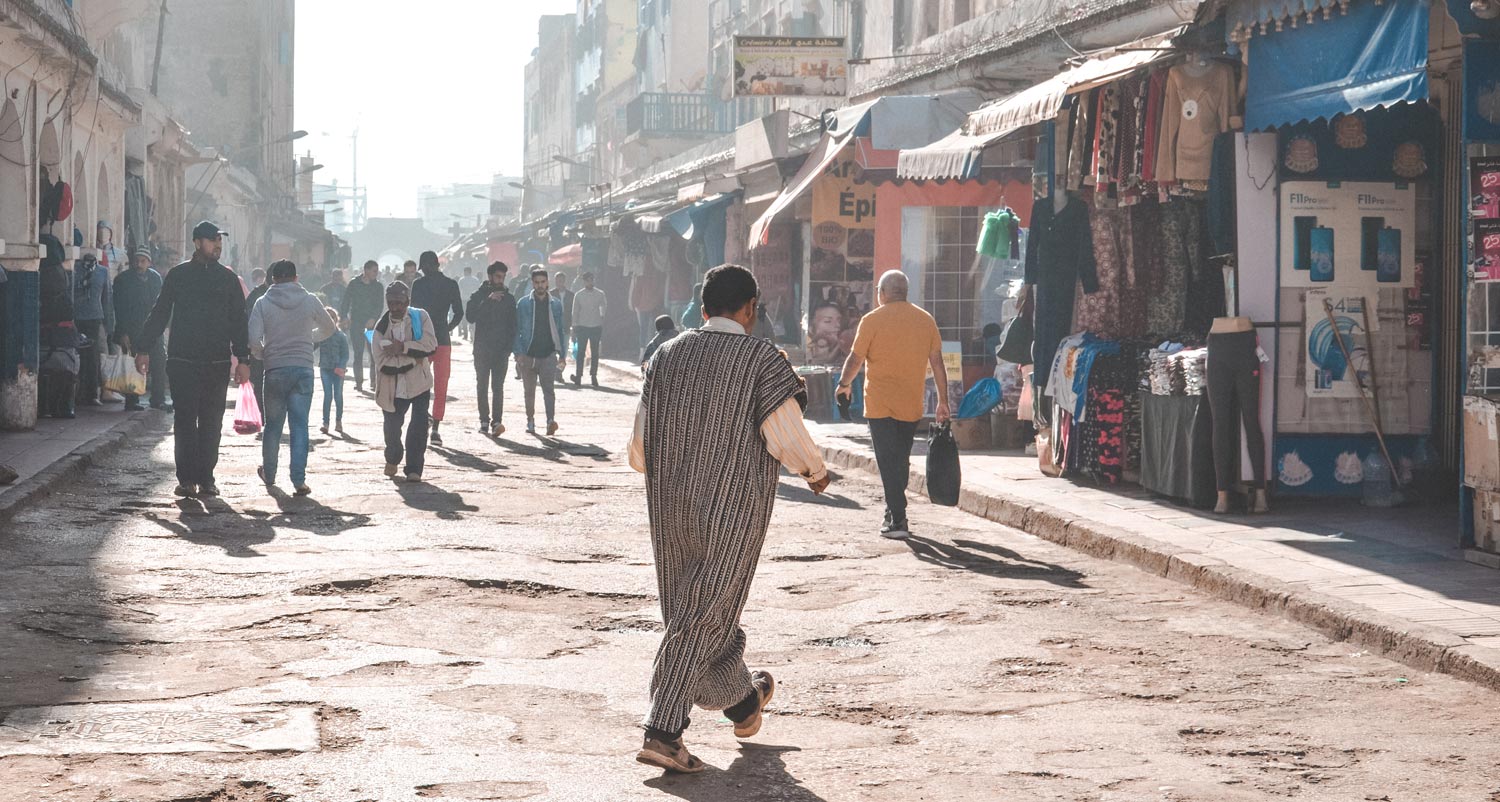 The best things to do in Essaouira: What To Do And See
Even if Essaouira is a small port city in Morocco, there are really many things to do. This city inspired us so much that we created this list of the best things to do on a weekend in Essaouira. As we said in our Essaouira travel guide, this town is the perfect day trip from Marrakech (you can reach it by bus in just a few hours) and we're sure you'll love it. Essaouira's sandy beach, the fish market, the beautiful ramparts, the local sea food, the local argan oil, people surfing and fishing on the Atlantic at the sunset: all this made us fall in love with this beautiful small town. Give a look at our favorite things to do and see and organize your unforgettable stay in Essaouira.   
Our favorite places in Essaouira
What to do and see in Essaouira
1. Visit Essaouira's old Medina
Essaouira's old Medina is a must and most probably the perfect place to start your visit. Medina is the main attraction of Essaouira: where all the life happens, where sipping a mint tea is a sacred moment, where time stopped, where the days follow each other between a hookah and the prayer of a muezzin. Here's where most activities take place and where a walk in the small old streets is already an activity itself. Just let you drive by the sounds of a live gnaoua music, a scent of amber and sandalwood, the smoke of a spiced couscous. There are also many great tours of Medina, but in our opinion there's no need for organized and fancy things to enjoy the soul of Essaouira's Medina!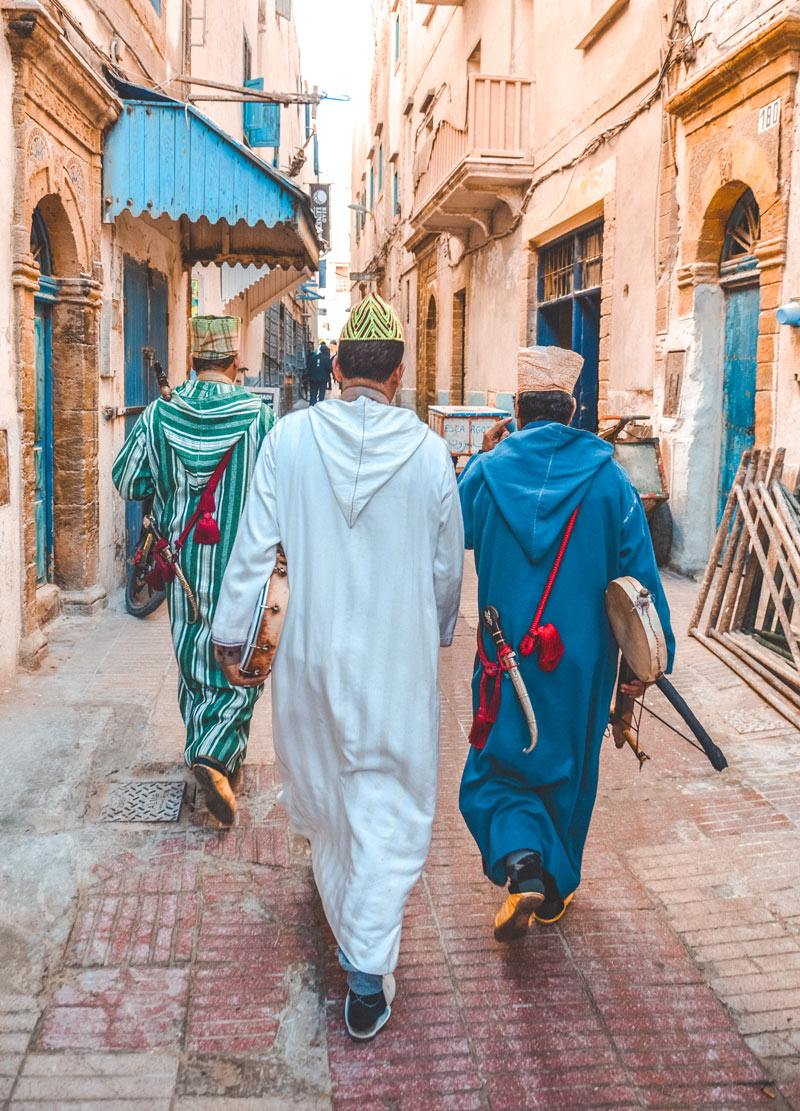 "Gnaoua Musicians"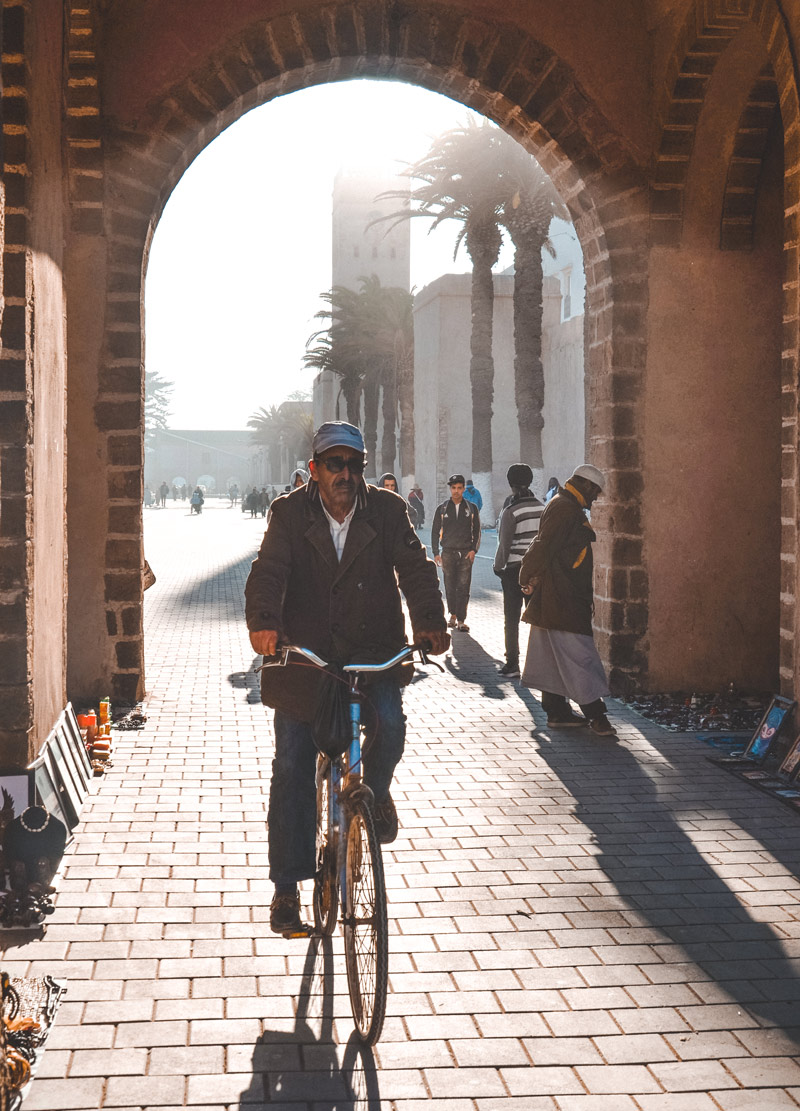 "Sunset In Medina"
2. Eat traditional cooked fish at the port
Moroccan food is just so great! While in Marrakech you can find more fancy restaurants, in Essaouira you'll discover the true local food (here's the list of our favorite moroccan restaurants in Essaouira medina). Since Essaouira is on the Atlantic, the main food here is fish. You can find fresh fish at the local market close to the port every day. If you really want to enjoy the best moments of the market, we advise you to go there in the morning when Moroccans buy fish and seagulls they fight over the fish remains. Essaouira's port is really close to medina and the sandy beach, just at the end of the walls that protected Essaouira in the past. If you want to see a glimpse of the reality of Morocco, that's the place you have to visit.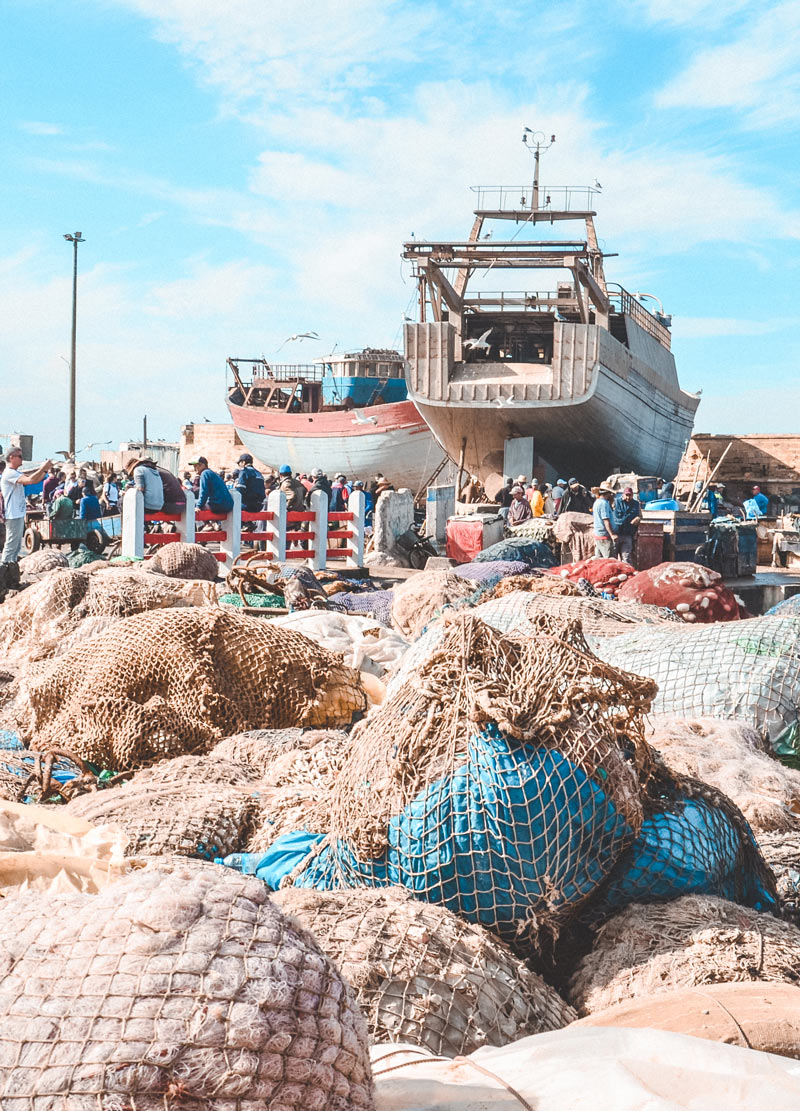 "Entrance Of Essaouira's Port"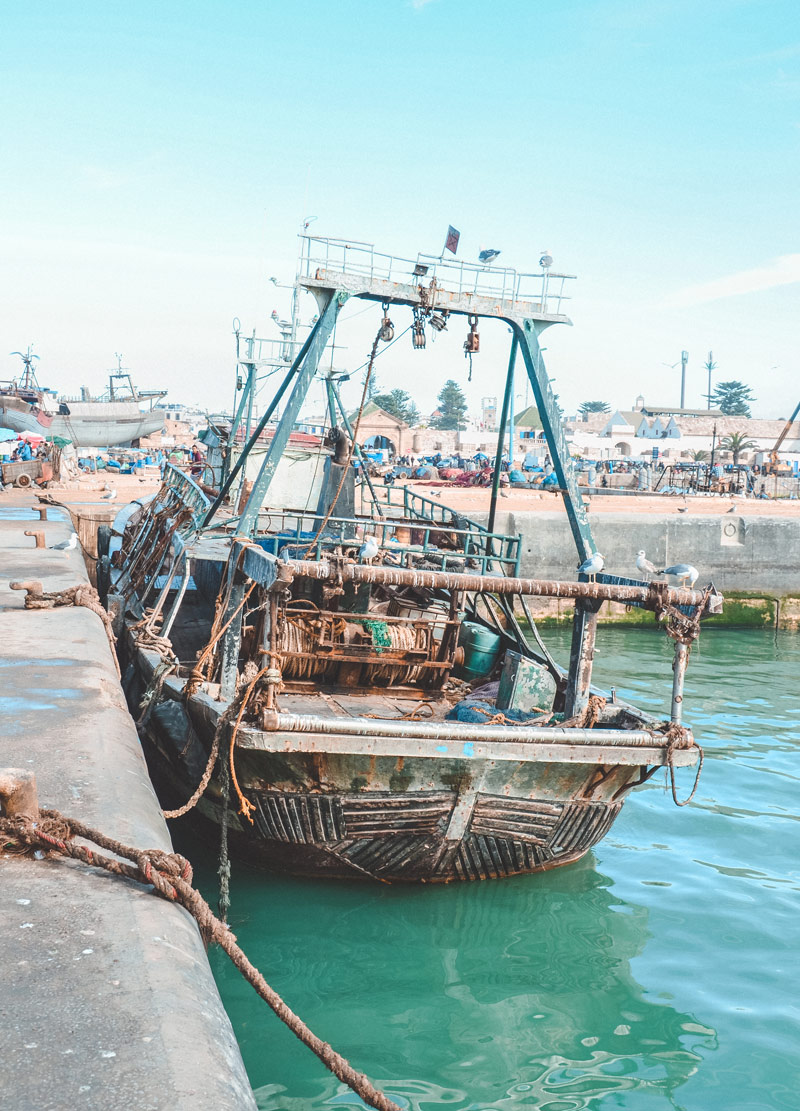 "Old Boat"
3. Travel to other Moroccan villages on the sea
Essaouira is not just close to Marrakech, but it's the perfect point to check out and visit other Moroccan city and town on the Atlantic sea. The most famous is Agadir, but the one we recommend you is Sidi Kaouki. Visiting other places is great if you're spending more than two days in Essaouira. We like to visit and discover also the less mainstream places and this is definitely one of them. Don't take a taxi, especially if you're traveling on a budget, but prefer taking the bus. With a short ride you'll reach many different city and it will be more relaxing than driving a car on Moroccan roads.
4. Admire the sunset on the ramparts
We loved looking at the sunset from the old ramparts in Essaouira. From there and from the sandy beach you'll have the best view on the sea. Buy some olives, dates, moroccan salty m'semen with peppers and some fresh orange juice and find the best place on the ramparts: that's exactly something we like to do in every city we go.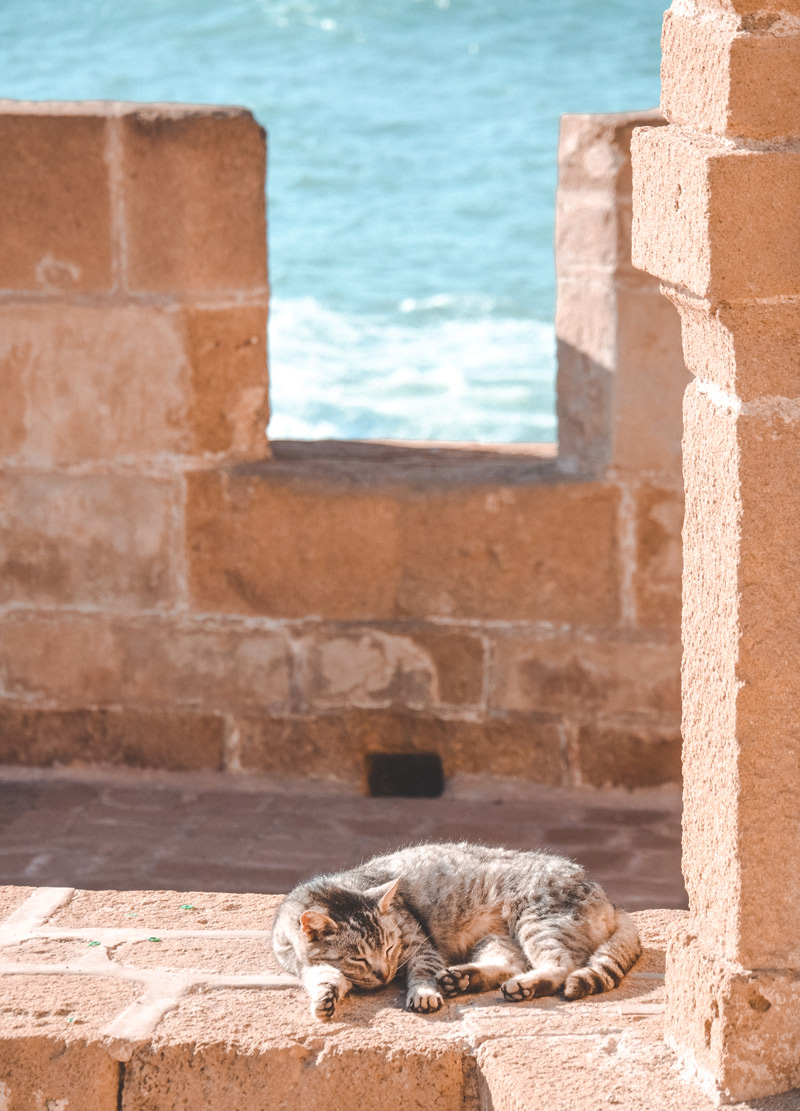 "A Cat Chilling Under The Sun"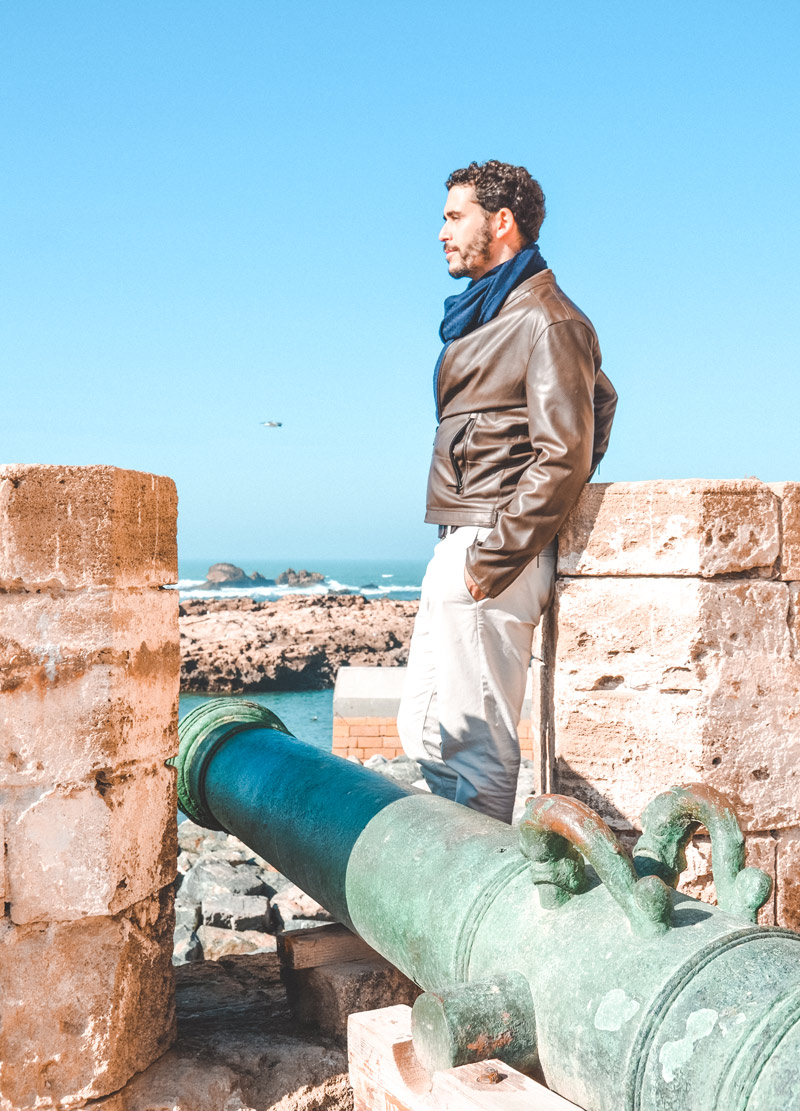 "Eddy Admiring The Horizon On The Ramparts"
5. Take a guide for a day
Taking a guide to explore the surroundings of the town or some historical part of the Medina itself can really be a good idea. Even if you're traveling on a budget, taking a guide for a day will not be so expensive in Morocco and you'll live a completely different experience than reading a book. We always think that visiting a city with a local is really more enriching. If you're searching for one, try to ask your hotel or some famous hotels in the city center: they always organize some day tours. Don't forget to check out Airbnb experiences to find more choices!
6. Buy the traditional argan oil from the market
If there's anything you shouldn't miss in Essaouira is argan oil. Typical of this Moroccan region, it's famous for its multiple positive effects. Here argan oil isn't used just for beauty like in Europe or US: Moroccans use it to cook and to make local nutella called Amlou. If you have never tried it, make sure to check it out. We recommend you to take a crepes or a m'semen and ask to have it with Amlou: we're sure you'll love this cream of almonds, argan oil and honey. For both argan oil and Amlou, make sure to buy them in nice stores and not fall into tourists trap: to save some money, sellers put sugar instead of honey and argan oil can be diluted with other oils.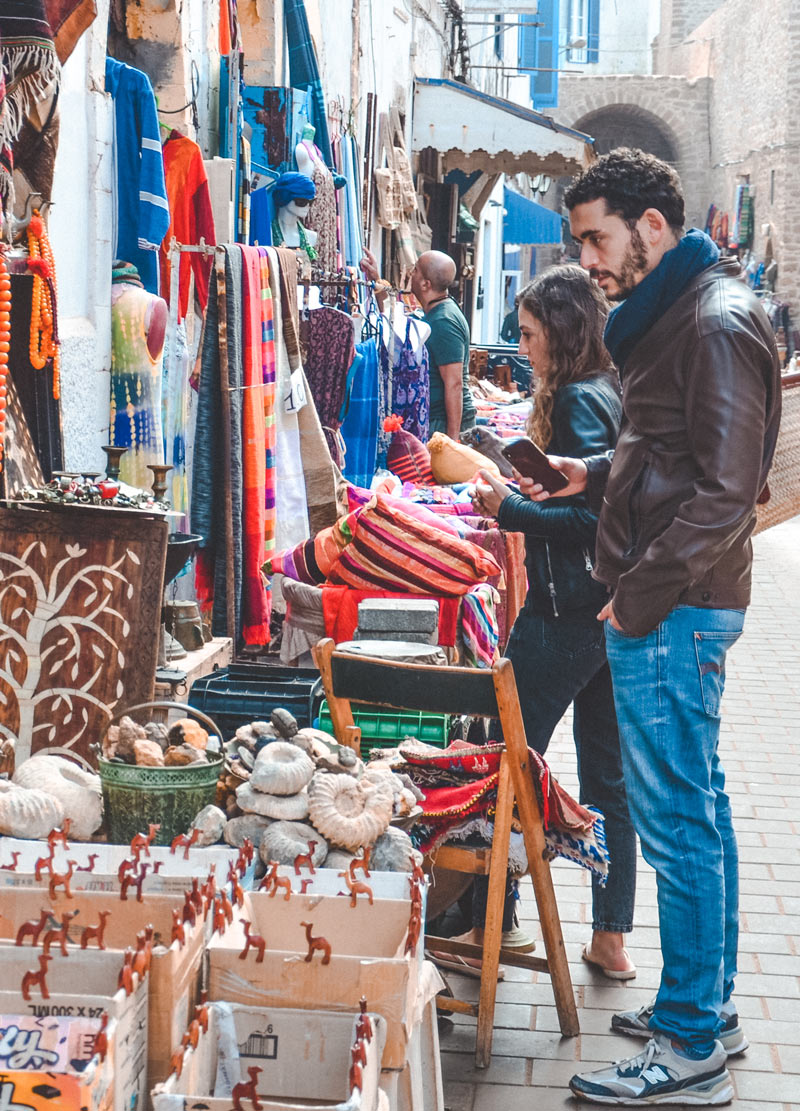 "Wandering Around Medina"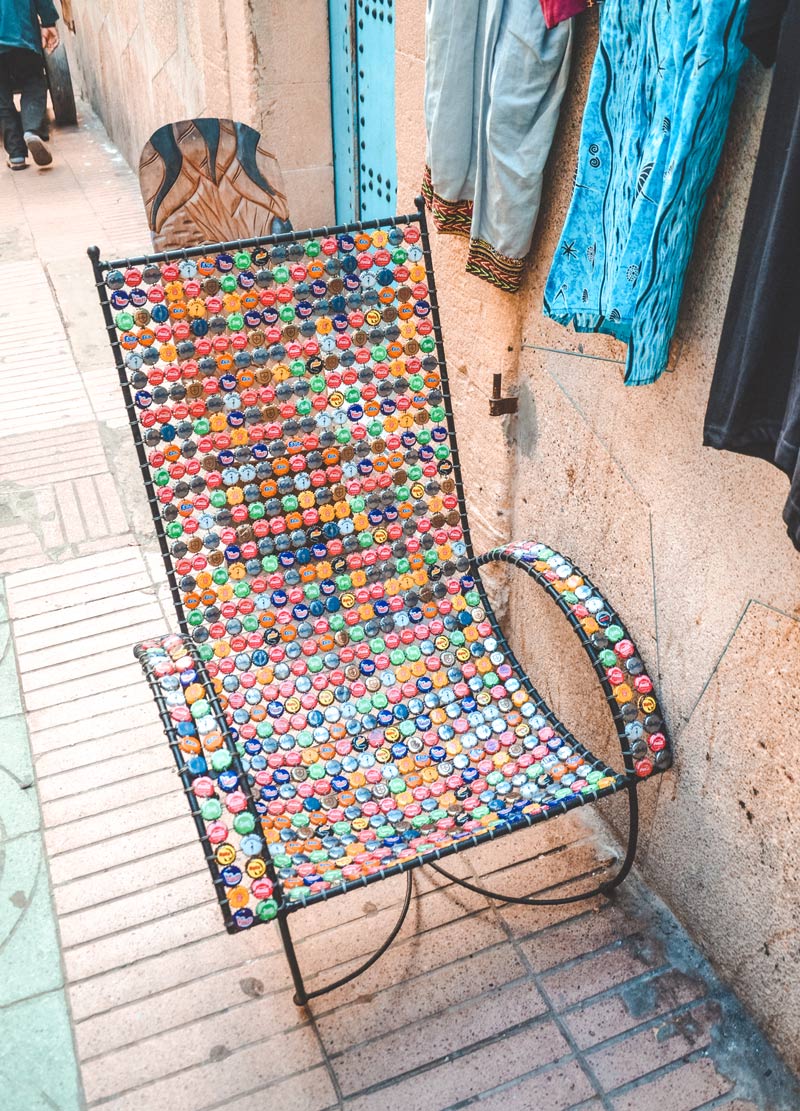 "Recycled Chair"
7. Try surfing on the sea
A thing we regret we have never done during our weekend in Essaouira is having a surf lesson! If you're less into art and historical things, but more into sport and adventure, then you should really give it a try. Just walk along Essaouira's beach and stop at the surf kiosk that inspires you the most. They all have almost the same price and they offer daily surf classes that people with every experience level can attend. We're looking forward to trying it in the future! 
8. Visit the Castelo Real and the Sqala of Essaouira's Port
One of the activities we enjoyed the most during our trip was visiting the Castelo Real, between the port, the fish market and the medina. At the beginning of the walls that enclose the town, this castle is really charming and it's the best spot to observe the ocean and give a look at the eventful fish market. Its view on the open sea will let you see old men fishing between the waves and seagulls flying here and there. The entrance costs something like five euros and in Borj El Barmil, the first bridge that leads you to the Castle, you have some of the most amazing spots in town from where you can make beautiful photos: definitely worth it.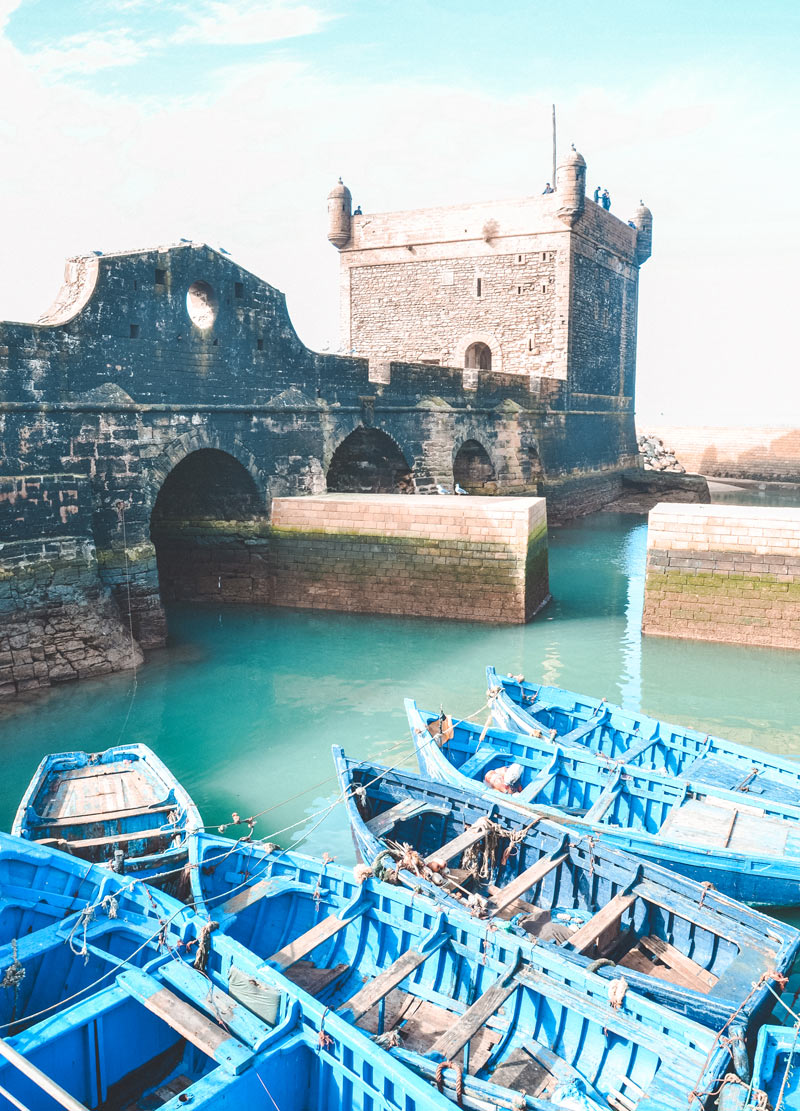 "The Fortress From Outside"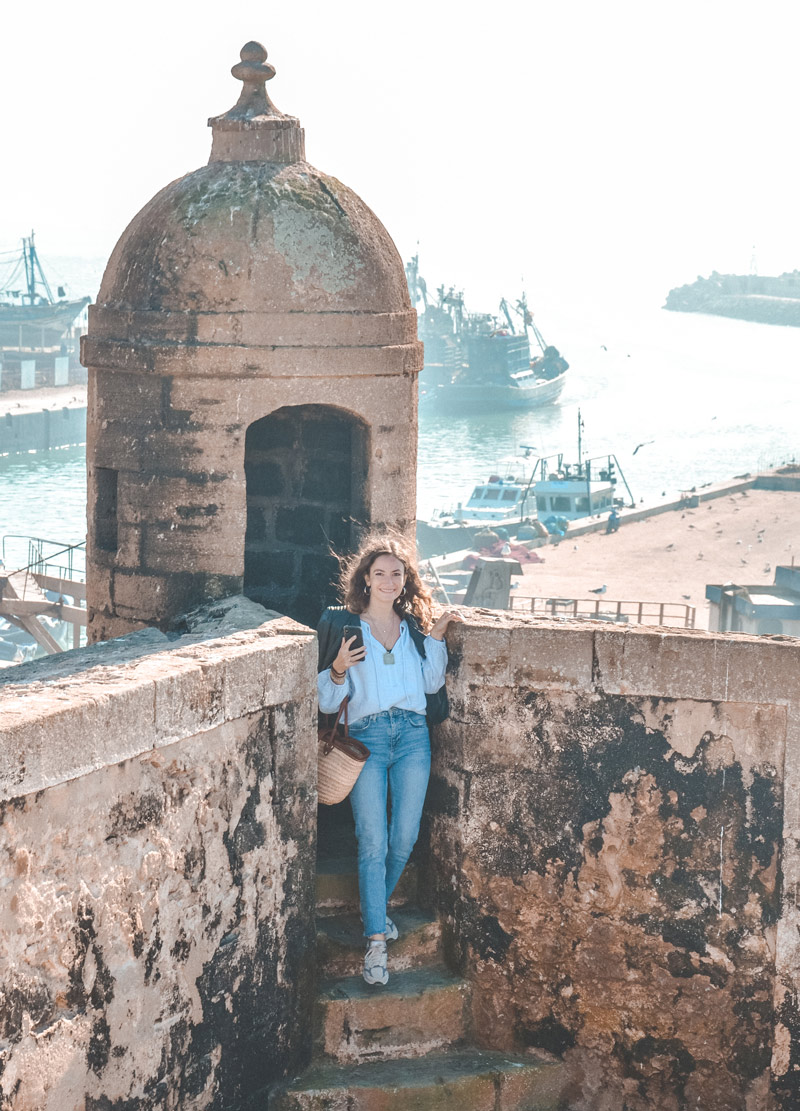 "Alessia Exploring"
9. Listen to some reggae music in Moulay Hassan Square
As Place Jemaa El Fna is to Marrakech, Moulay Hassan Square is for Essaouira. This is the most famous place in Essaouira and it's the main entrance of the old medina. Here you'll find many street vendors during the day and at sunset many different singers will come out and start singing not really typical Moroccan music. Yeah, here Jimi Hendrix left his imprint: in fact, young moroccans from Essaouira prefer its music (or reggae one) rather than the traditional beats. Definitely a thing to see. Just be careful: many sweets vendors will try to sell you magic cakes and similar things. Please, make sure to refuse and avoid talking to them. They want to sell you Moroccan pastries with weed and if police find you with one of them or only see you buying one, you can have a really tough time. So, just avoid them and be careful. 
We hope you liked our list of things to do in Essaouira in a weekend and we hope you'll spend an amazing time in this beautiful city on the Atlantic. If you tried something new or different, or if we forget something, please let us know below and we'll be happy to update our list. 
Top Events to Make Your Trip Unforgettable
MATTHIAS TANZMANN @BONBONNIERE TULUM
Join us for an unforgettable night of electrifying beats and pulsating rhythms with the incredible Matthias Tanzmann live at Bonbonniere Tulum! Get ready to dance the night away on Saturday, June 3rd, starting at 10 pm and going till late. With his signature blend of deep house and techno, Matthias Tanzmann will take you on a musical journey like no other. Prepare to lose yourself in the captivating sounds and immerse yourself in the vibrant atmosphere of Bonbonniere Tulum. Don't miss out on this extraordinary experience as we set the stage for an exceptional night of music and memories. Get your dancing shoes ready and mark your calendars for an unforgettable encounter with one of the finest DJs in the industry, Matthias Tanzmann!
🎟️ TICKETS
● Tier 1 - The entrance fee is of $1000 MXN ($55 USD)
Limited availability
Ready to join us? Get your tickets now! Early bird tickets are $55 USD (only 20 tickets available left).
Hurry – spots are filling up fast! 🙀 We can't wait to see you there!
Top Parties and Club Events
1st June - VAGALUME SESSIONS PALOMA @VAGALUME
1st June - NIÑO ARBOL @MIA TULUM
2nd June - BASTIDAS @BONBONNIERE TULUM
3rd June - THE FULL MOON @Papaya Playa Project
3rd June - MATTHIAS TANZMANN @BONBONNIERE TULUM
4th June - 8KAYS [AFTERLIFE] @MIA TULUM
4th June - VAGALUME SUNDAZE MALANDRA JR @VAGALUME
8th June - EDU IMBERNON @MIA TULUM
9th June - HARVY VALENCIA @BONBINNIERE TULUM
10th June - MOONGAZE @Papaya Playa Project
10th June - BASTIAN BUX @BONBONNIERE TULUM
11th June - SONA BEACH PARTY @MIA TULUM
11th June - VAGALUME SUNDAZE JAALEX @VAGALUME
17th June - SOEL [AFTERLIFE] @MIA TULUM
17th June - STARVAULT @Papaya Playa Project
24th June - ASTROBEAT @Papaya Playa Project
25th June - VAGALUME SUNDAZE OSCAR L @VAGALUME
1st July - THE FULL MOON @Papaya Playa Project
8th July - ASTROBEAT @Papaya Playa Project
15th July - MOONGAZE @Papaya Playa Project
22nd July - STARVAULT @Papaya Playa Project
29th July - THE FULL MOON @Papaya Playa Project
18th August - MECA @BONBONNIERE TULUM
25th August - GUYJ @BONBONNIERE TULUM
13th March - LOCUS Tulum 2024