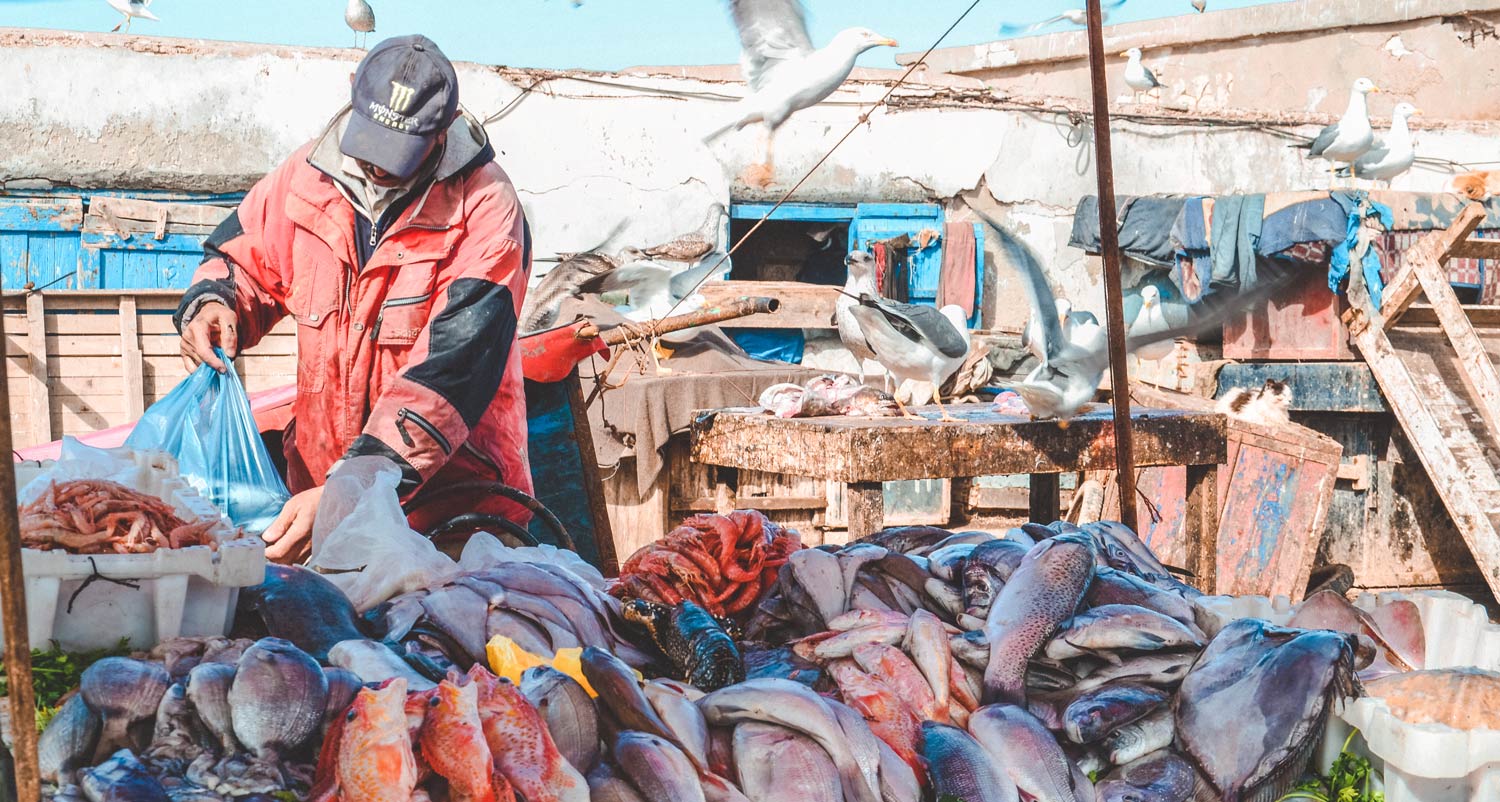 Where To Eat In Essaouira: Our Restaurants Guide
Essaouira, located on the west side of Morocco, was one of the highlights of our trip. Its cuisine was no exception. Essaouira is the best Moroccan city if you want to eat fresh seafood and fish. Every morning you'll see fishermen go off the sea to fish the best fresh seafood. If in Marrakech the traditional cuisine is based on meat and couscous, in Essaouira the local cuisine is way more mediterranean, with many delicious seafood dishes. Even if Essaouira is smaller than Marrakech, in Medina and along the main beach there are many great and delicious restaurants. Especially if you're staying only a weekend in Essaouira you'll be able to eat out more and discover as many restaurants as possible. Whether you're searching for local cuisine or French one, Essaouira will not disappoint you. Always make sure to ask for advice for great food at local or hotels: they always know the best place for a lunch or for dining. If you want to discover what we appreciated the most doing during our weekend in Essaouira, check out our favorite activities. We wrote this small guide of the restaurants we preferred to share our finds. We hope you'll like them and that you'll have a great meal. Bon appetit!
The experience that changed our stay in Essaouira
Essaouira and the Moroccan coast are definitely our favorite part of Morocco. If you're searching a place to resource yourself, meditate and eat great food under the sun looking to the Ocean, Essaouira is really the place to be!
On top of that, we had the chance to do an amazing experience that really changed our time in Morocco. Our Airbnb host, Kevin, did it a few weeks before and he couldn't recommend it enough – he felt reborn after it! So we decided to give it a try.
Guys – it was such a week of mindfulness and peace. This relaxing retreat combines healthy food, yoga, hiking, creativity workshops and meditation. If you have some extra time in Morocco, you can't miss it – all the info about the retreat are here, now you can book it online too!
Perfect for the couple to find the balance and to meet other interesting human beings!
Our favorite restaurants in Essaouira's Medina
Here's the map of the best restaurants in town. Whether your travel in Essaouira will last just one day or a week, you'll be able to try at least one of them. All the restaurants are located in the center of the town, in Medina or just near it. Their menu is really various and the same thing goes for the prices. Check them out if you want to have a unique food experience during your trip in Essaouira!
Triskala is definitely the best restaurant in town. The decor of the place and the great and refined food make it our favorite place in town. If you're searching for something that reflects the modern side of the Moroccan cuisine, then Triskala is for you. Even though you'll not find wine here, it's definitely worth it. We liked it so much that we came back two times on a weekend. Located in the north of Medina, its cozy atmosphere will make you fall in love with it. We really loved their mediterranean appetizers. They also have a great fish selection, but they have vegan and vegetarian choices as well. 
Here you'll not find fish or meat, but only vegetarian and vegan food. This place and its owner and chef are literally the best choices for veggies lovers. The prices are just so good for every budget and it's a nice option if you want to eat an healthy lunch or a light but nutritious dinner. Here you'll not find wine, but a great selection of fresh juices! 
This restaurant is really close to "Le Corail", so if you're in for a healthy meal, we recommend you to try it out. Besides being very cheap, the lady's cooking traditional Moroccan food in a vegan and vegetarian way. The restaurant is very small and not fancy, but very simple. The business is owned and run by the same person, so it really gives you a vibe of authenticity. For sure you'll not find this place on food tours, but the fact it's so little and cozy adds it that something. Again, if you're young and traveling on a budget, that's the place for you.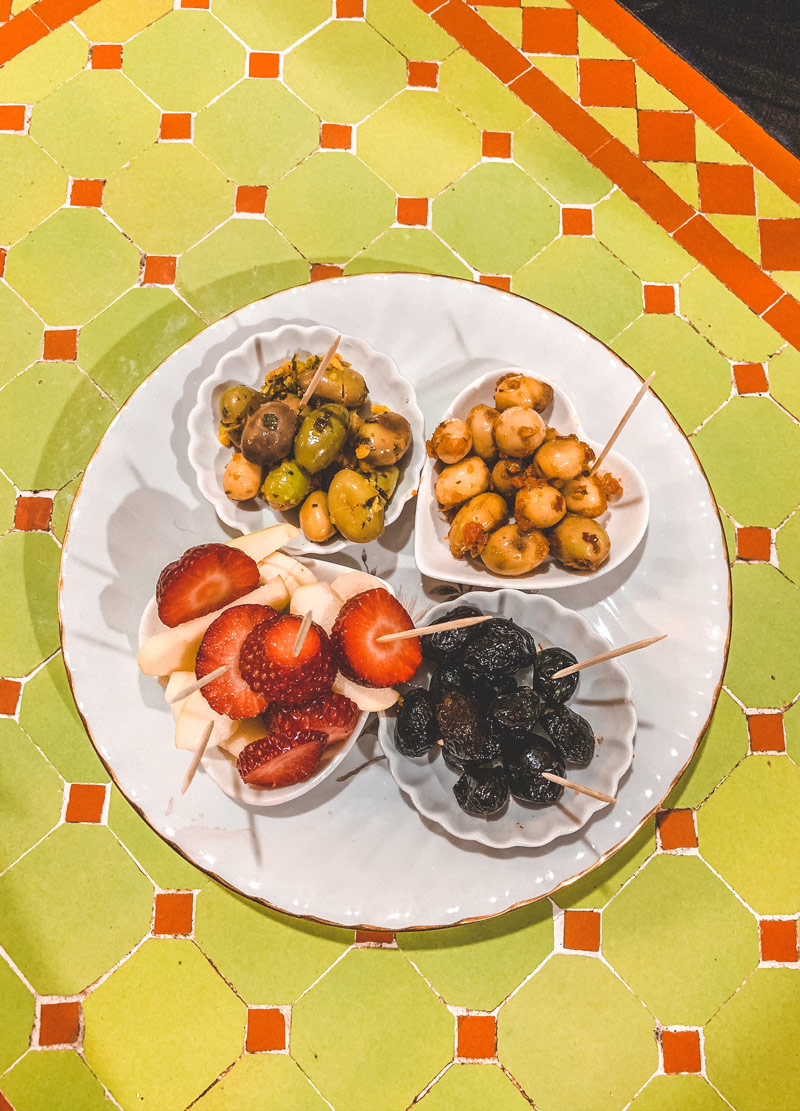 "Aperitif On The House"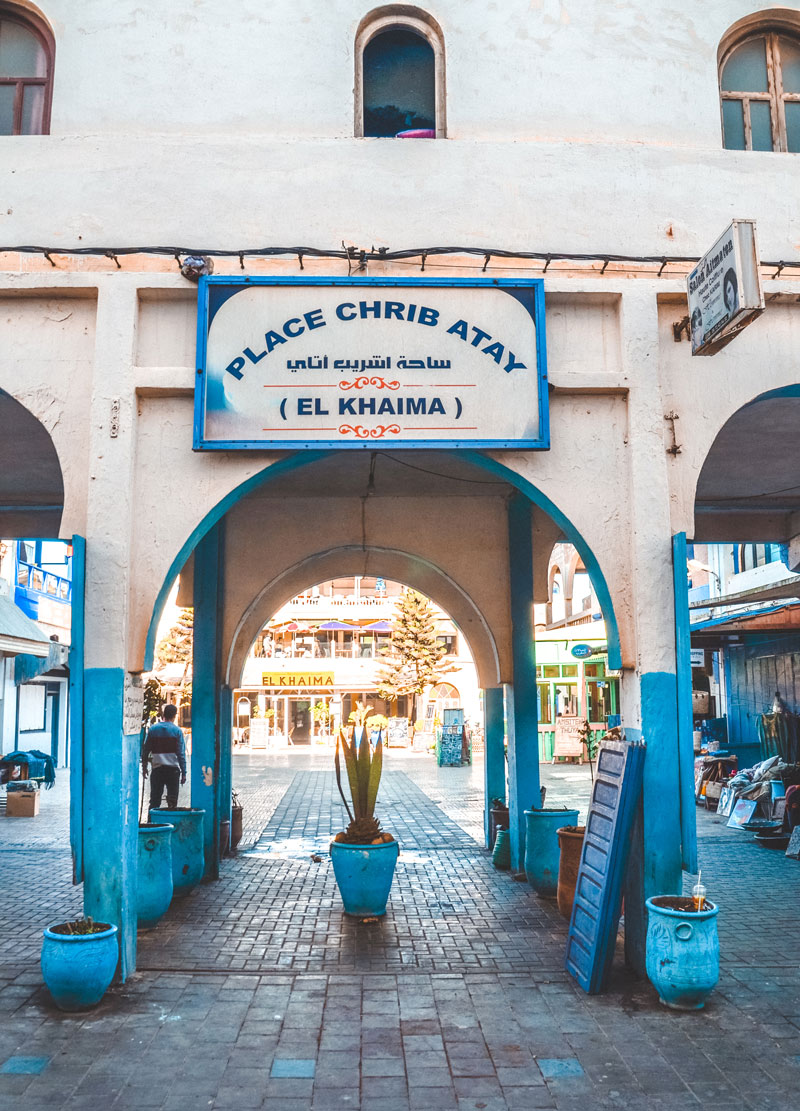 "The Square Of The Vegetarian Restaurants"
Fish'n Mokha is a concept, before being a restaurant. Founded by a young couple from Rome, they made a fusion between delicious street food and moka coffee. This unique concept in Morocco is really a breath of fresh air, especially if you're Italian and missing your mother's coffee. A really easy going place, the perfect deal if you want to picnic at the port or at the beach in Essaouira. The street food has a mediterranean touch and it doesn't reflect traditional Moroccan food. If you don't find it, don't hesitate to ask your riad or hotel for directions. Pay attention: you can't really eat inside, you just have a few bar chairs outside and inside, so if you want something more romantic just take away your meal.  
5. L'atelier - Cafè Boutique
This little cafè boutique is the most beautiful and cozy place we found in Essaouira. Perfect for a nice snack, but also to buy a traditional Moroccan souvenir. Here you can find many different goods: from house decor to food you'll have plenty of choice. Moreover they offer cooking classes. We didn't have the chance to attend one of them, but we really suggest you do that. The stuff is just adorable and they also speak English, more than French and Moroccan.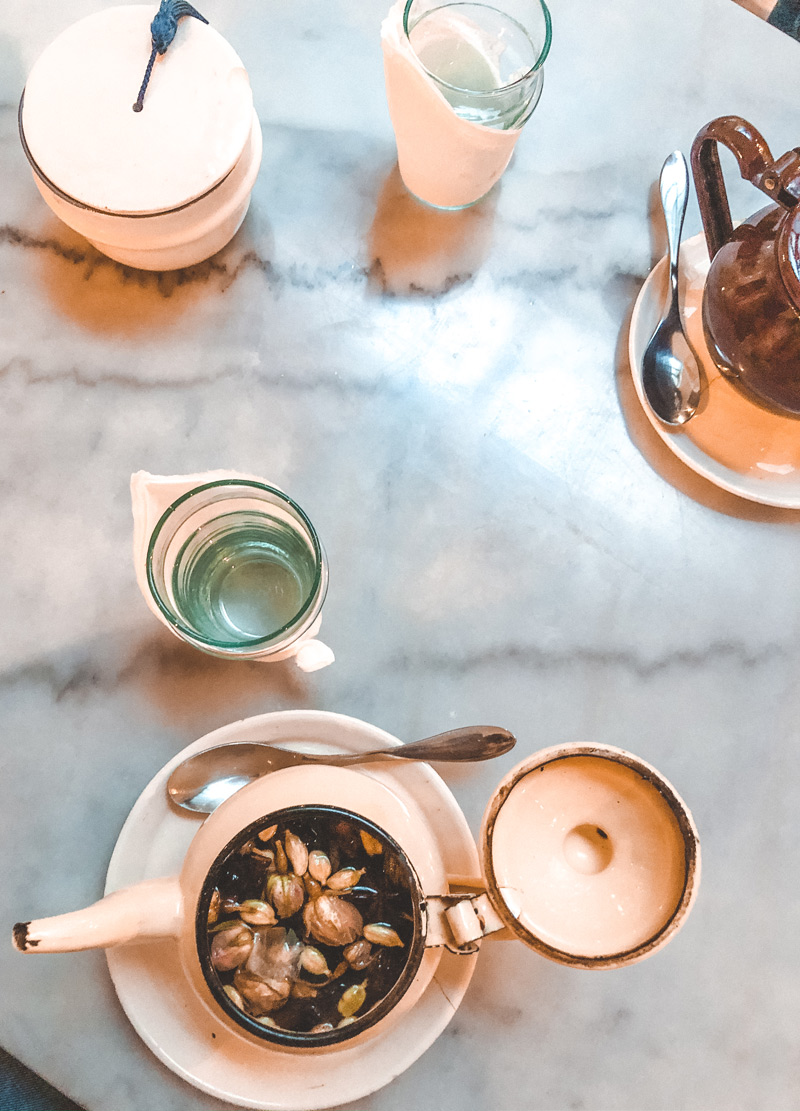 "Sipping Our Mint Tea"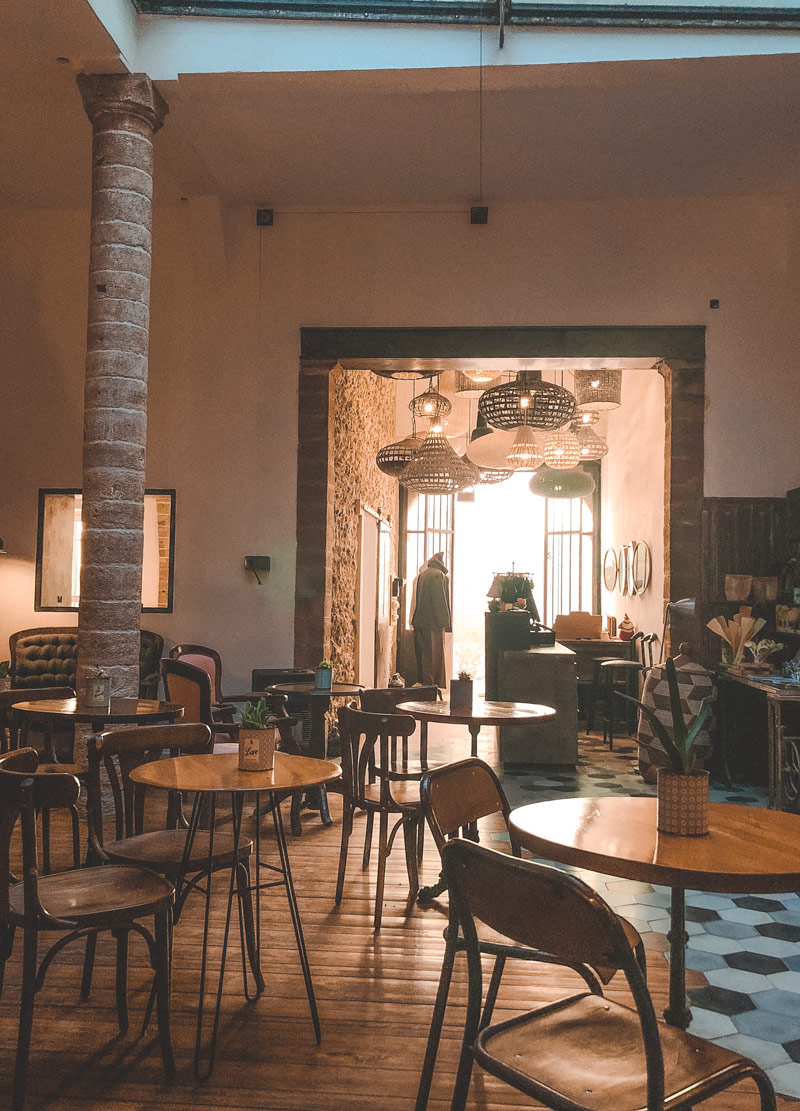 "The Lovely Space In The Atelier"
The Loft is one of the most famous restaurants in Essaouira, so for sure you already heard about it in some guide. The Loft is a very big structure, we love their decoration and their spaces. The art they exposed on the wall is very vintage and refined. Their food is a revisited version of the traditional Moroccan food and they do have some vegetarian and vegan variants. Their seafood is also really good, but if you're searching for French or European cuisine, that's not the best deal. Right in the center of the medina, it's always a good idea if you want a pause from sightseeing or shopping in the old bazaar. It's also a romantic place for dining with your sweet half in one of the terraces they have, with a stunning Ocean view.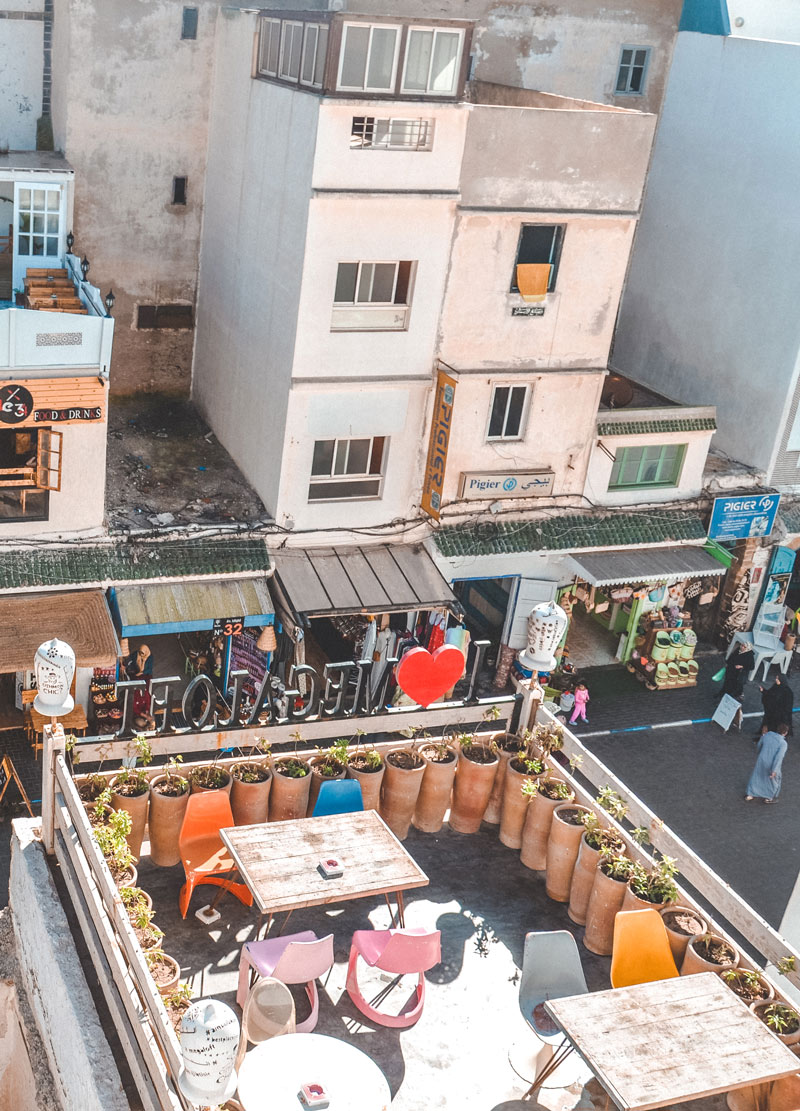 "The Loft Terrace"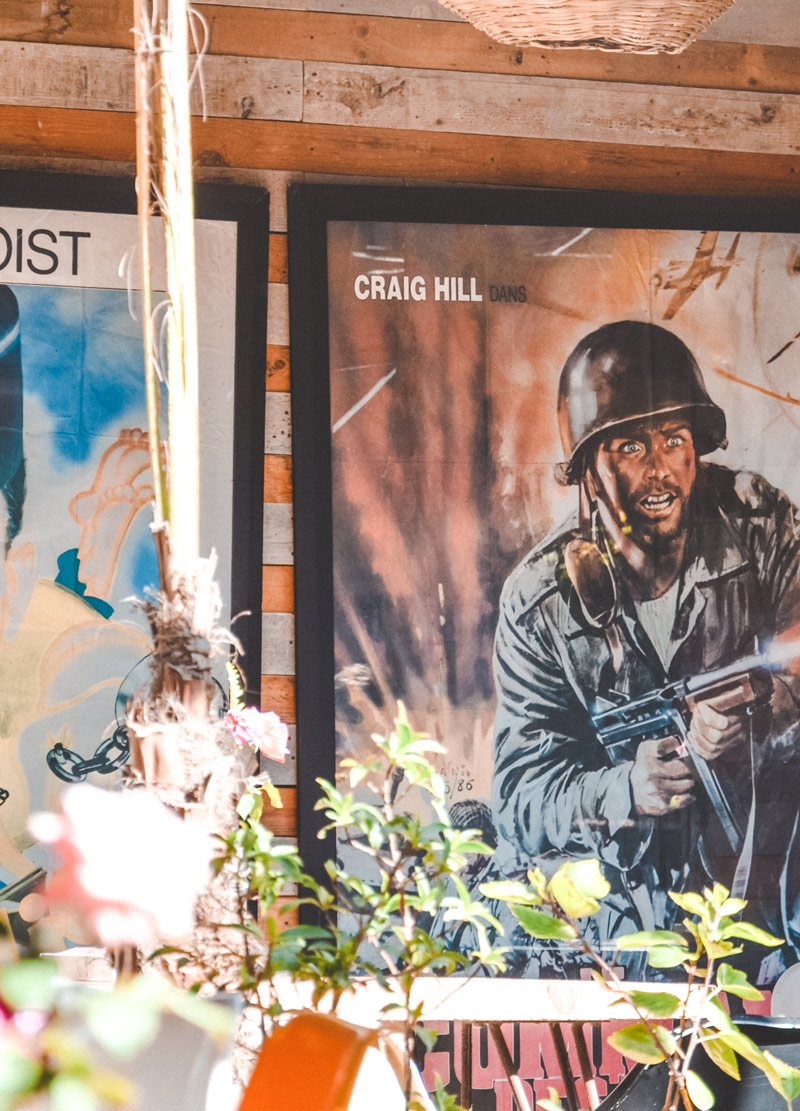 "Old Posters"
Is Essaouira vegan and vegetarian friendly?
Essaouira is definitely one of the most vegan and vegetarian friendly towns we've visited in Morocco. While we were traveling in Morocco we were following a vegan diet and it wasn't difficult at all to stick to it, even when we ate outside. So yeah, Morocco and Essaouira are really vegan friendly and you'll never have problems eating outside in fancy places as well as very simple and traditional restaurants.
We hope this article helped you and don't forget to share with us your experience if you tried one of these restaurants! 
Top Events to Make Your Trip Unforgettable
DOMINIK TULUM @MIA TULUM
When: September 9, 2023 7:00 PM
Where: Mia Restaurant & Beach Club, Tulum
🌴 Join Us for An Unforgettable Night at DOMINIK - TULUM at Mia Tulum! 🌴
Friends, clear your schedules and get ready for a magical experience at Mia Tulum! This stunning location will host DOMINIK - TULUM on Saturday, September 9th, from 7 pm to 1 am. This isn't just another event; it's a fusion of nature, culture, and sound featuring an incredible line-up with GIORGIO STEFANO, AUDICTIVE, and MAURO TORRETA. At DOMINIK, you'll find the perfect blend of Tulum's lush jungles and pulsating underground beats, creating an environment where genuine connections blossom.
🎟️ Secure your tickets now:
Early Bird: $575 MXN ($38 USD), includes a welcome drink 🍹 (Limited Availability)
Tier 1: $805 MXN ($52 USD), includes a welcome drink 🍹 (Limited Availability)
Final Tier: $1150 MXN ($75 USD), includes a welcome drink 🍹 (Limited Availability)
Dinner + Party: $1380 MXN ($90 USD) 🍽️🎉 (Limited Availability)
See you there for a night you won't forget! 🎶✨
Ready to join us? Get your ticket now! Early bird tickets are already selling out, secure them at 632 pesos (only 15 tickets available).
Hurry – spots are filling up fast! 🙀 We can't wait to see you there!
Top Parties and Club Events
17th September - ANCESTRAL SOUL @BONBONNIERE TULUM
22nd September - TONY ROMERA @BONBONNIERE TULUM
29nd September - TIM BARESKO @BONBONNIERE TULUM
4th November - HOT SINCE 82 @BONBONNIERE TULUM
13th March - LOCUS Tulum 2024