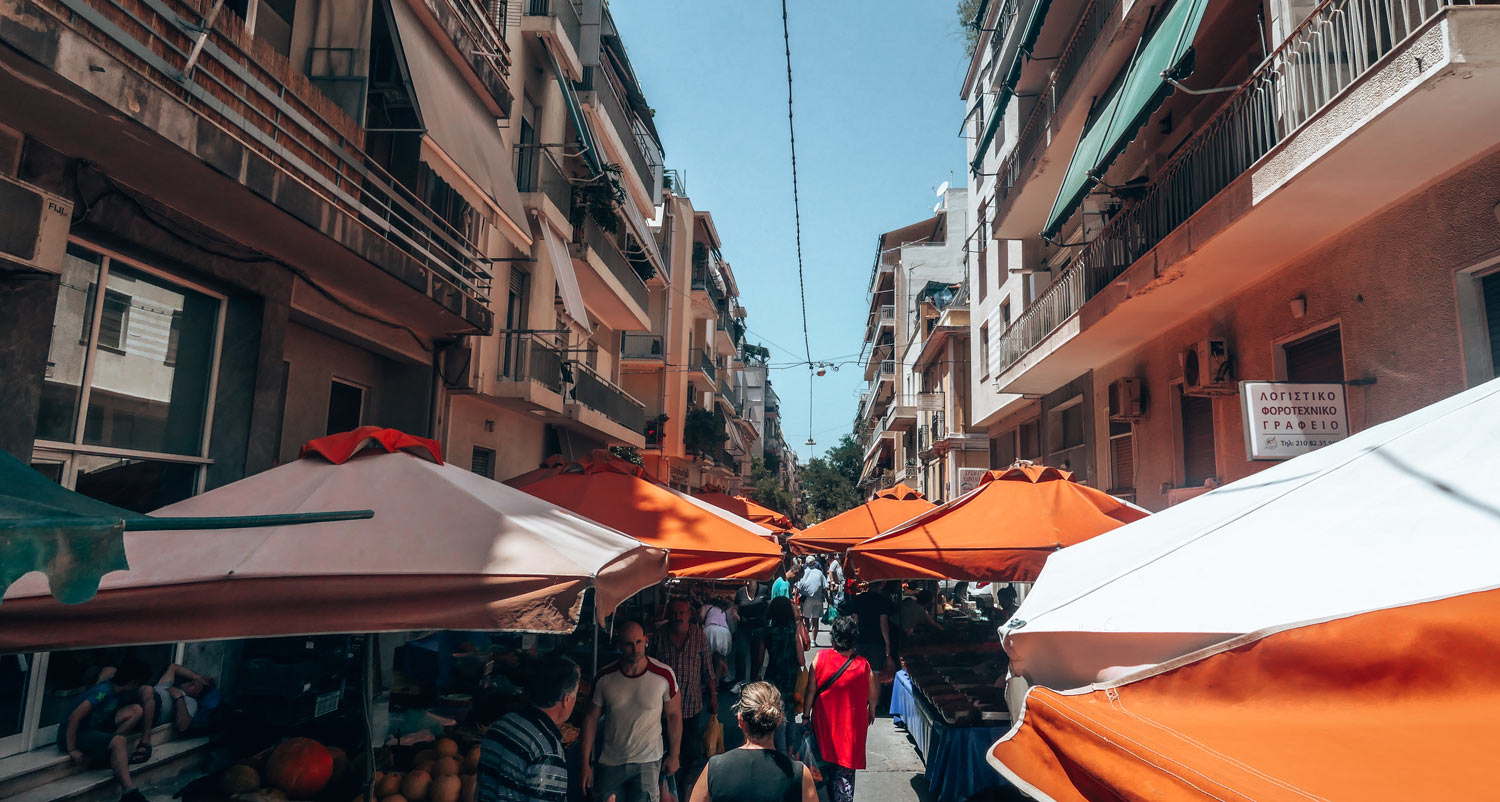 The Best Supermarkets In Athens Greece
If you are living or travel in Athens, after you tried all the restaurants in the center and close to your hotel, you will have to buy food in one of the many stores around the city. Every time we settle down in a new country, we can't wait to discover new restaurants, but at the end we love to come back to homemade food. That's why we wrote this helpful article to tell you what we think about the most famous supermarkets, where you can find particular food, and which is the best combo to save money.
Before starting, we have to tell you that, even if some forums say Greece is a cheap country, we didn't find it so convenient. We found every grocery store pretty expensive and even the local products had pretty high prices, even though the quality wasn't high. If you want to save some money, book your apartment with Travala: you'll have a 25$ discount and you'll be in one of the best location to find the best combo for your grocery.
THE MOST POPULAR GROCERY STORE: SKLAVENITIS
As you probably read in Tripadvisor forums, the most famous supermarket in Attica and Greece is Sklavenitis. This big retail group in Greece built their bases many years ago. You will see its logo in almost every city in Greece and most probably close to your hotel. It is close one day per week, on Sunday, it's a proudly Greek business and it's completely owned by the Sklavenitis family. 
Even though Sklavenitis is the most popular supermarket, we have to say that we found it pretty expensive. Our weekly grocery budget was really inappropriate: we were spending around 50 to 70 euros, and we weren't buying anything special. Feta cheese can cost until 4-5 euros, fresh fruit and vegetables are much more expensive than at the local market, and chicken is the most expensive thing: we were paying almost 10 euros for not even half kilo of meat. 
The positive thing is that Sklavenitis stores are located pretty much everywhere around Athens. Another great thing is their wine selection from Greece: just incredible. 
During our shopping, we noticed that actually junk food was a way less expensive than real healty food, but that's how it works in a lot of countries. 
WHERE TO FIND ITALIAN PRODUCTS in Athens?
Since Alessia is Italian, everywhere she goes, she has to find a great selection of Italian products. After reading some reviews on online forums, we found a lot of fresh Italian and Greek products in "My Market" shop. On the contrary of "Sklavenitis", "My Market" is not so well located in Athens and it's more on the outskirts of the city, so most probably it will not be close to hotels. Even if it's not really in the center, we didn't find the final price of our shopping inappropriate.
The first time we did our shopping there we were surprised by the quality level of the products. So, if you are searching for more variety, international products, great cheese from Greece, huge selection of coffee and even more attractive prices, "My Market" is a great grocery store. And don't worry, even if this store is not really in the center of Athens, everybody knows it. You'll be able to tell any taxi to bring you to the closest one and you will be immediately there. 
WHERE TO BUY FRESH SEASONAL FRUITS AND VEGETABLES IN ATHENS?
The best place to buy fresh fruits and vegetables and save some money is definitely at the local market. From March – April to October – November, you can buy the best fruit and vegetables on sale. There is no shop that can keep the competition, that's why we really advise you not to buy fruit and vegetables in any shops: the ones at the local market will be much better! 
You will find a huge variety of olives, honey, cheese and other Greek products. You should check the local markets of your neighbourhood, but if you are in some hotels in Plaka, we have the solution for you: the Central Market of Athens. It is not far away from the center, and it's open every day. You will find a lot of different products and you can be sure that even if you travel, you will be able to taste the real flavors of Greece. To transport all the fruits and vegetables, a backpack is essential if you don't want to destroy your arms with heavy bags. We use this one since 2 years and we love it both for traveling, transport fruits and vegetables, go to the beach and much more!
Meet the real Greek culinary tradition
When Alessia's parents came to visit us, we offered them this incredible experience to discover Athens and its culinary tradition. We also just saw now that you can book it in advance at an advantageous price!
Stay in a 300-square-meter villa among pine trees while eating, learning and cooking all what Greek cuisine has to offer. Alessia's parents loved it and her mother is still cooking some of the recipes to their friends in Italy!
Definitely a must if you want to see a more local and authentic way of living and cooking!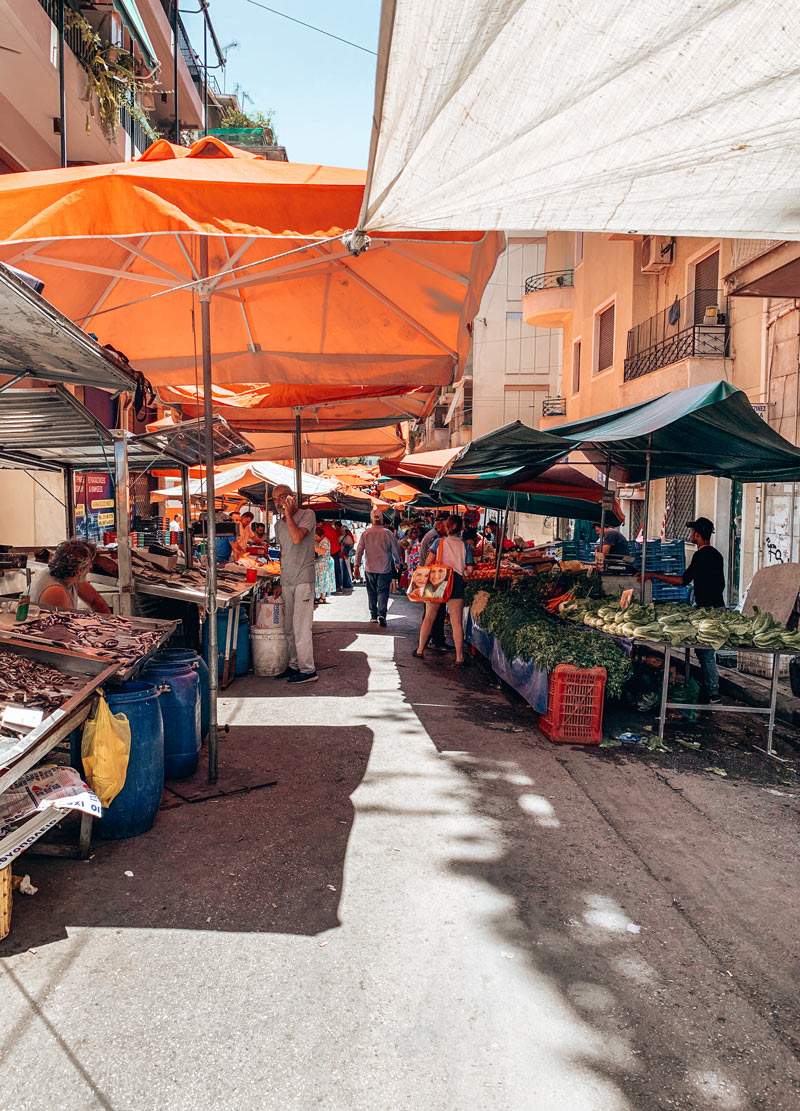 "The Thursday Kypseli Market"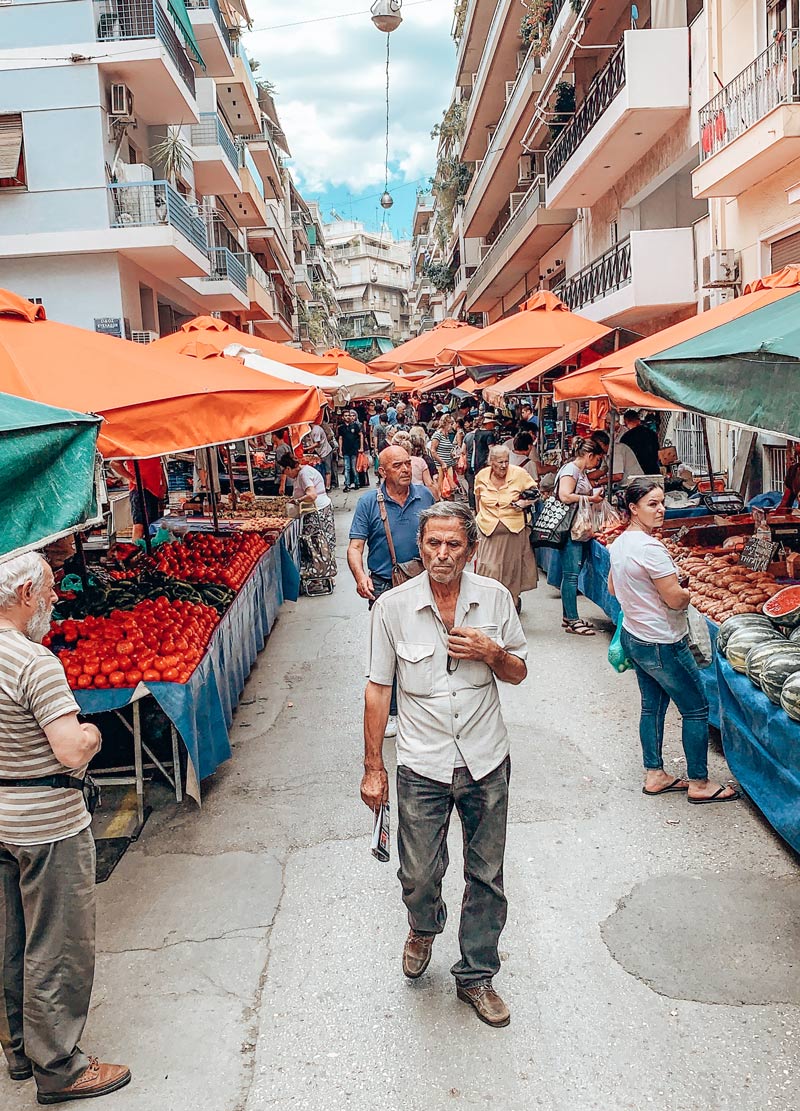 "Here's Where Real Greeks Buy Food"
If we can suggest you a typical market, go to the one in Kypseli every Thursday. Remember that it closes around 2:30pm, but if you go earlier you will also have the possibility to eat there. Otherwise if you want to eat in a proper restaurant, check our article about our favorites restaurants in Athens. 
HOW TO FIND THE BEST COMBO FOR YOUR SHOPPING?
Our best formula to save the maximum of money is to buy everything we find at the local market (where you can even bargain if you buy a lot of stuff) and to buy the rest at the normal supermarket close to our home. Another smart thing if you want to save money is to create a list of what you need and buy only things that are really necessary. In this way, you can save money and stop waisting food. If you want to have more tips about how to live in Greece on a budget, check out our article about it. 
Greek food vs Mexican food
Having lived both in Greece and Mexico, we have gone through the research of the best supermarkets as well as the one of the best restaurants. Eddy and I had many debates about which food was better – Greek cuisine or Mexican one? If you have never been to Mexico, you should definitely check out our favorite restaurants in Tulum to see what kind of cuisines there are.
If in Greece the panorama of restaurants is pretty standard on Greek typical food and Mediterranean cuisine, in Tulum, Mexico, you will find plenty of different cuisines and restaurants – most probably due to the high affluence of tourists. On another hand, if you are curious about the supermarkets, in Mexico you can find almost everything in big cities, while in smaller ones well, you will have to eat local but you will save a lot of money! 
Top Events to Make Your Trip Unforgettable
DOMINIK TULUM @MIA TULUM
When: September 9, 2023 7:00 PM
Where: Mia Restaurant & Beach Club, Tulum
🌴 Join Us for An Unforgettable Night at DOMINIK - TULUM at Mia Tulum! 🌴
Friends, clear your schedules and get ready for a magical experience at Mia Tulum! This stunning location will host DOMINIK - TULUM on Saturday, September 9th, from 7 pm to 1 am. This isn't just another event; it's a fusion of nature, culture, and sound featuring an incredible line-up with GIORGIO STEFANO, AUDICTIVE, and MAURO TORRETA. At DOMINIK, you'll find the perfect blend of Tulum's lush jungles and pulsating underground beats, creating an environment where genuine connections blossom.
🎟️ Secure your tickets now:
Early Bird: $575 MXN ($38 USD), includes a welcome drink 🍹 (Limited Availability)
Tier 1: $805 MXN ($52 USD), includes a welcome drink 🍹 (Limited Availability)
Final Tier: $1150 MXN ($75 USD), includes a welcome drink 🍹 (Limited Availability)
Dinner + Party: $1380 MXN ($90 USD) 🍽️🎉 (Limited Availability)
See you there for a night you won't forget! 🎶✨
Ready to join us? Get your ticket now! Early bird tickets are already selling out, secure them at 632 pesos (only 15 tickets available).
Hurry – spots are filling up fast! 🙀 We can't wait to see you there!
Top Parties and Club Events
17th September - ANCESTRAL SOUL @BONBONNIERE TULUM
22nd September - TONY ROMERA @BONBONNIERE TULUM
29nd September - TIM BARESKO @BONBONNIERE TULUM
4th November - HOT SINCE 82 @BONBONNIERE TULUM
13th March - LOCUS Tulum 2024