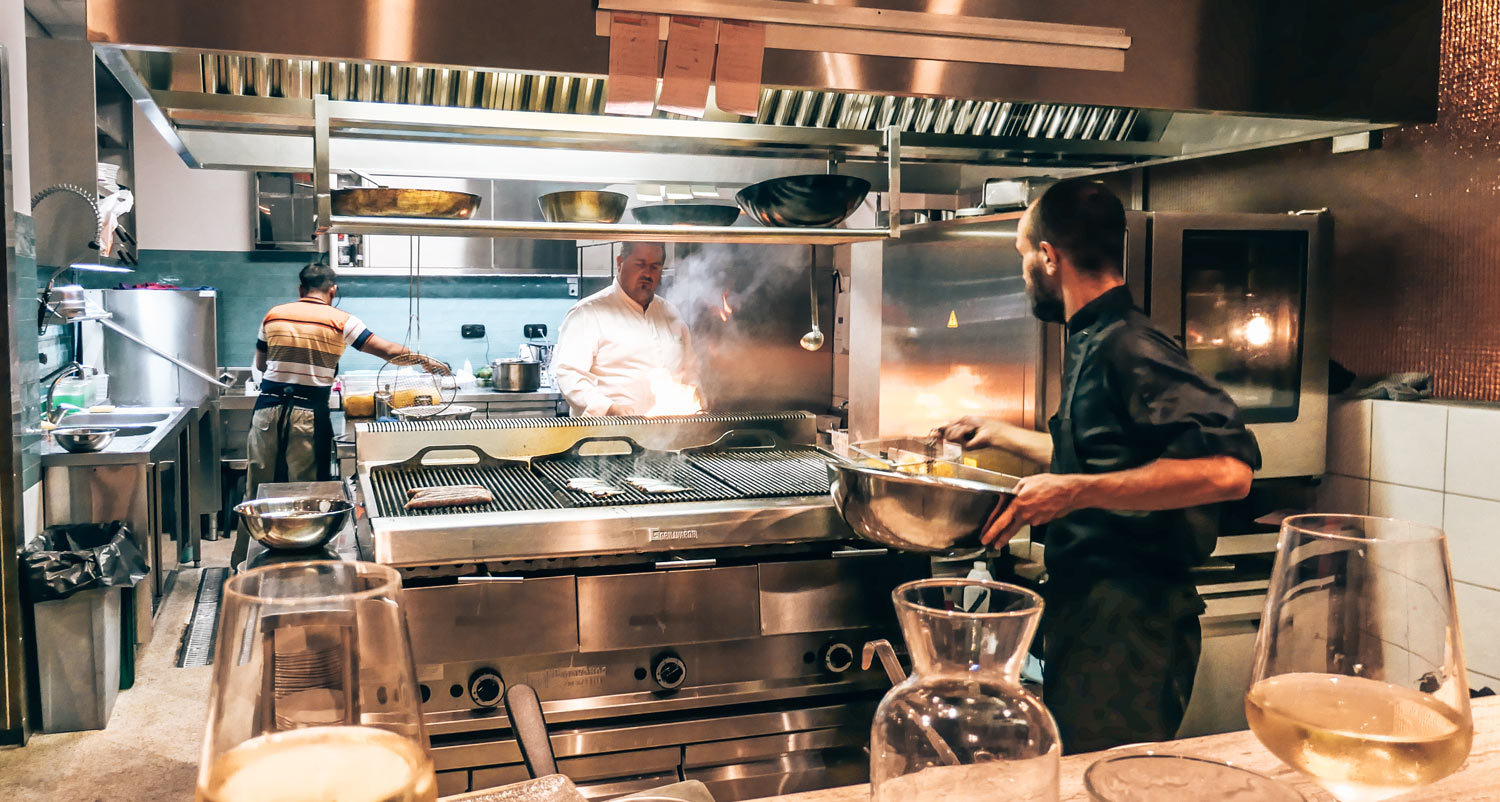 The 10 Best Local Restaurant In Athens Greece
After a long day visiting the Acropolis, the only thing you want is to find the best Greek restaurant in Athens. Are we right? Don't worry, after living two months in the capital of Greece, we made a list of the best restaurant in Athens. From the most traditional tavernas to the more modern options, you will find everything you need to discover and enjoy Greek food. 
GREEK TRADITIONAL RESTAURANTS ON A BUDGET?
If you are wondering about the cost of restaurants in Athens, we can tell you that a lot depends on the zone where you are eating. Of course, if you will find yourself in Plaka your meal will be much more expensive than in Exarchia. But in general, visiting Athens on a budget is actually possible: you can find amazing apartments and save 25$ on Travala (if you need a guide on Athens neighbourhood, just click here) and tones of really nice restaurants where you'll pay your meal just a few euros. 
In a lot of restaurants you will also have free water and free appetizers like olives, small tomatoes and tapenade: a dream! 
SOME FACTS ABOUT GREEK RESTAURANTS
Be aware that the service in Greece is slightly different than in other countries. In fact, waiters are not bringing you the plates following a normal order: you will have to specify in which order you want the food to arrive, otherwise they will bring you dish one by one. Moreover, if you want to drink a coffee after your meal, you will have to go to a bar because a lot of Greek restaurants are not including coffee in their menu. We found many good restaurants and bar in this guide, so we would recommend it to you at 100%.
Are you feeling lazy and want your meal at home? Don't worry, e-food app exists! e-food is the Uber Eats of Greece and it's working 24 hours on 24. The delivery is pretty fasts and the service is excellent!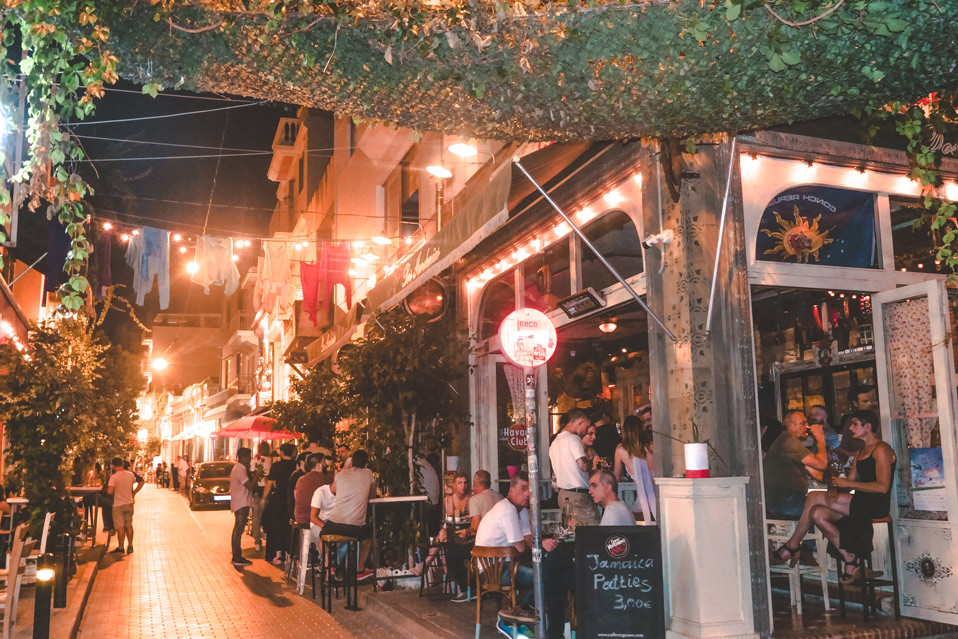 "The Typical Bars In Athens"
HERE'S THE LIST OF OUR FAVORITE RESTAURANTS IN ATHENS
In this article, you will find our favourite restaurants in Athens. The list is following an ascendent order, from the cheapest price (5 euros) to the most expensive (35 euros). All prices are based on a normal meal for two, made of one entrance and two main dishes. 
Are you ready to discover our favorite restaurants, their incredible menu and their excellent selection of wine? Let's get started!  
Of course, a souvlaki! Their menu is offering only souvlaki, and they are really experts about it. Try that with chicken, vegetables, french fries and white sauce: literally delicious. We don't recommend you to consume your souvlaki there, but instead just walk along Fokionos Negri Street and find a nice bench between the trees to enjoy your succulent meal like a local. 
2. Οι Νοστιμιές της Μαίρης
This restaurant is great. If you want to try the real Greek cuisine, you must come here, even if you are vegetarian or vegan. On their menu there are a lot of Mediterranean specialities to make your lunch or dinner unique. Our favourite dishes? Chickpeas with tomatoes, spicy meatballs in tomato sauce, moussaka and cheese pie. Don't order too much: the portions are really consistent and a lot of times we took away part of the food.
During our stay in Athens, this was our evergreen restaurants. Every plate was literally amazing. The tables are between the trees with the view on an orthodox church: we felt really fusioned with the city. We recommend you to try this modern taverna for their dishes of the day to discover some non-mainstream Greek plate. Our favourites? Orzo with vegetables, split peas with chopped onions and dakos salad with feta cheese, tomatoes and dry bread.
Ps: in this fabulous restaurant, they give you FREE water, crispy bread, black olives, small tomatoes and peppers and ouzo, the typical Greek spirit. Just amazing!
"Our Sunday Lunch"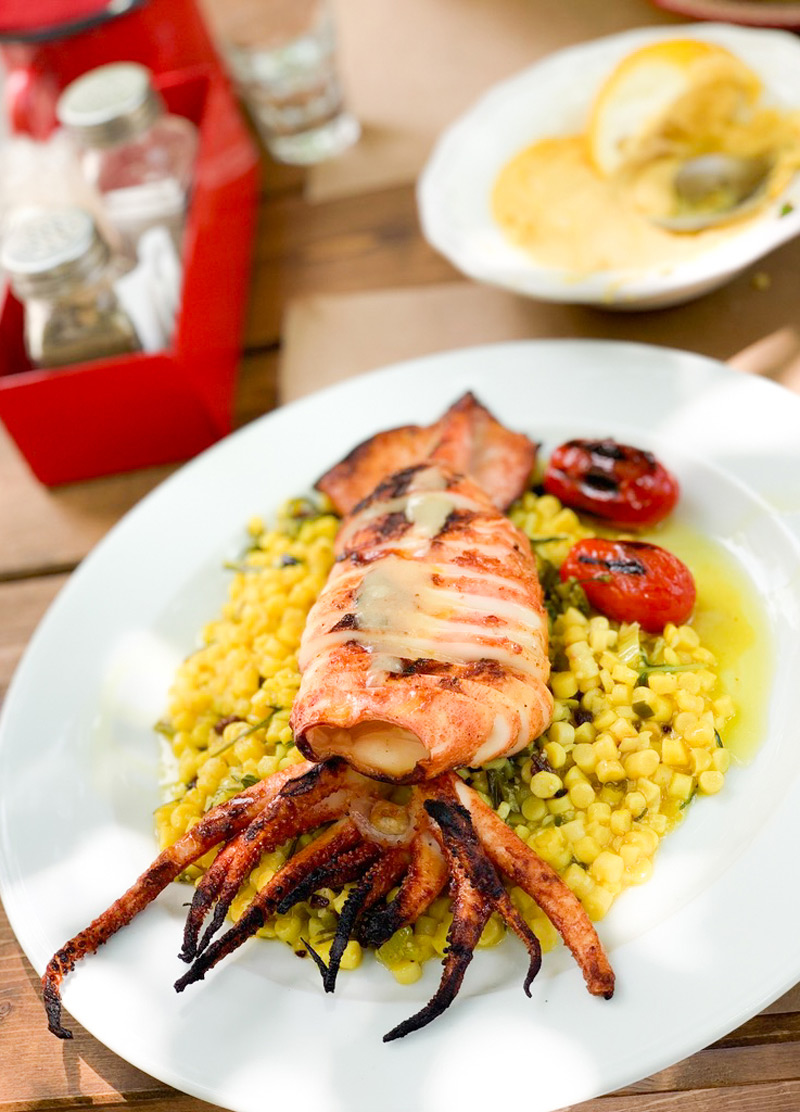 "Grilled Squid With Greek Couscous"
Located in Kypseli, a bit far away from Plaka and the center, you will find Asia Minor, a restaurant with a success story. In fact, this Turkish restaurant was opened some years ago by a family of refugees. They offer traditional Turkish cuisine and the best pita bread ever! Every meat-based meal is just fabulous: tell them your tastes and they will find the best recipe for you. The portions are really big, so we suggest you take only a main dish for two!
This is a very popular tapas restaurant where people enjoy going out at night. Not so far from the Acropolis, in the neighbourhood of Exarchia, you will get lost on their long menu. They offer a tapas revisitation of traditional Greek meals, with vegan and vegetarian choices as well. That's why, you will have a lot of choice, also in terms of budgets. Our favourites tapas are: homemade falafels with hummus and bread, and small fried shrimps. Raraou also offers a great wine list: try Greek wines and discover new tastes!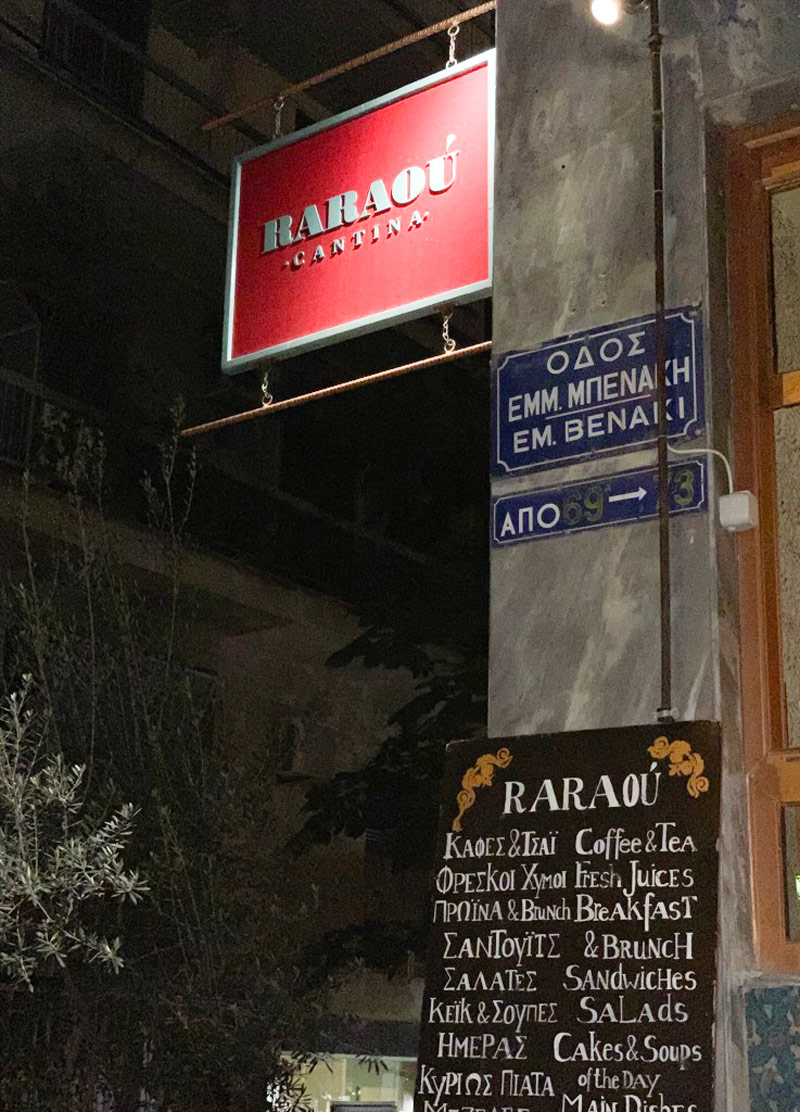 "Raraou's Small Terrace"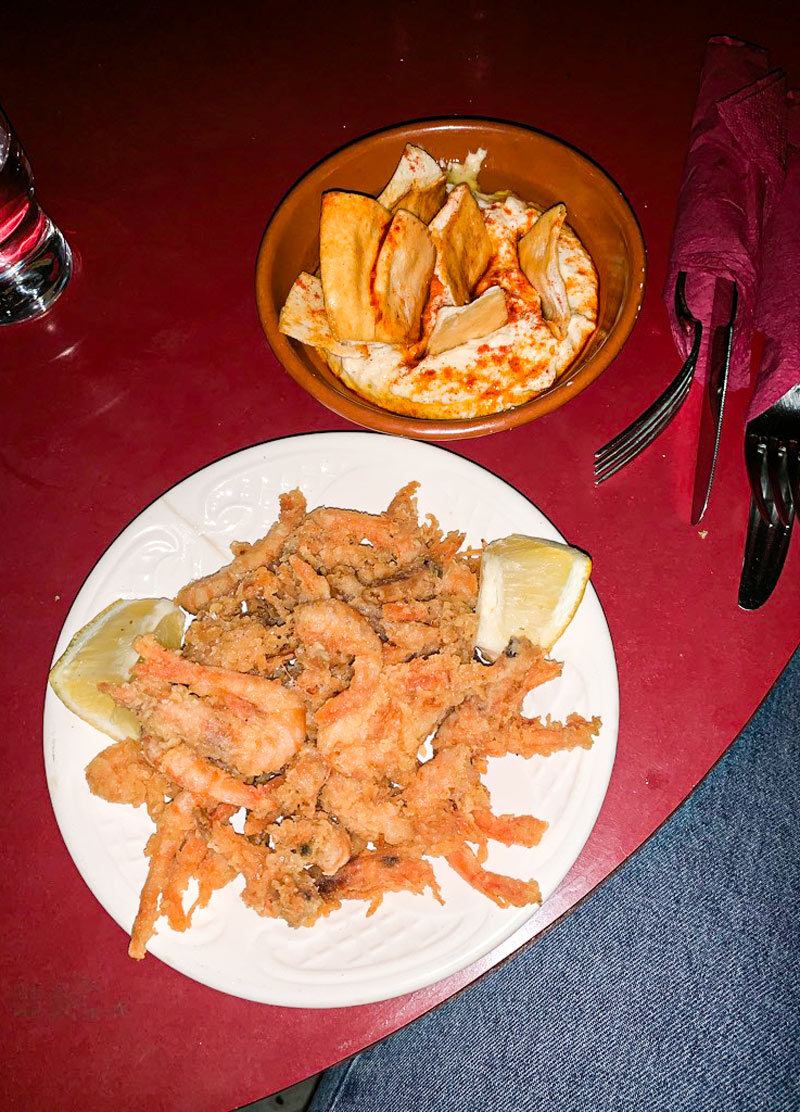 "Fried Shrimps and Hummus With Pita"
This is a young bar and restaurant with techno music and an effervescent ambiance. Located in one of the most popular areas of the city, Psirri, the Tranzistor is a place that both locals and tourists love. Their menu is perfect also for vegetarian or vegan and their list of Greek beers will leave you speechless. This place is perfect to dine out or just to have a cocktail at the bar. Our choice from the menu? Definitely the revisited quinoa-dakos-salad with dark bread!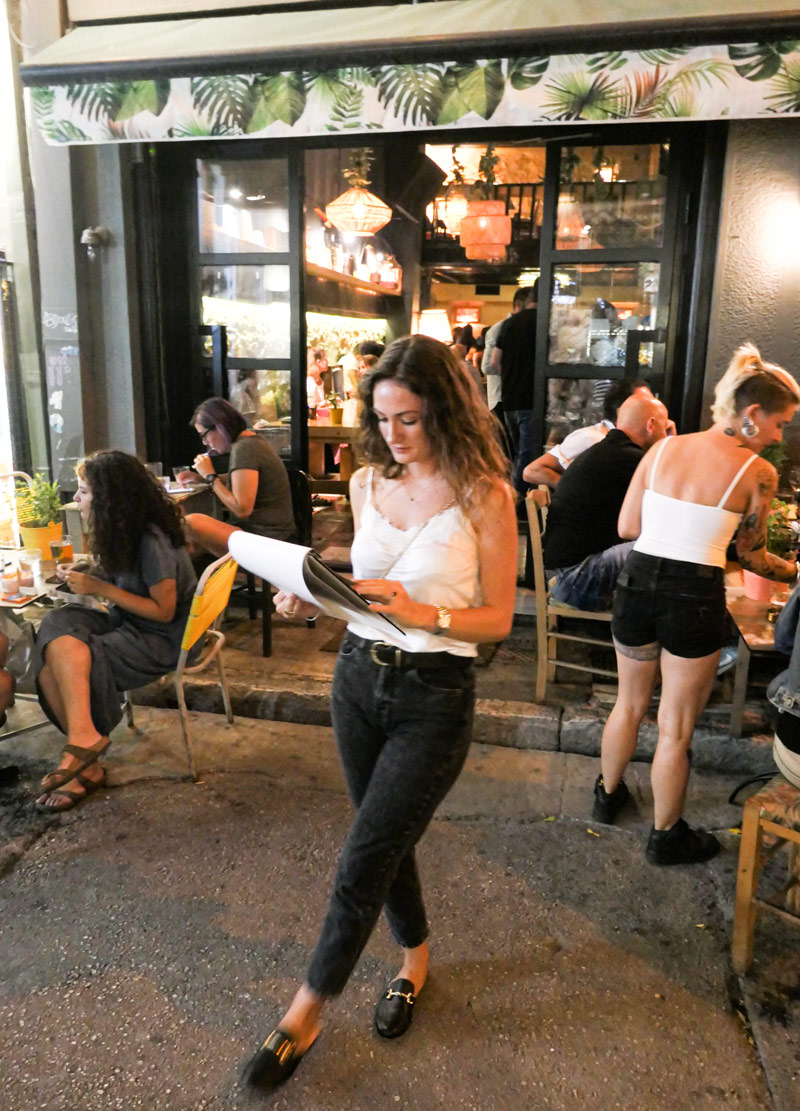 "Alessia Reading The Menu In Front Of Tranzistor"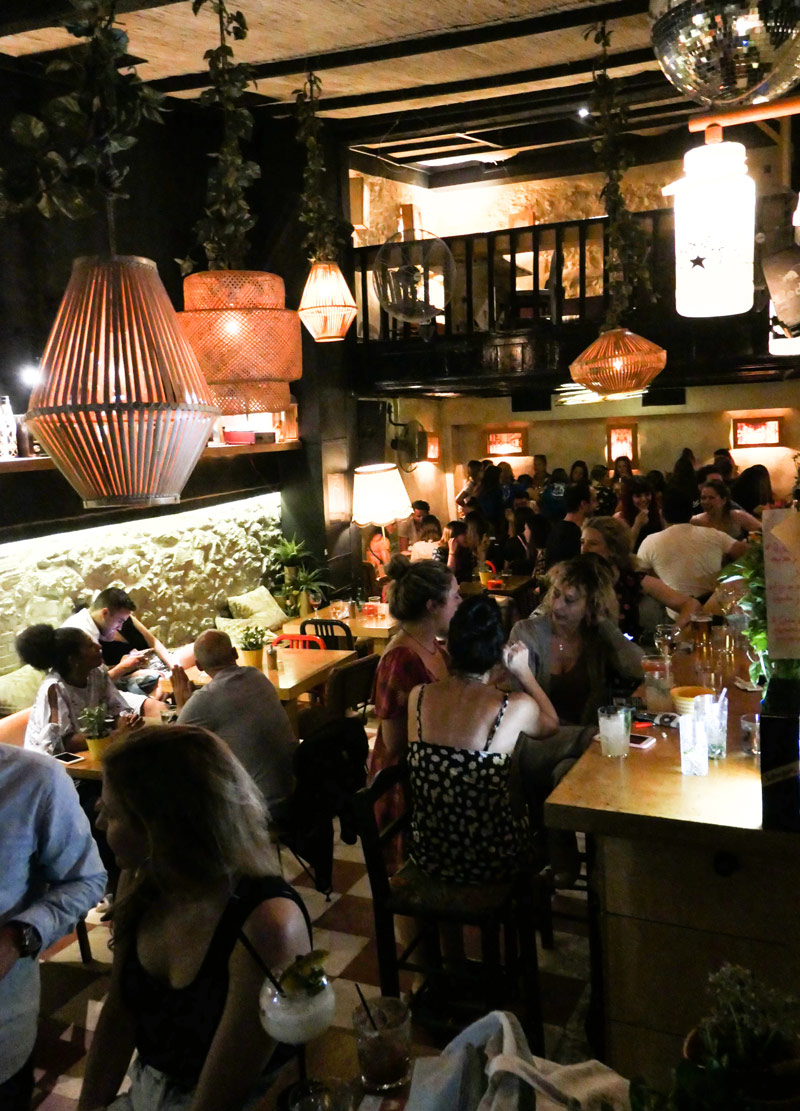 "The Lively Atmosphere Inside"
This Japanese sushi bar located in Exarchia is really a great place if you are missing Asian food during your travel. The sushi is really good, the decoration is minimal and the service is excellent. We loved their menu, but our favourites were definitely the "Black Mamba" and the "Oh la la": you need to try them!
"Black Mamba Is Just Incredible"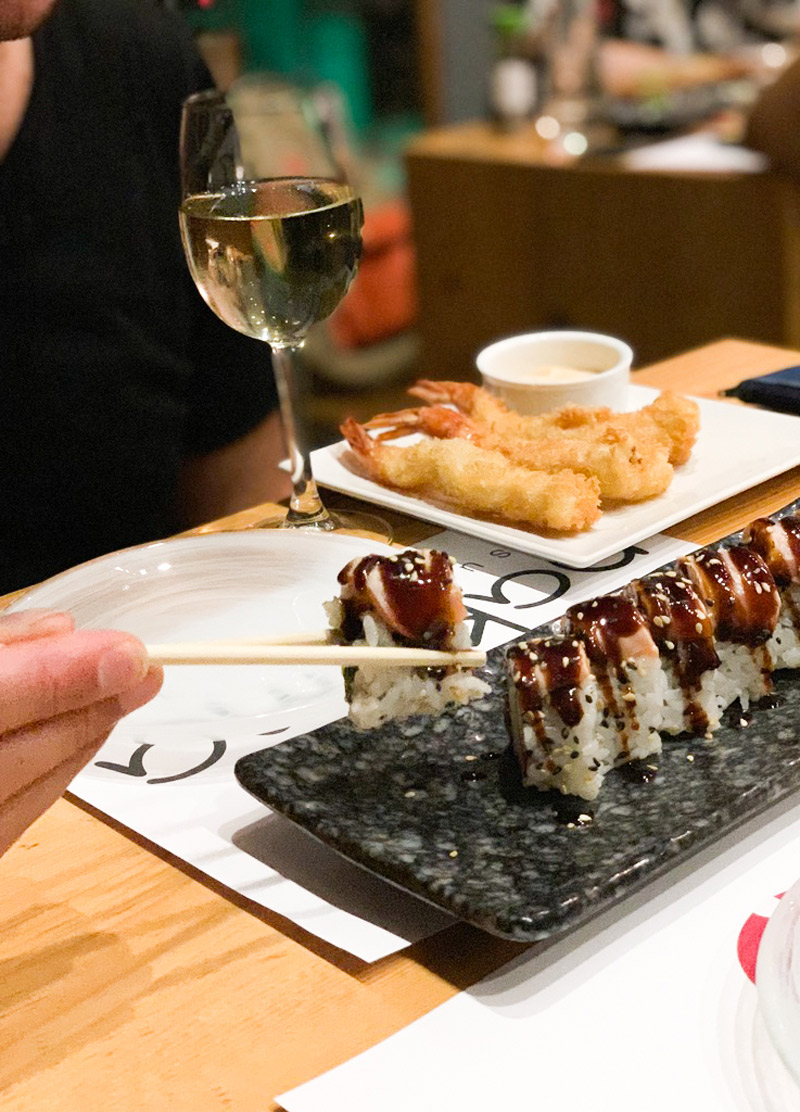 "We Love Their Way Of Making Sushi"
This restaurant has a fantastic location right in the center of the city, not far away from Plaka.  The only flaw is the service: they are not really well organized. The food is nice and we loved the fried gambas with homemade sauce and chips, and the eggplant salad. We suggest you try it if you want to eat in an Athenian garden, but prepare yourself to be patient.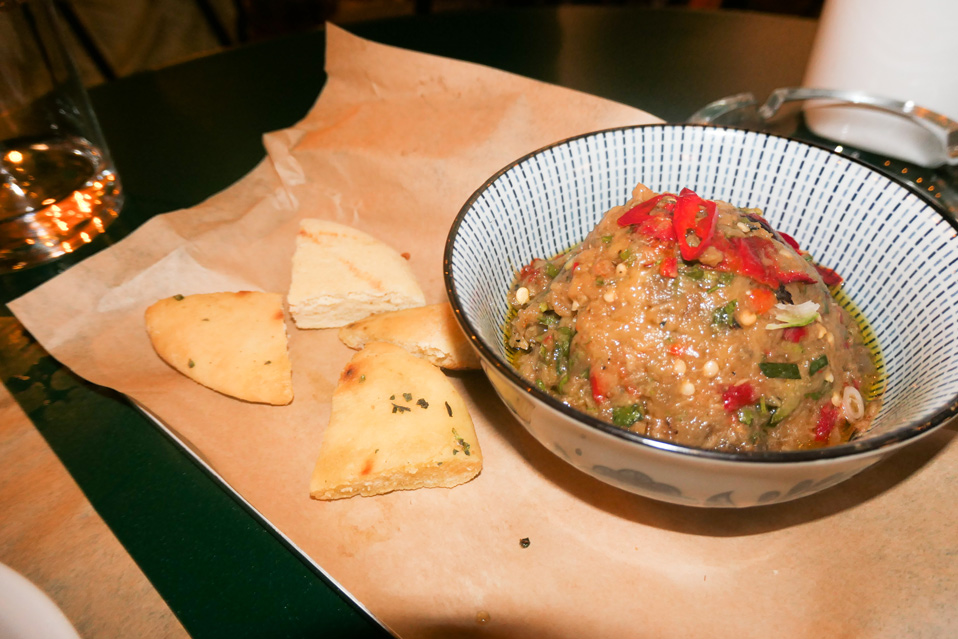 "Their Delicious Melitzanosalata"
As you probably read on your guide, this is one of the most famous Athenian restaurants, and we have to admit it: it's really good. Unfortunately, since it's in a neighbourhood where drug use and deal is frequent, two or three people came to our table asking us money and, after dinner, we saw them on the adjacent street taking heroin. 
If you want to avoid this, we advise you to enjoy your lunch or dinner inside. The pappardelle and the grilled chicken fillet are worth the detour.
This is most probably the best restaurant we tried in Athens. The atmosphere is magic, we suggest you eat at the bar just in front the open kitchen. You will be able to admire the mastery of the chefs cooking your dishes in front of your eyes. You must try: Dakos salad, homemade chips and their fish selection. Their Greek wines are also great to crown your dine.
When we were there, in July 2019, they didn't have the possibility to pay with a credit card, so we recommend you to have some cash with you.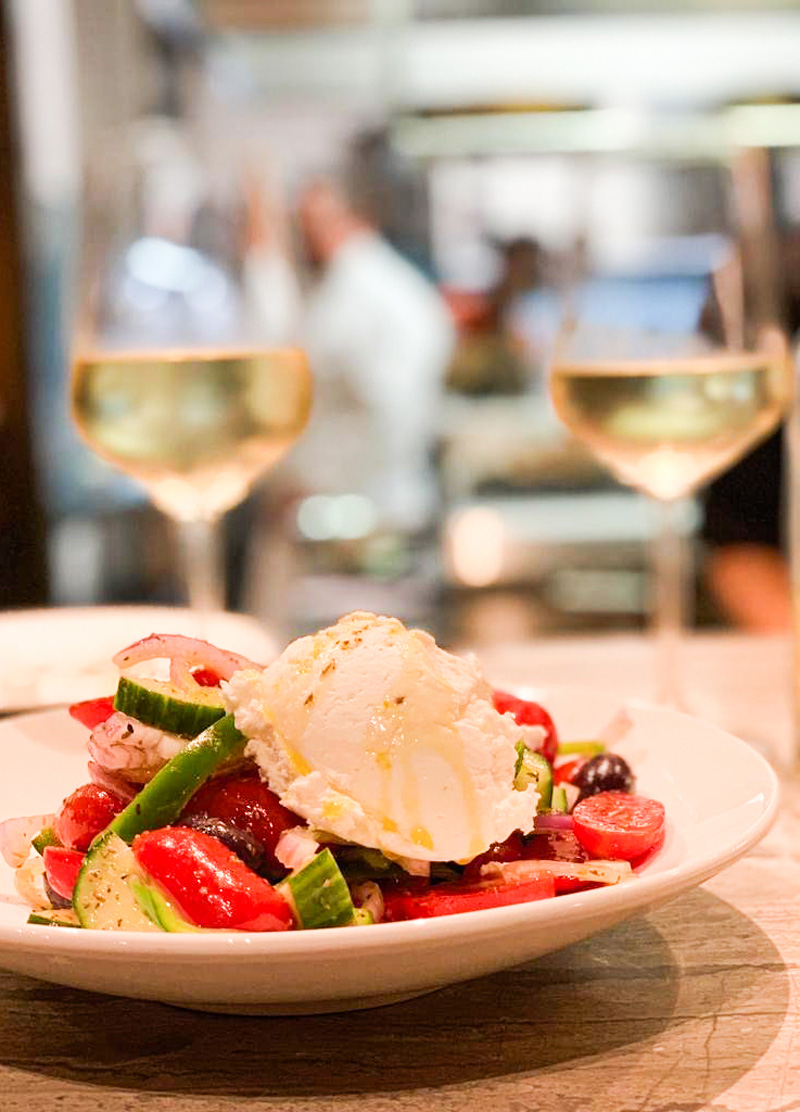 "Their Revisitation Of The Greek Salad"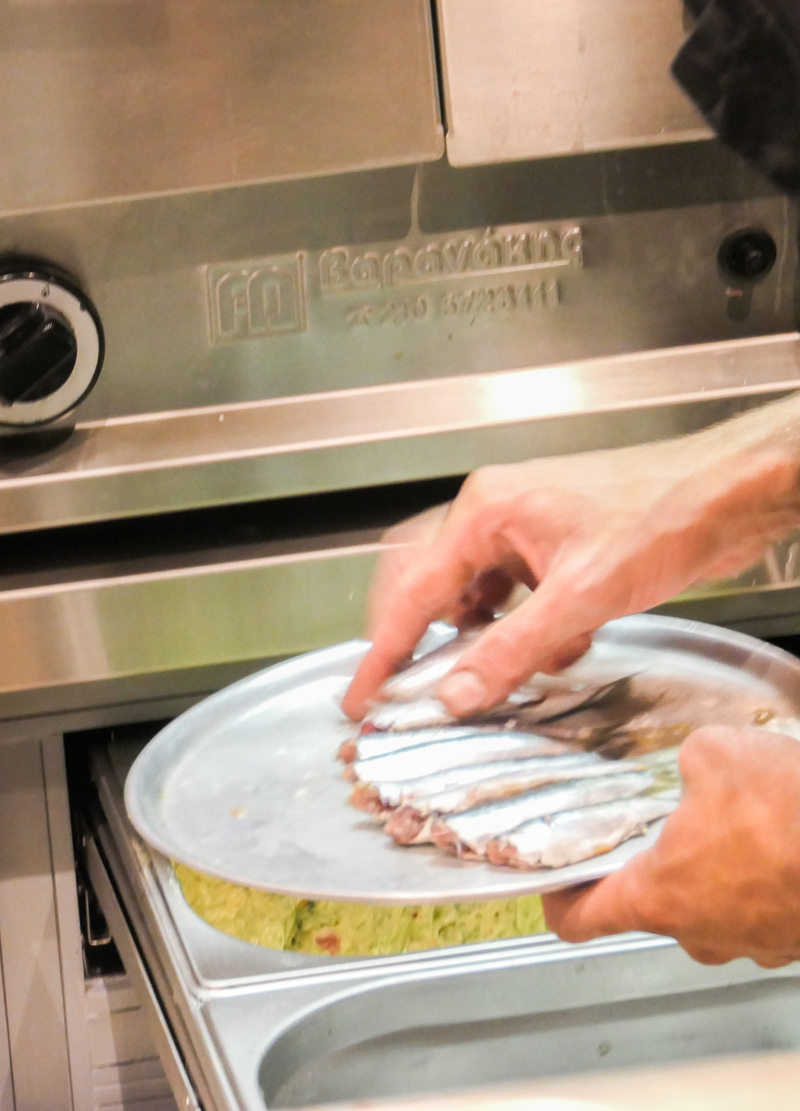 "The Food's Quality At ΦΙΤΑ Is Crazy "
Top Events to Make Your Trip Unforgettable
DOMINIK TULUM @MIA TULUM
When: September 9, 2023 7:00 PM
Where: Mia Restaurant & Beach Club, Tulum
🌴 Join Us for An Unforgettable Night at DOMINIK - TULUM at Mia Tulum! 🌴
Friends, clear your schedules and get ready for a magical experience at Mia Tulum! This stunning location will host DOMINIK - TULUM on Saturday, September 9th, from 7 pm to 1 am. This isn't just another event; it's a fusion of nature, culture, and sound featuring an incredible line-up with GIORGIO STEFANO, AUDICTIVE, and MAURO TORRETA. At DOMINIK, you'll find the perfect blend of Tulum's lush jungles and pulsating underground beats, creating an environment where genuine connections blossom.
🎟️ Secure your tickets now:
Early Bird: $575 MXN ($38 USD), includes a welcome drink 🍹 (Limited Availability)
Tier 1: $805 MXN ($52 USD), includes a welcome drink 🍹 (Limited Availability)
Final Tier: $1150 MXN ($75 USD), includes a welcome drink 🍹 (Limited Availability)
Dinner + Party: $1380 MXN ($90 USD) 🍽️🎉 (Limited Availability)
See you there for a night you won't forget! 🎶✨
Ready to join us? Get your ticket now! Early bird tickets are already selling out, secure them at 632 pesos (only 15 tickets available).
Hurry – spots are filling up fast! 🙀 We can't wait to see you there!
Top Parties and Club Events
17th September - ANCESTRAL SOUL @BONBONNIERE TULUM
22nd September - TONY ROMERA @BONBONNIERE TULUM
29nd September - TIM BARESKO @BONBONNIERE TULUM
4th November - HOT SINCE 82 @BONBONNIERE TULUM
13th March - LOCUS Tulum 2024