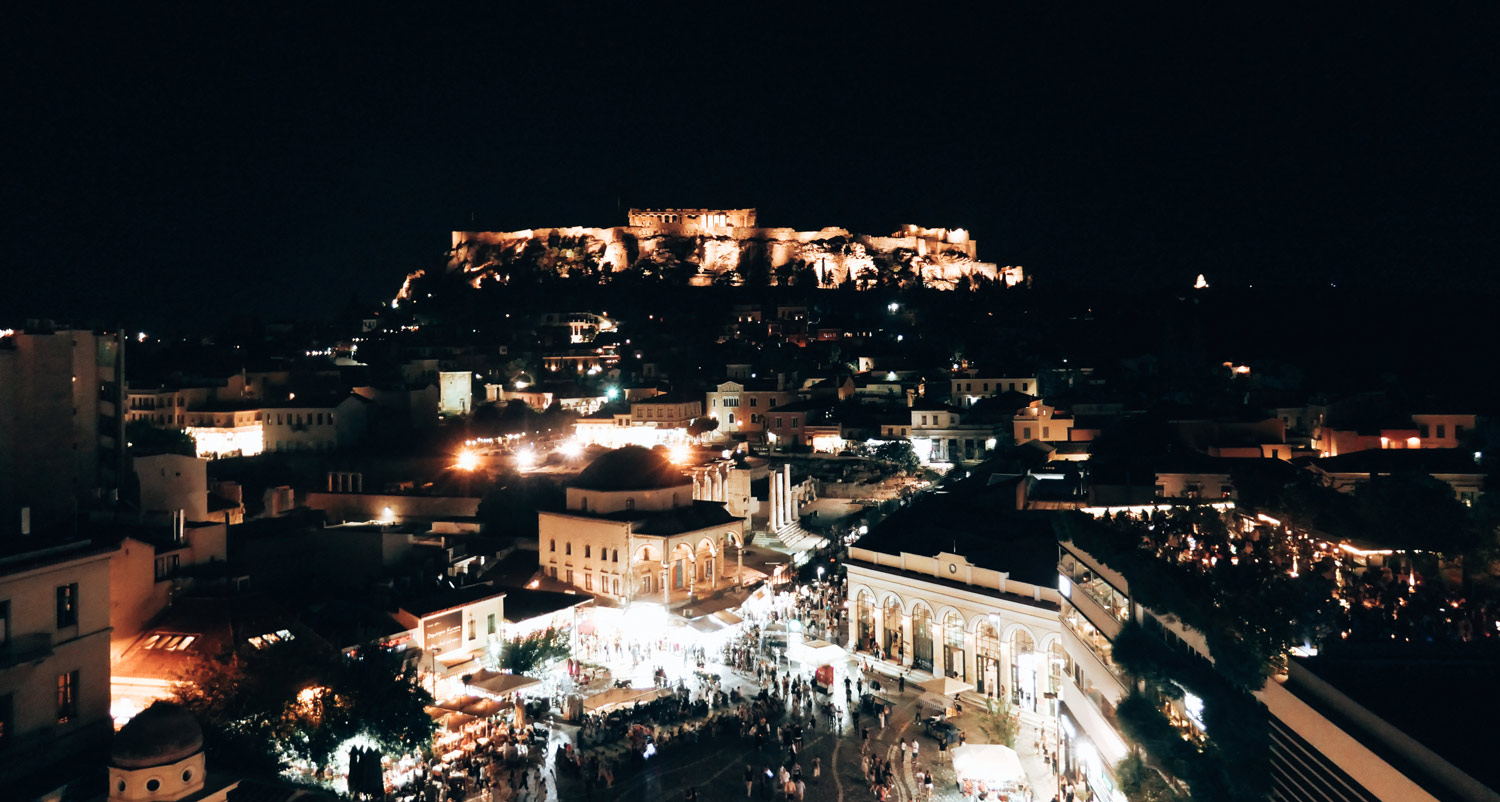 The Ultimate Athens Neighborhoods Guide
Are you planning to live or to travel to Athens, but when you're scrolling the hotels there are so many neighborhoods that you can't choose where to stay? In this article we will try to help you through your research and we will avoid you to make the same mistakes we made. 
Neighborhood Map of Athens
THE DEVASTATED NEIGHBORHOOD OF KYPSELI
We lived for two months in the neighborhood of Kypseli in an amazing apartment we found on Travala, on a street connected directly to Plateia Amerikis. Well, Kypseli was one of the best areas of the city back in the time. After the crisis and the huge immigration that have affected Greece, the district started to look abandoned. This area is full of poor people trying to arrive at the end of the day. For sure here you will not find the best museum, hotels and bars, so if you want to see the best side of Athens, this is not the best location for you. It's pretty far from the center and you will always use the metro or the taxis (if you are brave, you will have to walk 45 minutes to reach Plaka, Monastiraki or Syntagma).
WHY CHOOSE TO LIVE IN KYPSELI?
The conditions of this neighborhood are not the best: its streets are quite dirty, its ancient charm got lost, a lot of small restaurants and bars get replaced by kebabs and fast food and a lot of people in this neighborhood are not recommendable. At the same time, this part of Athens it's showing foreigners a real Greek popular district where local lives. 
If you choose to live in Kypseli, don't worry: even if you will not be few steps from the Acropolis, we managed to find some great restaurants and bars to hang out. Read our article to know more about them.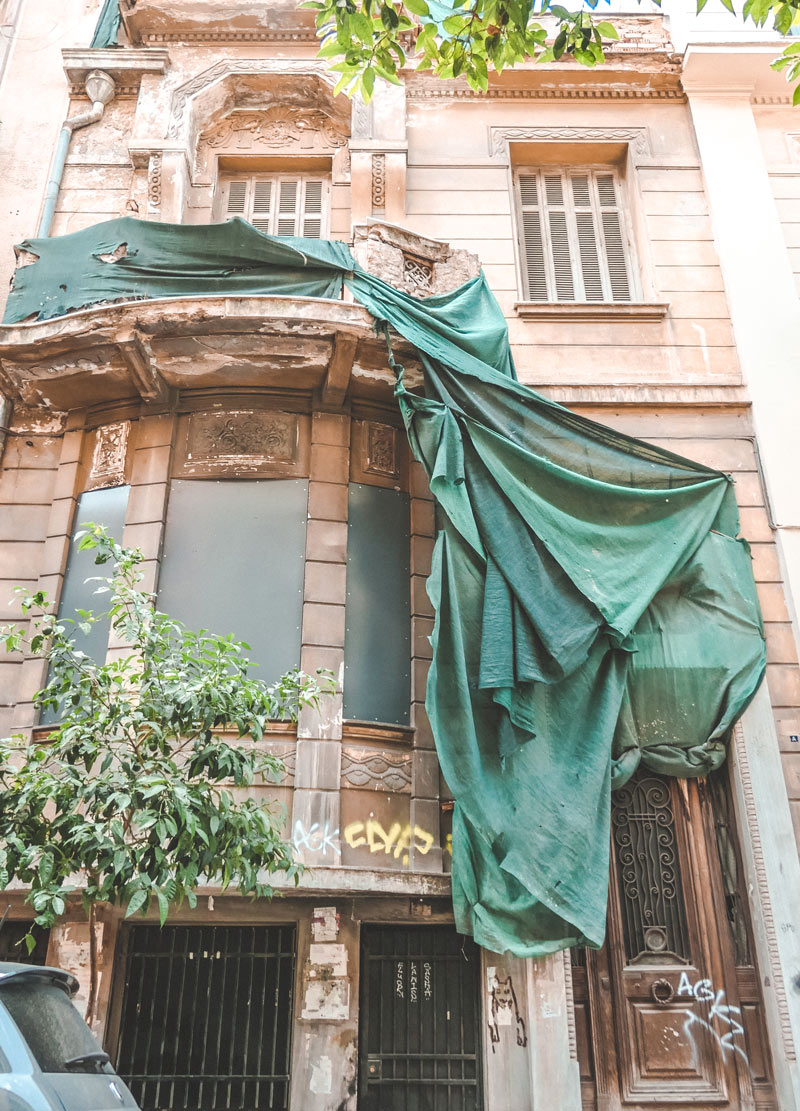 "Abandoned House In Kypseli Neighborhood"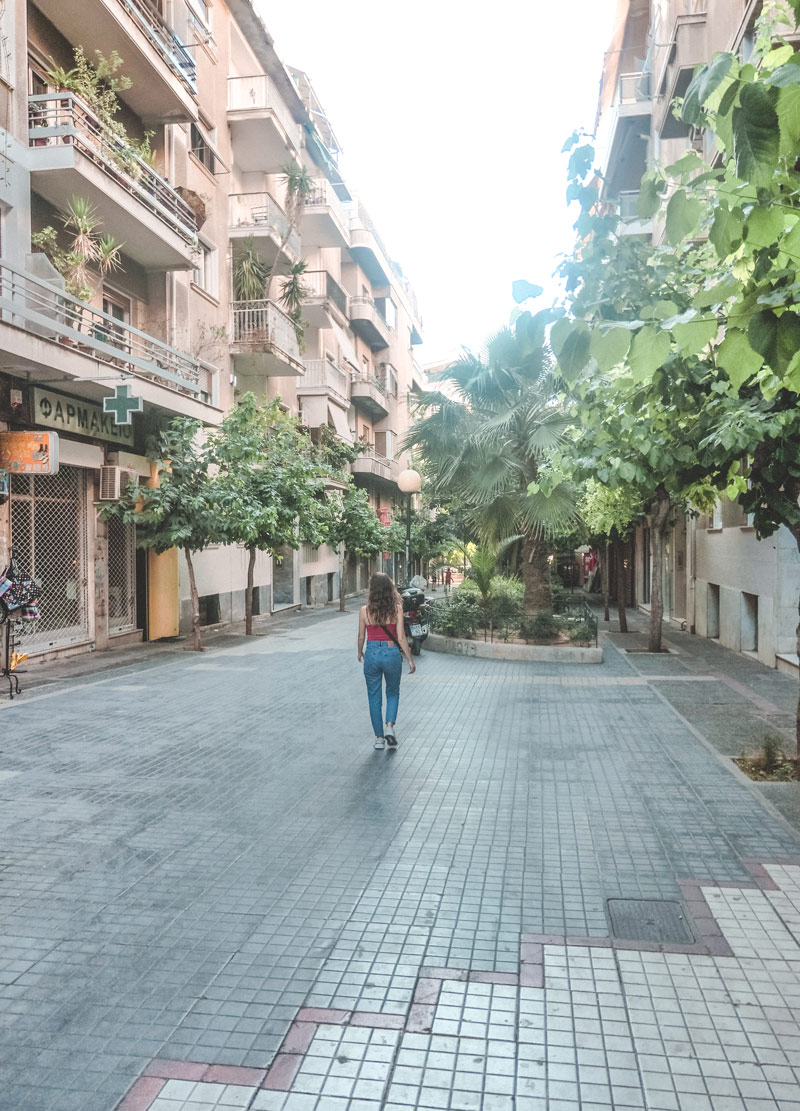 "A Typical Street In Kypseli"
Any fan of art out there? Even if a lot of shops are closed in this neighbourhood, we managed to find a real art movement growing in it, especially thanks to Snetha, an art gallery that we interview. Do you want to know more about Kypseli? Check out our guide to this uncommon neighbourhood to find the best place for your hotel during your travel. 
WHICH NEIGHBORHOODS TO AVOID: OMONIA, KERAMEIKOS AND VICTORIA SQUARE
Is Athens safe? If Kypseli is still OK, these parts of Athens are really bad. We don't recommend you to stay there or whether to visit these neighborhoods. You will not find a nice hotel, restaurant or bar, but the saddest part is that you will not feel the Greek atmosphere at all. This part of Athens became famous for prostitution, drug deal and use. Even if it's in the center of Athens not far from Plaka and the Acropolis, you will not feel safe at all, especially if you are a woman traveling alone. We never saw before in Greece a place that dirty: not even one street is clean and the worst is at night when all the shops throw their rubbish on the streets. You can imagine the smell and the view. So, even if you can find a cheap hotel here, it's really not worth it. If you're not lucky and you took an apartment there, we really advise you to buy a thief-proof backpack. We have this one and it's really worth the money!
"This Area Is Full of Drug And Misery"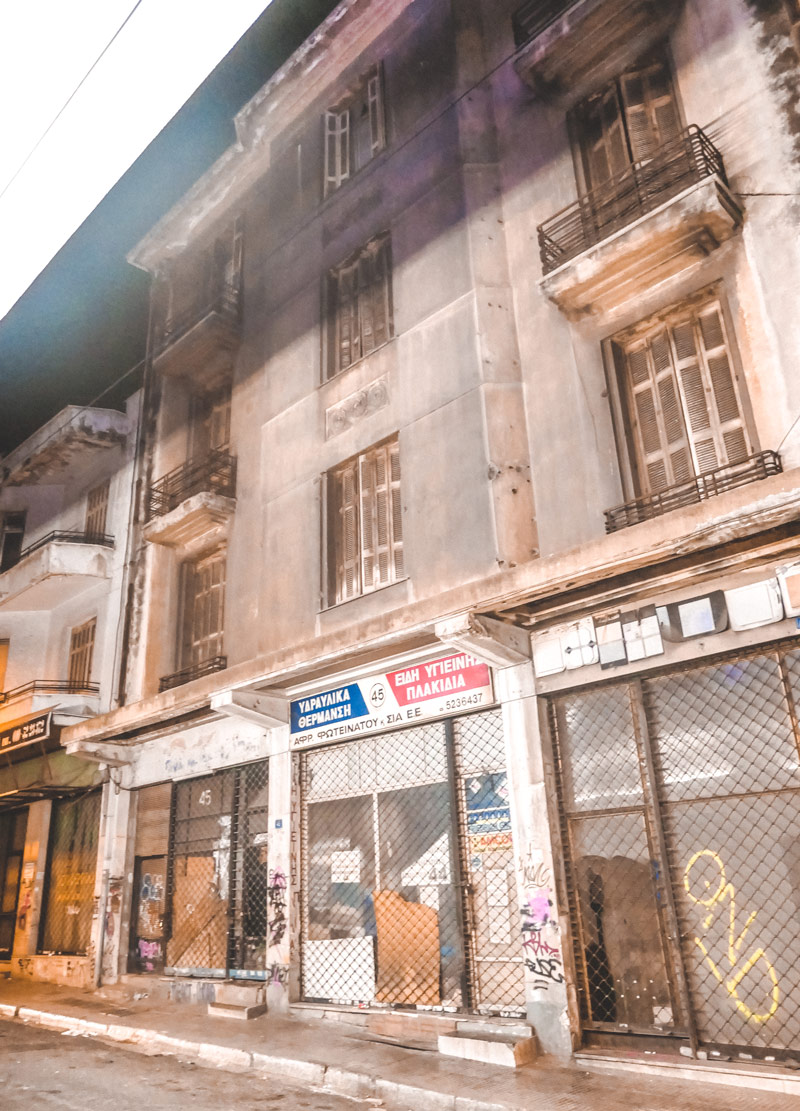 "Almost All Shops Are Closed"
Our adventure in the heart of Omonia Square
One evening, naively, we walked in the area between Omonia Square, Kerameikos and Victoria Square. We wanted to reach the city center to visit new places, so we thought it was a great opportunity. Guys, that was one of the worst moments for us during our stay. Alessia was really scared, strange people were everywhere, some of them were not even able to keep their eyes open, rubbish was all over, cockroaches were running from side to side: a real nightmare. We thanked God we didn't take our apartment there. We tried to exit from this labyrinth as soon as possible, and we never came back after that night.  
We would never recommend these neighborhoods to you: even if you will be close to train and metro stations, and to the most famous museums and popular areas, like Kolonaki and Monastiraki, even if you will find cheaper prices in hotels and restaurants, that's the worst choice you can take for your travel to Athens.
What we loved about Omonia Square and Kerameikos
However, we found a hidden gem in the middle of all this. It's not a hotel, it's not a restaurant or a bar, but it's Social Hackers Academy. This made in Greece voluntary organization that aims to teach web and mobile development to migrants and Greeks is absolutely a positive initiative. We made a great interview to the CEO of Social Hackers Academy and we are so happy to share it with you. During the interview, we also had the chance meet a special guy, John, a political refugee from Congo who is trying to build a new future in Athens.
In any case, even if you will be able to meet good people and hear encouraging stories, we advise you to avoid these areas especially at night. If you are in Athens for travel, you will not have a pleasant stay here, and you will not be safe. Especially if you are a girl traveling alone, delete these areas from your map of Athens.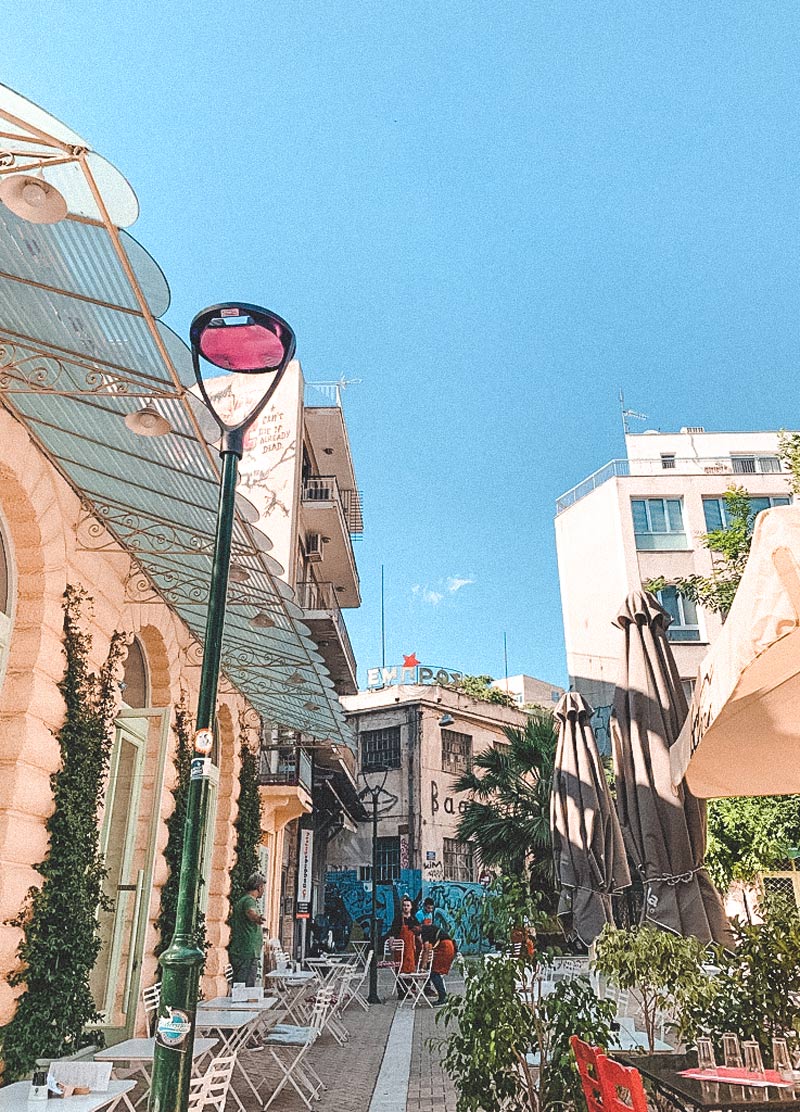 "Kerameikos Has Some Beautiful Spots"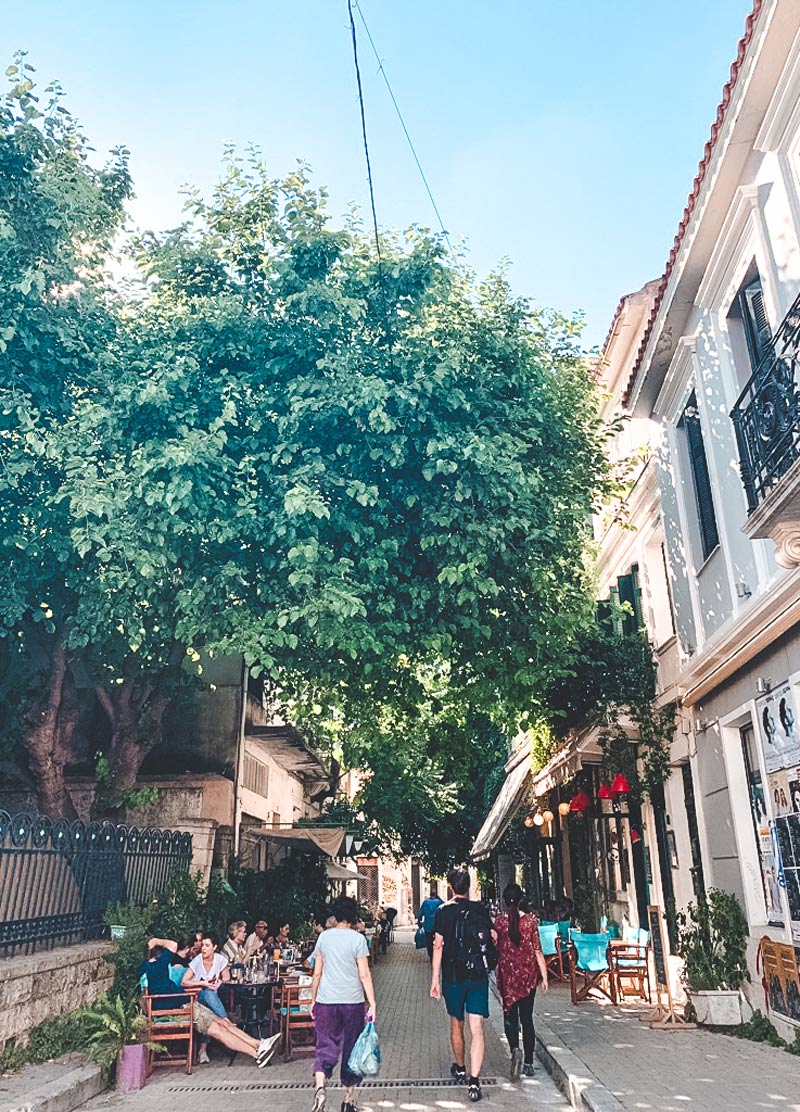 "It's Incredible How A Neighborhood Can Be Different"
EXARCHIA: IS IT REALLY DANGEROUS?
Exarchia, the infamous Exarchia. Before coming to Athens, we heard a lot about this area and once we arrived in town, pushed by the curiosity, we had a walk in it. If you want to know our first impressions about Exarchia and how went our visit there, take a look at our article. We can also recommend you this cultural guide of Athens, which explains very well why the city is like this today.
Find peace and balance in Athens Riviera
Athens Riviera is one of our favorite places – and you can even easily reach it from the center of the Greece's capital. It was definitely our go-to place to spend the weekends, reading books, eating fresh food and admire the enchanting sea.
We were searching an experience to improve our yoga skills since we started practicing it in our daily routine, and we found this amazing retreat in Athens Riviera. We immediately booked it for the next weekend – it's now also bookable online – and we had really a great time with Dietmar, who followed us with love for 4 days practicing yoga as therapy and Dr. Bach Level I.
If you want to regenerate yourself – this is the experience to live in 2023!
THE NEIGHBORHOODS WE LOVED: PSIRRI, KOLONAKI AND PLAKA
If we had the chance to live in these neighbourhoods, we would definitely have done that: these places are the best! With their particular and unique soul, those amazing buildings, the orange trees along the roads, the small pedestrian streets, the central position they have: this was the Athens we preferred.
Psirri, the hipster soul of Athens
Psirri has a young soul and has a lot to offer: cool bars and restaurants (our favourite restaurant was the Tranzistor) and a lot of vintage and second-hand shops. Art is everywhere here: you will find many concept stores where you can buy some souvenirs or a particular t-shirt for your wardrobe. Psirri will be the perfect place to experience the future of Greece. If you search for nice restaurants, bars and hotels with hipsters vibes from which you can work or just enjoy a night out, this is the place for you. Its watchword? Let's party!
Kolonaki, the classy option for your trip
If you are a calmer person, Kolonaki is the top for you. Its old houses very close to the green Lycabettus Hill will be your safe harbour in the center of Athens. Close to museum and ancient attractions, it's the perfect base to explore Athens. So calm and peaceful, but still close to the nightlife of Exarchia and Syntagma Square.
The classic Plaka
Last but not least, the most popular and central neighbourhood: Plaka. Well, we didn't really like every part of Plaka, but we have a sweet memory of that place when, during our first weekend in Athens, we had a beer close to a Greek musician looking at the sunset over the ancient ruins, not so far from the Acropolis: that was the real essence of Athens and we loved it. If you guys are looking for a neighbourhood where everything is beautiful, from the hotels to the restaurants, from the streets to the bars, stay in Plaka. During your hotel's research, try to avoid the central area and move up the hill closer to the Acropolis: you will not regret it. Of course, this area is a bit more expensive than the rest of Athens, but we only live once!
Athens neighborhoods made us think about Tulum
It can seem incredible, but hey – Athens neighborhoods made us really think about Tulum's ones. The two cities, even if they are so far away on the map, have many things in common. Starting from the proximity to the sea and how the sea is part and parcel of the town, to the mixing of fancy buildings and very popular ones.
Of course, Athens is a huge city and Tulum a small one, but if you want to know more about their similarities for a future trip, make sure not to miss our article about Tulum neighborhoods and our adventures there. What we love after having lived somewhere, is coming back reading our past articles and connecting the points on the similar aspects: we love finding out we are not so different after all! 
Top Events to Make Your Trip Unforgettable
DOMINIK TULUM @MIA TULUM
When: September 9, 2023 7:00 PM
Where: Mia Restaurant & Beach Club, Tulum
🌴 Join Us for An Unforgettable Night at DOMINIK - TULUM at Mia Tulum! 🌴
Friends, clear your schedules and get ready for a magical experience at Mia Tulum! This stunning location will host DOMINIK - TULUM on Saturday, September 9th, from 7 pm to 1 am. This isn't just another event; it's a fusion of nature, culture, and sound featuring an incredible line-up with GIORGIO STEFANO, AUDICTIVE, and MAURO TORRETA. At DOMINIK, you'll find the perfect blend of Tulum's lush jungles and pulsating underground beats, creating an environment where genuine connections blossom.
🎟️ Secure your tickets now:
Early Bird: $575 MXN ($38 USD), includes a welcome drink 🍹 (Limited Availability)
Tier 1: $805 MXN ($52 USD), includes a welcome drink 🍹 (Limited Availability)
Final Tier: $1150 MXN ($75 USD), includes a welcome drink 🍹 (Limited Availability)
Dinner + Party: $1380 MXN ($90 USD) 🍽️🎉 (Limited Availability)
See you there for a night you won't forget! 🎶✨
Ready to join us? Get your ticket now! Early bird tickets are already selling out, secure them at 632 pesos (only 15 tickets available).
Hurry – spots are filling up fast! 🙀 We can't wait to see you there!
Top Parties and Club Events
17th September - ANCESTRAL SOUL @BONBONNIERE TULUM
22nd September - TONY ROMERA @BONBONNIERE TULUM
29nd September - TIM BARESKO @BONBONNIERE TULUM
4th November - HOT SINCE 82 @BONBONNIERE TULUM
13th March - LOCUS Tulum 2024