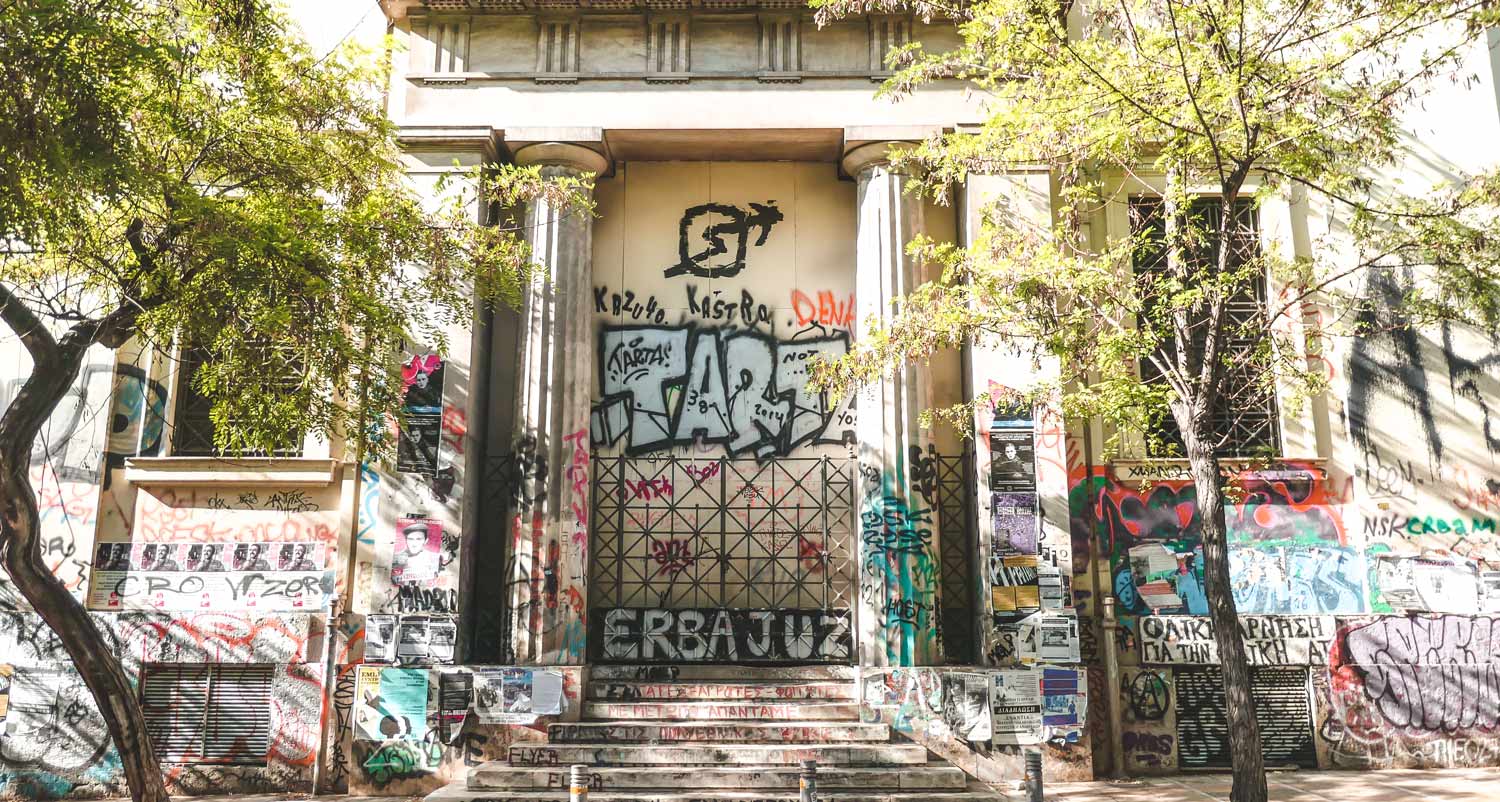 Before coming to Athens, a lot of people told us that the city started to be less and less safe few years ago. After visiting some online forums and reading some Tripadvisor's reviews, we started to understand that there was more than just a problem in this city: drugs, refugees, a weak government, a lot of corruption and poverty. Unfortunately, these problems are not related only to Athens, but to all the biggest cities in Greece. On the contrary, we found that the Attica region was much more paradisiacal than Athens itself.
What and where is Exarchia?
When we arrived in Athens, we discovered that not far away from the city center and the Acropolis, in Exarchia (or Exarcheia), there was the highest concentration of problems of the city. In the years of the crisis this place started to be filled with squats and the anarchist movement of Athens became stronger and stronger. Before arriving in Greece, we documented ourselves about anarchy and the story of the city of the last 10 years reading this book. This helped us to better understand what was going on in Athens and prepared us regarding what we could have find in town. In fact, in the last years Exarchia became way less safe, until the point that police stopped entering in this area. On the main square of Exarcheia, drug dealing is done under the light of the sun 24 hours on 24. This situation started few years ago and this part of the city, before dangerous for anarchism, became dangerous and a lot less safe due to drug deal and use. Exarcheia, once a paradise for families and children, is today the paradise of syringes.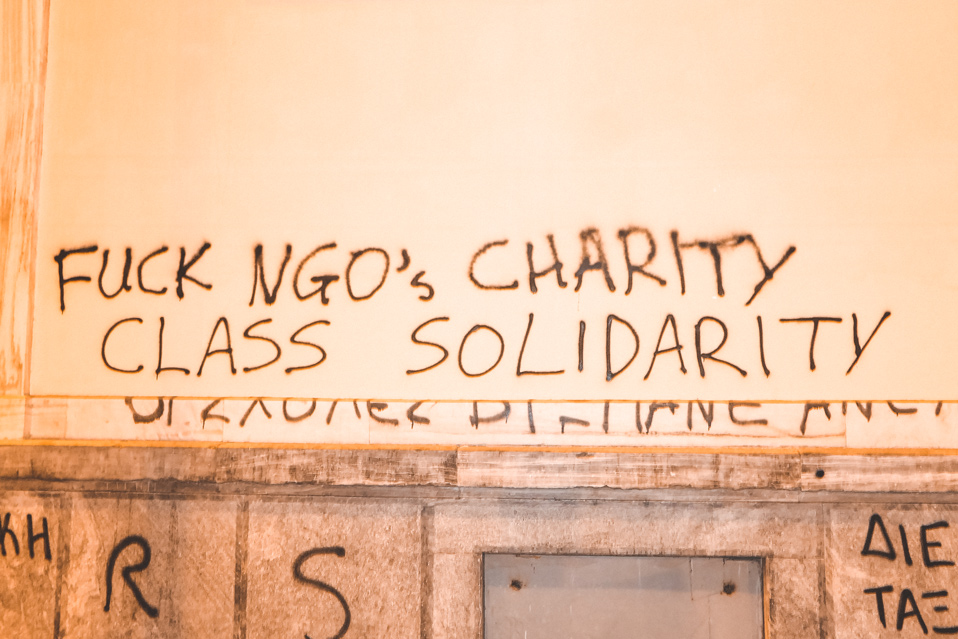 "The Anarchist Soul Of Exarchia"
If you are planning your travel and you are searching for a hotel for your stay in Athens, Greece, delete Exarchia Square from your research. Even if it's not far away from the Acropolis and it's well-connected to the airport, you will not feel safe in any hotel in this area, especially if you are traveling with your children. Just imagine that the police is not even crossing the borders of Exarchia. We saved 25$ booking our apartment with Travala and thanks to it we stayed in a beautiful and safe neighborhood. If you are planning your stay and want some extra advice about the best Athens neighborhoods and the level of safety of Athens, we wrote these articles for you.
But is Exarchia really bad? During our hotels and apartments research, we almost took an apartment there, but luckily we found the right apartment thanks to Travala in the neighborhood of  Kypseli. Nowadays, after exploring every corner of Exarchia, we don't know if we made the best choice. Why? Exarcheia can be really full of life, you can have interesting debates with people and, even if it there isn't the Acropolis, it can be a nice place. 
If one day during your trip in Athens, you're tired about the more mainstream Plaka, reach Exarchia by metro or foot and drink a coffee with the view on the omnipresent street art. Even if the government of the Attica region forget about it, we found some hidden gems. This article is for all of you typing on forums "Is Exarchia safe?" We lived it, we explore it and now we are writing this content to tell you everything about it.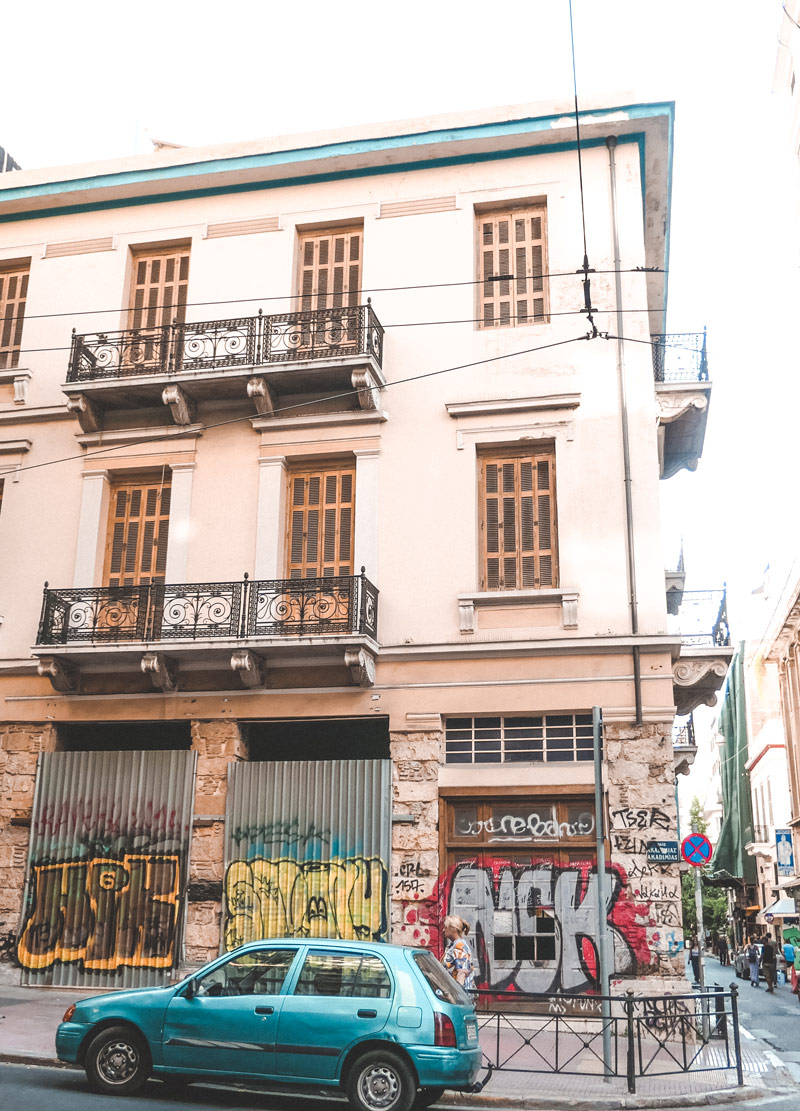 "A Lot Of Buildings Are Abandoned"
"Exarchia Has Graffiti Everywhere"
HOW IS THE ANARCHIST NEIGHBOURHOOD OF EXARCHIA?
When we first decided to visit Exarchia it was night and we were coming from the North of the city, from the neighborhood of Kypseli. We passed in front of Pedion Areos Park and we arrived right in Exarchia Square. In the last years, this area became less safe because of refugees tragic situation and the huge drug dealing. We passed in front of gypsy families, burned buildings, squats and a lot of despair. We saw at first sight that the neighborhood wasn't filled with museum and nice hotels, but more with inappropriate tags on the walls and a lot of squats. Honestly, you will regret not having a thief-proof backpack. We use this backpack since 2 years and we feel 100% safe with it in every situation.
Once we arrived, we took a beer to see if the infamous square was really dangerous. We spent there some time, and we really didn't feel safe. In 30 minutes we saw a crazy traffic of drugs and many fights between the different gangs. It was the first time we were facing something like this in Greece.
What we loved about Exarchia
Even if from our first impressions, this wasn't the pride of Greek society, we decided not to give up and to see if the neighborhood had some nice hidden posts. We went then on the southern part of Exarcheia and we find another world: beautiful restaurants (our favourite was a really good Greek tapas restaurant called Rararou) and bars everywhere. We definitely said to ourselves that it was the perfect place for a night out. After dinner, we decided to have a walk around Exarchia and we came across a group of people seated around a table in the middle of the street: what a beautiful view! We found out later that was a communist neighbourhood associations. We had a really nice talk with them and we appreciated a lot their spirit: they were sharing everything, like a real community. Moreover, the atmosphere was the same as in ancient Greek forums. They were meeting every week to make Exarchia a better place. After the nice restaurants and bars, that was the first real contributor to make this area a better place.
A must experience to do in Exarchia
Between decadence and anarchy, we still find Greek traditions. And we all know that one of the fundamental pillar of Greek culture is their simple – but yet delicious – food.
And since we are foodies, we couldn't miss a culinary experience in Athens! We did this one when we just arrived in the lively Greece capital and we loved being in touch with locals, know more about their daily life and what they think about Athens. 
If you want to quickly merge into Athens culture by meeting locals – this experience is made for you! We also discovered you can book it online, so start organizing your trip in one of the most interesting country in the world!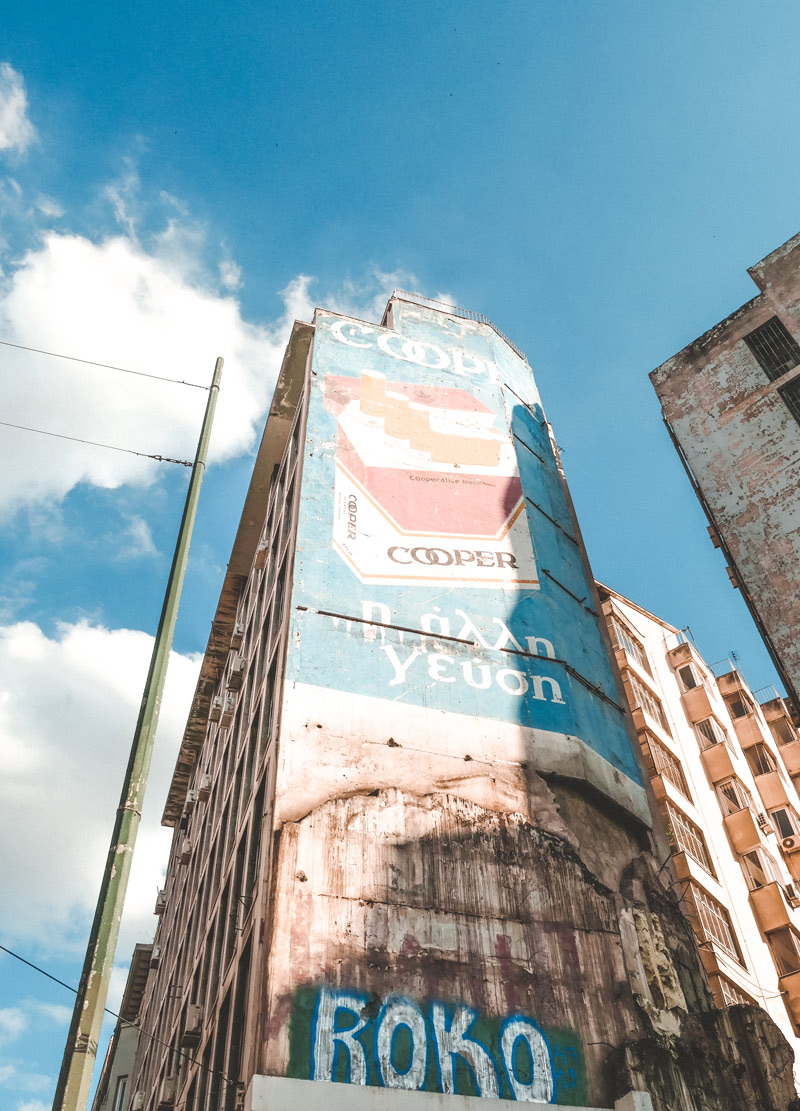 "The Buildings Between Omonia And Exarchia"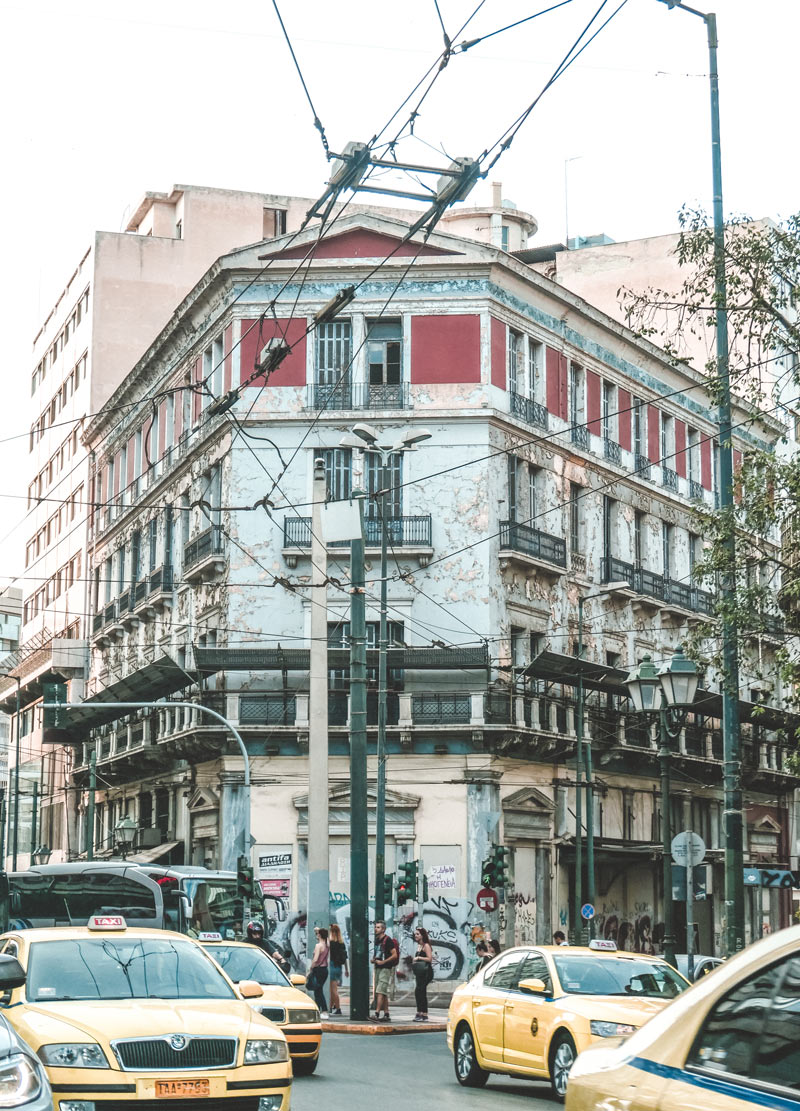 "Cabs Going To Exarchia"
9 REAL FACTS ABOUT EXARCHIA
Even if there are no museums and a lot of hotels, there's a lot of street art: we believe Exarchia is the Jerusalem of Greece and Attica for street art!
You can have a real debate in one of the modern forums in Exarchia. I'm talking about communist neighbourhood associations. You can talk with them about a better future and they will even offer you a beer. They share everything and they are so openminded. We really met some good people just walking by!
Every week, especially on Thursday, there are fights between police and anarchists. So maybe don't choose this day to visit Exarchia.
A lot of migrants hide themselves in Exarchia and every day they go to work outside Athens. Of course, everything is illegal: they live in squats and they work off the books.
In the worst areas of this neighbourhood, especially where people are consuming drugs, if you instigate them, there were some cases when drug users threatened passersby to plant an infected syringe if they didn't give them money.
Police is not even entering inside this neighbourhood!
A lot of businesses in this area are closing because of the elevated number of thefts. That's far away from the reality you can find in Plaka.
Exarchia is losing its anarchist spirit because of drug dealing: even the local anarchists are not going there any more. The drug dealing is so huge that there isn't any more space for revolutionary people.
A lot of people are leaving the neighbourhood because of safety conditions, so they sell their apartments at a very low price and drug dealers buy them to expand more and more inside the neighbourhood. In this way, they are building their own city with their rules.
WOULD WE SUGGEST YOU STAY IN EXARCHIA?
Even if after that lovely night we came back a lot of times in Exarchia and we discovered even more beautiful posts, we would not recommend you to stay here during your trip if you are a family. Why? Well, you never know what will wait you behind the corner and maybe your children will see something that will traumatize them. 
If you are a group of friends or a couple, we can advise you to go to the south of Exarchia and don't go frequently to the North of the neighborhood. Even if it's infamous, it's still a central part of Athens and it's well connected to the airport.
If you are a woman traveling alone or you are a group of women, we don't suggest you spend your stay in Athens here. Even if you can find a cheaper hotel, you will jeopardize your safety.
In any case, remember that it is dangerous to have an inappropriate behaviour because you don't know who is in front of you and you will not be saved from the police, who is literally banned from this area. 
But, even if police is not entering in this area and there's a chance you bump into crazy people, the South deserves a visit.
Top Events to Make Your Trip Unforgettable
DOMINIK TULUM @MIA TULUM
When: September 9, 2023 7:00 PM
Where: Mia Restaurant & Beach Club, Tulum
🌴 Join Us for An Unforgettable Night at DOMINIK - TULUM at Mia Tulum! 🌴
Friends, clear your schedules and get ready for a magical experience at Mia Tulum! This stunning location will host DOMINIK - TULUM on Saturday, September 9th, from 7 pm to 1 am. This isn't just another event; it's a fusion of nature, culture, and sound featuring an incredible line-up with GIORGIO STEFANO, AUDICTIVE, and MAURO TORRETA. At DOMINIK, you'll find the perfect blend of Tulum's lush jungles and pulsating underground beats, creating an environment where genuine connections blossom.
🎟️ Secure your tickets now:
Early Bird: $575 MXN ($38 USD), includes a welcome drink 🍹 (Limited Availability)
Tier 1: $805 MXN ($52 USD), includes a welcome drink 🍹 (Limited Availability)
Final Tier: $1150 MXN ($75 USD), includes a welcome drink 🍹 (Limited Availability)
Dinner + Party: $1380 MXN ($90 USD) 🍽️🎉 (Limited Availability)
See you there for a night you won't forget! 🎶✨
Ready to join us? Get your ticket now! Early bird tickets are already selling out, secure them at 632 pesos (only 15 tickets available).
Hurry – spots are filling up fast! 🙀 We can't wait to see you there!
Top Parties and Club Events
17th September - ANCESTRAL SOUL @BONBONNIERE TULUM
22nd September - TONY ROMERA @BONBONNIERE TULUM
29nd September - TIM BARESKO @BONBONNIERE TULUM
4th November - HOT SINCE 82 @BONBONNIERE TULUM
13th March - LOCUS Tulum 2024