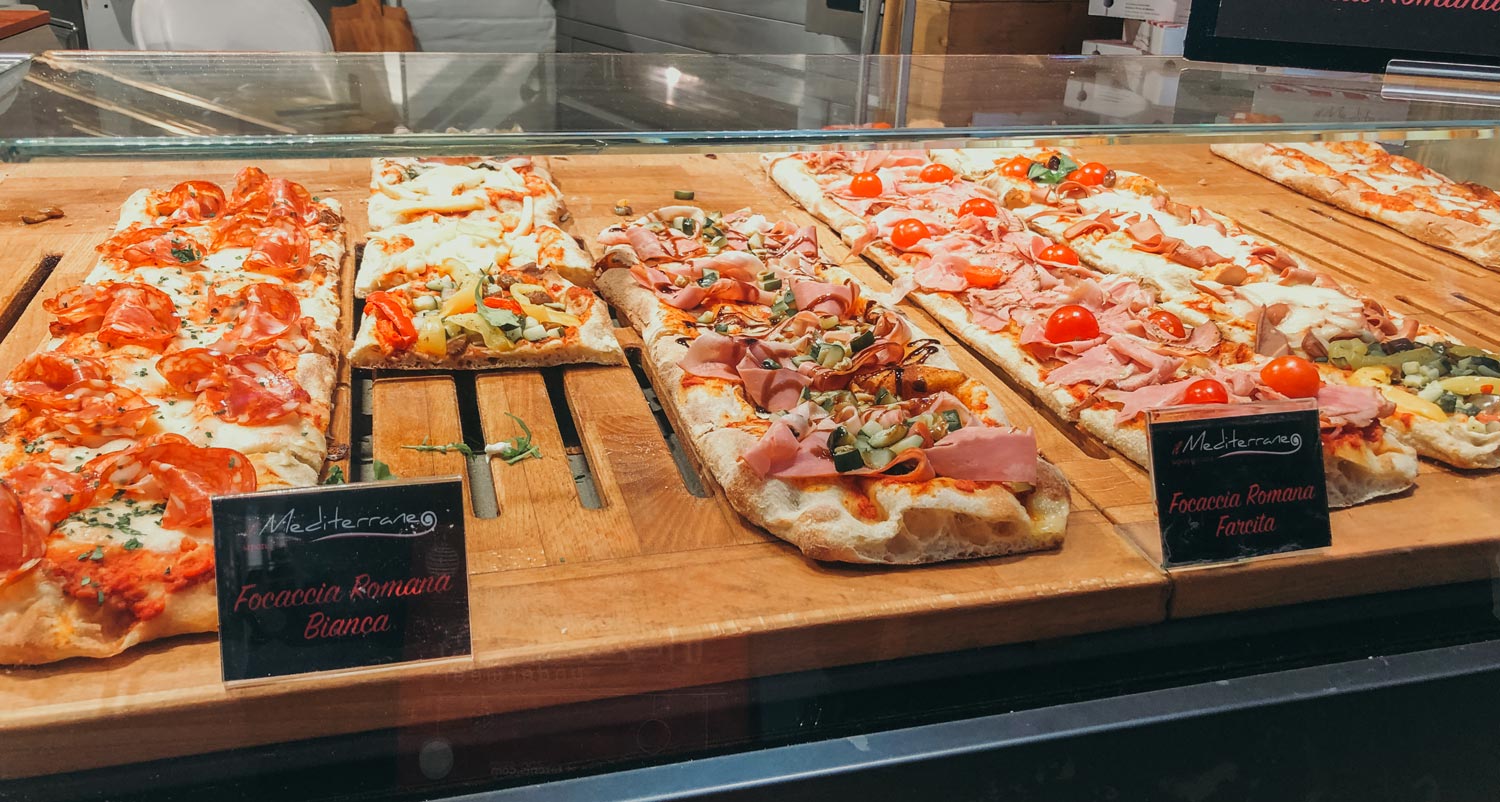 Tulum's Top 10 Pizza Places to Tempt Your Taste Buds in 2023
Welcome to the land of sunshine, sand, and… pizza? That's right, folks! Tulum, Mexico, isn't just a destination for breathtaking beaches and ancient Mayan ruins. It's also home to some of the most mouth-watering, flavor-packed pizzas you'll ever have the pleasure of sinking your mouth into. From classic Italian to inventive vegan and vegetarian-friendly pizzas, Tulum's pizzeria restaurants are ones you won't want to miss. So grab a slice, and let's dig into the best pizzas this paradise has to offer!
Speaking of pizzas, there's no denying that Tulum is a slice of paradise on Earth. With its exciting beach parties, vibrant nightlife, and ancient Mayan ruins, there's something here for everyone. But what really sets Tulum apart is its commitment to using fresh, locally-sourced ingredients in everything from its authentic cocktails to its dishes. And when it comes to pizza, this dedication to quality shines through in every bite. From the crispy, wood-fired crusts to the vibrant toppings bursting with flavor, each pizza is a testament to the bountiful ingredients of the Yucatan region. Whether you're indulging in a classic Margherita or a bold creation featuring local seafood or produce, you can taste the passion and care that goes into every pizza in Tulum. 
With so many options to choose from, Tulum is a foodie's paradise that you should explore. Below are our top pizza places that we recommend you start your culinary adventure with!
Price range: $$$$$
Area: Tulum Pueblo (La Veleta)
Best for: A relaxing terrace atmosphere, refreshing drinks, and crusty pizza
Open from 1am – 11pm, La Hydra Tulum is a gem that you can easily miss. Starting from its simple outdoor terrace, it provides the perfect spot for a relaxing day and night out in Tulum. The ambiance is beautifully simple, nothing extraordinarily fancy, just wooden dining seating and soothing music lightening up the vibe.
The best part, their mouth-watering pizzas are wood-fired cooked, have 8 slices, and have a variety of dishes. From simple margarita and pepperoni to signature La Hydra and vegetarian pizza, you have plenty of options to try out! But the only thing that makes us adore their pizzas is the generous amounts of cheese, tomato sauce, and toppings they have on the pizza for about 170 – 250 Mexican pesos / 9 – 14 USD. Also, their dough is fantastic, and we enjoyed how the crust is somewhat crispy and the dough is soft and slim. 
Our expert tips: Besides the Pizzas, we recommend trying other food on the menu, like their pappardelle pasta and guacamole.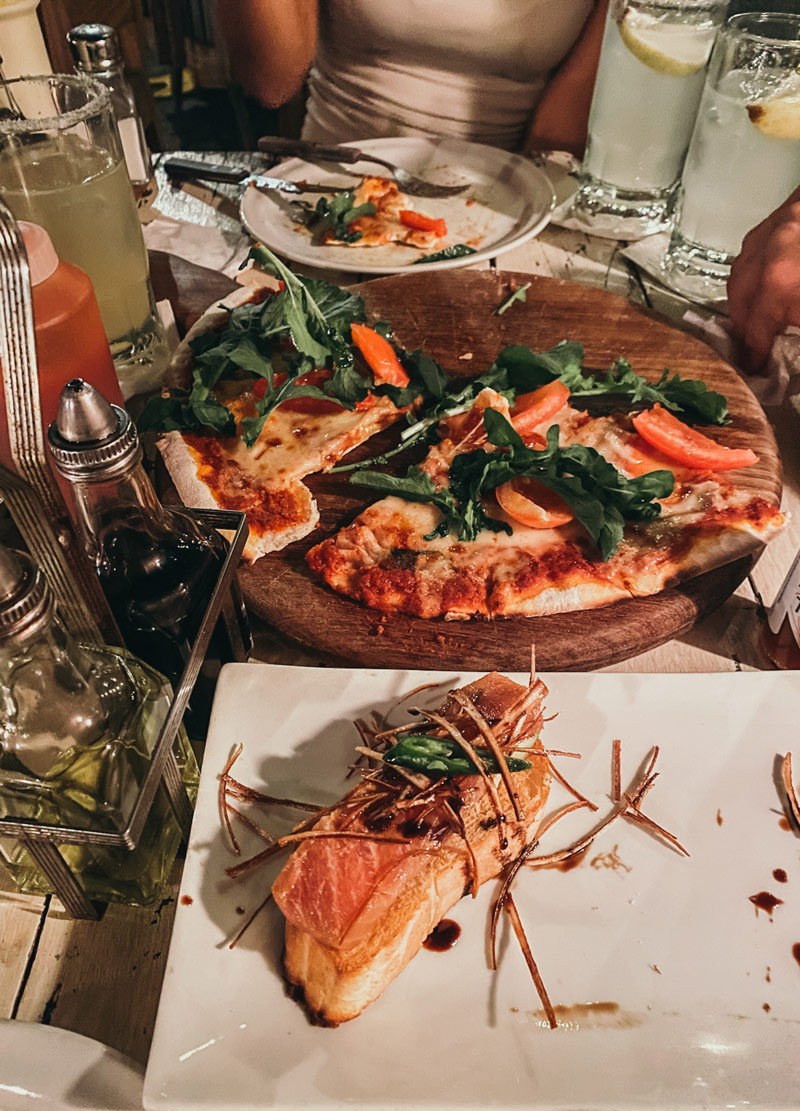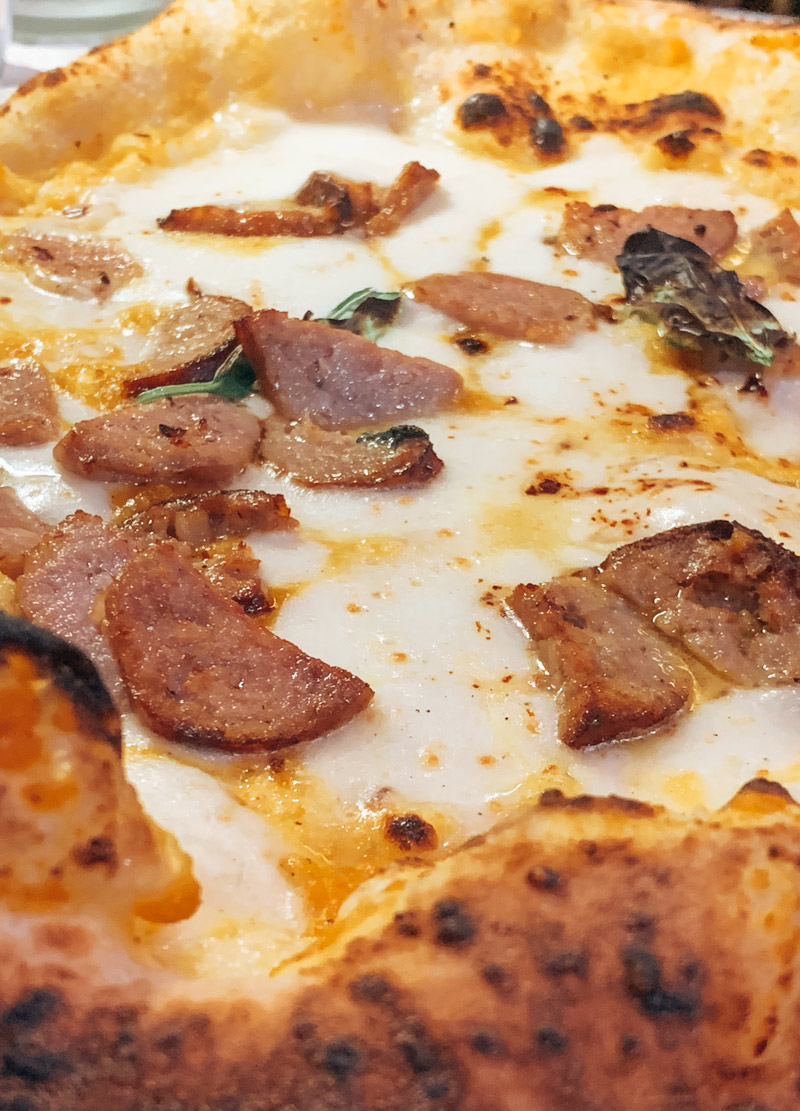 Price range: $$$$$
Area: La Veleta / The beach
Best for: Soft and thick pizza dough and taste delicious
Boccanera Pizzería y Cervecería Tulum is a must-visit pizzeria restaurant in Tulum, offering delicious wood-fired pizzas that are simply irresistible. Located both on the beach and in town, this pizzeria is the perfect spot to enjoy a slice of heaven in a relaxed and laid-back atmosphere. The pizzas are cooked to their soft and chewy crust, which nicely melts in your mouth. 
Each pizza is also generously topped with fresh and flavorful ingredients, from classic Italian dishes to Mexican fusion and to house specialties that will satisfy every craving. And if you're a beer lover, the brewery offers a great selection of local and international brews to complement your meal. So, whether you're looking for a casual lunch on the beach or a cozy dinner in town, Boccanera Pizzería y Cervecería Tulum is the place to be!
Our expert tips: If you are a vegan and a vegetarian enthusiast, we recommend trying their Vegano Pizza (Tomato, vegan cheese, mushrooms, zucchini, eggplant, onion).
Price range: $$$$$
Area: Tulum Pueblo
Best for: affordable, delicious, and good value pizza
Pizzeria Manglar is a popular restaurant located in Tulum, known for its delicious and affordable pizzas. The restaurant has gained a reputation for offering good value, with generous portions of high-quality ingredients at prices that won't break the bank! The pizzas are particularly noteworthy, with a range of classic and inventive toppings to choose from.
More so, customers rave about the delicious crust and the perfect balance of flavors in every bite. With over 1500 reviews on various platforms, Pizzeria Manglar has maintained an impressive 4.6-star rating, making it a must-visit spot for pizza lovers visiting Tulum.
Our expert tips: Don't be deceived by the humble exterior – the flavors within are out-of-this-world delicious. Any food you order, you'll leave feeling completely satisfied and eager to come back for more. Don't miss out on the chance to indulge in the tastiest and most affordable pizzas in town – head to Pizzeria Manglar now!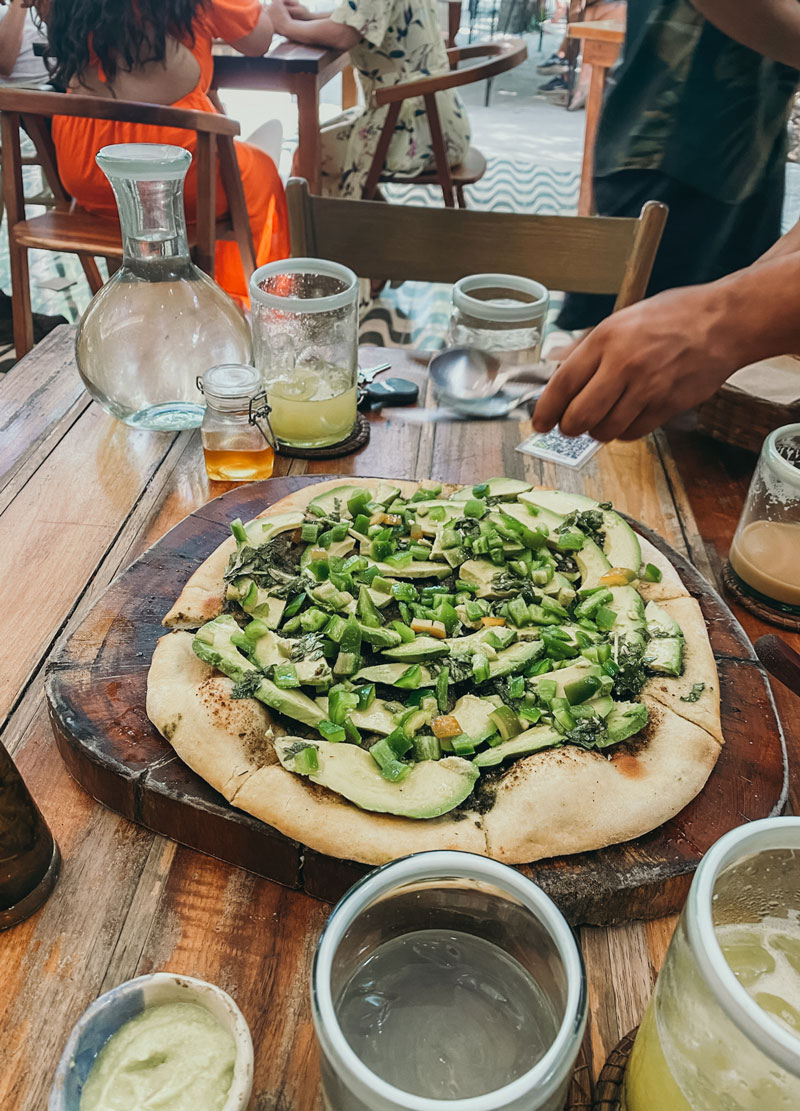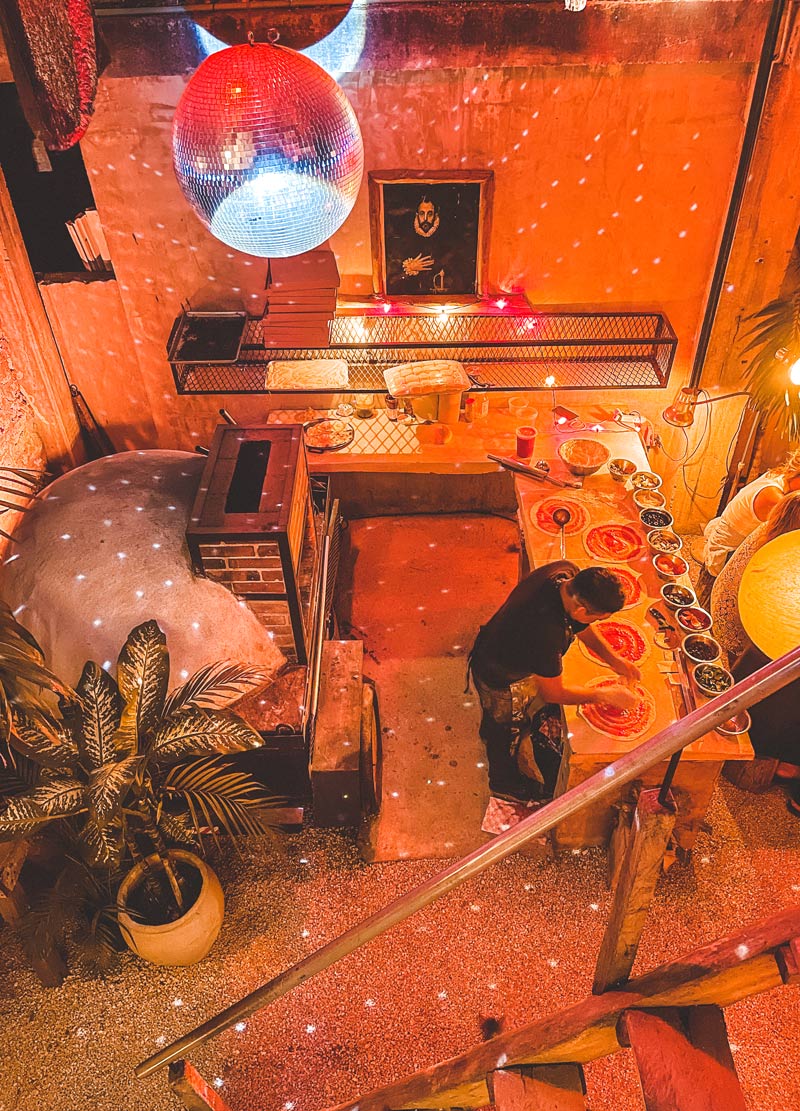 Price range: $$$$$
Area: Tulum Pueblo / La Veleta
Best for: Events and live music
La Pizzine Tulum is a must-visit restaurant for any pizza lover in Tulum. Their pizzas are not only excellent in terms of taste but also offer good value for money. The restaurant boasts a vibrant and friendly atmosphere, with attentive and welcoming staff always ready to make your dining experience a memorable one. 
But that's not all. The restaurant also hosts fantastic events, such as live music and rooftop markets on the weekends, adding to the already fantastic atmosphere. La Pizzine Tulum is the perfect spot to indulge in some of the tastiest pizzas in town while enjoying the lively atmosphere and unforgettable events.
Our expert tips: Get ready for an incredible weekend experience at Pizziné Tulum! You won't want to miss their upcoming rooftop live music and market, filled with fantastic entertainment and the opportunity to discover unique finds. Stay in the know about their events by following their Instagram page @la_pizzinetulum. Get excited for a weekend full of fun, music, and unique finds!
85Xciento La Vera Pizza al Taglio
Price range: $$$$$
Area: Tulum Pueblo
Best for: Delicious pizza bites and affordable
If you need a break from tacos and looking for affordable food, you should definitely check out 85Xciento La Vera Pizza al Taglio. Their pizzas are perfect for bites and are cut into rectangular slices, making them easy to grab on the go or share with friends for just about 3 USD / 50 pesos per slice. Not only are they convenient, but they also boast a fantastic taste and various options. Made with high-quality ingredients, including San Marzano tomatoes and Italian flour, these pizzas have a crisp crust and a range of delicious toppings to choose from. 
Whether you're in the mood for a classic Margherita or something more adventurous like prosciutto and fig, 85Xciento La Vera Pizza al Taglio has got you covered. Overall, suppose you're looking for a delicious yet affordable meal that can be enjoyed quickly. In that case, 85Xciento La Vera Pizza al Taglio pizzas are an excellent choice.
Our expert tips: Besides the Pizzas, we recommend trying their 1 lb / 500g lasagna bolognese. Super delicious with a chewy-cheesy top and a melting lasagna under the cheese.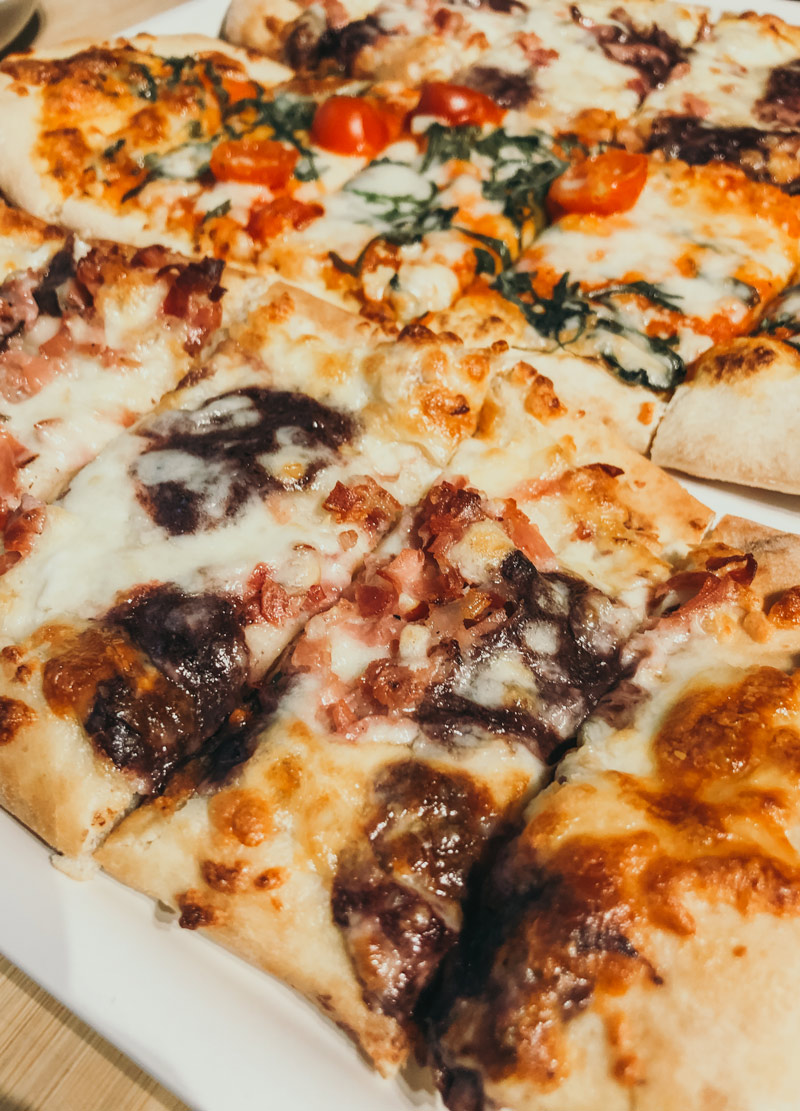 Price range: $$$$$
Area: Tulum Pueblo
Best for:  Plant based pizzeria and pasta
Get ready to indulge in the ultimate pizza experience at Pizza Papi! This innovative restaurant offers a unique twist on traditional pizza by crafting all its pies with 100% plant-based ingredients. Not only are these pizzas incredibly tasty, but they're also inclusive, with gluten-free options available for those with dietary restrictions. Plus, with 6 medium slices per pizza, you can share with friends or keep it all to yourself! But that's not all – Pizza Papi also features a fantastic selection of natural wines and cocktails to perfectly complement your meal.
With such an exciting range of offerings, Pizza Papi is the ideal destination for anyone seeking a fun, delicious, and plant-based dining experience. Take advantage of the opportunity to try their mouth-watering pizzas and drinks!
Our expert tips: Pizza Papi's salads are just as delicious as their pizzas! Made with fresh, high-quality ingredients, these salads are the perfect complement to any meal. With a variety of options available, you're sure to find something to suit your taste buds. Furthermore they are next to Matcha Mama, one of the best vegan and vegetarian restaurants to get healthy bowls that are ready to go.
Price range: $$$$$
Area: The beach
Best for: Neapolitan sourdough pizza & spritz
If you're looking for the ultimate Neapolitan-style pizza experience, you need to check out Checkpoint Ciao Restaurant in Tulum's hotel zone. This restaurant is renowned for its delicious pizzas, which feature a chewy crust and authentic ingredients straight from Naples. But that's not all – Checkpoint Ciao also boasts a stylish bar lounge where you can enjoy drinks and socialize with friends. And remember, pair your pizzas with their unique mixology of Aperol Spritz!
Plus, with the restaurant located just a few steps away from the beach, you can enjoy a fun beach day and eat pizza nearby. So, whether you're a pizza lover or just looking for a fun night out, Checkpoint Ciao is the perfect destination.
Our expert tips: We recommend you first try their Margherita pizza with prosciutto and their mezcal cocktails.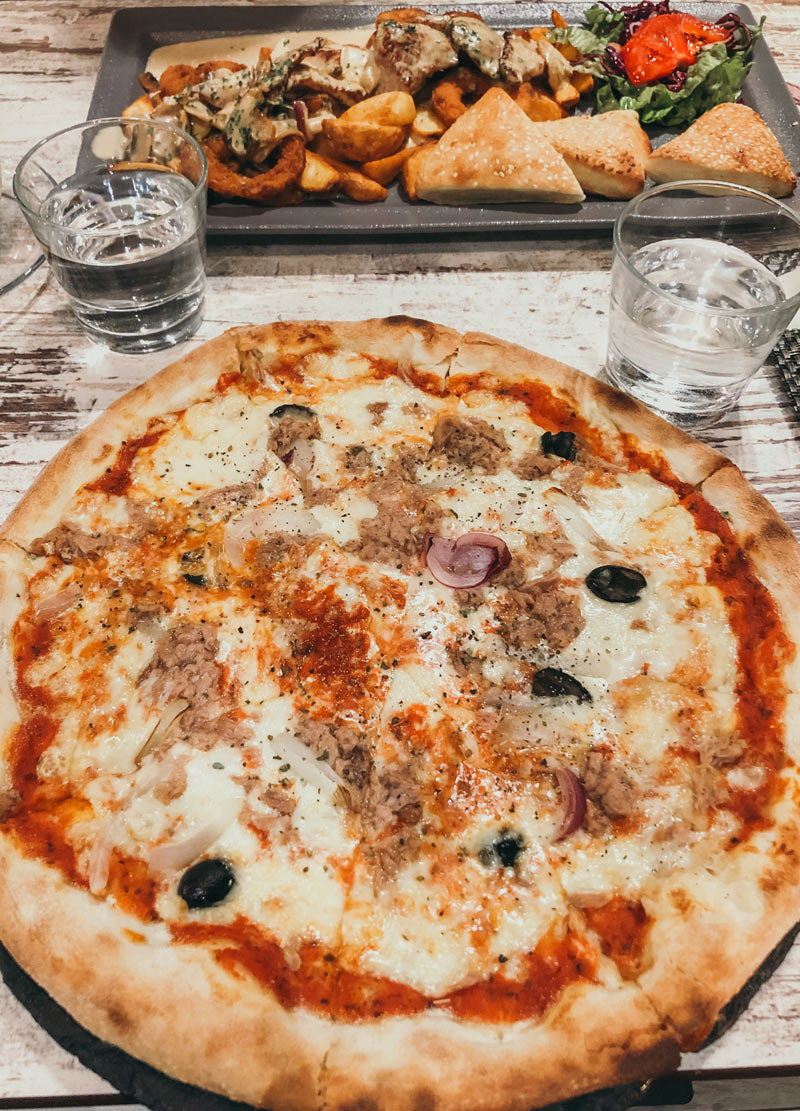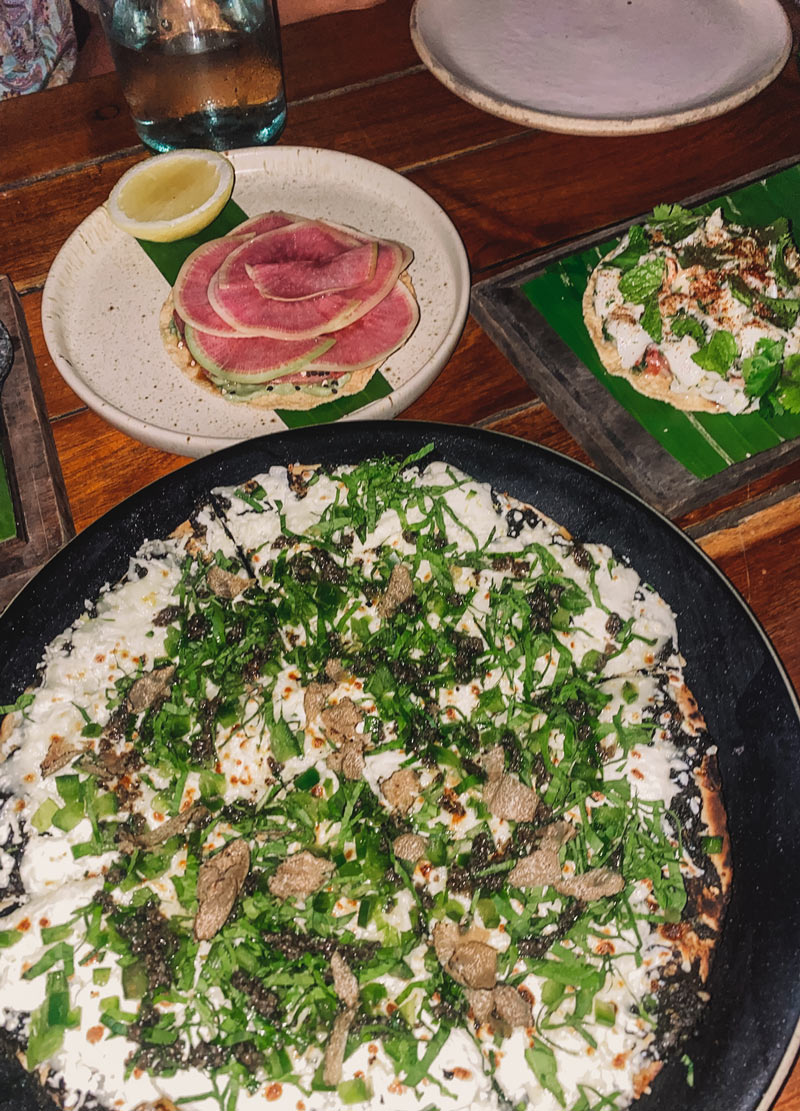 Price range: $$$$$
Area: Tulum Pueblo / La Veleta
Best for: Italian restaurant, social atmosphere, and delicious pizzas
Canova Cantina Tulum is undoubtedly one of the best Italian restaurants in Tulum. This restaurant offers authentic Italian cuisine that is simply irresistible. From homemade dishes of pasta to wood-fired pizzas, every dish is carefully crafted to perfection. 
What we love about Canova is the menu that is well-curated and caters to all kinds of dietary preferences, including vegetarian and gluten-free options. With so many options to choose from, their food is all flavorful and satisfying. The service at Canova Cantina is top-notch, with friendly and attentive staff who are always willing to help. The restaurant also has authentic cocktails and an extensive wine list, with some of the best Italian wines that pair perfectly with the food.
Overall, Canova Cantina Tulum is a must-visit for anyone looking for an exceptional Italian dining experience in Tulum.
Our expert tips: They usually get busy during most times of the week, so we recommend making reservations through their Instagram page @cantinacanova.
Price range: $$$$$
Area: Tulum Pueblo
Best for: customizable and reasonably priced Mexican pizza
Pizzas Tulum is a charming local pizzeria that offers delicious, freshly-made pizzas at reasonable prices. The menu boasts a variety of toppings to suit every taste, from classic pepperoni to more exotic options like Al pastor and Mexican Chorizo. One of the most unique things about this pizzeria is that customers can choose how large they want their pizza to be. Starting from 120 pesos, you can get 4 slices that are enough to snack on. Furthermore, the pizzas are made with fresh, high-quality local ingredients and added a generous amount of toppings. 
The restaurant's casual atmosphere, friendly staff, and excellent pizza make it one of the popular spots for both locals and tourists. So, If you're in the mood for a satisfying pizza for a reasonable price of any size, Pizzas Tulum is definitely worth checking out.
Our expert tips: You can call them to deliver the pizzas to your stay, but it can take longer to deliver, and it is best to just come around and immerse in the local vibe.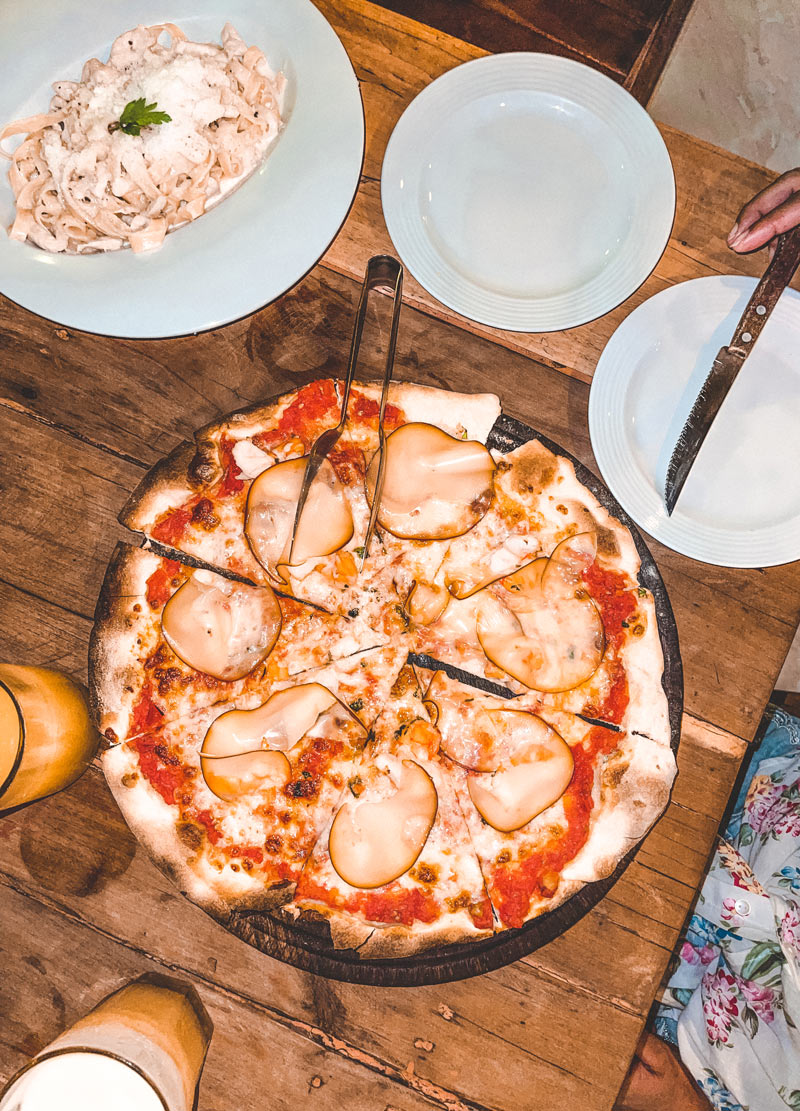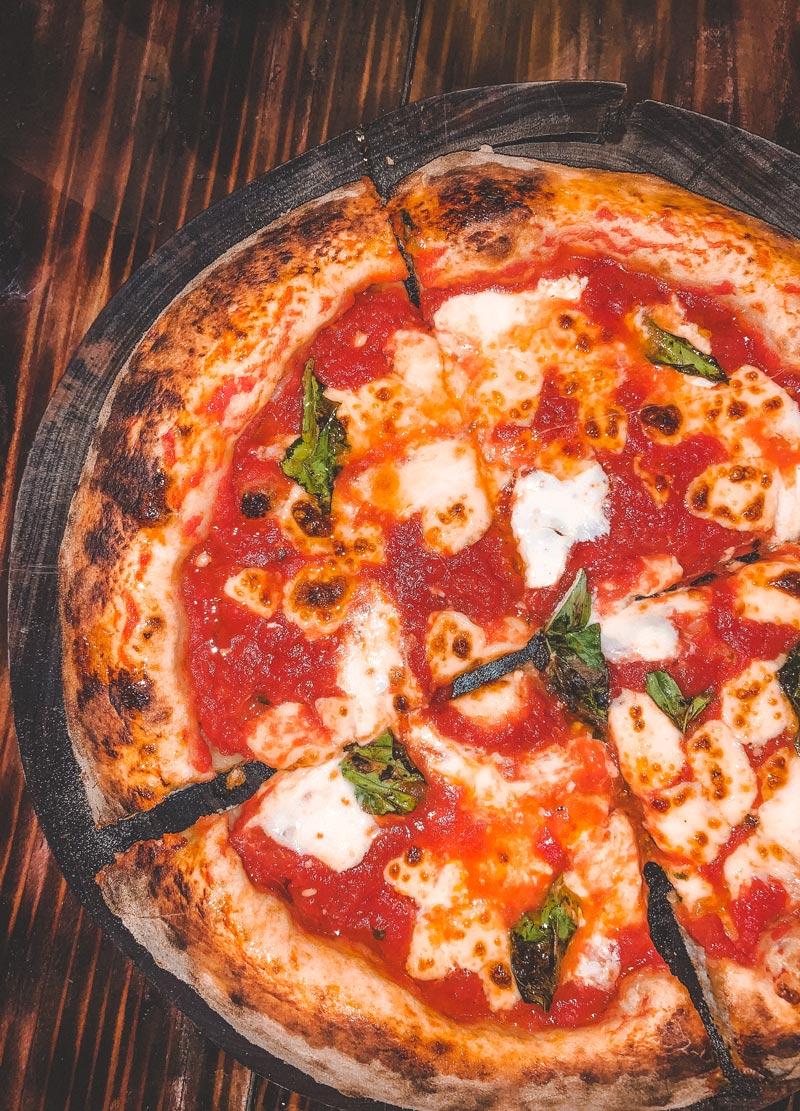 Price range: $$$$$
Area: The beach
Best for: Perfect beach spot, cozy restaurant scenery, and perfect for taking photos.
Posada Margherita is a luxurious Italian restaurant situated on the beach with a breathtaking panoramic view of the Caribbean Sea. As soon as you enter the restaurant, you are transported into a cozy village-like scenery with a warm and welcoming ambiance. This will be a great place to take photos while waiting for the food!
Now, the food at Posada Margherita is exceptional, with a wide range of traditional Italian dishes made from fresh, locally sourced ingredients. However, the standout items on the menu are their Speciale del Giorno pizza, which is cooked in a traditional wood-fired oven with a variety of high-quality ingredients that gives a unique flavor combination that melts in your mouth.
The restaurant's attentive and friendly staff provides excellent service, making your dining experience a truly memorable one. Whether you're looking for a romantic dinner or a family outing, Posada Margherita is a must-visit destination for anyone seeking a luxurious Italian dining experience in Tulum.
Our expert tips:  Before heading to this restaurant, there is no parking available for vehicles directly at the restaurant. However, don't fret. There is a convenient nearby parking spot to the south. Keep in mind that you will need to pay a fee of about 11-17 USD or 200-300 pesos for the entire day. And one more thing, based on our recent visit, this restaurant only accepts cash, so be sure to prepare accordingly.
Discover the Best Pizza Places in Tulum with Virginia's Expertise and Perks
Hey there, pizza lovers! If you're planning a night out in Tulum and looking for the best pizza places in town, we've got some exciting news for you. Our dear friend Virginia is a Tulum guru who knows everything about the best restaurants, events, and nightlife in town – including the top spots for pizza! By letting Virginia organize your night out, you can take advantage of special guest lists, discounts, and other perks that you wouldn't get on your own. Don't let FOMO get the best of you – trust Virginia to show you the best pizza spots in Tulum and make your night out one to remember!
Contact Virginia now for exclusive perks!
The Top 5 Pizza Restaurants in Tulum Town
Most of the best pizzerias in Tulum are located in town or Pueblo. Furthermore, it is much more affordable compared to the ones at the beach. Check out our top five picks we recommend!
Pizzeria Manglar

–

$$

$$$ – Tulum Pueblo (La Veleta)

La Hydra by Gigi – $$$$$ – Tulum Pueblo (La Veleta)
Boccanera Pizza – $$$$$ – Tulum Pueblo/Beach
La Pizzine – $$$$$ – Tulum Pueblo (La Veleta)
85xciento La Vera Pizza al Taglio – $$$$$ – Tulum Pueblo
The Best Pizza Restaurants on a Map
Are you ready to explore the best of Tulum's vibrant Hotel zone and charming town? Look no further than this incredible map, your ultimate guide to navigating the top venues in the area with ease.
Things you need to know about Pizza Restaurants in Tulum
Now you know the top pizzeria places in Tulum to satisfy your big appetite, here are a few things you should know before you travel there.
PRACTICAL TIPS AND ADVICE
Here are some tips and advice we want you to know when you plan to travel to any of the venues above. Check our guide below:
Be prepared for cash-only payment:

Many local pizzerias in Tulum only accept cash, so be sure to bring enough money with you to avoid any payment problems.

Takeout is always an option:

If you're short on time or prefer to enjoy your pizza elsewhere, many pizzerias offer takeout options. This allows you to enjoy your pizza on the beach, in your hotel room, or anywhere else in Tulum.

Consider sharing a pizza:

The portion sizes at pizzerias can be quite generous, so consider sharing a pizza with a friend or dining partner. This allows you to try multiple varieties of pizza and enjoy a more economical meal.

Check the ingredients:

Be sure to check and ask about their components if you are on a strict vegan or vegetarian diet.

Try local toppings:

While classic toppings like pepperoni and mushrooms are always delicious, don't be afraid to try local toppings that are unique to Tulum. Some popular local toppings include chorizo, al pastor, and pineapple.
How much is the average cost of pizzas in Tulum?
The cost of pizza in Tulum can vary depending on the location. If the restaurant is located in town, the price of pizza is around 150 Mexican pesos / 9 USD to 300 Mexican pesos / 17 USD. On the other hand, if the restaurant is located by the beach, it can cost more and up to 700 Mexican pesos / 39 USD. Of course, it is costly, but those pizzas are usually signature dishes from the chef of the restaurant. Most importantly, these pizzas typically have up to 8 slices, perfect to share or for your large appetite.
Where can I get the best vegan, vegetarian, gluten-free pizza in Tulum?
Tulum has a variety of amazing options for vegan, vegetarian, and gluten-free pizza lovers. Manglar Pizza is the perfect option known for its vegan cheese and unique toppings such as plantains and hibiscus flowers. They also offer gluten-free crust options. You're sure to find a delicious and satisfying pizza to meet your dietary needs in Tulum!
What type of pizza is most commonly found in Tulum?
While Tulum does offer classic Italian options like Margherita, pepperoni, and 4-cheese, the most common type of pizza found in the area is wood-fired, made with fresh, locally-sourced ingredients, and often featuring unique toppings such as seafood or tropical fruits.
FAQ about Tulum best pizza
What are the best Pizza restaurants in Tulum?
The best pizza restaurant in Tulum is Pizza Manglar. It is because of its affordability, taste, and satisfaction. Furthermore, the restaurant has earned a 4.6-star rating with over 1,500 reviews.
Where are the best pizza restaurants located in Tulum?
Most of the best pizza restaurants are located in Tulum town and in La Veleta, a neighborhood of Tulum.
Are children under 18 accepted in pizza restaurants in Tulum, Mexico?
Yes, children under 18 are welcome to any pizza restaurants in Tulum.
How can I pay at these pizza restaurants in Tulum?
You can pay using Mexican pesos in cash or using a card at most pizza restaurants. As a rule of thumb, be sure to check with the staff first if they accept cards before ordering.
Do pizza restaurants in Tulum accept USD?
Some restaurants (not only pizza restaurants) accept USD in cash. However, they have their own currency exchange for dollars.
Is it difficult to find a parking space in Tulum?
It is much easier to park in town than at the beach. Parking in town is always free, and you can park by the side of the sidewalk (avoid the ones with yellow markings). While at the beach, you need to pay at a designated parking space that costs about 6 USD / 100 pesos per hour.
How much will it cost you to dine at any pizza restaurant in Tulum?
It will cost no more than 400 pesos to dine at the pizza restaurants in town. Which can get you 8 large slices of pizza and a drink. But it can cost way more if you dine at any pizza restaurant by the beach.
Are there any vegetarian or gluten-free options available at pizzeria restaurants in Tulum?
Yes, many pizzerias in Tulum offer vegan, vegetarian, and gluten-free options. We recommend going for Pizza Papi, Pizza Mangalar, and an honorable mention, Holistika Tulum.
Great, let's feature the "MYSTICAL SUNSET /OLIVER HUNTEMANN" event at Mia Restaurant & Beach Club in Tulum on Wednesday, 29 November 2023. Here's the HTML snippet for your event: ```html
👉 WEDNESDAY, Nov 29
MYSTICAL SUNSET /OLIVER HUNTEMANN 🌅
📍
Mia Restaurant & Beach Club, Tulum
💵
Tier 1 Tickets: Mex$ 660 (incl. fees), Final Tier: Mex$ 880 (incl. fees)
📩
Contact Virginia
here
to book a table
Join us for an unforgettable evening at Mystical Sunset with Oliver Huntemann. Contact Virginia here to book your table and be part of this magical night on the beach! 🎶🔥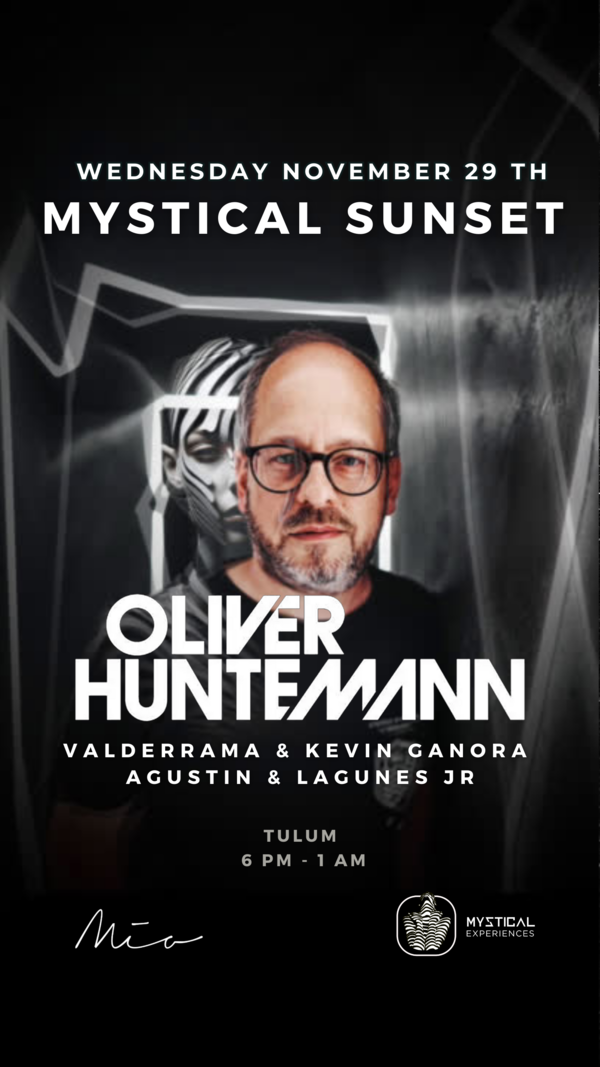 Top Parties and Club Events
23rd November - VAGALUME SESSIONS KEENE @VAGALUME
26th November - VAGALUME SUNDAZE MITA GAMI @VAGALUME
30th November - VAGALUME SESSIONS VALDOVINOS @VAGALUME
3rd December - VAGALUME SUNDAZE VALENTIN HUEDO @VAGALUME
7th December - VAGALUME SESSIONS MUSTAFA ISMAEEL @VAGALUME
30th December - PIKNIK POLO CORP & LEO LEONSKI @VAGALUME
31st December - NEW YEAR´S EVE @BAGATELLE TULUM
31st December - NYE PARTY 2024 @VAGALUME
13th March - LOCUS Tulum 2024