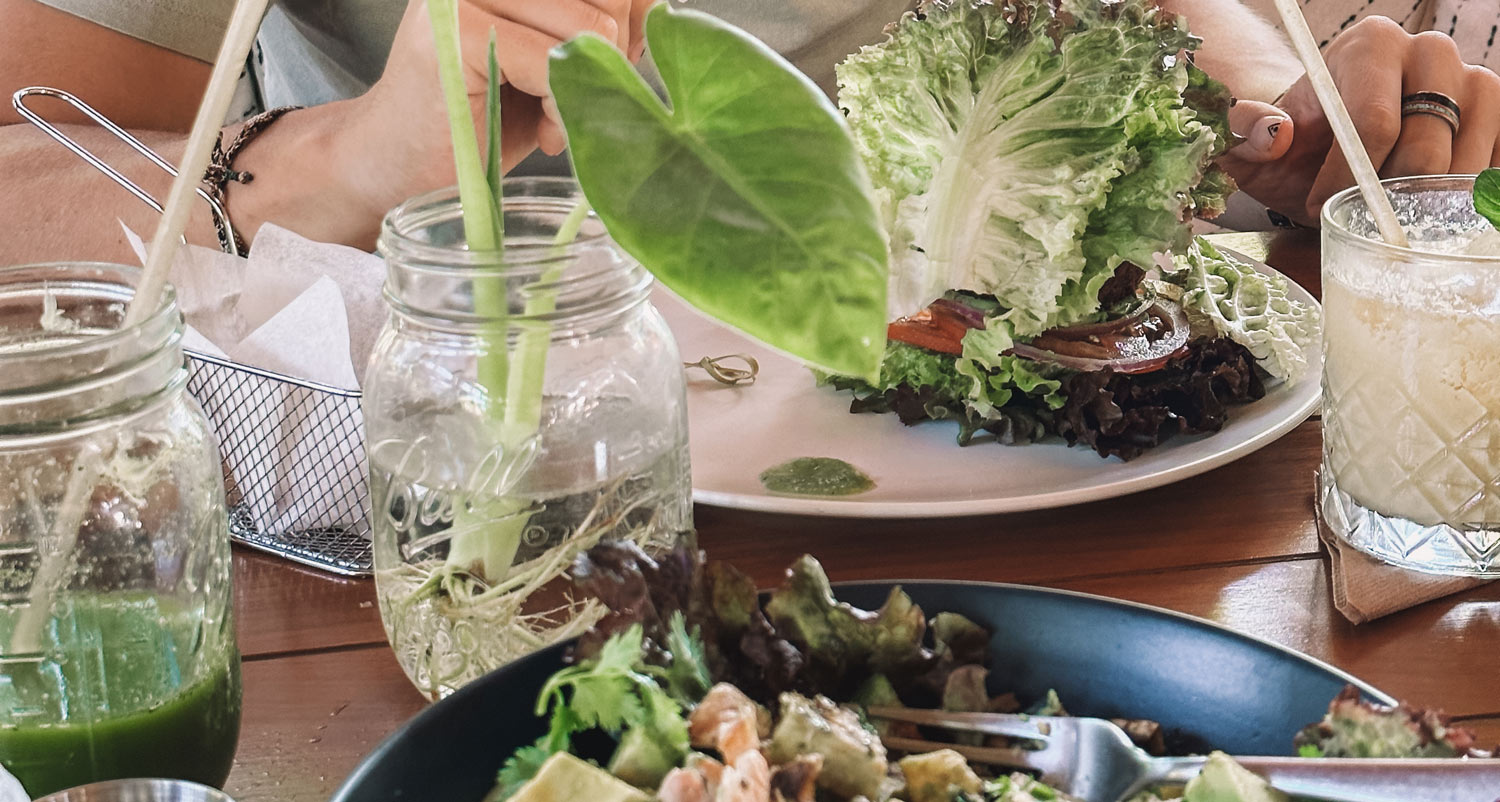 Tulum's Top Vegan and Vegetarian Restaurants: Satisfy Your Cravings
Are you looking for delicious plant-based cuisines? Or are you bored with the same meat-centric restaurant experiences? Well, ready your taste buds with some of the best and most rejuvenating vegan & vegetarian restaurants all over Tulum, Mexico! From fresh, locally sourced produce ingredients to the most artisan dishes made from passion will have your mouth watering with anticipation!
Located in Tulum, Mexico, it is a vibrant and popular beach town that is home to various fun activities to do! Many tourists travel to Tulum to immerse in all of the exciting beach and jungle adventures, authentic nightlife parties, and holistic wellness activities. But of course, you will need fulfilling food and drinks to revitalize the body to continue your day and your f adventures in Tulum!
Luckily, Tulum has all these thriving plant-based restaurants that offer plenty of options for everyone. Whatever you like: various bowls of smoothie, delicious vegan tacos, or plant-based "meats," you will never get bored of the food here! And not only is the food great, but take the moment to enjoy the ambiance and atmosphere of the restaurant, where you can dine in the jungle, beautiful terrace, or by the tranquil beach. The fun never ends!
So, when you're ready to embark on a culinary adventure that will leave you feeling satisfied, healthy, and energized, let's explore these best restaurants below!
TIERRA RESTAURANT BY HOLISTIKA HOTEL TULUM
Price range: $$$$$
Area: Tulum Pueblo
Best for: Jungle ambiance, co-working space, and various meal options
Holistika, one of the most famous wellness centers in Tulum that offers various healing activities such as yoga, temazcal, breathwork, and more. Besides these activities, their Tierra restaurant is a true culinary gem for anyone seeking delicious and healthy vegan and vegetarian meals. From the moment you walk in, the restaurant's ambiance immediately invites you to relax and unwind with its open-air setting, lush greenery, and tranquil surroundings (we recommend you come at night too).
Besides the atmosphere, the menu at Holistika Tulum Tierra is amazing, featuring an impressive selection of flavorful foods made from locally sourced, organic ingredients. Whether you're in the mood for a hearty breakfast, a light lunch, or a satisfying dinner, this restaurant has something for everyone.
If you are not in the mood for some food, visit the juice bar just a few steps away. Enjoy the swing-style table and try out their juices and smoothies that are customizable to your liking. So, with so many things to try, you should travel to Holistika any time of day or night and experience this gem yourself!
Our expert tips: We highly recommend trying their wood-fired vegan avocado pizza, quinoa salad, and baba ghanoush are must-try meals. Afterward, visit the dessert shop close by, and try their homemade sweets!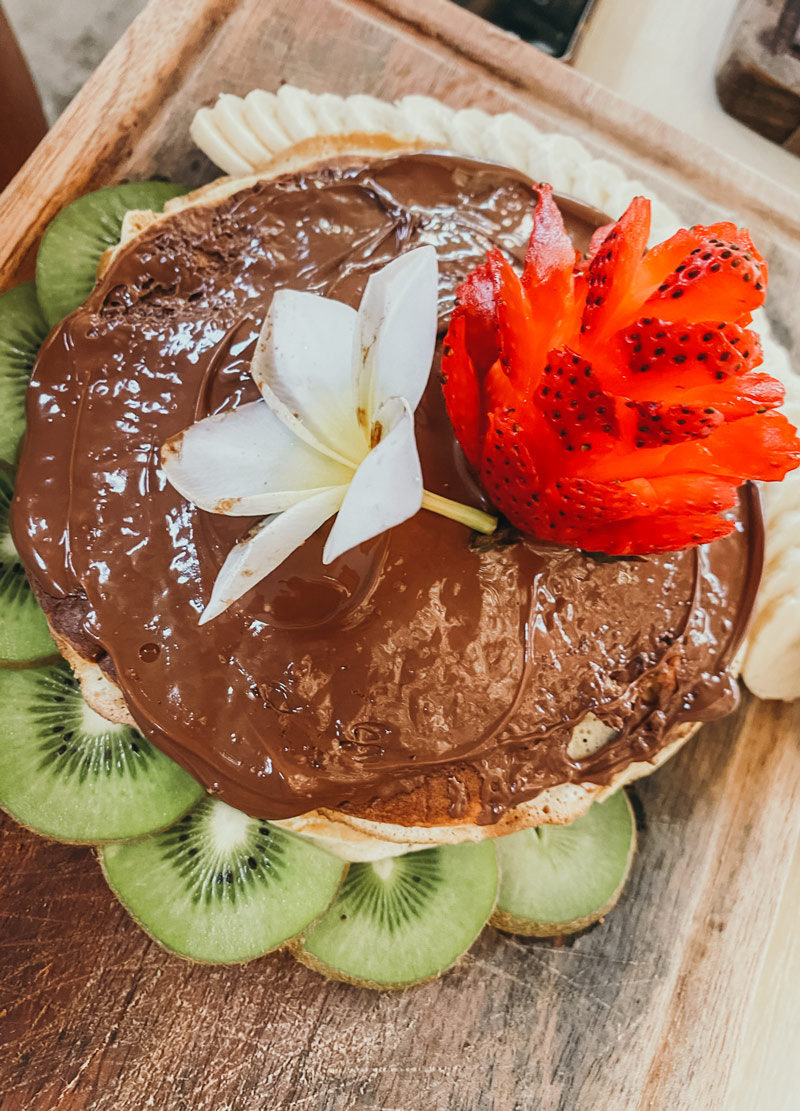 Price range: $$$$$
Area: Tulum Pueblo
Best for: smoothie, tacos, coffee, and a lovely atmosphere
Vivo Tulum is a fantastic restaurant that caters to vegans and vegetarians, serving up a variety of delicious and healthy dishes that are sure to satisfy even the most discerning palate. The menu is filled with natural, organic ingredients sourced locally, and every dish is crafted with care and attention to detail.
"Made with love," as the restaurant's signature, can be tasted through all their dishes. Most especially, their homemade veggie burger crafted with lentils, medallion with confit mushrooms and peppers, paired with golden milk, is our favorite combination for a big brunch after a whole night of partying!
Besides the dishes, the atmosphere at Vivo Tulum is also fantastic, with an open-air setting that allows guests to enjoy the beautiful Tulum weather while they dine, perfect for enjoying their meals at any time of day!
Our expert tips: Come for breakfast and try their authentic menus, such as the gluten-free spinach crepe, spicy chilaquiles, or an acai bowl. Overall, whether you want something light or heavy, Vivo Restaurant is prepared to satisfy your needs!
Price range: $$$$$
Area: Tulum Pueblo and at the beach/hotel zone
Best for: Relaxing atmosphere, vegan desserts, and meals.
Get ready to indulge in a culinary adventure like no other at Raw Love Tulum! A unique cafe only for enthusiasts, where every dish is meticulously crafted with a perfect balance of textures and flavors. You'll enjoy every flavor of the pure and organic ingredients that will tantalize your taste buds like never before. Besides their meals, we always go there to order the vegan chocolate cake, which is one of the best cakes we have ever tried in Tulum! We highly recommend it.
Furthermore, they offer two unique locations to choose from, each having its own charm. If you're looking for a beachside dining experience, then one at the beach is the perfect spot for you. With stunning views of the Caribbean Sea and a relaxed, bohemian vibe, you can savor your delicious meals while soaking up the sun and the sea breeze.
On the other hand, if you prefer a more urban atmosphere, then one at the centro is the place to be. Situated in the heart of Tulum's bustling downtown, you can enjoy the same delectable food on a vibrant and energetic terrace. So, whether you're in the mood for a tranquil beachside escape or a lively urban adventure, Raw Love Tulum has got you covered!
Our expert tips: Plus, they offer top-notch vegan and plant-based catering services for all your events. And for an exclusive dining, celebrate a private dinner or events at the restaurant and experience their magic today!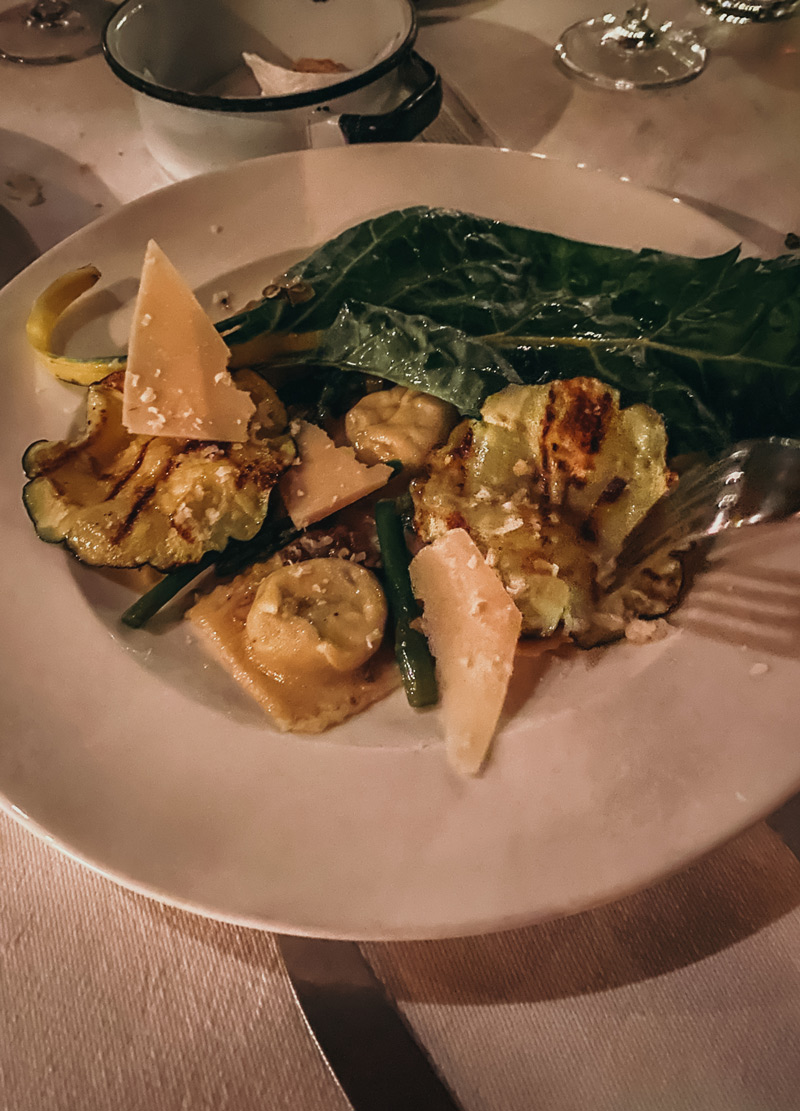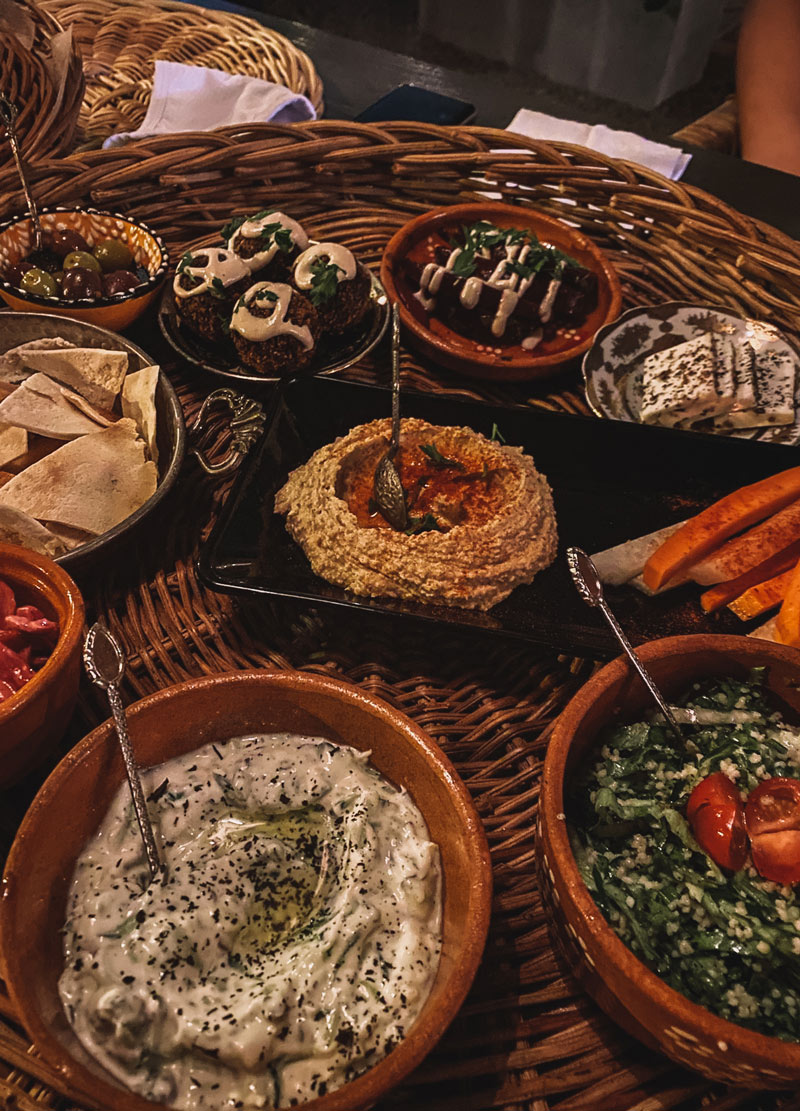 REAL COCONUT BY SANARA HOTEL TULUM
Price range: $$$$$
Area: Tulum Pueblo and at the beach/hotel zone
Best for: delicious food and a relaxing atmosphere.
If you're a vegan and vegetarian enthusiast, you will find that The Real Coconut offers a menu that caters to your dietary preferences while still delivering on taste and quality. It is where they make a conscious effort to source their produce from their very own organically grown Yucatán ranch, local providers, and within Mexico, ensuring that their ingredients are as fresh and wholesome as can be. 
Moreover, about their cuisine, we asked a staff member about their menu, and she told us that they only cook with coconut or olive oil, seasoned with sea or natural pink salt, and are dedicated to maintaining high-quality animal proteins from the best and trusted source. This is perfect to know for our new healthy diet!
Lastly, if you are at the beach, check out Sanara's Tulum wellness programs ranging from day spas, yoga, and sound healing in their stunning beachfront shala.
Our expert tips: We recommend taking a trip to the hotel zone and visiting their beach restaurant. It is a good place to do yoga and eat healthy afterwards by the beach. Although the cost is slightly more at the beach, we liked it better because of the setting that captures a panoramic view of the Caribbean ocean and catches the cold breeze too!
Price range: $$$$$
Area: Tulum Pueblo
Best for: Local dining experience, vega-Mexican cuisine, and Mezcal drinks
If you want a very simple, cheap, and local dining experience, you should visit Reciproco in La Veleta, Tulum. It is a local-rustic restaurant serving excellent and affordable Mexican style food. This is because the place is locally owned, made by local cooks, and offers local drinks too! 
Hide away from the hustle and bustle of the town, and come and try out their house specials, from plant-based tacos, chilaquiles, and quesadillas, for brunch! Furthermore, follow their Instagram page to stay updated with their weekly live music sessions and check out the positive reviews on Google too!
Our expert tips: This place is also great for practicing your Spanish! As you need to understand a little of the language to order and talk to the staff. But if you are a newbie, no worries. The friendly servers understood a little English and didn't mind our broken Spanish when we ordered.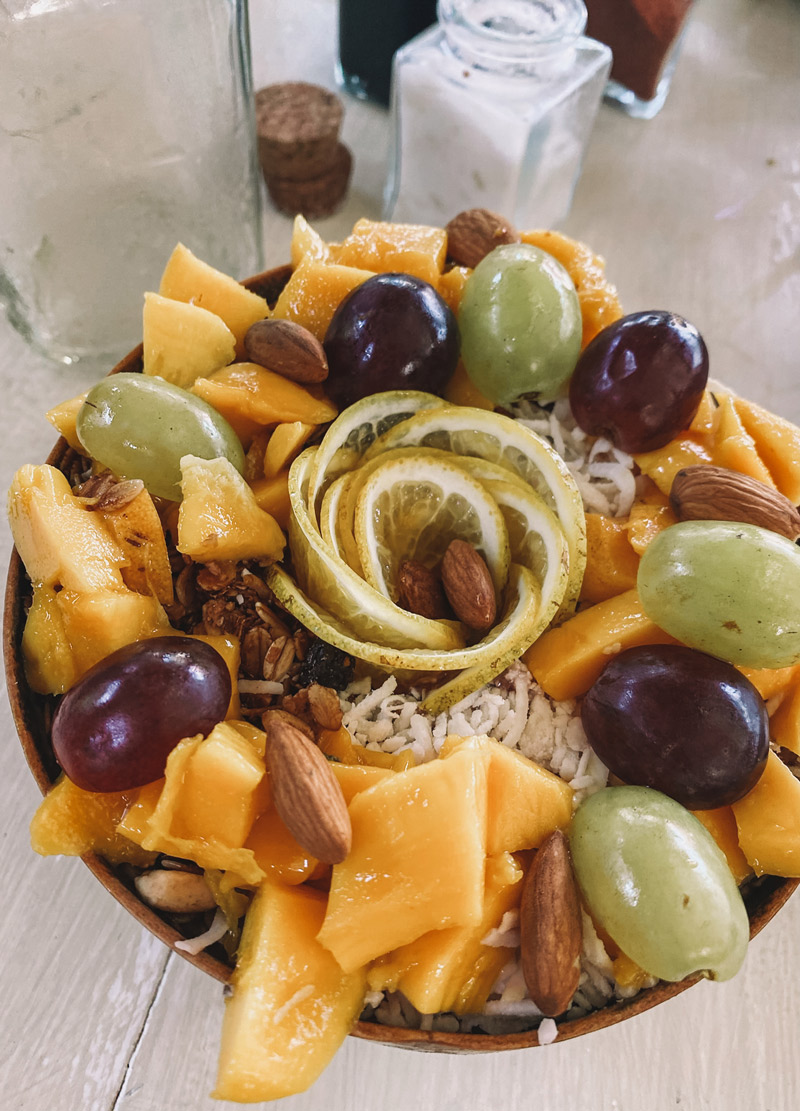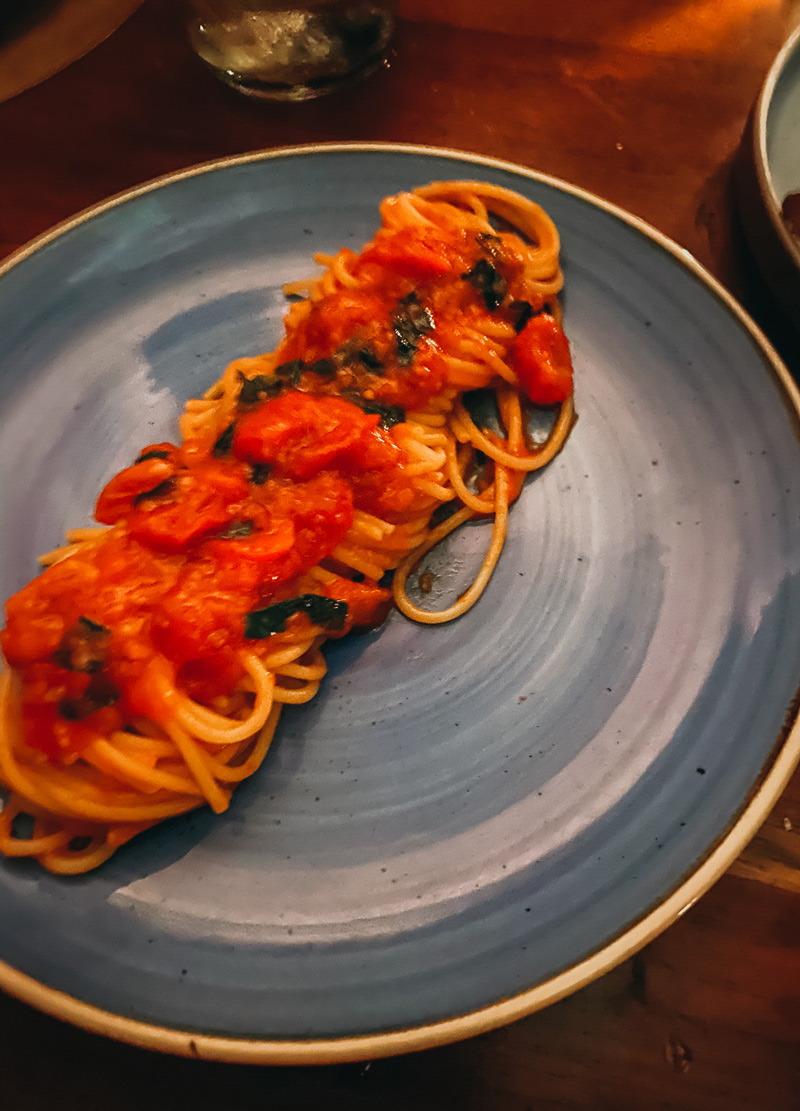 Price range: $$$$$
Area: Tulum Pueblo
Best for: Simple and delicious cuisine
Laylo Tulum is a great option that caters to both vegan and vegetarian lovers alike. Their menu offers a delicious selection of plant-based options, including delectable bowls, burgers, tacos, and pizzas. 
Starting from our favorites, their bowls come in a variety of flavors and feature a generous helping of veggies, grains, and legumes. But if you want something more fulfilling, their juicy and flavorful burgers served with a side of crispy sweet potato fries are a way to go (recommend sushi burger). For those in the mood to share something heartier, the pizzas are a perfect choice, with crispy crusts and a variety of veggie toppings.
With simple scenery and live music on some nights, Laylo Tulum is an excellent choice for a light lunch or a hearty dinner in a relaxed atmosphere.
Our expert tips: During our last visit, their menu was mixed meat and vegan options. So it is best to pay careful attention before ordering.
Price range: $$$$$
Area: Tulum Pueblo
Best for: Simple and delicious menu with an affordable prices
One of Tulum's best, most famous, and most affordable vegan & vegetarian restaurants. La Hoja Verde is well-known for its use of natural and locally-sourced ingredients, which results in flavorful and healthy meals.
One of the most special meals at La Hoja Verde Tulum is their simple veggie bowls. These bowls typically include a base of quinoa or brown rice, along with a variety of vegetables, legumes, and sauces. Some of the most desirable bowls at La Hoja Verde Tulum include the Green Bowl, which is made with quinoa, and roasted sweet potato, and also the Vegan Bowl, which includes brown rice, black beans, grilled tofu, and a spicy peanut sauce. Their culinary delight and the affordable cost to dine there is what keeps us coming back!
If you need more reasons to go, check out the thousands of positive reviews on Google!
Our expert tips: If you want to learn how to make delicious meals like them, definitely try out their cooking class from the hand of their chefs!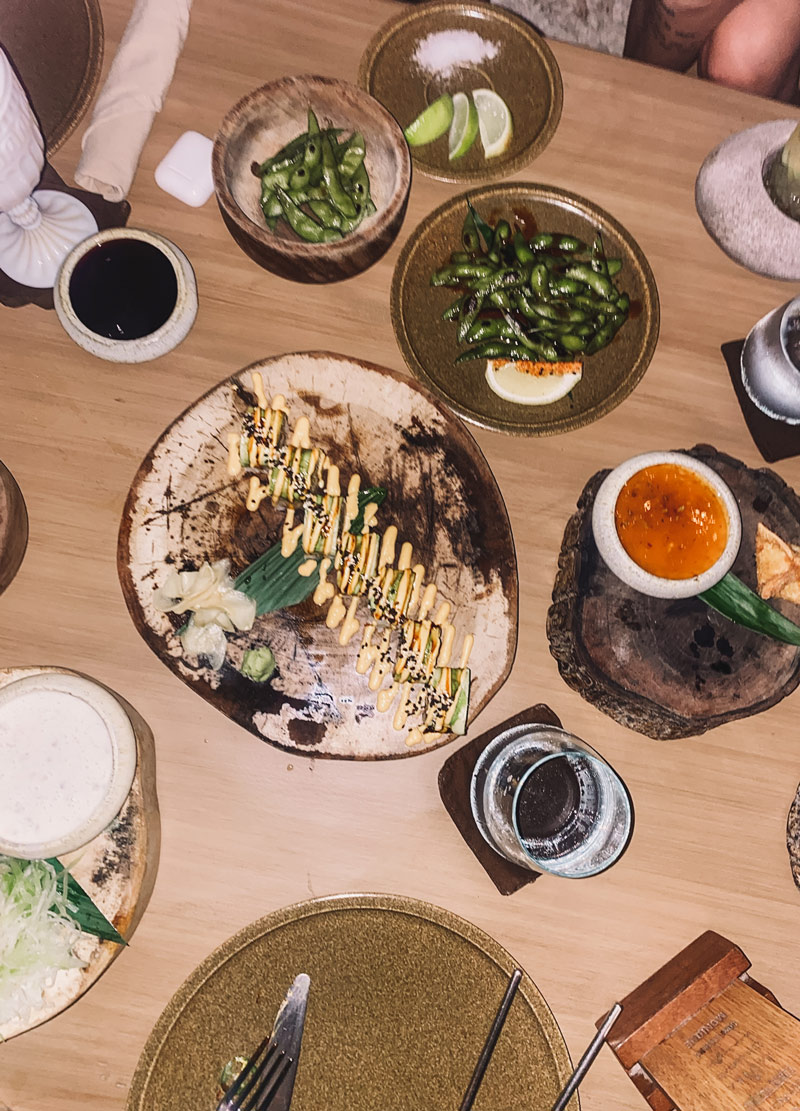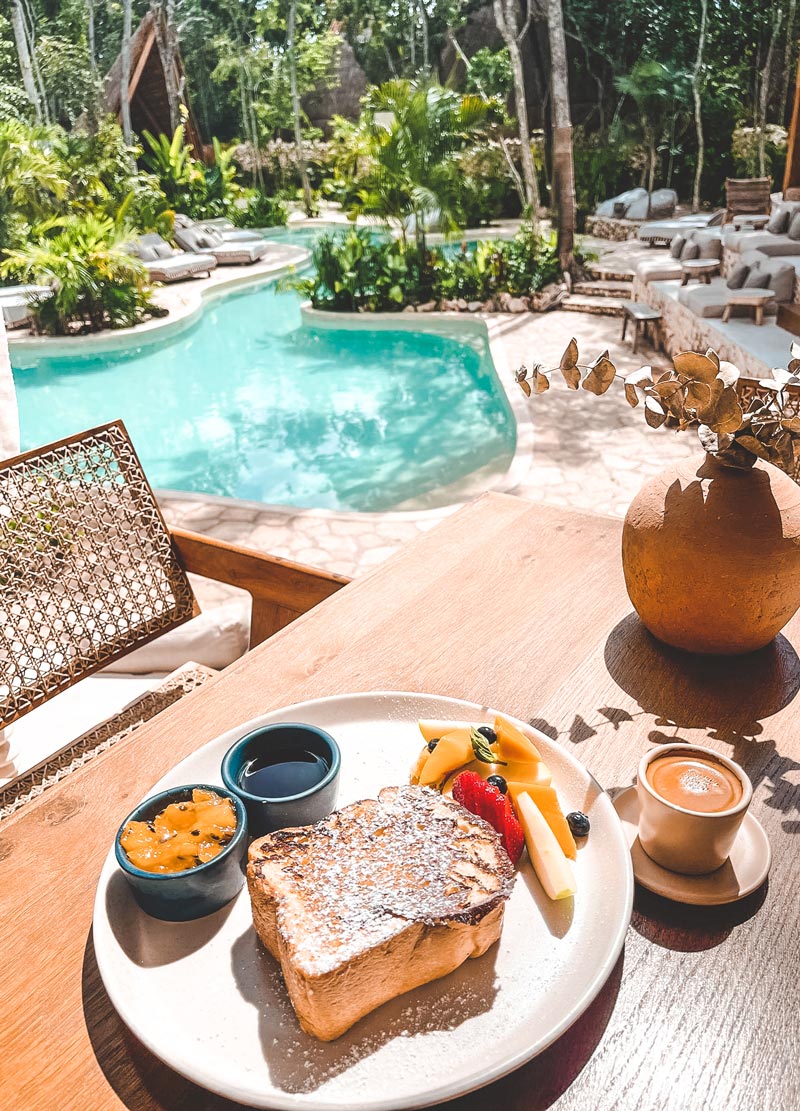 Price range: $$$$$
Area: Tulum Pueblo and beach
Best for: Simple bowl meals and drinks easy to carry
Matcha Mama is a sought-after restaurant nestled in Tulum, known for its simple and delicious bowls and drinks that are perfect for a quick and healthy meal on the go. The restaurant specializes in matcha drinks, which are loaded with antioxidants and have numerous health benefits.
They are also well-known for their delicious and refreshing drinks. Their signature drink (and our favorite) is the Matcha Mama Latte, made with matcha powder, almond milk, and honey. This drink is a perfect pick-me-up for any time of the day and is a healthier alternative to traditional coffee drinks.
So, when you are on the go or in the mood for something light and healthy, this is the perfect spot for you!
Our expert tips: It has 3 convenient locations in Tulum, at the beach, Aldea Zama, and Tulum Centro. Definitely worth stopping by if you are around.
Experience the Best of Tulum's Vegan Scene with Virginia's Expert Guidance
If you're planning a trip to Tulum, you definitely don't want to miss out on the amazing food scene that this vibrant town has to offer. But let's be honest, organizing meals out can be a bit of a hassle, especially when you're trying to stick to a plant-based diet. That's where our dear friend Virginia comes in – she's a Tulum guru who knows everything about the best vegan restaurants, events, and nightlife in town. By letting Virginia organize your meals out, you can take advantage of special guest lists, discounts, and other perks that you wouldn't get on your own. Don't let FOMO get the best of you – trust Virginia to show you the best of Tulum's vegan scene!
Get to know the best veg restaurant of Tulum
The top 5 Vegan & Vegetarian Restaurants in Tulum Town
Most of these restaurants are located in town, and it is much more affordable compared to the ones at the beach. But if we have to choose the best restaurants, here is how we rank them judged from their taste, cost, and likes by other customers:
La Hoja Verde – $$

$$$ – Tulum pueblo

Raw Love – $$$

$$ – Tulum pueblo & beachfront

Matcha Mama – $$$

$$ – Tulum pueblo & Hotel zone

Holistika Tierra restaurant – $$$

$$ – La Veleta / Pueblo 

Real Coconut Kitchen – $$$

$$ – Hotel zone / beachfront
The Best Vegan & Vegetarian Restaurants on a Map
If you're looking for a guide to help you navigate the top picks of venues across the Hotel zone and town in Tulum more easily, here is a map!
Things you need to know about Vegan & Vegetarian Restaurants
Now that you know the best venues to satisfy your healthy appetite, there are a few things that you would like to know before visiting. Learn more below:
PRACTICAL TIPS AND ADVICE
Here are some of the important things you should know before visiting any of the venues and check out our guide below:
Ask about their ingredients if you're unsure –

If you are unsure of their ingredients, the staff are more than happy to cater the dish to your needs and diet.

Prepare Mexican pesos in cash

– Some places do not accept cards or USD. So it is best to prepare cash in pesos.

Tips are not included in the bill –

At most places, the tips are not included in the bill, so you can tip them any amount you like.

Free parking –

most parking in town is free. You are allowed to park your vehicle by the road as long as there is no yellow line on the sidewalk.

Check their event calendar –

Some of these venues have their own unique event, and it's best to stay updated by following their social accounts.
How to be 100% sure your food is completely vegan or vegetarian friendly?
Most of the venues will indicate on their menu if the meal is vegan, vegetarian, gluten-free, or dairy. You can later confirm the ingredients used in their meals before ordering. Furthermore, the employee sometimes asks you what product you like to choose; for example, you can choose almond milk, soy, etc. 
Can you customize the ingredients of the meals from the restaurant?
Often, yes, you are allowed to talk to the waiter if you like to remove some of the ingredients from the meal you like to eat. They are very open and welcome when it comes to catering the food to your liking.
Are the prices in these restaurants considered expensive in Tulum?
Compared to other restaurants in the centro or the beach, most of the prices at these plant-based restaurants are considered relatively affordable. Anything that costs between 50 – 200 pesos / 3 – 11 USD for a meal is seen as affordable in Tulum, which is the average cost of the meals that are found at these restaurants.
FAQ about Tulum Vegetarian & Vegan Restaurants
What are the best Vegan & Vegetarian restaurants in Tulum?
The best and most famous Vegan & Vegetarian restaurants in Tulum are La Hoja Verde, Holistika, and Raw Love. These spots are well known for their flavorful meals and affordability. Especially for Holstika, which is known as one of the best wellness centers in Tulum.
Where are the best Vegan & Vegetarian restaurants located in Tulum?
The best Vegan & Vegetarian restaurants in Tulum are located in the centro. But you can also find a few great restaurants by the beach, such as The Real Coconut Kitchen and Matcha Mama.
Are children under 18 accepted in Vegan & Vegetarian restaurants in Tulum?
Yes, children under 18 are accepted to dine at Vegan & Vegetarian restaurants.
What is the minimum age to drink alcohol in Tulum, Mexico?
There are no clear restrictions when it comes to the minimum age to drink alcohol. So it should be okay if you drink under the age of 18. But, many lavish restaurants and nightclubs serving alcohol allow only 18+ and some 21+ to enter.
How can I pay at these vegan & vegetarian restaurants in Tulum?
You can pay with a card (extra fee tax may apply) and cash at most restaurants. However, if you are planning to visit a local restaurant, it is best to prepare some cash in Mexican pesos to pay.
Do vegan & vegetarian restaurants accept USD in Tulum?
Only at some places like Holistika Tulum do they accept USD. However, they have their own currency exchange rates. So, if you want to pay in cash, we recommend paying with MXN instead.
Is it difficult to find parking space in Tulum?
It is easier to find parking in the centro than at the beach. In the center, you can park by the sidewalk on the road as long as there are no yellow marks on the sidewalk. But on the beach, you will need to pay for parking at a designated space, around 100 pesos per hour.
How much will it cost to have a meal at any vegan & vegetarian restaurants in Tulum?
The average cost to have a good vegan & vegetarian meal with drinks is around 300 pesos / 17 USD per person.
Great, let's feature the "MYSTICAL SUNSET /OLIVER HUNTEMANN" event at Mia Restaurant & Beach Club in Tulum on Wednesday, 29 November 2023. Here's the HTML snippet for your event: ```html
👉 WEDNESDAY, Nov 29
MYSTICAL SUNSET /OLIVER HUNTEMANN 🌅
📍
Mia Restaurant & Beach Club, Tulum
💵
Tier 1 Tickets: Mex$ 660 (incl. fees), Final Tier: Mex$ 880 (incl. fees)
📩
Contact Virginia
here
to book a table
Join us for an unforgettable evening at Mystical Sunset with Oliver Huntemann. Contact Virginia here to book your table and be part of this magical night on the beach! 🎶🔥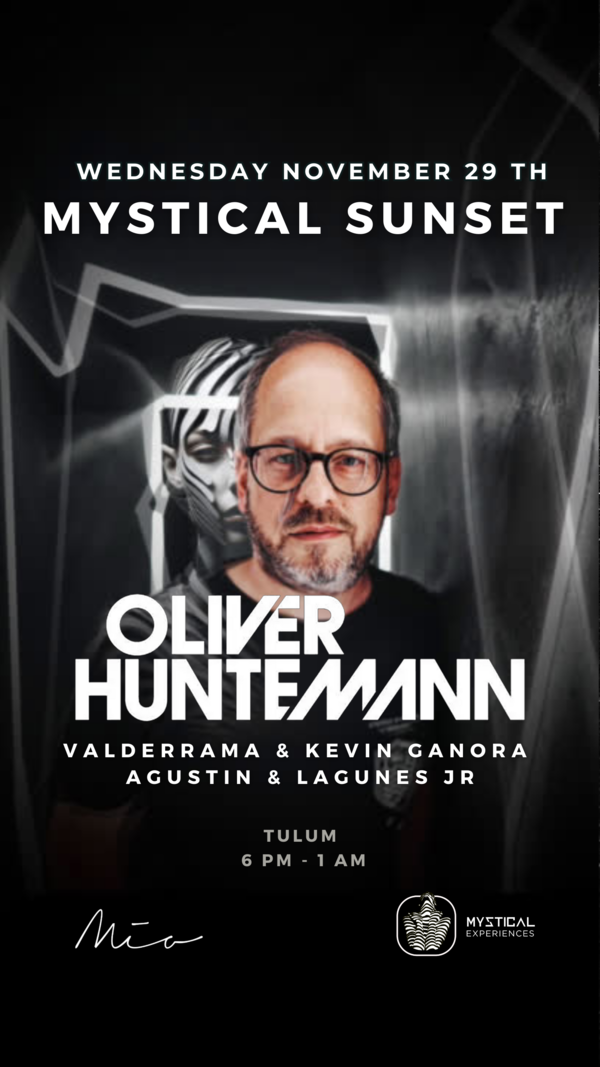 Top Parties and Club Events
23rd November - VAGALUME SESSIONS KEENE @VAGALUME
26th November - VAGALUME SUNDAZE MITA GAMI @VAGALUME
30th November - VAGALUME SESSIONS VALDOVINOS @VAGALUME
3rd December - VAGALUME SUNDAZE VALENTIN HUEDO @VAGALUME
7th December - VAGALUME SESSIONS MUSTAFA ISMAEEL @VAGALUME
30th December - PIKNIK POLO CORP & LEO LEONSKI @VAGALUME
31st December - NEW YEAR´S EVE @BAGATELLE TULUM
31st December - NYE PARTY 2024 @VAGALUME
13th March - LOCUS Tulum 2024