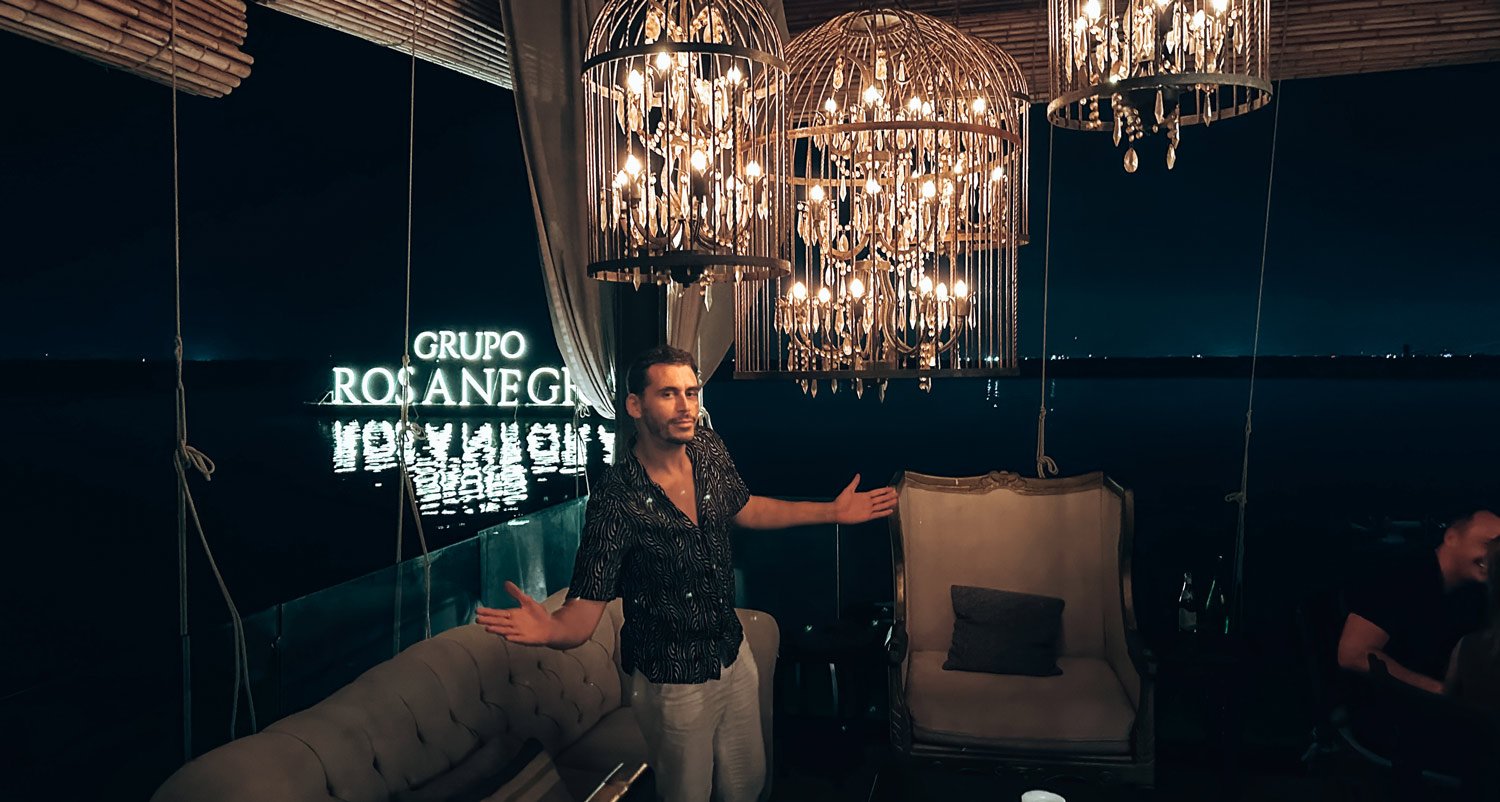 Tulum's Best Kept Secrets: The Ultimate Guide to Chambao, Kobe & Steakhouse
Are you searching for a night of live entertainment and mouth-watering steaks in Tulum? Look no further than Chambao Kobe & Steakhouse, where you'll be treated to exceptional service and a dining experience you'll always remember. From their expertly prepared cuts of Kobe beef to the vibrant ambience of their live performances, Chambao is the perfect spot for a special night out!
Located in Tulum, an amazing travel destination for tourists looking to experience some of Mexico's most beautiful nature and vibrant nightlife. Situated on the Caribbean Sea, Tulum offers visitors a unique mix of stunning beaches, ancient Mayan ruins, and marvelous cenotes. But there's more to this Mexican paradise than just its natural beauty; it also boasts amazing restaurants across the Hotel Zone, like Chambao Kobe & Steakhouse, that provide incredible culinary experiences. Whether you're in the mood for a romantic evening out or enjoy the ecstatic live entertainment, Chambao has something unique to offer to everyone who visits Tulum.
So, after a fun day exploring the beach activities and the Mayan nature of Tulum, why not treat yourself to a night of unforgettable experiences at Chambao Tulum? It's one of the best ways to end an adventurous day!
What is Chambao, and what can you expect?
Chambao Tulum is one of the several branches of the international chain situated in various parts of Mexico and the world. It is located in the heart of Tulum, popular for its pristine beaches and eco-consciousness, and attracts visitors seeking luxury alongside nature. Upon entering Chambao Tulum, guests are greeted with an ambience and atmosphere that strike a perfect balance between rustic and sophisticated. The décor is elegant, with a subtle nod to Mexico's bohemian and artisanal roots. The lighting, rhythms, and signature cocktails complement the ambiance, giving it a chic and laid-back feel.
Chambao Tulum's menu is the star of the show, offering an innovative take on exciting dishes with fresh and exclusive ingredients from around the world. Their signature dishes include exclusive cuts of beef, and for those seeking luxury and something out of the ordinary, they serve Kobe and Wagyu beef with certified documentation. Besides meat, they also feature fresh seafood prepared in a unique and flavorful style, with an ample selection of sides, salads, and appetizers.
Chambao Tulum's bar is also something to behold, with its signature cocktails and carefully selected wine list. The experienced mixologists prepare creative drinks that showcase Mexican drinks and flavors, such as mezcal and tequila, with refreshing fruit infusions and garnishes that complement the dishes.
Adding to the dining experience, Chambao Tulum provides live entertainment for guests' enjoyment, with live tunes performed regularly. Perfect for private events, bachelor/bachelorette parties, or simply relaxing with friends and family. Chambao Tulum's live entertainment experience, paired with the excellent dining, creates something truly special that guests in Tulum and surrounding areas should not miss. Beautiful ambiance, combined with delicious food and drinks and luxurious entertainment, is what sets Chambao Tulum apart.
So, come relish in the delightful dining and entertainment experience at Chambao Tulum and take in the enchanting tastes and sounds of this wonderful destination.
Parties and events in Chambao
Experience something truly special at Chambao Tulum, where guests are treated to luxurious entertainment and amazing live performances. From the incredible guitar music to the acrobatic dancers hanging from the ceiling, you'll be mesmerized by the sights and sounds of this exclusive steakhouse. Enjoy a fashion show with chic trends and vibrant guitarist shows that will take your breath away. With its elegant décor, signature cocktails, and creative dishes prepared with fresh ingredients from around the world, Chambao Tulum is one of Tulum's most unique dining experiences!
Tips: If you need information about event schedules, are organizing a private party, or want to enjoy a fantastic night out, Virginia is the person to contact. As a concierge with 15 years of experience, she has unparalleled knowledge of Tulum's most exclusive spots and popular restaurants. With Virginia's assistance, your visit to Chambao will become an unforgettable dining experience. She can personalize the outing to suit any group size, whether it's a small gathering or a large party of ten or more people. The best part is that her service is entirely free! This is a once-in-a-lifetime opportunity to create unforgettable memories in Tulum, so don't miss out. Allow Virginia to take the lead and let the festivities begin!
Get In Touch With Virginia
NYE Celebration: Chambao Tulum is hosting a spectacular New Year's Eve celebration that promises to be unforgettable! The event features an excellent a la carte dishes that includes a complimentary glass of sparkling wine for every guest. The ambience will be filled with celebratory amenities, including sparklers and live performances by talented musicians. Not to mention, the resident DJ will be spinning the latest hits all night long, ensuring that the party never stops. This is the perfect opportunity to ring in the new year with your loved ones, enjoying great food, drinks, and entertainment amidst the beautiful ambiance of Chambao Tulum. Don't miss out on this opportunity to make unforgettable memories and start the new year off right!
Chambao Amenities & Services
Now that you have a better understanding of this impressive restaurant take a look at the range of amenities and services offered below!
List of amenities:
Private rooms and decks for events

Lounge Bar

Various seating style

Candle lit tables
List of services:
Valet parking

Resident DJ

Signature beef cuts

Special packages to celebrate birthdays

Special attention to anniversaries and romantic dining

Special attention to wedding planners and rehearsal dining
Chambao Tulum is a unique steakhouse and live entertainment experience located in the luxurious area of Tulum. With its elegant décor, signature cocktails, and creative dishes prepared with fresh ingredients from around the world, Chambao offers an unforgettable dining experience that guests should not miss. Prices are slightly pricey than other restaurants in the area, but it is still worth it because of their delicious steaks and seafood as well as their amazing live entertainment, which really spices up the night!
Booking Tips & Best deals
If you are looking for a hassle-free way to organize a memorable restaurant event, Virginia is the perfect event planner for you. Not only is her service completely free of charge, but she also ensures a stress-free dining experience. Virginia has a proven track record of successfully managing past events, taking care of every detail, from booking the ideal table to securing the best spot in the venue. During the high season in December until March, this can be especially helpful. So, why burden yourself with worries when you can relax and let Virginia handle everything? Contact her today and enjoy the ultimate dining experience stress-free!
Secure Your Table Here
Sample prices at Chambao Tulum:
Here is the list of sample prices at the x to plan your budget:
(note: the prices on their menu are all in Mexican pesos)
The price range of meals from appetizers to main dishes (Meat cuts to seafood): 25+ USD / 450+ pesos
The price range of Exclusive Japanese Beef reserves (200g Omi, Kobe, Takamori beef): 215 – 264 USD / 3,900 – 4,800 pesos
The price range of drinks such as cocktails, mocktails, beers, and more): 8 – 21 USD / 140 -385 pesos
The price range of Gin & Tonic Mixology: 25+ USD / 450+ pesos
The price range for bottled wines: 82 USD / 1,500 + pesos
Prices at Chambao Restaurant:
Discover the butcher's boutique, meat lover special, and exclusive fish & seafood dishes of Chambao, the most appetizing on their menu! All dishes are perfect for one or to share.
Various Ceviche dishes (octopus, snapper, sea bass): 29 – 30 USD / 520 – 550 pesos
Australian Grilled Tasmanian Salmon (270g): 47 USD / 850 pesos
Super colossal Octopus from the Canary Islands (300g): 41 USD / 750 pesos
Chambao Signature Rib eye to share (1.1 kg): 204 USD / 3,700 pesos
Go big or Go home Boston Monster Maine Lobster (1kg per piece): 206 USD / 3,740 pesos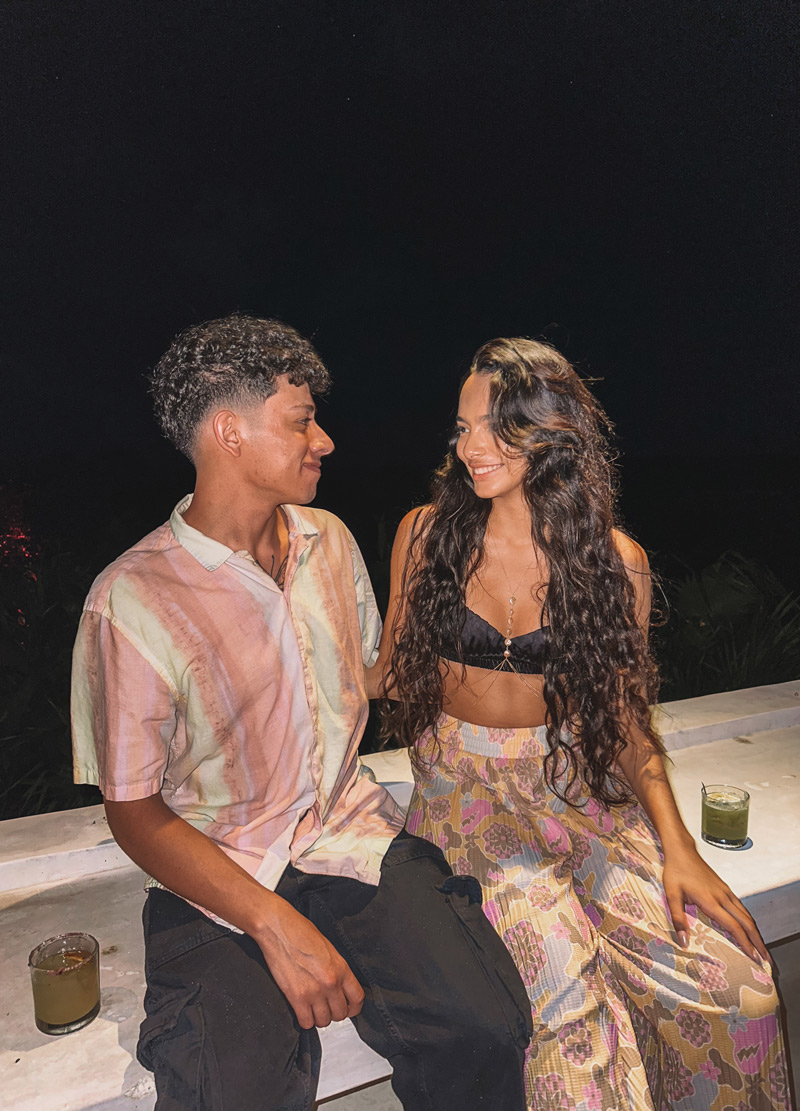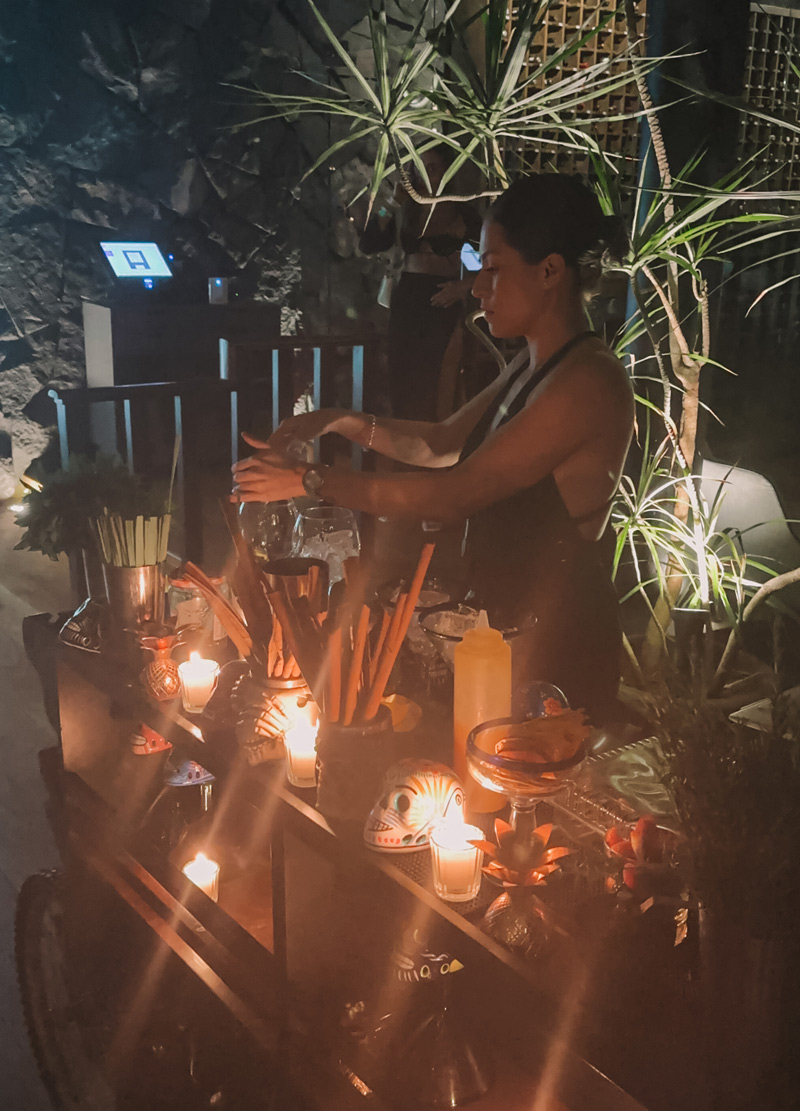 Remember to also pair your juicy dishes with authentic mixology drinks from the bar too!
Kraken Mint cocktail (whisky, Fernet Branca, lemon juice): 21 USD / 385 pesos
Red scarlet Mixology (tequila, Grand Marnier, red fruits): 21 USD / 385 pesos
Nonalcoholic signature cocktails: 14 USD / 260 pesos
Evian natural (330ml – 1000ml): 6 – 14 USD / 100 – 250 pesos
Red wines per cup (Malbec, Cabernet Sauvignon, Pinot Noir): 22 – 28 USD / 400 – 500 pesos
Tips: Virginia's concierge service is the perfect way to ensure you get the most out of your visit at these venues by providing free assistance and helping you book tables, tickets, and special events in advance. Super easy and stress-free – get in touch with her today
Secure Your Table Here
Reviews About Chambao Tulum
Looking for more reasons to go? Then have a look at the reviews below! They will make you eager to experience everything the restaurant has to offer!
I recently celebrated my friend's birthday at Chambao Tulum, and it was an amazing experience that we will never forget. The atmosphere and ambiance of the restaurant were perfect for our special occasion. From the elegant décor to the attentive staff, everything was just right.
Now let's talk about the food. We shared the signature Rib Eye, and it was cooked to perfection. The steak was so tender and flavorful, accompanied by delicious sides that complemented the meat perfectly. We also tried the ceviche, grilled salmon, and the super colossal octopus, which were equally delicious. And to top it all off, the drinks were amazing and perfectly matched the food. But what really made our visit great was the sparkles and the live guitarist playing beautiful melodies throughout the evening. It set the perfect tone for the evening and made it even more memorable.
All in all, Chambao Tulum is a must-visit if you're looking for a high-end dining experience in Tulum. It may be slightly pricey, but it's worth every penny for the ambiance, food, and live entertainment. Highly recommended for any special occasion.
What people say about Chambao Tulum
Chambao Tulum is an absolute gem of a restaurant! People praise the magical atmosphere with the stylish décor and live tunes setting the perfect mood. They also talk about how the food is amazing, from the perfectly cooked steak to the tasty seafood dishes paired with their curated cocktails. It's no wonder Chambao Tulum has won the Diner's Choice award on Opentable and a 5-star review on TripAdvisor, showcasing the high level of satisfaction from previous customers. This prestigious badge is a testament to the restaurant's commitment to providing excellent service, ambience, and cuisine.
Rating on TripAdvisor: ⭐⭐⭐⭐⭐ 5 on average, with 1,200 reviews at April 2023

Rating on Google:

⭐⭐⭐⭐⭐

4.7 on average, with 645 reviews

at April 2023

Rating on OpenTable:

⭐⭐⭐⭐

4.6 on average, with 324 reviews

at April 2023
Secure Your Table Here
Where is Chambao located in Tulum?
The venue is located at the Hotel Zone, one of Tulum's luxurious areas by the beach. When you are ready to visit, learn more about their location below before you go.
Chambao is located in the Tulum Hotel Zone Neighborhood
Carretera Tulum-Boca Paila Zona Hotelera Km 7, 77780 Tulum, Q.R.
Getting to Chambao is a piece of cake no matter where you are in Tulum! The restaurant is located by the beach and is only a 20-minute drive away. You can easily access it by car, motorcycle, ATV, or taxi. You can also rent a bicycle if you stay nearby and make your way to the restaurant at your own pace. Once you arrive, you'll find parking available nearby the restaurant, which will cost you around 5,5 USD / 100 Mexican pesos per hour. However, during busy hours, you may need to tip the valet if you opt for their service.
Which hotels are close to Chambao?
The restaurant is also located close to some of the best hotels in Tulum. If you plan to stay at these hotels, check out how long it will take to reach Chambao by walking:
FAQ about Chambao Tulum
What is the minimum age to get into Chambao?
There is no minimum age restriction displayed in Chambao, but the restaurant is more suitable for adults and not children.
Are large groups accepted at Chambao?
Yes, large groups are happily accepted at Chambao. Many tables can seat 10 adults. With tables that can comfortably seat up to 10 adults, you can bring all your friends and family for a fun-filled celebration. Let the good times roll!
Are kids allowed in Chambao?
Kids under the age of 18 are not allowed in Chambao because the venue is suitable for adults.
At what time does Chambao open?
Chambao Tulum opens at 5:00 pm every day.
At what time does Chambao close?
Chambao Tulum closes at 1:30 am every day.
Is it possible to make a reservation at Chambao?
Absolutely, you can reserve your spot at Chambao without a problem. However, to ensure a hassle-free booking experience, we highly recommend reaching out to Virginia. She'll take care of everything, from securing prime seating to arranging for live entertainment that matches your preferences. Sit back, relax, and let Virginia handle the details! You can contact her on WhatsApp here.
Is Chambao a good place to party?
Definitely, Chambao is a great place to party. It may not seem like a nightclub, but the lively ambience is perfect for celebration!
What kind of music is played at Chambao?
The live Dj plays various genres of music, from pop, old songs from the 70-80s, upbeat tribal, and more!
Does Chambao have a Pool?
Unfortunately, Chambao does not have a swimming pool.
Does Chambao accept credit cards?
Yes, they accept credit and debit cards, such as Visa, master card, and AMEX.
When is the best time to go to Chambao?
The best time to go to Chambao is during the peak seasons, around December until March, for a lively ambience.
What is the dress code at Chambao?
The dress code at Chambao calls for smart casual attire, which prohibits the wearing of shorts, tank tops, sports caps, and flip-flops. While they are not extremely strict about it, it is recommended to dress suitably for the occasion.
Is it possible to organize a wedding at Chambao?
It is not possible to host a wedding at Chambao, but organizing a wedding dinner celebration, bachelorette party, and birthdays are perfect. It is because they have a special service to arrange your private events.
Are tips included in the service price at Chambao?
Tips are not included in the service, and it is not mandatory. The prices in Chambao include tax and are in Mexican pesos.
Does Chambao accept cash?
Yes, they also accept cash in Mexican pesos.
Who owns Chambao Tulum?
Chambao Tulum is owned by Grupo RosaNegra. You can also visit restaurants in Cancun, Cabo, Mexico City, and Madrid. Grupo RosaNegra also owns popular restaurants such as Funky Geisha, Tora, Taboo, Rosanegra Beach Club, and more!
Great, let's feature the "MYSTICAL SUNSET /OLIVER HUNTEMANN" event at Mia Restaurant & Beach Club in Tulum on Wednesday, 29 November 2023. Here's the HTML snippet for your event: ```html
👉 WEDNESDAY, Nov 29
MYSTICAL SUNSET /OLIVER HUNTEMANN 🌅
📍
Mia Restaurant & Beach Club, Tulum
💵
Tier 1 Tickets: Mex$ 660 (incl. fees), Final Tier: Mex$ 880 (incl. fees)
📩
Contact Virginia
here
to book a table
Join us for an unforgettable evening at Mystical Sunset with Oliver Huntemann. Contact Virginia here to book your table and be part of this magical night on the beach! 🎶🔥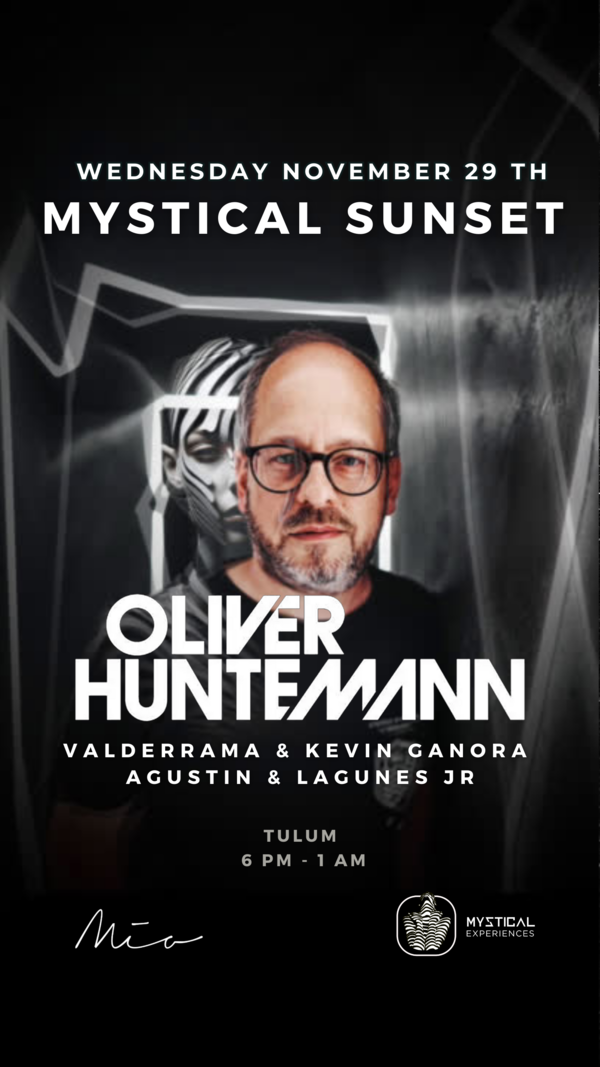 Top Parties and Club Events
23rd November - VAGALUME SESSIONS KEENE @VAGALUME
26th November - VAGALUME SUNDAZE MITA GAMI @VAGALUME
30th November - VAGALUME SESSIONS VALDOVINOS @VAGALUME
3rd December - VAGALUME SUNDAZE VALENTIN HUEDO @VAGALUME
7th December - VAGALUME SESSIONS MUSTAFA ISMAEEL @VAGALUME
30th December - PIKNIK POLO CORP & LEO LEONSKI @VAGALUME
31st December - NEW YEAR´S EVE @BAGATELLE TULUM
31st December - NYE PARTY 2024 @VAGALUME
13th March - LOCUS Tulum 2024