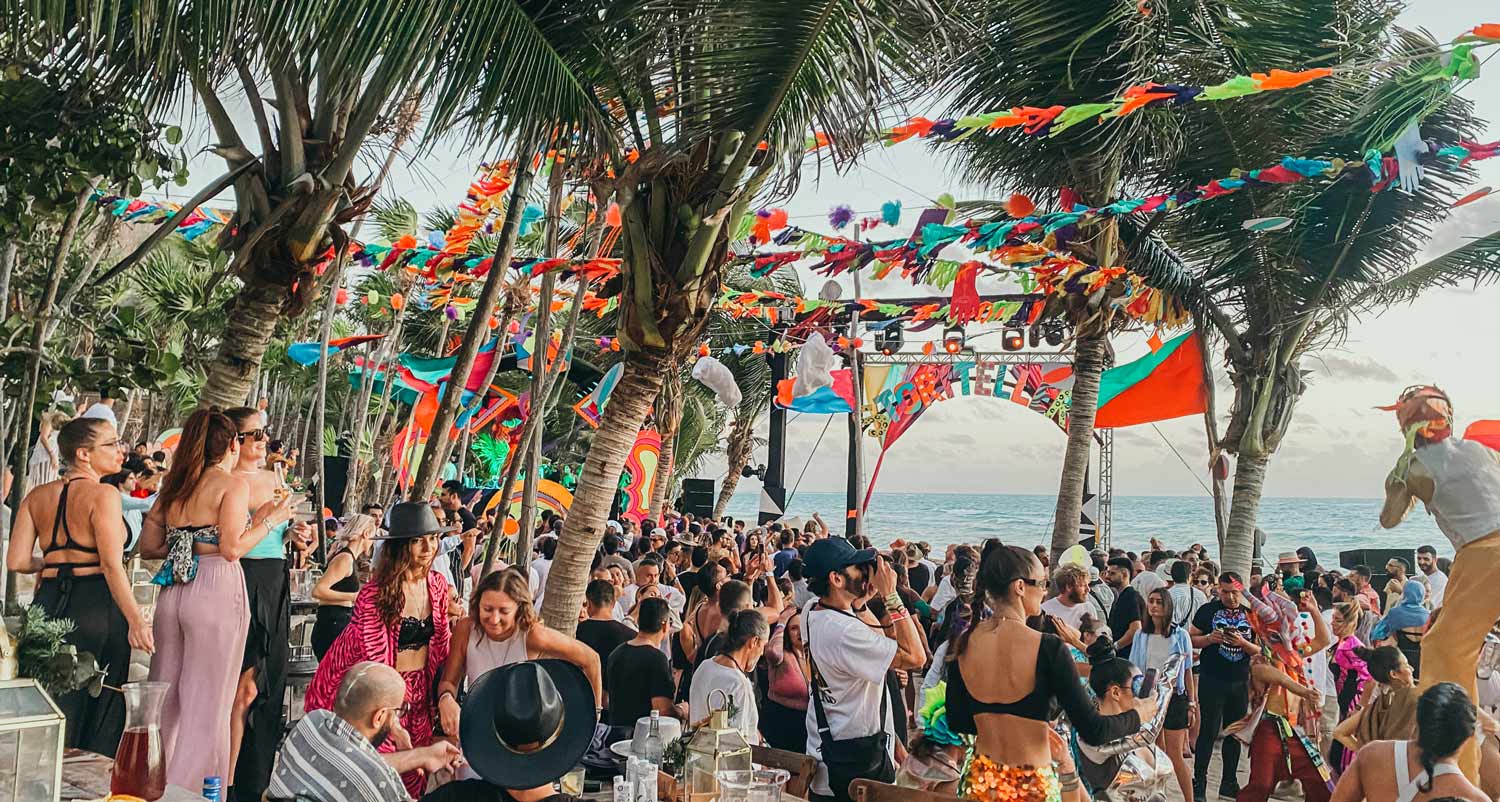 Discover Tulum's Ultimate Party Hotels: Unleash Your Inner Wild Side
Wondering about your next vacation at Tulum, Mexico, and looking for a great place to party and stay at? Look no further! Whether at the beach or in town, many Tulum hotels and resorts are known for their luxury-eco rooms, enchanting living space, and host spectacular events. Not to mention, their property has a beachfront club, restaurant, bar, spa, and even a private rooftop pool for guests to enjoy! How cool is that?!
The eccentric town of Tulum, Mexico. A tropical getaway for many but a paradise for the two of us. Tulum is one of the best party towns across Riviera Maya, known for its authentic nightlife, ancient archaeological sites, and boutique resorts by the beach! So if you plan to travel to Tulum to party, celebrate, and stay at the best accommodations, you have come to the right spot!
One thing that makes Tulum unique is the hotel's rustic-eco architectural design implemented throughout the property, rooms, and facilities to make a homage to mother nature and allows guests to unwind. This is where guests are pampered with luxury facilities within the hotel or resort! Most commonly found are delicious gastronomic cuisine at their restaurant, mixology drinks at the beachfront bar, and especially their holistic wellness activities.
If you are hungry for more fun, some hotels occasionally promote special day and night parties featuring iconic live events! For almost three years, we have explored and discovered the best locations to travel to in Tulum. So, we want you to get the most out of this town and be a part of the experience! Check out the best party hotels and resorts below!
Tips: If you want to know upcoming events and book the best tables, take advantage of Kelly and Virginia's FREE concierge service. They helped us get the utmost experience from these venues by avoiding the entrance fees and organizing unforgettable nights. And they know everybody in Tulum! They are always available at any time, and that's why we couldn't recommend them more – contact them here.
Price range: $$$$$
Area: Hotel zone
Best for: Beach parties, public live music events, and rooms with a private pool.
Papaya Playa Project is an oasis of a beach resort curated for creative souls and wellness seekers. Its barefoot luxury hospitality features three award-winning room types in different nature settings with a private pool. Within the property, guests can delight in a variety of wellness healing experiences (spa, messages, and Temazcal), gastronomic experiences (restaurant, bar, and beach club), and especially immersive party events that are popular all over Tulum!
Papaya Playa Project should be your first stop for a perfect getaway stay and your primary location to party! It all features live DJ performances, signature cocktails, and a breathtaking Caribbean sea view. Check out their calendar events, and we recommend booking a table for their Fullmoon, WooMoon, New Year's Eve, and Sunset Rooftop Sessions! Contact Virginia today to get the best tables and prices for groups!
Secure your spot at PPP now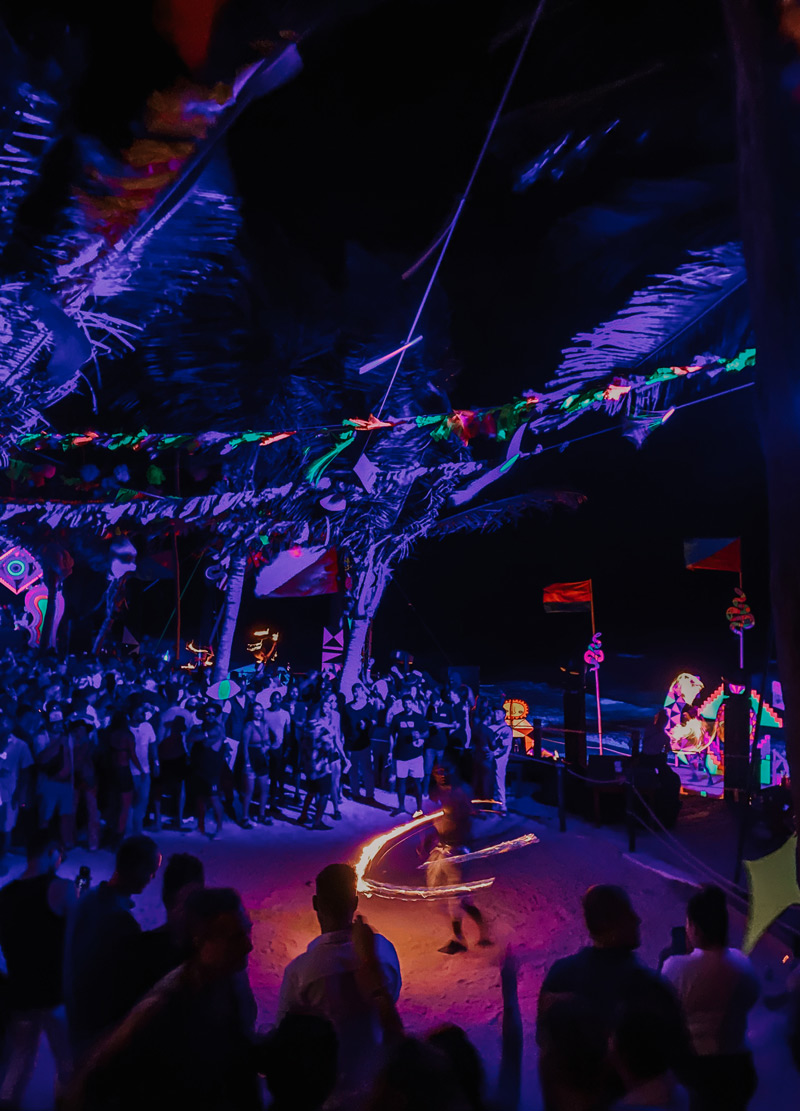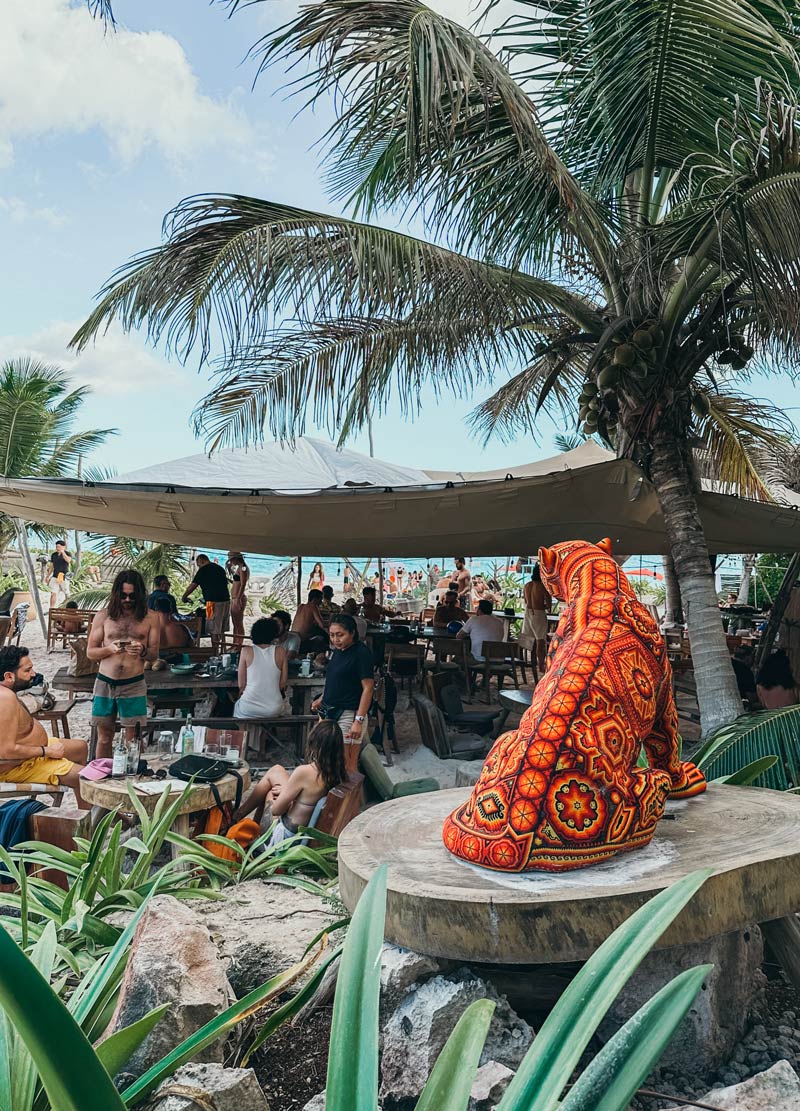 THE BEACH TULUM HOTEL & ZIGGY BEACH CLUB
Price range: $$$$$
Area: Hotel Zone
Best for: Private beach location, adults-only property, and exciting daily events
The Beach Tulum Hotel is an adults-only 5-star hotel overlooking the Riviera Maya beach and the Caribbean ocean. The concept of indulgence and wellness inspires guests to unwind at their distinctive beachfront rooms (with a rooftop jacuzzi or a private pool), wellness services (spa, yoga, and restaurants), and daily life events that will never bore you!
You can find their daily events at Ziggy's Restaurant & Beach Club! This restaurant is one of the best things about this boutique hotel because of its amazing gastronomic experience that captures the authentic flavors of Mexico! As you dine, join their sunset dinner party with live music sessions, salsa dances, authentic cocktail tasting, and more! Check out our article on the best beach clubs in Tulum to learn more about venues like this one!
Our expert tips: We highly recommend their Caribbean ceviche and Maya octopus paired with their margaritas while listening to sax beats every Wednesday!
Secure your spot now
Price range: $$$$$
Area: Hotel Zone
Best for: Family and pet-friendly resort, delicious grill cuisines, and chill beach club
Enjoy a welcoming stay at Ahau Tulum, a family, and pet-friendly resort, to take in the enchantment and mystery of Tulum. The perfect location to unplug, relax, and experience barefoot elegance across the eco-friendly cabanas, de-stress activities (watersports, yoga, and party events), and haute grilled foods at their beach restaurant and bar. 
With almost two thousand five-star reviews on Tripadvisor, Ahau Tulum is mainly loved for its delicious grilled food, excellent yoga classes, and tranquil atmosphere. To enchant the experience, there sometimes will be live music during the day and night. During those times, guests will gather by the pool and party while drinking cold beverages. Come and join the fun! 
Live music sometimes during the day and night. Ask and book a table with Virginia to join the Dinner under the stars and Beach Grill events at Villa Pescadores, a part of Ahau. Book your tables today!
Our expert tips: Skip lines to take pictures with the iconic "ven a la luz" statue. You can also book a table with Virginia to get a spot for Dinner under the stars and grill events at Villa Pescadores, a part of Ahau Tulum!
Secure your spot at Ahau now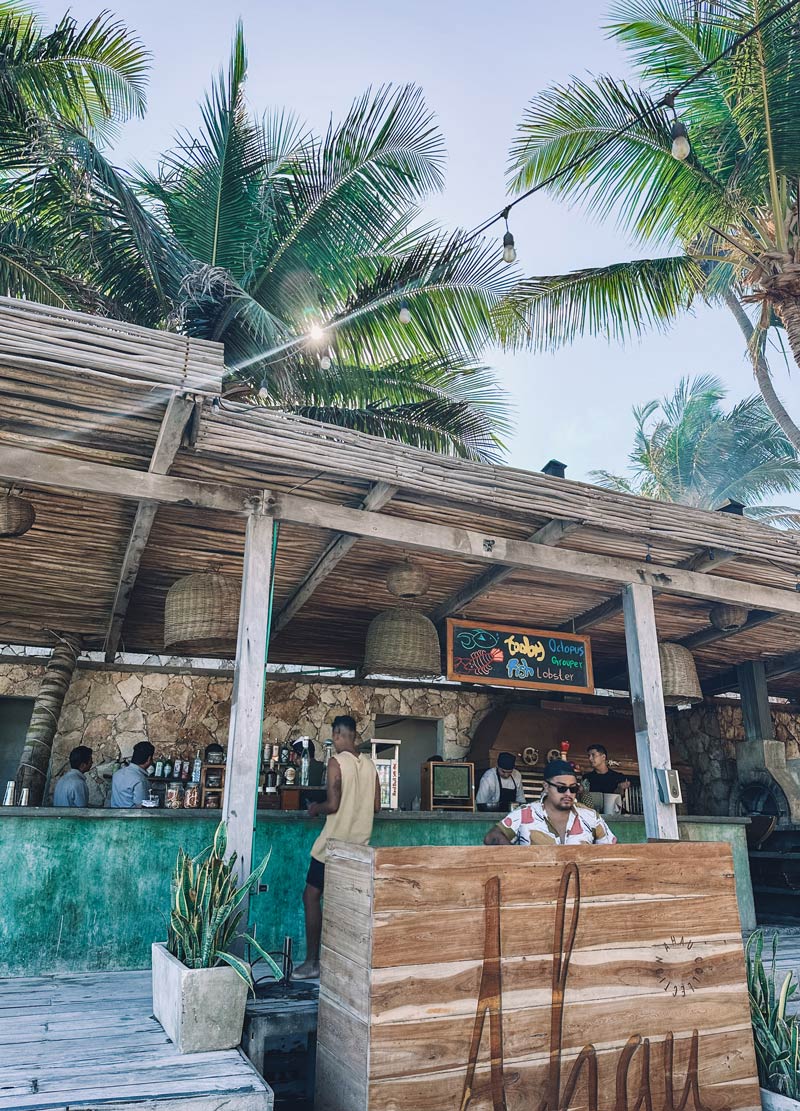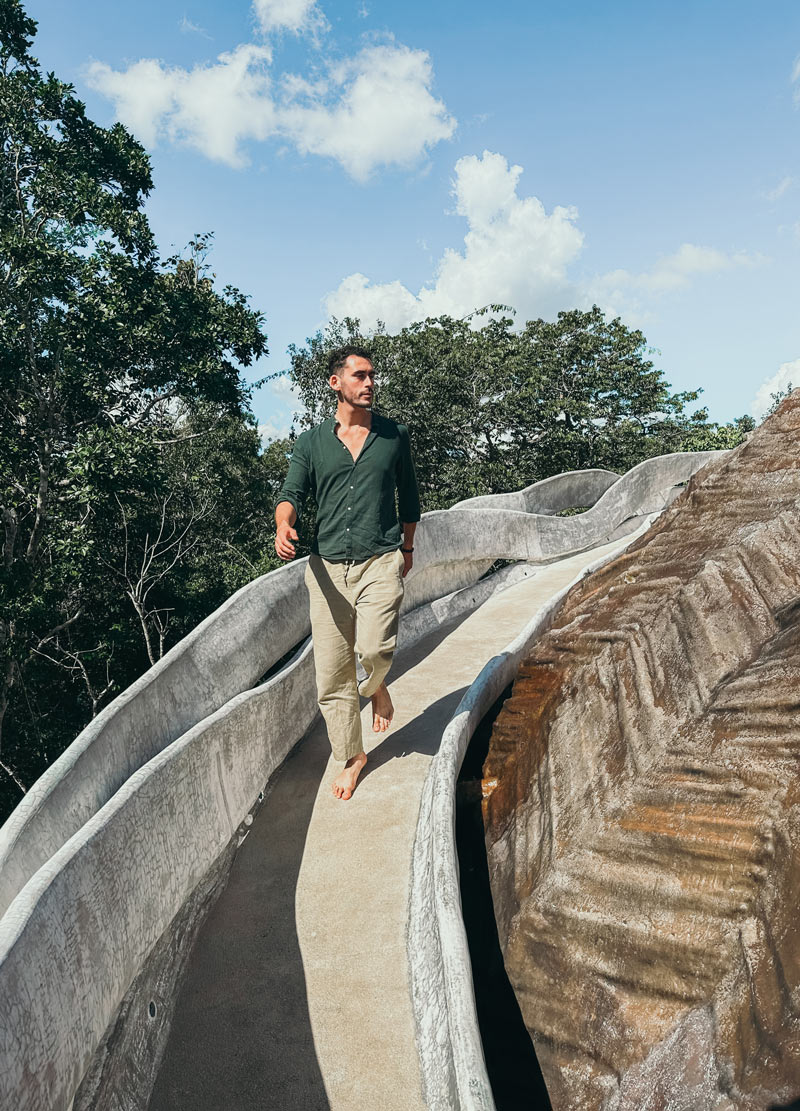 AZULIK & KIN TOH ROOFTOP NEST RESTAURANT TULUM
Price range: $$$$$
Area: Hotel Zone
Best for: Adults-only private events, enchanting rooftop dinners, and a multitude of spa services
Azulik Tulum is one of the most popular beach resorts known for its unworldly aesthetics and architectural design in Tulum! You can see it through their collection of iconic villas designed to bridge a connection to nature, using candles and earthy materials only. Furthermore, the rooms and lounge areas are located above high ground, giving you a great panoramic view of the ocean and jungle. Don't forget to try all their services (spa, wellness, and museum), and take some photos!
On the other hand, come to Kin Toh, Azulik's proudest establishment that serves Mayan-Mexican haute cuisine, a gastronomic four-course menu, and a lavish rooftop dining that catches the treetop view and the ocean breeze. The bird's "Nest" rooftop of the restaurant is perfect for hosting special private events (adults only), such as a romantic dinner or a celebration!
Our expert tips: Kin Toh's nest is everyone's favorite spot to dine, so be sure to book in advance!
Secure your spot at Kin Toh
STRAW HAT HOSTEL & ROOFTOP BAR
Price range: $$
Area: Centro
Best for: Budget-friendly rooftop party
For budget-friendly travelers out there, Straw Hat Hostel & Rooftop Bar is the perfect place to party and relax at the same time. Located at the heart of Tulum, it is one of Centro's most popular party spots because of its affordable drinks, live electronic music, and lively crowd! This place is a must-visit when exploring Tulum nightlife at the Centro.
You can also stay in their hostel rooms with A/C, Wifi, private rooms, a female dormitory, and private bathrooms. You may be doubtful, but the most compelling reasons to stay here are their affordable price rates and location. Plus, you can party on the rooftop until 3 am! Contact Virginia for the best time to stay where their parties are the bomb!
Secure your spot at Straw Hat now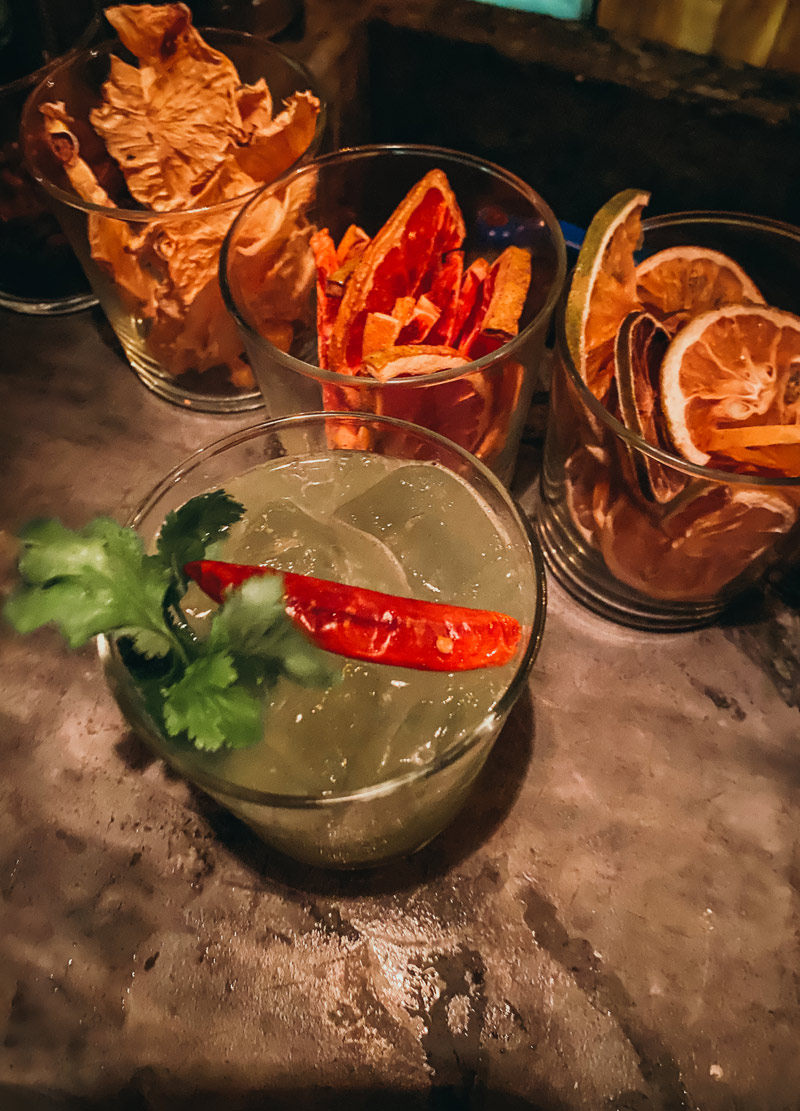 TOP 5 HOTELS & RESORTS IN TULUM BEACH
Most of the best party hotels and resorts are located by Tulum beach, which is 15 minutes away from town. Remember that their room prices and rates usually increase for the high season.
Papaya Playa Project – $$$$

 – Hotel Zone

The Beach Hotel Tulum – $$$$$

– Hotel Zone

AZULIK – $$$$$

– Hotel Zone

Ahau Tulum – $$$$ – Hotel Zone
Villa Pescadores – $$$$

 – Hotel Zone
Tips: Party events by the beach often get crowded, especially in the high seasons. We recommend contacting Virginia, as she can help you get the best tables, skip lines, and grant-free entrances! Contact her today!
THE BEST HOTELS & RESORTS ON A MAP
Here is a map to guide and help you navigate our top picks of venues across the Hotel zone and town more easily. Check it out!
THINGS YOU NEED TO KNOW ABOUT TULUM HOTELS & RESORTS
Now you know the best places to visit for your vacation in Mexico, there are a few other important things you need to know before going.
PRACTICAL TIPS AND ADVICE
Here are the crucial things you should know before staying at party hotels and resorts in Tulum.
Check their event calendar – Tulum party events are often seasonal. More frequent events will be around September to March, so check with the hotel or resort event calendar for upcoming shows!
Book a couple months in advance – Best to book in advance for more availability on the dates you want to stay, get early bird discounts for events, and lower room prices.
Consider your budget – Most parties in Tulum are open to the public. It may help with your budget if you stay at a more affordable hotel and then join the hottest parties in Tulum.
Arrive earlier – If you are visiting a venue for the party, it is important to arrive early to avoid the traffic and the queue and save a free parking spot at the hotel.
Check the bill twice – beach parties can get crazy, and the staff sometimes get overwhelmed. So be sure to check your bill thoroughly before paying. It won't hurt!
ARE PARTY HOTELS GOOD FOR BACHELOR & BACHELORETTE PARTIES?
Some places are excellent for hosting private parties, especially at the beach, such as Papaya Playa Project, Azulik, and Ahau. Plus, if you stay in their guest rooms, they may offer a discount to organize a private event. On the other hand, you can also get that at places like Rosa Negra Beach Club or Taboo Restaurant & Beach Club. These are popular spots to celebrate bachelor & Bachelorette parties because there will be sparkles for surprise, attentive hostesses, and special desserts! Contact Virginia, who can help you with your booking and answer all your concerns!
DOES TULUM HAS INCLUSIVE HOTELS AND RESORTS?
Tulum has a few worthwhile inclusive resorts located 20 to 30 minutes away from Tulum town. These beachfront resorts feature luxurious rooms and different activities and are great for a family getaway! We highly recommend looking at Grand Bahia Principe Tulum, Dreams Tulum Resort & Spa, and Kore Tulum Retreat & Spa Resort (adults only). If you're interested, learn more and Check out the best all-inclusive resorts in Tulum!
WHEN IS THE BEST TIME TO STAY AT A PARTY HOTEL OR RESORT?
The best time to stay at a party hotel or resort is during the high seasons, September to March. This is the perfect time because many events are happening in Tulum, such as live music performances from renowned artists, various ecstatic beach parties, and zero seaweed on the beach! But, keep in mind that the general prices in Tulum may increase (in restaurants, bars, etc.), their room rates will be more expensive, and the availability of rooms to stay in will be more limited. This mainly applies to all hotels and resorts in any Tulum area, especially beachfront luxury resorts.
FAQ about Party Hotels In Tulum
Are party hotels in Tulum good for a single guy?
Party hotels in Tulum are perfect for a single guy! People who stay at Tulum love to socialize and are open-minded toward anything. So if you're single and ready to mingle, you have plenty of chances! Don't give up!
Are party hotels in Tulum expensive?
Party hotels in Tulum are expensive for most travelers, especially if you stay in their rooms during high seasons. The accommodation can cost from 250 to 800 USD per night, and the events can cost around 100 USD +
Are party hotels in Tulum safe?
Tulum party hotels are safe because security and staff are around, and other guests generally are friendly and love socializing. However, when it gets crowded, we recommend keeping your belongings close to you.v
What is the minimum age to get into a party hotel in Tulum?
The minimum age to get into an adults-only party hotel in Tulum is generally 18 years old. However, some venues will specify access to children, pets, or only adults above 21 years old to enter. 
Does Tulum have nightlife?
Tulum does have an exciting and magical nightlife filled with plenty of experiences to explore. Some party hotels are also a popular nightlife activity in Tulum! 
What is the minimum spending on a party hotel in Tulum?
The minimum spending at most party hotels, like Papaya Playa Project, is around 2,000 pesos or 100 USD, depending on the season.
What kind of music is played at Tulum rooftop?
The music at Tulum party hotels is most commonly electronic, deep house, techno, and tribal melodies. Sometimes, resident DJs will perform the music live every weekday at the restaurant.
How can I pay at Tulum party hotels?
Most party hotels across the beach accept cards and USD cash. But as a rule of thumb in Tulum, MXN cash is king, and it's the safest option to pay for your orders.
When do the Tulum party hotels have the most visitors?
Tulum party hotels will have the most visitors on weekends, especially during the high season, from around September to March.
When do Tulum party hotels have the least visitors?
Due to the low season, Tulum party hotels have the least visitors from April to August.
Do Tulum party hotels accept USD?
Only some Tulum rooftops accept USD, but they have their own currency exchange rates in their favor. So, it is better to bring pesos in cash to be safe.
Is it difficult to find free parking space?
Yes, it can get challenging to look for a parking space in Tulum, especially in the hotel zone during the high season. However, some hotels include free parking for hotel guests. If you are not a guest of any of the hotels, the staff will kindly ask for your money for about 200 – 300 pesos.
How loud does the music get in Tulum party hotels?
The music can get loud and bothersome if you try to sleep in your room during an event. Furthermore, the music can last from midnight until sunrise in some places.
Top Events to Make Your Trip Unforgettable
DOMINIK TULUM @MIA TULUM
When: September 9, 2023 7:00 PM
Where: Mia Restaurant & Beach Club, Tulum
🌴 Join Us for An Unforgettable Night at DOMINIK - TULUM at Mia Tulum! 🌴
Friends, clear your schedules and get ready for a magical experience at Mia Tulum! This stunning location will host DOMINIK - TULUM on Saturday, September 9th, from 7 pm to 1 am. This isn't just another event; it's a fusion of nature, culture, and sound featuring an incredible line-up with GIORGIO STEFANO, AUDICTIVE, and MAURO TORRETA. At DOMINIK, you'll find the perfect blend of Tulum's lush jungles and pulsating underground beats, creating an environment where genuine connections blossom.
🎟️ Secure your tickets now:
Early Bird: $575 MXN ($38 USD), includes a welcome drink 🍹 (Limited Availability)
Tier 1: $805 MXN ($52 USD), includes a welcome drink 🍹 (Limited Availability)
Final Tier: $1150 MXN ($75 USD), includes a welcome drink 🍹 (Limited Availability)
Dinner + Party: $1380 MXN ($90 USD) 🍽️🎉 (Limited Availability)
See you there for a night you won't forget! 🎶✨
Ready to join us? Get your ticket now! Early bird tickets are already selling out, secure them at 632 pesos (only 15 tickets available).
Hurry – spots are filling up fast! 🙀 We can't wait to see you there!
Top Parties and Club Events
17th September - ANCESTRAL SOUL @BONBONNIERE TULUM
22nd September - TONY ROMERA @BONBONNIERE TULUM
29nd September - TIM BARESKO @BONBONNIERE TULUM
4th November - HOT SINCE 82 @BONBONNIERE TULUM
13th March - LOCUS Tulum 2024