Experience Tulum's Best Electronic Music at These 10 Incredible EDM Clubs!
Ready to experience nightlife like never before in Tulum, Mexico? Well, we will take you on a tour of Tulum's 10 best EDM clubs and show you why they have become some of the most popular places for electronic music lovers. From eccentric beach venues like Vagalume beach club, jungle parties like Gitano, and luxurious nightclubs like Bonbonniere, get ready to party!
Tulum is one of Mexico's most sought-after beach destinations, known for its stunning coastal views and breathtaking Mayan ruins. But do you know Tulum's nightlife is a lifestyle? Here, it is all about beach clubs, bars, and parties that offer a unique combination of iconic vibes, spectacular live music, and gastronomical food and drinks!
The beach and jungle clubs here are some of the finest in Mexico, and many renowned EDM DJs come to play every weekend. You can dance away to your favorite tunes until morning at Bonbonniere or Vagalume beach club, where beach bonfires and jungle-themed parties are just some of their attractions.
At any of these venues, you will find a sensational culinary journey and other amenities like swimming pools, beach lounges, Jacuzzis, and more! Many vendors also sell handmade crafts, so don't forget to shop around! The perfect moment to visit Tulum for unique EDM music experiences is winter when temperatures remain hot. Still, there's no rain or humidity to be found. Whether you want to go solo or with friends, you will never be short on thrilling experiences in Tulum!
Tips: Do you crave exclusive, exhilarating nights to remember in Tulum? Our friend Virginia is the secret weapon you need! With her insider access, you'll breeze past lines into premier EDM clubs, claim the finest tables, uncover secret parties, and even snag fantastic discounts. Don't miss this chance – reach out to Virginia now and transform your nightlife!
Price Range: $$$$
Area: Beach Zone
Best for: Bohemian beach parties and host various live shows
Vagalume Tulum is a beach club unlike any other, boasting an elegant bohemian ambience with artisan interiors and live DJs performing every week. In addition to the fantastic music shows, Vagalume offers guests flavorful Mediterranean cuisine from their restaurant and bar. Whether attending an art festival, chilling by the fire, or enjoying quality drinks and food, Vagalume has something for everyone! With upcoming events such as funky beach parties, fire dancers, and more, you'll never be bored when you come to Vagalume in Tulum.
Their events are what make Vagalume stand out from other venues. Especially from December to February / March, they have live DJs performing various sets every week to keep you dancing all night! Come to their shows such as SUNDAZE, ANIMO, HANGAR, and many more.
Our expert tips: Vagalume's desserts are as delicious and exquisite as their food and beverages. Don't skip the Banana Monkey or Cheesecakes!
Secure your spot at Vagalume now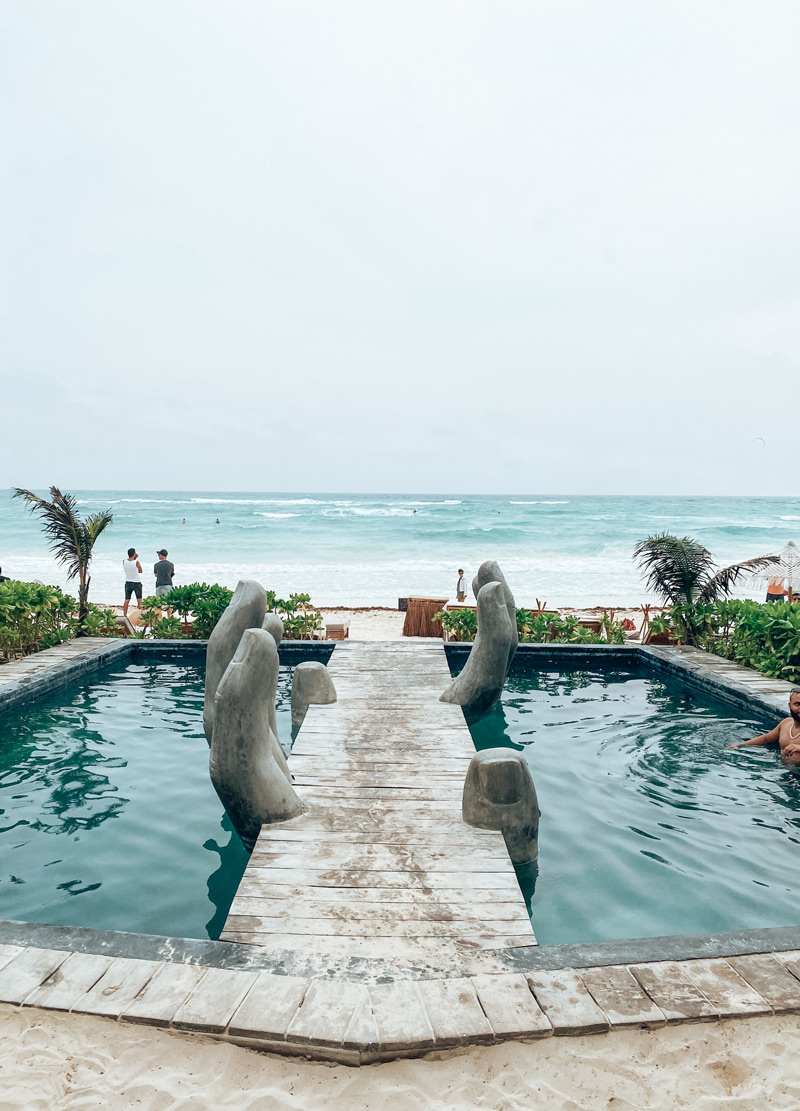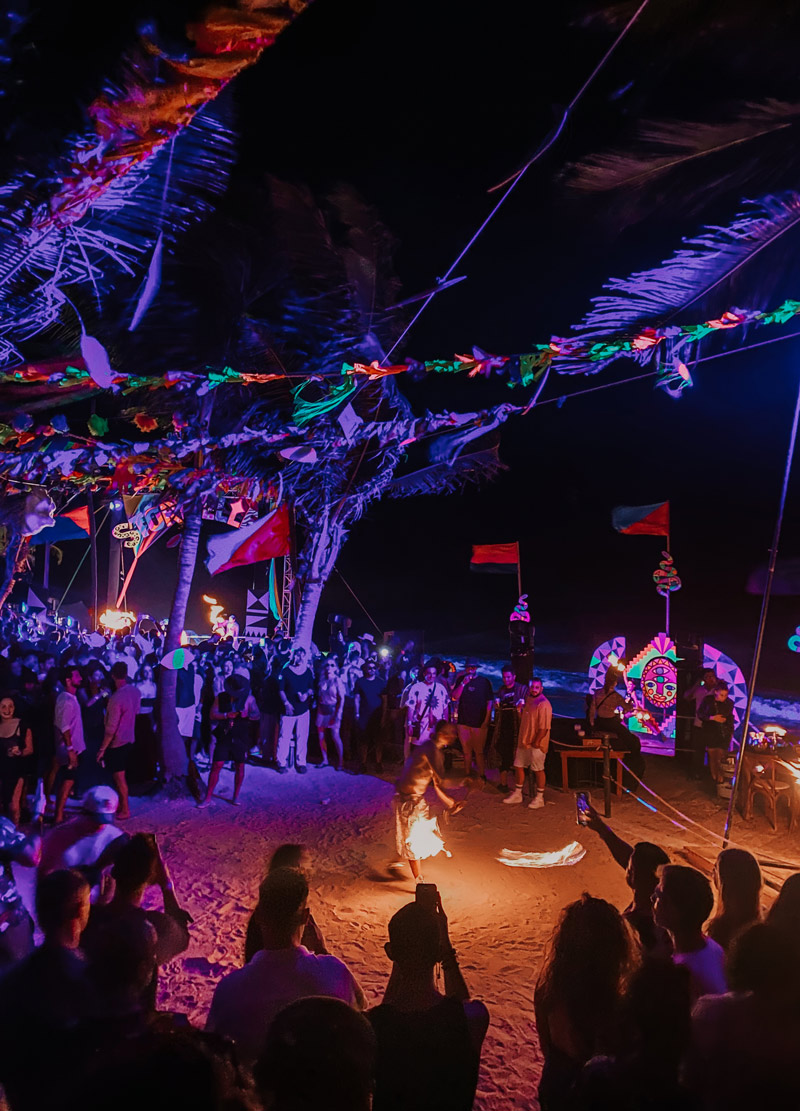 Price Range: $$$$
Area: Beach Zone
Best for: Gastronomical cuisine and hosting popular events across Tulum
With an aspiring concept, Papaya Playa Project this is a beach club celebrating music, creativity, and community. It's known for its iconic vibes, spectacular live tunes, food and drinks, and memorable journey. The venue creates an atmosphere of relaxation and fun with luxurious interiors and artisan decor along the coastline.
They have hosted various events each week to keep guests entertained. They organize full moon parties every Saturday night with DJs playing different EDM sets to keep you dancing until morning. In addition to full moon parties, they also have other events such as pool parties, beach bonfires, live acts from local artists and bands, Mexican cuisine festivals with food vendors from around Mexico showcasing their specialties, art exhibitions featuring different cultural expressions from internationally renowned artists, and more!
So, what are you waiting for, book your tickets today and get excellent tables through the magical journey!
Our expert tips: If you want to dance with the crowd and dine delicious Mexican cuisine, we recommend attending their Full Moon event every Saturday!
Secure your spot at Papaya Playa Project now
Price Range: $$$$$
Area: Hotel Zone
Best for: Luxurious Night club that has the finest bottled drinks
Bonbonniere Tulum is an upscale nightclub experience located in the heart of Tulum. This luxurious venue is designed to provide guests a unique and elegant nightlife experience. The ambiance at Bonbonniere is truly unparalleled, featuring a mix of styles such as techno, house, deep techno, and melodic house. With its distinguished sound and lighting system and the occasional live performance from some of the most well-known DJs in the EDM scene, such as Damian Lazarus, Amemé, Yulia Niko, Nick Warren, Mathame, Lee Burridge, Michael Bibi, Claptone, and more!
Bonbonniere offers guests more than just amazing tunes; they offer an atmosphere that will make you feel like royalty, from its outdoor terrace with its cozy seating areas to its VIP area on the mezzanine level for those looking for something extra special. There's also a delicious food and beverage menu featuring signature cocktails made with fresh ingredients.
Our expert tips: The queue can get super long during the high season. Consider contacting Virginia for her FREE services, who can get you on the list and skip the line!
Secure your spot at Bonbonniere now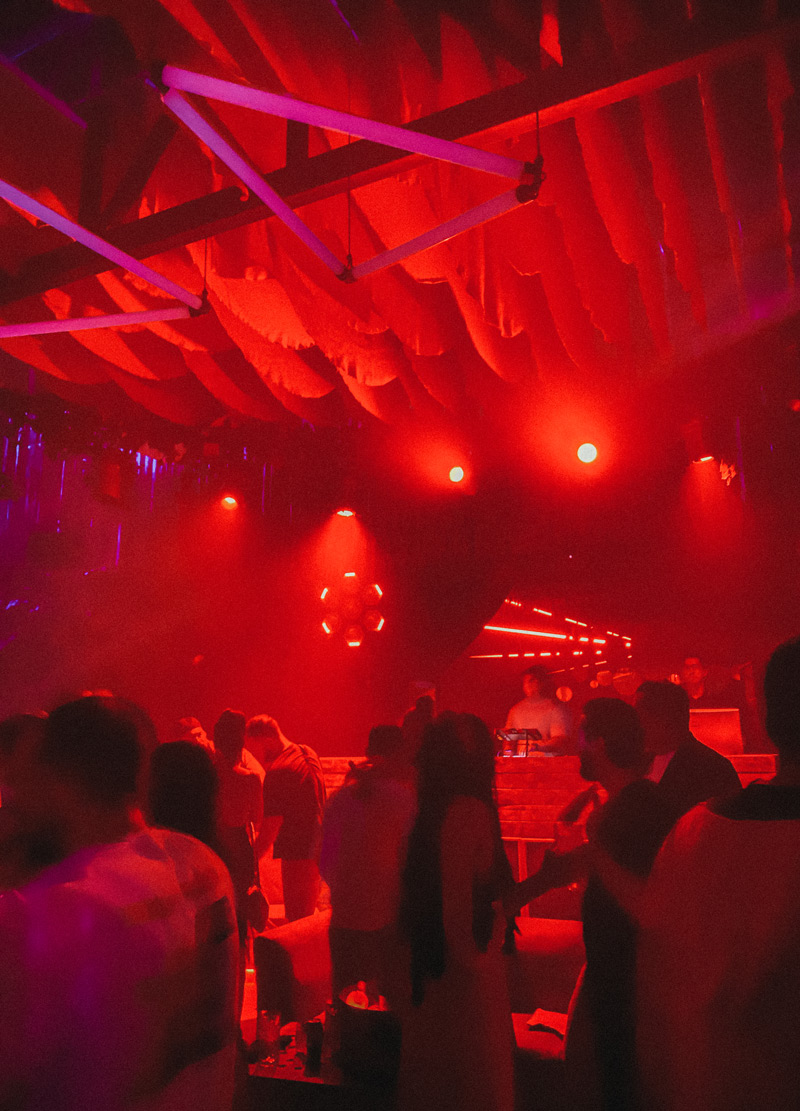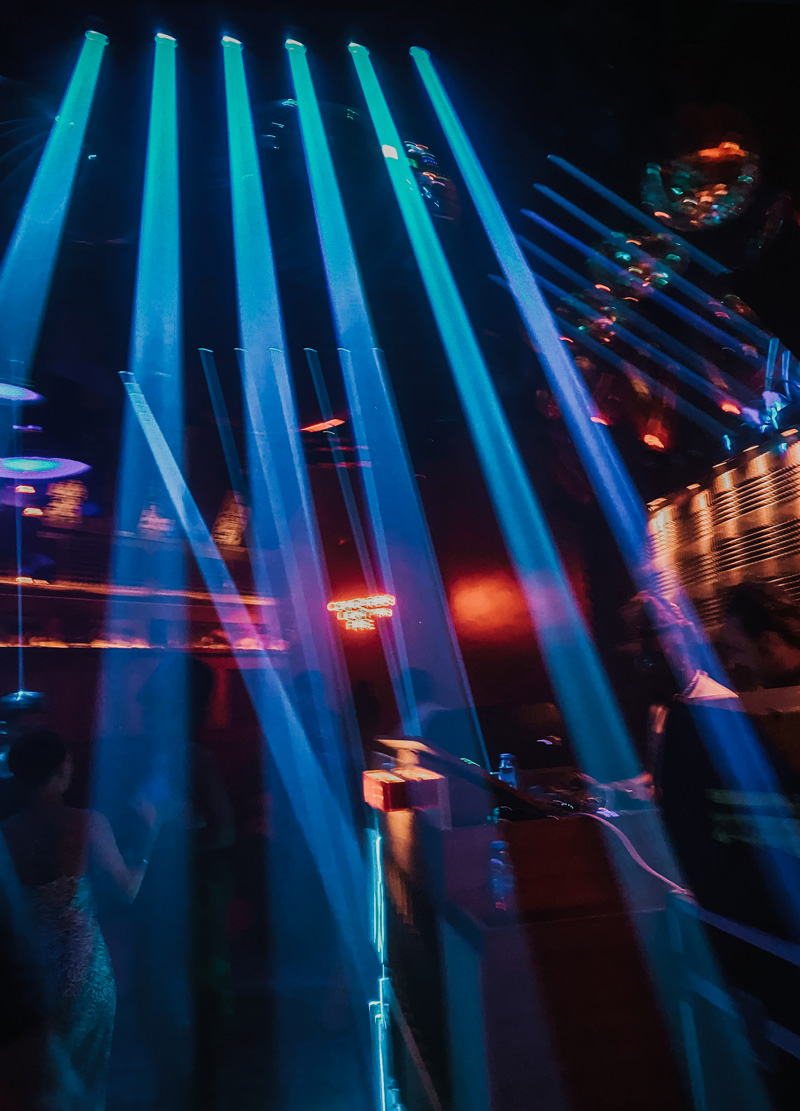 Price Range: $$$$
Area: Tulum Town – Aldea Zama
Best for: Luxurious in-door clubbing in Tulum Town
Zamanik Tulum is a party hotspot located in the Aldea Zama neighborhood. This luxurious speakeasy nightclub offers a unique nightlife experience with its vibrant atmosphere, eclectic melodies, and wide selection of top-shelf bottles. Whether looking to socialize or have a wild night out, Zamanik has something for everyone! From EDM to Reggaeton and everything in between, the world-renowned DJs will keep the hip vibe going all night.
They also have special events like live performances from Latin American artists, pool parties during the summer months, and more! So if you're looking for an unforgettable Tulum experience, look no further than Zamanik! Plus, on Saturday and Sunday, it gets the most crowded, and it's the perfect spot to go after a nice dinner to delight in their popular Dominik Nights!
Our expert tips: Check out our complete guide about Zamanik, with prices, upcoming events, and tips, and get ready to sway at one of the most elegant nightspots in Tulum Town!
Secure your spot at Zamanik now
Price Range: $$$$
Area: Jungle in the Hotel Zone
Best for: Jungle outdoor parties, hip events, and delicious Mexican cuisine.
Gitano Tulum Jungle is the place to be for an unforgettable outdoor jungle experience. Every Friday night, soft techno fills the air as a disco ball shines on the dance floor, and guests lose themselves in the charm of this Gypsy-Disco! With three bars boasting 50 mezcals, gastronomic drinks, and their delicious modern Mexican menu, it's no wonder why people come from all over to immerse in Gitano's unique atmosphere.
From 6pm until late, you'll have plenty of time to sample some of their signature cocktails at the bar or try out their tasty tuna tostadas and shrimp tacos at their Mexican restaurant before dancing into the early hours of Saturday morning!
Our expert tips: Tables fill up quickly on Fridays, so book your tables now and enjoy their delicious fish tacos and vibe under the disco ball!
Secure your spot at Gitano now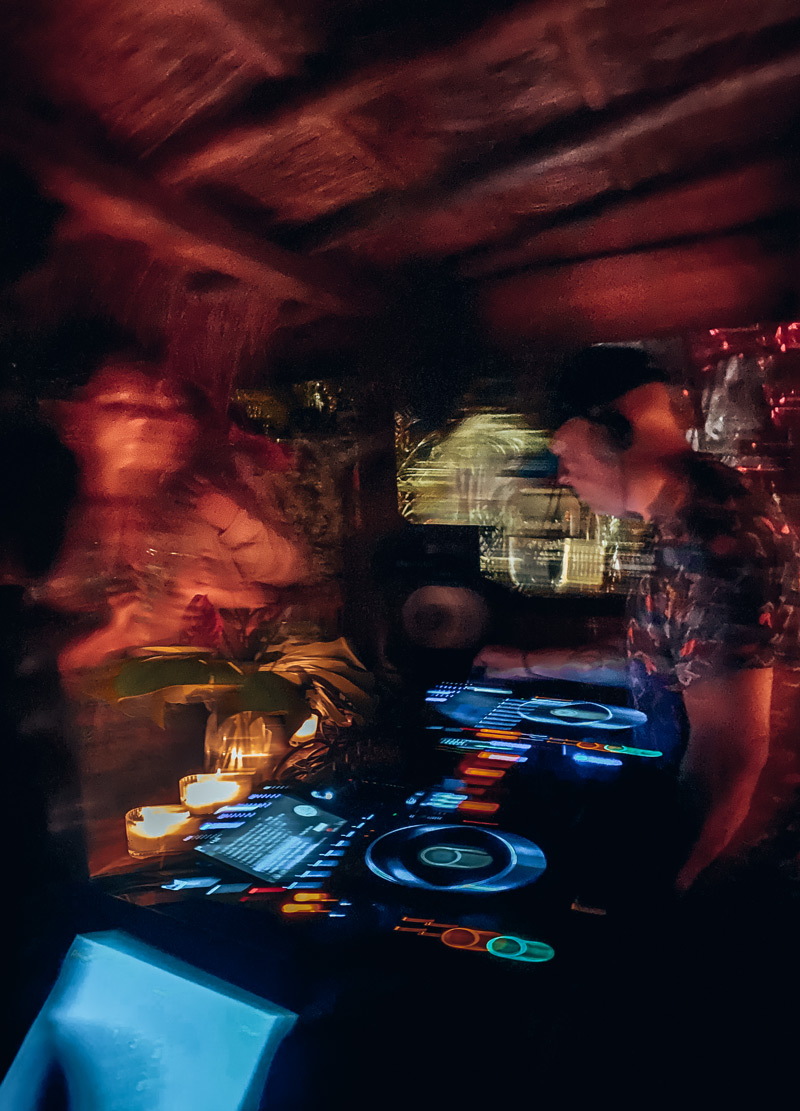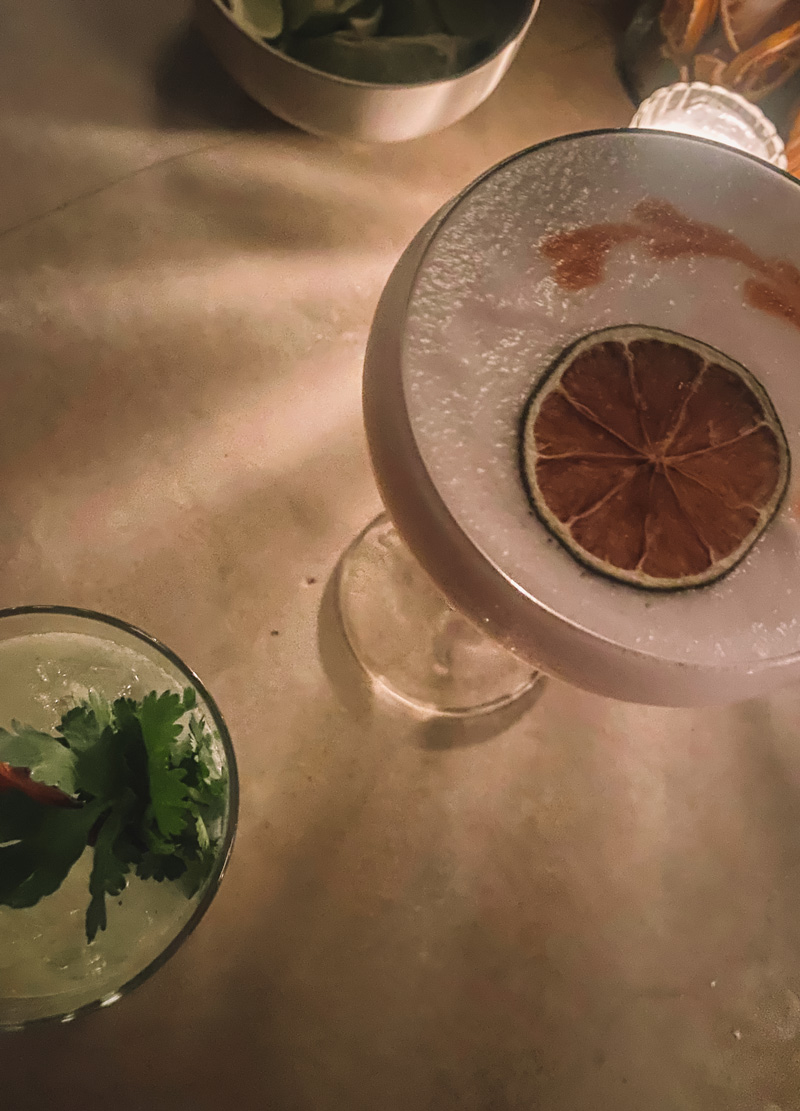 Price Range: $$$$$
Area: Hotel Zone
Best for: Italian restaurant, late-night electronic music, and a private cenote to swim
IT Tulum is a top-rated Italian restaurant that offers guests an unforgettable experience. Located in the Tulum jungle, IT combines carefully curated melodies, artisan Mediterranean cuisine, and contemporary interiors to create a truly unique atmosphere. The menu features Italian classics such as Spaghetti Ai Pomodori prepared by two Michelin-starred chefs Nino Di Costanzo.
Guests can also immerse in great electronic beats late into the night while they dine or sway on the restaurant's outdoor terrace, with cozy seating areas and a VIP area on the mezzanine level for those looking for something extra special. With its luxurious setting and delicious food, IT Tulum is one of the finest Italian restaurants for food and parties!
Our expert tips: Check out their epic Monday party! You can also visit for breakfast and lunch, and you can bathe in the private cenote by the restaurant while using the complimentary towel service.
Secure your spot at IT now
TANTRA BOHEMIAN LUXURY BEACH CLUB
Price Range: $$$$
Area: Beach area
Best for: Dine Indonesian dishes by the ocean and listen to EDM.
Tantra Tulum is the perfect beach club for those who enjoy EDM beats while savoring delicious food and drinks. Located on the stunning white sands of Tulum, this bohemian luxury beach club offers an unparalleled experience with its Indonesian-inspired dishes, top-shelf cocktails, and EDM sound journeys during the day. With beautiful views of the Caribbean Sea and a relaxing atmosphere, Tantra Tulum has something for everyone!
Open from 11 am to 7 pm, come to Tantra for lunch while vibing to the hip EDM beats playing as you dine!
Our expert tips: Tantra Tulum has various beach lounge areas to enjoy. Their most exclusive table includes a private pool with beds and offers bottle services! Organize the perfect beach day with Virginia today – contact her here.
Secure your spot at Tantra now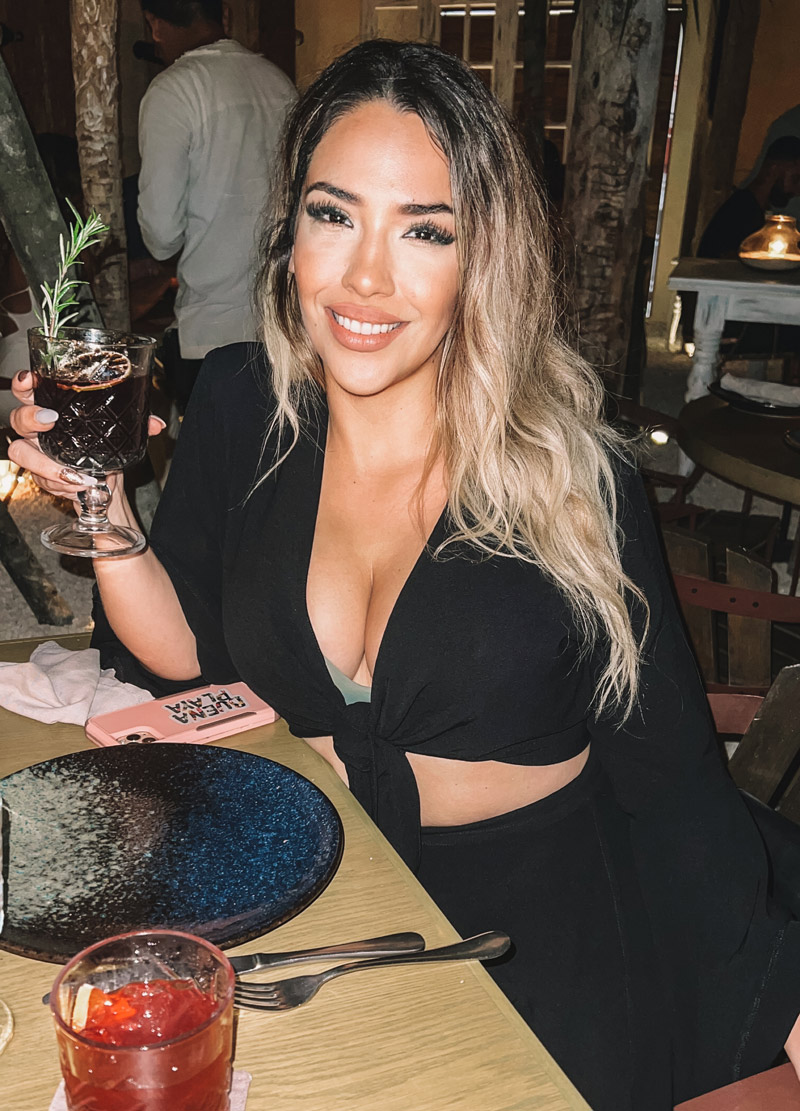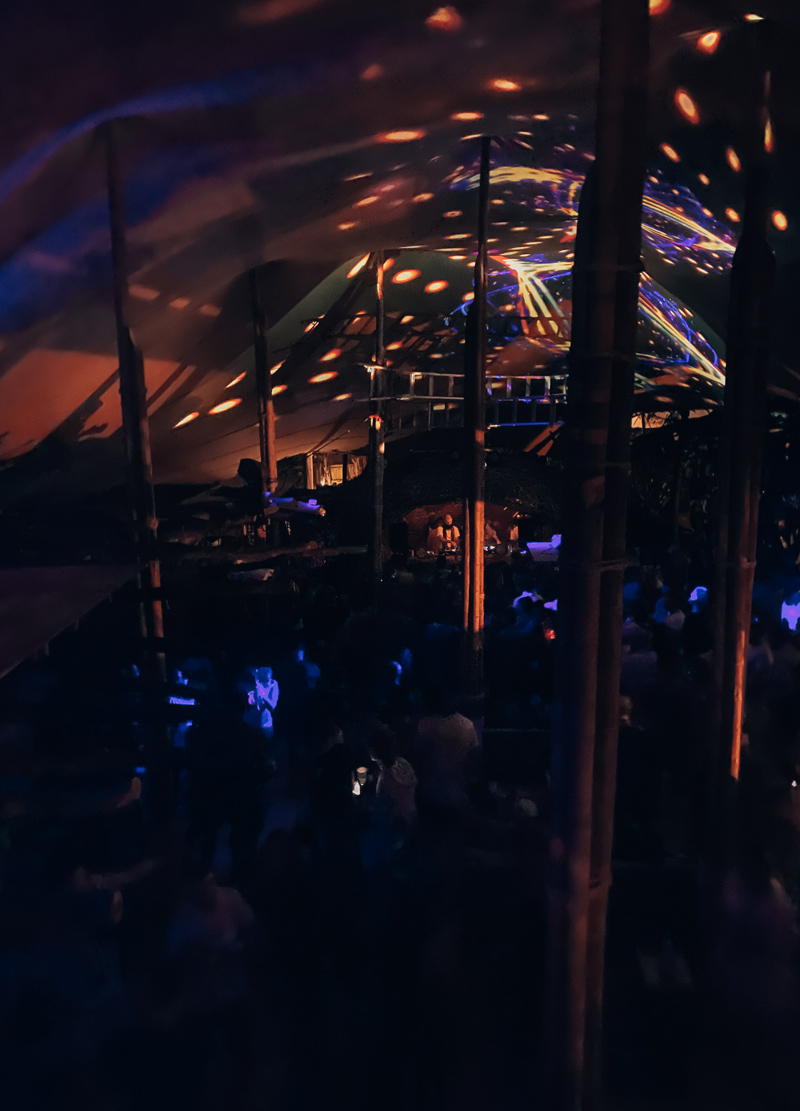 MIA RESTAURANT & BEACH CLUB
Price Range: $$$$
Area: Beach area
Best for: Delicious Mexican menu and vibrant electronic tunes
Mia Restaurant & Beach Club is the perfect venue to dine and experience Tulum's unique mix of tribal electronic beats and acoustic rhythms. With a stunning beachfront location, guests can enjoy an incomparable atmosphere filled with special elements such as live performances and body painting. This makes for a truly unforgettable night from 2:00pm to 12:00am. From emerging and experimental talents to renowned international DJs, Mia provides the perfect setting for any fan of electronic music to vibe out in style. With its vibrant atmosphere and an unbeatable view of the Caribbean Sea, Mia Beach Club will surely be one of your favorite spots in town!
Our expert tips: With so many performances from various artists, we recommend trying any of them as their shows never fail to entertain us.
Secure your spot at Mia now
STRAW HAT HOSTEL & ROOFTOP BAR
Price Range: $$
Area: Tulum Centro
Best for: Budget-friendly rooftop party
Are you looking for a budget-friendly venue in Tulum? Look no further than Straw Hat Hostel & Rooftop Bar! Located at the heart of Centro, this popular rooftop spot offers affordable beverages and live electronic music that will keep you dancing all night long. Its unbeatable location and lively atmosphere make it one of the cheapest places to enjoy Tulum's nightlife. Plus, you can party until 3 am here!
Our expert tips: The venue can get really hip and crowded here. If you love that kind of vibe, this is perfect! 
Secure your spot at Straw Hat now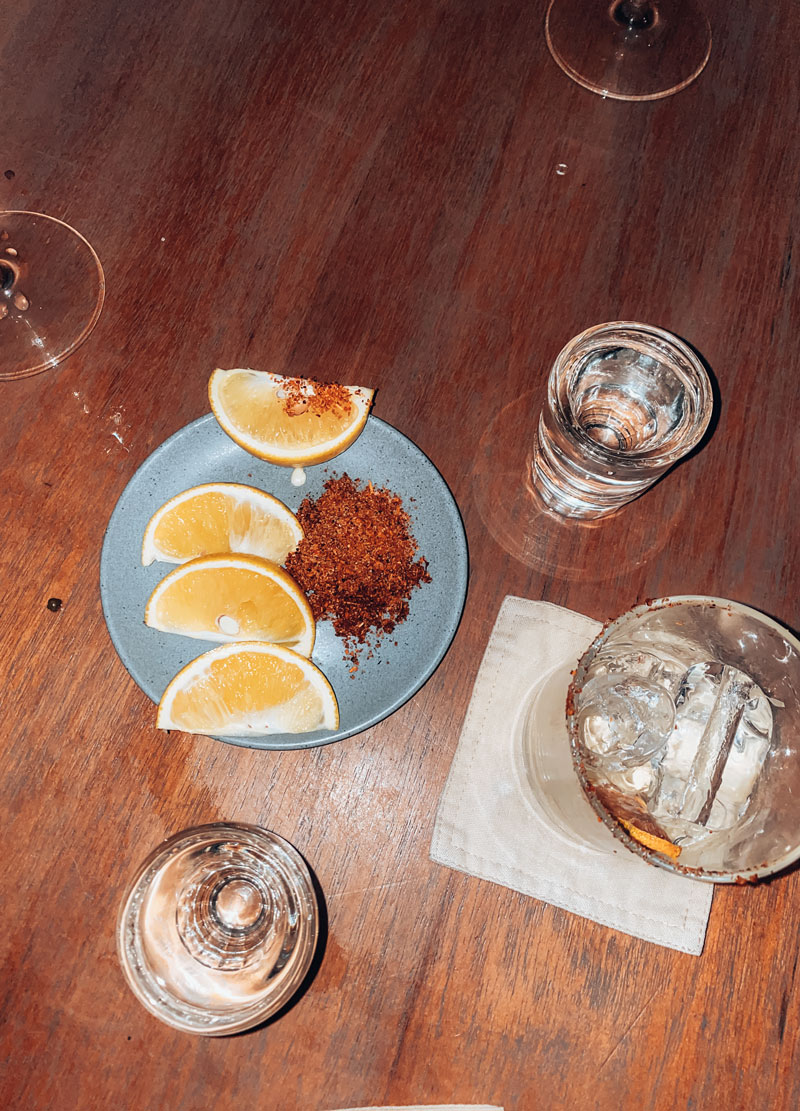 CONFESSIONS JUNGLE BAR & TAPAS
Price Range: $$$$$
Area: Beach area
Best for: Late-night exotic bar & lounge for an electronic music enthusiast
Welcome to Confessions Jungle Bar & Tapas, the ultimate destination for electronic music lovers. It is an exotic bar and lounge that offers a mysterious and daring atmosphere that will challenge, surprise and seduce your senses. With its international tapas menu and mixology paired with local and international DJs spinning an unbeatable selection of electronic beats, there is no better location to experience an iconic night! So come to Confessions Jungle Bar & Tapas for a night you won't forget!
Our expert tips: Confessions have an entire month of events featuring guests' DJ lineups, so you won't miss a night of partying to EDM in Tulum! To get the perfect dates you desire, ask Virginia and allow her to organize your visit for free!
Secure your spot at Confessions now
THE TOP 5 EDM CLUBS IN TULUM BEACH
Here you will find our top picks of the most exciting EDM venues in Tulum beach. You will want to go to the ones on the beach if you prefer an outdoor vibe, where you can feel the ocean breeze and unwind with the nature of Tulum. So, these venues should be your first go-to choice!
Contact our friend Virginia to get the best table, be on the guest list and have special discounts!
Vagalume – $$$$

– Beach area

Confessions Jungle Bar & Lounge – $$$$

 – Beach area

Papaya Playa Project – $$$$

 – Beach area

Gitano Tulum Jungle – $$$$

-Jungle area

Bonbonniere – $$$$$ – Hotel Zone
THE TOP 5 EDM CLUBS IN TULUM TOWN
If you are staying in town or looking for a different vibe than the beach, visit our top 5 pics of the amusing venues in Tulum Town and include honorable mentions.
Straw Hat Rooftop Bar – $$

 – Centro

Zamanik – $$$$

 – Aldea Zama

Social PubCrawl Tulum – $$$

 – Centro

Nana rooftop bar – $$$ 

– Centro

Santino Bar – $$

 – Centro
Don't miss out on an exclusive experience! Reach out to our dear friend Virginia and unlock VIP access, prime seating, and irresistible discounts at the hottest events in town!
THE BEST EDM CLUBS IN TULUM ON A MAP
If you want to hop from one place to another, let us make planning your trip easy. Check out the map of all the venues across Tulum!
THINGS YOU NEED TO KNOW ABOUT EDM CLUBS IN TULUM
Now that you know the top venues to enjoy EDM beats in Tulum, you must know these essential tips and advice to maximize your party experience!
PRACTICAL TIPS AND ADVICE
Here are the most essential tips and advice any party-goers need to know when visiting these Tulum venues.
Bring pesos and cash – Regarding payment options in Tulum, it is better to have cash on hand, specifically "efectivo" in pesos, as a backup payment method.
Bring along ID – Some venues require guests to present valid identification at the door. Either passport or government-issued IDs are accepted in most cases.
Double-check your bills – When the party gets hectic, you may get charged for a drink you didn't order, or the staff tipped themselves without your knowledge.
Arrive a few minutes earlier – Avoid lines and get a secure parking space, especially by the beach area during the high seasons.
Know how you are getting home – Mainly on transportation to how you will arrive and return from the party. It is better to use your own vehicle because taxis may overcharge you during late night hours.
THE BEST TIME TO GO TO EDM CLUBS IN TULUM
The perfect time to visit EDM clubs in Tulum is during the high season (November to February/ March) because more people visit the area and host shows on the beach. During this moment, various events will happen throughout the week, with DJs spinning electronic beats all night long. The atmosphere is electric as people come together worldwide to experience unforgettable nights out at EDM clubs in Tulum.
IS IT SAFE TO PARTY ALONE AT EDM CLUBS IN TULUM?
Like other nightclubs in Tulum, safety is key when it comes to partying in Tulum. While there are plenty of great opportunities for fun and entertainment, it's essential to be aware that the area also has its share of risks. Although some venues like Vagalume have security guards on the premises and Tulum clubs are generally safe (no violence and well-organized), you must still be careful of your personal belongings and partying with strangers.
STAY HYDRATED AT ALL TIMES WHEN PARTYING
It's easy to get carried away when partying, but be mindful of how much alcohol you consume throughout the night. Remember to have a glass of water whenever possible to refresh yourself and energize throughout the evening.
FAQ about Tulum Edm Clubs
What is the dress code for EDM clubs in Tulum?
Most EDM clubs in Tulum don't have a strict dress code. However, it is recommended that you wear something comfortable and fashionable. But remember that some venues require guests to wear a specific dress code for special shows.
Are there age restrictions for entering EDM clubs in Tulum?
Yes, most EDM clubs in Tulum have an age restriction of 18+. Some may require guests to present valid identification at the door. In addition, some venues also have an age restriction of 21+ depending on the type of events during the day.
What kind of music do EDM Clubs play?
The type of music played by EDM clubs in Tulum can vary from night to night but generally includes genres such as House, Techno, Dubstep, Reggaeton, and Trap.
What kind of amenities are offered at most EDM clubs?
Most venues provide basic amenities such as seating areas, restrooms, bars, coat hangers, etc. For those looking for added luxuries, VIP tables are available, which come equipped with plush seating, private bar access, and other exclusive benefits like being closer to the DJ booth.
Is photography strictly prohibited at many EDM clubs?
Capturing photos with your phone is okay at clubs. But using a professional camera for personal or commercial use is generally not allowed inside many venues as a security measure; however, some venues may allow photos with prior consent from management/staff. But it is best to ask before taking pictures or videos at the venue. 
Does every EDM club offer table reservations?
Most venues offer table reservations allowing guests to reserve areas before attending the event. Table reservations can be made through the venue's website or social media pages before the event date. It is important to note that table bookings are subject to availability due to high demand during peak seasons, which can lead to you not getting the desired table. So to get a guaranteed spot at the best tables and extra benefits for free, contact Virginia!
Do all venues accept card payments?
Not necessarily; while almost all venues now accept card payments (especially in the beach area), some places only take cash payments. You can always double-check this with each establishment or ask Virginia.
How late do most events last?
This depends on each individual venue, but usually, events will last until 4am – 5am latest. If planning on attending one, check with management beforehand, as they can change times without prior notice. Also, remember to arrange your transportation back too.
Can I bring my own food/beverages to an EDM club?
Guests are typically not allowed to bring outside food or beverages to any venue (including alcohol). But you can carry at least a bottle of water (in plastic packaging) to stay hydrated. If unsure, check with management before getting any personal items onto the premises.
Do all venues enforce an entry fee at EDM clubs?
Entry fees vary, but usually include a cover charge, additional taxes (usually 15%), and extra perks (such as credit for food and beverages) that may apply when paying for tickets online /at the door. Prices can range between 10 – 100 USD depending on the venue and upcoming shows.
Are children allowed within the premises of EDM clubs?
Children under 18 cannot enter most EDM clubs in Tulum because of the minimum age restriction of the venues being 18 +.
Top Events to Make Your Trip Unforgettable
DOMINIK TULUM @MIA TULUM
When: September 9, 2023 7:00 PM
Where: Mia Restaurant & Beach Club, Tulum
🌴 Join Us for An Unforgettable Night at DOMINIK - TULUM at Mia Tulum! 🌴
Friends, clear your schedules and get ready for a magical experience at Mia Tulum! This stunning location will host DOMINIK - TULUM on Saturday, September 9th, from 7 pm to 1 am. This isn't just another event; it's a fusion of nature, culture, and sound featuring an incredible line-up with GIORGIO STEFANO, AUDICTIVE, and MAURO TORRETA. At DOMINIK, you'll find the perfect blend of Tulum's lush jungles and pulsating underground beats, creating an environment where genuine connections blossom.
🎟️ Secure your tickets now:
Early Bird: $575 MXN ($38 USD), includes a welcome drink 🍹 (Limited Availability)
Tier 1: $805 MXN ($52 USD), includes a welcome drink 🍹 (Limited Availability)
Final Tier: $1150 MXN ($75 USD), includes a welcome drink 🍹 (Limited Availability)
Dinner + Party: $1380 MXN ($90 USD) 🍽️🎉 (Limited Availability)
See you there for a night you won't forget! 🎶✨
Ready to join us? Get your ticket now! Early bird tickets are already selling out, secure them at 632 pesos (only 15 tickets available).
Hurry – spots are filling up fast! 🙀 We can't wait to see you there!
Top Parties and Club Events
17th September - ANCESTRAL SOUL @BONBONNIERE TULUM
22nd September - TONY ROMERA @BONBONNIERE TULUM
29nd September - TIM BARESKO @BONBONNIERE TULUM
4th November - HOT SINCE 82 @BONBONNIERE TULUM
13th March - LOCUS Tulum 2024