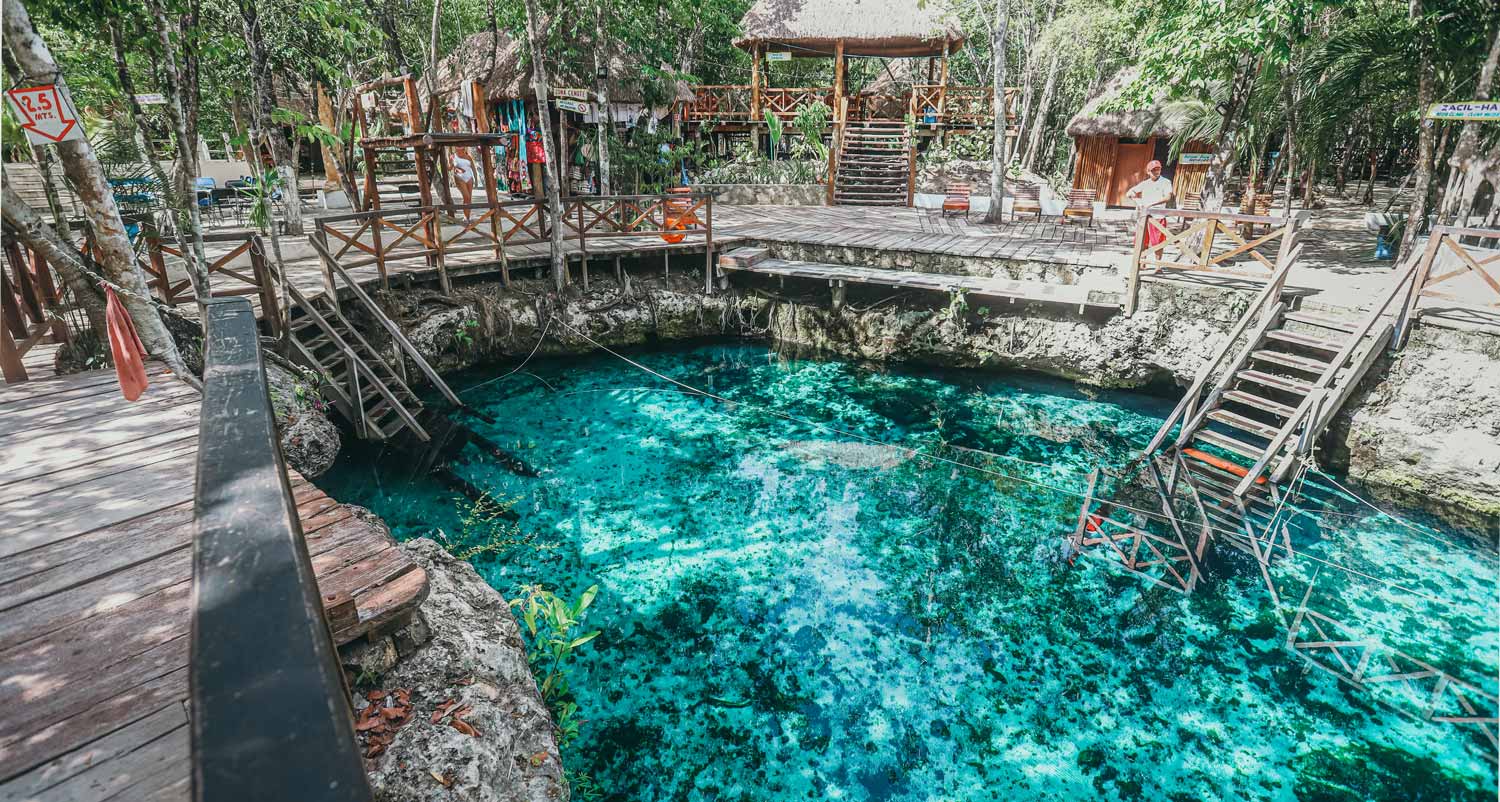 Discovering Cenote Zacil Ha in Tulum: Our Essential Guide
If you're looking for a magical oasis in the heart of Mexico, Cenote Zacil-Ha is the perfect spot for you. The name "zacil-ha" may not roll off the tongue easily, but it's definitely worth remembering! It means "white water cenote" in the ancient Maya language, and it's easy to see why – the water is crystal clear and beautifully turquoise. Imagine diving in and feeling the cool, refreshing currents wash over you. Don't miss the chance to experience this natural wonder for yourself!
Have you ever heard of a cenote? This natural wonder is like a secret underground pool hidden beneath the earth's surface. Formed by the collapse of limestone bedrock, these stunning sinkholes expose the crystal-clear groundwater below. And let me tell you, swimming in a cenote is an adventure like no other – imagine diving beneath the surface and exploring a magical landscape, complete with tropical fish and awe-inspiring rock formations. It's like something straight out of a fairytale. So, if you're ever near a cenote, I highly recommend taking a dip and experiencing the wonder for yourself.
And it was amazing! Our experience wouldn't have been complete without this discovery, and yours shouldn't be either. That's why we would like to share with you guys our guide to explore the wonders of Tulum's cenotes!
TRAVEL TIPS: Looking for a hassle-free trip? Look no further than Virginia's unbeatable planning services in Tulum! With her extensive knowledge of the place and its nature, Tulum's secrets, and expertise in creating unforgettable experiences, say goodbye to the stress of party planning and hello to a weekend full of non-stop fun! And the best part of it? It's FREE! Get in touch with Virginia on WhatsApp today and know more about her services!
WHEN AND HOW TO VISIT CENOTE ZACIL- HA
Entrance price: 200 MXN pesos for foreign visitors 
Closest cities (Approximately driving time):
Tulum town center: 10 minutes 
South of Cancun: 90 minutes
Open hours: 10 am to 17:30 pm
CENOTE ZACIL HA: MORE THAN A NATURAL POOL
Perfect for: swimming, diving
Cenote Zacil-Ha boasts a unique, natural beauty that sets it apart from other cenotes in the Tulum area. What makes Zacil-Ha unique is its crescent shape and the dense vegetation that surrounds it, giving visitors a secluded and peaceful swimming experience. Inside, the cenote has two distinct areas for swimming, including one area that is ideal for families as it's shallow and has a small beach section. Zacil-Ha also features stunning stalactites and stalagmites, turning the cenote into an unforgettable cave-diving experience for those brave enough to explore its depths. What makes Cenote Zacil-Ha even more remarkable is the fact that it's a lesser-visited destination than some of the more popular cenotes in the region, giving visitors a chance to unwind and appreciate the surrounding natural beauty in serenity.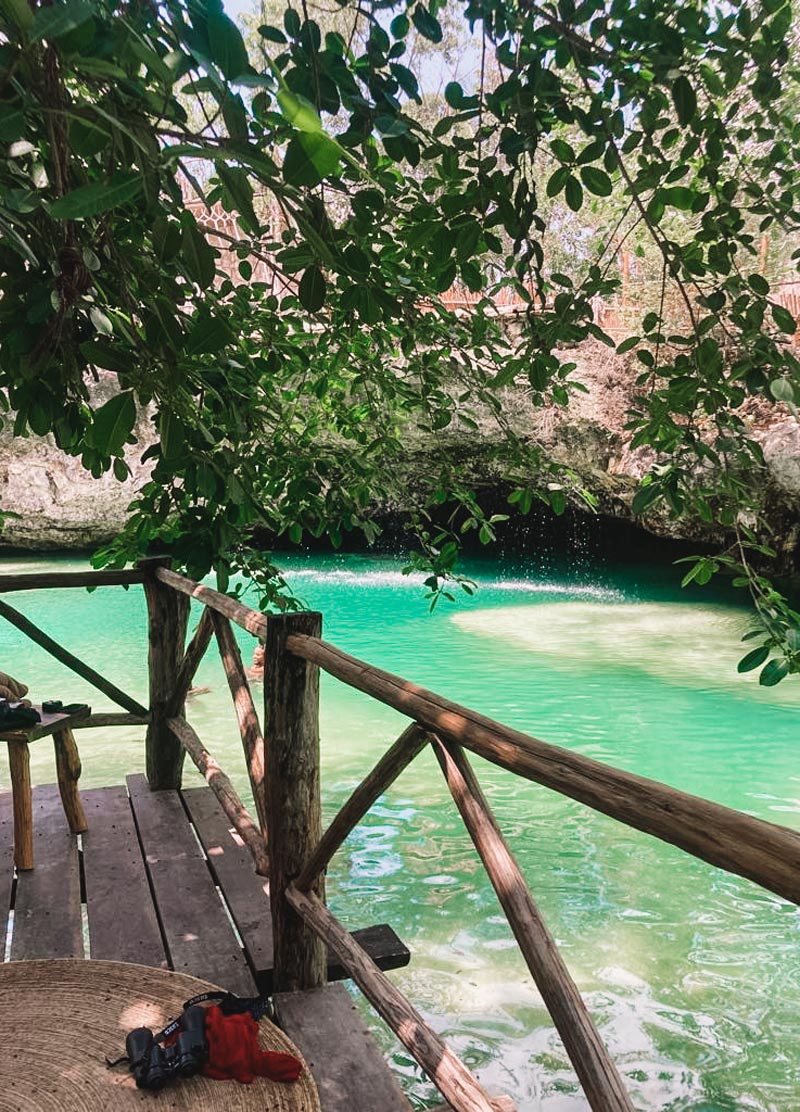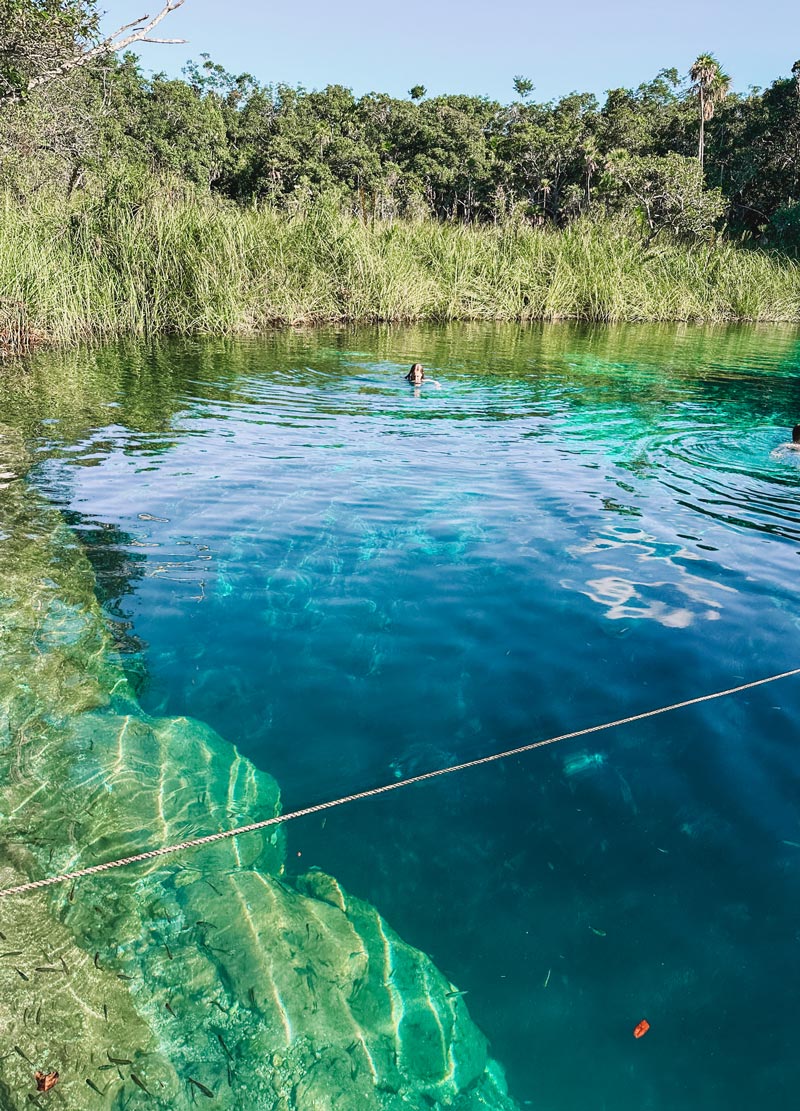 CENOTE ZACIL HA AMENITIES: COMFORT IN NATURE
Cenote Zacil-Ha offers an array of amenities for visitors to take advantage of. The site has a restaurant, restrooms, showers and cabanas available for rent, as well as souvenir shops and lifeguards at the entrance. Additionally, there are tour guides available who can provide information about the surrounding area and its culture.
TRANSPORTATION: HOW TO GET TO CENOTE ZACIL- HA
Cenote Zacil-Ha is a popular destination that is easily accessible from Tulum and the surrounding areas. There are several ways to get to the cenote. Renting a car is the most convenient option as Tulum town center is only a 10-minute drive away, and there are many car rental options available in town. Alternatively, you can take a taxi from Tulum town center or your hotel directly to the cenote, but be sure to negotiate the fare with the driver before getting in the taxi. If you're feeling more adventurous, you can rent a bike in Tulum and cycle to the cenote, which is about 6.5 kilometers away from the town center.
Located just a short distance from Tulum, this popular spot offers plenty of ways to get there. Why not start off with the easiest method and rent a car? With so many rental options available, you can be on your way in no time. Or, if you're feeling spontaneous, hail a taxi and negotiate your fare before hopping in. 
But for the more adventurous types, why not rent a bike in Tulum and enjoy the scenic 6.5 kilometer ride to the cenote? No matter how you choose to get there, you're sure to have an incredible experience at Cenote Zacil-Ha.
 Finally, many tour companies offer guided visits to cenotes in the area, including Cenote Zacil-Ha. If you choose this option, be sure to look for a tour package that works for you and includes transportation to and from the cenote.
Take Advantage Of Free Concierge Service
As excellent to explore Tulum and its surroundings alone, you may need help figuring out where to start. To make the most of your money and time, contact Virginia and Kelly - two incredible Mexican girls living in Tulum for more than 15 years. They're familiar with the ins & outs of the Tulum town and hotel zone like the back of their hand! 
Since we arrived in Tulum 2 years ago, many adventures wouldn't have been possible without their help - they know literally everybody in Tulum and can perfectly organize every moment of your stay. Get the best tables, skip queues and get on the guest list of the coolest places in Tulum - this's only the beginning! 
They are ready to offer you guys FREE concierge service in Tulum for the time of your stay: take advantage of it, contact them on Whatsapp and live the best experience!
Get FREE Concierge Service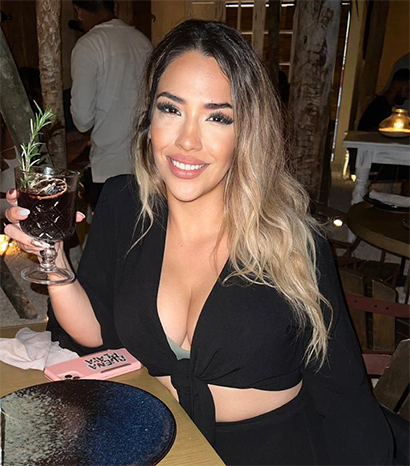 "Virginia Will Transform You In A Tulum Insider"
BEYOND THE CENOTE: EXPLORING THE SURROUNDING AREA OF TULUM
Cenote Zacil-Ha is situated in one of the most beautiful areas of Tulum, Mexico. Surrounding the cenote are lush tropical jungles and white sand beaches. There are also several nearby attractions that make visiting the area a truly unique experience. Just a short walk away from Cenote Zacil-Ha are two other popular cenotes – Casa Cenote and Dos Ojos Cenote. 
Additionally, there are plenty of breathtaking hiking trails, ancient ruins, caves to explore, as well as wildlife destinations in the surrounding area. Whether it's bird watching or taking an ATV safari, you'll find something that will make your trip to Cenote Zacil-Ha even more enjoyable!
Coba is a must-see destination for those looking to explore the fascinating culture of the ancient Maya civilization. The ruins of Coba hold a wealth of Mayan history, as well as many stunningly preserved structures and monuments. Visitors can roam through numerous temples, pyramids and plazas, explore the site's cenotes or climb up Nohoch Mul Pyramid (the tallest pyramid in Mexico), for spectacular views across the area. Additionally, visitors can take part in guided tours to learn more about the city's past and make sure not to miss out on their traditional Mayan chocolate too!
TRAVELING TIPS FOR YOUR DAY AT THE CENOTE
Here are some tips for making the most of your day at Cenote Zacil-Ha:
Arrive early in the morning to beat the crowds and get the best photos!

Wear lightweight clothing and comfortable shoes as you will be climbing, walking and swimming;

Don't forget your camera – there are plenty of beautiful photo opportunities!

Be sure to bring extra cash for entrance tickets, snacks or souvenirs;

Consider taking a guided tour if you want to learn more about the area's history;
FAQ about Cenote Zacil Ha
Where is Cenote Zacil-Ha located?
Cenote Zacil-Ha is located in the Yucatan Peninsula of Mexico, near the town of Puerto Aventuras, about 25 minutes south of Playa del Carmen.
What activities are available at Cenote Zacil-Ha?
Swimming and snorkeling are the main activities at Cenote Zacil-Ha. The cenote has a platform for jumping and a zip line for thrill-seekers.
What should I bring to Cenote Zacil-Ha?
To Cenote Zacil Ha you should bring your swimsuit, towel, sunscreen, insect repellent, and cash for entrance fees and any additional activities or services. It is recommended to wear water shoes or sandals with good grip to navigate the rocky areas around the cenote.
Are there any restrictions on visiting Cenote Zacil-Ha?
At the Cenote Zacil Ha visitors are expected to follow the rules and regulations of the cenote, which may include not using sunscreen or insect repellent while in the water to protect the delicate ecosystem. It is also prohibited to bring food or drinks into the cenote area.
Can I book a tour to Cenote Zacil-Ha?
Yes, there are many tour companies in the area that offer visits to Cenote Zacil-Ha, often as part of a larger excursion that includes other attractions in the region.
👉 FRIDAY, Dec 1
OPENING PARTY X TEN IBIZA 🎉🍹
🎧
ORIOL CALVO, BASTIAN BUX, VITE
📩
Contact Virginia
here
to book a table
💵
First Release Tickets: Mex$ 550 (incl. fees)
Don't miss out on the chance to join us in "A Journey into House Music" tonight at Vagalume. Contact Virginia here to secure your spot for an unforgettable evening! 🌟🍹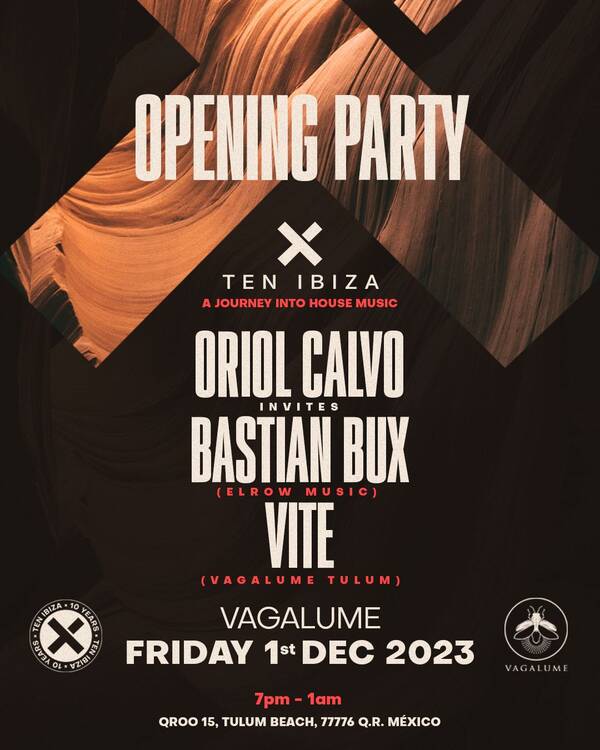 Top Parties and Club Events
23rd November - VAGALUME SESSIONS KEENE @VAGALUME
26th November - VAGALUME SUNDAZE MITA GAMI @VAGALUME
30th November - VAGALUME SESSIONS VALDOVINOS @VAGALUME
3rd December - VAGALUME SUNDAZE VALENTIN HUEDO @VAGALUME
7th December - VAGALUME SESSIONS MUSTAFA ISMAEEL @VAGALUME
30th December - PIKNIK POLO CORP & LEO LEONSKI @VAGALUME
31st December - NEW YEAR´S EVE @BAGATELLE TULUM
31st December - NYE PARTY 2024 @VAGALUME
13th March - LOCUS Tulum 2024