Gitano Tulum Guide: Your Ultimate Dining and Entertainment Destination
Are you seeking a unique dining experience and nightlife in Tulum, Mexico? If you enjoy a unique combination of atmospheric restaurant dining, immersive parties in nature, and lively music events, Gitano Tulum: Jungle Restaurant & Beach Club is perfect for you!
Located in Tulum – a beautiful Mexican coastal town nestled by the Caribbean Sea and surrounded by lush green nature. It's a popular destination for tourists looking for an exotic getaway with plenty to do. From exploring ancient Mayan ruins, lounging at pristine beaches, or just taking in the area's vibrant culture, Tulum has something for everyone. But when night falls, that's when things come alive! Tulum comes alive with its lively nightlife scene featuring nightclubs, bars, and restaurants like Gitano – an incredible experience perfect for those who want to enjoy great food and music in nature without compromising luxury.
What is Gitano Tulum, and what can you expect?
From its lush tropical gardens to its stunning views of the Caribbean Sea, they own various restaurants & bars in this oasis. Here, you can expect a full day of relaxation in one of their sun loungers along the Riviera Maya coast, dance with the crowd under the stars, and enjoy great food with your friends while dancing to the upbeat music!
Founded by James Gardner and Melissa Perlman, their goal has been to provide visitors an unforgettable dining ambience to passionate visitors. So, learn more about the various venues and find out which one is your favorite!
The Jungle – is a perfect retreat spot to bring your friends and family for an evening of excitement. The epicurean menu offers seasonal, local ingredients prepared in traditional methods for dishes to be enjoyed together. With over 50 mezcals and signature handcrafted cocktails, guests can indulge in an unforgettable gastronomic journey with unique flavors. The venue offers a stunning open-air space that includes vibrant colors with its tropical plants, ambient lighting, and cozy seating areas that will make you feel like you have been transported to another world. Furthermore, the quirky Jungle Room promises great musical themes and dancing to ensure everyone has a night to remember!
The Meze – This Aegean Taverna transports visitors to a breathtakingly beautiful and serene environment inspired by the stunning landscapes of Hydra, Mykonos, and the other Aegean Islands. With its gorgeous white hacienda in the green nature, they provide outstanding gastronomic cuisine specially curated by the Executive Chef, Alexandros Gkoutsi, from Athens, who has crafted iconic Aegean meals based on unique flavors. The main attraction is an oversized, elegant stone bar where you can enjoy signature cocktails and beverages, making it perfect for any occasion. Its vibrant colors and cozy seating areas create a magical atmosphere that will make your visit here memorable.
The Beach –  One of the city's most incredible beachfront clubs and bars. This private cove offers a panoramic view of the Caribbean Sea and pristine white sand licked by shallow turquoise waters. The perfect spot for an unforgettable moment with friends or family! Here you can enjoy great food from their Mexican cuisine with a Mediterranean twist while listening to their eclectic blend of music, and take advantage of their VIP areas for a more exclusive ambience! They promise you an incredible adventure every time you visit.
Come see why it's one of the hottest spots on the Yucatan Peninsula!
Now you know the different venues, let's talk about the fun part and learn what makes them all famous!
Parties and events in Gitano Tulum
Their weekly events are among the most impactful aspects of their popularity. Discover various events in Tulum and partake in live music performances, DJs, and more – an atmosphere of fun and enjoyment!
Their events offer full-service dining and mixology, featuring handcrafted cocktails made with fresh ingredients from local suppliers. In addition to their unique liquors, they also have a variety of delicious dishes inspired by the country's culture. Whether it's a romantic dinner for two or a hangout with friends, they will surely make the moment last!
Tips: If you don't like the hassle of booking and have a history of getting bad tables, consider asking a concierge service. We recommend our friend Virginia who always helped us handle the boring stuff of Tulum nightlife, so we could just enjoy the fun! 
What we love about Virginia is that she knows everyone and everything about the city because she has been here for 15 years. She can help you find the perfect venue depending on your preferences and provide contacts and other services that will ensure you get the most out of your visit. Virginia takes great pride in her work, so if you have a larger group, she'll even go to each venue personally to ensure that everything goes smoothly! With Virginia's amazing service, there is no doubt that your Tulum night will be one to remember! Plus, her services are FREE!
Get In Touch With Virginia
MOST FAMOUS PARTIES HOSTED BY GITANO TULUM
The Gypsy Disco is one of Tulum's most iconic and beloved events. Every Friday evening, this festivity under the stars and the presence of a disco ball bring together friends, families, and couples for an exceptional evening. With its signature mix of modern Mexican cuisine and cocktails served at the restaurant, complemented by lively music performances from DJs and live bands, it's no wonder why people keep returning to Gypsy Disco. From its stunning views of the lush tropical gardens and groovy disco ball, they provide an ambience that celebrates freedom and living life to the fullest!
Book Your Ticket + Table Here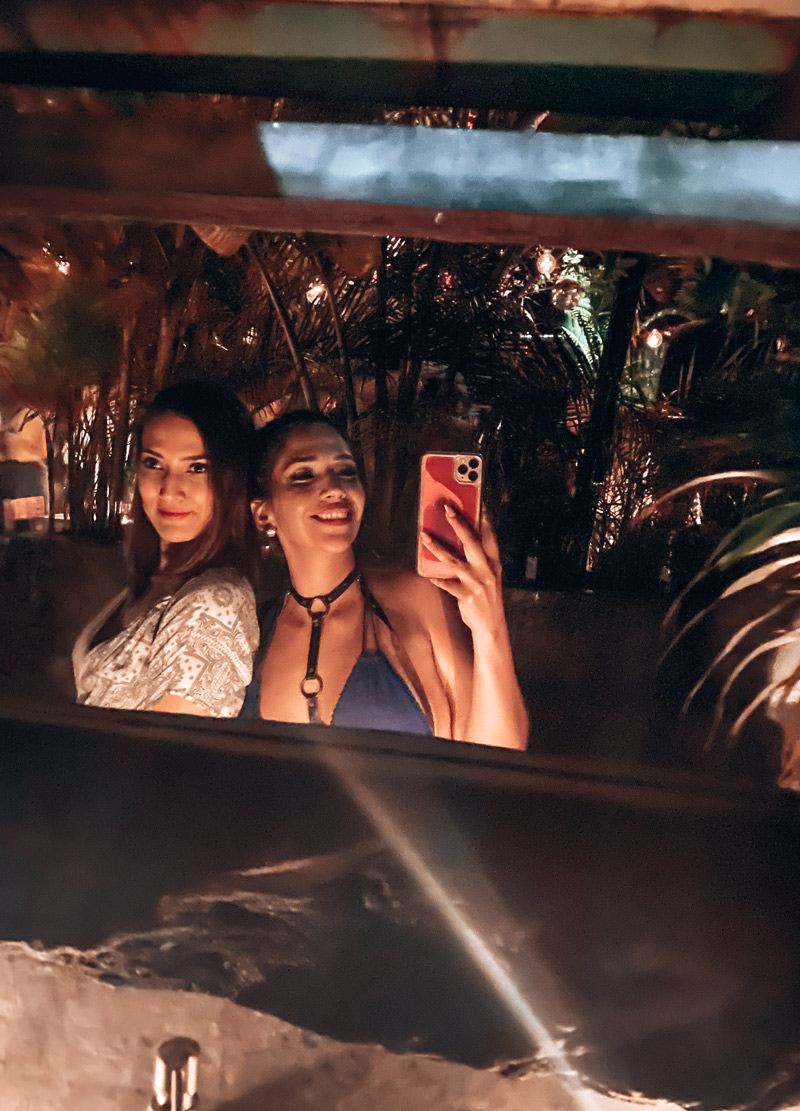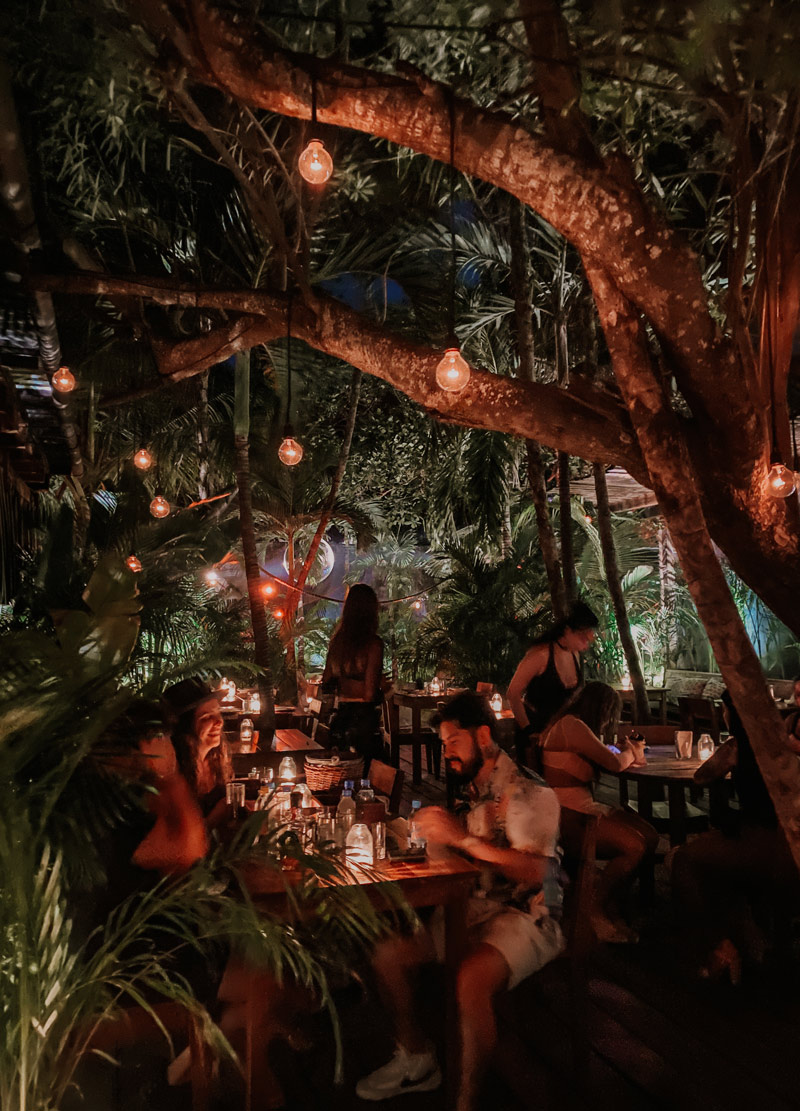 The Gypchic event is a thrilling and unique nightlife adventure you will never forget. This event combines all things gypsy with chic for an unforgettable, free-spirited concept of a fiesta. After dinner, it's time to dance! So, put on your glamorous dancing shoes and get ready to groove to their signature music performance from DJs and other live acts. They also offer handcrafted cocktails made with local ingredients and Mexican-inspired dishes for a truly immersive journey.
Book Your Ticket + Table Here
Come to the Beach Club & Restaurant to vibe with the live music and gastronomical food under the hot sun. For special events, the venue sometimes hosts music events featuring international guests, such as EPIPHANY and ESCAPE, featuring eclectic music, mainly electronic and house. Check out their schedule, or contact Virginia clicking the button below to ask for any upcoming events here!
Book Your Ticket + Table Here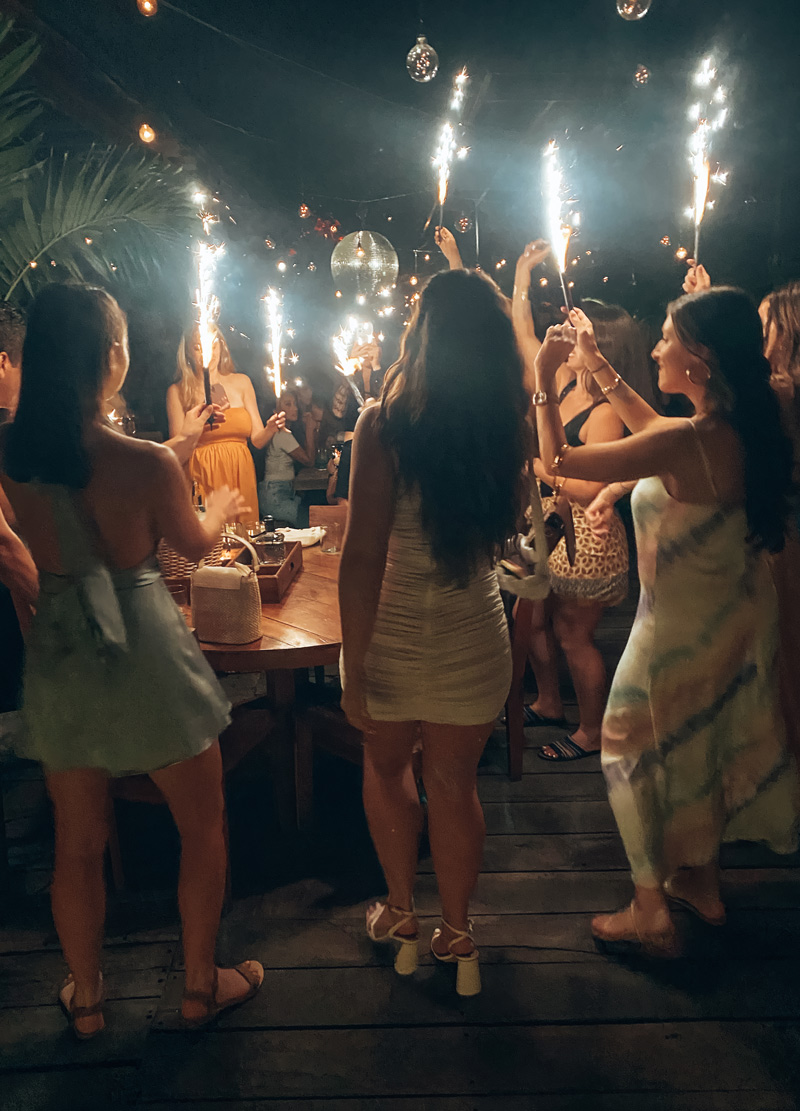 EVENTS TO CELEBRATE A SPECIAL MOMENT
NYE celebration: Celebrating the new year, guests can reserve their table at various restaurants. Following a theme of dinner and dancing under the stars, it also features world-renowned chefs like Antonio Maldonado, guest DJs, live performances, a flamenco dance, and more!
Host personal events like bachelorette parties: The venues are popular for private events like bachelorette parties or birthdays as they have a team of passionate organizers to plan your special event! Many reviews are delighted with their attentive services and astonishing surprises.
GITANO Amenities & Services
Now, let's see what they provide their patrons to add to their convenience and make them stay longer. Here is a list of the various venues' amenities and services.
List of amenities:
VIP and other lounge areas
Dance area
Bathrooms
Free Wi-Fi
List of services:
Bottle service
World-class staff service
Great eclectic music performances
Modern Mexican cuisine with an international twist
Top world mixology
They offer a unique immersion that is worth the price. It is pretty reasonable and is in line with the quality of food and drinks they serve. Food is prepared elegantly and delicious, while their mixology features some of the finest cocktails. Their facilities, amenities, and services provide a unique ambience for any special occasion. From private events to world-class staff service to music & live performances from DJs and dancers – you can do almost anything with them!
Booking Tips & Best deals
Visiting them is one of the highlights of our adventures in Tulum. To ensure your visit is as enjoyable as possible, there are some tips to remember before going to the venue. First, booking ahead of time is important to take advantage of any discounts or special promotions they offer. Additionally, if you plan on visiting during peak season or for a special event such as an NYE celebration or bachelorette party, please book early and inquire about any group packages available. Finally, remember to ask about their world-class chef services too! With these simple tips, you'll have no trouble getting the most out of your visit!
Tips: The easiest way to reserve a table is through our friend, Virginia, and her concierge service. She helped us organize our tours in Tulum and helped us make the process of experiencing nightlife in Tulum way easier. Her services are free, and she is more than happy to help you! You can contact her clicking the button below.
Book Your Ticket + Table Here
Sample prices at Gitano Tulum:
List of tickets or entrance costs for events:
Gypsy Disco General Admission: 40 USD
Gypchic General Admission: 20 USD
Special dinner on Fridays: 110 USD // (without drinks)
Special dinner on Fridays: 160 USD // (with 2 hrs. open bar of signature punch bowls, beer & water + gratuity)
Tips: You can contact Virginia anytime for special deals and get the most demanded seats first!
List of prices at the restaurant:
Shrimp tacos: 32 USD // 590 pesos
Octopus starters: 28 USD // 520 pesos
Fried chicken: 32 USD // 590 pesos
Roasted Cauliflower: 23 USD // 430 pesos
Lobster Pibil: 36 USD // 680 pesos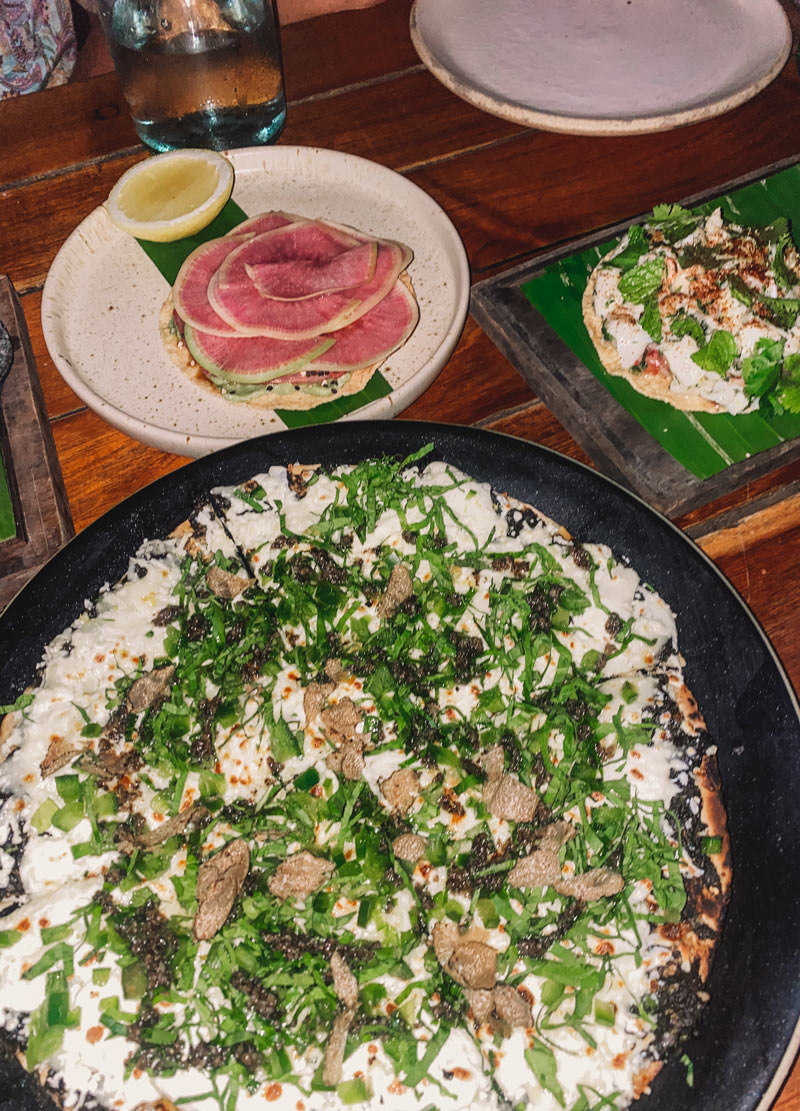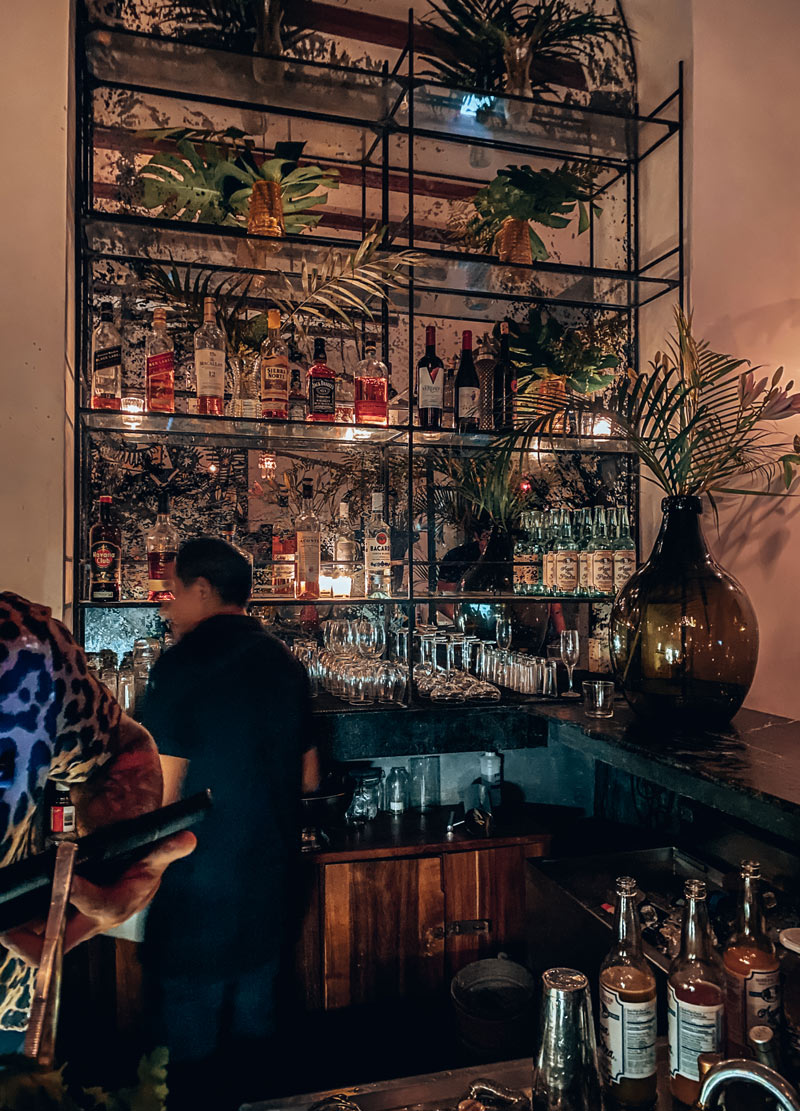 List of prices at the Bar:
Signature Cocktails: 20 USD // 390 pesos
Punch Bowls (10-12 cocktails): 134 USD // 2500 pesos
Beer (Victoria, corona, santanera, etc.): 10 – 12 USD // 190 – 230 pesos
Non-alcoholic elixirs (ginger mint & strawberry-banana mix): 10 USD // 190 pesos
Tips: Virginia's concierge service is the perfect way to ensure you get the most out of your visit at these venues by providing free assistance and helping you book tables, tickets, and special events in advance. Super easy and stress-free – get in touch with her today
Book Your Table Here
The reviews from visitors who have had their nights out here to many locals who return time after time – this spot has become one of Tulum's premier nightlife destinations. Read on to learn more about what makes this place so popular!
Our stay at any of their venues was the greatest ever! From the moment we stepped in, we knew this place was special. The atmosphere was electric, and the music had me dancing until the morning. Their mixologies were delicious and refreshing, and the food was terrific too – Mexican cuisine mixed with an international twist that kept us coming back for more. And to top it off, they also offer great amenities like VIP lounge areas and free Wi-Fi so you can share your moments with friends online. All in all, this place is a must-visit destination when you're looking for a fun evening out in Tulum!
What people say about Rosa Negra Beach Club in Tulum
People praise the vibrant ambience, top-notch hospitality, and music. Guests can't help but be amazed by the excellent music performances, gastronomic dishes, handcrafted cocktails made with fresh ingredients from local suppliers, and friendly service staff!
Rating on Google: ⭐⭐⭐⭐ 4.4 on average, with 2,107 reviews at March 2023

Rating on TripAdvisor: ⭐⭐⭐⭐ 4.0 on average, with 1343 reviews at March 2023

Rating on OpenTable: ⭐⭐⭐⭐ 4.2 on average, with 470 reviews at March 2023
Book Your Table Here
Where is Gitano located in Tulum?
Both locations are located across the Hotel zone where one is in the Mayan nature, and the other faces the Caribbean water.
Gitano is located in the Tulum Hotel Zone Neighborhood
Jungle Venue – Beach Road Km. 7, 77710 QR.
Meze – Carretera Tulum-Boca Paila Km 6.5 S/N, 77780 Tulum, Q.R.
Beach Venue – Carr. Tulum-Boca Paila km 4.2, Zona Hotelera Tulum, Zona Costera, 77780 Q.R.
Through the Hotel Zone strip, it is accessible by any personal vehicle (cars, ATVs, bicycles, etc.) and Taxis. Furthermore, there are parking spots near the venue (paid parking and around 100 pesos per hour) if you have transportation. All of the venues offer a valet parking service that is available for guests for an additional fee. If you want to avoid the stress of looking for parking, then consider taking a taxi instead. Just know that it can be expensive to take one.
Which hotels are close to Gitano Tulum Jungle?
Here is the list of hotels located close to the venue with good reviews and at walking distance too:
FAQ about Gitano Tulum
What is the minimum age to get into Gitano?
There are no age restrictions listed for Gitano. However, it is not suitable for children as the venue events are designed for adults. Just to be safe, the common age restriction in Tulum is 18 years old.
Are large groups accepted at Gitano?
Large groups of 10+ people are accepted at Gitano. To reserve the best table for a memorable experience, we recommend contacting Virginia's concierge service.
Is Gitano a good place to party?
Gitano's weekly events are a must when you are visiting Tulum. We recommend checking out GYPSY DISCO every Friday!
What kind of music is played at Gitano?
The music that is played at Gitano is eclectic. But most commonly electronic, deep house, Latin house, and tribal.
Does Gitano accept credit cards?
Yes, Gitano accepts credit cards. However, there is an extra 4% charge to your total bill if you use a credit card at some venues.
Does Gitano accept cash?
Yes, Gitano accepts cash, but it is better to pay in pesos (MXN).
Are tips included in the service price at Gitano?
Any tips or gratuities are not included in the prices of the meals. However, the bill sometimes comes with a 10% – 18% suggested tip for service.
Is it possible to organize a wedding at Gitano?
It is not possible to organize a wedding at Gitano. However, it is a perfect place to host a wedding party where the whole family can get together and enjoy delicious meals!
Top Events to Make Your Trip Unforgettable
EDU IMBERNON @MIA TULUM
Line Up: EDU IMBERNON, MIKE GANU & SAM SPARACIO
JUN 8TH, 7 pm to 1 am
Don't miss out on an unforgettable night of electronic music at Mia Tulum! We are thrilled to bring you the sensational talents of Edu Imbernon, a true force in the industry. Get ready to be swept away by his melodic, emotive, and energetic sounds that will keep you dancing all night long.
Join us at The Club, situated at the beautiful Mia Tulum beach, for an electrifying atmosphere that will bring together electronic music enthusiasts from all walks of life. From emerging talents to renowned international DJs, this is your chance to immerse yourself in a night of pure musical bliss. Secure your spot and get ready to vibe, dance, and create unforgettable memories at Mia Tulum!
👾👉🏼 GENERAL ACCESS
🎟️ TICKETS
● Early Bird - The entrance fee of $575 MXN ($35 USD) Includes one welcome drink.
Limited availability
● Tier 1 - The entrance fee of $805 MXN ($49 USD) Includes one welcome drink.
Limited availability
● Final Tier - The entrance fee of $1,380 MXN ($84USD) Includes one welcome drink.
Limited availability
Ready to join us? Get your tickets now! Early bird and Tier 1 tickets are already sold out. Only final tier tickets at $85 USD are still left (only 15 tickets available).
Hurry – spots are filling up fast! 🙀 We can't wait to see you there!
Top Parties and Club Events
7th June - SAGRADO TULUM @VAGALUME
8th June - EDU IMBERNON @MIA TULUM
9th June - HARVY VALENCIA @BONBINNIERE TULUM
10th June - MOONGAZE @Papaya Playa Project
10th June - BASTIAN BUX @BONBONNIERE TULUM
11th June - SONA BEACH PARTY @MIA TULUM
11th June - VAGALUME SUNDAZE JAALEX @VAGALUME
16th June - SOUNDS OF RITUALS @BONBONNIERE TULUM
17th June - SOEL [AFTERLIFE] @MIA TULUM
17th June - STARVAULT @Papaya Playa Project
24th June - ASTROBEAT @Papaya Playa Project
24th June - DEMUIR @BONBONNIERE TULUM
25th June - VAGALUME SUNDAZE OSCAR L @VAGALUME
25th June - ANCESTRAL SOUL @BONBONNIERE TULUM
1st July - THE FULL MOON @Papaya Playa Project
8th July - ASTROBEAT @Papaya Playa Project
15th July - MOONGAZE @Papaya Playa Project
22nd July - STARVAULT @Papaya Playa Project
29th July - THE FULL MOON @Papaya Playa Project
18th August - MECA @BONBONNIERE TULUM
25th August - GUYJ @BONBONNIERE TULUM
13th March - LOCUS Tulum 2024