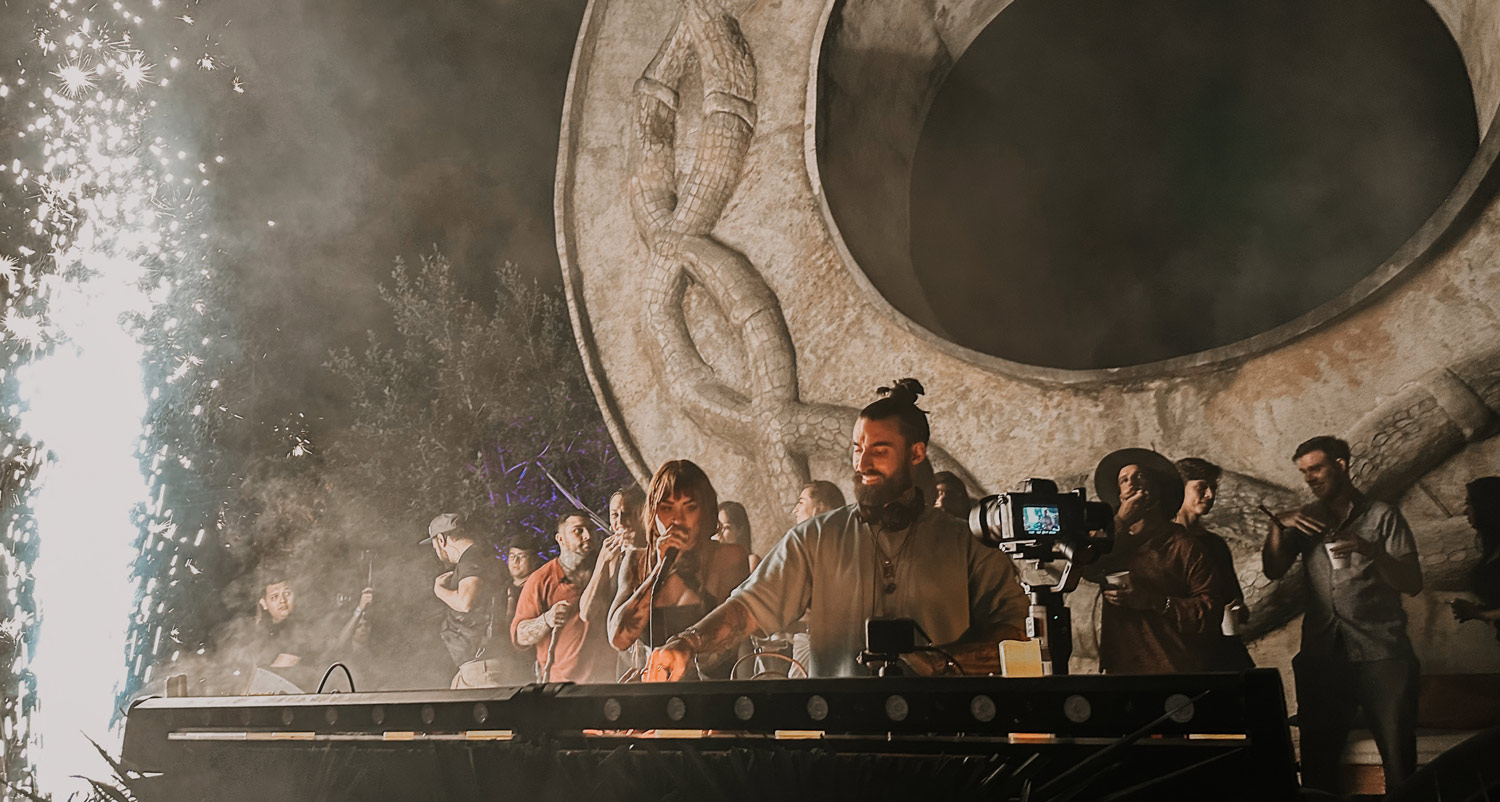 Set Underground Tulum & Jungle Parties: Events Info + Tickets
The aesthetic tribal vibes of one of Tulum's best jungle festivals present a whole night experience of non-stop live music performances, over 1,000 burning man-like crowds, and top-shelf liquor!
Only at Set Underground Tulum, come and immerse in a beautiful jungle & cenote party with the most incredible ambiance and a vibrant sunrise.
What is Set Underground Tulum, and what can you expect?
Welcome to the underground experience. Set Underground Tulum is a part of the best electronic music festival in the world. A secret gathering place for those looking for a magical journey and a transcendental experience. Before Tulum, this event was also brought to San Francisco, Los Angeles, New York, Miami, and San Diego.
It was pioneered by Christian Pineiro to share his passion for music and vibes with party lovers around the world. This concept was inspired by the music he grew up in Buenos Aires, Argentina, that evolved into one of the hottest party platforms across North America. 
This festival aims to bring renowned international artists to perform their best quality electronic dance music live! Alongside the 12-hour musical experience, the scenery is set with radiant hues, artisan decor, and a curated map for the best party experience. Surrounded by nature, the venue will be located in the jungle of Riviera Maya, Mexico, a secret oasis close to Tulum.
Check out the experience and book your tickets today!
Next Parties and Events in the Jungle + Set Underground Tulum
Throughout the enchanting jungle and cenote sceneries, their musical journey presents various jaw-dropping live performances that never fail to impress thousands of audiences. Also, make sure to try out a delicious menu curated by the lovely hands of the chefs offering you delicious foods and great drinks – pizzas, empanadas, and cold beverages.
So, what are you waiting for? Get ready to immerse in mother nature with the most incredible all-night party until the beautiful sunrise.
Next parties hosted by Set Underground in Tulum jungle
La Tierra de Los Muertos

NYE celebration
January festivals after the New Years
Tulum Jungle Experience

Tulum Cenote Jungle Experience with Goldcap and more

Tulum Cenote Jungle Experience with Jan Blomqvist and more

Tulum Cenote Jungle Experience Audiofly (Flying Circus)
Book The Last Tickets + Table
Most famous parties hosted by Set Underground
Tulum Cenote Jungle Experience with Goldcap
Starts from 10 pm till late
Welcoming an outstanding line-up sat close by the gates to the underworld of Riviera Maya, Mexico. Yes, that's right, this event is set next to Set Underground's favorite cenote hidden in the jungles of Tulum. Prepare to be immersed in the harmonizing melodies of GOLDCAP from deep house, tribal house, techno, and world music. 
Book The Last Tickets + Table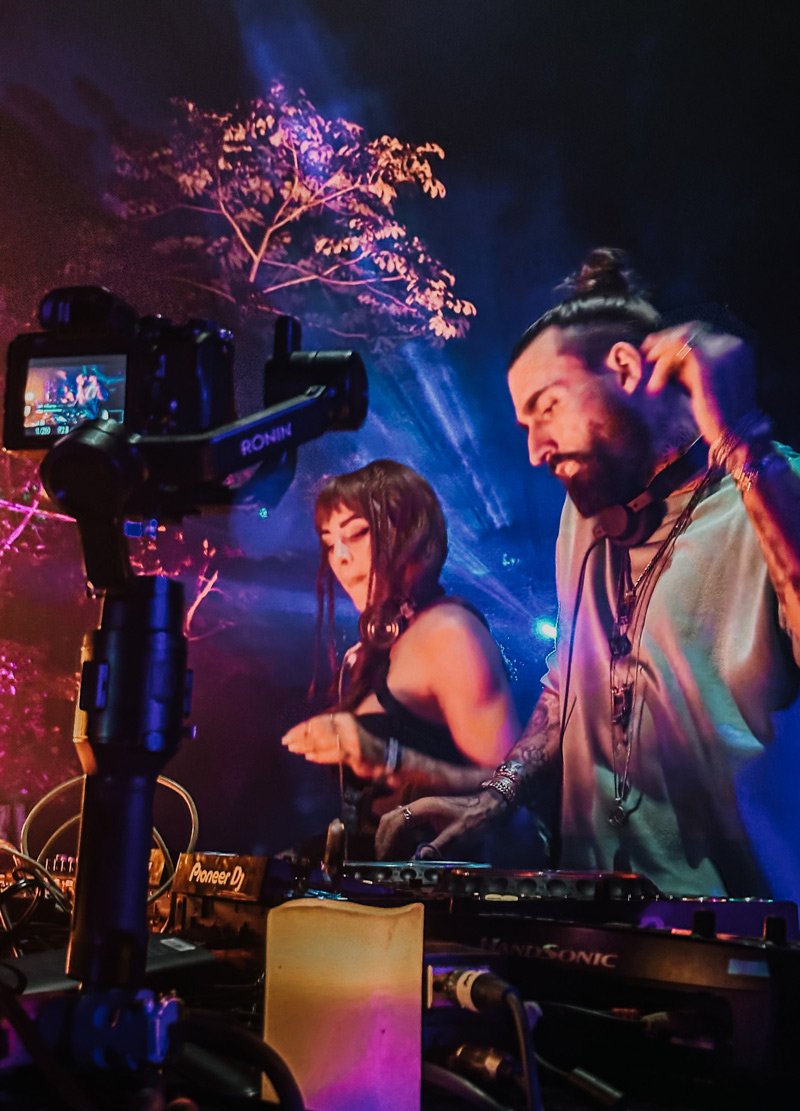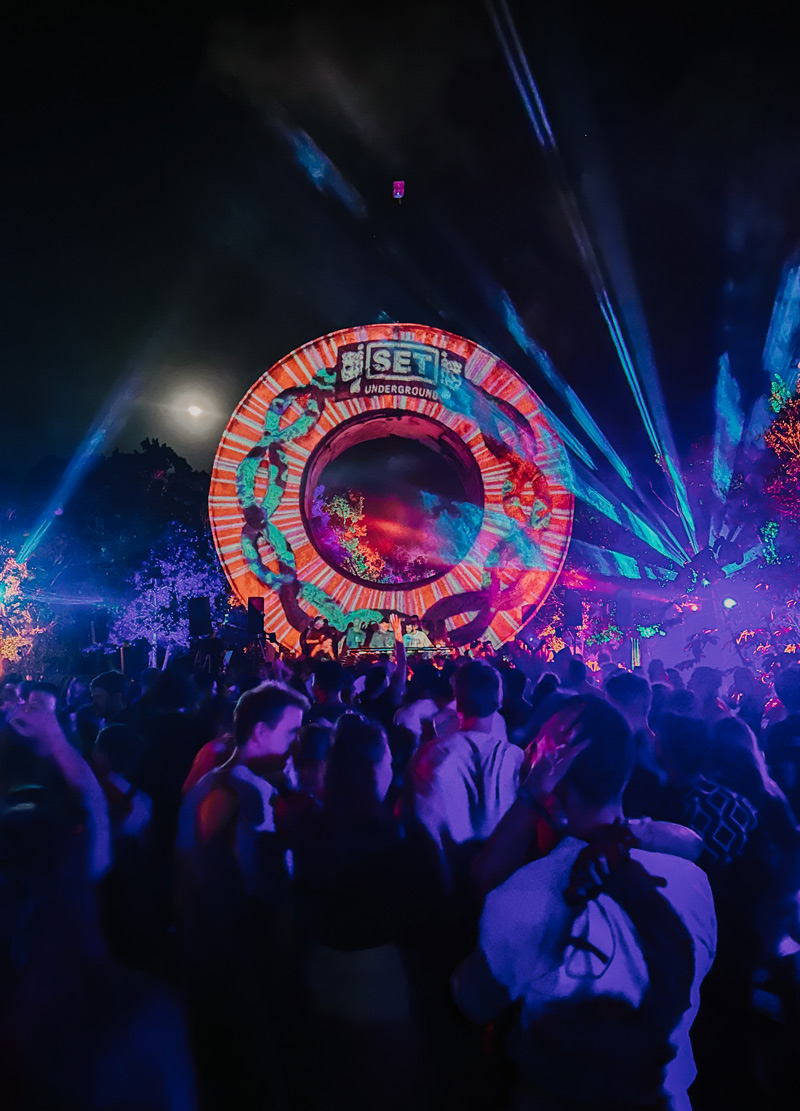 Tulum Jungle Experience with Audiofly - Flying Circus
Starts at 10 pm and is till late
A unique jungle experience for 600 guests to welcome the DJ of the event, AUDIOFLY! A musical journey curated by two musical genius and successful label owners, Anthony Middleton and Luca Saporito. A concept that encompasses the way of life, a state of mind, and an unforgettable dance experience is driven by the most extraordinary levels of musicality. Every presentation exhibits friendship that binds the audience to the performance, where one can expect to immerse in the Castaway background and let people's imaginations fly free.
Book The Last Tickets + Table
Events to Celebrate a Special Day
NYE Tulum: Their new year's eve event takes over Mexico. The event's magic allows the music and experience to transport you through the portal and into the new year! Read more about the NYE event here.
La Tierra De Los Muertos: A music festival that transports your mind, body, and soul to La Tierra de Los Muertos – The Land of the Dead. A colorful traditional celebration of Mexico on the day of the dead. For once a year, join the party and welcome back the souls of your deceased loved ones and delight in delicious local food and drinks! Take this rare opportunity and book your table today!
Set Underground Tulum's Amenities & services
Here is a list of amenities & services provided:
List of Set Underground amenities :
VIP only areas

Tables

Fashion and food Market

Dance zone

Bar

Bathrooms
List of Set Underground services :
Free shuttle bus service for pickup & drop-off at a designated location

Working with a group of taxis for private service

Bottle service

Security guards

Partnered taxi services
Is Set Underground Tulum Expensive?
The prices are slightly above average than other Tulum parties across the beach and the Hotel Zone. However, this venue offers a new and refreshing experience in the Jungle of Riviera Maya because they are separate from a single location, unlike Zamna Tulum, Papaya Playa Project Beach Club, or Mia Beach Club.
Booking tips & Best deals
They offer two options to enter the venue. These are tickets for entrance only and table reservations.
To get the best tables and a smooth booking experience, consider writing on WhatsApp to a great friend – Virginia – who sat us at the perfect spot on the venue when we are looking for various parties in Tulum. She never disappoints, and you can contact her anytime! 
Book Your Ticket + Table Here
Take Advantage Of Free Concierge Service
As excellent to explore Tulum and its surroundings alone, you may need help figuring out where to start. To make the most of your money and time, contact Virginia and Kelly - two incredible Mexican girls living in Tulum for more than 15 years. They're familiar with the ins & outs of the Tulum town and hotel zone like the back of their hand! 
Since we arrived in Tulum 2 years ago, many adventures wouldn't have been possible without their help - they know literally everybody in Tulum and can perfectly organize every moment of your stay. Get the best tables, skip queues and get on the guest list of the coolest places in Tulum - this's only the beginning! 
They are ready to offer you guys FREE concierge service in Tulum for the time of your stay: take advantage of it, contact them on Whatsapp and live the best experience!
Get FREE Concierge Service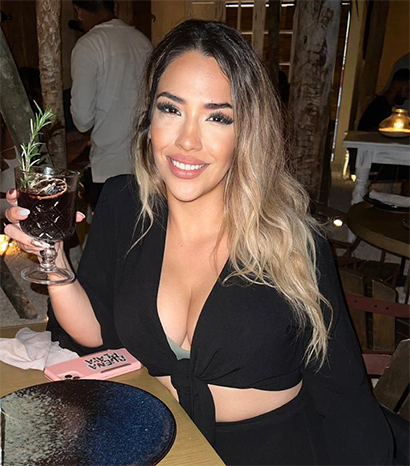 "Virginia Will Transform You In A Tulum Insider"
Sample of prices at Set Underground Tulum:
List of ticket prices promoted for upcoming events:
Girls free before 12 am – $50 USD after 12 am
Second release girls – $50 USD
Second release guys – $90 USD
Third release – $100 USD
VIP tickets – $150 USD
Backstage pass – $250 USD
1 bottle for 5 guests – $500 USD
Table options from Bronze to Sapphire – 8 guests $1,000 USD // 15 guests $7,500 USD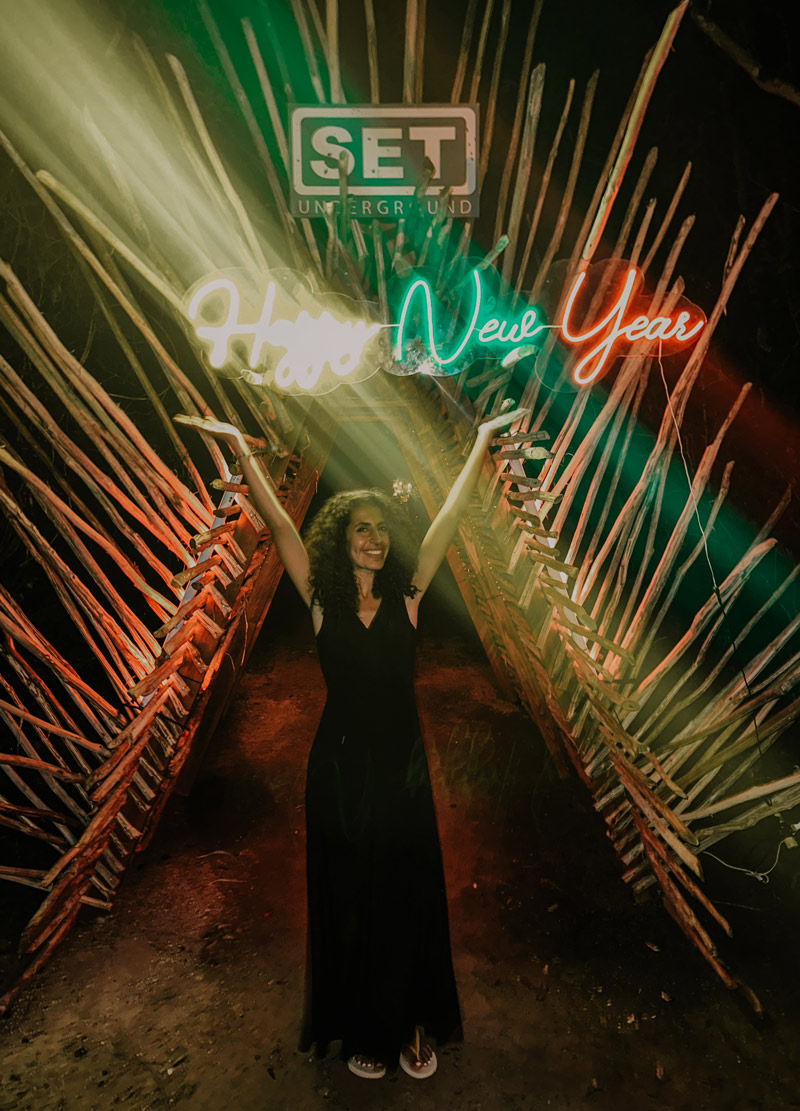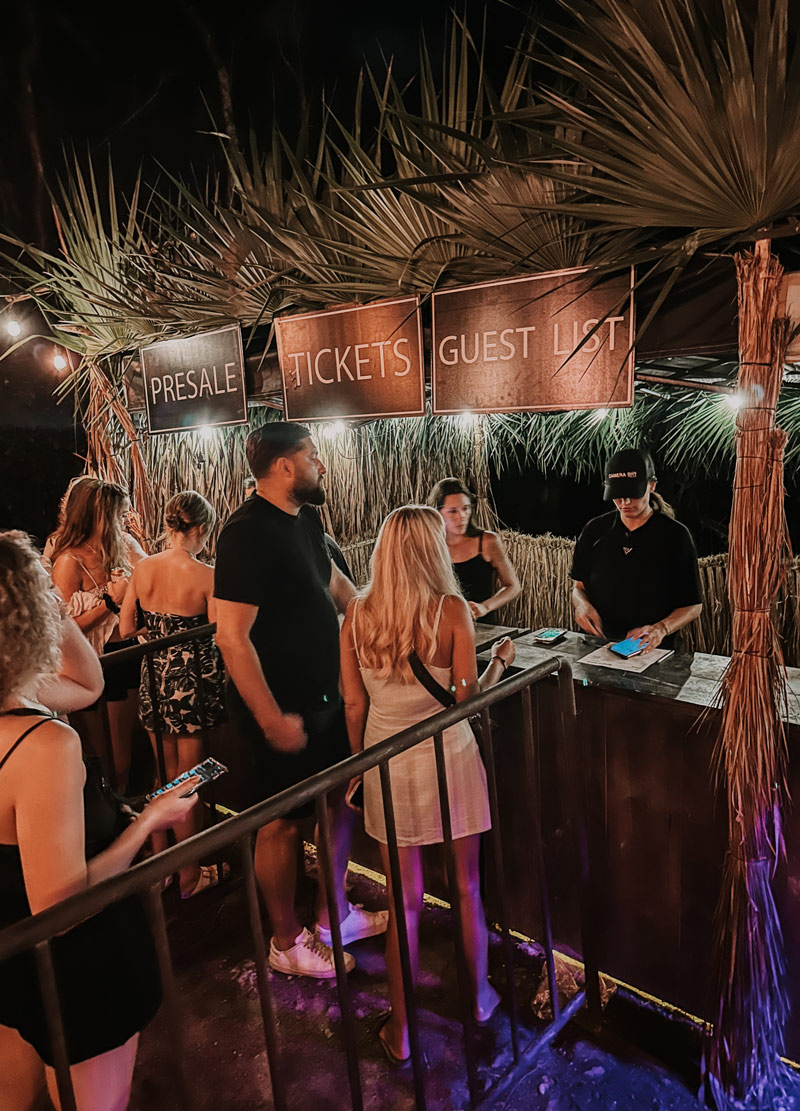 Prices at Set Underground bar :
List of prices at the bar:
Bottled service – included if you reserve a table
Bottle of water – $7.50
Tips: Bring your own bottle of water to stay hydrated.
Prices of Set Underground Restaurant :
There is no proper restaurant in the venue, but a food market instead:
Vegan and meat menu prices are around – $10 USD to $20 USD
Tips: Booking through a concierge service will grant you the best table placement.
Reviews about Set Underground
We have the most amazing parties at their festivals and special thanks to our friend's concierge service for setting us up with the comfiest tables ever! We loved the music and the fluctuating beats that carried you into a non-stop journey. Plus, the food and drinks are also perfect for the occasion, not too much or too little. Overall we had a blast! 
But, we believe you should plan ahead for transportation for the reasons below…
What people say about Set Underground parties
Most people loved the festivals starting from the incredible line-up, vibe, and drinks! They also enjoyed the spectacular performances through the night and the enchanting view of the cenote. However, the only common problem is transportation. Since the venue includes free pickup for more than 500 people, it can get messy and unorganized. So, it is best to have a backup plan and bring extra cash!
Facebook: ⭐⭐⭐⭐⭐ 4.1 on average on 58 reviews as of Jan 2023
Book Your Ticket Here
Where is Set Underground located in Tulum?
Now, this is where it gets interesting. This festival is free and detached from a specific venue in Tulum. It happens at a secret exclusive location only known to guests. However, the event is always in the jungle and sometimes by a hidden cenote.
How to go to Set Underground Tulum?
To travel to the place, you have three options:
use your private vehicle

free public shuttle bus service included 

taxi drivers partnered with the venue
It is best to use your own transportation or the free shuttle and only take the taxis when you are with a large crowd (because they increase the prices). Furthermore, there will be limited parking space available, and there will be a designated place for the shuttle pickup and dropoff.
FAQ about Set Underground Tulum
What is the minimum age to get in at Set Underground Tulum?
The minimum age to get into Set Underground is that you are either 18+ or 21+ years old, depending on the event.
Are large groups accepted at Set Underground Tulum?
Large groups are accepted, especially if you book a table.
Are kids allowed in Set Underground Tulum?
Kids are not allowed in Set Underground Tulum because of the age restriction of 18+ to 21+
At what time Set Underground Tulum opens?
Set Underground will start to party from 10 pm to 12 am depending on the event.
At what time does Set Underground Tulum close?
The event will finish in the early mornings, sometime around sunrise. Also, they open their doors to guests, so if you are late, you can still enter.
Is it possible to make a reservation at Set Underground Tulum?
It is possible to make a table reservation at the venue but to get the best spot, it's beneficial if you contact a concierge service. Luckily, we know a sweet friend who has offered free concierge service in Tulum for the longest time! Contact her here.
How to make a reservation at Set Underground Tulum?
You can make a reservation for VIP tables, Backstage tables, and more through concierge service here.
What kind of music is being played at Set Underground Tulum?
The music that is played during the party varies. But they often play songs that follow techno, deep house, and tribal house.
Does Set Underground Tulum have a pool?
Set Underground does not have a pool. But some events have a cenote that is pretty to look at.
Does Set Underground accept credit cars?
They accept credit cards when paying for the ticket, but it is safe to carry extra cash just in case.
Does Set Underground accept cash?
They always accept cash only in USD or MXN but have their own rates for USD.
Is it possbile to pau in USD at Set Underground?
It is possible to pay in USD or MXN, but they have their own rates for USD.
Are tips included in the service price at Set Underground Tulum?
The tips and tax will be charged at the venue's door when purchasing the ticket.
Is there a minimum spend at Set Underground Tulum?
There is no minimum spending limit at the venue.
Is it possible to organize a wedding at Set Underground Tulum?
It is not possible to organize weddings with the organizers because they only do parties and events sold to the public.
What is the dress code at Set Underground?
There is no specific outfit to wear, but it is great to wear a comfortable dress and a nice pair of shoes.
When is the best time to go to Set Underground?
The best time to go to an event is in December (for New Year's Eve) and January.
Who owns Set Underground?
Set Underground was founded by Christian Pineiro, who dreams of sharing his passion for music and vibe with like-minded people all over the globe.
Great, let's feature the "MYSTICAL SUNSET /OLIVER HUNTEMANN" event at Mia Restaurant & Beach Club in Tulum on Wednesday, 29 November 2023. Here's the HTML snippet for your event: ```html
👉 WEDNESDAY, Nov 29
MYSTICAL SUNSET /OLIVER HUNTEMANN 🌅
📍
Mia Restaurant & Beach Club, Tulum
💵
Tier 1 Tickets: Mex$ 660 (incl. fees), Final Tier: Mex$ 880 (incl. fees)
📩
Contact Virginia
here
to book a table
Join us for an unforgettable evening at Mystical Sunset with Oliver Huntemann. Contact Virginia here to book your table and be part of this magical night on the beach! 🎶🔥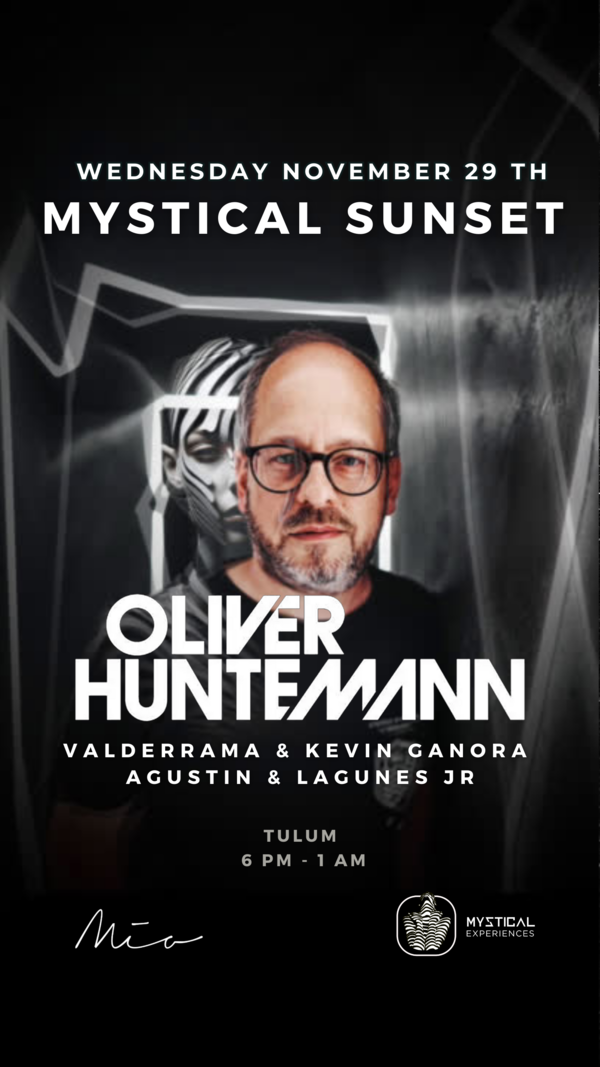 Top Parties and Club Events
23rd November - VAGALUME SESSIONS KEENE @VAGALUME
26th November - VAGALUME SUNDAZE MITA GAMI @VAGALUME
30th November - VAGALUME SESSIONS VALDOVINOS @VAGALUME
3rd December - VAGALUME SUNDAZE VALENTIN HUEDO @VAGALUME
7th December - VAGALUME SESSIONS MUSTAFA ISMAEEL @VAGALUME
30th December - PIKNIK POLO CORP & LEO LEONSKI @VAGALUME
31st December - NEW YEAR´S EVE @BAGATELLE TULUM
31st December - NYE PARTY 2024 @VAGALUME
13th March - LOCUS Tulum 2024