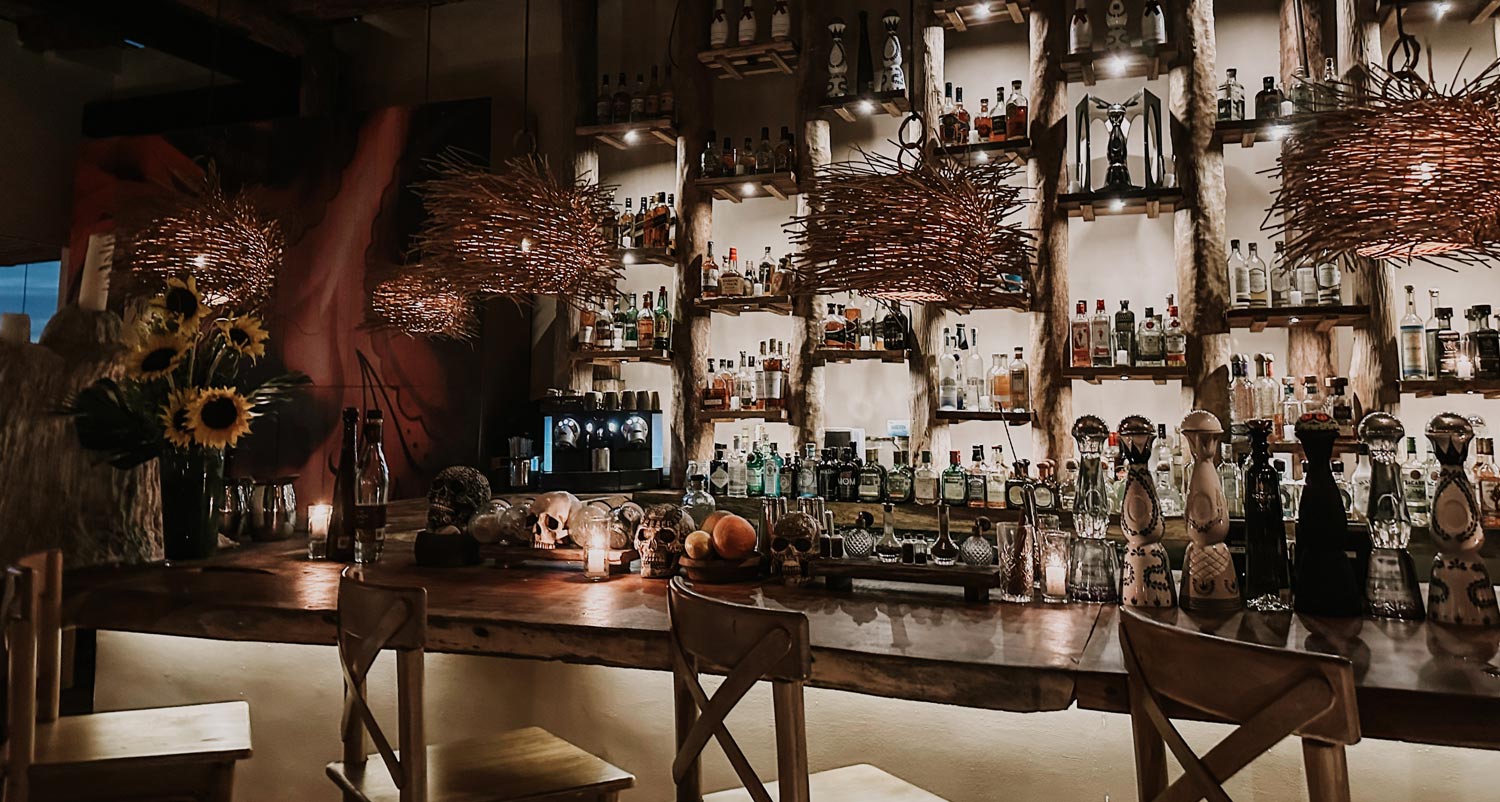 Everything You Need to Know About Tora Tulum Japanese Restaurant
Are you looking for an amazing night of authentic Japanese food and drinks in Tulum, Mexico? Then, you should visit Tora Restaurant. It is the perfect place for you! With its contemporary Japanese cuisine, live DJ performances, and signature cocktails. This restaurant will be sure to give you a night to remember!
Located in the heart of Tulum. This town is known for its beautiful nature, especially its vibrant nightlife filled with parties and live music everywhere! With so many activities to do here, it's a great place to have an amazing time. However, few restaurants can offer an experience quite like Tora Restaurant Tulum. This contemporary Japanese cuisine restaurant offers delicious food, signature cocktails, and live DJ performances – making it the perfect spot for a memorable night out! So if you're looking for a fantastic evening in Tulum, check out Tora Restaurant!
Come join us to explore more about Tora restaurant and get the most out of your night experience in Tulum!
What is Tora Tulum, and what can you expect?
Tora Tulum is a contemporary Japanese cuisine restaurant in the heart of Tulum and Cancun, Mexico. Offering an authentic dinner menu with live music and a party atmosphere, Tora Restaurant promises to be an unforgettable experience for all who visit. With its rustic yet sophisticated design and glamorous minimalism, Tora provides the best setting for a night out filled with delicious food, signature cocktails, and live music entertainment!
Now, the Tora Restaurant in Tulum is a unique dining experience that stands out from the crowd. Located in the trendiest sector of Tulum's Hotel Zone and designed with a rustic, natural, and bohemian style, Tora provides an atmosphere unlike any other restaurant in Cancun. With its organic ceilings, large handmade lamps, and imposing bar and robata made of natural parota wood, it creates an ambiance filled with light and warmth.
So if you're looking for something special during your stay in Tulum, make sure to visit the restaurant. It's truly one-of-a-kind!
Parties and events in Tora Tulum
Tora Restaurant Tulum is the perfect place to enjoy with friends, for couples, for a romantic dinner, or for a birthday celebration. Although they don't have parties or events, they offer an unforgettable experience in their serene atmosphere filled with fantastic music by resident DJs, a group of lively staff service, and delicious dishes to share! Whether you're looking for a special night out with friends or celebrating a special occasion, Tora has something special to give!
Tips: Looking for the ultimate Tulum nightlife experience? Meet Virginia, a great friend and an extraordinary concierge who has spent 15 years exploring Tulum's hidden gems and hottest restaurants. With her as your ally and friend, your dinner at Tora is unforgettable. Whether you're a small group or a party of 10 or more, Virginia will personally organize a unique outing that will leave you and your friends in awe. And here's the best part: it's completely free! Take advantage of this opportunity to make your Tulum adventure one to remember. Take Virginia's hand and let the fun begin!
Get In Touch With Virginia
NYE Celebration:

Ring in the New Year with an unforgettable experience at Tora Restaurant Tulum! Celebrate this special occasion with a 4-course menu, live DJ performances, signature cocktails, and more! Enjoy delicious contemporary Japanese cuisine while surrounded by Tulum's natural beauty and vibrant nightlife. Plus, each group of four people will receive a bottle of Moët & Chandon to toast to 2021! Make sure you don't miss out on this fantastic opportunity – book your table now for an incredible New Year's Eve celebration at Tora Restaurant Tulum!
Tora Tulum Amenities & Services
Tora Tulum not only offers a luxurious atmosphere and delicious contemporary Japanese cuisine but also has an array of amenities and services designed to make your night spectacular! Check it out:
List of amenities:
Beautiful terrace dining area
Private room for events in Tulum
Option for romantic dinners in Tulum
Free WIFI
List of services:
Parking with Valet Parking
Resident DJ
Children's menu
High chair for children
Vegan menu available
Group menus for birthday celebrations in Tulum
Special attention to anniversaries
Tora Tulum is reasonably priced, offering excellent value for your money. With average prices similar to other restaurants in the hotel zone, Tora offers something unique and authentic: live music, signature cocktails, and delicious contemporary Japanese cuisine. With its sophisticated yet rustic atmosphere, it's perfect for a special occasion, including birthday celebrations, anniversaries, bachelorette parties, and more!
Booking Tips & Best deals
Looking for a hassle-free way to organize a special event at the restaurant? Look no further! By making a reservation with Virginia, you can guarantee a stress-free dining experience and the best part? It's completely free! She is not only great at her job, but she has also organized our parties in the past, ensuring that every detail is taken care of, from booking our table to securing the best spot in the venue. So why worry when you can sit back, relax, and let Virginia make your night one to remember? Give her a call, and experience the ultimate dining experience without the stress!
Secure Your Ticket + Table Here
Sample prices at Tora Tulum:
We love how the menu is crafted in an izakaya-style, where the dishes are meant to be shared or savored individually, depending on your preference. Below, check out some of the prices on the menu to plan your budget:
The price range for meals: 13 – 208 USD / 240 – 3,800 pesos
The price range for bottled wines: 82 USD / 1,500 + pesos
The average price of cocktails and mocktails: 21 USD / 385 pesos
The menu at this restaurant features an impressive selection of Japanese cuisine, including both hot and cold dishes, as well as sushi, Maki, Nigiri, and sashimi. Each plate is beautifully presented and made with the highest quality ingredients. Take a look:
Ora King Salmon Sashimi (thick cut, cold dish): 27 USD / 490 pesos
Shrimp and ginger gyozas (4 pieces): 15 USD / 270 pesos
Eggplant Mapodofu (Sautéed eggplant): 13 USD / 240 pesos
U10 Tiger shrimp tempura (5 pieces): 27 USD / 490 pesos
Spicy Tuna Roll (Maki rolls): 27 USD / 490 pesos
Tips: We were excited to try the exclusive products on Tora's menu, like the Kaluga Queen caviar, Big Eye Tuna, and Ora King salmon (known for being the best in the world). The U2 tiger shrimp are impressively large, and the Alaskan King Crab is highly sought-after. Despite Tora's wide variety of best seafood dishes, check out their variety of top chocolate desserts too!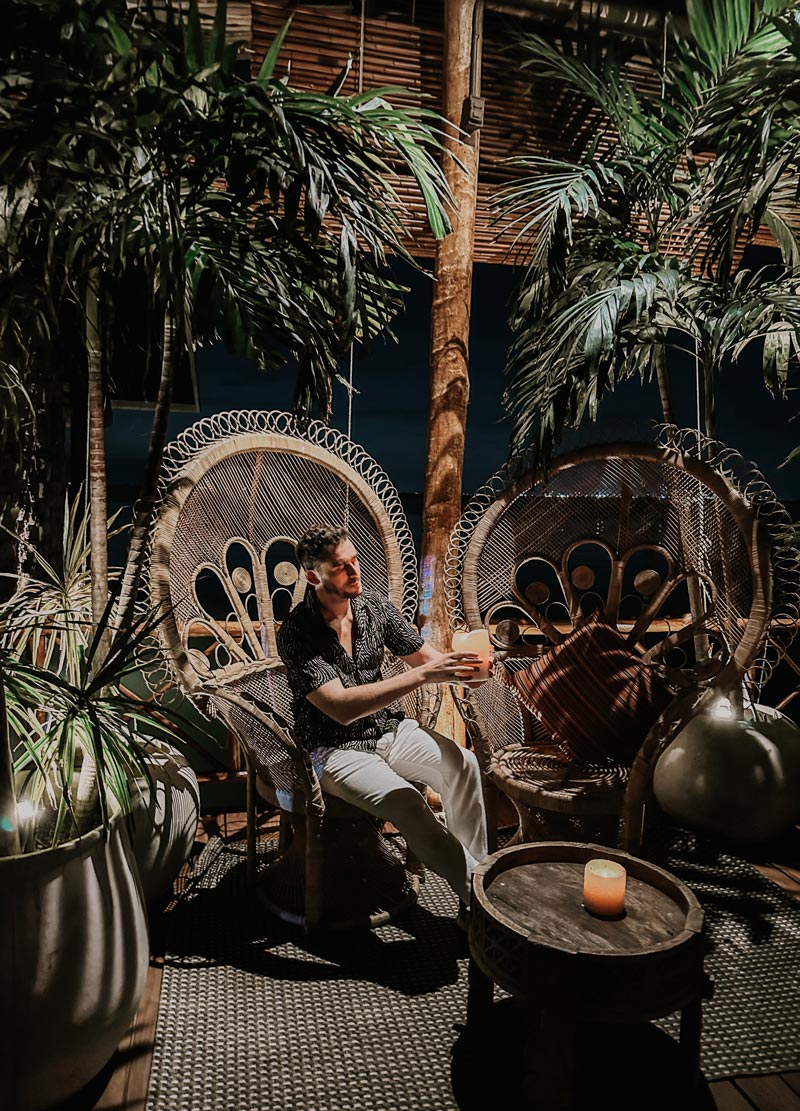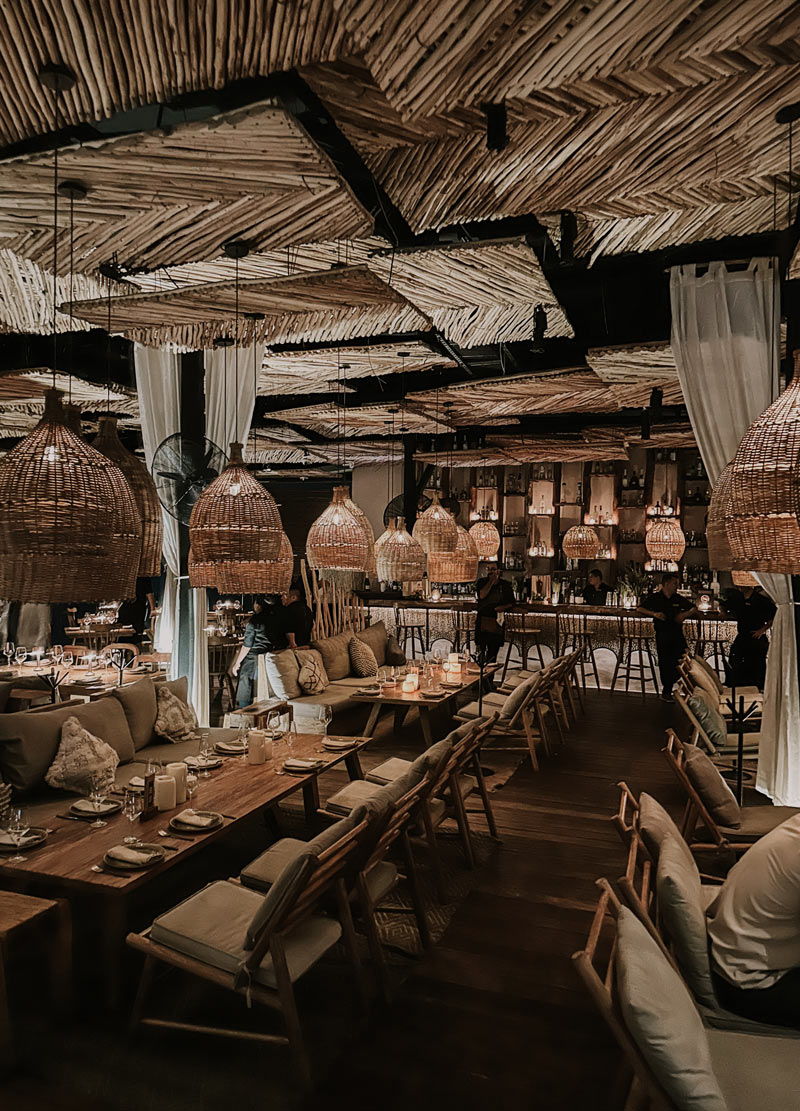 At the bar, Tora Tulum provides various drinks from Coffee, tea, wines, cocktails, tequila, and many more, where their alcoholic beverages can be in a glass or bottle! Below are some of their most sought drinks:
Don Chatto cocktail: 21 USD / 385 pesos
Cucumber wasabi martini: 21 USD / 385 pesos
Geisha memories (Infusion crystal balls): 21 USD / 385 pesos
Fruit water (orange, pineapple, berries, etc.): 4 USD / 80 pesos
Tonic Water (Schweppes & Fever tree): 5 – 6 USD / 90 – 115 pesos
Secure Your Table Here
Before you visit, check out the review of our experience and also what other people say about the restaurant!
Our group recently had a wonderful experience at Tora Tulum! The atmosphere was perfect, with the terrace dining area surrounded by the beautiful natural beauty of Tulum and vibrant nightlife. The food was top-notch quality, all made with fresh ingredients and thoughtfully crafted. We shared maki rolls, gyozas, U10 tiger shrimp tempura, eggplant mapodofu, and many more – our entire group loved it! The signature cocktails were also excellent, as well as their selection of wines. We enjoyed the live DJ performances and attentive service throughout the night. We recommend Tora Tulum for a fun evening out with friends or even a romantic dinner date in Tulum!
What people say about Tora Tulum
Tora Tulum has received a great deal of positive feedback from customers. People rave about the unique atmosphere, delicious food, and amazing drinks. Diners also love the live DJ performances and attentive service. Most importantly, people consistently praise the quality of their food and beverages, as well as the ambiance and music – making it one of the best restaurants in Tulum! 
Furthermore, the restaurant has been recognized for its excellence with multiple awards from TripAdvisor, OpenTable, and other prestigious travel and restaurant industry organizations. This recognition speaks to Tora Tulum's commitment to providing outstanding experiences to all who visit.
Rating on TripAdvisor: ⭐⭐⭐⭐⭐ 5 on average, with 1,884 reviews at April 2023

Rating on OpenTable: ⭐⭐⭐⭐ 4.6 on average, with 232 reviews at April 2023
Rating on Google: ⭐⭐⭐⭐ 4.5 on average, with 218 reviews at April 2023
Secure Your Table Here
Where is Tora located in Tulum?
Tora Tulum is conveniently located in the hotel zone but away from the hustle and bustle of the city. This unique restaurant is nestled in a jungle oasis across the stunning Caribbean beach. Here you can experience a tranquil ambiance, surrounded by lush tropical vegetation.
Tora is located in the Tulum Hotel Zone Neighborhood
Carr. Tulum-Boca Paila 5-Km 7, Tulum Beach, Zona Hotelera, 77780 Tulum, Q.R.
How to get to Tora Tulum?
Getting to Tora Tulum is easy, no matter where you are in Tulum! The restaurant is located 5.3 miles south of the town center and can be accessed by car, motorcycle, ATV, and Taxi (20 mins away). If you're feeling adventurous, rent a bicycle or scooter and explore your way to the restaurant. Once there, you'll find plenty of parking (free for guests) and valet service available during peak hours (But you may need to tip the valet).
No matter how you choose to get there, Tora Tulum offers an unforgettable culinary experience that's worth checking out!
Which hotels are close to Tora Tulum?
This place is conveniently located near some of the best hotels in Tulum, like Ana and José, Nomade, Be Tulum, Casa Malca, Azulik, and Papaya Playa. Also, it's just a short drive away from Tulum Centro, about thirty minutes from Playa del Carmen, and two hours away from Cancun.
Check out the best hotels located near Tora and the time it takes to get there by cycling:
FAQ about Tora Tulum
What is the minimum age to get into Tora Tulum?
There is no minimum age restriction in Tora. This is because the restaurant is family-friendly.
Are large groups accepted at Tora Tulum?
Large groups are accepted at Tora. Where many tables can seat 10 adults.
Are kids allowed in Tora Tulum?
Yes, kids under the age of 18 are allowed in Tora.
At what time does Tora Tulum open?
Tora Tulum opens at 5:00 pm every day.
At what time does Tora Tulum close?
Tora Tulum closes at 1:00 am every day.
Is it possible to make a reservation at Tora Tulum?
Yes, it is possible to make a reservation at Tora. But if you want to ensure a hassle-free and seamless experience, we recommend reaching out to Virginia. She's an expert at handling all aspects of the booking process, from securing the best seats to organizing special events or occasions. With her assistance, you can sit back, relax, and let her take care of all the details to ensure your visit to Tora is unforgettable! Contact her today!
Is Tora Tulum a good place to party?
Absolutely! Tora is an incredible spot to let loose and has a fantastic time. Although it might not come across as your typical nightclub, the vibrant atmosphere is perfect for a night of revelry and celebration that you will remember!
What kind of music is played at Tora Tulum?
The Dj will have various genres of music. It varies from the top 40s, reggaeton, hip hop, and other genres to spice up the night!
Does Tora Tulum have a Pool?
Unfortunately, Tora does not have a swimming pool.
Does Tora Tulum accept credit cards?
Yes, Tora accepts credit and debit cards, such as Visa, MasterCard, and AMEX.
Does Tora Tulum accept cash?
Yes, they also accept cash in Mexican pesos.
Are tips included in the service price at Tora Tulum?
The tips are not included and are not mandatory. Furthermore, the prices at Tora are in Mexican pesos and include taxes.
Is it possible to organize a wedding at Tora Tulum?
Unfortunately, weddings are not possible to be held at Tora. However, it is still possible to host a magnificent wedding celebration and party to indulge in exquisite cuisine!
What is the dress code at Tora Tulum?
The dress code at Tora Tulum is smart casual.
When is the best time to go to Tora Tulum?
Any time is the best trip to Tora. Every second, only excitement awaits you, and there isn't a wrong time to visit!
Who owns Tora Tulum?
Tora is owned by Grupo Rosanegra, which also owns Taboo, Rosa Negra, Chambao, and Tantra.
Top Events to Make Your Trip Unforgettable
DOMINIK TULUM @MIA TULUM
When: September 9, 2023 7:00 PM
Where: Mia Restaurant & Beach Club, Tulum
🌴 Join Us for An Unforgettable Night at DOMINIK - TULUM at Mia Tulum! 🌴
Friends, clear your schedules and get ready for a magical experience at Mia Tulum! This stunning location will host DOMINIK - TULUM on Saturday, September 9th, from 7 pm to 1 am. This isn't just another event; it's a fusion of nature, culture, and sound featuring an incredible line-up with GIORGIO STEFANO, AUDICTIVE, and MAURO TORRETA. At DOMINIK, you'll find the perfect blend of Tulum's lush jungles and pulsating underground beats, creating an environment where genuine connections blossom.
🎟️ Secure your tickets now:
Early Bird: $575 MXN ($38 USD), includes a welcome drink 🍹 (Limited Availability)
Tier 1: $805 MXN ($52 USD), includes a welcome drink 🍹 (Limited Availability)
Final Tier: $1150 MXN ($75 USD), includes a welcome drink 🍹 (Limited Availability)
Dinner + Party: $1380 MXN ($90 USD) 🍽️🎉 (Limited Availability)
See you there for a night you won't forget! 🎶✨
Ready to join us? Get your ticket now! Early bird tickets are already selling out, secure them at 632 pesos (only 15 tickets available).
Hurry – spots are filling up fast! 🙀 We can't wait to see you there!
Top Parties and Club Events
17th September - ANCESTRAL SOUL @BONBONNIERE TULUM
22nd September - TONY ROMERA @BONBONNIERE TULUM
29nd September - TIM BARESKO @BONBONNIERE TULUM
4th November - HOT SINCE 82 @BONBONNIERE TULUM
13th March - LOCUS Tulum 2024