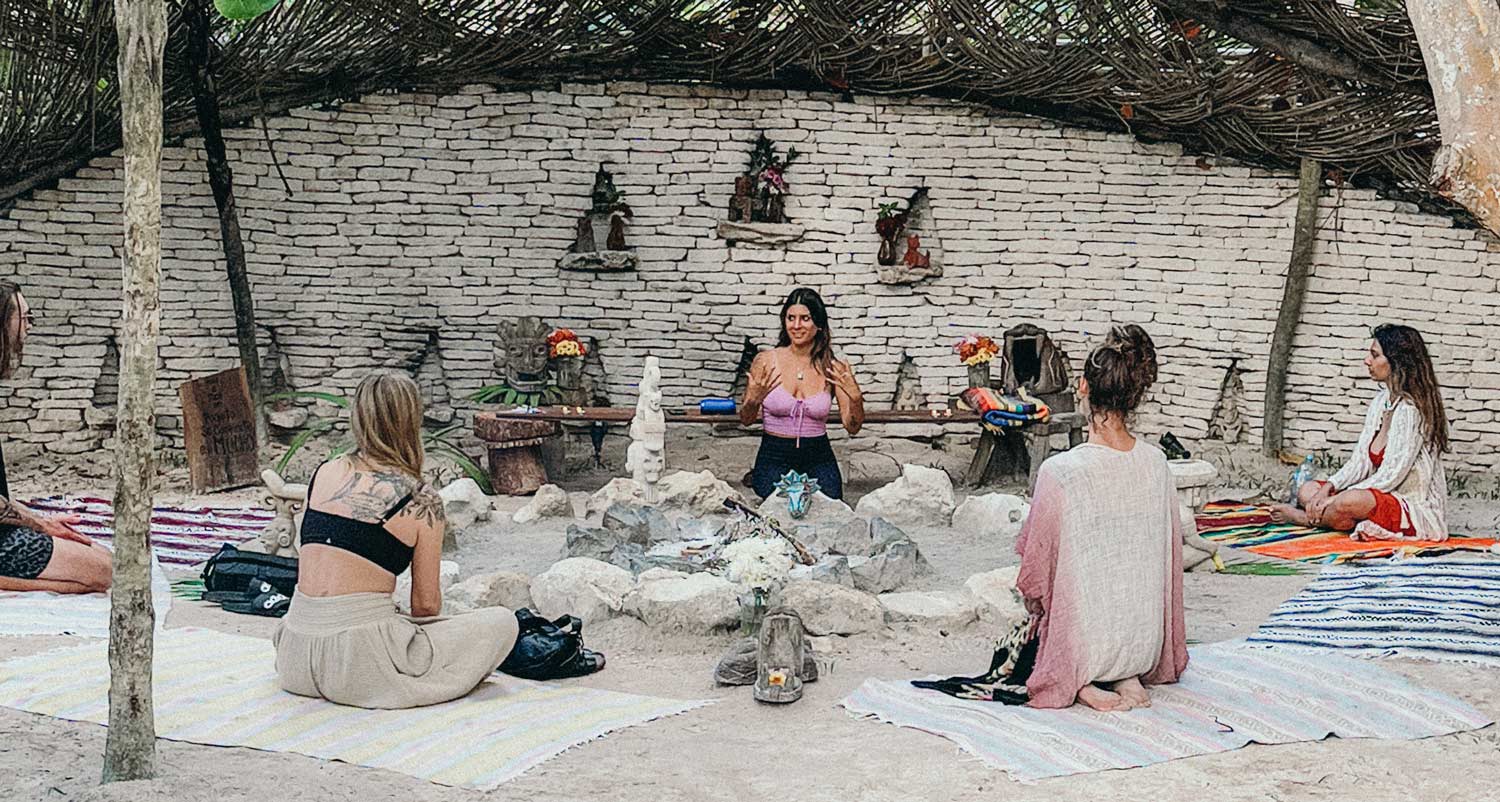 Detoxify and Rejuvenate with Tulum's Best Colon Cleanse
Are you ready to kickstart your Tulum journey to a healthier lifestyle for the body and mind? Look no further than the healing powers of colon cleanse and detox! This may not be something you are planning to experience in Tulum, but it is one of the best alternatives to support your wellness journey. From enjoying healthy and delicious meals to practicing wellness and healing activities, prepare to transform your vacation into a rejuvenating retreat!
If you are new to Tulum, it is a paradise destination located in the touristy state of Quintana Roo, Mexico. Besides the exotic Mayan ruins, beautiful beaches, and conscious community, Tulum is where people come looking to nourish their bodies and souls. Unlike Cancun and Playa del Carmen, Tulum has a plethora of vegan and vegetarian restaurants and wellness classes or retreats, such as yoga activities. With many treasure troves of experience to be discovered, come and explore all this vibrant destination has to offer.
One popular option for those seeking a colon cleanse is to join a detox retreat. It is a retreat that offers a range of wellness activities included, such as juice cleansing, yoga, Temazcal and more, to help you reset the body and mind. Luckily, you can find some of the best restorative retreats in Tulum that cover both healthy eating and exercise.
So, come and learn more about what a detox retreat is and how you can benefit from the experience. Then, let's discover the best retreats you can book today!
TULUM DETOX RETREATS AND WHAT TO EXPECT?
A detox retreat in Tulum is a popular type of wellness retreat that offers a program designed to help individuals cleanse their bodies and minds of toxins that are accumulated physically and emotionally. This style of retreat includes activities such as yoga, meditation, spa massage, and healthy eating, as well as access to natural elements such as the jungle, beach, and fresh air. 
The main purpose of the retreat is to encourage individuals to disconnect from their daily routines and technology and instead focus on self-care and self-reflection. By immersing in the activities, people can have fun and learn how to continue the journey to live a healthier life while also enjoying the many benefits from cleansing the body. The most common benefits are improved digestion, weight loss, reduced stress, mental clarity, and so much more!
But how does this relate to colon cleansing? Well, similar to colon cleansing, Tulum detox retreats offers a program that removes the built-up waste and toxins from the colon through healthy eating, physical activity, and mindfulness practices. In our opinion, this method of action is a healthier approach to colon cleansing and encourages people to live healthier lives.
With so many exciting activities and beautiful nature awaiting, let's explore the best detox retreats, activities, and venues to do in Tulum!
7-Day Restore & Renew Retreat: Amansala Yoga & Wellness Resort
Price range: $$$$$
Area: Tulum Beach
Best for: Retreat and stay during vacation
Are you ready to restore and renew your mind and body? Look no further than the Restore and Renew retreat at Amansala Resort in Tulum! This retreat offers a variety of activities designed to cleanse the body and leave you feeling refreshed and rejuvenated. 
The program includes daily yoga and meditation practices, healthy eating, and light physical activities such as cenote swimming. You'll also have the opportunity to participate in a Temazcal ceremony, a traditional Mexican sweat lodge, to further support your journey (read more about Temazcal here). And, to top it off, you'll receive a rejuvenating massage to help you fully relax and unwind.
With its stunning natural surroundings and serene environment, Amansala Resort in Tulum is the perfect destination to restore and renew your mind and body.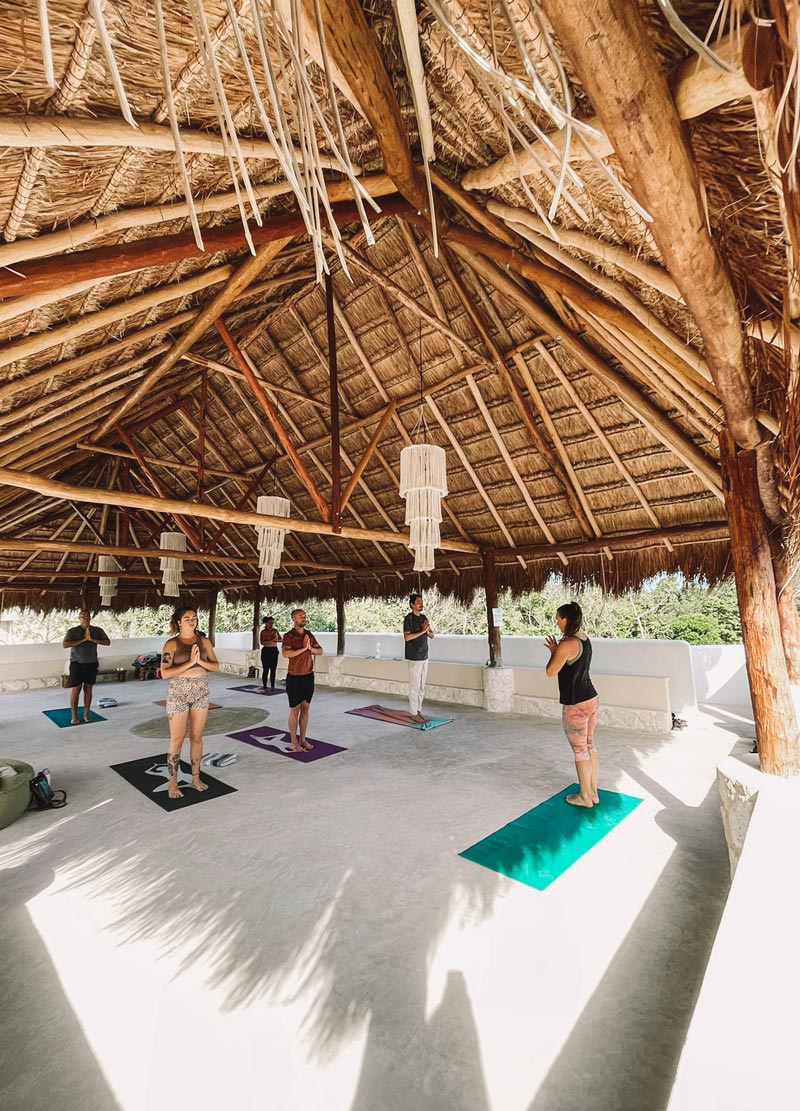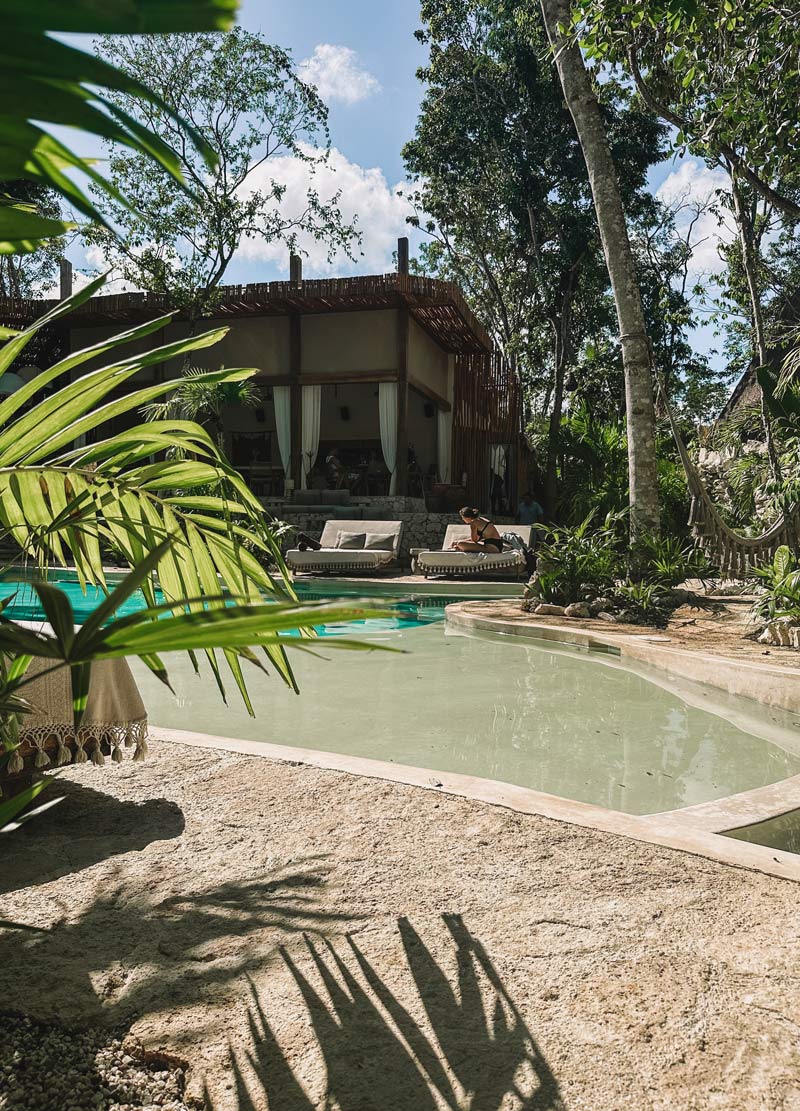 10-Day Ocean-Front Detox: Ayurveda + Yoga, Mayan Jungle Adventures, and Sound Healing
Price range: From $2,600 USD
Area: The copal retreat (40 mins drive from Tulum)
Best for: Beautiful villa and great retreat program
Get ready for an incredible adventure in Tulum with the 10-Day Ayurveda, Yoga & Adventure Retreat! This program is designed to provide a comprehensive approach to wellness that targets the body and mind. With its focus on cleansing the body, this retreat offers a unique opportunity to remove toxins and improve digestion, leading to increased energy levels and mental clarity.
The retreat includes daily yoga and meditation practices, healthy Ayurvedic meals, and various outdoor activities, such as visiting the Mayan ruins, beach day at Tulum, and exploring fifth avenue at Playa del Carmen. 
The best part? Previous participants can't stop raving about how rejuvenated and balanced they felt after the retreat, with better sleep patterns and an overall sense of well-being. With a great day-to-day program and excellent customer reviews, you won't regret booking this incredible retreat!
6-Day Jungle Reboot Mind & Body Retreat, Riviera Maya, Mexico
Price range: From $1,188 USD
Area: Exotic jungle scene that's away from the cities
Best for: Nature elements and Mayan culture exploration
Step into the lush, green nature of Riviera Maya for the ultimate reset with the 6-Day Jungle Reboot Mind & Body Retreat! This incredible retreat offers a unique blend of traditional Mayan practices, yoga and meditation classes, and free time to explore nature that will leave you feeling refreshed and revitalized. 
From Temazcal ceremonies to healthy eating, the program offers a powerful program that will help cleanse your body of toxins, leaving you with renewed energy and mental clarity. The retreat's location in the heart of the jungle allows you to connect with nature and find inner peace as you disconnect from the life you used to live.
That's not all; this retreat gives you the opportunity to explore the fascinating Mexican culture, nature, and history. You will embark on a guided tour through ancient ruins, traditional culture, and free time to roam the exotic wilderness with 2 private cenotes nearby.
If you love the green scenery and want to explore the Mayan heritage, then this retreat is for you!
Hydro Colonic Therapy: The Quantum Clinic Tulum
Price range: $125 USD
Area: Tulum Pueblo (Aldea Zama)
Best for: Clinical colon cleansing
If you want to try a blend of holistic approaches to modern medicine, visit the Quantum Clinic Tulum at Aldea Zama! With their focus on natural healing methods, they offer a range of services to promote detoxification and bring more balance to your life.
One of their services is their Hydro-Colonic Therapy. This 45-minute treatment (and consultation beforehand included) involves a gentle infusion of warm water into the colon to flush the toxins out, boost energy, relieve abdominal pain, and rejuvenate the immune system. 
Previous clients of the clinic loved Dr. Villafuerte's (the founder) kindness, professionalism, and dedication to aligning their methods to the client's needs. Especially their Hydro-Colon Therapy, which has been a standout service. Where clients comment how they feel much lighter and more energized after one session. Overall, it is one of the best options to optimize your journey through medical treatment in Tulum. We recommend you visit!
Seedling | Plant-Based & Gluten Free Store | Cold Pressed Juice Cleanses
Price range: $$$$$
Area: Tulum Pueblo
Best for: Cold-pressed juice, service, and convenience
At last, if you are looking for something to support your health journey in Tulum after a retreat. Visit the Seedling Plant-Based & Gluten-Free Store in town! 
They are our go-spot to support our lifestyle, where you can get one of the best fresh and cold-pressed juices in Tulum. With various bottle sizes and ingredients, you can get a 17oz / 500ml bottle for 8 USD / 145 pesos. And for those really serious about detoxing, opt for their package deal of six bottles for 44 USD / 800 pesos and have a stockpile of refreshing juices to last you through your cleanse.
The best part? Seedling offers unbeatable convenience. Swing by their shop to pick up your juices in person, or order online and have them ready for pick-up. For those in a rush, they even offer home delivery for an extra 2 USD / 40 pesos. Trust us, Seedling's delicious and nutritious drinks are worth every penny when it comes to helping you achieve your goals. Try them out today!
Our expert tips: For those undertaking a serious cleansing, we highly recommend checking out their website for information on their guidelines. It's an informative resource that can provide you with valuable insights into their recommended practices and protocols for detoxification.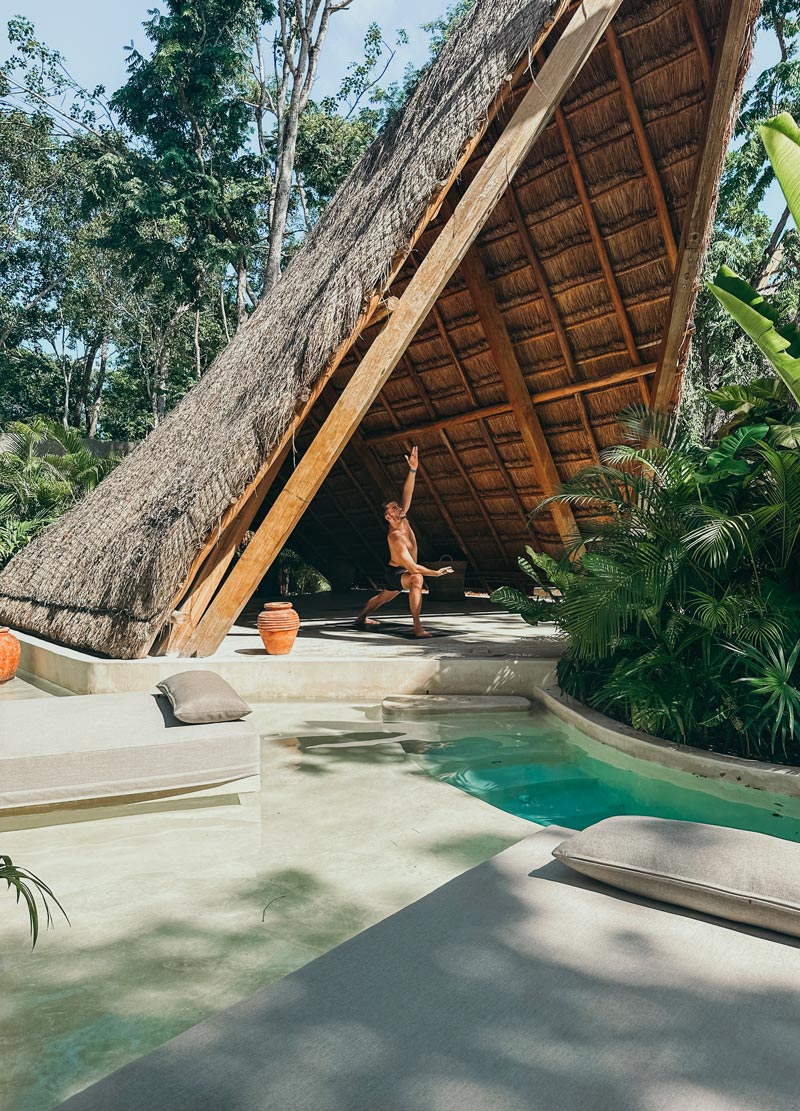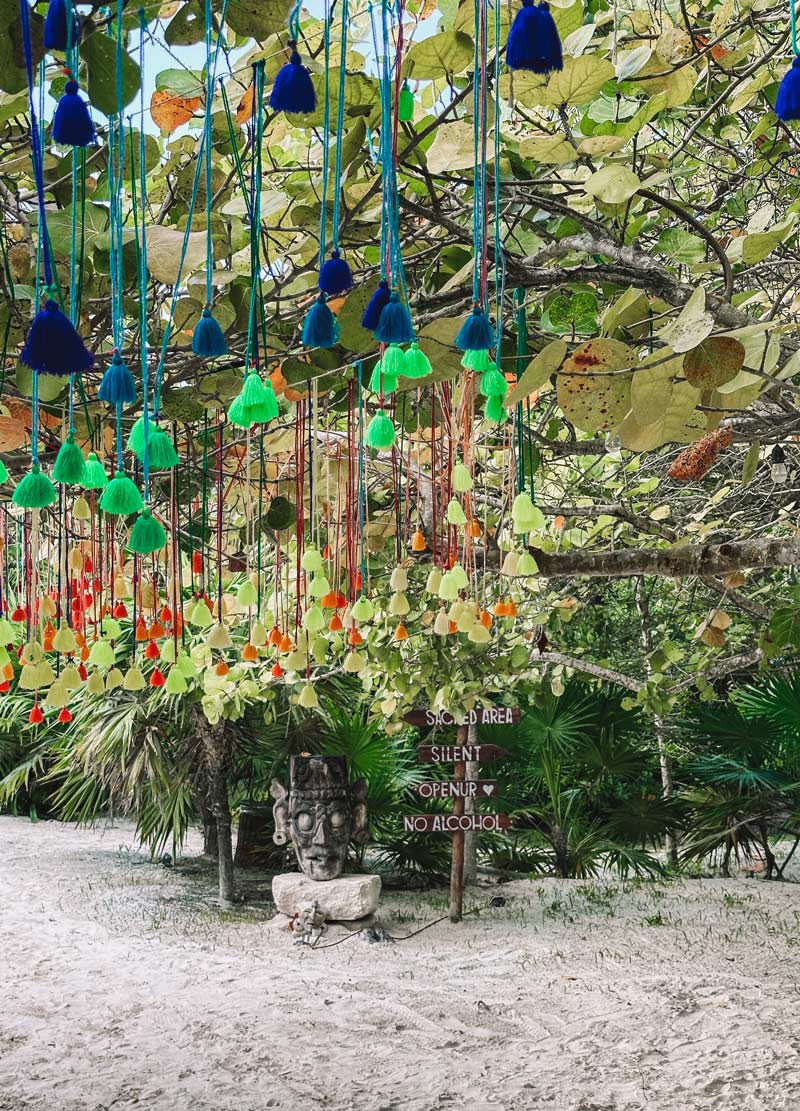 Experience Tulum's Juices & Healthy Lifestyle With Our Friend Virginia
Planning to explore the vibrant juice and healthy lifestyle scene in Tulum? Look no further! Virginia, your knowledgeable guide, is here to ensure you don't miss out on the best juice bars, wellness events, and healthy hotspots this town has to offer. Navigating Tulum's refreshing options can be overwhelming, especially when you're seeking a healthy and rejuvenating experience. That's where Virginia's expertise comes in handy. Let her curate your juice and wellness journey, granting you access to exclusive perks like special promotions and insider recommendations. Don't let the fear of missing out distract you – trust Virginia to lead you to the pinnacle of Tulum's juice and healthy lifestyle scene!
Discover Tulum's Finest Juice Bars Today
The top detox retreats and activities in Tulum Town
Now you know where to start with your journey, we recommend checking out any of their retreats first to get all the benefits at once. Then, after the retreat, consider visiting the clinic while continuing with your healthy eating diet.
7-Day Restore & Renew Retreat

– $$$$$ – Tulum beach

10-Day Ocean-Front Detox

– $$$$$ – Beachfront Villa

6-Day Jungle Reboot Mind & Body Retreat

– $$$$$ – Jungle 

Hydro Colonic Therapy

– $$$$$ – Tulum Pueblo (Aldea Zama)

Seedling – $$$$$ – Tulum Pueblo
The Best detox retreats and activities on a Map
Let's navigate through the top retreats and activities spots on the map. Check it out!
Things you need to know about detox retreats and activities in Tulum
Alright, now you know the top things to do to support your healing journey in Tulum, there are a few things you must know before you book your spots. Find out below!
PRACTICAL TIPS AND ADVICE
Here are some guidelines that we learned over our time practicing to live a better life for ourselves. We would like to share our experience so you can optimize your journey better!
Start preparing your body for the retreat in a week or two:

This includes avoiding processed foods, sugar, and alcohol and increasing your intake of fruits and vegetables. 

Listen to your body during the retreat:

If you feel tired or run down, take a break and rest. Cleansing the body can be hard work, and it's important to give your body the rest it needs.

Practice Mindfulness:

We learned to be aware of our feelings and sense as we are engaging in holistic activities that give the most benefit from the activities.

Disconnect from technology:

Try to avoid your phone when you are practicing; it helps you to be fully immersed in the experience.

Ease back into your normal diet slowly: If you prefer to come back to your usual diet, we recommend you start with light, easily digestible foods and gradually add in more complex foods over time.
How can I prepare for a colon cleanse or detox retreat?
Before starting a colon cleanse or detox retreat, it's important to consult with a healthcare professional or ask the facilitators of the retreat, who will usually give you recommended dietary guidelines. Remember, the goal is to nourish and support your body, not deprive it.
Is it normal to feel tired or irritable during a detox retreat?
If you have never tried detox, then yes, your body may go through a period of adjustment as it eliminates toxins and adjusts to a new diet and routine.
How can I maintain the benefits of a detox retreat after returning home?
You can do this by incorporating healthy eating habits, regular exercise, and stress-reducing practices into your daily routine can help maintain the benefits of a detox retreat in the long term. We recommend keeping notes of what you learned during the retreat.
FAQ about Tulum Colon Cleanse
Are children under 18 accepted in detox retreats or colon cleanse clinics in Tulum, Mexico?
Children under the age of 18 are not recommended to join a detox retreat in Tulum as the activities may be too intense for the child. However, colon cleansing in Tulum welcomes children under the age of 18. Regardless, it is best to consult with a medical professional first.
Is it safe to do a detox retreat while pregnant or breastfeeding?
It is not recommended, but it's best to consult with your healthcare provider before embarking on any program.
Should I avoid certain foods before a colon cleanse?
 It's recommended to avoid processed foods, caffeine, alcohol, and sugary snacks in the days leading up to a cleanse.
How often should I do a colon cleanse?
It's recommended to do a colon cleanse once or twice a year to support overall colon health.
How long should I plan to stay at a detox retreat in Tulum?
Most retreats in Tulum offer programs ranging from 3 to 10 days, but it ultimately depends on your goals and schedule.
How much water should I drink during a colon cleanse?
It's recommended to drink at least 8-10 glasses of water a day during a colon cleanse to support the elimination process.
What should I pack for a colon cleanse or detox retreat in Tulum?
Be sure to pack comfortable clothing for yoga or other activities, a water bottle, any necessary medications, and any other personal items you may need.
Can I still exercise during a detox retreat?
Yes, gentle exercises such as yoga, hiking, or swimming can be beneficial. However, it's important to listen to your body and not push yourself too hard, especially if you're feeling fatigued.
Great, let's feature the "MYSTICAL SUNSET /OLIVER HUNTEMANN" event at Mia Restaurant & Beach Club in Tulum on Wednesday, 29 November 2023. Here's the HTML snippet for your event: ```html
👉 WEDNESDAY, Nov 29
MYSTICAL SUNSET /OLIVER HUNTEMANN 🌅
📍
Mia Restaurant & Beach Club, Tulum
💵
Tier 1 Tickets: Mex$ 660 (incl. fees), Final Tier: Mex$ 880 (incl. fees)
📩
Contact Virginia
here
to book a table
Join us for an unforgettable evening at Mystical Sunset with Oliver Huntemann. Contact Virginia here to book your table and be part of this magical night on the beach! 🎶🔥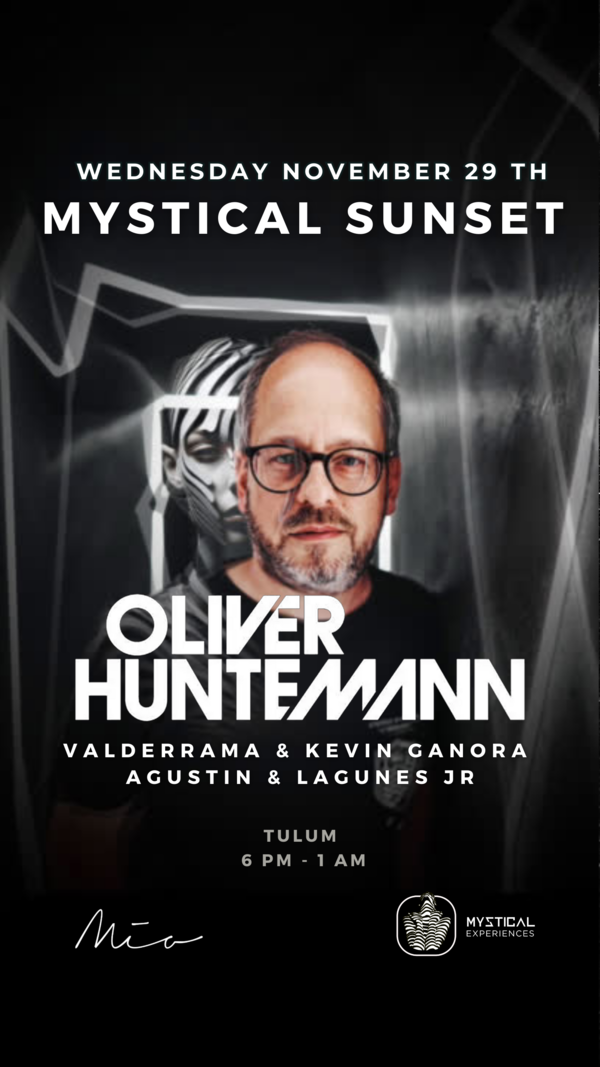 Top Parties and Club Events
23rd November - VAGALUME SESSIONS KEENE @VAGALUME
26th November - VAGALUME SUNDAZE MITA GAMI @VAGALUME
30th November - VAGALUME SESSIONS VALDOVINOS @VAGALUME
3rd December - VAGALUME SUNDAZE VALENTIN HUEDO @VAGALUME
7th December - VAGALUME SESSIONS MUSTAFA ISMAEEL @VAGALUME
30th December - PIKNIK POLO CORP & LEO LEONSKI @VAGALUME
31st December - NEW YEAR´S EVE @BAGATELLE TULUM
31st December - NYE PARTY 2024 @VAGALUME
13th March - LOCUS Tulum 2024