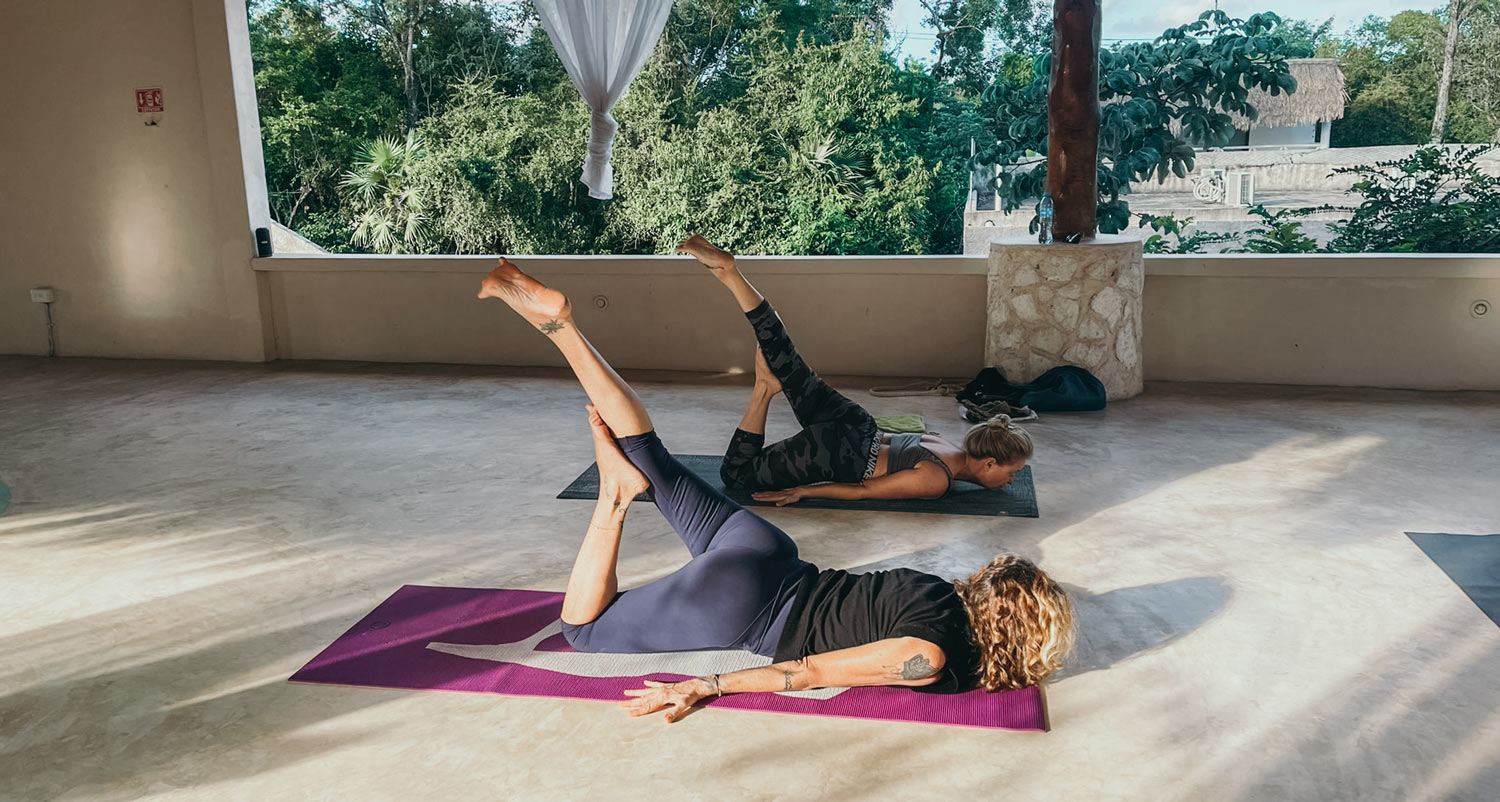 Wellness Classes in Tulum: Stay Fit and Healthy on Vacation
Are you looking for a way to stay fit and healthy while on vacation? Look no further than Tulum, Mexico! This idyllic destination has become a hotspot for wellness enthusiasts, offering a range of classes and activities to help you maintain your well-being while enjoying your time away. From yoga and meditation to surfing and cycling, there's something for everyone in Tulum. Join us as we explore why this tropical paradise has become the go-to destination for wellness classes. Discover the best venues to make the most of your trip while staying fit and healthy.
Nestled along the stunning Caribbean coastline of Riviera Maya, Tulum has long been a magnet for travelers seeking the sun, the beaches, and the jungle adventures, unlike its neighbors, Cancun and Playa del Carmen. But over the years, it has also become known for its gorgeous cenotes, thriving nightlife, and especially the wellness scenes. 
With a plethora of classes and retreats for visitors to maintain a healthy lifestyle while on vacation, and with its breathtaking natural beauty and laid-back, bohemian vibe, Tulum is the perfect place to unwind and recharge. Whether you're looking to find inner peace with yoga classes or dive into a few days of wellness retreats, Tulum has something for everyone!
In this article, we'll explore the top wellness classes and venues in Tulum that will help you stay fit, healthy, and refreshed on your vacation. Get ready to embark on a wellness journey like no other!
HOLISTIKA: JUNGLE WELLNESS RETREAT
Price range: $$$$$
Area: Tulum Pueblo (La Veleta)
Best for: Jungle scenery and has various classes
Holistika Tulum is a wellness enthusiast's paradise, offering an expansive range of classes to help you rejuvenate during vacation. From dynamic Vinyasa flow and restorative Yin yoga to breathwork, sound healing, and Temazcal ceremonies, each class is designed to help you connect with your mind, body, and spirit. 
One of the things that set Holistika Tulum apart is its location in the heart of the jungle. Surrounded by lush greenery and the sounds of nature, this venue offers a truly immersive experience that is sure to leave you feeling refreshed and rejuvenated. So, if you love to immerse in the green nature of Tulum while practicing mindfulness, Holistika is the perfect place for you!
Our expert tips: If you have a local ID, you can take advantage of a great deal. The cost for locals is only 1800 Mexican pesos (about 90 USD).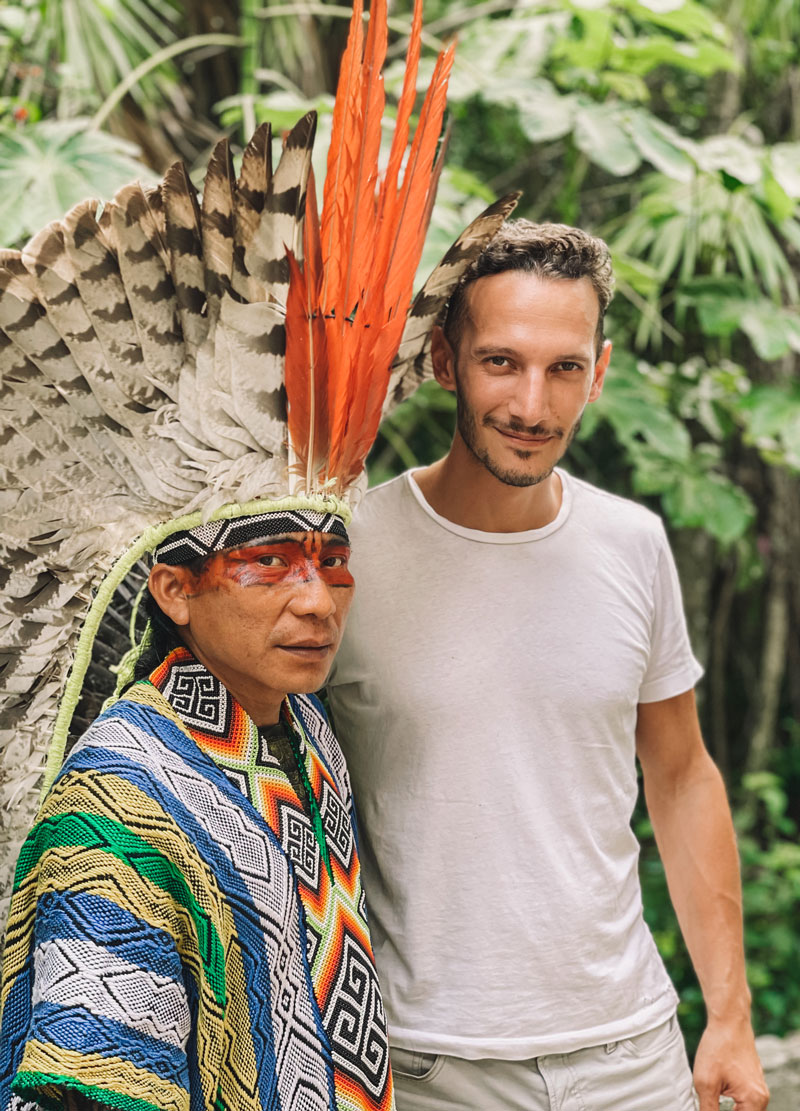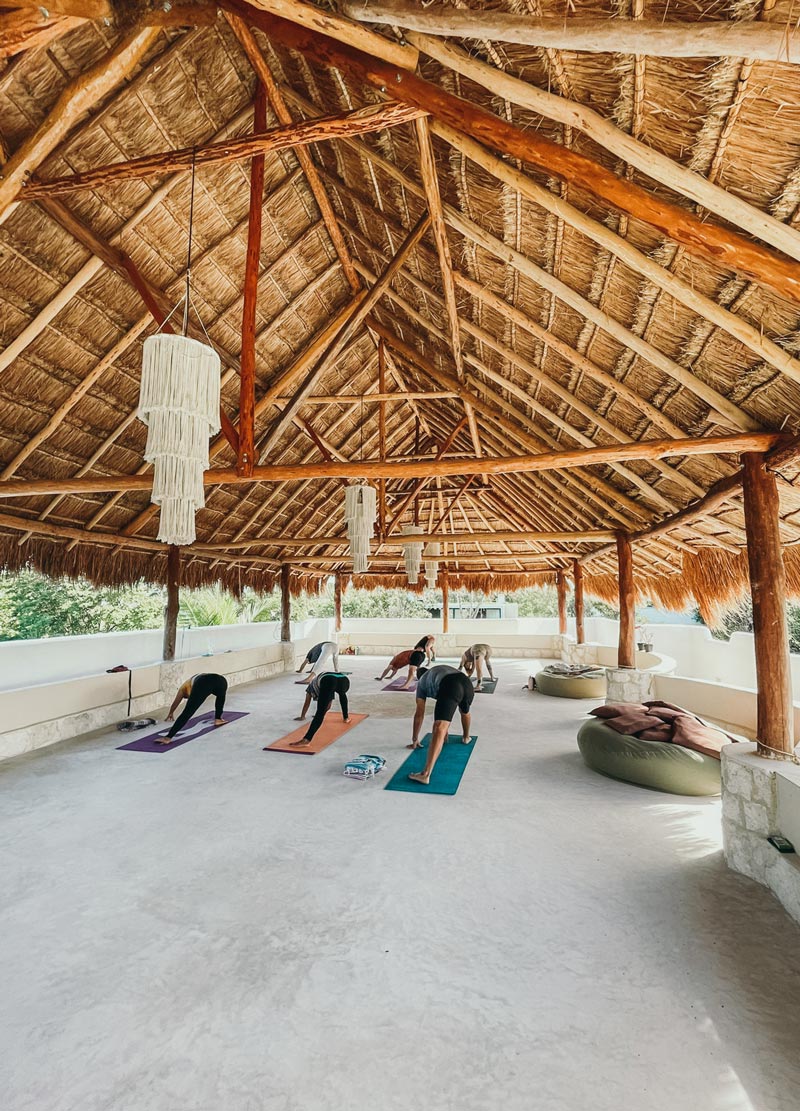 Price range: $$$$$
Area: Tulum Pueblo
Best for: Donation-based yoga classes
Om Collective Tulum offers a unique yoga experience that we absolutely love! Their donation-based classes mean that there are no fixed prices to join, making it accessible for everyone. You simply leave a conscious contribution after the class, and we recommend leaving what you can at that moment to support the teachers.
Whether you're a seasoned yogi or just starting out, Om Collective Tulum has classes available for all levels. With options ranging from beginner to advanced classes, and it's offered in both English and Spanish, this is the best place to practice yoga for anyone! Come and find their complete schedule and time here.
Our expert tips: Classes start from Monday – Sunday at 8am, 10am, 6pm, and 8pm. Lastly, if you have a positive experience with their classes, consider leaving a contribution, as it will be shared among the teachers and greatly appreciated.
IKAL TULUM HOTEL AND WELLNESS CENTER
Price range: $$$$$
Area: The beach
Best for: Various activities, palapa yoga shala, and ocean view
If you're looking for a breathtaking yoga experience, look no further than the beachfront palapa yoga shala at Ikal Tulum Hotel. With a stunning view of the ocean and a refreshing sea breeze, this is the perfect place to try various healing practices by the beach. 
In addition, they offer a wide range of wellness activities, such as sunrise yoga sessions, holistic workshops, sound healing ceremonies, and more. The best part? If you're a local, you can enjoy these great activities for 100 pesos less than non-locals or at standard prices (250 – 350 pesos). Be sure to visit their schedule online!
Our expert tips: Before or after your class, we recommend visiting their restaurant nearby. This beach restaurant offers a menu of authentic Mexican culinary experiences. From hearty breakfasts to lunches and dinners, you'll find plenty of options to satisfy your cravings.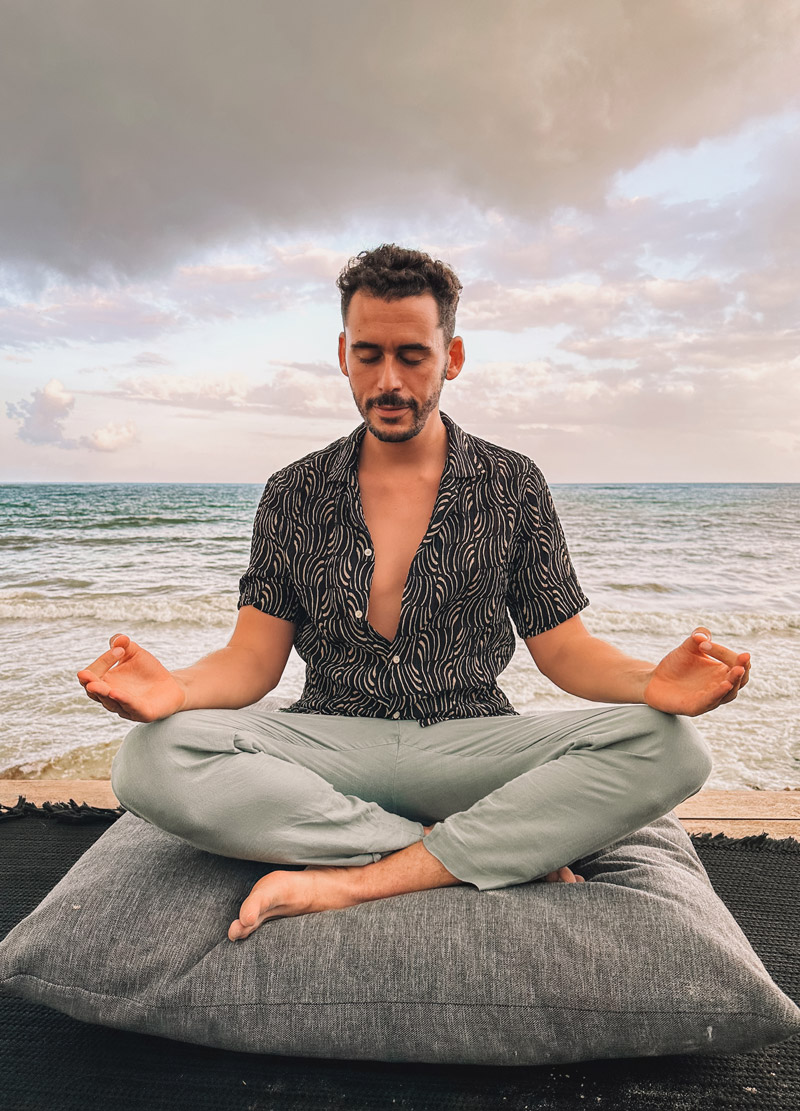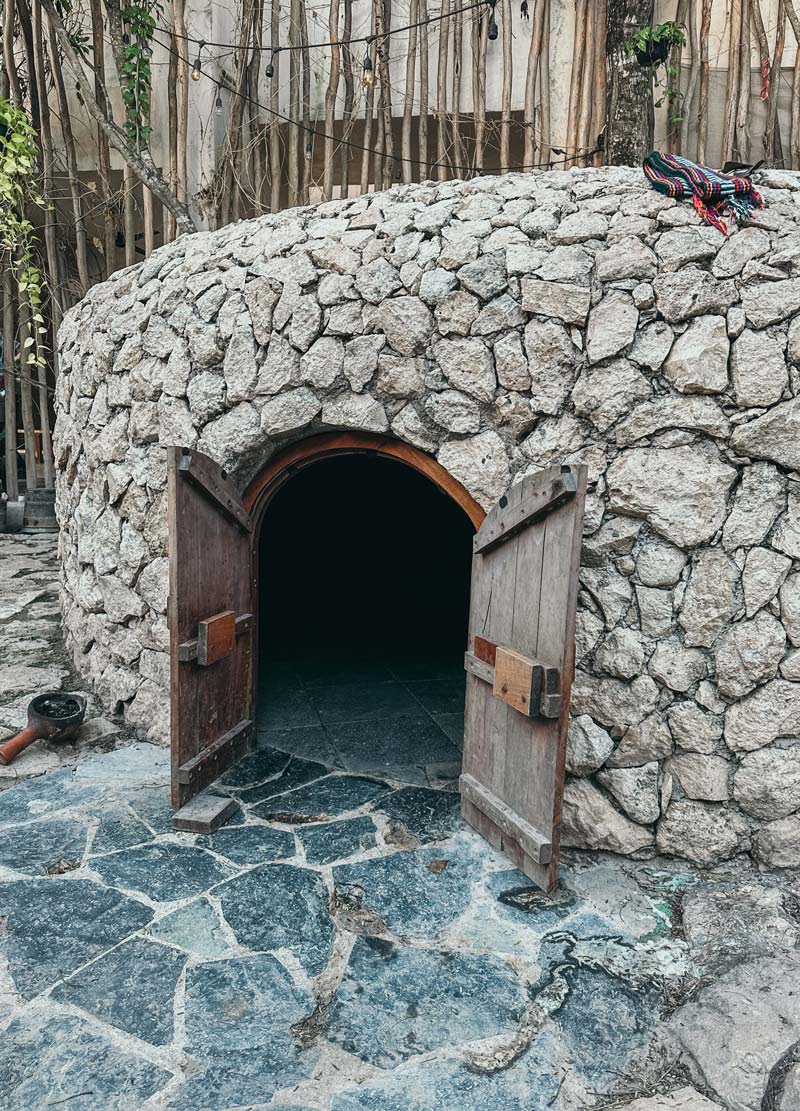 Price range: $$$$$
Area: The beach and Tulum Pueblo
Best for: sophisticated beachfront shala, wellness, and spa
Sanara Tulum offers a wide range of wellness activities that embody reverence and authentic care, guiding the journey toward our ultimate healing. Whether you're looking to start your day with a rejuvenating yoga class or unwind after a long day with a soothing sound healing session, they've got you covered. For just 26 USD, you can enjoy 75 minutes of guided yoga and meditation, leaving you feeling relaxed, energized, and centered. For 40 USD, you can immerse yourself in a peaceful and healing sound bath for one hour. They also offer local discounts with ID, be sure to bring it with you when you travel to Sanara!
What's more, the sophisticated indoor shala. Standing 4 ft tall above the beach, with sliding window doors as walls, you can view the palm tree tops and the Riviera Maya coast. It's a sight to behold!
Our expert tips: We recommend checking out their spa menu to relax the body after an intense session. Or visit the real coconut kitchen, a popular vegan and vegetarian restaurant in Tulum. Learn more about their restaurant here.
AMANSALA YOGA & WELLNESS RESORT
Price range: $$$$$
Area: The beach
Best for: retreats and spa
Are you looking for a vacation with a purpose? Look no further than Amansala Yoga and Wellness Resort Tulum! They offer unique 6-day retreats that are perfect for those who want to stay and rejuvenate their mind, body, and spirit in one place. Choose from two different retreats: Bikini Bootcamp and Restore & Renew.
Both retreats offer daily beach walks, yoga classes, pampering spa treatments, and healthy eating options while also giving time to relax and soak up the bohemian atmosphere. The Bikini Bootcamp retreat is perfect for those who want a more high-energy experience, as it includes fitness, strength, and toning classes. Meanwhile, the Restore & Renew retreat is more focused on relaxation and mindfulness practices like meditation and restorative yoga.
Find out more about their retreat activities and pricing online today!
Our expert tips: I highly recommend exploring their spa services which include massages, reflexology, and facial treatments.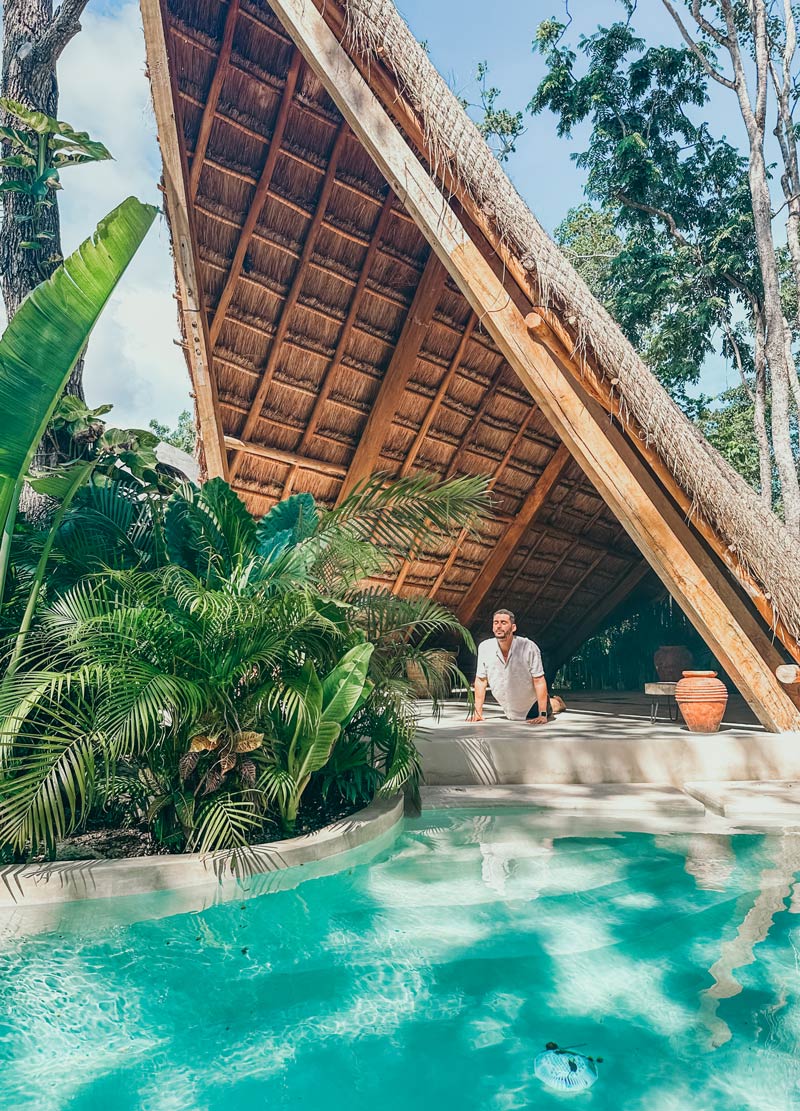 Experience the Best of Tulum's Wellness Classes with Virginia's Expert Guidance
If you're planning a trip to Tulum and want to prioritize your well-being, don't miss out on these exceptional wellness classes. From invigorating yoga sessions to rejuvenating meditation workshops, Tulum offers a wide range of activities to nourish your body and mind. Let our knowledgeable friend Virginia guides you through transformative experiences in Tulum's serene and inspiring atmosphere. With these wellness classes, you can stay on track with your health goals while enjoying your vacation to the fullest. Leave the planning to Virginia and embark on a journey of self-care and inner balance. Trust her to curate the ultimate wellness experience in Tulum!
Plan your wellness vacation to Tulum today
The top Wellness Classes in Tulum Beach and Town
There are many wonderful classes available in Tulum, and the ones we have mentioned are just a few of our top recommendations. Below is a brief list of their locations.
Holistika

–

$$$

$$ – Tulum Pueblo (La Veleta)

Om Collective

–

$

$$$$ – Tulum Pueblo (La Veleta)

Ikal

–

$$$

$$ – Tulum beach

Sanara

–

$$$

$$ – Tulum beach and Tulum Pueblo

Amansala

–

$$$$

$ – Tulum beach
The Best of Tulum wellness classes on a Map
Navigating through Tulum can be overwhelming sometimes, but don't worry; we're here to help! To save time and make your trip easier, we have a map that highlights the top picks of venues across the Hotel zone and town in Tulum below, and let the adventure begin!
Things you need to know about wellness classes in Tulum
Now that you have some great options to enjoy rejuvenating activities in Tulum, we'd like to offer some friendly advice before you visit.
PRACTICAL TIPS AND ADVICE
To enhance the healing experience in Tulum, we have created a guide below. This is important, especially if you travel to Tulum for wellness purposes; we highly recommend practicing these five things:
Ask for special prices:

It's always a good idea to ask if those venues offer any special discounts!

Book your spot:

We recommend reserving online and a few days early to guarantee a spot.

Practice Mindfulness:

We were taught to be aware of our feelings and sense as we are engaging in holistic activities.

Disconnect from technology:

Try to avoid your phone when you are practicing; it helps you to be fully immersed in the experience.

Get rest afterward:

You will want to relax and integrate what you learned instead of going back to your old habits.
What are the common wellness classes to do in Tulum?
There are many common wellness classes to do in Tulum, including yoga, meditation, sound healing, breathwork, Temazcal ceremonies, and more. Tulum is known for its holistic and wellness-focused community, so there are many different types of classes available to cater to different interests and needs. It is a part of the adventure to learn all these things!
How much is the average cost of Wellness classes in Tulum?
The average cost of wellness classes in Tulum varies depending on the type of class and the venue. However, you can expect to pay anywhere from 15 – 40 USD / 270 – 720 pesos per class and for about one hour or more on average.
How safe are wellness classes in Tulum?
Wellness classes in Tulum are generally safe. However, it is always important to check the credentials and reviews of the venue and instructor before booking a class. It is also important to follow any safety guidelines or instructions provided by the venue or instructor during the class. As with any physical activity, there is always a risk of injury, so it is important to listen to your body and modify or stop any movements that do not feel comfortable or safe for you.
FAQ about Tulum Wellness Classes
What are the best wellness classes in Tulum?
The best wellness classes in Tulum are subjective and depend on personal preference. Some popular options include yoga, meditation, sound healing, breathwork, and Temazcal ceremonies. Some of the top-rated wellness class providers in Tulum include Holistika Tulum, Sanara Tulum, and Amansala Tulum.
Where are the best wellness classes located in Tulum?
The best wellness classes in Tulum are located throughout the town, with many venues situated along the beach road. Some popular areas for wellness classes include the beachfront area, downtown Tulum, and the jungle outskirts.
Are children under 18 accepted in wellness classes in Tulum, Mexico?
Yes, there are some classes in Tulum that accept children under 18, such as yoga, meditation, and spa. But, some classes like Temazcal ceremonies allow adults only, and children are not recommended to participate.
How can I pay for these wellness classes in Tulum?
Most wellness classes in Tulum do accept cards (Visa, MasterCard, AMEX) but may have an extra percentage fee for using a credit card. However, Mexican pesos in cash are welcome anywhere.
Do wellness classes in Tulum accept USD?
Most wellness classes in Tulum accept USD, especially in more touristy areas. However, it's always best to carry some Mexican pesos cash around to be safe.
Do I need to bring my own mat or props to wellness classes in Tulum?
Some venues provide mats and props, while others require you to bring your own. It's best to check with the venue beforehand. However, the venues in Tulum we mentioned provide mats and props for you.
What should I wear to wellness classes in Tulum?
In a wellness class in Tulum you should wear comfortable and breathable clothing, such as yoga pants or shorts, and a T-shirt or tank top. It's also a good idea to bring a sweater or shawl for cooler indoor classes, especially in December and January.
Are the Tulum wellness classes conducted in English or Spanish?
Many wellness classes in Tulum are conducted in both English and Spanish. It's best to check with the venue beforehand.
Are wellness classes in Tulum suitable for beginners?
Yes, many classes in Tulum cater to all levels, including beginners. It's best to check with the venue beforehand to ensure the class is suitable for your level.
Can I participate in wellness classes if I have injuries or health concerns?
It's important to inform the instructor of any injuries or health concerns beforehand. They can provide modifications or alternative exercises to accommodate your needs.
Great, let's feature the "MYSTICAL SUNSET /OLIVER HUNTEMANN" event at Mia Restaurant & Beach Club in Tulum on Wednesday, 29 November 2023. Here's the HTML snippet for your event: ```html
👉 WEDNESDAY, Nov 29
MYSTICAL SUNSET /OLIVER HUNTEMANN 🌅
📍
Mia Restaurant & Beach Club, Tulum
💵
Tier 1 Tickets: Mex$ 660 (incl. fees), Final Tier: Mex$ 880 (incl. fees)
📩
Contact Virginia
here
to book a table
Join us for an unforgettable evening at Mystical Sunset with Oliver Huntemann. Contact Virginia here to book your table and be part of this magical night on the beach! 🎶🔥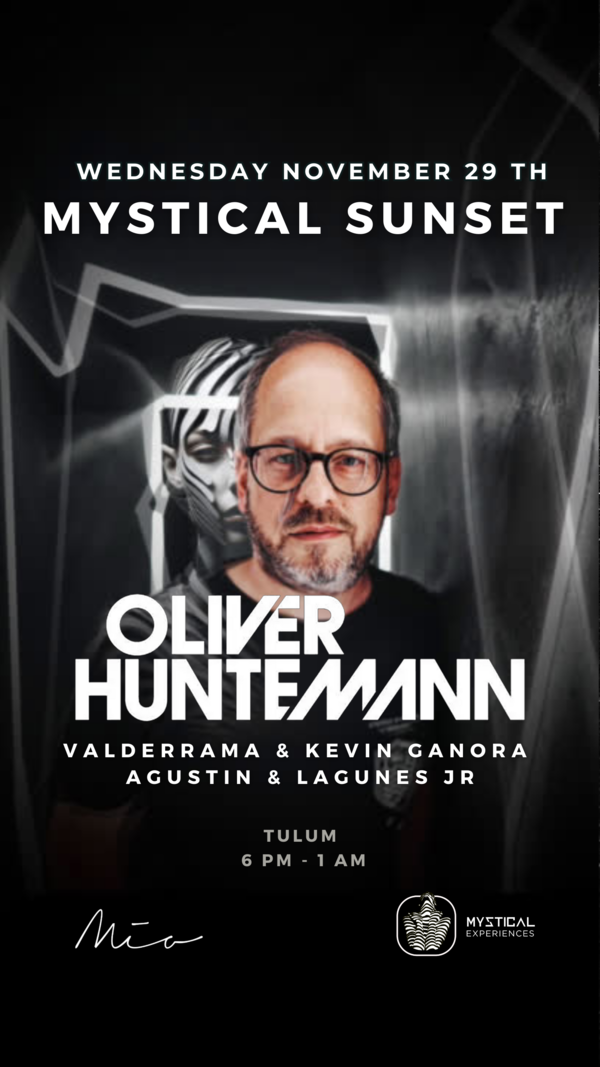 Top Parties and Club Events
23rd November - VAGALUME SESSIONS KEENE @VAGALUME
26th November - VAGALUME SUNDAZE MITA GAMI @VAGALUME
30th November - VAGALUME SESSIONS VALDOVINOS @VAGALUME
3rd December - VAGALUME SUNDAZE VALENTIN HUEDO @VAGALUME
7th December - VAGALUME SESSIONS MUSTAFA ISMAEEL @VAGALUME
30th December - PIKNIK POLO CORP & LEO LEONSKI @VAGALUME
31st December - NEW YEAR´S EVE @BAGATELLE TULUM
31st December - NYE PARTY 2024 @VAGALUME
13th March - LOCUS Tulum 2024