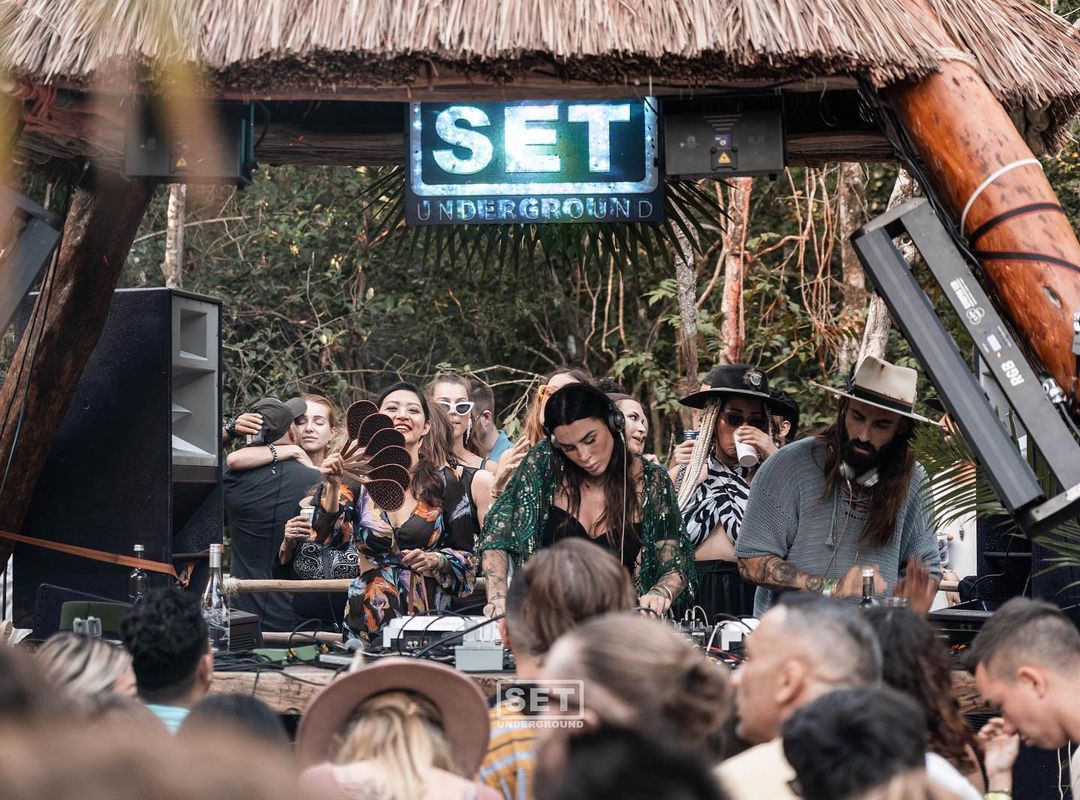 Best jungle party to celebrate New Year
If you choose Mexico to celebrate the New Year, then you should enjoy the last days of 2022 into a magical jungle and be a part of the best New Year's party ever enchanted by an amazing line up :
SAVAGE & SHE (foretaste here)
GLOWAL
DAMON JEE
More TBA
SECRET INFO ABOUT TULUM SET UNDERGROUND NYE CELEBRATION
Get ready to head into the jungle and enjoy yourself at one of the monumental techno events Tulum offers for New Years evening. Jungle parties in Tulum are one of a kind, not comparable to parties in the city. You will feel the difference only by experiencing it – with a delicious dinner under the palm trees in Gitano restaurant, or at a music a festival around a cenote like Zamna.
Book Your Ticket Here
The jungle contains magic – this is what makes everything unforgettable. 
We have lived in Tulum, Mexico, for 2 years and this kind of event gets sold out even before the pre-sales start. First come, first served they say!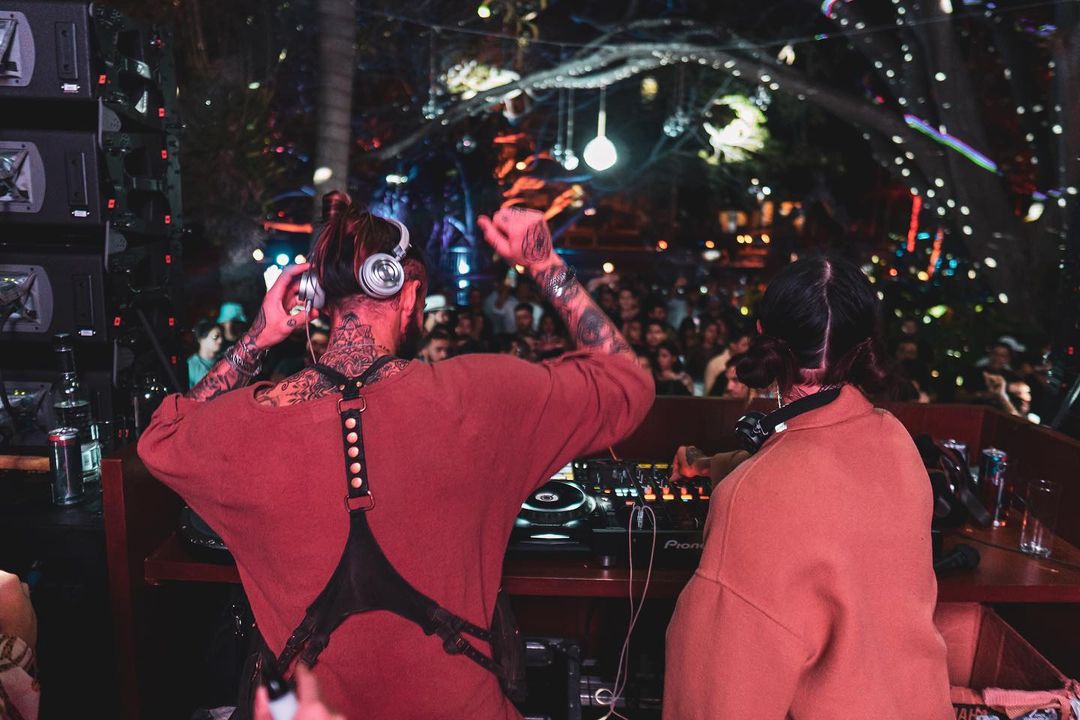 New Year's Eve Magic in the Jungle of Tulum, Mexico
This New Year's Eve Set Underground takes over Mexico. Since 3 years the brand creates outstanding cenote & jungle events in Tulum and many people are already part of the family, coming from all over the world to Quintana Roo, Mexico, and safe their tickets as soon as possible. SET Underground is one of the best jungle party experiences of the year, a night with an unforgettable style – Tulum's one. 
The night is definitely for techno and house lovers, with iconic line ups, and Dj's like Adana Twins, Gabriel & Dresden and Deer Jade and many others paid tribute to the event.
The Set Underground party is a grand celebration, and one of the most popular electronic music experiences in the world, a project that started 10 years ago and took over the continent from New York to Miami, and now to Tulum, Quintana Roo. 
If you get a ticket for this event, you will enter a captivating experience filled with mystical art that will delight all your senses through music and incredible visuals that are worth more than just one Instagram post.
Don't worry if you can't make it for the last night of December ,you may want to be a part of SET Underground in January for the next 2 dates! Choose this celebration as your entry into 2023 and welcome the new year dancing until the day rises, kissed by the most incredible sunrise.
Discover how to book the tickets of these 12 hours of dance and techno dreams in a secret location in Tulum Mexico!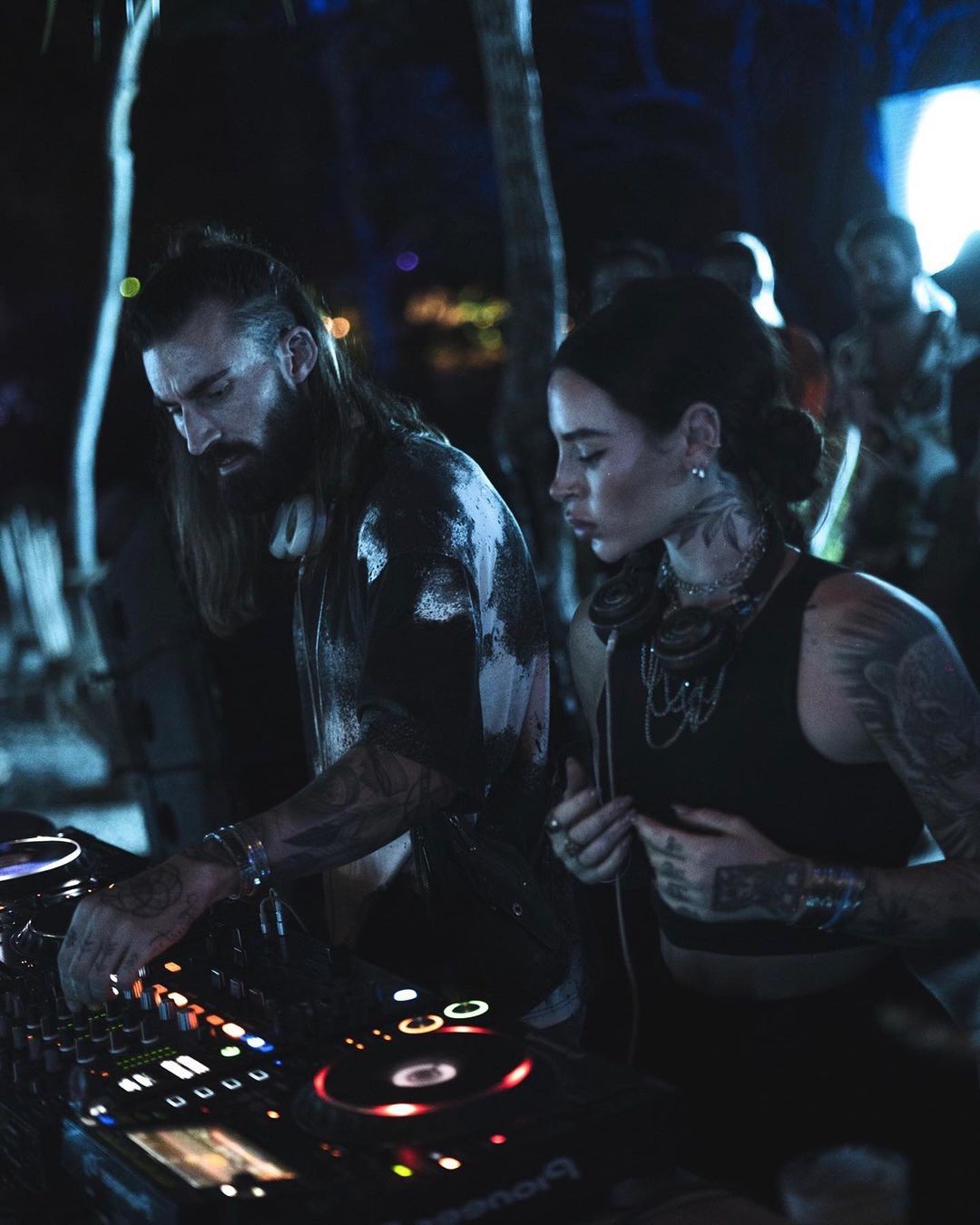 "Seeing SAVAGE & SHE performing Is Wow!"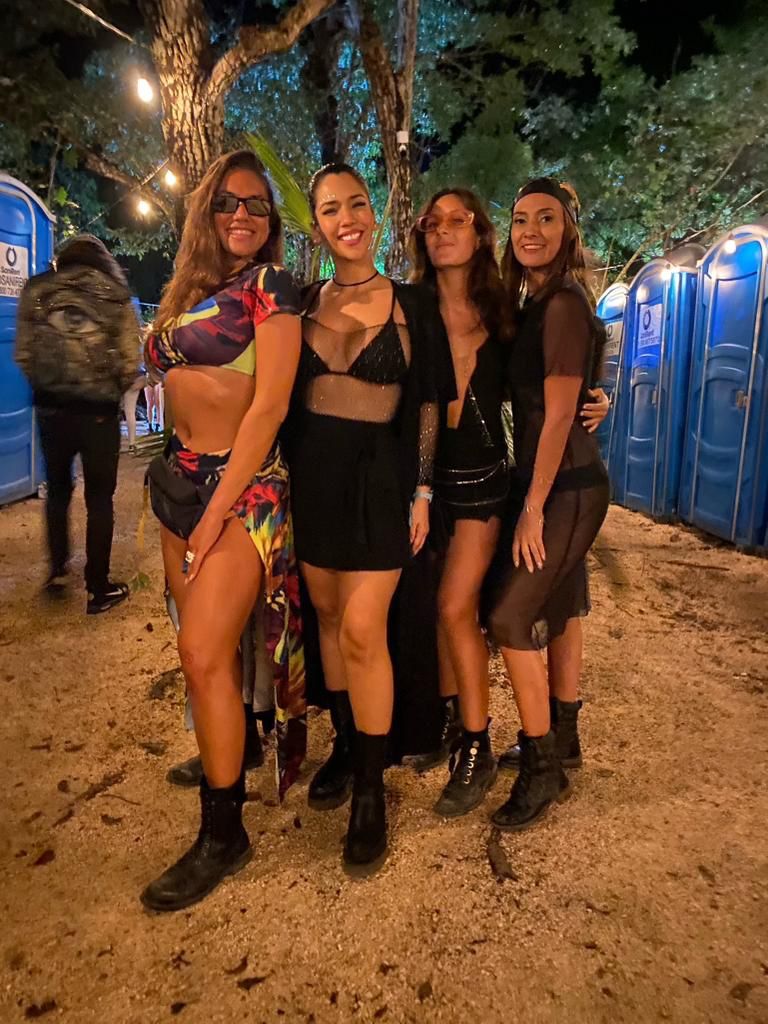 " You will cross a beautiful human being"
New Years Eve's Jungle Party, Events and Ticket Details
GLOWAL, DAMON JEE, SAVAGE&SHE are just some of the DJs that will fill the night with the best beats; more are about to be announced soon. Since the early bird tickets are already sold out, you should be quick in booking your entrance, further down you will see all booking options and a link to ensure your night with the Set Underground family! 
The Event is at a secret location outside of Tulum town, you'll get more info after buying the ticket by 6pm the 31st of December – the doors open at 9pm. The booking includes a shuttle service. Since it can get a little cold at night especially on NYE, you might want to take a jacket, or a hoodie to stay comfortable the whole night. 
Get ready to dance under the Mexican sky and experience New Year's Eve night in the jungle – glorious moments you won't forget but remember the next day while enjoying the silence of Mexico's beach waves.
SET Underground NYE Ticket options
NYE – STANDARD TICKETS
NYE – Second Release Girls – $50.00 + $6.84 Fee   

NYE – Second Release Guys – $90.00 + $9.04 Fee  

NYE – Third Release – $100.00 + $9.59 Fee   

NYE – General Admission – $125.00 + $10.97 Fee   
NYE – VIP TICKETS
VIP AREA – $200.00 + $15.09 Fee   

NYE – SMALL TABLE, NO SEATING 5 GUESTS MAX-2 BOTTLES – $1,250.00 + $50.59 Fee   

NYE – BRONZE TABLE 8 GUESTS MAX-3 BOTTLES – $2,000.00 + $73.09 Fee   

NYE – SILVER TABLE 10 GUESTS MAX – 4 BOTTLES – $3,000.00 + $103.09 Fee   

NYE – GOLD TABLE 12 GUEST MAX- 6 BOTTLES – $4,000.00 + $133.09 Fee   

NYE – PLATINUM 15 GUEST MAX – 7 BOTTLES – $5,000.00 + $163.09 Fee   

NYE – SAPPHIRE TABLE 15 GUEST MAX-7 BOTTLES – $7,500.00 + $238.09 Fee
January 3rd - SET Underground's Tulum Jungle Party
Enjoy this INDIGO experience, a house and techno party with an indie vibe, in the middle of Tulum jungle. Offering you a 12 hour music journey with a limited space for 1000 people. Hurry up if you want to be part of the best jungle party in Tulum and Riviera Maya.
This event will be boosted by the sounds of: 
BLUE SHADOW "CHAIM b2b JENIA TARSOL b2b ASAF SAMUEL"
DAVID MAYER
JOS & ELI
JULYA KARMA
TIELLO
VERLK
Don't miss the opportunity to be one with nature, meet incredible people and live a once in a lifetime experience. Book your ticket clicking the button down below!
Psst! Delicious food will also be part of the night – arepas, pizza and empanadas all made by the lovely hands of the chefs! Make sure to try them with some great drinks.
January 7th - SET Underground's Tulum Jungle Party
The Tulum jungle party "Wilderness Burn" is ready to set your mood for the whole 2023. From 7 PM till the sun rises, dance on the beats of:
ARMEN MIRAN
DORIAN CRAFT
GIORGIO STEFANO 
JIMI JULES
LAOLU
MoM 
Food and delicious drinks will spice up the night – book the tickets down below and check out all the purchasing options, from a single entry ticket to incredible tables with bottles perfect for your group of friends!
Tulum's Hottest Event - Crypto Fest 2023
Spice up your vacation with a seductive blend of crypto expertise and Tulum's tropical beauty?
Tulum Crypto Fest 2023 is the perfect opportunity for you to immerse yourself in 4 days of active learning, socializing, and networking, all in the breathtaking backdrop of Tulum. Join other like-minded individuals and gain insights from over 30 renowned speakers on the latest blockchain technologies, AI, tokenized real estate, and more. Participate in engaging workshops and a thrilling hackathon, pushing the boundaries of what's possible in today's technological landscape.
Experience the perfect blend of cutting-edge innovation and Tulum's vibrant expat community. Be inspired by witnessing groundbreaking projects at the captivating Whale Tank pitching session and forge invaluable connections with thought leaders from around the world, all while enjoying the unique charm of Tulum.
Register now to secure your spot and access exclusive discounts before they're gone!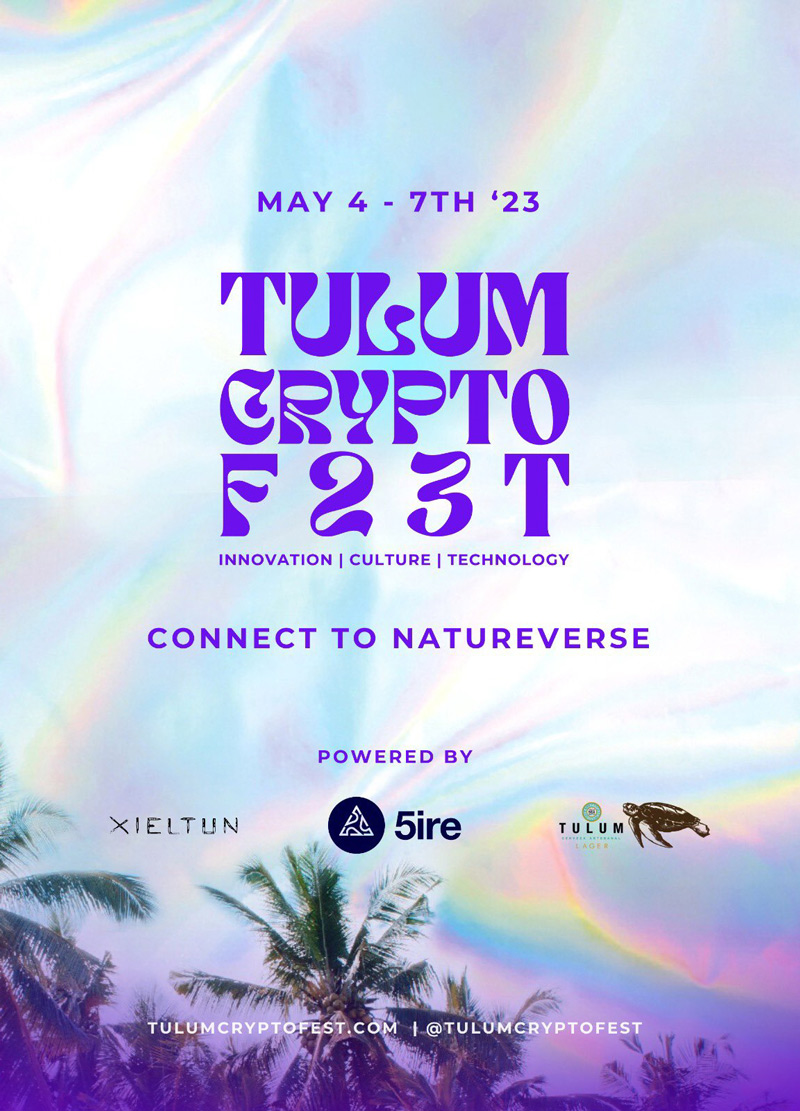 Secure Your Spot HERE
Use the promo code WELCOMETCF to receive a 20% discount on your ticket purchase.
Hurry – spots are filling up fast! 🙀 We can't wait to see you there!
Best upcoming parties in Tulum
❤️❤️❤️27th/30th April - PHILIA ART AND MUSIC WEEKEND @Papaya Playa Project❤️❤️❤️
28th March - S I N N E R Present: CRISTOPH @Vagalume
30th March - ELECTRONIC ELEMENTS @MIA TULUM
30th March - VAGALUME SESSIONS SOUND OF RITUALS @VAGALUME
30th March - POPOF @BONBONNIERE TULUM
31st March - TEN IBIZA @VAGALUME
1st April - BONOBO @Papaya Playa Project
1st April - HANNAH WANTS @BONBONNIERE TULUM
2nd April - VAGALUME SUNDAZE ROY ROSENFELD @VAGALUME
6th April - TOM & COLLINS @BONBONNIERE TULUM
8th April - PIKNIK @VAGALUME
8th April - THE FULL MOON @Papaya Playa Project
15th April - SIGNATURE @Papaya Playa Project
15th April - NIC FANCIULLI @BONBONNIERE TULUM
16th April - ANCESTRAL SOUL @BONBONNIERE TULUM
21st April - NICO DE ANDREA @BONBONNIERE TULUM
22nd April - STARVAULT @Papaya Playa Project
27th - 30th April - PHILIA ART AND MUSIC WEEKEND @Papaya Playa Project
4th May - Tulum Crypto Fest 2023 @Papaya Playa Project
6th May - THE FULL MOON @Papaya Playa Project
13th May - STARVAULT @Papaya Playa Project
20th May - ASTROBEAT @Papaya Playa Project