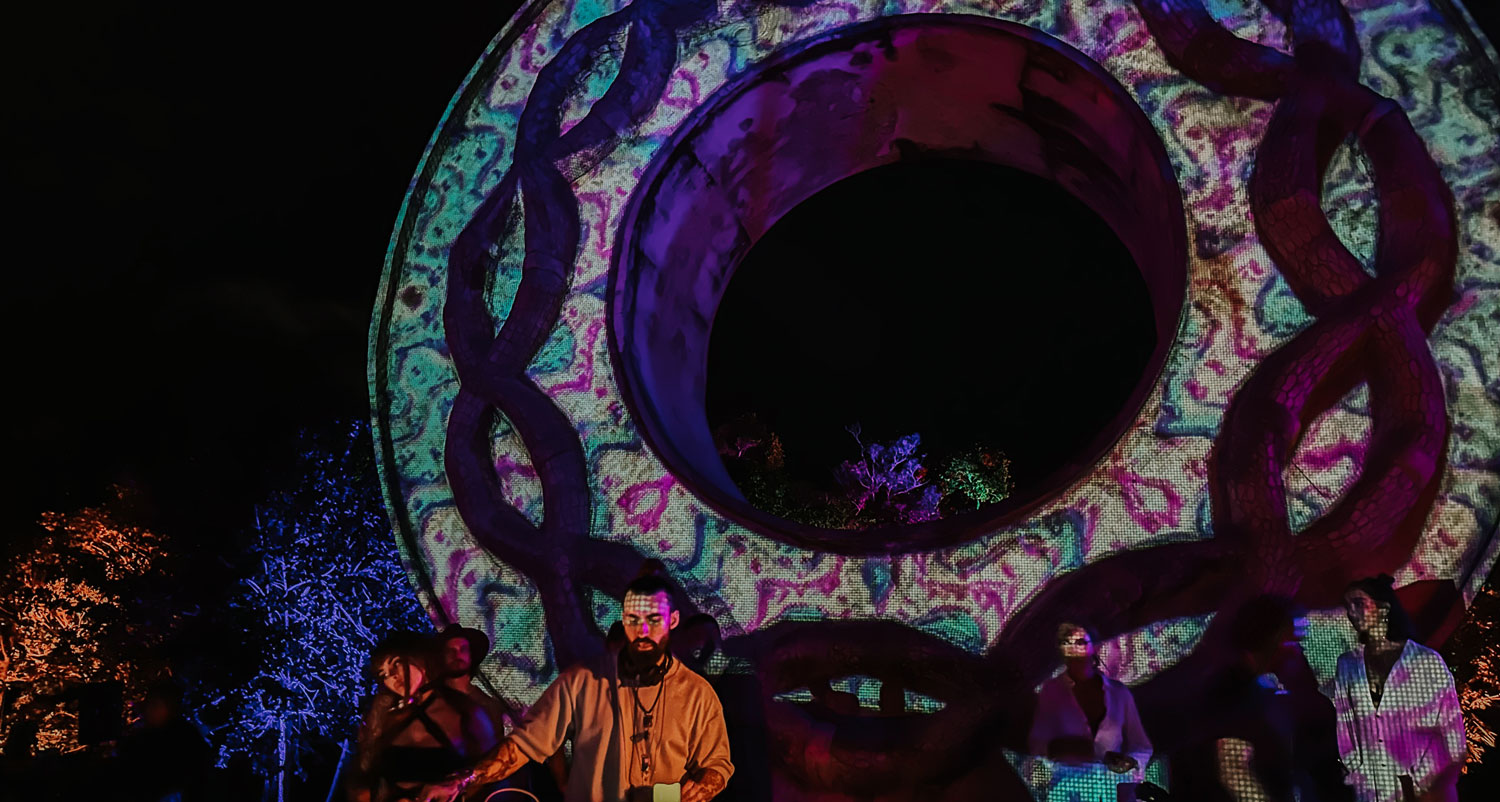 Zamna Festival Tulum 2024: Our Complete Guide + Important Info
After celebrating the new year in December, Zamna brings you breathtaking music festivals from across the world to Tulum, Mexico! It is where they proudly present various music events hosted by the best international DJs, incredible dance parties at the paradisiacal Tulum jungle, and the most unforgettable sensory experience.
Check out Zamna Tulum's music events and best lineup while enjoying the artisan food, cold drinks, and beautiful art that never fails to enhance your experience! 
So, what are you waiting for? Grab these last-minute VIP tickets on sale here!
What is Zamna Festival and what can you expect?
Zamna Tulum is a gathering festival that unites thousands of electronic genre fans and artists to share the same passion for party, dance, and music in one spot. The event will be located in a magical enclave of Mexico, Tulum, which hosts the world's most reputable events and festivals! Delight yourselves in a heavenly atmosphere surrounded by the lush jungle, palm trees, and the open-air cenote.
This festival will have various events spread across different days in Jan. These events/mini festivals feature iconic DJs such as Michael Bibi, Diplo, and especially in the Afterlife & Core event. With a lit festival as Zamna's, you will need to revitalize the body, right? Not to worry, as the party goes on, there will be savory food and drinks available on the premises that will fill you up when you're hungry.
At last, what makes Zamna festival remarkable is it invites you to be a part of something great. The musical journey connects every individual to enjoy the spirit of freedom in the middle of lush nature in Tulum, Mexico. This is because Zamna Tulum believes in the power of electronic music to take over the mind and body, which will spark magic in our souls. Don't you feel it too?
If you do, here are the fantastic Zamna events throughout Jan 2024. We highly recommend you reserve a table because you will need it if you plan to party all day long! Check out these last-minute deals.
Next Parties and Events at Zamna Festival
Enjoy the party of a lifetime at the heart of Tulum's nature and move to the upbeat electronic music, delight in authentic food, and toast to exclusive drinks! Here is the list of the various events/mini festivals of Zamna Tulum. Keep a lookout on the tickets (general, VIP, and inside stage/backstage) on sale for the festival this year, and check them out here.
Want to book a table at these events? Or have some shortcuts? Our friend Virginia – master in Tulum nightlife – can help you out. Contact her on Whatsapp to get the last tickets for Zamna and rock the night!
Book The Last Tickets + Table
Zamna Festival day parties
January 1 / Hotel Zone / 4pm
Returning to Tulum with a new day to night concept called Renaissance. This magnificent beachside venue was performed by the Ukrainian duo ARTBAT. Join the festival that takes you on a musical journey between the jungle and the sea.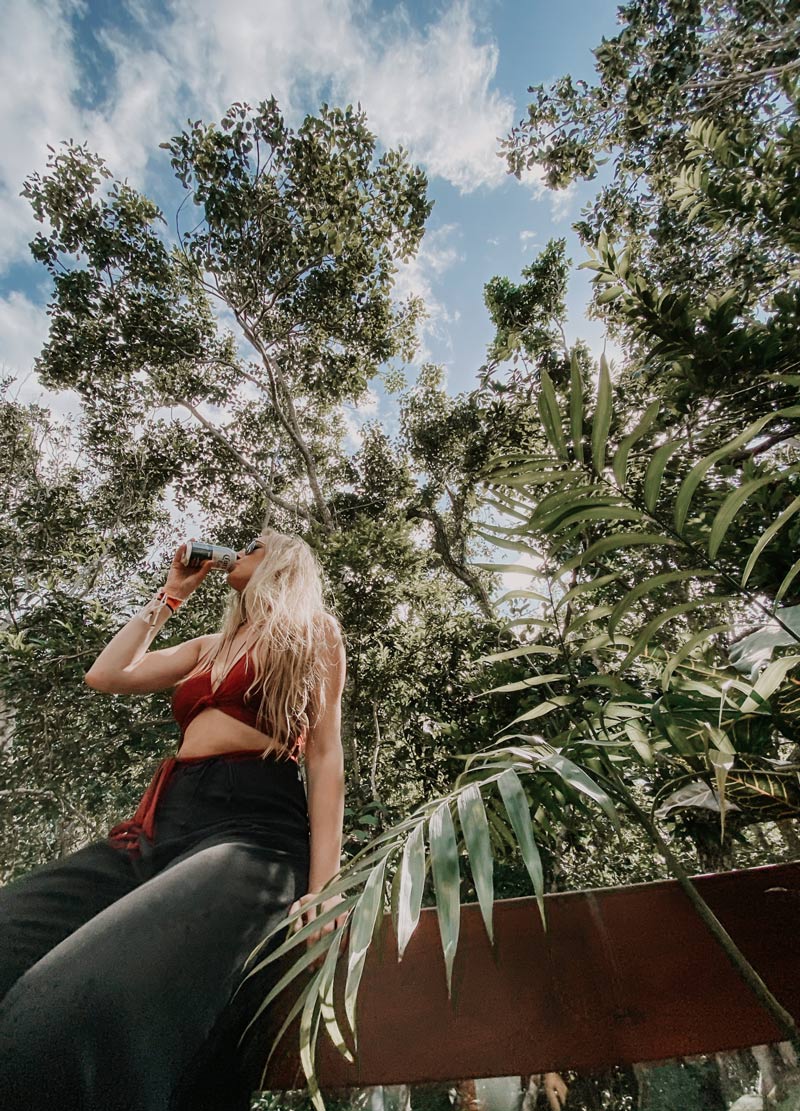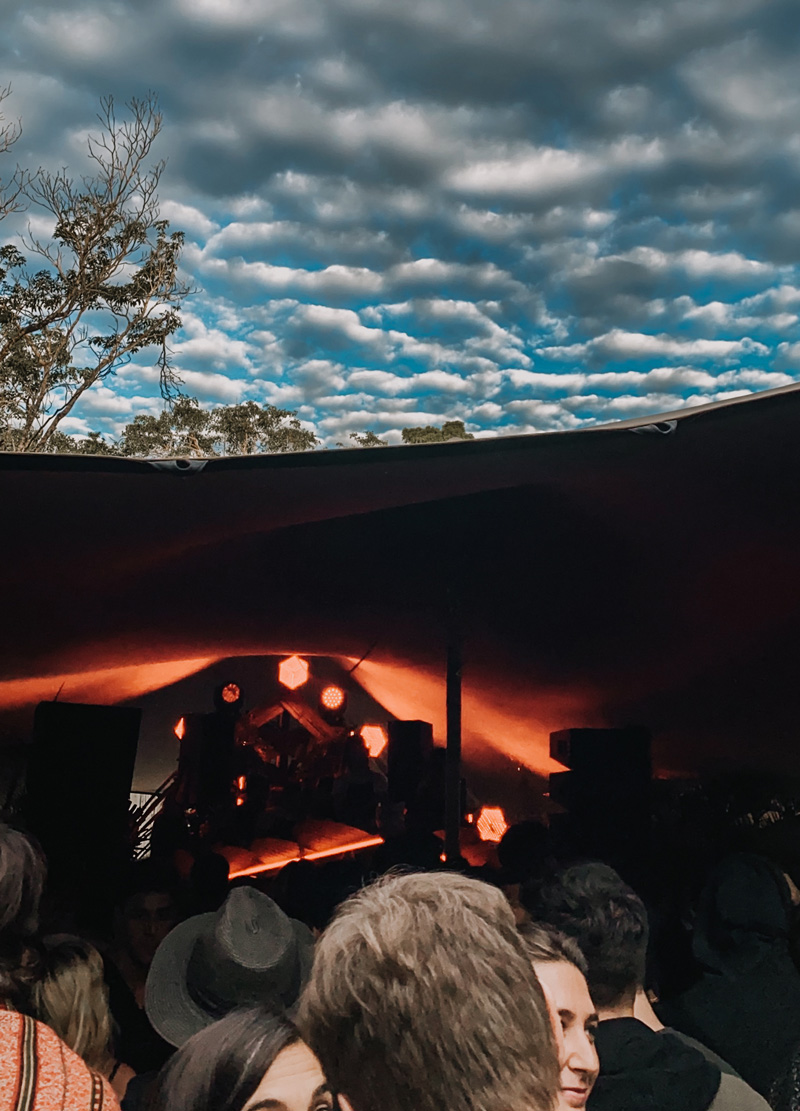 January 3 / Hotel Zone / 4pm
For the second time in Zamna, Damian Lazarus performs Wild Is Love at Tulum beach. On this day, this lineup includes the Art Department, Layla Benitez, and Bartolomeo for a journey on the white beach sand.
January 5 / Hotel Zone / 4pm
The Masquerade is presented by Claptone at Tulum's Beach. Together with the top artists in the world, the German producer's Venetian Carnival makes its way to the Quintana Roo shores to start the new year with the most avant-garde rhythms and artistic masks.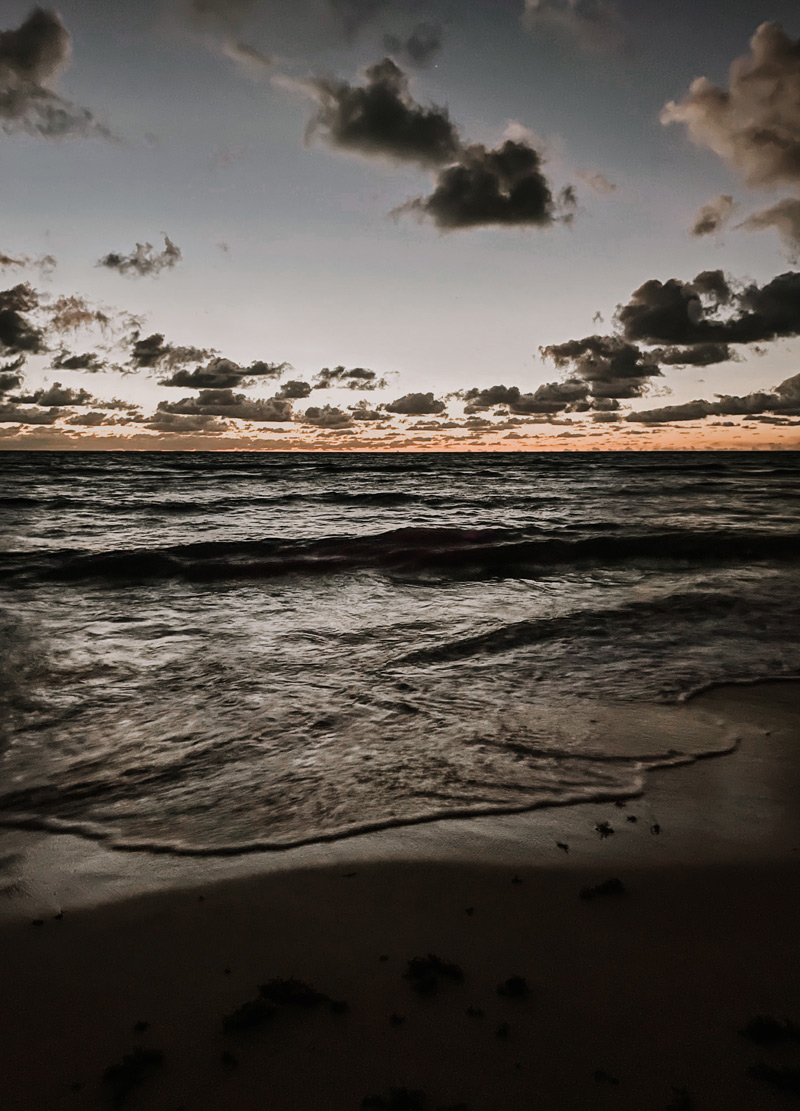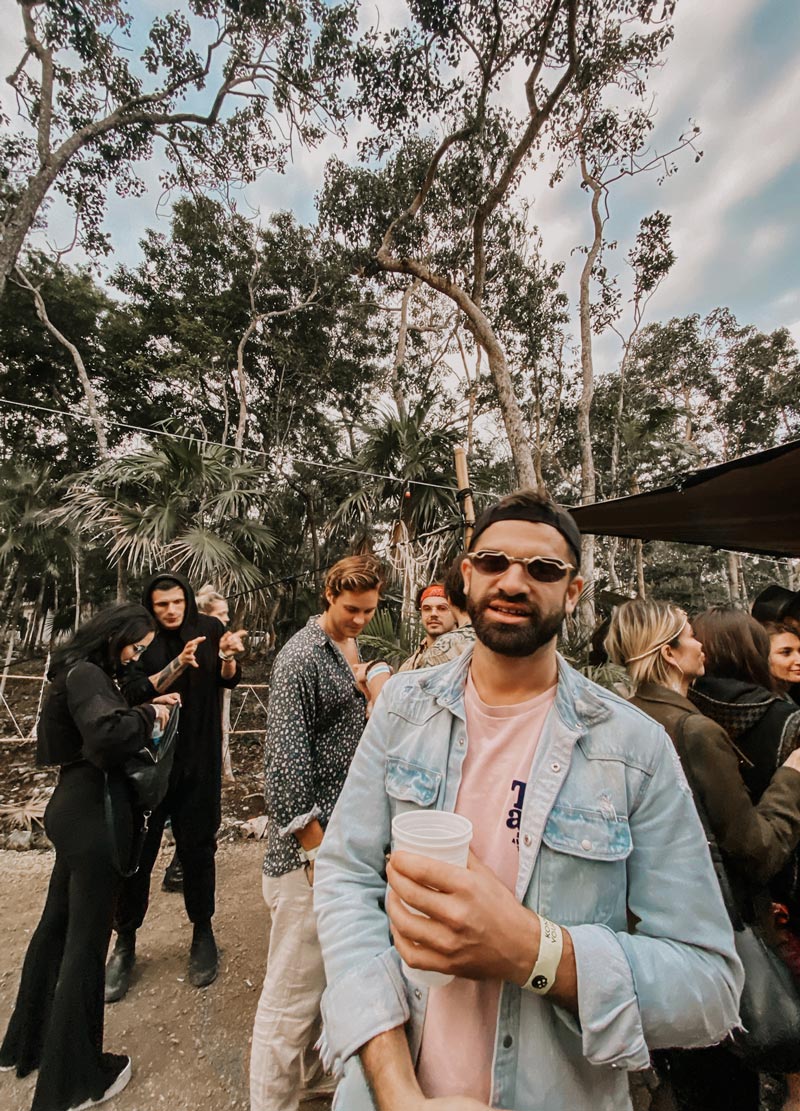 January 7 / Hotel Zone / 4pm
Along with their brand-new idea, Zamna On The Beach presents the stellar German producer Monolink to make a live appearance on Tulum Beach. Stay tuned for more performances and details for the occasion!
Zamna Festival night parties
MICHAEL BIBI PRESENTS ELOVATE | January 2, jungle
Venue / Time: Jungle & Open air cenote / 10pm
The beautiful Zamna cenote, located in the middle of the Tulum jungle, is where the British selector and Solid Grooves label owner Michael Bibi debuts his brand-new ELOVATE concept performance in Mexico!
Mark your calendar because he curates an incredible lineup of artists from the powerful UK tech house for this event, including Layla Benitez, Joseph Capriati, Loco Dice, and Seth Troxler, who await to take you on a journey.
Tickets/tables: Michael Bibi's most famous Elovate concert features various options from General, VIP, inside stage, and Backstage. With its last-minute sale, you can save a table here!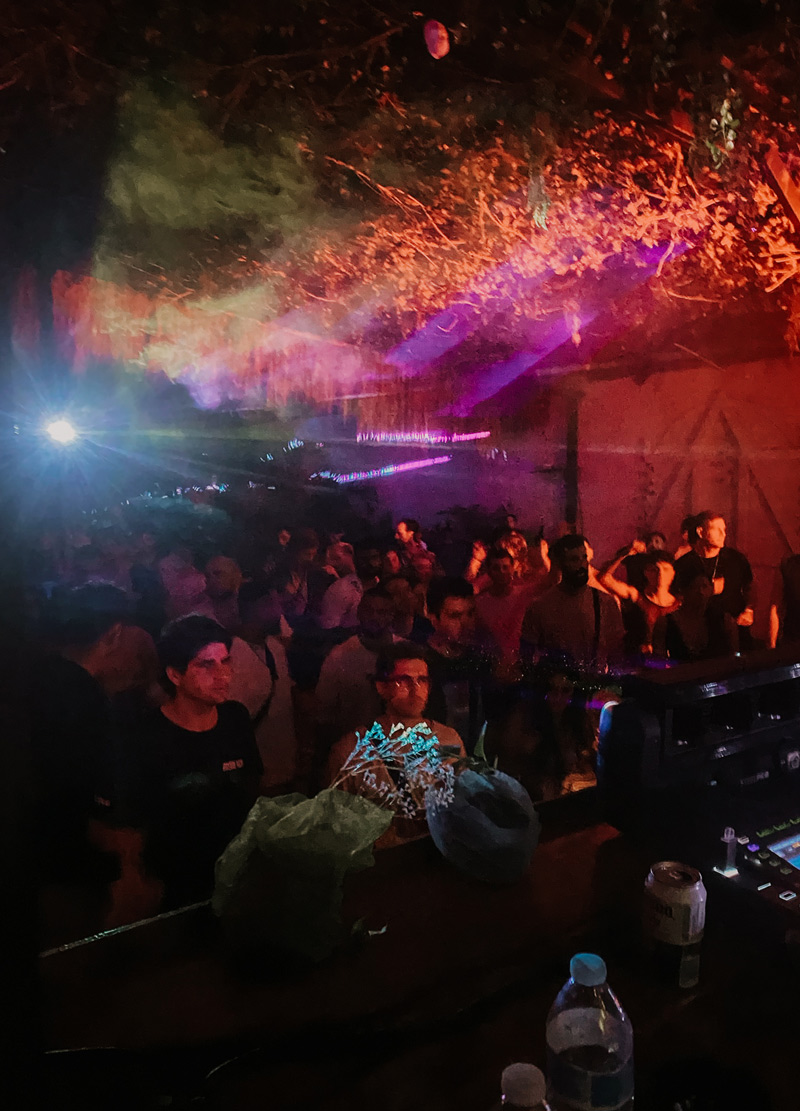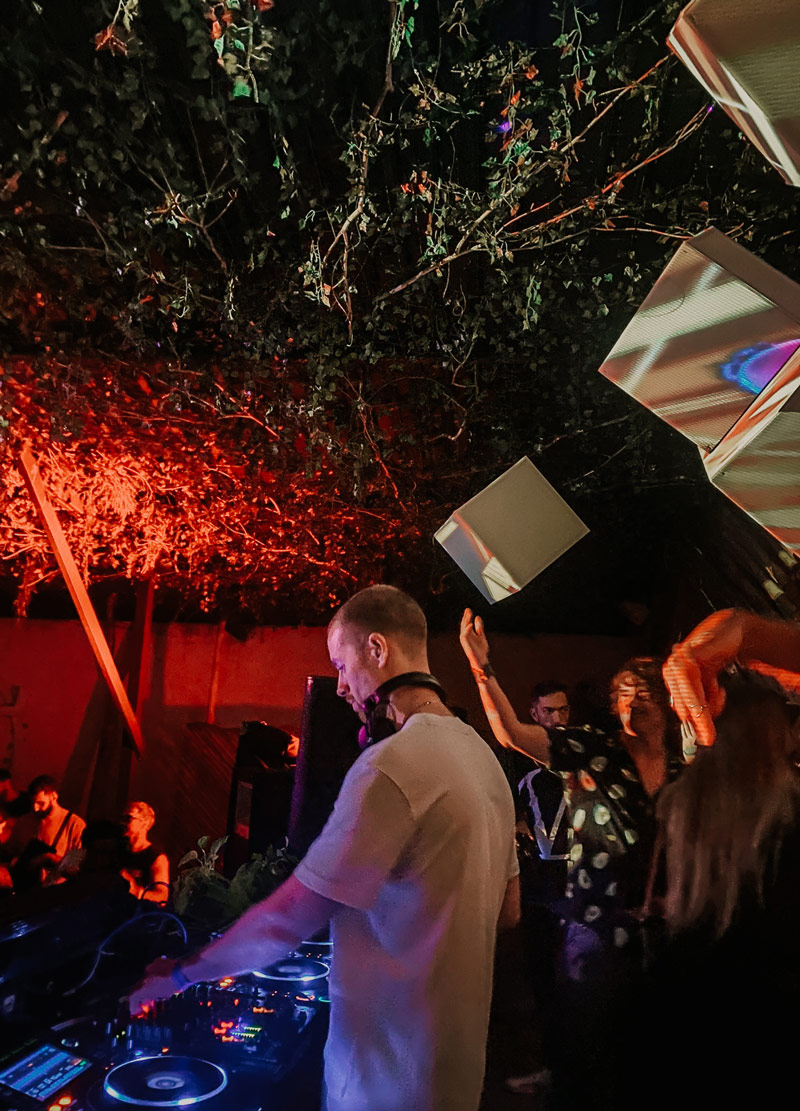 POOL STAGE | January 2 & 8
On the 2nd, Zamna Tulum presents its Pool Stage with outstanding performers like the group Agent Of Time, Konstantin Sibold, ANII, Olympe, Wurtz, and EBMATH. This ticket also grants entry to the Michael Bibi-curated ELOVATE Tulum concert, taking place the same day at the island stage.
While the 8th features outstanding performers like the duo Mind Against, Massano, the b2b between two powerhouses like Ostil and The Element, Armonica, and IAM, among others. This ticket also grants entry to the Keinemusik event, organized on the same day at the island stage.
Venue/time: Jungle & Open air cenote / 10pm
The surprising appearance of Tale of Us is here to treat you to yet another unforgettable musical odyssey in this festival, Afterlife. Situated in the most breathtaking locations in Mexico and in the middle of the Tulum jungle, Zamna Tulum will simultaneously host this performance on three stages!
Its reappearance comes from the successful show in January 2022, which stunned everyone with its extravagant art and visuals, becoming one of the best parties of the year for many fans. Zamna festival is back with its most incredible season to maintain the title.
Tickets/tables: The Afterlife concert features various options from General, VIP, inside stage, and Backstage. With limited spots available, check out these sales here.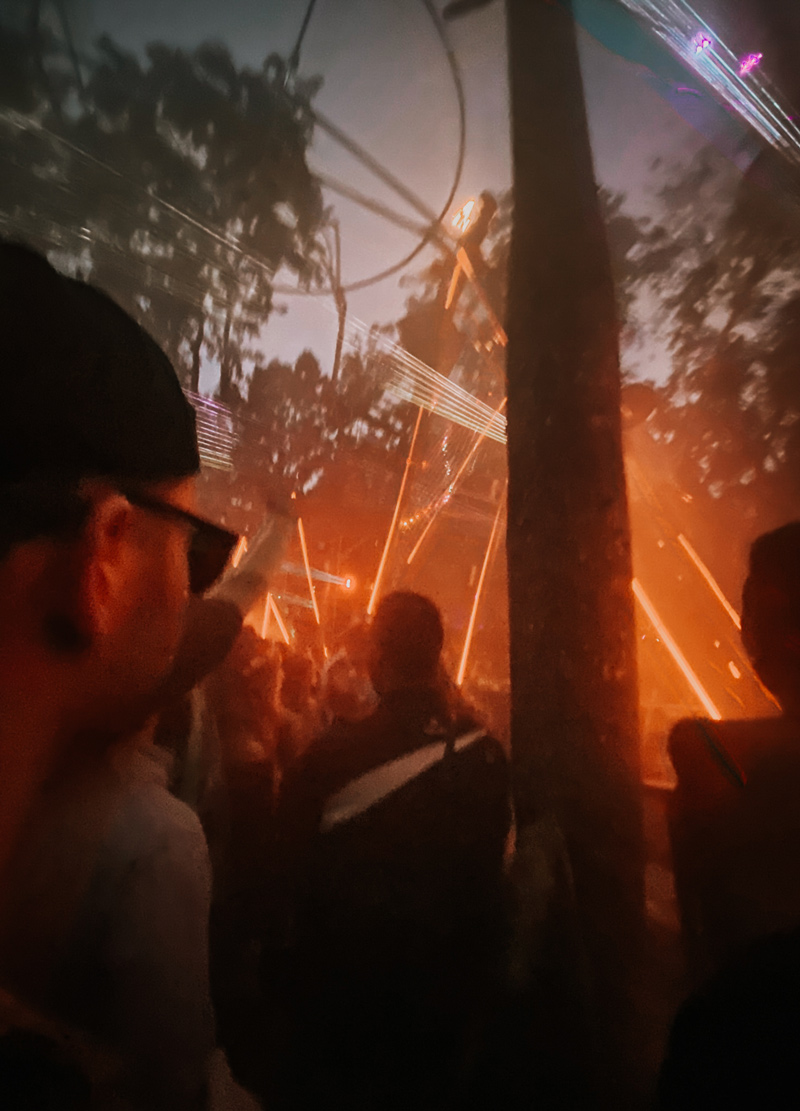 Circoloco has been around for 23 years and is back to take the audience into the immersive jungle rhythms of Tulum. Through his journey, he was surrounded by the most active producers and freshest talent, making this night of Zamna Tulum dedicated to the deep groovy beats and the hottest lineup featuring a lineup that includes, among many others, &ME vs. Rampa, Seth Troxler, me, Monolink, and Mochakk. 
Tickets/tables: The Afterlife concert features various options from General, VIP, inside stage, and Backstage. With limited spots available, check out these sales here.
An audible voyage through rhythm, techno beats flowing between the trees of the Tulum jungle. The German trio, Keinemusik, travels to Zamna Tulum to perform the original soundtrack alongside &Me, Rampa, Adam Port, and Benji B, preparing to shake the ground of Zamna Tulum!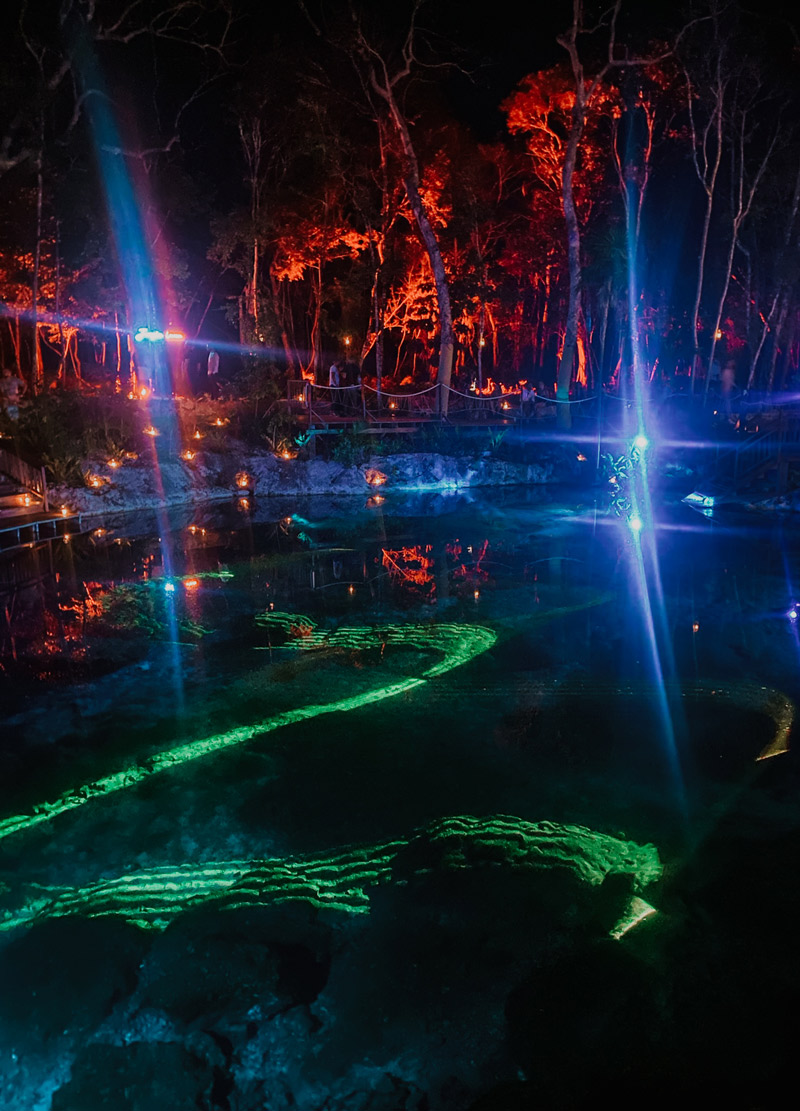 Zamna Amenities & services
Besides the events of Zamna Festival, here is a selection of amenities, facilities, and services that all guests can enjoy.
List of Amenities
Pool beds

Free wifi

Tables with a privileged view of the show

Live Dj and Art Shows
List of Facilities
Luxury Condos
Boutique Eco-Cabanas

Bar

Japanese and Firewood Restaurant
Cenote
Food Truck
Pool
Is Zamna Festival Tulum Expensive?
If you are wondering if Zamna is too expensive – it's not. You'll live a once in a lifetime experience that you'll always carry with you. Merged in the jungle, with the most talented DJs out there, you'll be able to let your body vibe following the rhythm of the music around you. So – stop wondering: Zamna is worth all your money and moreover, booking a table will completely improve your experience. Try to believe! 
Booking tips & Best deals
The sooner, the better – there is this simple rule when booking tickets for famous festivals in Tulum. But it's not the end if you didn't book your ticket yet – you can always contact our dear friend Virginia who is The person to know in Tulum when it comes to nightlife. 
She will book a table for you in every Zamna event in no time – she literally knows everybody in Tulum and she will give you the best tips whatever you'll want to do.
Plus? It's completely FREE! 
Book Your Ticket + Table Here
Take Advantage Of Free Concierge Service
As excellent to explore Tulum and its surroundings alone, you may need help figuring out where to start. To make the most of your money and time, contact Virginia and Kelly - two incredible Mexican girls living in Tulum for more than 15 years. They're familiar with the ins & outs of the Tulum town and hotel zone like the back of their hand! 
Since we arrived in Tulum 2 years ago, many adventures wouldn't have been possible without their help - they know literally everybody in Tulum and can perfectly organize every moment of your stay. Get the best tables, skip queues and get on the guest list of the coolest places in Tulum - this's only the beginning! 
They are ready to offer you guys FREE concierge service in Tulum for the time of your stay: take advantage of it, contact them on Whatsapp and live the best experience!
Get FREE Concierge Service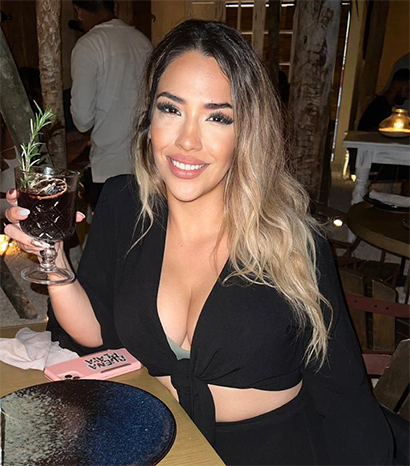 "Virginia Will Transform You In A Tulum Insider"
Sample of prices at Zamna Festival Tulum:
Every event that Zamna hosts has its own price, and price changes also according to when you book your ticket, if you book a table or not, etc.
Let's find out a few samples of prices at Zamna Festival!  
Standard ticket: from $100 to $300 USD
Backstage and Inside Stage ticket: from $1000 to $2000 USD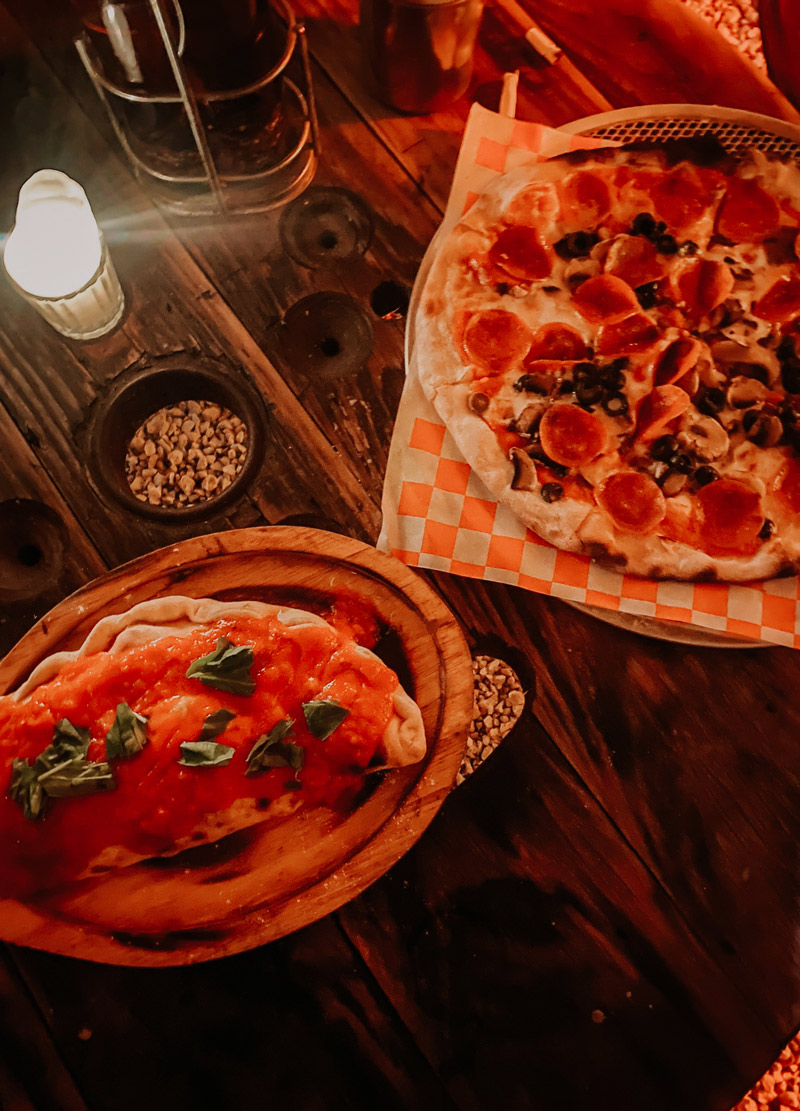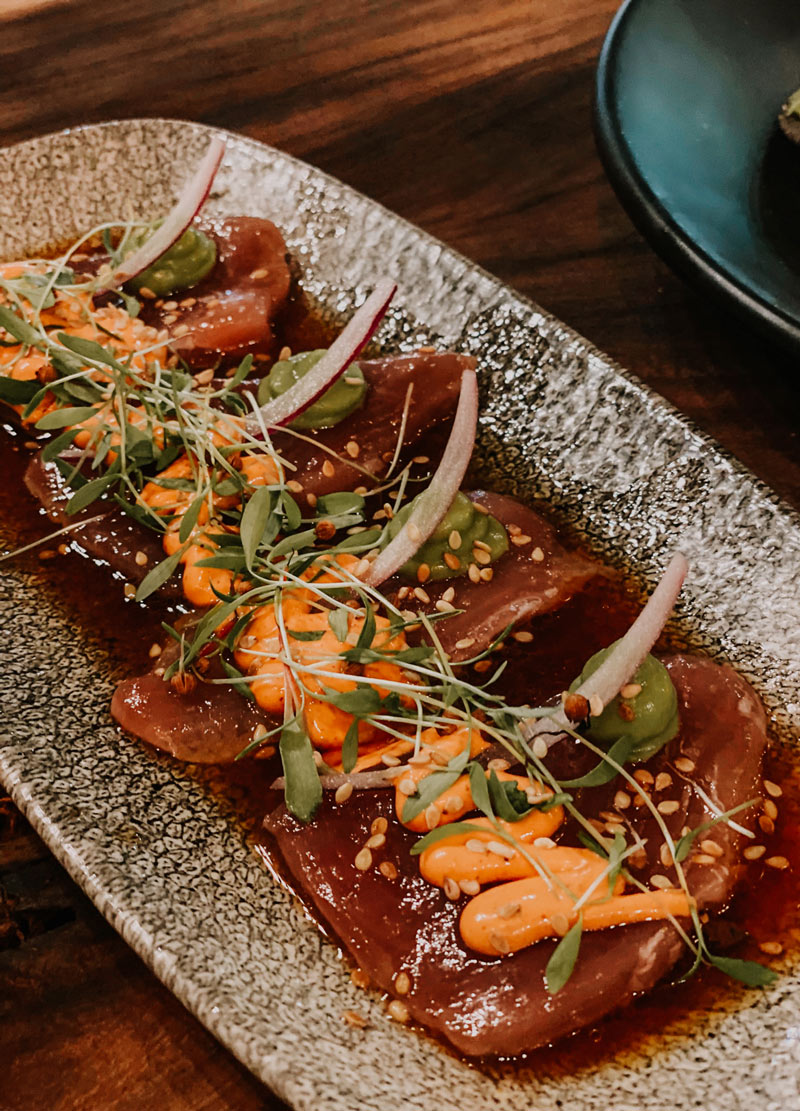 Prices at Zamna festival Tulum:
At Zamna you'll have different prices, some more expensive than others, but all in all with a very good value for money. Check below a few prices from Zamna festival! 
Zamna Parking car price: $25 USD
Zamna Parking scooter price: $15 USD
Zamna Tulum Villas: $200 USD/night
Food (pizza, burgers, curry, sweets, fruit, etc): $10 to $20 USD and more
Drinks: $10 USD
TIPS: If you want to enjoy the best food at Zamna, we really recommend you try Zamna culinary experience – Firewood culinary experience and Japanese food are waiting for you!
Reviews about Zamna Festival Tulum
We honestly love the Zamna Festival – you'll feel surrounded by art at its finest level. From incredible music to the stunning location, from the delicious food to the entire vibe of this event, we really believe it's the best way to start January. But let's check out what other people think about Zamna Festival!
What people say about Zamna Tulum
There are plenty of reviews online and they are all pretty much positive reviews. No wonder – Zamna had a huge success in the past two years and people started being fond of this festival. Check out below the ratings Zamna and Zamna's villas got!
Rating on Tripadvisor : ⭐⭐⭐⭐ 4.0/5 average on 10 review as of Jan 2023

Rating on

Expedia : ⭐⭐⭐⭐ 7.2/10 average on 10 review as of Jan 2023

Rating on

Booking

: ⭐⭐⭐⭐ 8.4/10 average on 65 review as of Jan 2023

Rating on Google Maps: ⭐⭐⭐⭐⭐ 4.3/5 average on 740 review as of Jan 2023
Book Your Ticket Here
Where is Zamna Festival located in Tulum?
Zamna Festival takes place 4 km from Tulum town, in the direction of the jungle. In this same location you'll be able to attend the different events of this 2023 festival! 
Zamna festival is located close to the neighborhood of Tulum Centro
Full Address: Zamna festival Tulum, km 200, México 307, 77760 Tulum, Q.R., Mexico
How to go to Zamna Festival?
If you are thinking to go to Zamna by car – well, that's not the best idea. It's true that there is a parking on site, but you'll for sure struggle to find a parking spot. Better to go there by scooter or sharing the cost of the taxi with your friends. There are also transportation like mini vans and shuttles – you should check in with your hotel and get all the detailed information!
If you want to have a complete guide about transportation in Tulum – from local colectivos to how to avoid scams when booking a car – check it out!
Which Hotels are close to the Zamna Festival?
More than the villas Zamna offers, there are different hotels close to Zamna. Check our favorites down below!
Zamna Tulum villas – in the venue – If you want to be part of Zamna at 100%, these villas are the perfect place. Beautiful interior in a stunning location, enjoy Zamna at its fullest!
Ajal Tulum Tree Houses – 2.5 miles from the venue – These lovely tree houses are halfway from Tulum town and Zamna venue: they're a really great deal! 
Bayou Tulum Glamping – 3 miles from the venue –

This glamping is all what you can dream of: simple interiors merged in the peace of the jungle! 
FAQ about Zamna Tulum
What is the minimum age to get in at Zamna Tulum?
The minimum age to get in Zamna is 18 years old.
Are large groups accepted in Zamna Tulum?
Large groups are accepted at Zamna Tulum, moreover it will be even better to share a table with a big group of friends!
Are kids allowed in Zamna Tulum?
No, kids are not allowed in Zamna Festival.
At what time do the events of Zamna Tulum start?
Events at Zamna Tulum start at 10:00 pm, but many events also take place during the day and evening.
At what time open Zamna restaurant?
Zamna food trucks are open the whole time of the event, as well as for the culinary experience of TORO (Japanese food) and FIRE (Grilled specialties).
How to make a reservation at Zamna Tulum?
You can for sure book a table at Zamna festival events, but we recommend you to do it with our internal contact in order to get the best spot and value for money! Plus: it's free! Contact her here.
How to make a reservation at Zamna Tulum?
Is there a pool in Zamna Tulum?
Yes, Zamna Tulum is featuring a completely new pool close to Zamna villas to improve even more the entire experience.
Does Zamna accept credit cars?
Yes, Zamna Festival accepts credit cards but it's always good to carry some cash to pay for snacks, drinks and food.
What kind of music is being played at Zamna Tulum?
Electronic music is king at Zamna Festival! As well as with techno and house music.
Does Zamna accept cash?
Yes, Zamna accept Mexican Pesos.
Are tips included in the service price Zamna Festval Tulum?
No, tips are not included at Zamna Festival – better have some cash to add your propina!
Is there a minimum spend in Zamna Tulum?
No, there is not a minimum spend at Zamna Tulum, unless you book a table.
What is the dress code at Zamna Tulum?
You can dress as you feel at Zamna, but we recommend you not to wear high heels or anything that prevents you from being comfortable. Tips: get inspired by the jungle!
Great, let's feature the "MYSTICAL SUNSET /OLIVER HUNTEMANN" event at Mia Restaurant & Beach Club in Tulum on Wednesday, 29 November 2023. Here's the HTML snippet for your event: ```html
👉 WEDNESDAY, Nov 29
MYSTICAL SUNSET /OLIVER HUNTEMANN 🌅
📍
Mia Restaurant & Beach Club, Tulum
💵
Tier 1 Tickets: Mex$ 660 (incl. fees), Final Tier: Mex$ 880 (incl. fees)
📩
Contact Virginia
here
to book a table
Join us for an unforgettable evening at Mystical Sunset with Oliver Huntemann. Contact Virginia here to book your table and be part of this magical night on the beach! 🎶🔥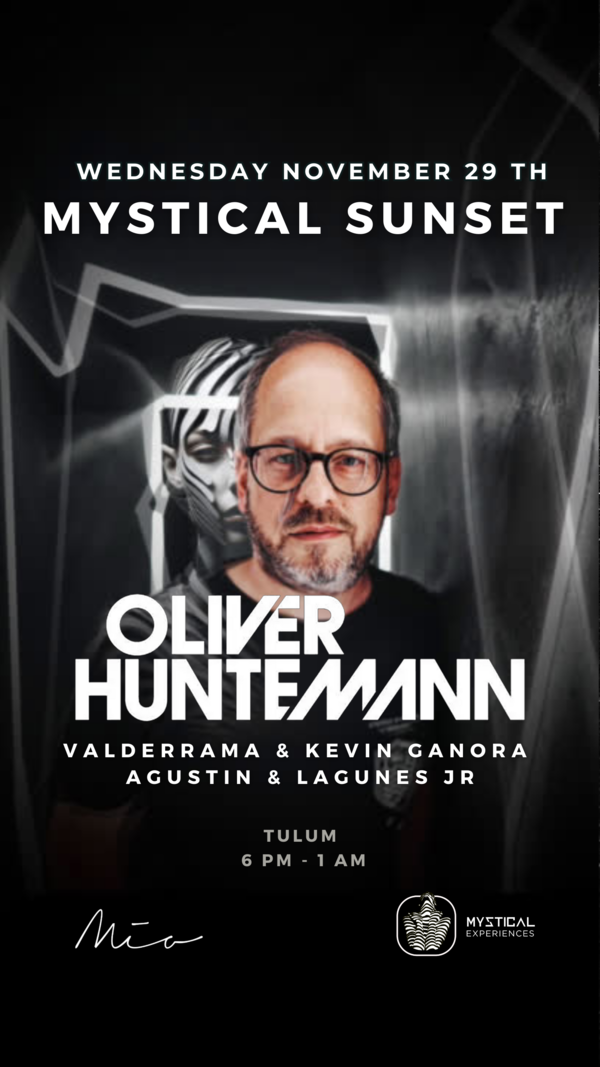 Top Parties and Club Events
23rd November - VAGALUME SESSIONS KEENE @VAGALUME
26th November - VAGALUME SUNDAZE MITA GAMI @VAGALUME
30th November - VAGALUME SESSIONS VALDOVINOS @VAGALUME
3rd December - VAGALUME SUNDAZE VALENTIN HUEDO @VAGALUME
7th December - VAGALUME SESSIONS MUSTAFA ISMAEEL @VAGALUME
30th December - PIKNIK POLO CORP & LEO LEONSKI @VAGALUME
31st December - NEW YEAR´S EVE @BAGATELLE TULUM
31st December - NYE PARTY 2024 @VAGALUME
13th March - LOCUS Tulum 2024