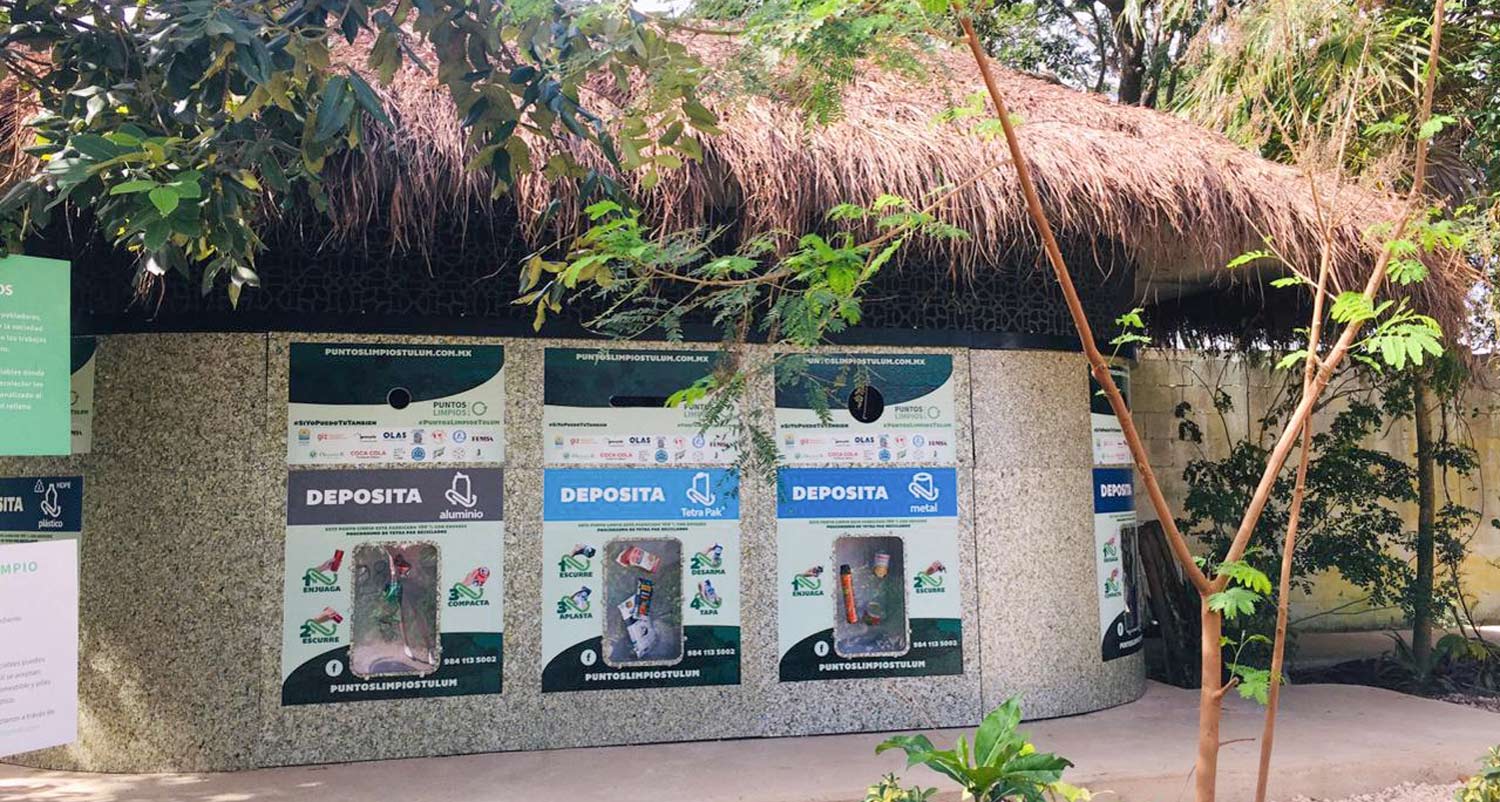 Embrace Sustainability in Tulum: Plan a Green Vacation in a Sustainable Hotel
Whenever we travel, it is super important to us to be responsible with the environment, especially in natural places like Tulum, because we want to preserve nature exactly as it is, so our future generations can enjoy Tulum as cleanly as possible!
From recycling and composting in Tulum, to choosing an eco-friendly accommodation, in this article you will find useful information for making your next vacation to Mexico as green as possible! So if you are a conscious traveler willing to have a great time while having a sustainable trip, grab your coffee and keep reading! 
TRAVEL TIP: If you are going to visit Tulum, Mexico get in contact with Virginia and Kelly, they will help you to organize your sustainable stay in Tulum for FREE! 
ECO-LIFE IN TULUM: RECYCLING AND COMPOSTING TIPS
One big problem of touristic cities like Tulum, generally is the big amount of waste produced in their hotels and restaurants, but recycling and composting is a great way to care for the environment and have a green stay in Mexico. Here are two places where you can compost and recycle, making your stay sustainable and green-friendly!
TULUM CIRCULA - A RECYCLE CENTER
Tulum Circula is a Recycle Center in Tulum, that you can find here. You can recycle plastic, tin cans, cardboard, glass, paper, aluminum cans, and electronics like batteries. They have other programs too, like cleaning Tulum's beaches and volunteering. Check all the info on their website here! We recycle our waste in Tulum Circula about twice a week! 
Moreover, for further information, there is a staff available in the place that is happy to help you with your concerns. The recycling center is open 9:00am to 7:00pm from Monday to Saturday. Good luck in your recycling path!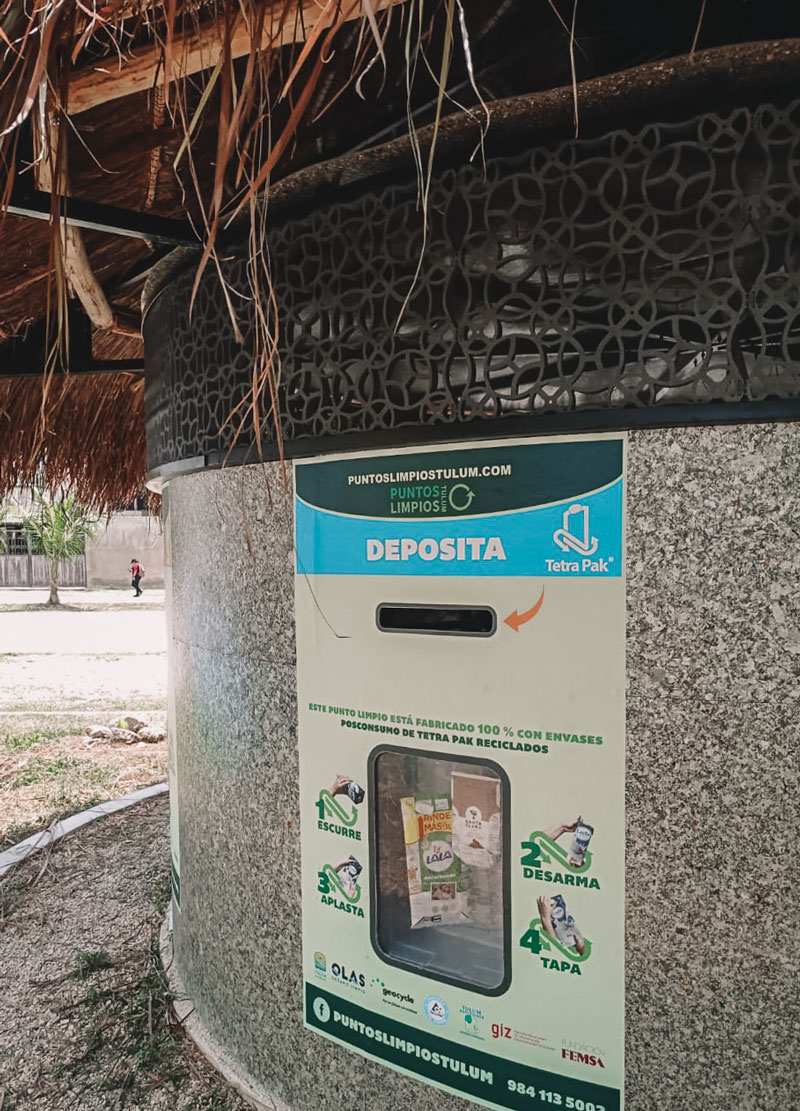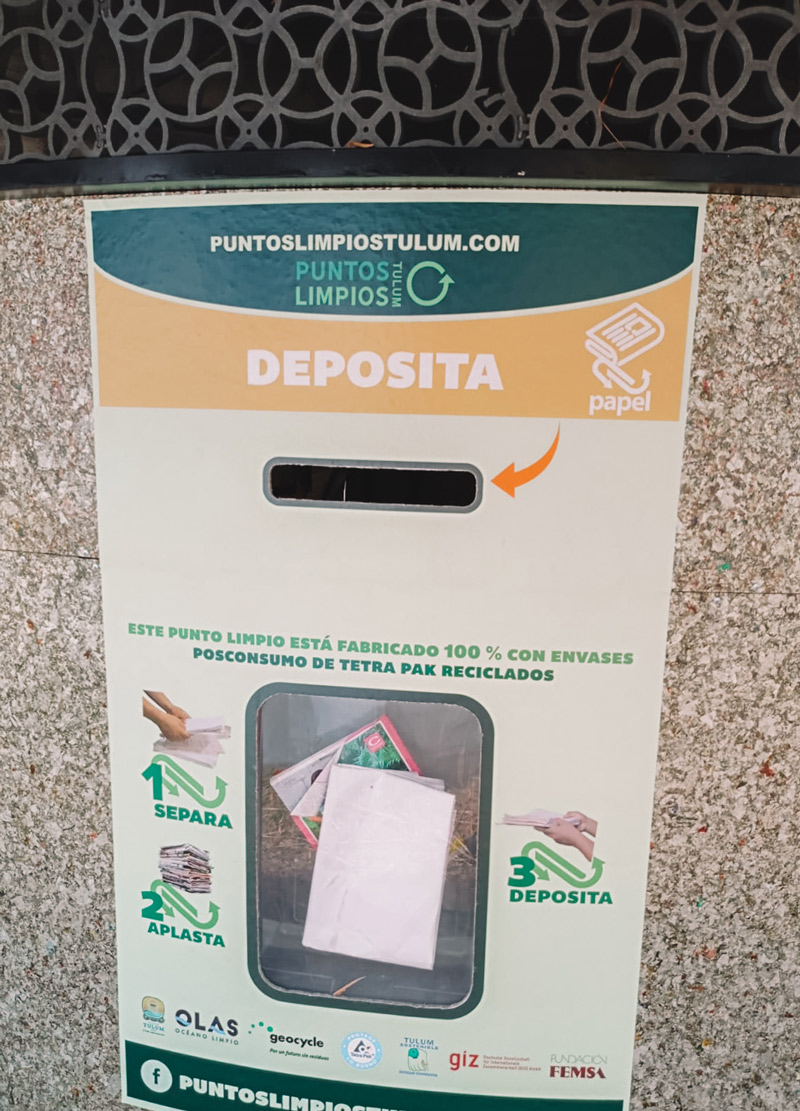 Woolis Foodie Market is a Market that offers amazing products, but also is a composting center where you can leave your food waste. You can find them in the town here, or at the ladle community center, here. 
Moreover, if you want to know more about their story and the products you can find in their market, check out their website!
ECO-FRIENDLY ESSENTIALS FOR ZERO WASTE TRAVELERS
By choosing eco-friendly products, you can reduce your carbon footprint while traveling and help preserve our planet for future generations. Here are some products that you can take with you on your travels to make them more sustainable and eco-friendly:
Reusable water bottle -
A reusable water bottle is a must-have when traveling. You can fill it up with tap water instead of buying plastic water bottles, which are one of the biggest contributors to plastic pollution.
Reusable shopping bag -
When you're traveling, you're likely to do some shopping. Instead of using plastic bags, bring your own reusable shopping bag.
Travel mug -
If you're a coffee or tea drinker, bring your own travel mug. You can use it to get your morning caffeine fix without contributing to the landfill.
We hope this list gives you some ideas on how to make your travels more eco-friendly. By making small changes in your travel routine, you can help protect the planet and create a more sustainable future. Remember, every little bit counts, so let's all do our part to protect our planet!
ECOTOURISM IN TULUM - PARADISIACAL NATURAL SITES
Ecotourism is a kind of tourism that aims to visit and explore natural areas, paradisiacal places and leave no waste on the way, but only help the environment by choosing local products.  
Sian Ka'an Natural Reserve
Located nearby Tulum, Sian Ka'an natural reserve is an amazing place which name means "the Origin of the Sky", it's home of about 400 of different animal species that you may see when you visit it, like manatees, pumas, and turtles! In Sian Ka'an reserve you can also enjoy snorkeling and kayaking, so it's a must-visit destination enjoying a day trip from Tulum!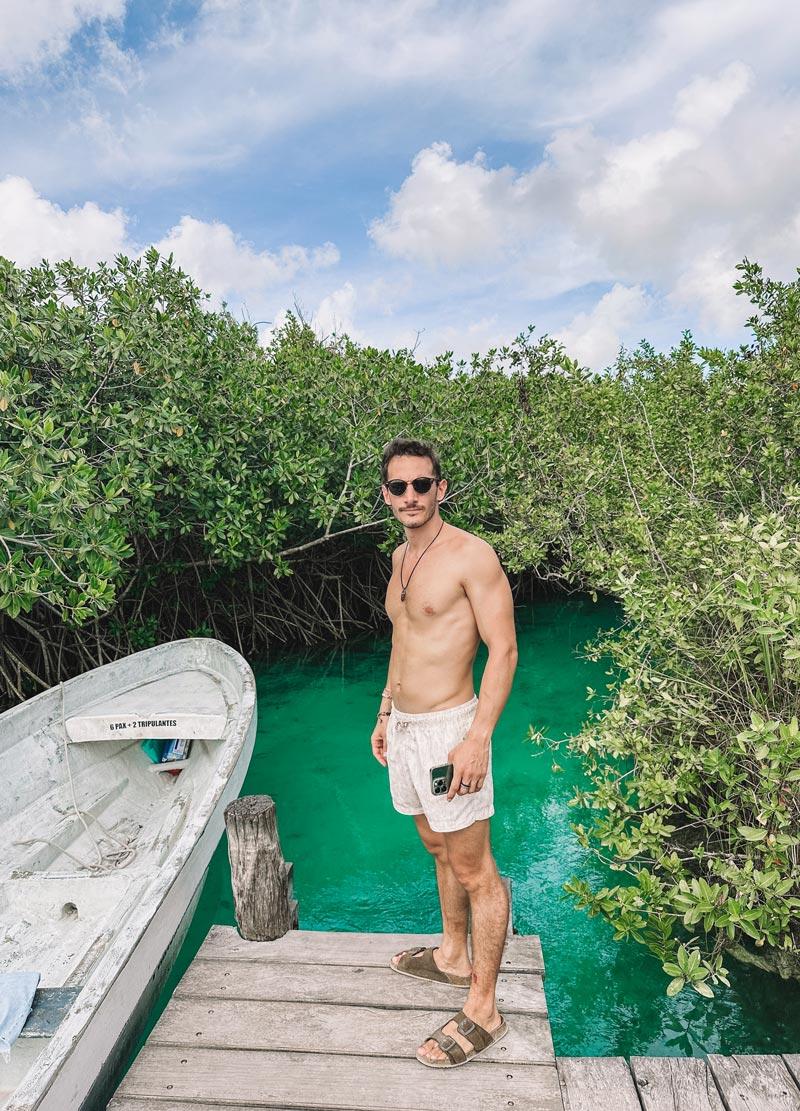 Explore the wonders of a cenote
Here are a few great cenotes to visit if you are in the Riviera Maya. Located just a short ride away from Tulum town, every cenote is an entire wonderland worth discovering. But do you remember what a cenote is? Well, a cenote is a natural sinkhole that exposes groundwater. Here you can swim, snorkel and sometimes even dive into them, while you are surrounded by beautiful lush vegetation in tropical jungles. 
Here are three sustainable cenotes near Tulum known for their commitment to sustainability:
Cenote Dos Ojos: Located about 20 minutes north of Tulum, Cenote Dos Ojos is a stunning natural wonder known for its crystal-clear waters and intricate underwater cave systems. It is part of a larger protected area called Sistema Dos Ojos, where sustainable practices are implemented to preserve the cenote's fragile ecosystem.
Cenote Sac Actun (also known as Cenote Aktun Ha): Situated approximately 10 kilometers southwest of Tulum, Cenote Sac Actun is one of the longest underwater cave systems in the world. It is a prime example of sustainable tourism, with responsible visitor management, eco-friendly infrastructure, and conservation efforts to protect the cenote's unique biodiversity.
Cenote Zacil-Ha: Located near Tulum, Cenote Zacil-Ha offers a sustainable and immersive experience. Surrounded by lush vegetation, this cenote follows eco-friendly practices to protect its pristine environment. Enjoy a refreshing swim in its turquoise waters, appreciate the natural surroundings, and support the sustainable efforts aimed at preserving this hidden gem.
When visiting these cenotes, it's important to follow sustainable tourism guidelines, such as not wearing sunscreen or other chemicals that could harm the delicate underwater ecosystems, and respecting the rules and regulations set by the cenote management for the protection of the environment.
ECO-FRIENDLY HOTELS TO STAY IN TULUM
If you're planning a trip to Tulum, you won't want to miss out on these amazing eco-friendly hotels. Here's what makes them so special:
Amenities: Free Wi-Fi in rooms, pool & public areas | Pool | Gym | Free parking | 24 hour security
Our expert tip: Rent a bike in the hotel and explore Tulum's local area, available at the front desk.
Azulik Hotel is absolutely stunning, with treehouse-style rooms and incredible ocean views. It's the perfect place to disconnect from the world and get back in touch with nature. Plus, the entire hotel is built with the perfect blend between sustainability and luxury in mind, so if you are a conscious traveler but you also love sophistication in the middle of lush jungle vegetation, then this is the perfect place for you!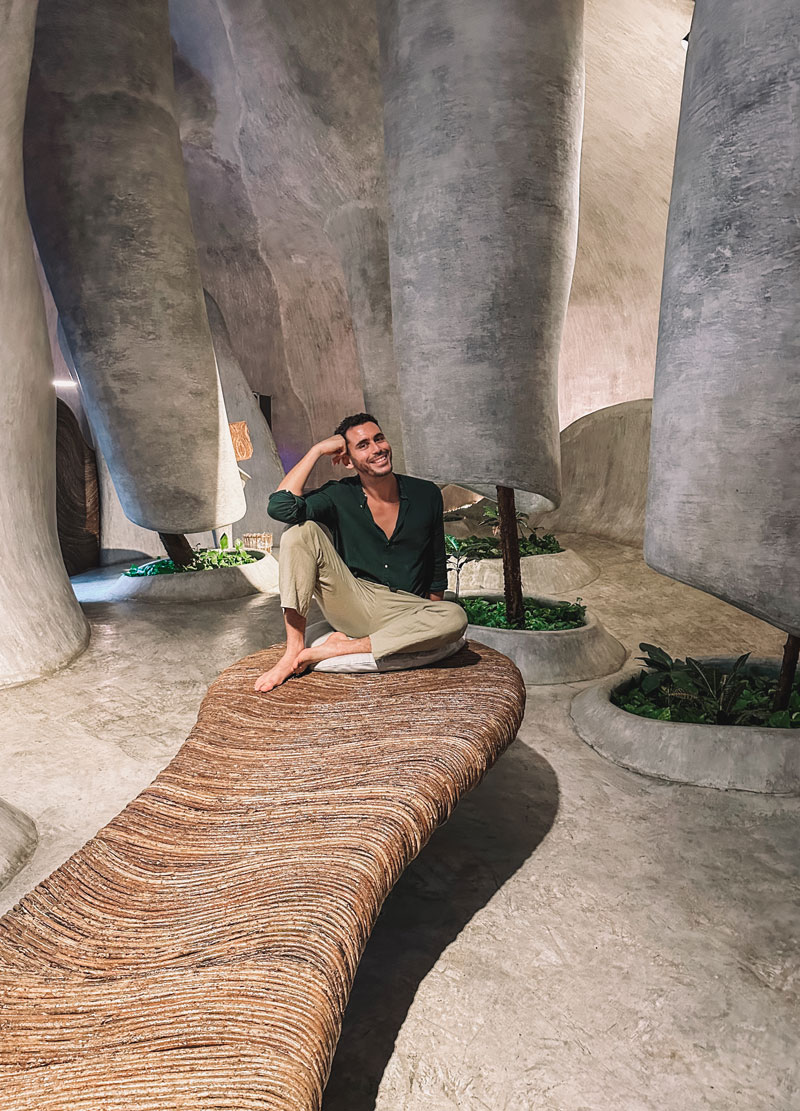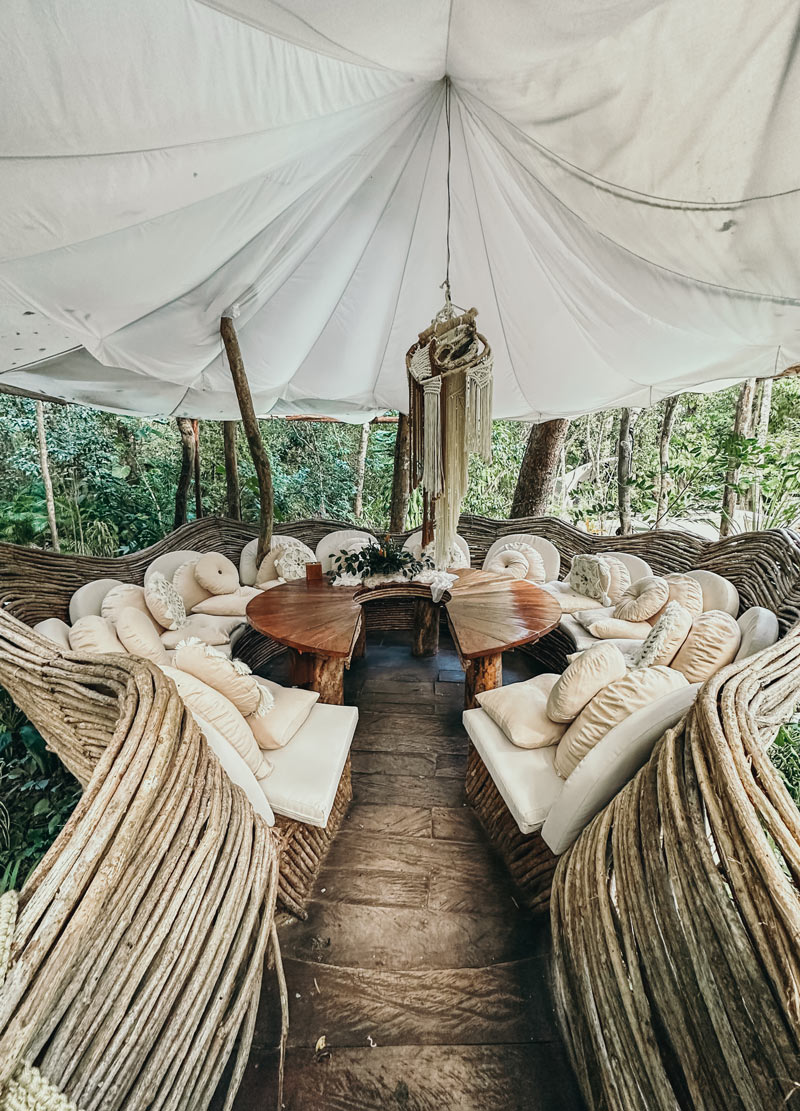 Amenities: Free Wifi |  Natural cenote | natural pool | wellness area | Balcony | 24/7 security | kitchenette 
Our expert tip: Wake up early and watch the sunrise from their open nest. 
Another amazing eco-friendly hotel in Tulum is Kan Tulum. This place has a really other-wordly architecture, with a jungle vibe, tons of greenery and a relaxed atmosphere. The rooms are spacious and comfortable, and the staff is incredibly friendly and welcoming. But trust us, their three houses are the best to unplug and connect with nature! 
Casa Palapa Villas - By Papaya Playa Project
Amenities:5 bedrooms with A/C | Up to 10 guests | 24 hrs. Personalized Butler's service | Full bathroom in each room
Our expert tip: Check their agenda before going. They have amazing night celebrations! 
Mayan building techniques, sand, music and celebrations under Tulum's sun and next to the beach are just a few of the incredible things you can enjoy in Papaya Playa Project. With a natural deco and a vibrant atmosphere, this place is perfect to go with your best friends to spend amazing days on the beach.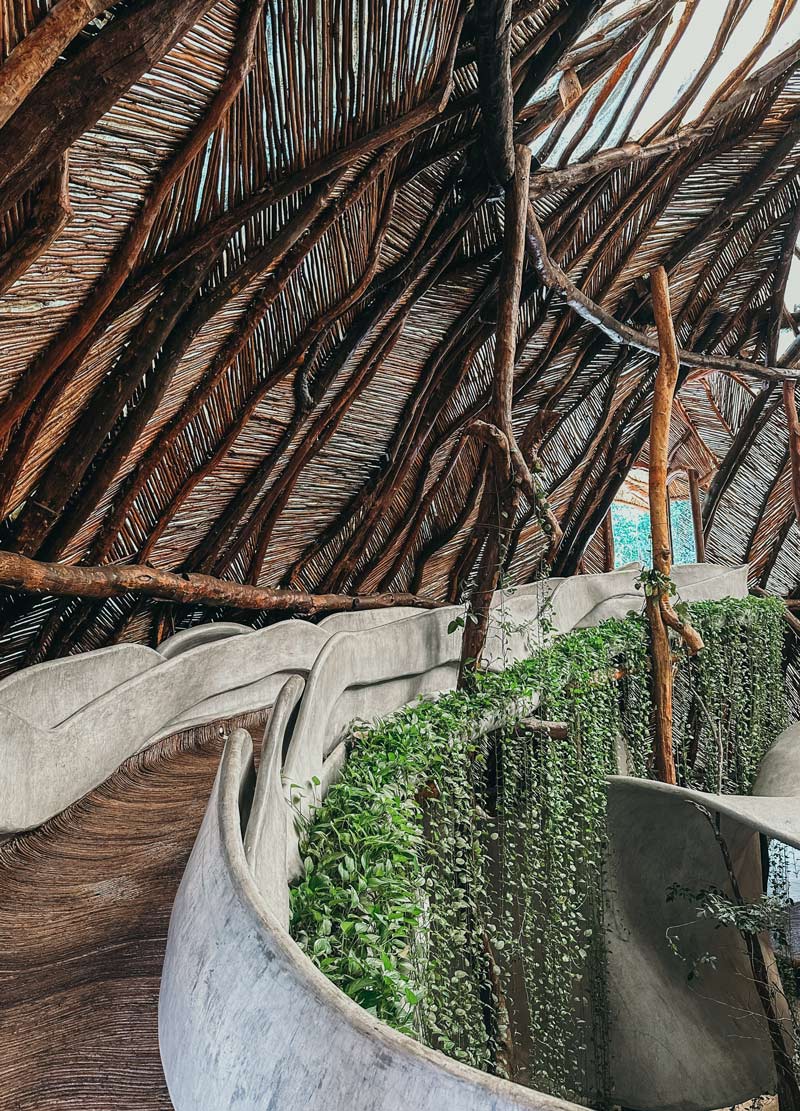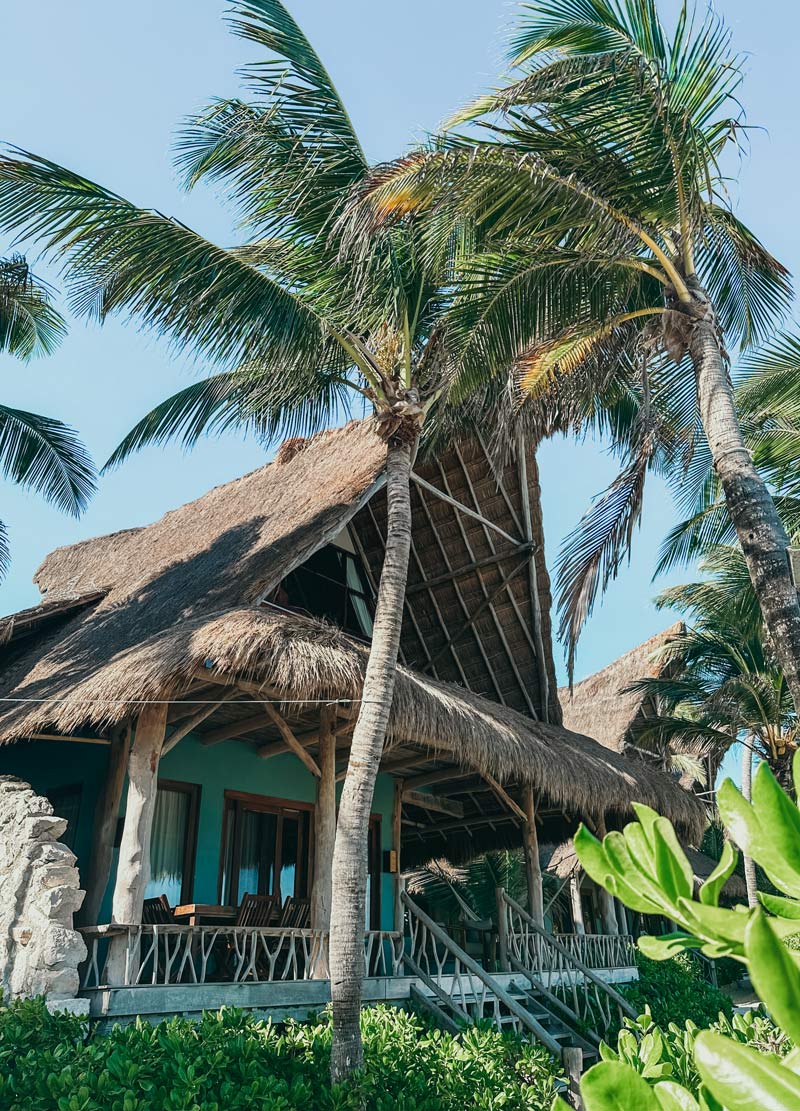 Amenities: Free parking |Free Wifi | Pool / beach towels | Yoga classes| Beach | Pet Friendly
Our expert tip: Stay Longer and enjoy every 4th night free!
Last but not least, we have Ahau Tulum. This hotel is right on the beach, so you can wake up to the sound of the waves every morning. The rooms are beautifully designed and the staff goes above and beyond to make sure you have an amazing stay. Plus, the entire property is powered by solar panels, so it's an eco-conscious choice.
Take Advantage Of Free Concierge Service
As excellent to explore Tulum and its surroundings alone, you may need help figuring out where to start. To make the most of your money and time, contact Virginia and Kelly - two incredible Mexican girls living in Tulum for more than 15 years. They're familiar with the ins & outs of the Tulum town and hotel zone like the back of their hand! 
Since we arrived in Tulum 2 years ago, many adventures wouldn't have been possible without their help - they know literally everybody in Tulum and can perfectly organize every moment of your stay. Get the best tables, skip queues and get on the guest list of the coolest places in Tulum - this's only the beginning! 
They are ready to offer you guys FREE concierge service in Tulum for the time of your stay: take advantage of it, contact them on Whatsapp and live the best experience!
Get FREE Concierge Service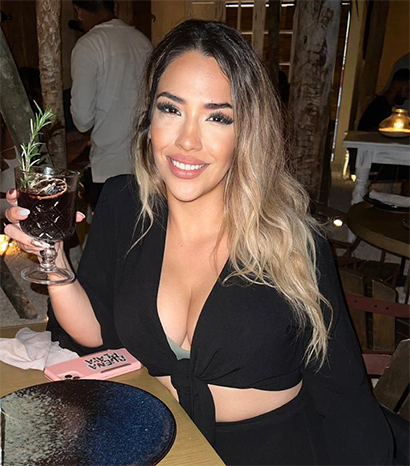 "Virginia Will Transform You In A Tulum Insider"
LIVING SUSTAINABLY - 5 GOLDEN RULES
Traveling to natural places is a fantastic way to connect with the environment and appreciate the beauty of our planet. But it's also important to make sure we're not leaving behind a negative impact. Here are our five golden rules for sustainable travel that won't put a damper on your adventure:
Leave No Trace, unless you want to be chased -
When you're out and about in nature, it's important to remember that you're a guest. Leave the place just as you found it, so that future visitors can enjoy it too. Don't litter, don't break branches, and don't feed the animals (unless it's allowed).
Refill, refill, refill -
It's easy to get thirsty while exploring the great outdoors. Instead of buying single-use plastic bottles, bring your own refillable water bottle. And if you're a coffee lover like us, don't forget your reusable cup for your morning cup. Let's save the environment one refill at a time!
Stay on the trail, or you might fail -
Trails are there for a reason – to protect the delicate ecosystem around you. So, make sure to stay on the path and avoid trampling on vegetation. This way, you'll minimize your impact on the environment and avoid getting lost in the wilderness (not a funny experience).
Consider staying in an eco-friendly accommodation -
Renting eco-friendly accommodation is another way to reduce your environmental impact while traveling. Look for places that use renewable energy sources, have low-water usage systems, and use eco-friendly cleaning products. Not only will you be doing your part for the planet, but you'll also get to enjoy a unique and sustainable travel experience. Who knows, you might even find yourself sleeping in a cozy treehouse or a yurt with a stunning view!
Support local businesses, and you'll be deliciously victorious -
When it comes to food and souvenirs, try to support local businesses. Not only will you get a taste of the Mexican local culture, but you'll also be helping the local economy. Plus, who doesn't love trying out new food and buying unique souvenirs?
So, there you have it! These five golden rules will help you have a sustainable and enjoyable adventure in nature. Just remember to have fun and appreciate the beauty around you!
FAQ about Sustainability in Tulum
What is the importance of embracing sustainability in Tulum?
Embracing sustainability in Tulum is crucial for preserving the natural beauty and resources of the area for future generations.
What is recycling, and why is it essential?
Recycling is the process of converting waste materials into new products. It is essential because it reduces the amount of waste sent to landfills, conserves resources, and saves energy.
How can I recycle in Tulum?
You can recycle in Tulum by separating your recyclable materials and taking them to the nearest recycling center, like Tulum Circula, or placing them in a designated recycling bin.
What items can be recycled in Tulum?
In Tulum, you can recycle paper, cardboard, glass, aluminum, and plastic bottles and some electronics items.
What are the benefits of composting?
Composting is essential because it reduces the amount of waste sent to landfills, improves soil health, and reduces greenhouse gas emissions.
What items can be composted?
You can compost fruit and vegetable scraps, coffee grounds, tea bags, eggshells, and yard waste.
How can I reduce my waste in Tulum?
You can reduce your waste in Tulum by using reusable bags, bottles, and containers, buying products with less packaging, and avoiding single-use plastics.
Great, let's feature the "MYSTICAL SUNSET /OLIVER HUNTEMANN" event at Mia Restaurant & Beach Club in Tulum on Wednesday, 29 November 2023. Here's the HTML snippet for your event: ```html
👉 WEDNESDAY, Nov 29
MYSTICAL SUNSET /OLIVER HUNTEMANN 🌅
📍
Mia Restaurant & Beach Club, Tulum
💵
Tier 1 Tickets: Mex$ 660 (incl. fees), Final Tier: Mex$ 880 (incl. fees)
📩
Contact Virginia
here
to book a table
Join us for an unforgettable evening at Mystical Sunset with Oliver Huntemann. Contact Virginia here to book your table and be part of this magical night on the beach! 🎶🔥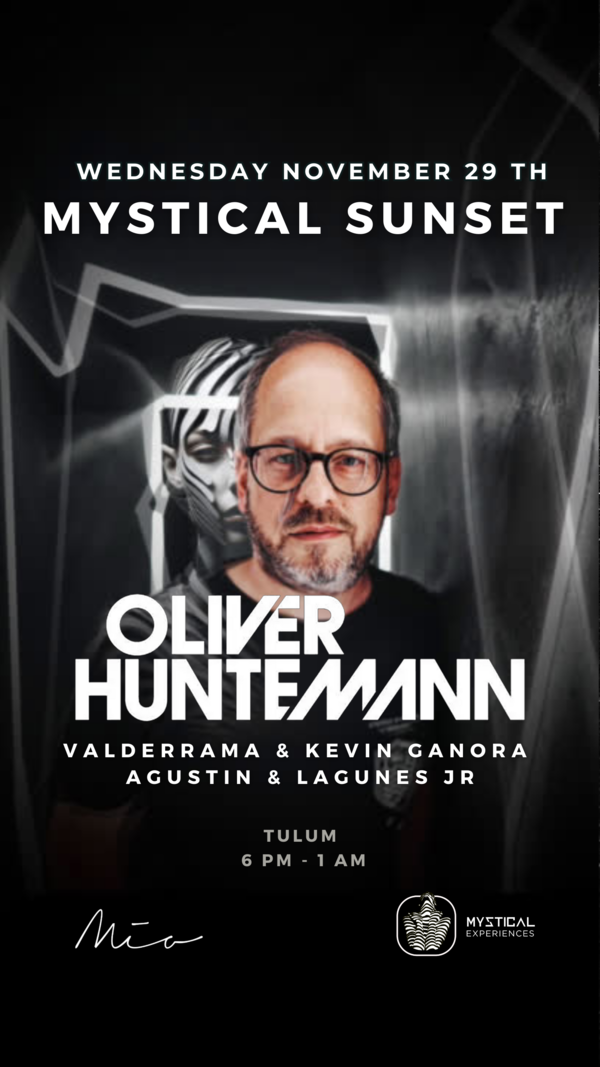 Top Parties and Club Events
23rd November - VAGALUME SESSIONS KEENE @VAGALUME
26th November - VAGALUME SUNDAZE MITA GAMI @VAGALUME
30th November - VAGALUME SESSIONS VALDOVINOS @VAGALUME
3rd December - VAGALUME SUNDAZE VALENTIN HUEDO @VAGALUME
7th December - VAGALUME SESSIONS MUSTAFA ISMAEEL @VAGALUME
30th December - PIKNIK POLO CORP & LEO LEONSKI @VAGALUME
31st December - NEW YEAR´S EVE @BAGATELLE TULUM
31st December - NYE PARTY 2024 @VAGALUME
13th March - LOCUS Tulum 2024