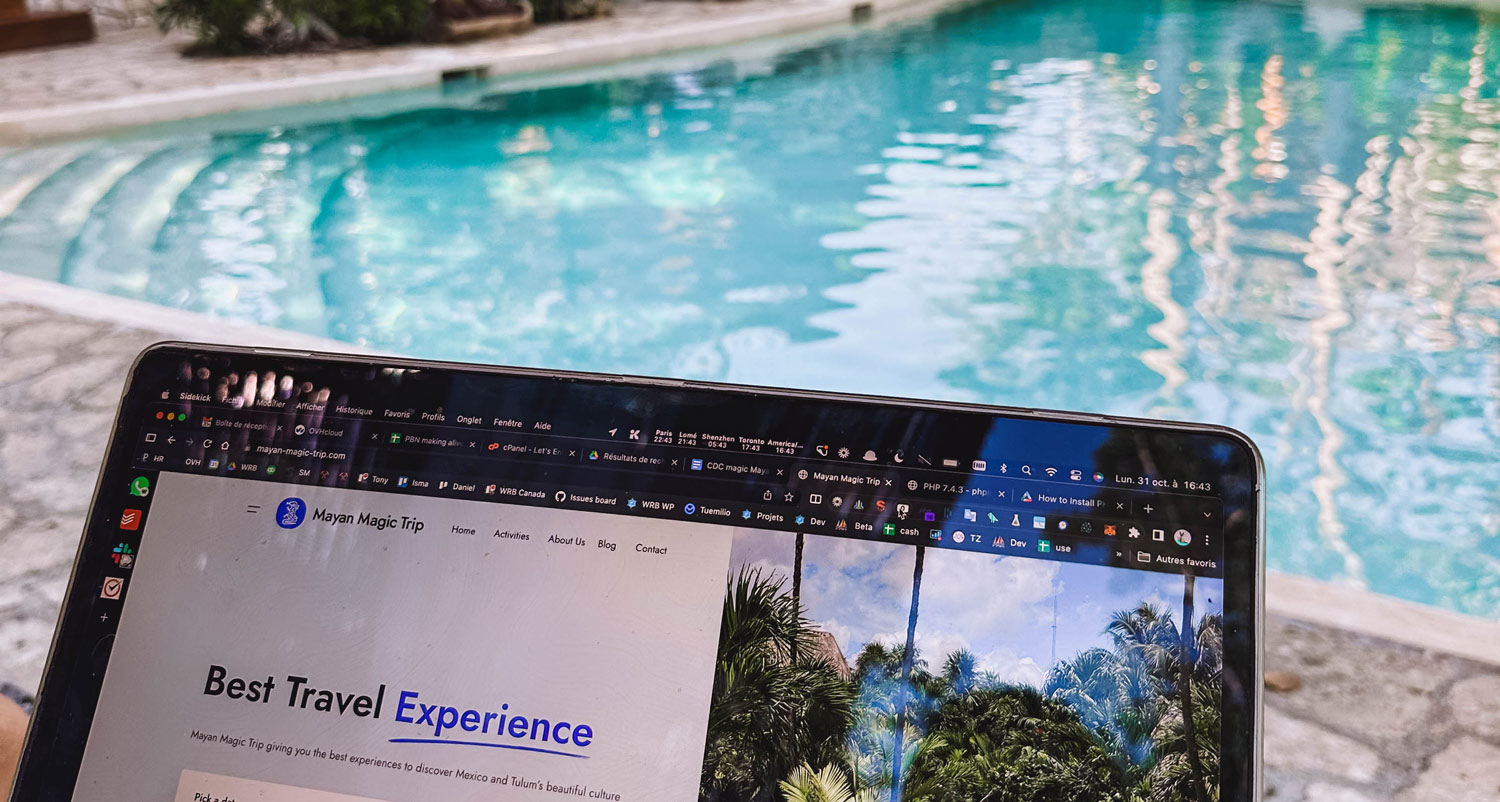 Finding Reliable Wi-Fi in Tulum: A Digital Nomad's Dream
Since we left our home towns to travel the world as digital nomads, we were in love with the incredible lifestyle of working and traveling at the same time. We traveled to a lot of countries, and even if every destination has something special to offer, Tulum just took our hearts. The view, the people, the beaches, everything in this city is so vibrant, that we decided to stay! 
However, as digital nomads staying in Tulum, finding decent wifi was a total must-have for us. I mean, we really wanted to soak up the vibes here AND be able to work at the same time – Working hard, playing hard! Because of this, to us it was really-really important finding a good wifi connection, in order to be able to work while we enjoyed our stay here – going to parties, live music, yoga classes, or seasonal events… At the time we were still generating money! 
Fortunately, we have found places in Tulum with great connections – and some of them are FREE! So if you are thinking of working from Tulum, or just want to make a call to your families and friends while on vacation, we have got you covered in this article (Plus, we have some insider tips for Tulum to share with you!). Are you ready? Grab your gear and let's dive into the adventure!
TRAVEL TIP: Before diving into the article, did you know there's a FREE concierge service you can use? (Go to the best parties, get the best tables, and find incredible prices!) Our friend Virginia is a local guide and expert offering insider tips to make the most of your experience! Contact her on Whatsapp and get ready for having the best adventure in Tulum!
CAN I FIND RELIABLE WIFI IN TULUM?
Although you will read some posts on the internet saying that Tulum doesn't have a good Wifi connection,  the truth is that most places offer reliable wifi, and you just need to know where to go! 
The hotels, restaurants and cafes have a steady connection, so you will be able to work comfortably and enjoy a nice cup of coffee! In the next section, you will find incredible places to go when you need Wifi, so good luck!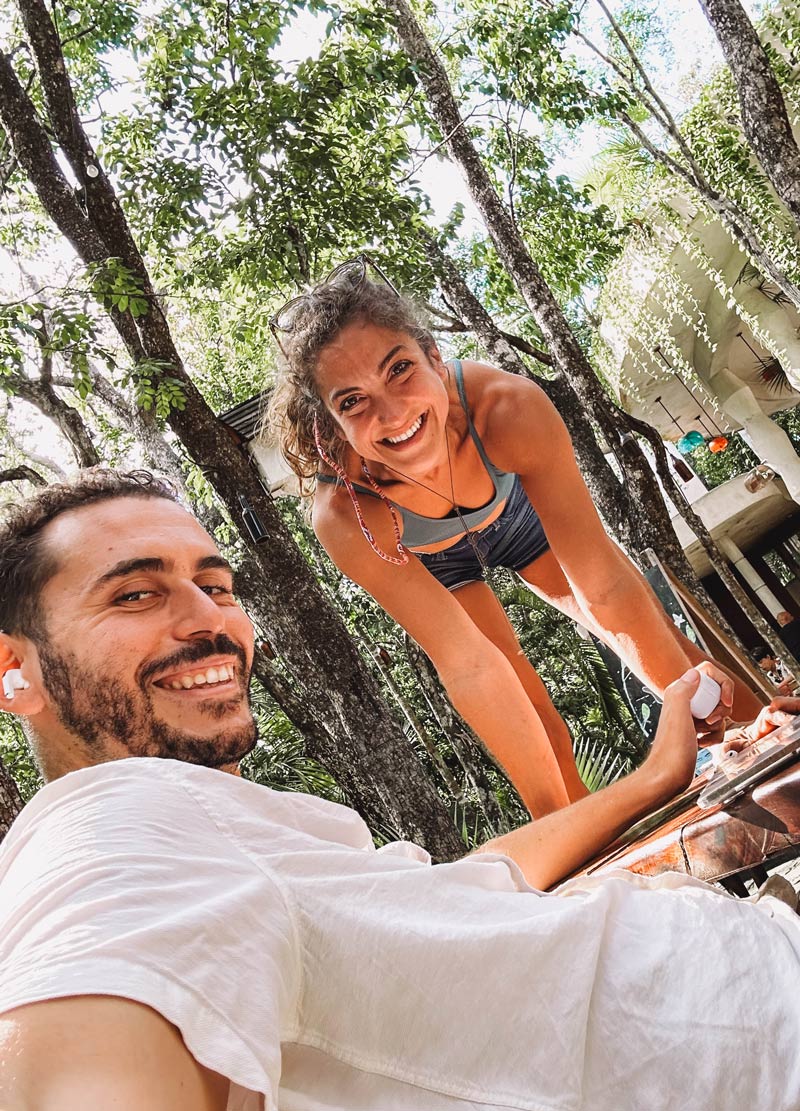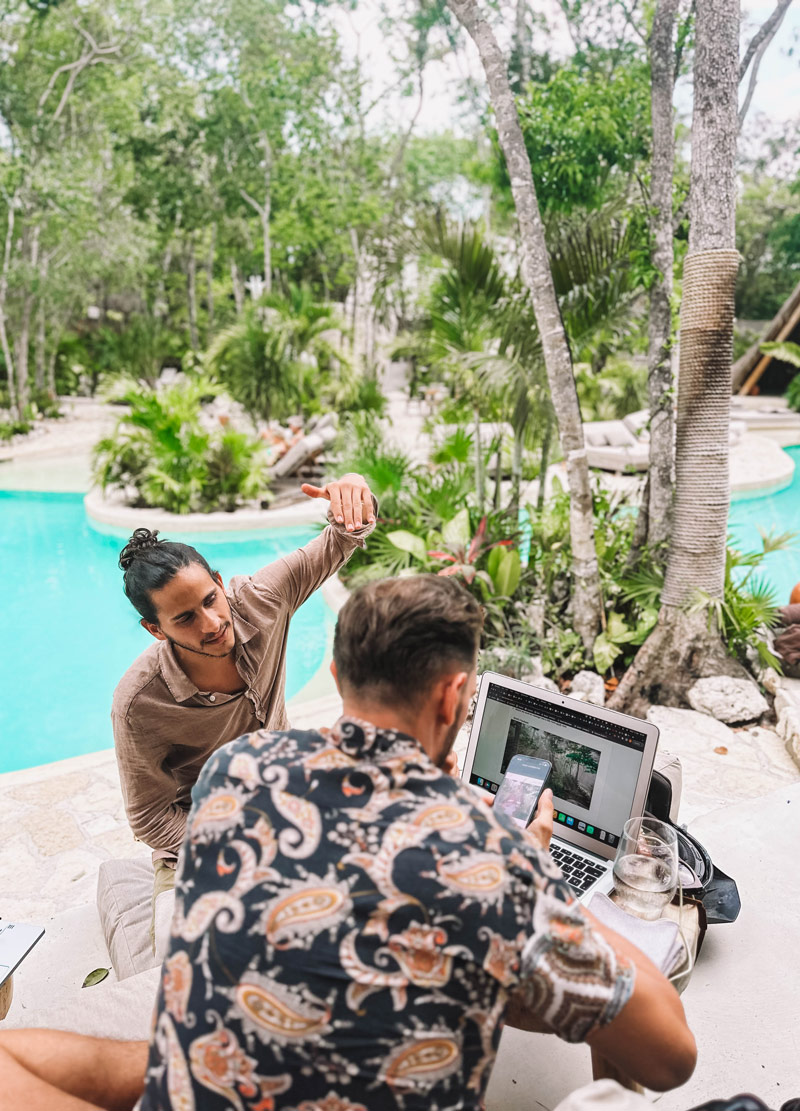 RELIABLE WIFI SPOTS - WHERE TO FIND WIFI IN TULUM
In the last few years, Tulum has become a popular destination for content creators, digital nomads or Instagrammers. Whether you are here to work or to have a nice vacation time, having a good connection to the internet is always useful, so here you will have some places to look for it! 
A coworking space is a great place for working, having meetings, on your laptop, or just reading in a good atmosphere where everyone is doing the same as you! It's basically a shared office environment where you will find desks, chairs, and other facilities. Coworking spaces have good internet connection, so you will be able to work without problems at all!
So if you are in Tulum booking for a perfect spot to work with a high speed wifi, a coworking space would be the perfect option for you! 
Moreover, hotels, airbnbs, restaurants and bars generally have internet connection too, but sometimes you would need to make a purchase to access the chairs and work comfortably. However, drinking a coffee to have access to the wifi, sounds like a great deal, right? 
Price range: $$$$
Area: Zona Hotelera 
Vibes: Laid-back, bohemian vibe that reflects the town's overall atmosphere
In Selina you will find a great working space: high-speed wifi, ergonomic chairs, and printers available! Moreover, you will have access to free coffee and tea to chill while you are working. There are also options for wellness activities, like a yoga studio! Check out their website and get ready for beautiful days there! 
Our expert tip: If you are on your break and want to relax with your team, take advantage of the board games! 
Price Range
Daily: $12 USD

Weekly: $ 63 USD

Monthly: $195 USD 
Area: La Veleta 
Vibes: Relaxed and friendly atmosphere that fosters community and collaboration.
In Los Amigos CoWorking you will be able to choose your preferred membership: from daily passes to monthly memberships. When you are in, you will find ergonomic workstations, high-speed Wi-Fi, and printing services! You can check their website or write to our insider contact on WhatsApp.
Our expert tip: Take advantage of the discount on massage and spa sessions! 
Price Range
400 MXN pesos (daily pass)

5000 MXN pesos (monthly pass)
Area: La Veleta
Vibes Natural, laid-back, & rustic 
Digital Jungle is one of the most popular spots for digital nomads! Here you will find a range of amenities for members, including ergonomic workstations, high-speed Wi-Fi, printing services, and a restaurant! But that's not all: they also offer community gatherings where you can join a workshop, or a movie night. So if you are ready to work, eat, and make friends in the same place, check out their website!
Our expert tip: Take advantage of their movie nights, and free access to their cenote, that comes included in your monthly pass!
KI'BOK COFFEE & COWORKING IN TULUM
Price Range: $$$
Area: Tulum Centro 
Vibes: Relaxed, Creative, Collaborative
Ki'bok is a beautiful CoWorking space located in the heart of Tulum. In Ki'bok you will find a collaborative atmosphere, the perfect spot for digital nomads and entrepreneurs looking for a comfortable and inspiring workspace. The space features a variety of seating options, including desks, sofas, and hammocks, as well as high-speed Wi-Fi, printing services, and free coffee and tea! You can contact them on WhatsApp today and stop wandering around – we're sure you'll love the place!
Our Expert Tip: Join a salsa class with them when you are having a break!
WHY TULUM IS A PARADISE FOR DIGITAL NOMADS
Picture yourself walking next to the beach, with a glass of your favorite drink, after a long day having some meetings and working on your laptop. Well, that's exactly what you will be able to do in Tulum! Without exaggerating, let's say that Tulum is basically paradise for digital nomads like us! Working on a beautiful white sand beach with crystal-clear waters and lush jungles all around you. It's like a dream come true, right?
And the best part? Tulum won't break the bank like some other popular digital nomad destinations. You can live like royalty on a budget, with affordable accommodations, food, and entertainment options that won't make you want to cry when you check your bank account.
But wait, it gets better! And the digital nomad community there is thriving, so you will meet up with other remote workers, network, and share your crazy work stories over a margarita (or two).
Plus, Tulum has a unique blend of Mayan culture, Mexican cuisine, and a laid-back bohemian lifestyle. It's like a little slice of heaven on earth. So pack your bags, grab your laptop, and let's go work from paradise!
Take Advantage Of Free Concierge Service
As excellent to explore Tulum and its surroundings alone, you may need help figuring out where to start. To make the most of your money and time, contact Virginia and Kelly - two incredible Mexican girls living in Tulum for more than 15 years. They're familiar with the ins & outs of the Tulum town and hotel zone like the back of their hand! 
Since we arrived in Tulum 2 years ago, many adventures wouldn't have been possible without their help - they know literally everybody in Tulum and can perfectly organize every moment of your stay. Get the best tables, skip queues and get on the guest list of the coolest places in Tulum - this's only the beginning! 
They are ready to offer you guys FREE concierge service in Tulum for the time of your stay: take advantage of it, contact them on Whatsapp and live the best experience!
Get FREE Concierge Service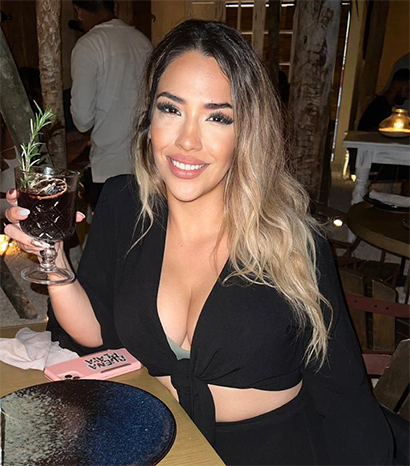 "Virginia Will Transform You In A Tulum Insider"
BEST THINGS TO DO IN TULUM - UNWIND YOUR MIND AFTER A WORKING DAY
After working a long week, visiting a spa in Tulum is an incredible way to relax and recover energy. You can get a massage,  facial treatment, or indulge in a wellness-inspired activity like yoga. A spa-day is something everyone should try, especially in Tulum!
Snorkeling or diving in a cenote
Feeling adventurous? Take a dip in a cenote! These natural swimming holes are scattered throughout the jungle and offer a refreshing break from the heat. Cenotes are especially one of our favorite places to visit in Tulum. With incredible underground views, these places are perfect for taking incredible pictures to show to everyone! Especially if you are a photography and nature lover like us, this is a must-visit destination for you.
Yoga classes - a relaxing activity for wellness lovers
For those looking to unwind and de-stress, Tulum is also known for its wellness activities, and especially a wide range of options for yoga classes. Whether you're a beginner or a pro, you'll find a class that suits you, and probably next to the beach! 
FAQ about Wi-Fi in Tulum
Is there reliable Wifi available in Tulum?
Yes, you can find reliable Wi-Fi in many areas of Tulum, especially in cafes, co-working spaces, and most of the time at a very high speed! 
Can I find Wifi in most hotels and accommodations in Tulum?
Yes, most hotels and accommodations in Tulum offer Wifi for their guests! However, you can check if they have Wifi before booking. 
Is it necessary to purchase a local SIM card to access reliable Wi-Fi in Tulum?
No, it's not necessary to purchase a local SIM card to access Wi-Fi in Tulum, but it can be helpful if you need mobile data as a backup option or if you plan to work remotely while on the go.
What is the best place to work as a digital nomad in Tulum?
A coworking space would be the best place to work as a digital nomad in Tulum, due it's good atmosphere and high-speed Wifi.
Top Events to Make Your Trip Unforgettable
DOMINIK TULUM @MIA TULUM
When: September 9, 2023 7:00 PM
Where: Mia Restaurant & Beach Club, Tulum
🌴 Join Us for An Unforgettable Night at DOMINIK - TULUM at Mia Tulum! 🌴
Friends, clear your schedules and get ready for a magical experience at Mia Tulum! This stunning location will host DOMINIK - TULUM on Saturday, September 9th, from 7 pm to 1 am. This isn't just another event; it's a fusion of nature, culture, and sound featuring an incredible line-up with GIORGIO STEFANO, AUDICTIVE, and MAURO TORRETA. At DOMINIK, you'll find the perfect blend of Tulum's lush jungles and pulsating underground beats, creating an environment where genuine connections blossom.
🎟️ Secure your tickets now:
Early Bird: $575 MXN ($38 USD), includes a welcome drink 🍹 (Limited Availability)
Tier 1: $805 MXN ($52 USD), includes a welcome drink 🍹 (Limited Availability)
Final Tier: $1150 MXN ($75 USD), includes a welcome drink 🍹 (Limited Availability)
Dinner + Party: $1380 MXN ($90 USD) 🍽️🎉 (Limited Availability)
See you there for a night you won't forget! 🎶✨
Ready to join us? Get your ticket now! Early bird tickets are already selling out, secure them at 632 pesos (only 15 tickets available).
Hurry – spots are filling up fast! 🙀 We can't wait to see you there!
Top Parties and Club Events
17th September - ANCESTRAL SOUL @BONBONNIERE TULUM
22nd September - TONY ROMERA @BONBONNIERE TULUM
29nd September - TIM BARESKO @BONBONNIERE TULUM
4th November - HOT SINCE 82 @BONBONNIERE TULUM
13th March - LOCUS Tulum 2024