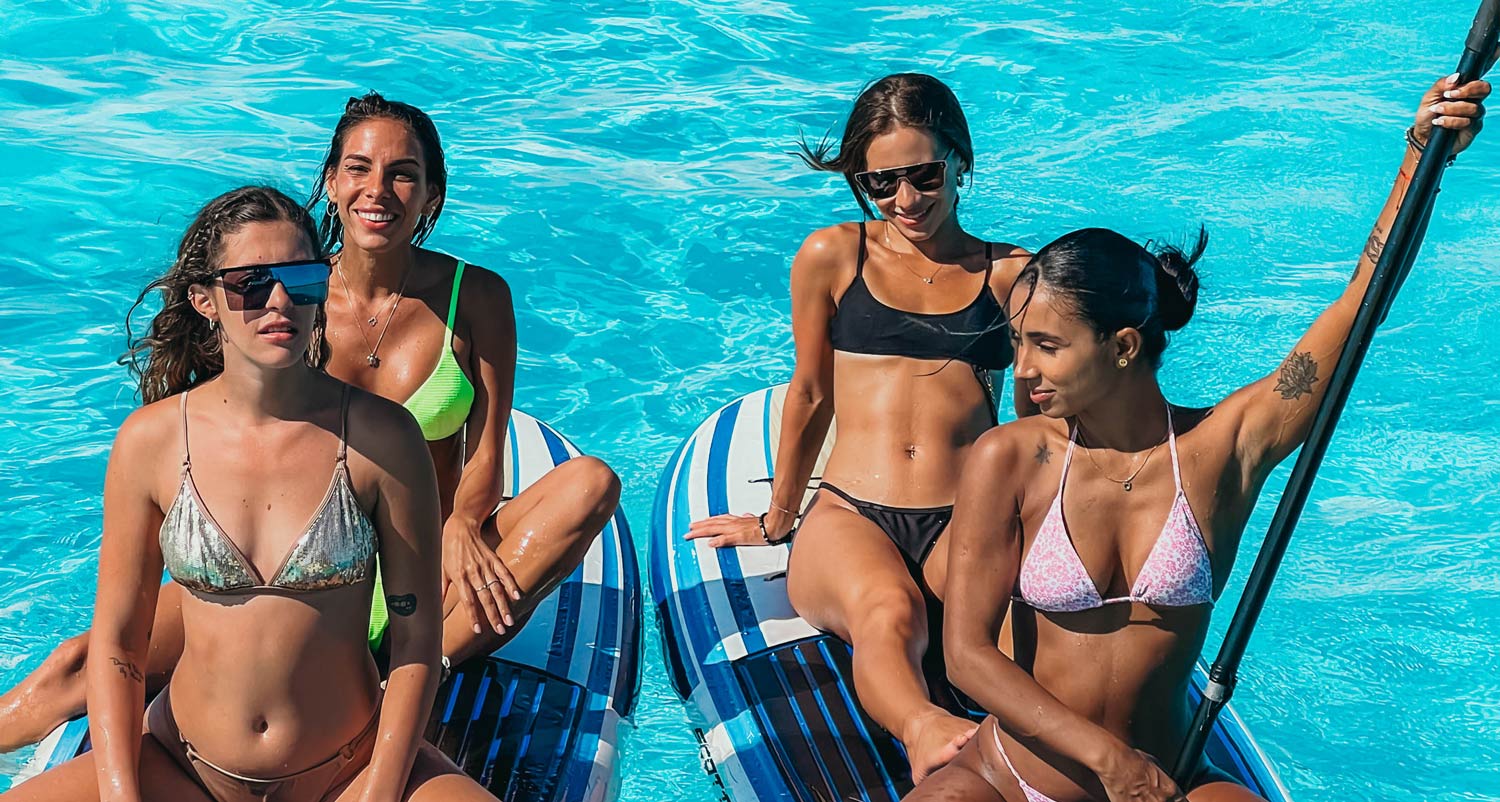 Women Travelers' Ultimate Guide to Exploring Tulum
"As a woman I have no country. As a woman my country is the whole world," wrote the English writer, Virginia Woolf. Today, women everywhere are embodying this spirit, embracing the call of the open road, exploring distant corners solo, and creating memories with people from all walks of life in the most stunning places across the globe.
And where better to start this journey than the picturesque Tulum, Mexico? Tulum is not just any beach destination; it's a sanctuary where one can relax, feel the warm sand underfoot, and marvel at the clear blue water that stretches as far as the eye can see. It's a town steeped in history, where Mayan ruins stand proudly against the backdrop of Mexico's vibrant jungles, making it a must-see for any traveler. Women, in particular, are finding Tulum to be a safe place to explore. It's a place where they're not just visiting but staying, thriving amidst the local culture, and cherishing the natural beauty that is so quintessentially Mexico. It's a paradise for solo female adventurers who desire an enriching beach experience that goes beyond the conventional.
Are you a daring soul eager to unearth the best things Tulum has to offer? Looking to gather valuable tips to make the most of your trip, mingle with like-minded people, and dip your toes in the crystal-clear waters of the Riviera Maya? If so, you've landed at the right spot! So brew some coffee, get comfy, and keep reading. We are here to help chart your path, making your journey to Tulum more than a vacation – an unforgettable story.
TRAVEL TIP: If you have specific questions about Tulum's lifestyle, accommodations, and best places to go, make sure to check out the incredible FREE concierge service of our friend Virginia, who have been living in Tulum for over 15 years and can help you with everything you need! Check out more information below! 
UNLEASHING FEMINISM IN MEXICO: EMPOWERING TRAVELERS AND IGNITING CHANGE
Mexico's feminist movement sparks transformative journeys, empowering women and igniting change. From historic roots to contemporary activism, feminism in Mexico challenges norms, fights for rights, and sparks conversations that reshape the country. Discover the vibrant realm of feminism as you explore Mexico's rich tapestry of culture, art, and social consciousness. Embrace the power of this movement, unite with fearless activists, and witness the unfolding transformation that makes Mexico a destination for feminist exploration and empowerment.
One significant event in Mexico's feminist history is the "March 8 Movement". Every year on International Women's Day, thousands of women take to the streets across the country to protest gender inequality, violence against women, and demand gender justice. The March 8 Movement has become a powerful symbol of solidarity, raising awareness about feminist issues and amplifying the voices of women in Mexico. Join this inspiring event during your journey to Mexico and be part of a historic movement that celebrates women's rights and the quest for equality.
Why you should choose TULUM as a solo female traveler
Tulum is an absolute gem for solo female travelers! This place will capture your heart from the moment you arrive. Picture yourself surrounded by the breathtaking natural beauty of turquoise waters and powdery white sand beaches that invite you to relax and rejuvenate. The laid-back atmosphere is perfect for solo exploration and embracing the peaceful vibes. You'll have plenty of opportunities to dive into wellness activities like yoga and meditation, pampering yourself and embracing self-care. Tulum's vibrant community, filled with friendly digital nomads and open-minded expats, ensures you'll make incredible connections and have a chance to share stories with fellow adventurers. And don't miss out on the chance to explore the captivating Mayan ruins, perched high on cliffs overlooking the sparkling Caribbean Sea. Tulum is a place that embraces solo female travelers with open arms, providing a safe and welcoming environment where you can create cherished memories and embark on an unforgettable journey of self-discovery. Get ready to fall in love with Tulum!
WHERE IS TULUM LOCATED - USEFUL TRAVELING INFO
Tulum is a paradisiacal town located in the state of Quintana Roo, in the south of Mexico. From Tulum, you can see the Caribbean sea and its turquoise waters. Tulum is located about 131 km from Cancun, so it's about 1 hour and 45 minutes driving. 
Reaching Tulum is possible, but keep in mind that there is not an international airport in Tulum yet, so the closest ones are the Cancun International Airport (CUN), and Cozumel International Airport (CZM).
WHERE TO EAT IN TULUM - RESTAURANTS AND BARS
But Tulum is not just about history and culture. The town is also home to a vibrant food scene, with plenty of delicious restaurants serving up fresh, local cuisine. So check below some amazing restaurants and bars worth visiting in Tulum!
ILLIOS -
An amazing Greek restaurant in Tulum, where fresh ingredients and traditional Mediterranean flavors come together to create mouth-watering dishes. Its luxurious and natural environment will make your dinner a whole experience.
GITANO -
Known for its creative cocktails and jungle ambiance, will allow you to have a nice dinner or brunch while enjoying a white sand view, and tasting a fancy drink!
PAPAYA PLAYA PROJECT -
A trendy beach club located in Tulum, Mexico. It is known for hosting popular parties and events, making it a must-visit destination for those looking for a lively atmosphere in Tulum.
With so many options to choose from, you are bound to have an unforgettable culinary experience in Tulum! Don't forget that you can contact Virginia, she is ready to help you to plan the best nights in Tulum, booking for you the best tables and getting the best deals – for FREE!
TULUM BEACHES - A PLACE WORTH VISITING
Of course, no trip to Tulum would be complete without spending some time on the beach. With miles of pristine white sand and turquoise waters, Tulum's beaches are truly breathtaking. However, it's important to note that some areas of the beach can be quite crowded, especially during peak tourist season. As Luxton advises, "If you want to avoid the crowds, head to some of the more secluded beaches like Punta Allen or Soliman Bay."
TRAVEL TIP: Rent a car in the best Car Rental Company in Tulum! Since we've started renting cars with them, we never came back. Their cars are brand new, the girls renting them are so nice and kind. BGH Car Rental Tulum is a trustable and affordable company. You can directly contact them on WhatsApp and book your car today!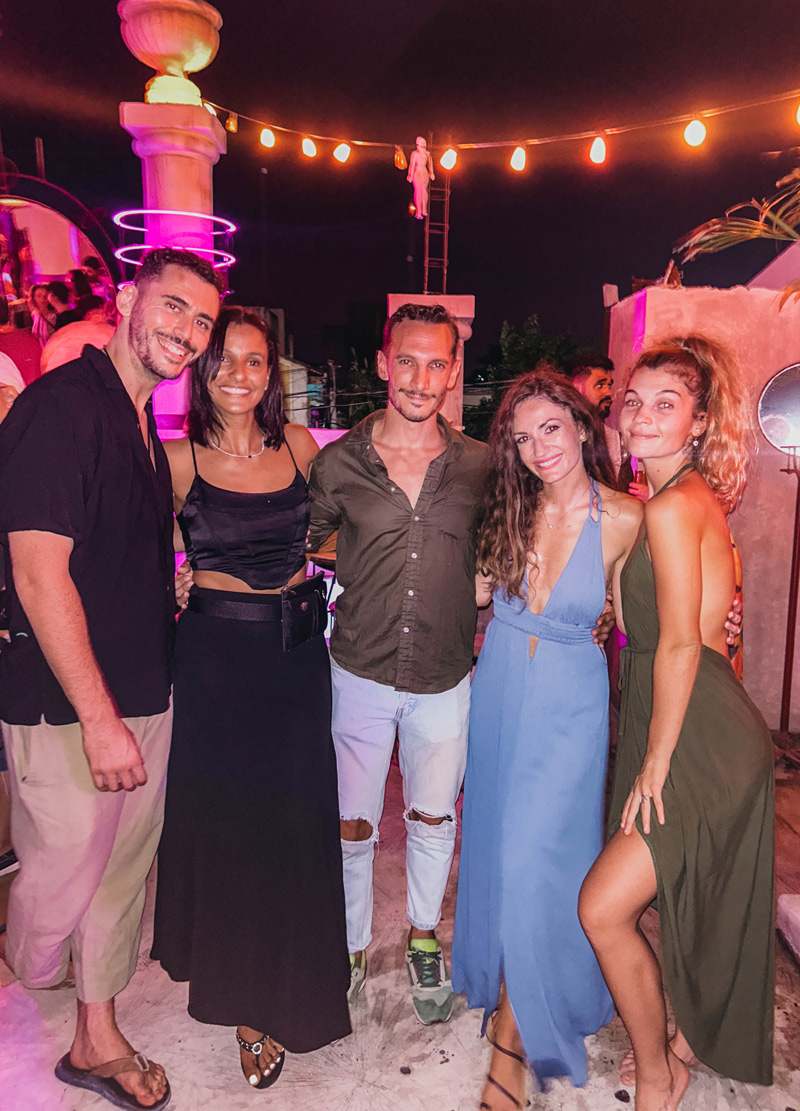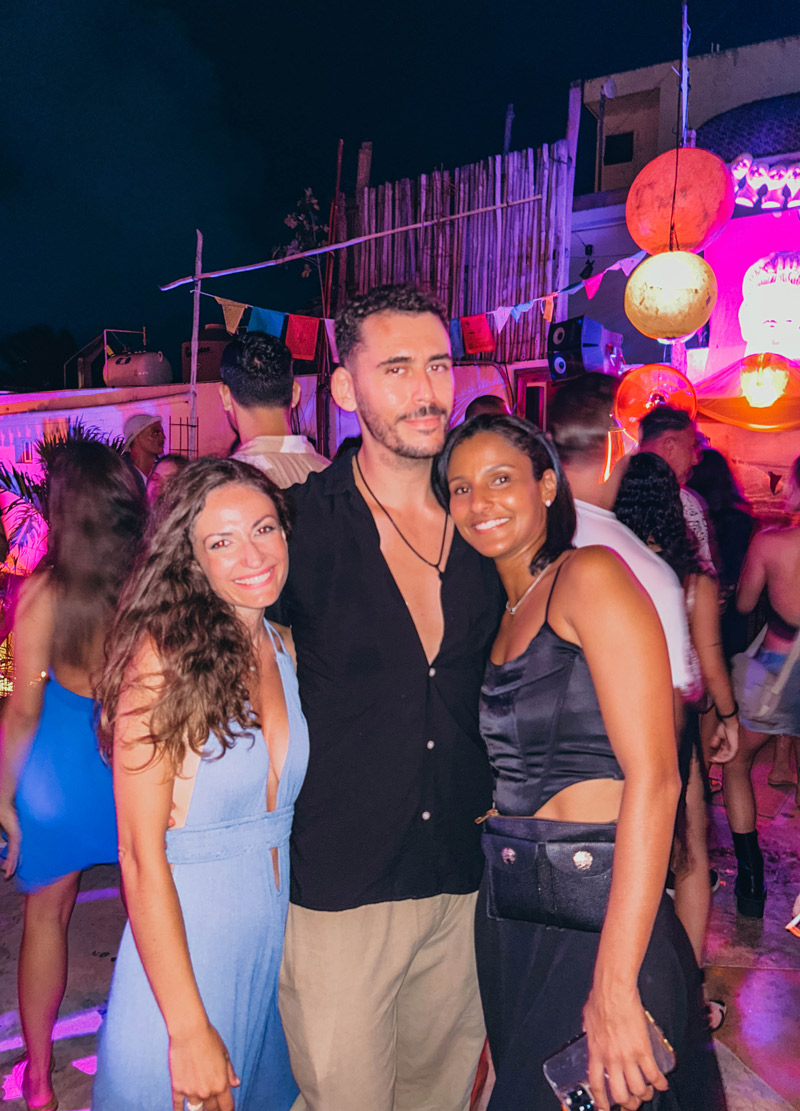 WHERE TO STAY IN TULUM - THE CITY OF DREAMY AIRBNBS
When it comes to places in Tulum, we recommend staying in two of the best areas: Tulum Beach and Aldea Zama in Tulum Downtown.
Tulum Beach is a top tourist destination well known for its pristine white sand beaches and turquoise waters, (such a view!) with a variety of hotel options to stay in, luxurious and great resorts near the beach. These hotels offer beachfront yoga classes, spa services, and private beach clubs, with easy access to top restaurants and bars, that will allows you to enjoy the vibrant nightlife, without traveling big distances. 
On the other hand, Aldea Zama in Tulum is a fantastic option for those looking for a modern and stylish neighborhood. Unlike more traditional Mexican neighborhoods, Aldea Zama has a more international feel, with chic restaurants and luxurious condos.
This area boasts several hotels and luxury Airbnbs, making it a comfortable and upscale option for travelers. The new and trendy vibe of Aldea Zama is perfect for those who love modern design and international cuisine, but still want to be close to the natural beauty of Tulum's beaches and jungle.
BEST THINGS TO DO IN TULUM with your girlfriends
Tulum is not just another city in the Riviera Maya, but is also a great place to make new friends from everywhere, meet new people and try new amazing activities while creating lifetime memories. Here we would like to share with you some of our top favorite activities to do in Tulum. Whether you are a wellness enthusiast or an adventure lover, Tulum has the best of both worlds! 
Do you love relaxing while improving your stretch, balance, and flexibility? Then yoga is for you! But have you ever imagined having a yoga class with stunning views? Turquoise water beaches, white sand, or green palms… Tulum has it all! So if you are willing to experience a yoga class like no other, then Tulum is your place to be.
One of our favorite place in town to practice yoga is definitely OM collective – which Instagram profile you can find here. In this beautiful and peaceful place you'll be able to connect with incredible human beings and if you're on a budget, that's the place to be! The yoga classes don't have a fixed price, and are offered on a donation basis of minimum 200 pesos, even though you can leave nothing if you can't permit it!
Are you ready to swim in one of the most beautiful natural wonders in Mexico? So then you need to visit a cenote! But what is it? Well, a cenote is a natural sinkhole that exposes groundwater. In simpler words, it is like a natural pool, sometimes really deep, with amazing shapes and surrounded by amazing vegetation. Some cenotes offer you the possibility of swimming with fishes and turtles, and you can also try snorkeling and diving on its waters! 
Exploring the ancient Mayan culture in Tulum
Tulum is more than just a beautiful natural landscape. It's also a place of rich history and culture. The ancient Mayan ruins of Tulum are some of the most well-preserved in Mexico, and they offer an incredible glimpse into the lives of the Mayan people who once called this area home. You can explore the ruins on your own or take a guided tour to learn more about the history of the site!
Take Advantage Of Free Concierge Service
As excellent to explore Tulum and its surroundings alone, you may need help figuring out where to start. To make the most of your money and time, contact Virginia and Kelly - two incredible Mexican girls living in Tulum for more than 15 years. They're familiar with the ins & outs of the Tulum town and hotel zone like the back of their hand! 
Since we arrived in Tulum 2 years ago, many adventures wouldn't have been possible without their help - they know literally everybody in Tulum and can perfectly organize every moment of your stay. Get the best tables, skip queues and get on the guest list of the coolest places in Tulum - this's only the beginning! 
They are ready to offer you guys FREE concierge service in Tulum for the time of your stay: take advantage of it, contact them on Whatsapp and live the best experience!
Get FREE Concierge Service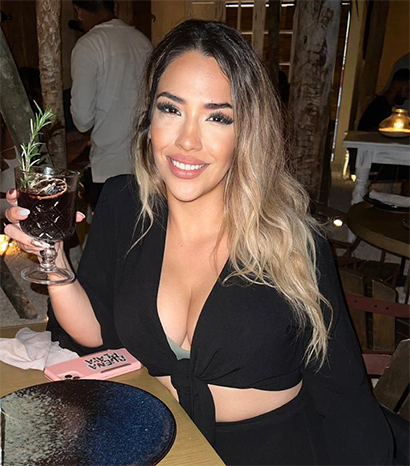 "Virginia Will Transform You In A Tulum Insider"
TULUM GIRL GANG: JOIN TO THE BEST WOMEN TRAVEL COMMUNITY IN TULUM
If you are the one who loves to travel and your next destination is Tulum, you might want to consider joining the Tulum Girl Gang – a community of like-minded women who share a passion for exploring new places, trying new things, and supporting each other along the way.
CREATED BY A WOMAN FOR WOMEN - MAKING VALUABLES FRIENDS
The Tulum Girl Gang was founded by a woman who wanted to create a space where women could connect, share travel tips and advice, and form lasting friendships – we all love this! Whether you're a seasoned traveler or a first-time visitor to Tulum, the Girl Gang offers a welcoming and supportive community that is all about empowering women to have the best travel experiences possible.
Tulum Girl Gang is a really special place, where you can find regular meet-ups and events where you can connect with other women in the group and make new friends. These might include beach days, sunset yoga sessions, or even organized trips to nearby attractions!
Moreover, the Tulum Girl Gang also offers plenty of practical tips and resources for women travelers. If you are a member, you can also share tips on everything, from where to find the best tacos in town to how to stay safe when traveling alone.
But maybe the biggest benefit of being a part of the Tulum Girl Gang is the sense of community and support. As traveler and Girl Gang member says, "The Girl Gang is all about women supporting women. Whether you need travel advice, a listening ear, or just someone to explore with, there's always someone in the group who has your back".
So if you're planning a trip to Tulum and want to connect with other women travelers, consider joining the Tulum Girl Gang. With its welcoming community and wealth of resources and advice, it's the perfect way to make the most of your trip and form lasting friendships along the way!
How to join the Girl Gang Community? - Two simple steps
CONNECTING WITH THE LOCAL COMMUNITY in Tulum
Beyond the ruins, Tulum is also home to a vibrant and creative community of artists, musicians, and entrepreneurs. Here we will share with you incredible ways to connect with the community in Tulum – from a volunteering experience to a Temazcal ceremony, you will have plenty of options to choose from! 
CULTURAL EXPERIENCES FOR WOMEN IN TULUM
Tulum is rich in cultural experiences for women travelers – from dancing to the local beats at a live music venue to taking part in a spiritually enlightening Mayan ceremony. In Tulum, every corner has a tale to tell and an experience to offer: check out some of the most-loved experiences for women in Tulum!
Temazcal Ceremony: Experience spiritual healing in a traditional Mayan sweat lodge ceremony, led by experienced guides for purification and rejuvenation.
Traditional Mexican Cooking Classes: Join hands-on classes led by local chefs who teach you how to prepare authentic Mexican dishes using local ingredients.
Traditional Dance Workshops: Dive into the lively world of traditional Mexican dances. Take part in workshops teaching salsa, cumbia, and folkloric dances to experience the region's vibrant rhythms.
Artisan Workshops: Connect with the region's artistic heritage through workshops led by local artisans. Learn traditional crafts like pottery, weaving, and the intricate art of Huipil embroidery.
SUPPORTING WOMEN-OWNED BUSINESSES in Tulum
Supporting local women-owned businesses is an incredible way of appreciating the feminist movement in Tulum! From enchanting boutiques to innovative restaurants, women entrepreneurs in Tulum are creating inspiring spaces you'll want to support – check out some of our favorites! 
La Eufemia Beachfront Restaurant and Bar: A laid-back eatery offering local cuisine and cocktails with a beach view.
Coqui Coqui Perfumery, Boutique Hotel, and Spa: A sensory retreat known for locally-inspired fragrances and a tranquil spa.
Matcha Mama Organic Smoothie and Matcha Bar: A vibrant spot for refreshing, healthy drinks.
Azulik Eco-friendly Luxury Resort and Art Gallery: A unique resort featuring treehouse-style lodging and a fascinating art gallery.
Ki'Bok Coffee: A local favorite coffee shop serving specialty brews in a welcoming ambiance.
Hartwood Farm-to-Table Restaurant: Renowned for sustainable practices and a menu bursting with local flavors.
Zazil Ha Handcrafted Jewelry and Accessories: A boutique offering intricate accessories influenced by Mayan culture and Tulum's natural beauty.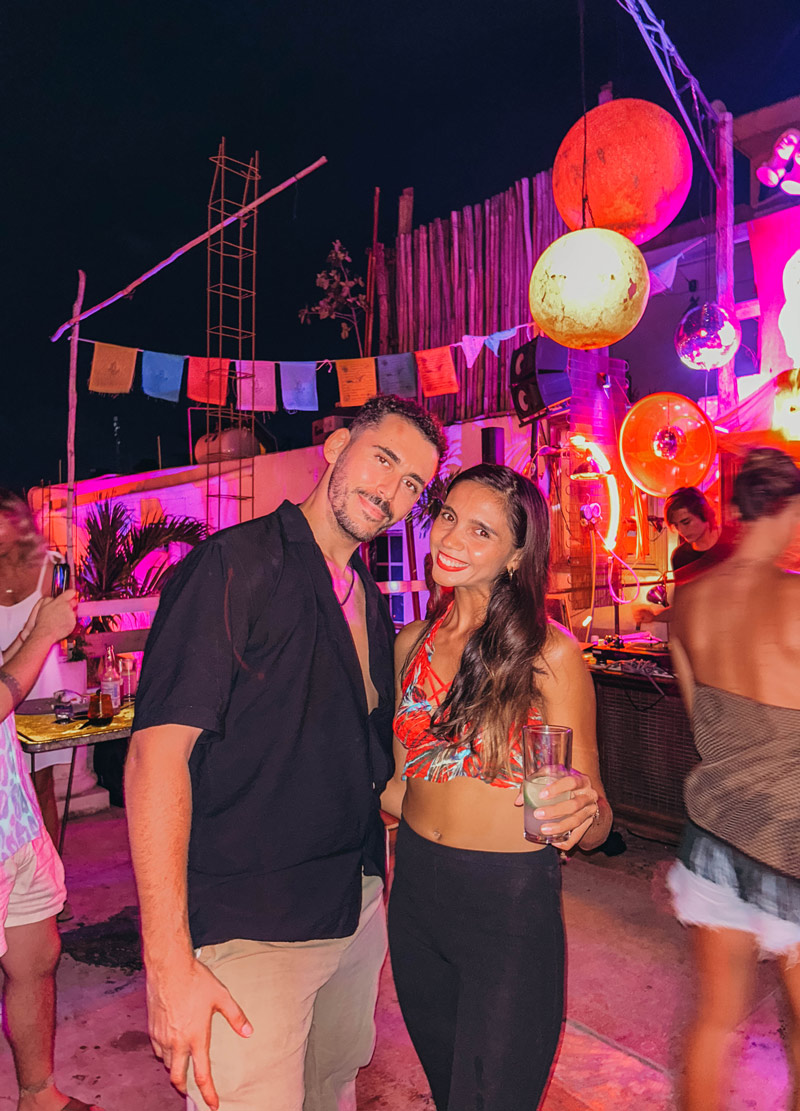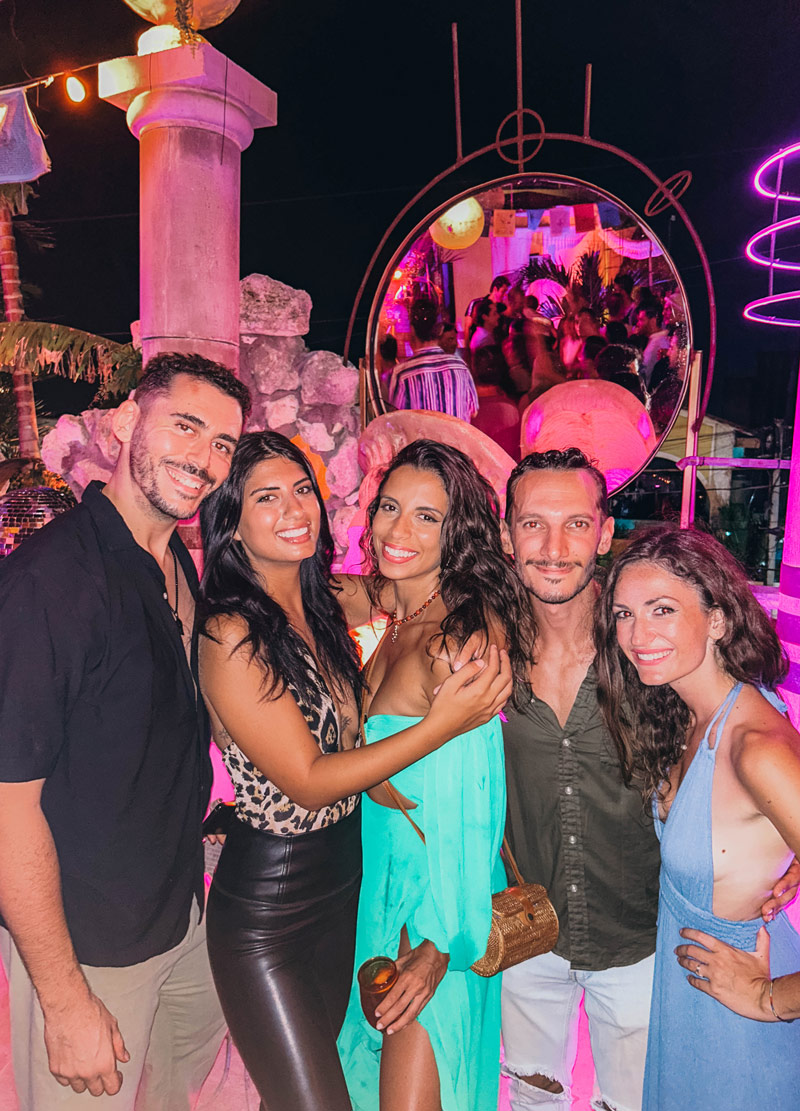 COMMUNITY EVENTS FOR WOMEN IN TULUM - GROW & LEARN
Whether it's a local festival celebrating Mayan heritage, a community beach cleanup, or a night market buzzing with local artists and food vendors, these events are opportunities to connect with the local community, understand their traditions, and even make new friends.
Women's Empowerment Workshops
Join these workshops and ignite your personal growth! Focus on career development, leadership skills, and self-confidence in an empowering environment.
Women's Networking Events
Would you like to connect with other mind-like professionals? Networking events are for you! Moreover, these are exclusive events for women. Share experiences, foster professional relationships, and support fellow women in their journeys.
Women's Wellness Retreats
Treat yourself to curated retreats focusing on women's well-being. Enjoy yoga sessions, meditation, holistic therapies, and workshops for a rejuvenating experience.
Women's Volunteer Activities
Would you like to try something new? What about community service? From environmental conservation projects to teaching English or supporting local women's shelters, volunteering allows you to give back and connect deeply with the local community, and it's definitely one of our favorite events to engage with locals! 
TRAVELING TO TULUM – WHAT TO PACK?
Should you take an umbrella and sunglasses? We know that packing for Tulum can be a little challenging due to the diverse range of activities available. From beach essentials to outdoor adventure gear, we'll guide you through creating a versatile packing list that allows you to embrace all that Tulum has to offer. Don't forget to check out our Tulum outfit guide to be at your best once you'll be here!
Weather-Appropriate Clothing -
Packing light, breathable clothing for its tropical climate is a must! Make sure to pack your swimwear for the beach and cenote visits, as well as your favorite skirt and dress. Packing your favorite top and shirt is important too!</p> <p>Pro-tip: pack a light jacket or wrap for cooler evenings and rain jacket in case it rains!
Essentials for Beach Excursions -
Don't forget your beach bag essentials. A good, biodegradable sunscreen is a must to protect your skin, along with a reusable water bottle to stay hydrated. Bring along a beach mat, a good book, and a hat for sun protection. Snorkeling gear could come in handy for exploring the turquoise waters.
Safety and Security Items -
Safety is a priority when traveling. Always bring a small first aid kit for minor injuries. A portable charger for your phone is essential to keep you connected!
FAQ about Women Travelers in Tulum
Is Tulum safe for solo female travelers?
Yes, Tulum is generally considered safe for solo female travelers. However, as with any destination, it's important to exercise caution and be aware of your surroundings. Stick to well-lit areas at night, avoid walking alone in secluded areas, and trust your gut instincts. It's always a good idea to do some research ahead of time and familiarize yourself with the local customs and safety tips.
Are there women-only tours in Tulum?
How do you protect yourself as a solo female traveler in Tulum?
As a solo female traveler in Tulum, you can protect yourself by sticking to well-lit places, sharing your itinerary with trusted friends or family, and avoiding late-night outings. 
Is Tulum good for solo female travelers?
Yes, Tulum is great for solo female travelers! It's a popular destination for women thanks to its welcoming vibe, beautiful landscapes, rich cultural experiences, and diverse wellness activities. Moreover, it is a safe place to enjoy being a woman! 
How can I support local women-owned businesses in Tulum?
You can support women-owned businesses by dining at their restaurants, shopping at their stores, and utilizing their services such as spas or tour agencies.
Top Events to Make Your Trip Unforgettable
DOMINIK TULUM @MIA TULUM
When: September 9, 2023 7:00 PM
Where: Mia Restaurant & Beach Club, Tulum
🌴 Join Us for An Unforgettable Night at DOMINIK - TULUM at Mia Tulum! 🌴
Friends, clear your schedules and get ready for a magical experience at Mia Tulum! This stunning location will host DOMINIK - TULUM on Saturday, September 9th, from 7 pm to 1 am. This isn't just another event; it's a fusion of nature, culture, and sound featuring an incredible line-up with GIORGIO STEFANO, AUDICTIVE, and MAURO TORRETA. At DOMINIK, you'll find the perfect blend of Tulum's lush jungles and pulsating underground beats, creating an environment where genuine connections blossom.
🎟️ Secure your tickets now:
Early Bird: $575 MXN ($38 USD), includes a welcome drink 🍹 (Limited Availability)
Tier 1: $805 MXN ($52 USD), includes a welcome drink 🍹 (Limited Availability)
Final Tier: $1150 MXN ($75 USD), includes a welcome drink 🍹 (Limited Availability)
Dinner + Party: $1380 MXN ($90 USD) 🍽️🎉 (Limited Availability)
See you there for a night you won't forget! 🎶✨
Ready to join us? Get your ticket now! Early bird tickets are already selling out, secure them at 632 pesos (only 15 tickets available).
Hurry – spots are filling up fast! 🙀 We can't wait to see you there!
Top Parties and Club Events
17th September - ANCESTRAL SOUL @BONBONNIERE TULUM
22nd September - TONY ROMERA @BONBONNIERE TULUM
29nd September - TIM BARESKO @BONBONNIERE TULUM
4th November - HOT SINCE 82 @BONBONNIERE TULUM
13th March - LOCUS Tulum 2024