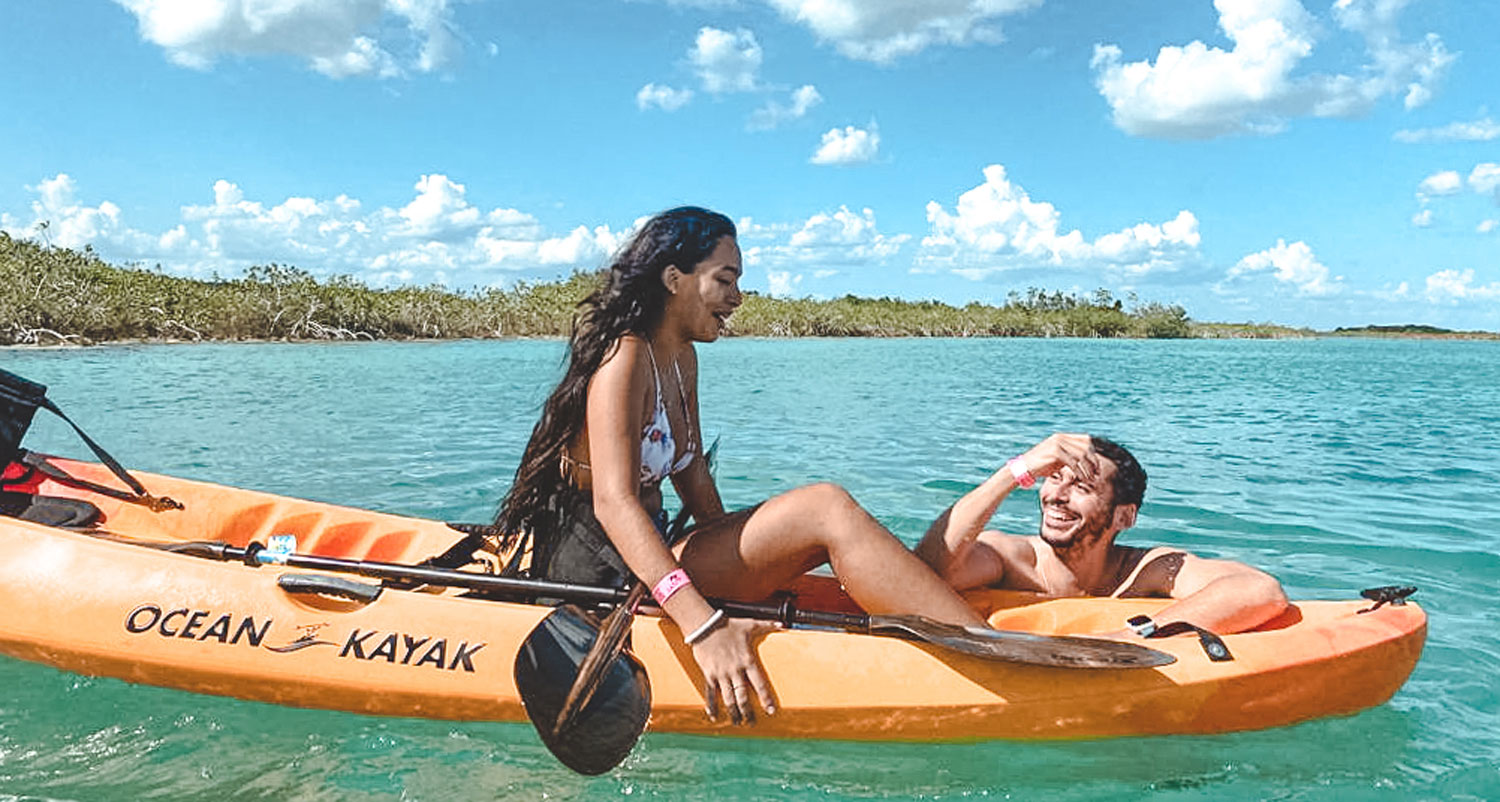 All You Need To Know About Bacalar Lagoon Mexico Copy
Bacalar lagoon, located at the extreme South of Riviera Maya boarding Belize, is among the best places of Mexico for its unique natural conformation. Between a lagoon – or laguna in Spanish – and a cenote, its aqua green water will make your visit one of a kind. If you are spending your travel in a hotel in Tulum, Playa del Carmen, Cancun or the closest Chetumal, don't think twice about a visit to Bacalar: you will not regret it! 
More than exploring a new town in Mexico, you will not swim in the open sea or in a cenote – you will see for the first time a lagoon in Riviera Maya. With its muds and the properties of its water, you will be able to have mud's bath, relax under the roof of an open palapa in the many hotels and restaurants in Bacalar, and find more authentic tourism with lower prices. But let's check out now a few things you should know before you decide to visit Bacalar lagoon or to book a tour of the region – let's go!
Our friend Virginia was essential during the organization of our trip – check out her free services down below to find the best accommodation and secret parties!
Things to know when planning your trip to Bacalar
There are a few things to know before planning your visit to Bacalar lagoon and, after our travel, we decided to make a list of them to help other travelers organize the perfect trip to Bacalar. From the choice of the hotel to the best places to visit, from the most delicious restaurants to the things to do in the area, find out how to enjoy this pearl of Mexico at its best!  
Bacalar's lagoon water is the best of Riviera Maya
As you might have seen from photos online, the water's color in Bacalar lagoon is not the same as the ocean. This is thanks to the white sandy bottom of this lagoon because the water color morphs into varying shades of turquoise, blue and deep indigo throughout the day. You will for sure see all the shades during your time in Bacalar. Moreover, if you want to naturally take care of your body, know that the mud in Bacalar lake has sulfur and is great to exfoliate your whole body. It is more a place to relax, swim and there is even a tour that will take you to a river "rapidos" so current will trip you to the lake. 
If you are a fan of snorkeling, that's not the best place to do it because of the mud we mentioned just above. So yes, there are fishes in the lake, but you will not see clearly underwater. On the other hand, it is a great place to see wild animals in their natural habitat, so keep your eyes open and enjoy the show!
Between a lake and a cenote: can you swim in it?
If you are wondering whether you can or not swim in Bacalar lagoon's water, the answer is yes. The water in Bacalar feels like the ocean, but without the stickiness of the salt! In fact, its water is not salty. The maximum depth is about 300 feet or 91.5 meters. If after a few days in Bacalar, the lake starts boring you, keep in mind that there is also one of the most beautiful cenotes of Riviera Maya named Cenote Azul not far away from Bacalar. 
A thing that not many people say about Bacalar water is that, approximately 75% of the wastewater produced in the municipality of Bacalar, in Mexico's Quintana Roo state, is discharged into the emblematic Siete Colores lagoon, one of the state's main tourist attractions. So, of course the water exchange cleans the water, but keep in mind it's a lagoon and not the open sea.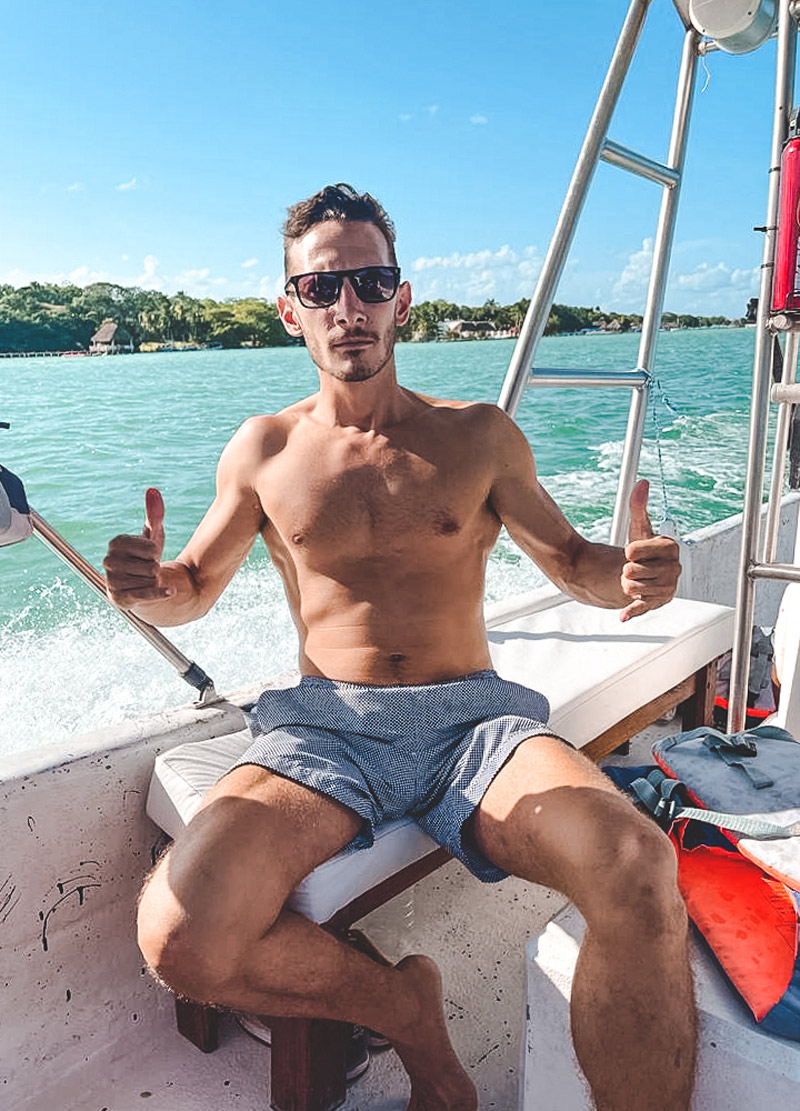 "Let's Have A Boat Trip!"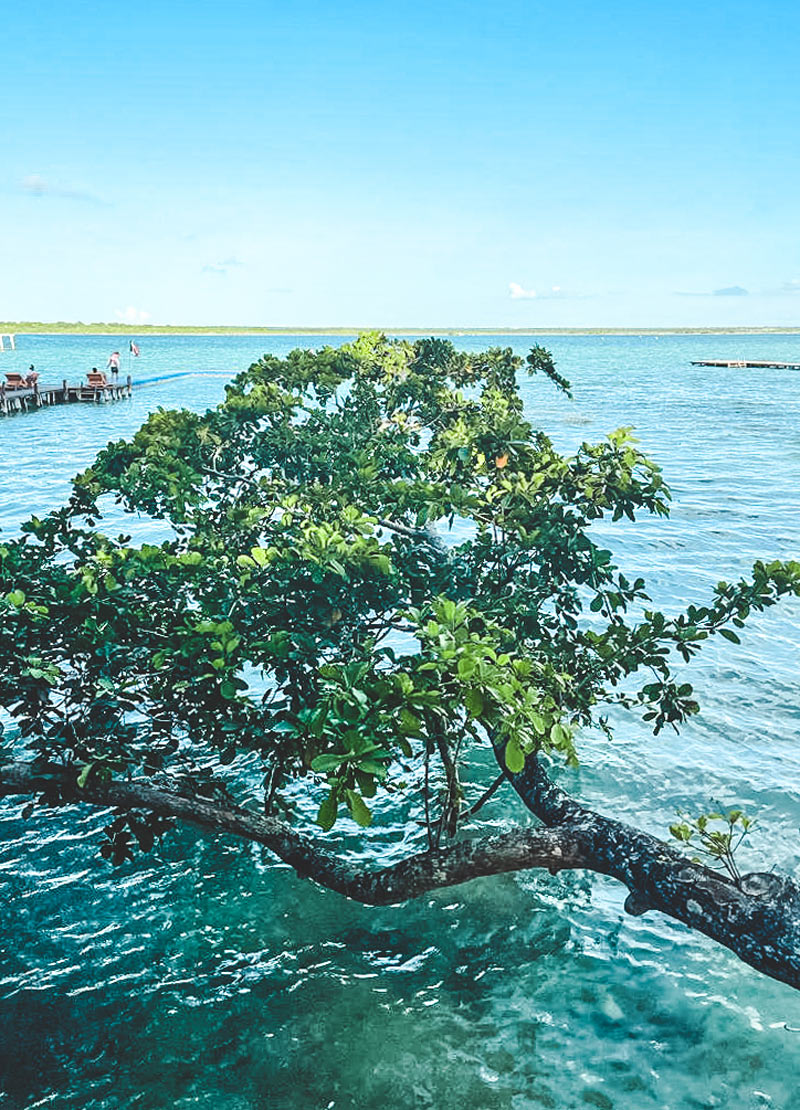 "Lagoon's Corners"
Eco hotels overlooking the lagoon
We just wrote a complete guide about hotels and small resorts overlooking Bacalar lagoon, so make sure to check it out if you still have to book your trip! You will basically have two choices: one is to spend your visit in a hotel in Bacalar city center, and the second is to book a hotel a few steps away from the water of the lagoon to merge with all the natural beauties the lake has to offer. We recommend the second option to have a more authentic experience!
Hotels here are in Mexican or Mayan style, prices will be lower than hotels in Tulum beach zone and you will have many places to relax, practice yoga, talk with your family or friends and read a book listening to the birds. Many hotels have its own restaurant, so you will not have to worry about eating – or better, you will be able to fully enjoy the place and eat right in front of the lagoon!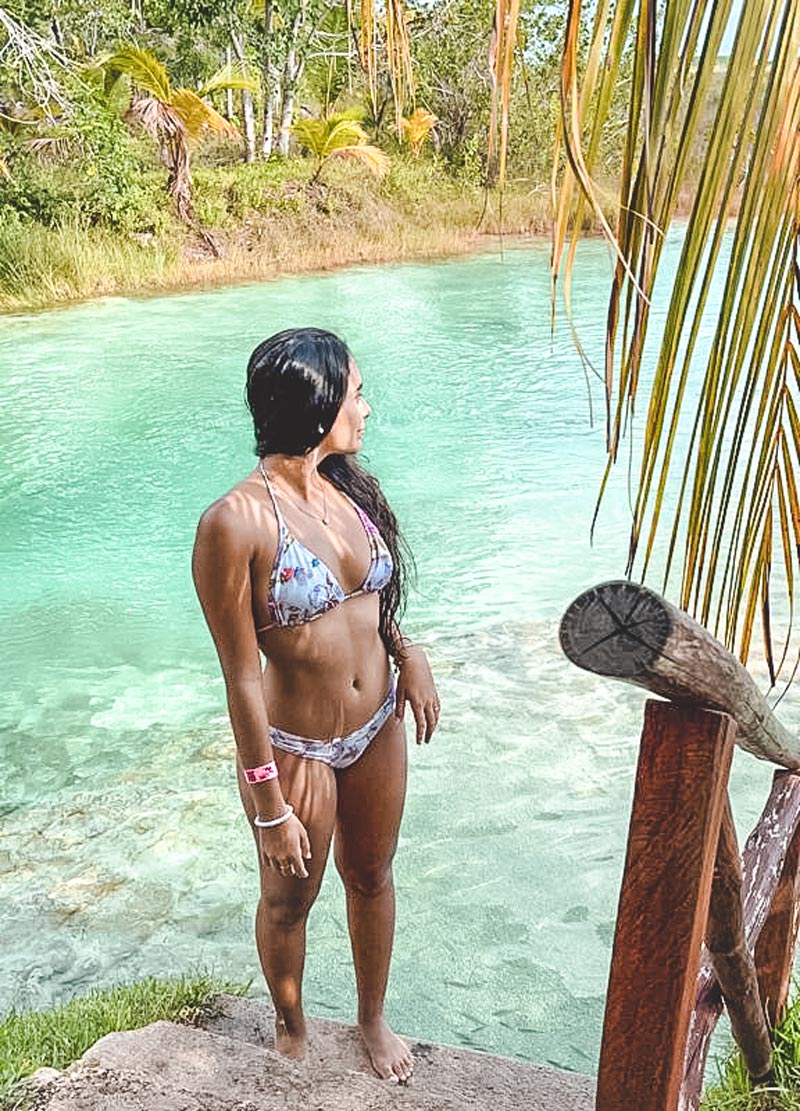 "Beautiful Spots In Bacalar"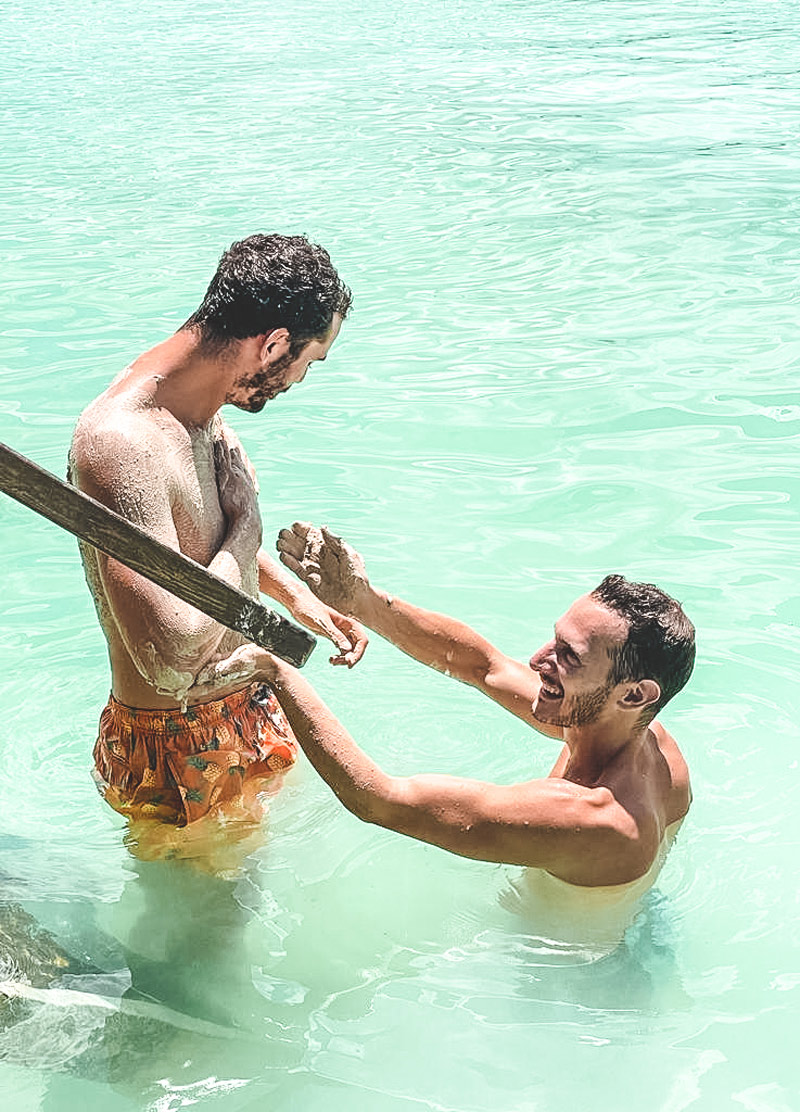 "Time For Mud Baths!"
Is Chetumal worth visiting?
Chetumal is the biggest city close to Bacalar and the last city in Mexico before Belize. Honestly? We don't think it's really worth a visit, but: prices there are really way cheaper than in the rest of Riviera Maya and it's true that the main beach is cool, especially in the evening. The rest of the city doesn't have much to offer – forget about Tulum nightlife and events. All in all, you should visit it if you land in Chetumal Airport or if you are on a budget and you want to see an authentic side of Mexico. A cool thing to see is the Museum of Mayan culture right in the heart of the city, so if you are there don't miss it! 
Great Mexican restaurants in Bacalar lagoon
After a nice day spent on a tour of the "Laguna de los 7 colores", you will be hungry and ready to eat some nice Mexican or Mayan dishes, right? If you don't know a lot about Mexico's cuisine, don't forget to check out our article where we explain the most famous dishes of the tradition and some strange delights you've most probably never tried before! Restaurants in Bacalar are way more relaxed than the ones in Tulum and our favorites are Baraka for its cool atmosphere and the care of the details, Nixtamal for their way of cooking on the fire and ash, and the famous La Playita because you can't miss it when in Bacalar!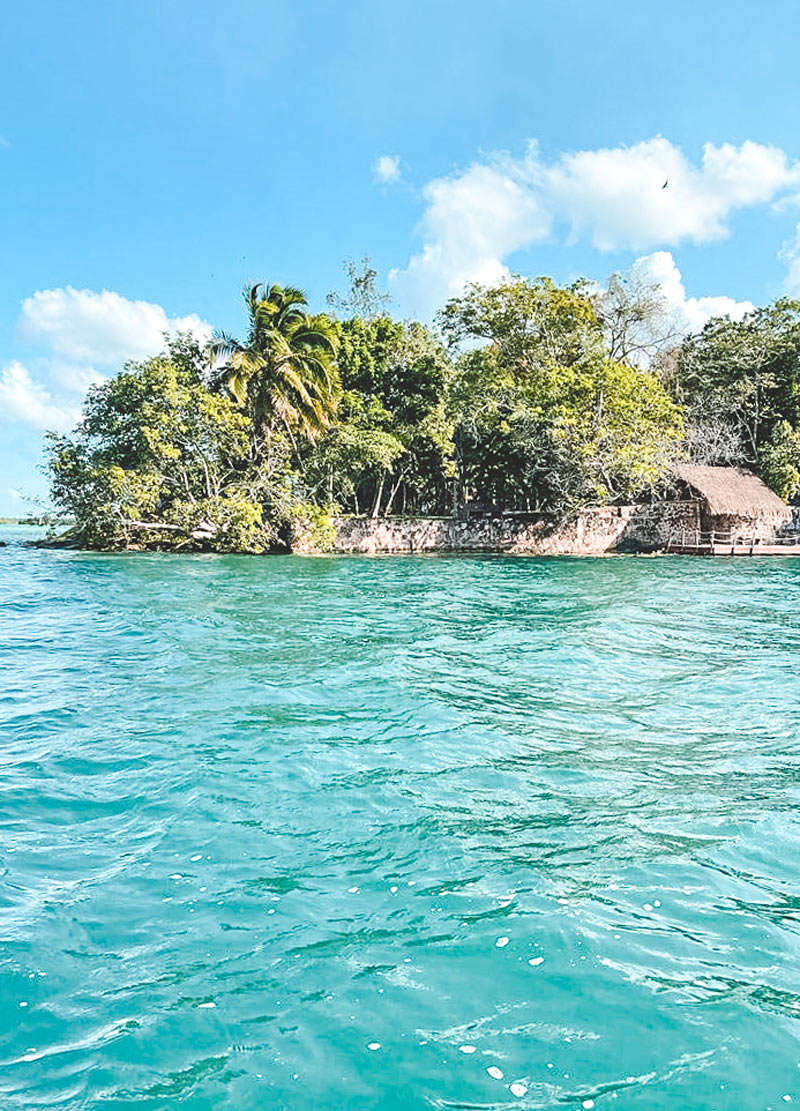 "Bacalar Saw From The Sea"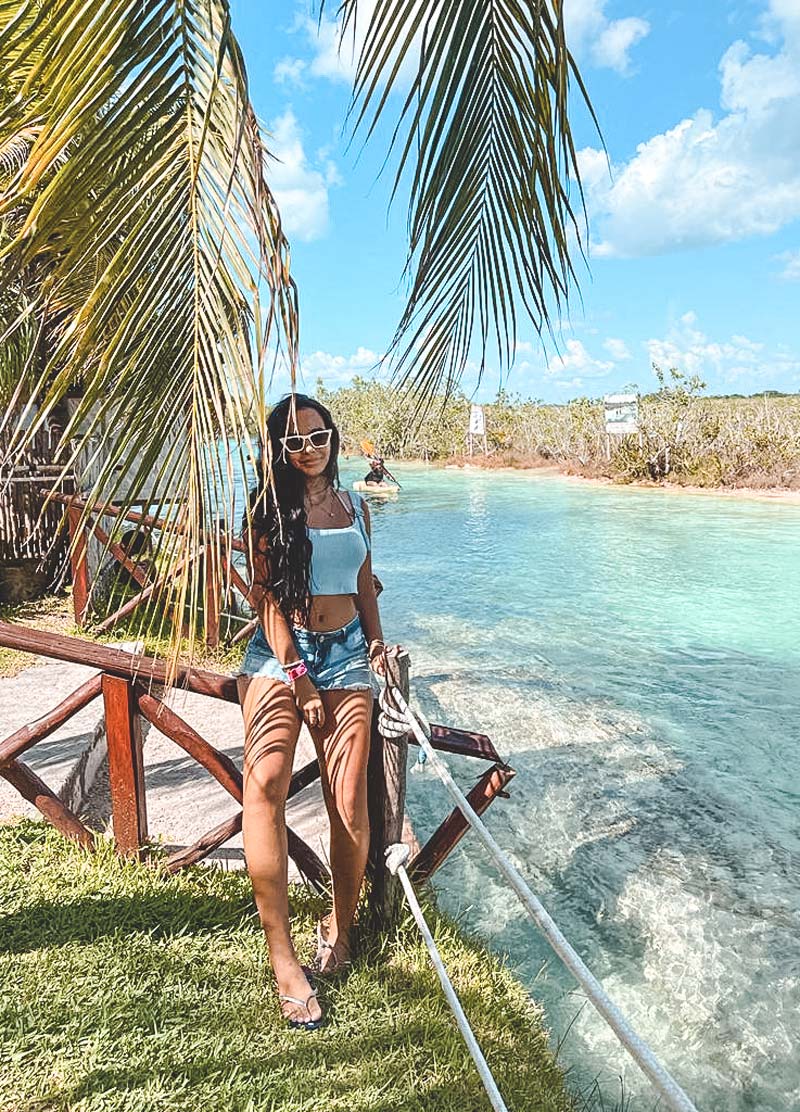 "Ready To Explore The Lagoon"
Take Advantage Of Free Concierge Service
As excellent to explore Tulum and its surroundings alone, you may need help figuring out where to start. To make the most of your money and time, contact Virginia and Kelly - two incredible Mexican girls living in Tulum for more than 15 years. They're familiar with the ins & outs of the Tulum town and hotel zone like the back of their hand! 
Since we arrived in Tulum 2 years ago, many adventures wouldn't have been possible without their help - they know literally everybody in Tulum and can perfectly organize every moment of your stay. Get the best tables, skip queues and get on the guest list of the coolest places in Tulum - this's only the beginning! 
They are ready to offer you guys FREE concierge service in Tulum for the time of your stay: take advantage of it, contact them on Whatsapp and live the best experience!
Get FREE Concierge Service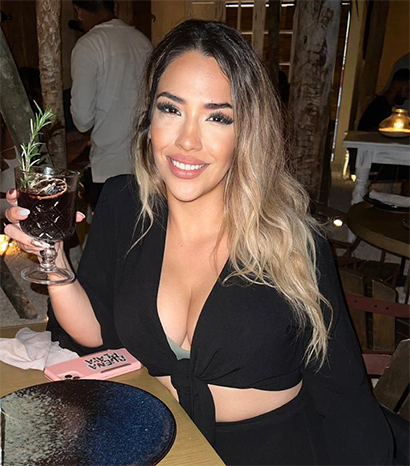 "Virginia Will Transform You In A Tulum Insider"
How to travel to Bacalar lagoon?
There are multiple ways to reach Bacalar town to explore its beauties, such as the Isla de Los Pajaros and the Bacalar's fort of San Felipe, and we will explain to you how right below. Whether you are leaving from Cancun town or airport, Tulum, Playa del Carmen or Chetumal, check out which is the best transportation – bus, boat or car?  
If you are leaving from Cancun airport or town, unfortunately the trip won't be short – in fact, you will need around 4 hours to reach Bacalar and its cenote. In this case, we really don't recommend the trip by bus because it will be long and exhausting. What we recommend is to rent a car and reach Bacalar on your own. You will be able to share the price with your friends or partner and you will be able to make some stops along the road to visit other places of Riviera Maya. So yeah – sounds like a road trip! 
If you are in Playa del Carmen town and you want to leave for Bacalar, the time of your trip will not be much lower than if you leave from Cancun – in fact it will take you around 3 hours 30 minutes. Taking an ADO bus can be an option if you are in Mexico on a budget, otherwise the transport we recommend you is always renting a car and putting on a map your own itinerary between a cenote and some Mayan ruins! 
If you are in Tulum the time of your trip will be much lower and you can even think to book a tour or going to Bacalar for just one day if you don't have much time during your travel. You can reach Bacalar town from Tulum by car or bus, but most probably the most comfortable way to reach it is with a private shuttle if you don't want to drive.
If on the other hand you don't mind driving and you want to visit other places on the road, contact Virginia on Whatsapp to rent a brand new car, for 40 USD per day with unlimited kilometrage and high coverage insurance. We had a wonderful experience with her and, unlike the average and mainstream rental car, you will not have hidden fees and it will save you a lot of stress. 
If you have landed in Chetumal airport, the closest place to Bacalar, then it will be quick and easy to reach the lake, Bacalar town or the cenotes nearby. You will need around 30 minutes to reach it and you can do it by bus, car or with a private or common tour to see all that this part of Riviera Maya has to offer! 
We hope this guide on Bacalar helped you out before planning your trip there! If you are wondering, yes – Bacalar is worth visiting and you should save some days of your trip in Mexico to visit this incredible natural destination. Let us know below what you think about Bacalar and what was your impression when you visited it!
👉 FRIDAY, Dec 8
TEN IBIZA presents "A JOURNEY INTO HOUSE MUSIC" 🌌🔊
🎧
ORIOL CALVO, CARLOS CHAPARRO, GIORGIO STEFANO
📩
Contact Virginia
here
to book a table
💵
Ticket Prices: Mex$ 550 - Mex$ 1,100 (incl. fees)
Immerse yourself in an electrifying journey with TEN IBIZA tonight at Vagalume. Contact Virginia here to secure your spot for an unforgettable night under the Caribbean stars! 🌟🎶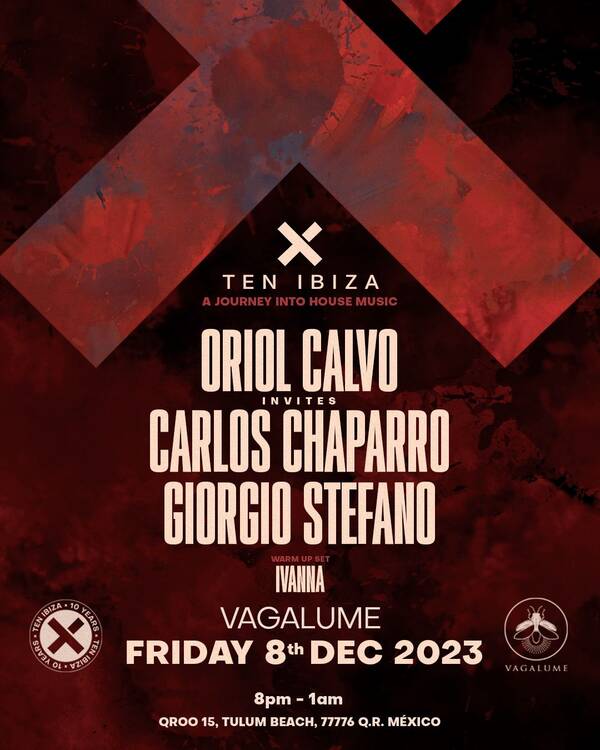 Top Parties and Club Events
23rd November - VAGALUME SESSIONS KEENE @VAGALUME
26th November - VAGALUME SUNDAZE MITA GAMI @VAGALUME
30th November - VAGALUME SESSIONS VALDOVINOS @VAGALUME
3rd December - VAGALUME SUNDAZE VALENTIN HUEDO @VAGALUME
7th December - VAGALUME SESSIONS MUSTAFA ISMAEEL @VAGALUME
30th December - PIKNIK POLO CORP & LEO LEONSKI @VAGALUME
31st December - NEW YEAR´S EVE @BAGATELLE TULUM
31st December - NYE PARTY 2024 @VAGALUME
13th March - LOCUS Tulum 2024