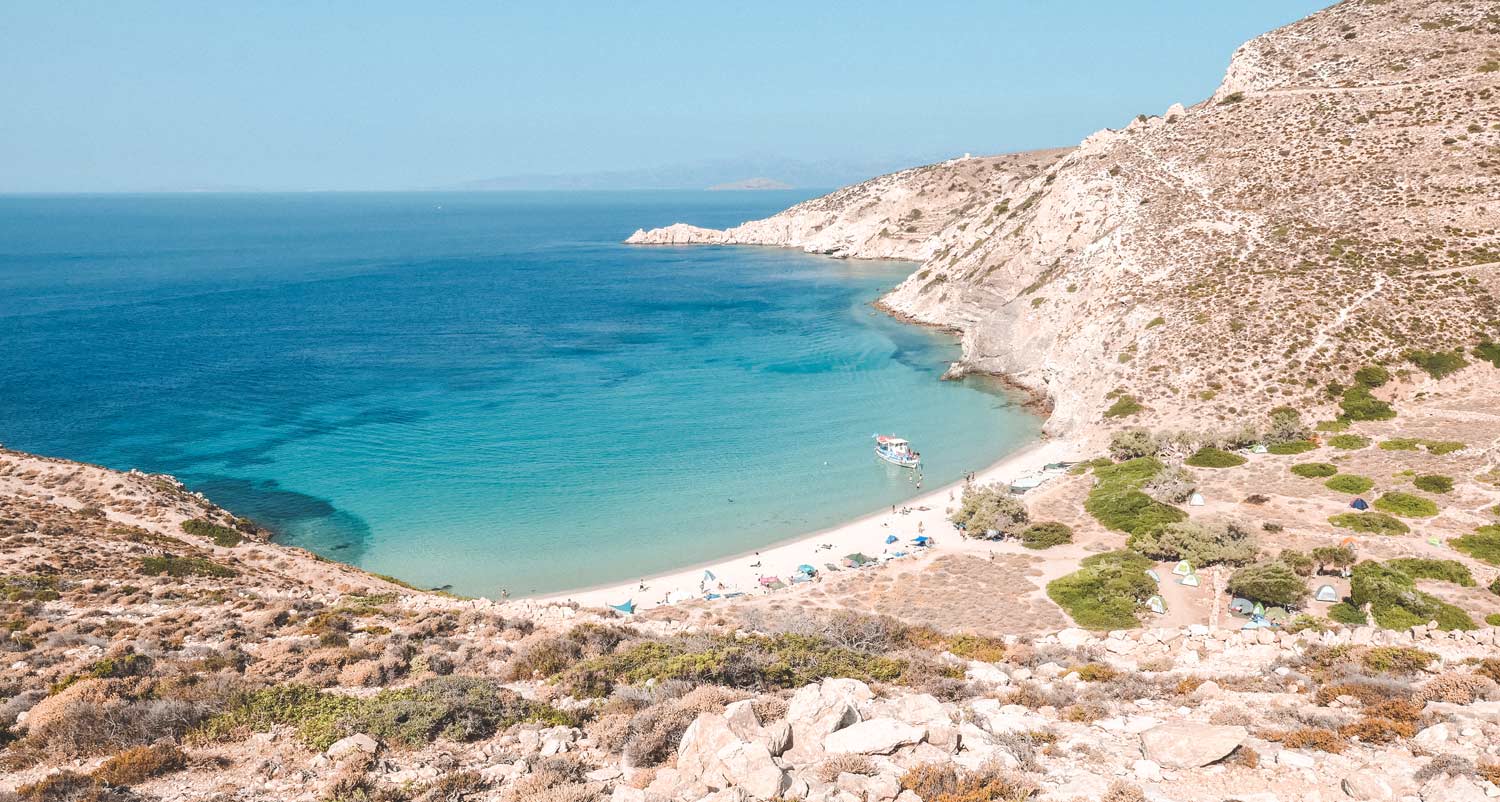 Best Beaches In Donoussa Island
If you are reading this article is most probably because you want to travel to Donoussa, a haven of peace in the middle of the small Cyclades close to the most famous islands of Naxos, Iraklia and Amorgos. Well, if so, you are in the right place! We visited Donousa in August 2019 and we spent there 22 days wild camping on the beach of Livadi, completely isolated from the world, living following the rhythm of nature. If you're not up for wild camping, with Travala you'll save 25$ on your booking and find amazing apartment to rent! We explored the island on foot and by boat discovering even the smallest beach or cove, and yes: they are incredibly beautiful and calm even in August. From Kedros to Stavros, from Kalotaritissa to Livadi, you'll be able to find the ideal beach for you. What are you waiting? Discover all the beaches of the island of Donoussa!
Stavros Beach in Donoussa's Port
Stavros Beach will be the first beach you'll see once you arrive in Donoussa, in fact it's the port's beach. But wait: if you are imaging a dirty beach, delete that thought from your mind. The waters of Stavros Beach are clear and the sandy beach is really clean, a real paradise for families and couples. Stavros Beach is just few minutes away from hotels and it's located in the main village of the island. A point not to be underestimated is the taverna of the beach, always open with a lot of different delicious meals. If you want to discover our favorite restaurants in Donousa, give a look at our article!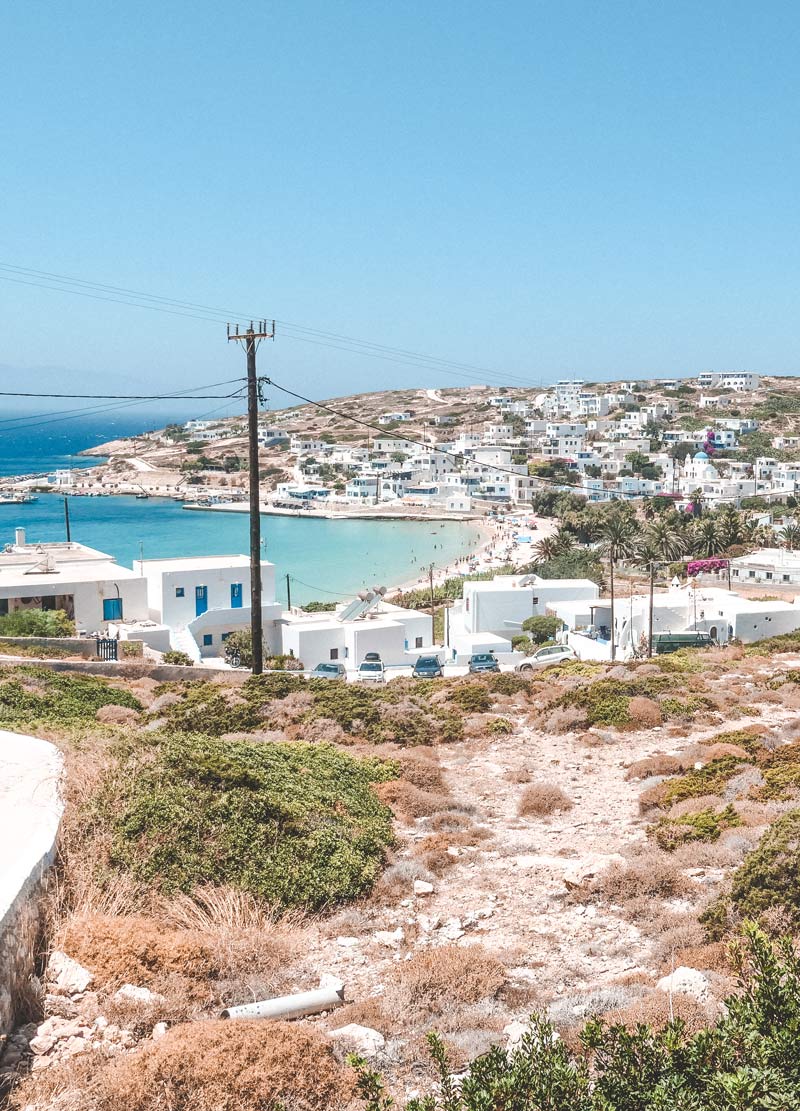 "The View On The Beach And The Village"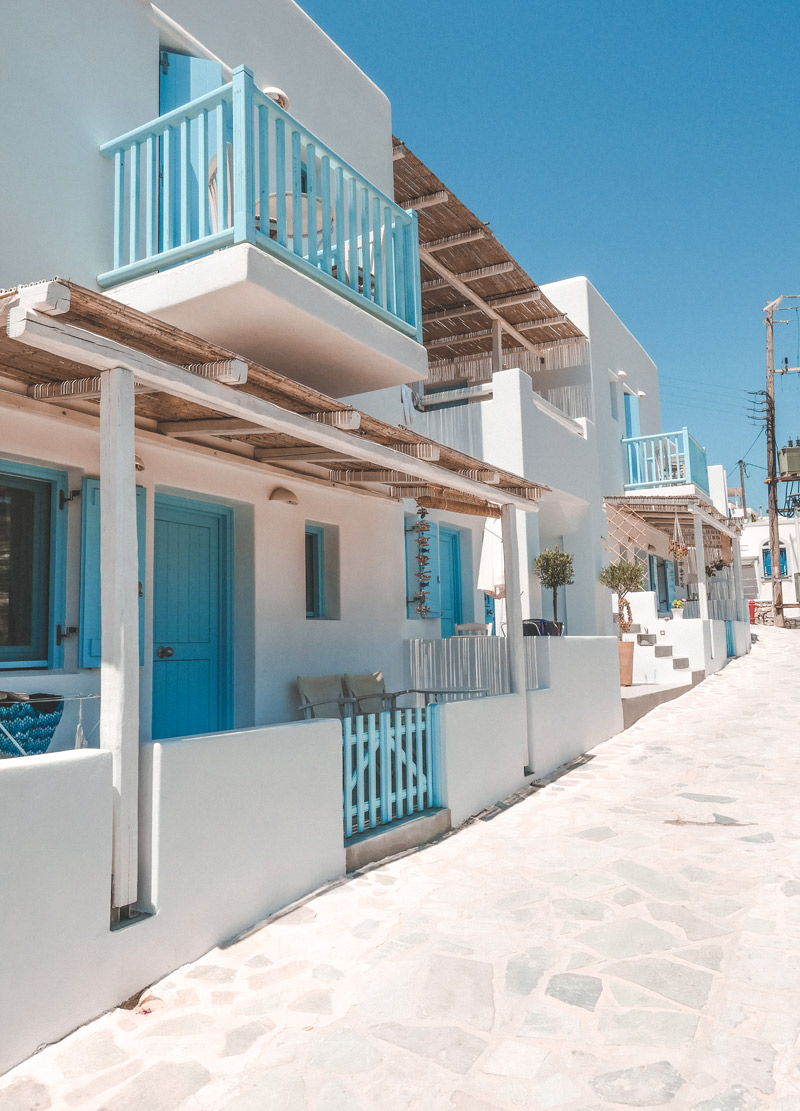 "The Typical Cycladic Houses"
Kedros Beach and Wild Camping
If you want to reach Kedros Beach, you can do it by following the path from the main village, Stavros, in 15 minutes. It will be almost impossible to get lost, but if so, don't hesitate to ask information to the local people: they will be glad to reply you even if some of them speak only Greek! Otherwise you can reach it by boat enjoying the view on the blue sea.  Once in Kedros, you'll find a beautiful sandy beach and a nice (but quite expensive) taverna where you'll be able to eat. Kedros is the most famous spot on the island to do wild camping and that's why it's so crowded. If you mind load music until dawn and group of young people on the beach, that's not the best option for you. In any case, we advise you to avoid Kedros in August: it's literally overcrowded.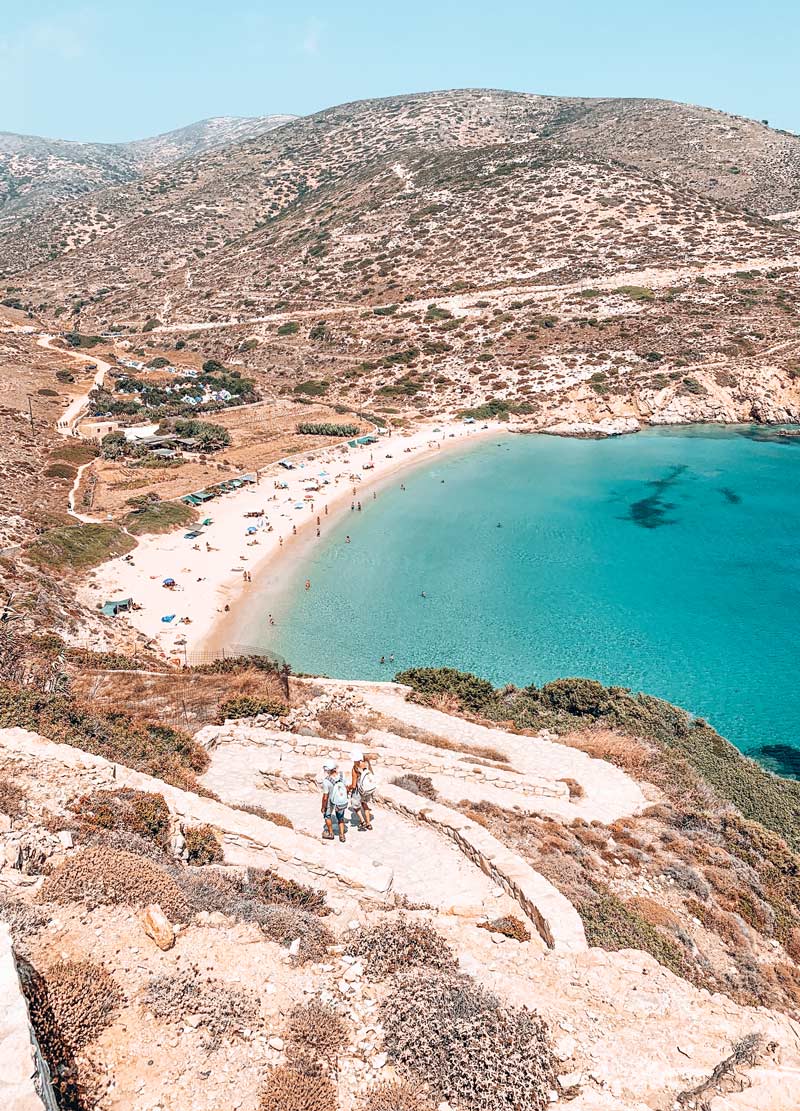 "The Beautiful Promenade Close To The Sea"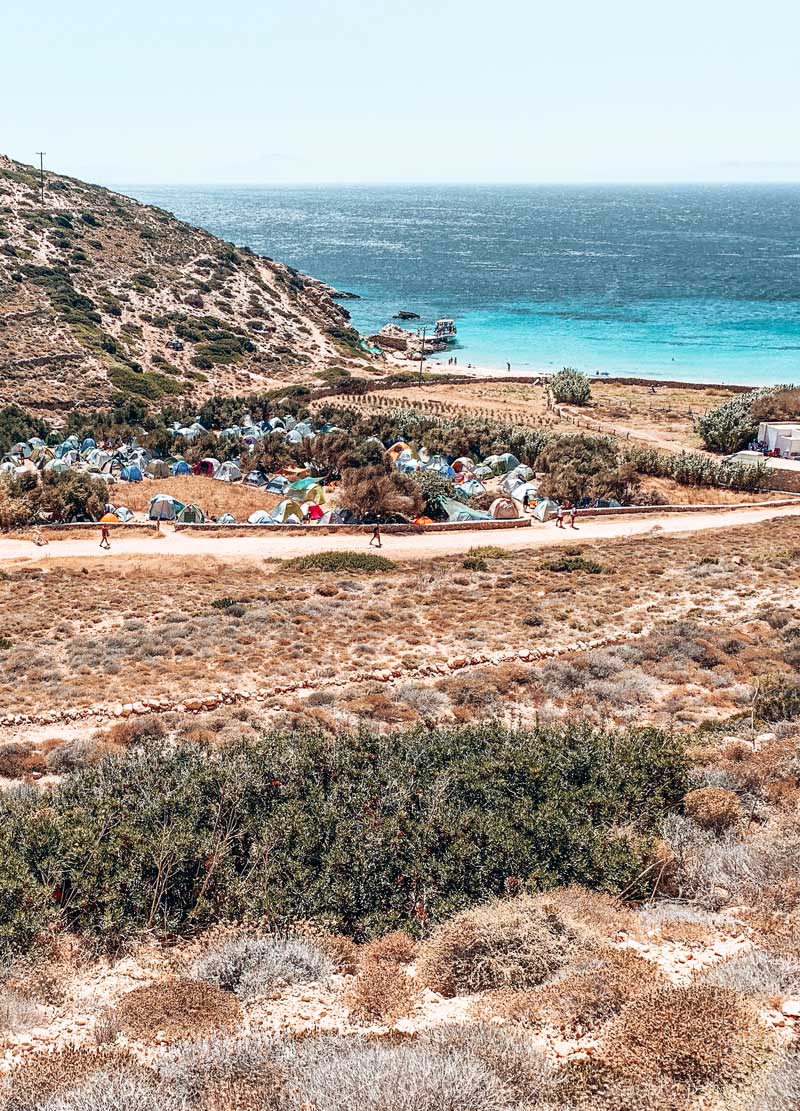 "Wild Camping In Kedros Beach"
The Peaceful Livadi Beach
Livadi is the most isolated beach on the island: in fact, you'll be able to reach it by boat, from Stavros or Kedros or from the church of Mersini following the path. If you choose the boat option it will take you from 15 to 20 minutes. If you choose the second option, after 25 minutes of walk you should arrive in Livadi and enjoy its clear water! There is no taverna in Livadi, so if you are hungry, have a stop at Tzi Tzi Taverna in Mersini: you'll not regret it. Livadi is completely isolated from the world: you'll not find electricity or drinking water. In Livadi you'll only find a lot of hippies, some tents, clear waters and some trees, so enjoy the moments there to disconnect from the world and appreciate small things. You'll feel better after. If you are interested in doing wild camping in Livadi, check out our ultimate guide.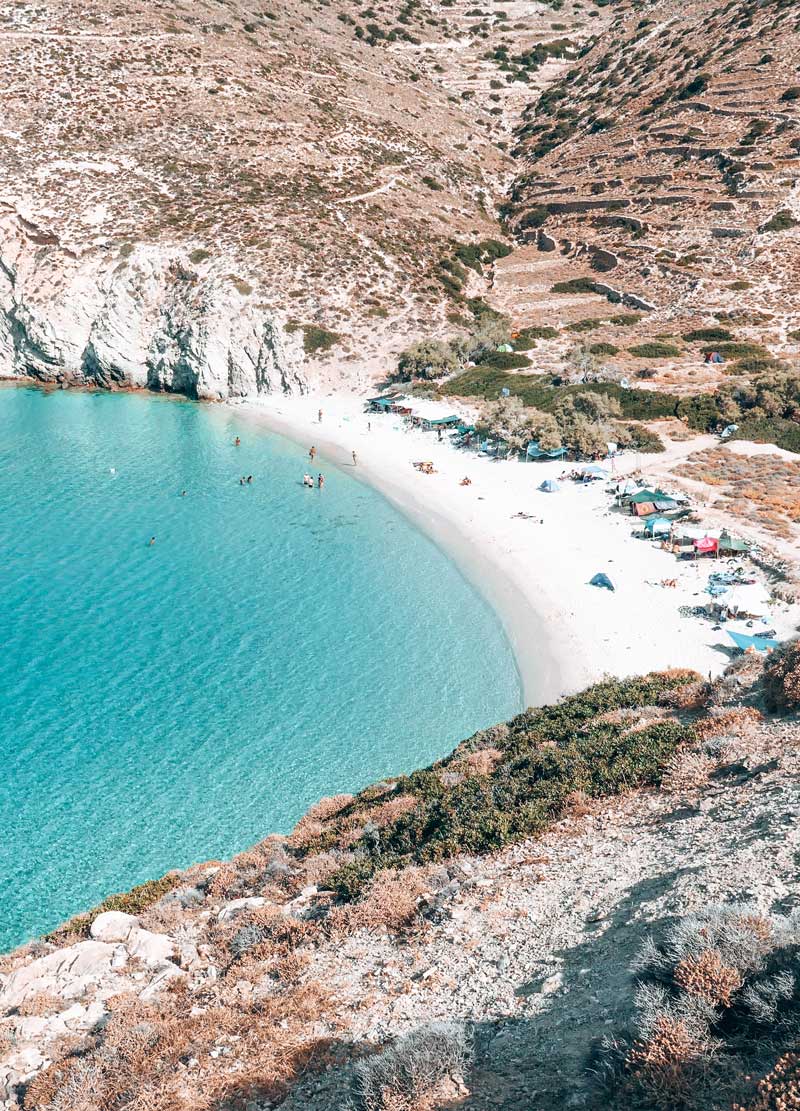 "Livadi Beach In Donoussa Island"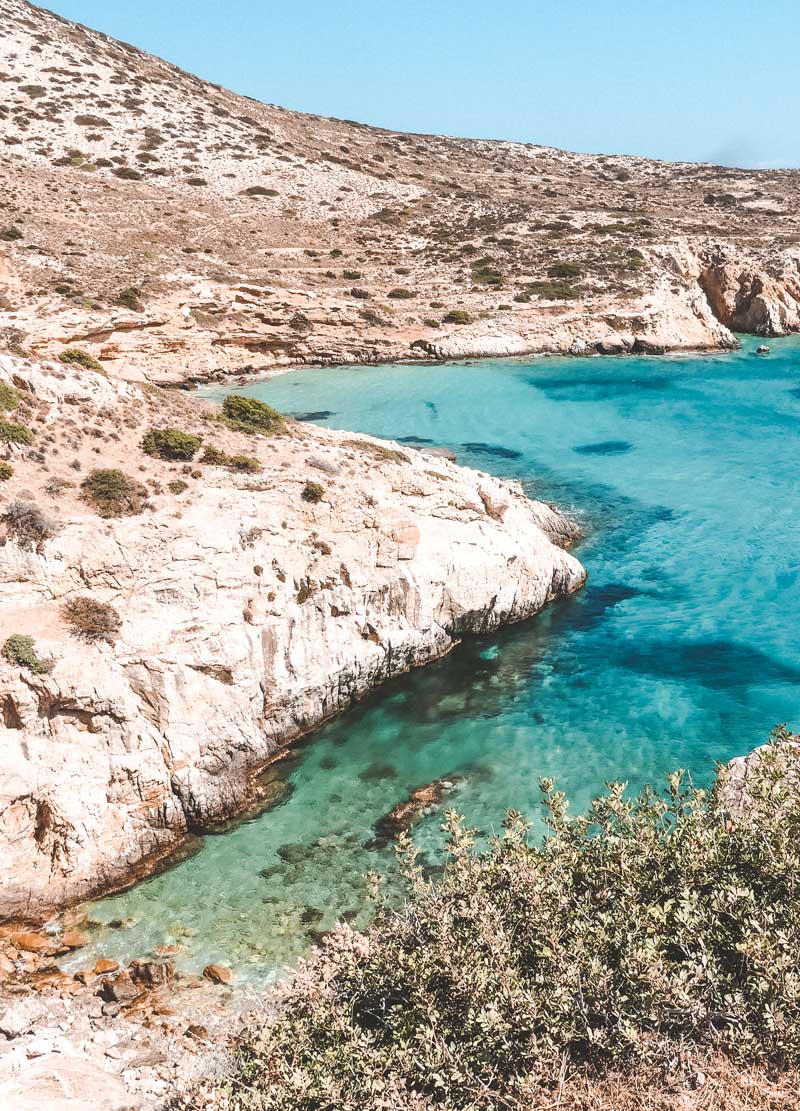 "The Nature Around Livadi Beach"
The secret creek close to Livadi Beach
The real beauties of Donoussa are its secret creeks. So, forget about Google Maps and explore the secret paths of this island: you'll find breathtaking creeks immersed in nature. So, if you are in Livadi and you walk up to Mersini, you'll see another path going south: good, follow that path and reach this secret creek we fall in love with! If you want to have a romantic afternoon with your partner, or watch the stunning sky in a summer night, this place will be perfect for you. Its waters are not so clear, but the sand and the rocks are incredibly amazing. It's definitely worth a visit! If you want to reach this secret bay, you should have a backpack. We have this one since 2 years and we really love it.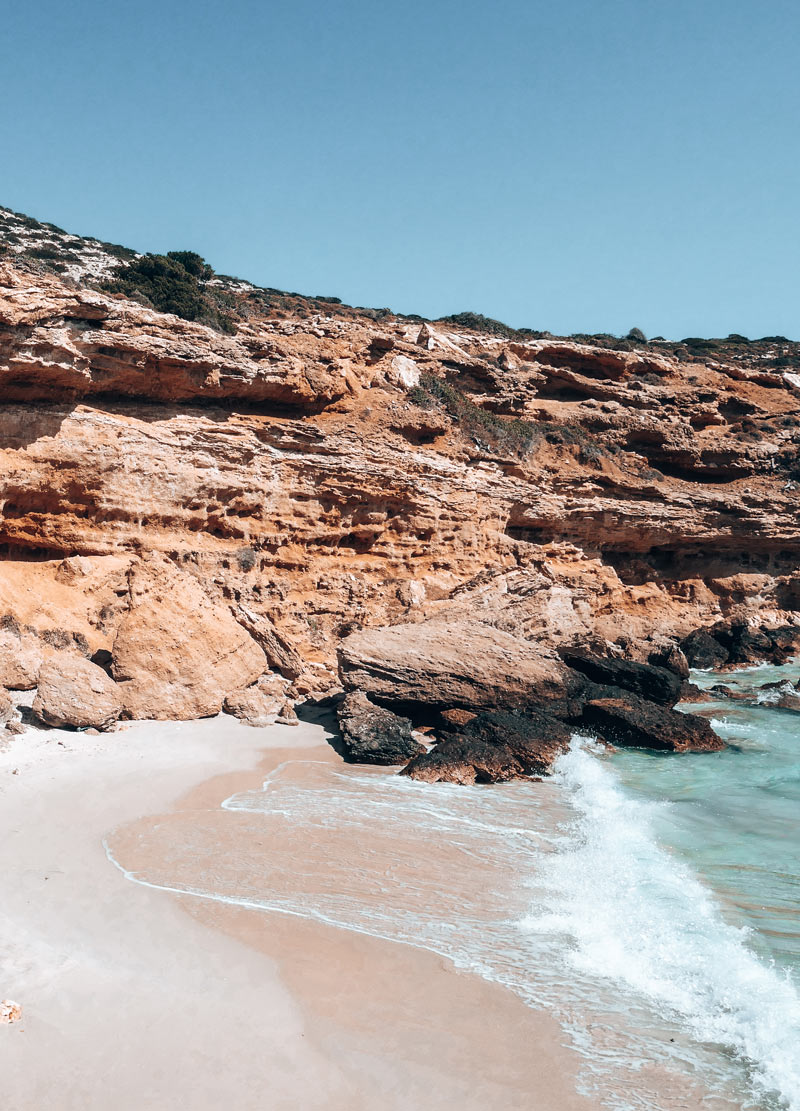 "The Small Creek Close To Livadi"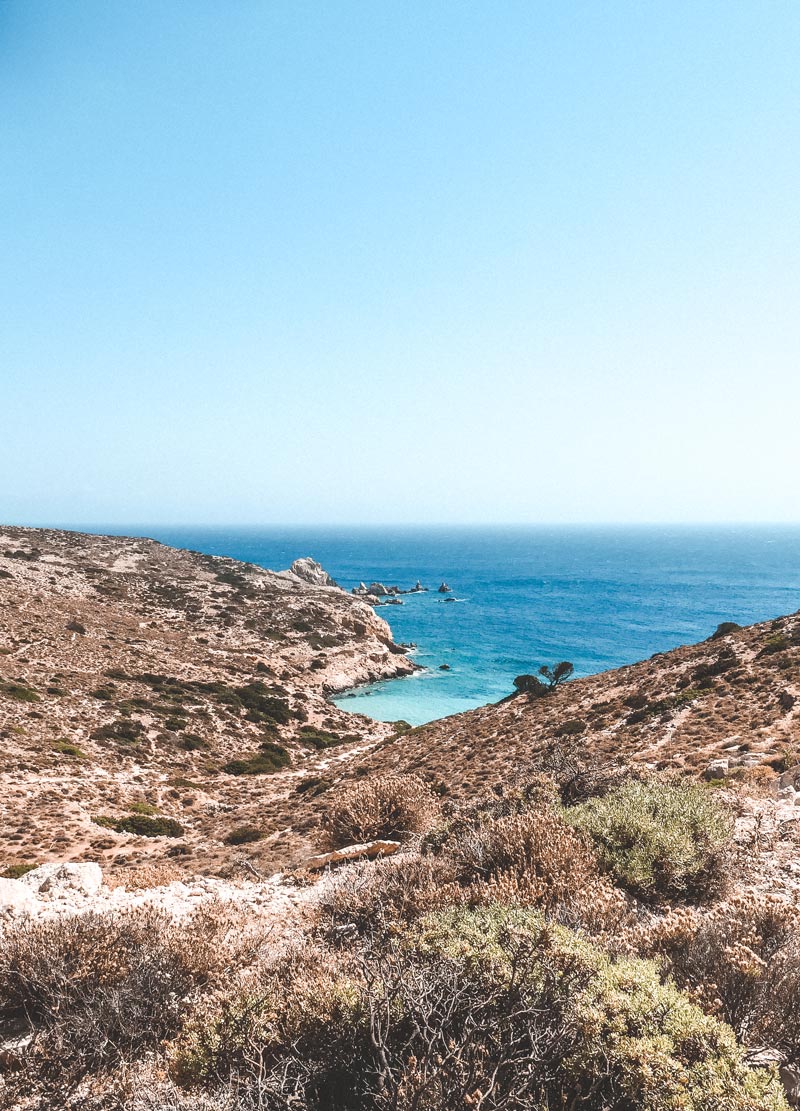 "The Path To Reach The Cove"
The rocky Kalotaritissa beach
In the north east of the island you'll find the beaches of Kalotaritissa. You can reach them by bus or on foot if you want to explore the island. If you don't like sand, that's the place for you, but be aware that beaches here are more exposed to the wind. Kalotaritissa has a small church, few hotels and a taverna. Its waters are clear and you'll be able to visit Fokospilia Cave close to it. So, if you like rocky beaches, a calm atmosphere and you don't mind wind, Kalotaritissa is made for you!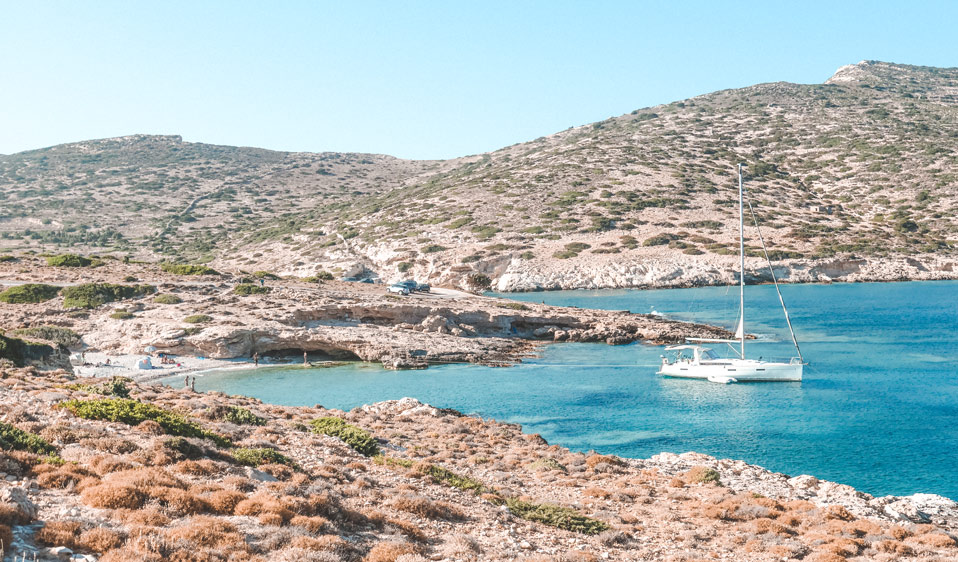 "Kalotaritissa And Its Calm Beach"
If you're organizing your trip to Greece and you have some questions, don't hesitate to leave us a comment below or contact us directly by email or Instagram, we'll be happy to reply you! Otherwise, this guide helped us a lot to organize our travel in Greek islands.
Top Events to Make Your Trip Unforgettable
DOMINIK TULUM @MIA TULUM
When: September 9, 2023 7:00 PM
Where: Mia Restaurant & Beach Club, Tulum
🌴 Join Us for An Unforgettable Night at DOMINIK - TULUM at Mia Tulum! 🌴
Friends, clear your schedules and get ready for a magical experience at Mia Tulum! This stunning location will host DOMINIK - TULUM on Saturday, September 9th, from 7 pm to 1 am. This isn't just another event; it's a fusion of nature, culture, and sound featuring an incredible line-up with GIORGIO STEFANO, AUDICTIVE, and MAURO TORRETA. At DOMINIK, you'll find the perfect blend of Tulum's lush jungles and pulsating underground beats, creating an environment where genuine connections blossom.
🎟️ Secure your tickets now:
Early Bird: $575 MXN ($38 USD), includes a welcome drink 🍹 (Limited Availability)
Tier 1: $805 MXN ($52 USD), includes a welcome drink 🍹 (Limited Availability)
Final Tier: $1150 MXN ($75 USD), includes a welcome drink 🍹 (Limited Availability)
Dinner + Party: $1380 MXN ($90 USD) 🍽️🎉 (Limited Availability)
See you there for a night you won't forget! 🎶✨
Ready to join us? Get your ticket now! Early bird tickets are already selling out, secure them at 632 pesos (only 15 tickets available).
Hurry – spots are filling up fast! 🙀 We can't wait to see you there!
Top Parties and Club Events
17th September - ANCESTRAL SOUL @BONBONNIERE TULUM
22nd September - TONY ROMERA @BONBONNIERE TULUM
29nd September - TIM BARESKO @BONBONNIERE TULUM
4th November - HOT SINCE 82 @BONBONNIERE TULUM
13th March - LOCUS Tulum 2024