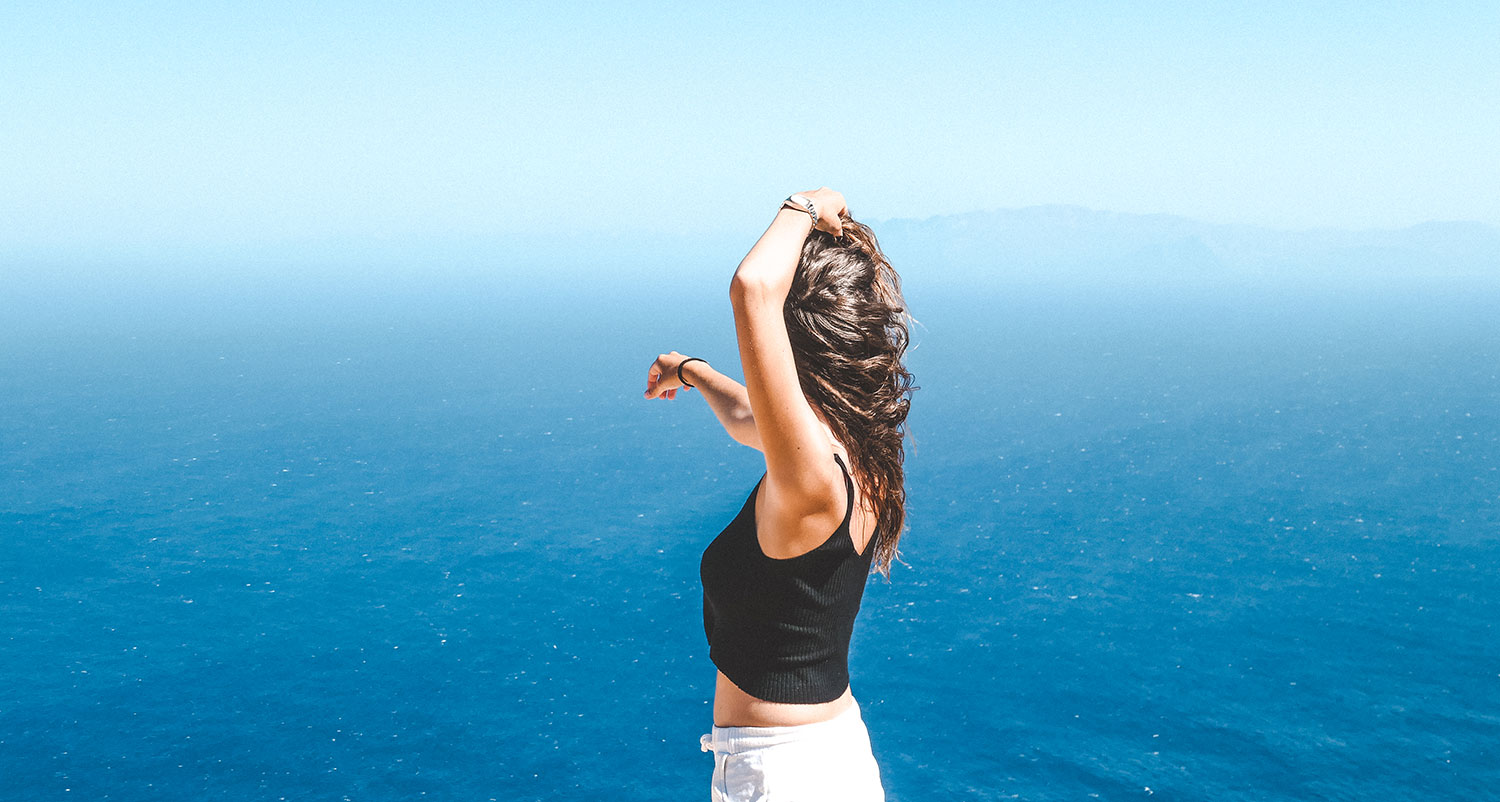 Donoussa Island: The Ultimate Greek Paradise
If this summer you are searching for adventure, relaxed vibes, beautiful beaches and you're trying everything to avoid mass tourism in Greek islands, Donousa is most probably the best option for your next vacation in Greece. Situated in the small Cyclades between Naxos and Amorgos, Donoussa is a little island approximately 7 hours by ferry from the main harbour in Athens, Pireaus. This island is really secret and well-known only by Greeks: in fact, you'll not find many reviews on the web about it and travel guides rarely talk about it. Why? Because Donoussa has a strong hippie soul and it's just not for everybody. Rather than a vacation, you'll live a real life experience. If you want to know more about Greek islands, this guide is literally the best. Eddy and I went there last year in August 2019, totally randomly, to experience wild camping for the first time. If you're not into camping, you can always find the perfect place on Travala saving 25$ on your booking. Not bad, ah? If you want to know more about how organizing your wild vacation in Donoussa Island, keep on reading to discover its traditional villages and its beaches! 
Things to Do and See in Donoussa
Wild camping in Livadi beach
Explore Stavros, the port village
Have a romantic evening in Mersini in Tzi Tzi Restaurant
Make the tour of the island on foot
Walk following the path to Kalotaritissa
Wash yourself in the nature of the Mersini's source
Party with local people until dawn in Kedros
Have a tour on the traditional boat in the port
Buy handmade jewels at evening's market at the port
Wash your clothes at the Mersini's source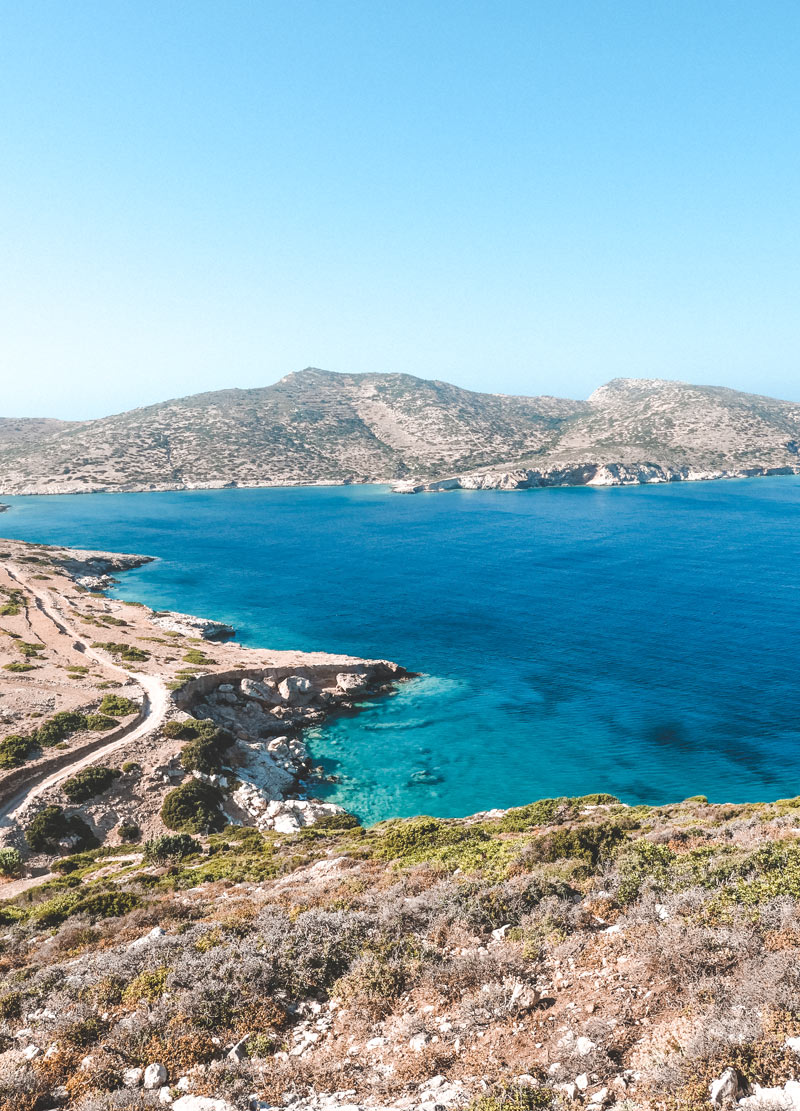 "The Way To Kalotaritissa"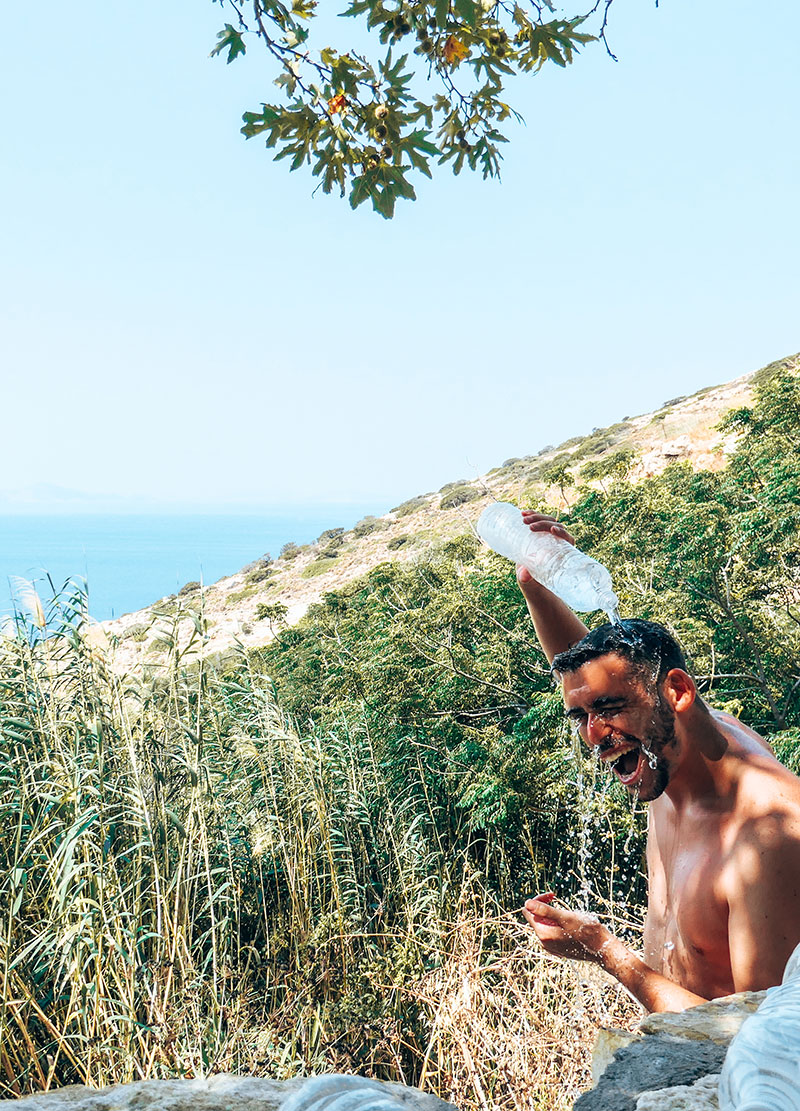 "Eddy Taking A Shower At Mersini's Spring"
Typical Costs When Traveling in Donoussa
If you are on a budget, Donoussa is definitely the island for you. We spent something like 300 euros to buy all our equipment to camp, so we can say that our accommodation for the whole month of August on a Greek island was incredibly cheap! We gave a look at the different hotels and rooms on the island, but they were way too expensive for what the island has to offer you. Don't expect to find beautiful villas like in Santorini, but rather old studios with not fancy stuff inside. So, our advice is definitely to do wild camping in Donoussa or to visit the island in September: in this way you'll be pretty alone and you'll pay cheaper prices. If you want to wild camping in Greece and it's your first time, read our ultimate guide on the tools to have, on useful tricks, on where to go and how to organize the perfect wild camping vacation. Ah, for wild camping you'll need a backpack, otherwise it would be to hard to move with a normal luggage. We have this one since 2 years and we absolutely love it!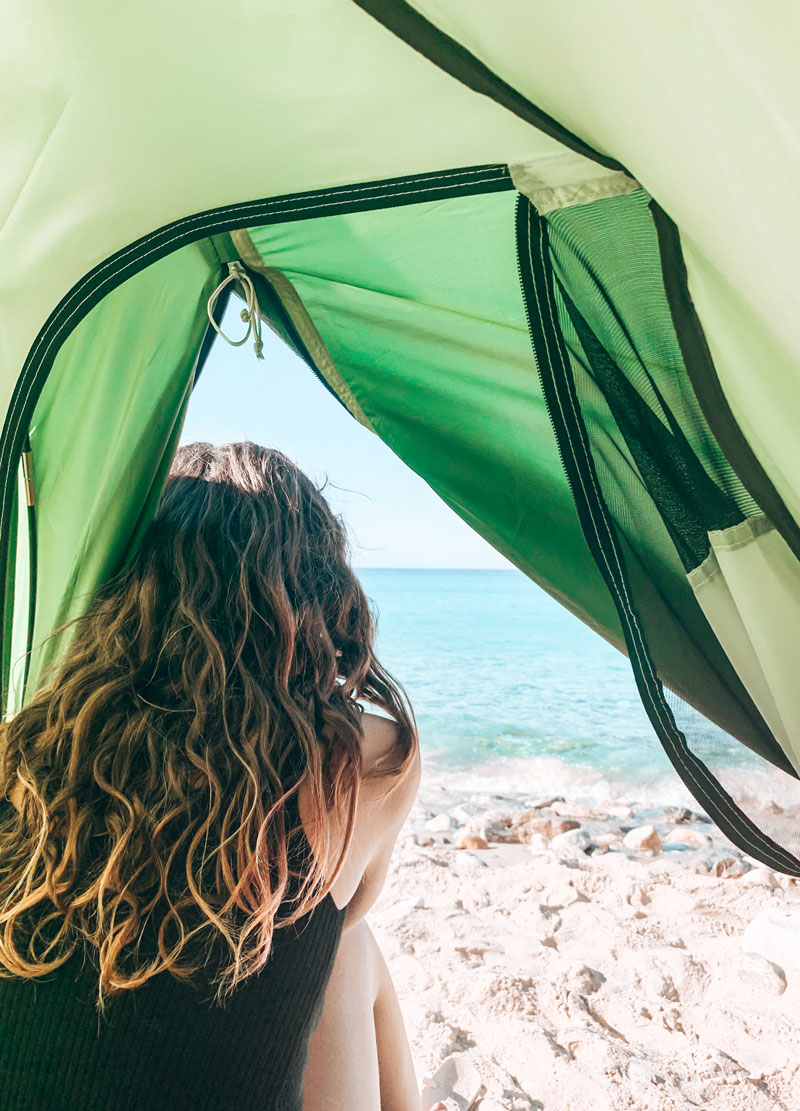 "The View From Our Tent"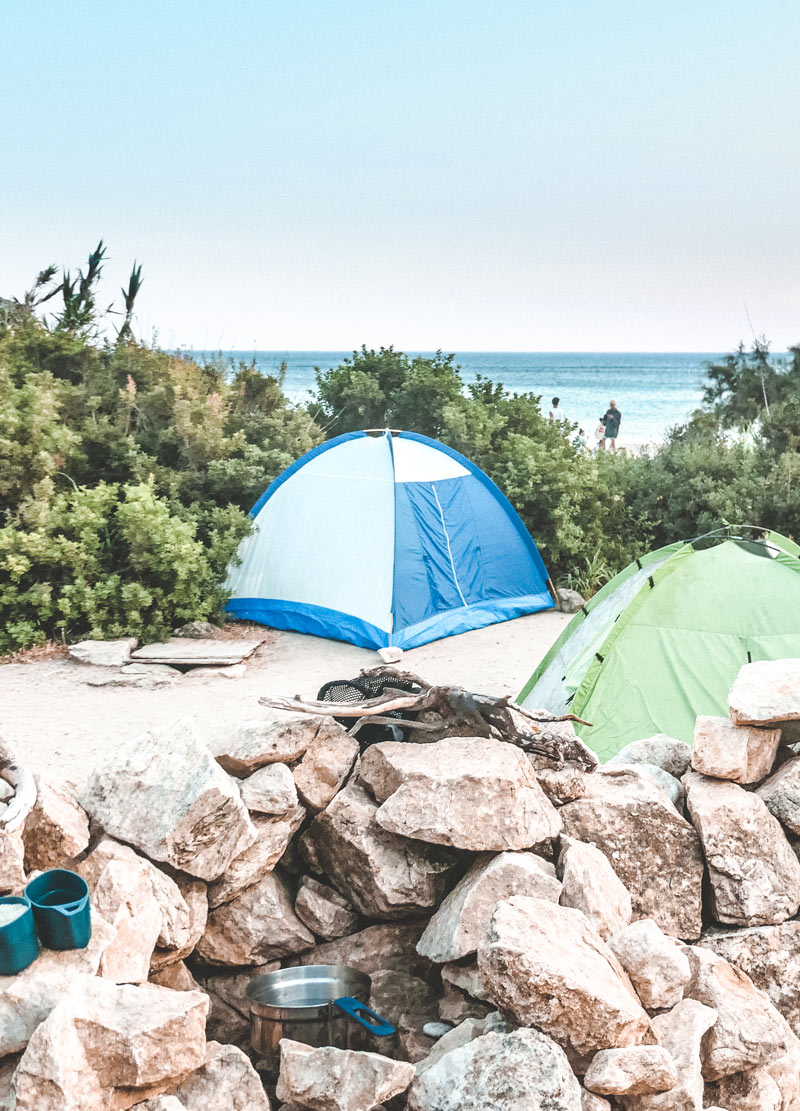 "Our Small Kitchen"
Restaurants And Supermarkets In Donoussa
Restaurants and supermarkets in Donoussa are pretty expensive, so forget about the cheap prices of Athens and be ready to pay 30 to 40 euros for a meal for two people. Restaurants are concentrated in the biggest villages like Stavros, Kedros, Mersini and Kalotaritissa. Since we were living in Livadi beach, we ate often in Mersini in our favourite restaurant called Tzi Tzi. The beautiful owner, the breathtaking view on the blue sea, the delicious food made us fall in love with this restaurant. If you prefer to buy food and cook on your own, we advise you to do your grocery at the harbour at "Estiatorio To Kyma" shop and restaurant. Besides being one of the most delicious restaurants, its prices are the cheapest on the island. Close by, you'll find a more expensive fruit shop and by the church another shop which, on the other hand, is really expensive. If you want to have the ultimate guide of the restaurants in Donousa, give a look at our article.
"Eddy Working From Tzi Tzi Taverna"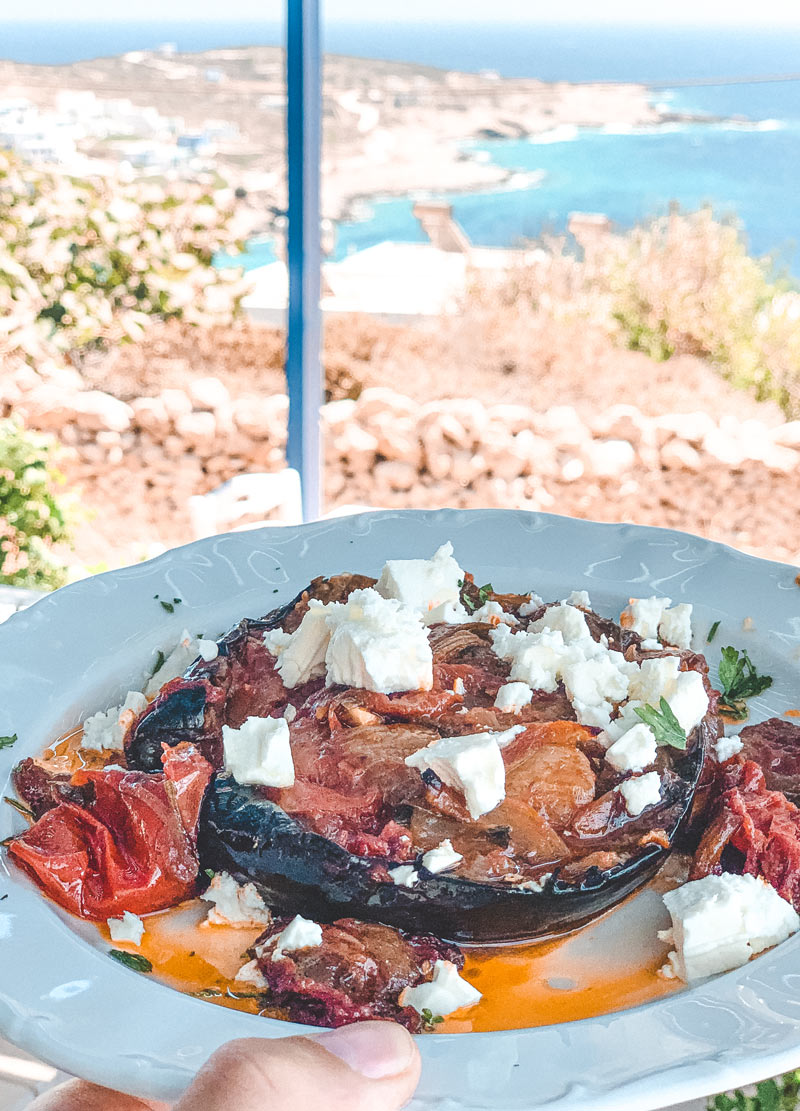 "Imam, A Delice From Simadoura Restaurant"
First of all, you'll have to reach Donousa by ferry from Piraeus in Athens. We really suggest you buy your tickets once in Athens and avoid booking them online: we struggled a lot to have them via the internet, so we end up in the most serious travel agency in Athens, Ferry Hopper. There, you'll have the best price and the best connections. We traveled with Blue Star Ferries and we can say that in August it's really not the best way to move: in fact, the ferry is really crowded. We advise you not to buy anything on board because the prices are ridiculously high. If you want more information about it, read our article about the cheapest way to book ferries in Greece. Once you arrive in Donousa, you can forget about all the taxi of Athens: there is only one taxi on the island! We never took it so we don't know about its fares. We usually moved by boat, bus or feet. The ship is really typical and it's so beautiful to sail the water of the Aegean Sea. It brings you from the harbour in Stavros to Kedros, Livadi and Fokospilia Cave. The prices are the double in August, but normally you pay something between 2 and 4 euros. The bus is less traditional, but very useful if you don't want to walk. It drives you everywhere in the island at the same prices as the boat. You can pay the ticket on board, as for the boat, and it's leaving as well from the port.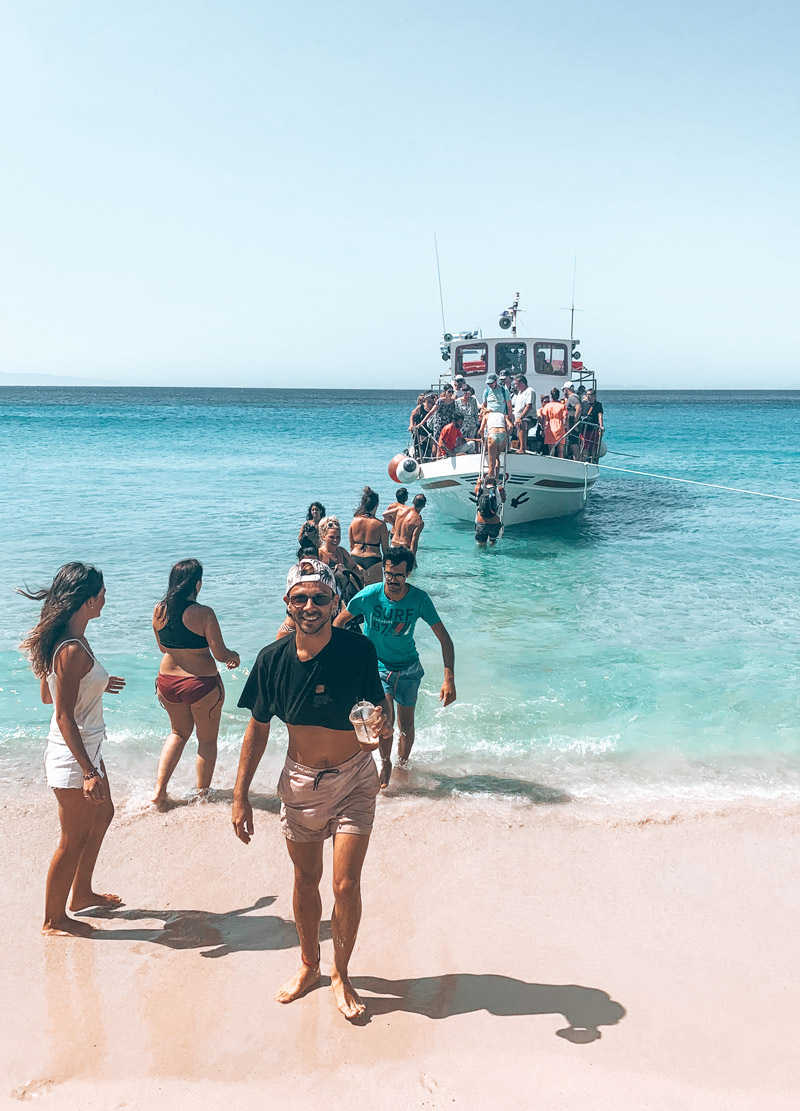 "Moving Around With The Boat"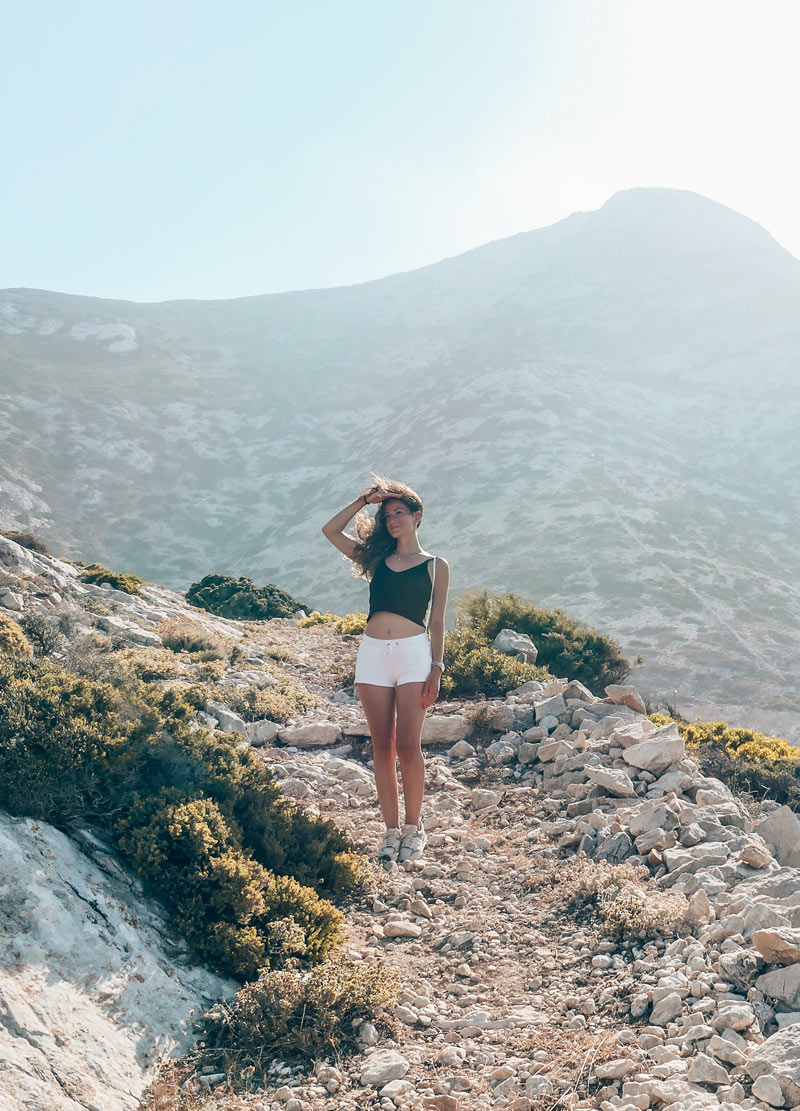 "Walking Around Donoussa"
Suggested Daily Budget – An average of 10 euros per day, if you'll do wild camping in Livadi, eat 3 times per week at the restaurant and the rest in some bakeries or in your camping kitchen, if you move 2 or 3 times per week on the boat or bus and mostly on foot. 
Stavros -
Stavros is the biggest town on the island and it's where you'll spend your first minutes. Here you'll find two of our favourite restaurants, Estiatorio To Kyma and Simadoura, a tobacco shop, the ferry tickets shop, a souvlaki restaurant, the small hospital, two souvenirs shop, a bakery and the church. Here there's the first beach that has few bars and it's really clean if you consider that it is the port beach. Stavros is the perfect option if you want to stay in a hotel or rent some rooms.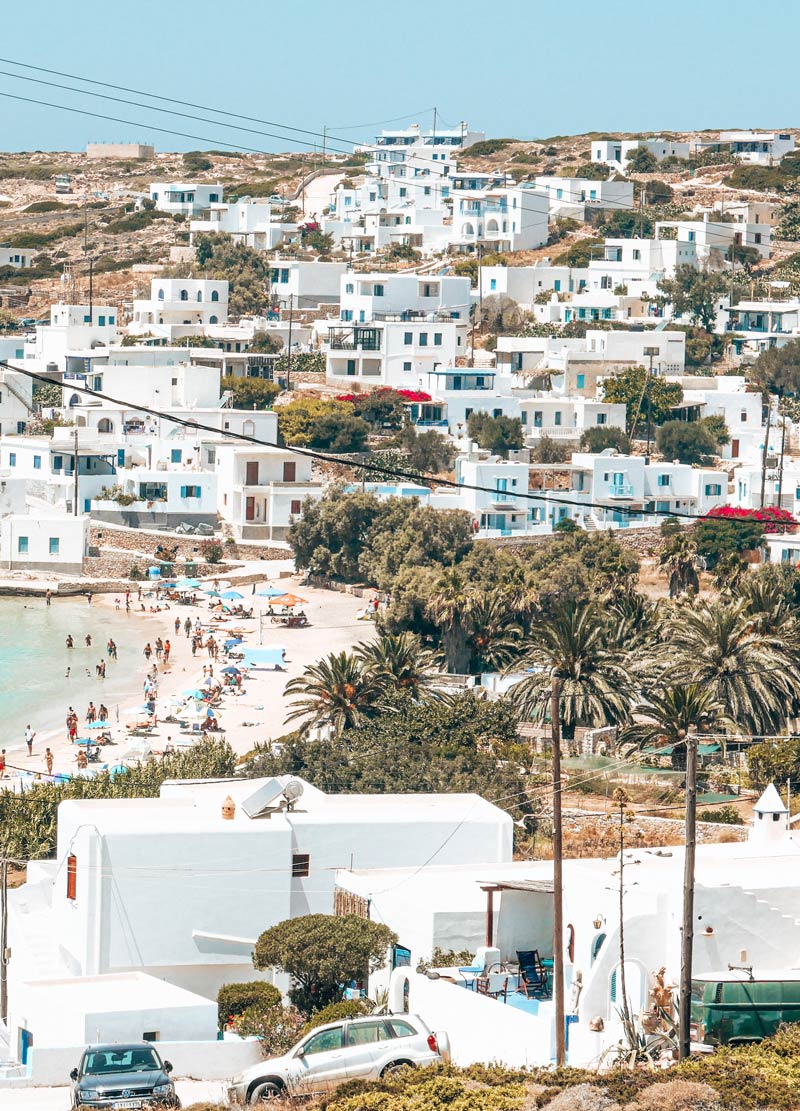 "Stavros, The Port Village"
Mersini -
Mersini is really small: there are a church, two restaurants and a source where you'll be able to wash your clothes and take a shower if you are wild camping in Livadi. Here there's our favourite restaurant, Tzi Tzi where you'll be able to work a bit on your laptop, or buy some water or beers, or just enjoy its fantastic cuisine. From here you can walk all around the island and discover a lot of secret places.
Kalotaritissa -
We didn't like that much Kalotaritissa. Here you'll find some tavernas, rocky beaches and a small church. We don't really advise you to stay here, but you can spend a nice afternoon eating figs from the trees and dicovering nice creeks.
Kedros -
Kedros is really the worst place for wild camping. The owner of the only (expensive) taverna handle the three fields close by where he decides wether you can camp or not. Unfortunately, if you decide to go there in August, you'll find no place with shadow and calm because the fields are overcrowded. The only advantage to camp in Kedros is to have a common toilet and shower, otherwise we don't really advise you to go there.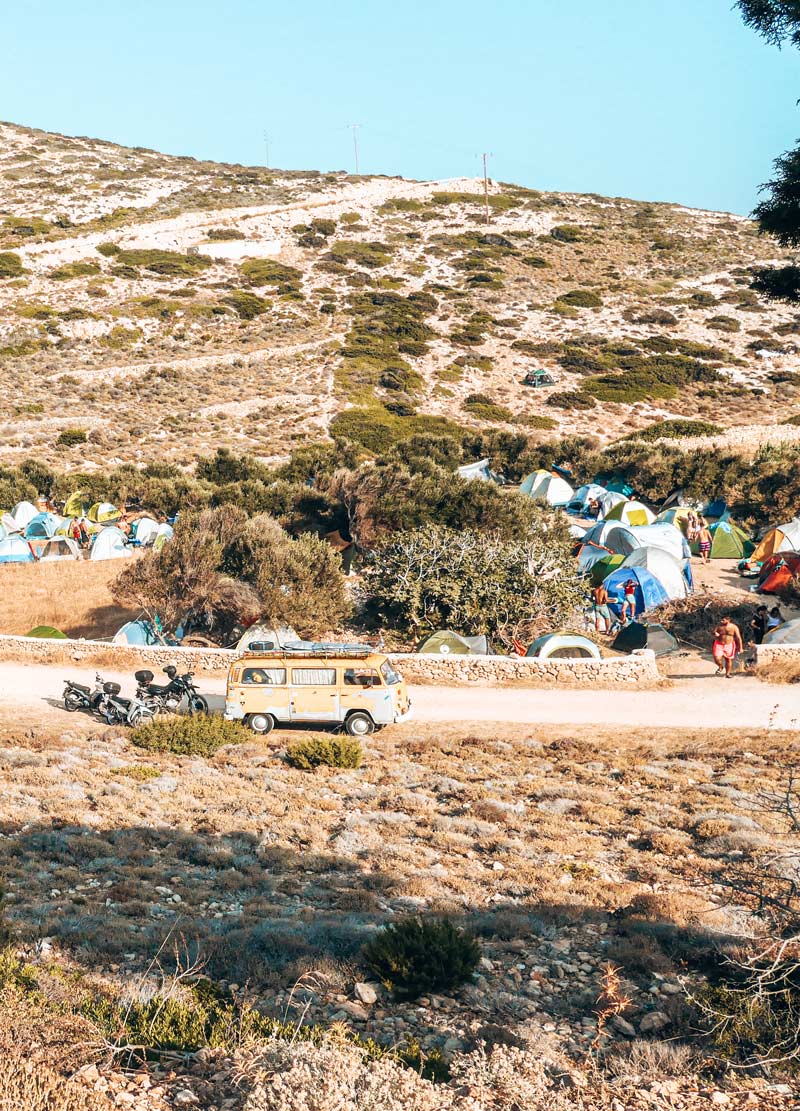 "Kedros Full Of Wild Campers"
Livadi -
Livadi is the place where we left our heart. You can only reach it by boat and there's literally nothing: no tavernas, no electricity, no water, no toilet, no shower and a weak 3G internet connection. If you want to isolate yourself with some funny Greek hippies and if you don't mind naturism, it will be your paradise. This beach is a small world of communion where people do yoga in the morning, play guitar around the bonfire on the beach and share everything. It's definitely an experience that will change your life.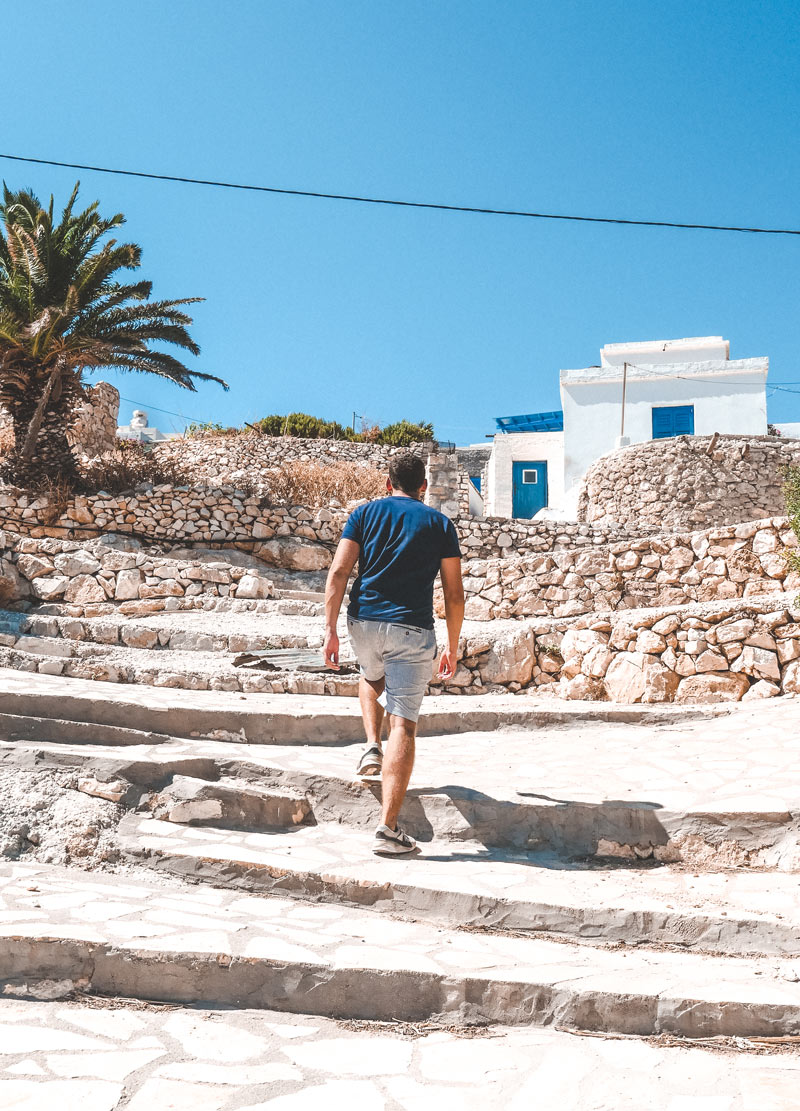 "The Calm Of Mersini"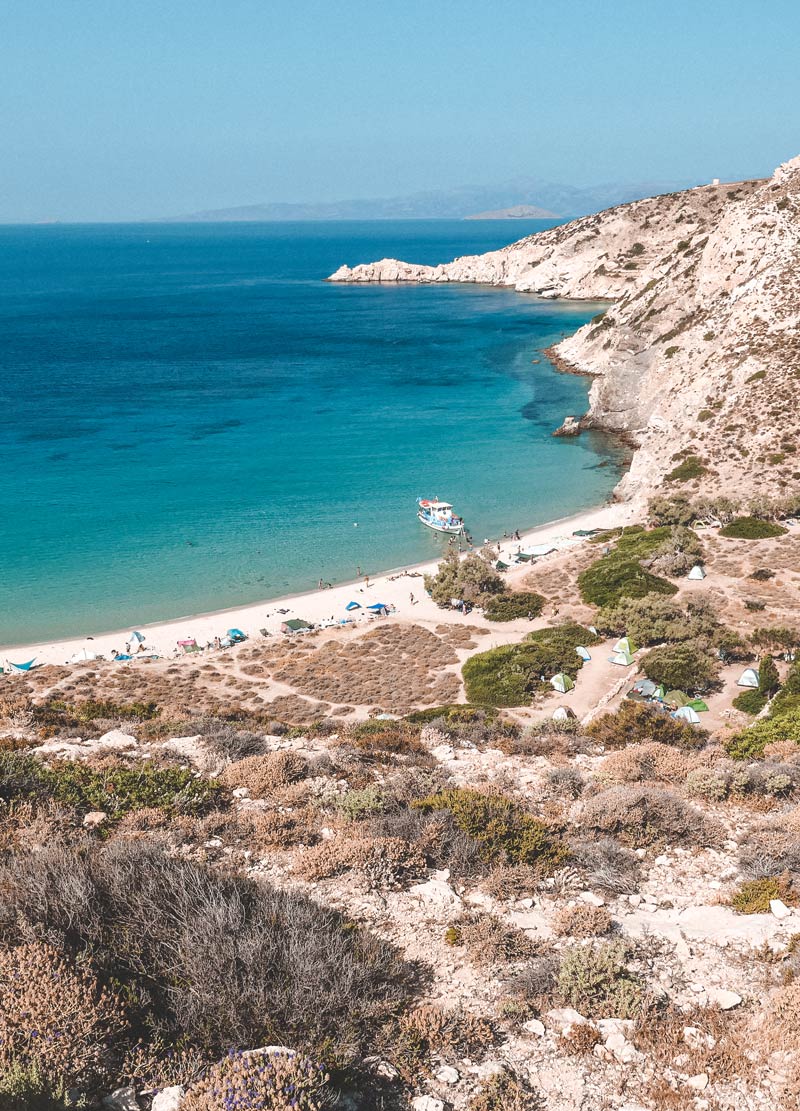 "The Breathtaking View From Livadi"
How to Make the Most Out of Your Vacation in Donoussa
If you decide to visit Donousa, delete from your mind the vision of a cheesy vacation with commodities and so on. Donoussa is wild and the best way to discover its soul is by doing wild camping and merge with nature. Live following nature rhythm, respect your environment and enjoy small things. Only by doing that, you'll really appreciate your stay. Otherwise, it will only be an island with not that much to do. 
If you guys have some questions, don't hesitate to leave us a comment or write us an email. We will be glad to reply you!
Top Events to Make Your Trip Unforgettable
DOMINIK TULUM @MIA TULUM
When: September 9, 2023 7:00 PM
Where: Mia Restaurant & Beach Club, Tulum
🌴 Join Us for An Unforgettable Night at DOMINIK - TULUM at Mia Tulum! 🌴
Friends, clear your schedules and get ready for a magical experience at Mia Tulum! This stunning location will host DOMINIK - TULUM on Saturday, September 9th, from 7 pm to 1 am. This isn't just another event; it's a fusion of nature, culture, and sound featuring an incredible line-up with GIORGIO STEFANO, AUDICTIVE, and MAURO TORRETA. At DOMINIK, you'll find the perfect blend of Tulum's lush jungles and pulsating underground beats, creating an environment where genuine connections blossom.
🎟️ Secure your tickets now:
Early Bird: $575 MXN ($38 USD), includes a welcome drink 🍹 (Limited Availability)
Tier 1: $805 MXN ($52 USD), includes a welcome drink 🍹 (Limited Availability)
Final Tier: $1150 MXN ($75 USD), includes a welcome drink 🍹 (Limited Availability)
Dinner + Party: $1380 MXN ($90 USD) 🍽️🎉 (Limited Availability)
See you there for a night you won't forget! 🎶✨
Ready to join us? Get your ticket now! Early bird tickets are already selling out, secure them at 632 pesos (only 15 tickets available).
Hurry – spots are filling up fast! 🙀 We can't wait to see you there!
Top Parties and Club Events
17th September - ANCESTRAL SOUL @BONBONNIERE TULUM
22nd September - TONY ROMERA @BONBONNIERE TULUM
29nd September - TIM BARESKO @BONBONNIERE TULUM
4th November - HOT SINCE 82 @BONBONNIERE TULUM
13th March - LOCUS Tulum 2024
OUR FAVORITE DESTINATIONS IN GREECE