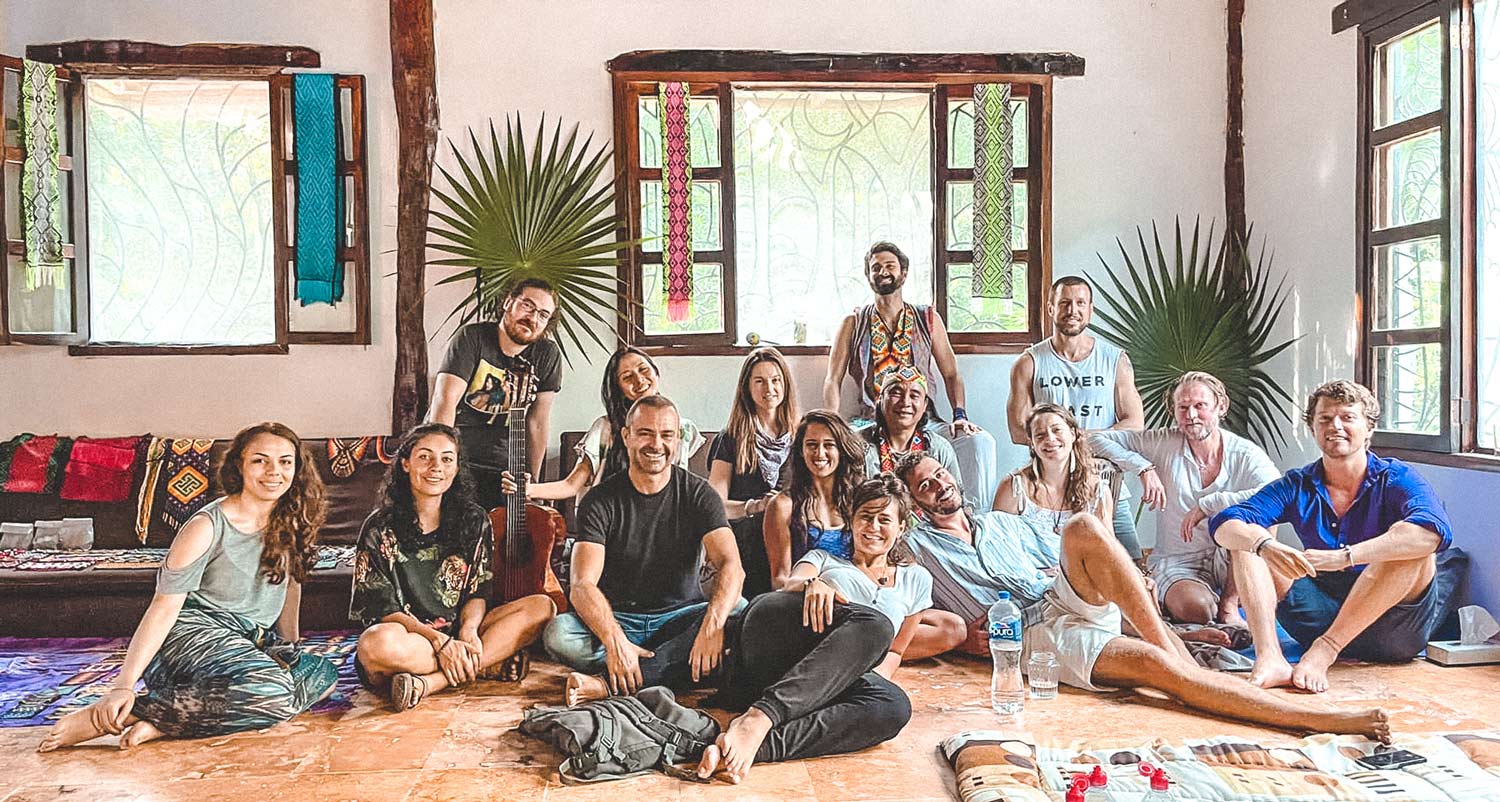 8 Best Tulum Spiritual Retreat: A Journey To Self Discovery, Love, And Wellness
Do you feel the call to join a spiritual retreat in Tulum and experience various life changing healing and wellness practices? Well, let us show you where you should start to explore!
In the Mayan lands of Quintana Roo, Mexico nestles a magical city known as Tulum. Here, people love to gather, teach, and experience various spiritual ceremonies for the wellness of the body, mind, and spirit. From the tranquil beach to the enchanting Mayan jungle, Tulum has the perfect environment to go deeper into your healing journey and discover new holistic lifestyles. But, for the new people, let us guide you through the idea of a spiritual retreat and how it can change your life!
It is no coincidence that you clicked this article. Now, we will explore the idea of spiritual retreat and how every person could benefit from the healing experience. As a result, you will have more confidence to book the suitable retreats that resonate with you!
*want to be part of the best nightlife in Tulum?* – if so, check out how our friend Virginia can make you have the best tables, be on the best parties guest list and much more, for FREE!
THE TULUM SPIRITUAL RETREAT EXPERIENCE: A HEALING CEREMONY TO EXPRESS YOUR ESSENCE
Like the animated movie "Soul," the essence of being spiritual is connecting with your authentic self. These retreats and ceremonies will act as the medium to self-discovery through learning who you are at a level of your essence, devoid of conditioning from society, family, religion, etc.
You might be doing it already without you knowing, like doing yoga and meditation that lets you express your natural body movements. However, if you want to go deeper in your healing journey, there are forms of wellness ceremonies to do in Tulum. We recommend starting from a sound healing ceremony, a Cacao ceremony, and a Temazcal ceremony. Regardless of the rituals you do, it all offers to peel off your onion layers and teach you how to express yourself.
Before considering joining a spiritual retreat, ask yourself why you are doing this and have faith in your heart. Once you have that, check out our list of spiritual retreats to do in Tulum!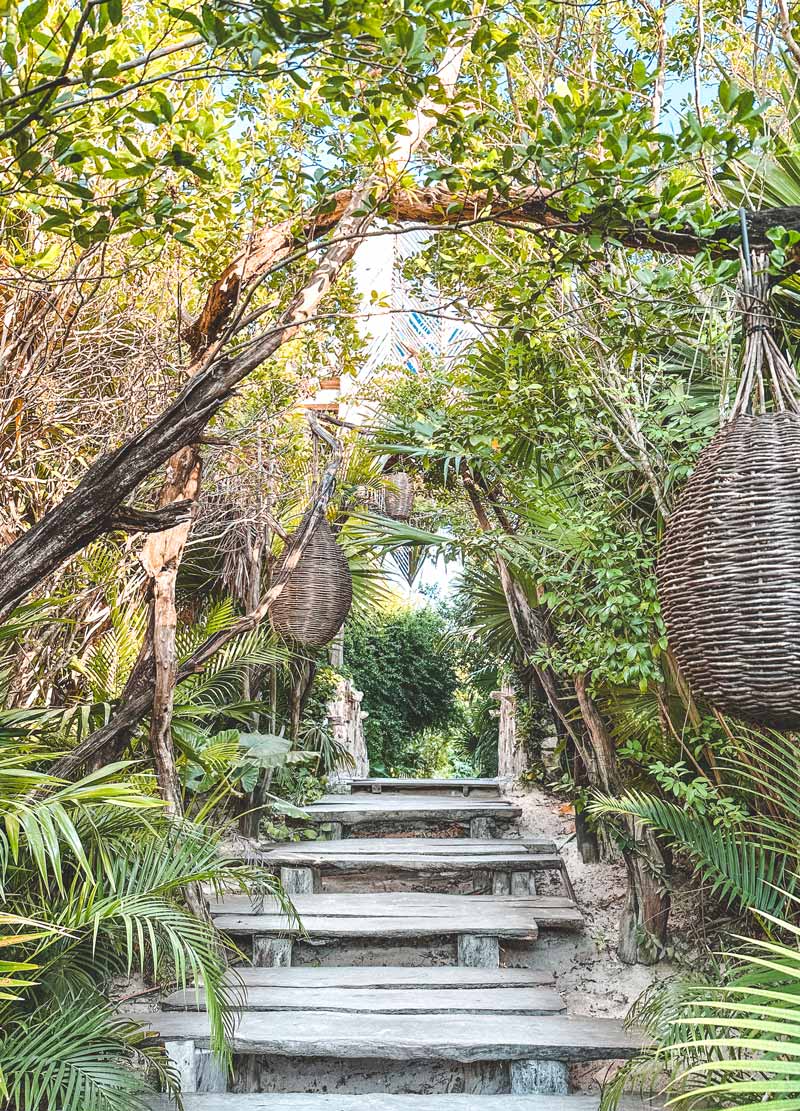 "Spiritual Retreats Are Often Held In Nature"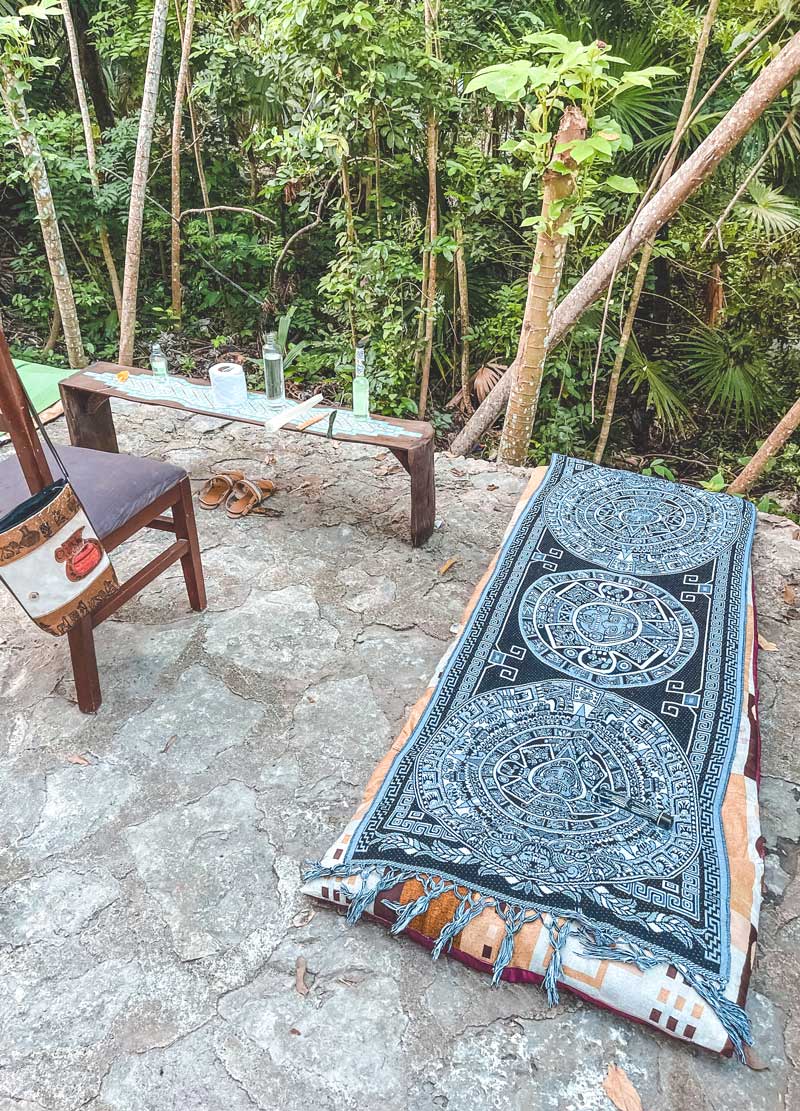 "Kambo Medicine Session"
OUR BEST LIST OF SPIRITUAL RETREATS IN TULUM
Now that you understand the essence of a spiritual retreat and its benefits. Take your time to read their programs and observe what your heart says. Then, prepare to immerse the next few days of various healing ceremonies tailored to open your hearts and change your life!
ARTS, MINDFULNESS & SECRETS OF NATURE IN TULUM, MEXICO
Duration: 6 days | Price: 1,299 USD / 25,400 MXN
Retreat offers: Daily yoga and meditation, breath work, private biomagnetism session, sound healing journey, Cacao ceremony, vocal liberation, and more
The form of Art Therapy is an act of self-knowledge that redirects stagnant emotions and energy in the body to enrich our life and experience. Led by profound facilitators who love their work, design a set of ceremonies that will penetrate the subconscious layer and unlock your heart at its full expression!
Besides the ceremonies and healthy foods, the retreat commences at Sian Ka'an Biosphere Reserve, one of the protected nature in Quintana Roo. During that time, you will stay at a luxurious eco-chic Casita, where the area is surrounded by the Mayan jungle and steps away from the private beach. Plus, you will get free services if you book via the link!
7 DAY WOMEN'S INNER TEMPLE RETREAT IN TULUM, MEXICO
Duration: 7 days | Language: Russian, French, English, Spanish | Price: 1,549 USD / 30,250 MXN
Retreat offers: Daily yoga and meditation, Temazcal ceremony, Cacao ceremony, Kirtan, option to explore Mayan ruins, and more
Join the sisterhood and explore your inner spirit through a creative practice designed by a woman for woman. In this private retreat, experience empowerment and a deep connection with the essence of your unique feminine energy. Guided by loving and talented facilitators, you are in a safe space to work with your intentions, free of judgments.
Explore nature around Naga Tulum, a boutique hotel between the Mayan jungle and the beach! Located half an hour from Tulum, stay in luxurious rooms and practice under the open-air shala by the lake!
14 DAY DIVINE INTERVENTION MAYAN HEALING RETREAT IN MEXICO
Duration: 14 days | Price: 6,800 USD / 13,2800 MXN
Retreat offers: Learning and performing ceremonies of an ancient Mayan healing modality
An immersive Mayan healing retreat filled with ancient healing and wellness ceremonies to heal inner trauma and the root cause of the issue. By identifying the current health of your spirit, you can work on your past traumas and help to heal and let them go. As it does not serve you anymore, be free of all holding you back!
During your stay, you will be immersed in the eco resort's area, surrounded by the ecologically preserved jungle. There will be time for activities, alone time, and a private cenote to unplug and relax.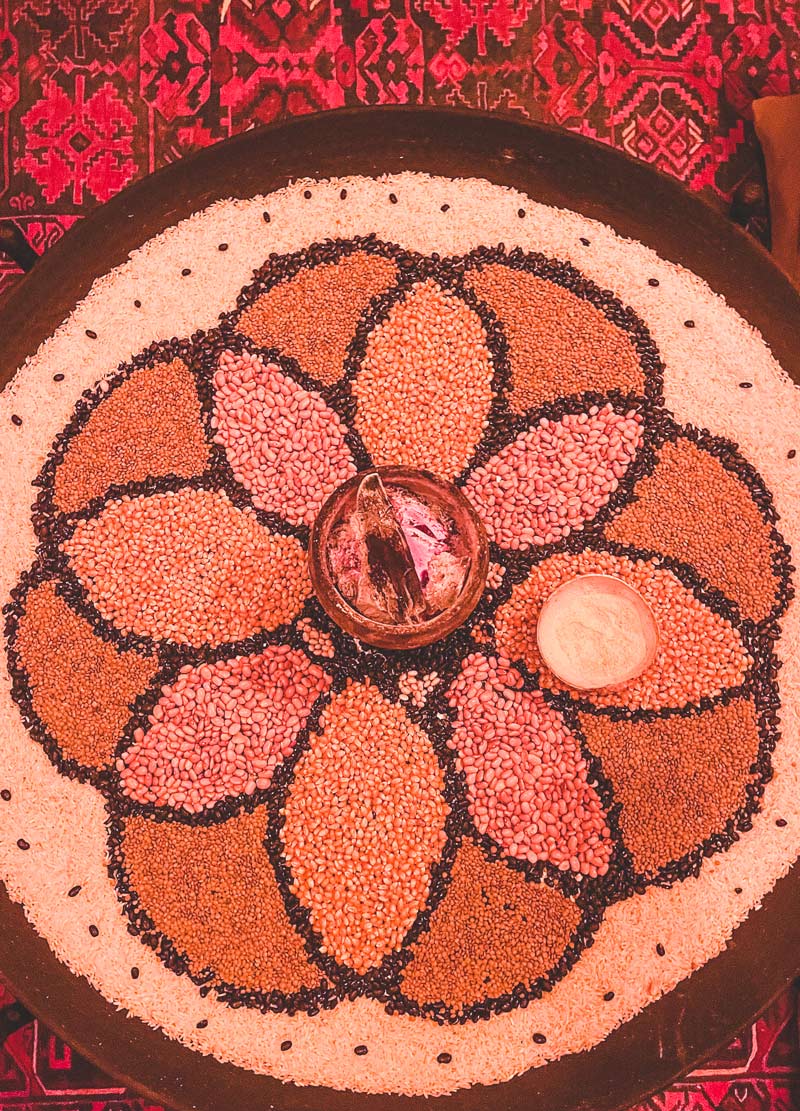 "Where To Start Your Spiritual Journey?"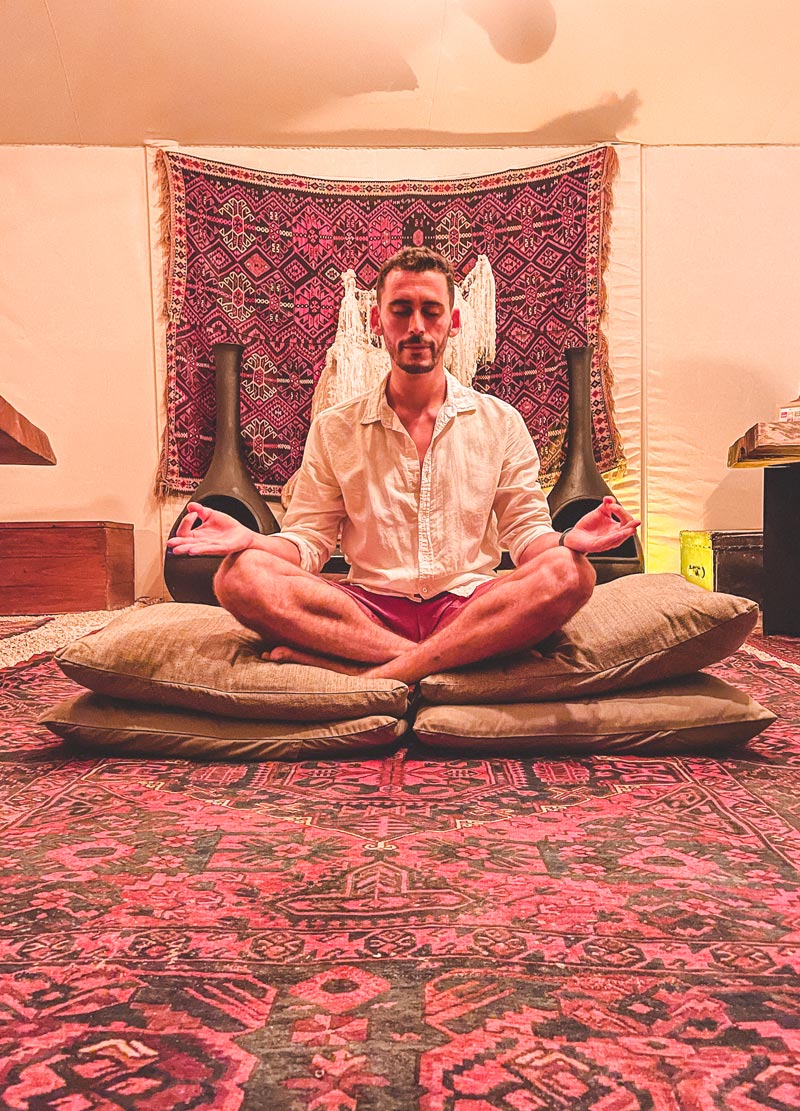 "Eddy's Meditating Moment"
Duration: 6 days | Price: 1,675 USD / 32,700 MXN
Retreat offers: Beach excursion, Cenote experience, Temazcal ceremony, water workshops, the sound healing ceremony, and yoga
A unique spiritual retreat that utilizes water as an answer to deepening your spiritual connection to understand self, earth, and cosmos. The journey with Water is Life Retreat takes you to explore and immerse in the sacred waters of Mexico, from the Caribbean ocean to the cenotes of Quintana Roo. Book and come to delve deep into ancient myths and the modern science of water. The best element of life that empowers your human experience.
Located at Paledora Eco Resort, you have plenty of accommodation to stay in that has enriching open-air studios, a private cenote, and a private cave for spatial sound healing.
4 DAY YUM TANTRA EVOLUTION RETREAT (LEVEL 1) IN TULUM, MEXICO
Duration: 4 days | Price: 796 USD / 15,500 MXN
Retreat offers: Various Tantra ceremonies to create the powerful version of you
Experience your whole self in a transformational retreat with Yum Tantra. Packed with daily programs with the ancient Indian practice, Tantra, under the guidance of Harrison and Alisa. A warmhearted couple that puts the time and work to create a safe container to help you feel what it's like to be the person you vision!
Now you will stay here. At the gorgeous Portal Ixchel temple Tulum, where the area embodies unique ways to live in harmony with nature and offers you the opportunity to harmonize your body to awaken your spiritual self. Also, the site has delicious organic meals and spa services to enhance your emotional health.
7 DAY ``EMBODY`` NEW YEAR'S YOGA RETREAT IN TULUM, MEXICO
Duration: 7 days | Price: 5,020 USD / 9800 MXN
Retreat offers: Daily yoga, sound healing bath, meditation, free time/excursion, and more
Book and join a sacred yoga journey to embody your authentic self at the beginning of the year! Start strong and manifest your greatest dreams into reality through the curated experience to connect with yourself and like-minded people. Together, discover healthier approaches to love and work to live a fulfilling life.
Nestled by the Akumal Bay Beach & Wellness resort offers luxurious rooms to rest. Plus, the guests are pampered with inclusive perks such as a free spa, massage, and 24 hour services!
11 DAY MYSTICAL MUSIC RETREAT - SOUND HEALING, YOGA, AND SACRED CEREMONIES NEAR CANCUN, QUINTANA ROO
Duration: 11 days | Language: English, Norwegian, Spanish | Price: 2,150 USD / 42,000 MXN
Retreat offers: Ayahuasca ceremony, Temazcal ceremony, Cacao Ceremony, sound healing, and optional activities (spa, full-body massage, and more)
Embark on an inner exploration journey by walking through various forms of spiritual healing and life workshops. The retreat of Mystical Music lets you activate all your six senses of the body to open up your hearts and express your inner artist, healer, and space holder you have held back for so long!
An oasis of a retreat center offers you various cozy accommodations, where the design honors the nature it surrounds. As it is pleasing to the eyes and spirit, you are guided by a group of facilitators capable of multiple language lectures, pampering you, and you can connect heart to heart.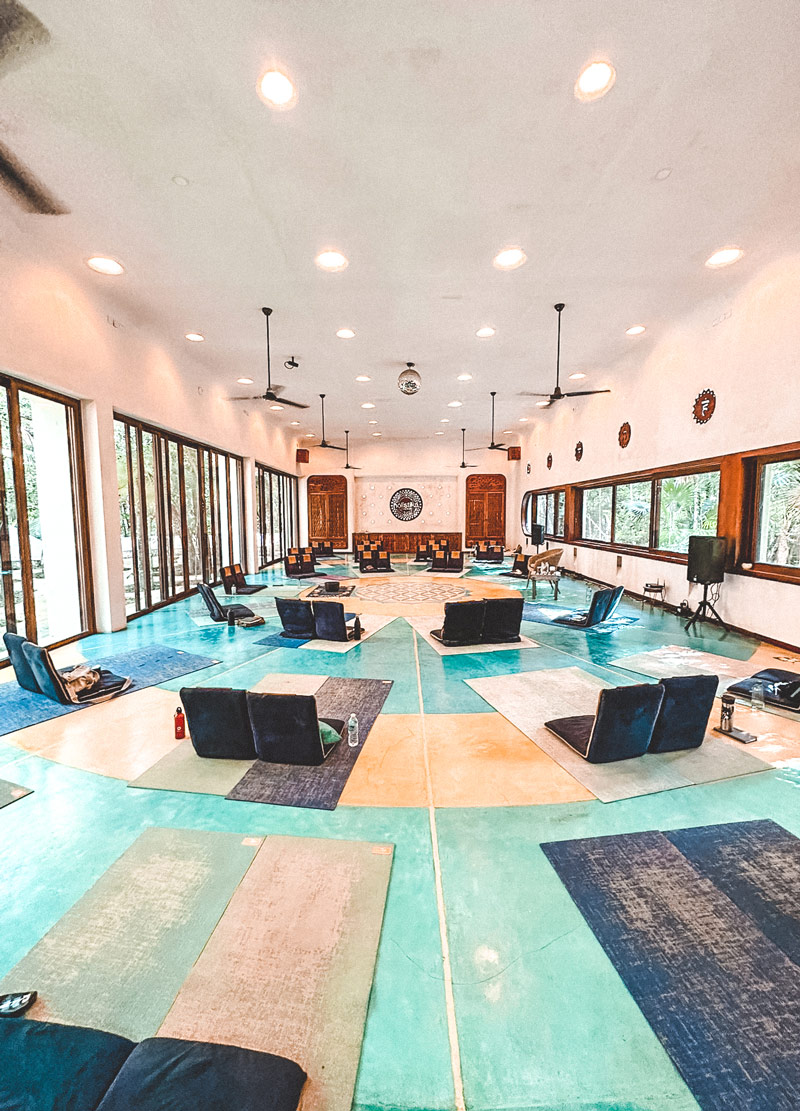 "Spiritual Conference In Tulum"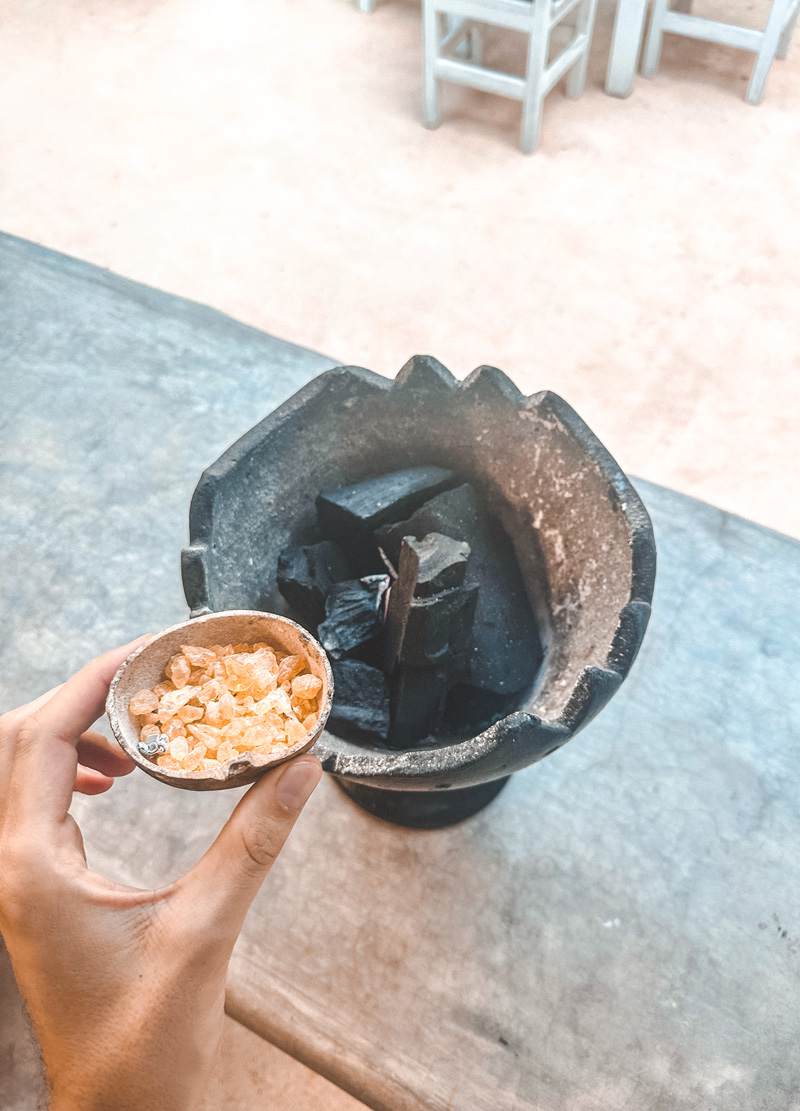 "Copal Ceremony"
7 DAY AYAHUASCA RETREAT, MAYAN RIVIERA, MEXICO
Duration: 7 days | Price: 2,100 USD / 4100 MXN
Retreat offers: 3 Ayahuasca ceremonies, 2 breathwork circles, a Temazcal ceremony, gentle yoga, and beach excursions
The impactful retreat of Spirit Medicine combines various healing traditions of the world. It aims to help people find their inner connection and release blockages and dense traumas that stop them from their true potential! Facilitated by a devoted couple with 20 years of healing experience, you are always guided and supported through the intense spiritual journey!
If you are unsure of Ayahuasca ceremonies and other holistic experiences, we explain the experience of it in our Tulum retreat guide! 
Take Advantage Of Free Concierge Service
As excellent to explore Tulum and its surroundings alone, you may need help figuring out where to start. To make the most of your money and time, contact Virginia and Kelly - two incredible Mexican girls living in Tulum for more than 15 years. They're familiar with the ins & outs of the Tulum town and hotel zone like the back of their hand! 
Since we arrived in Tulum 2 years ago, many adventures wouldn't have been possible without their help - they know literally everybody in Tulum and can perfectly organize every moment of your stay. Get the best tables, skip queues and get on the guest list of the coolest places in Tulum - this's only the beginning! 
They are ready to offer you guys FREE concierge service in Tulum for the time of your stay: take advantage of it, contact them on Whatsapp and live the best experience!
Get FREE Concierge Service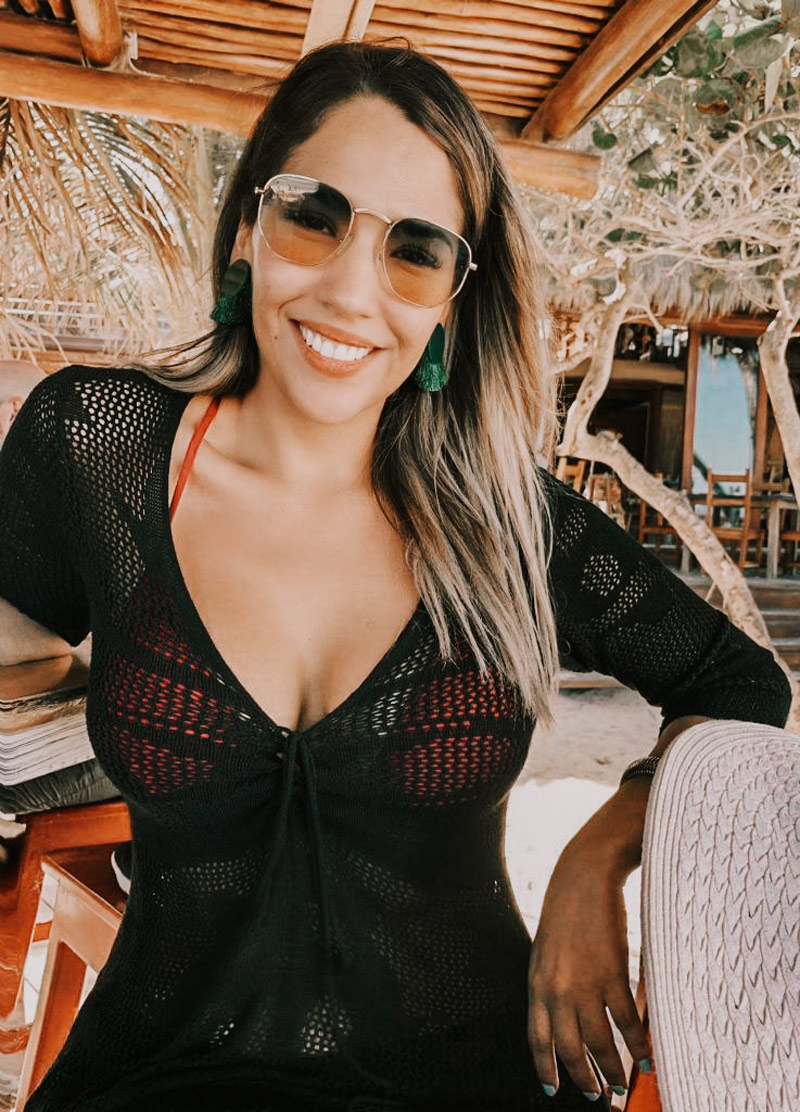 "Virginia Can't Wait To Make Your Stay Flawless"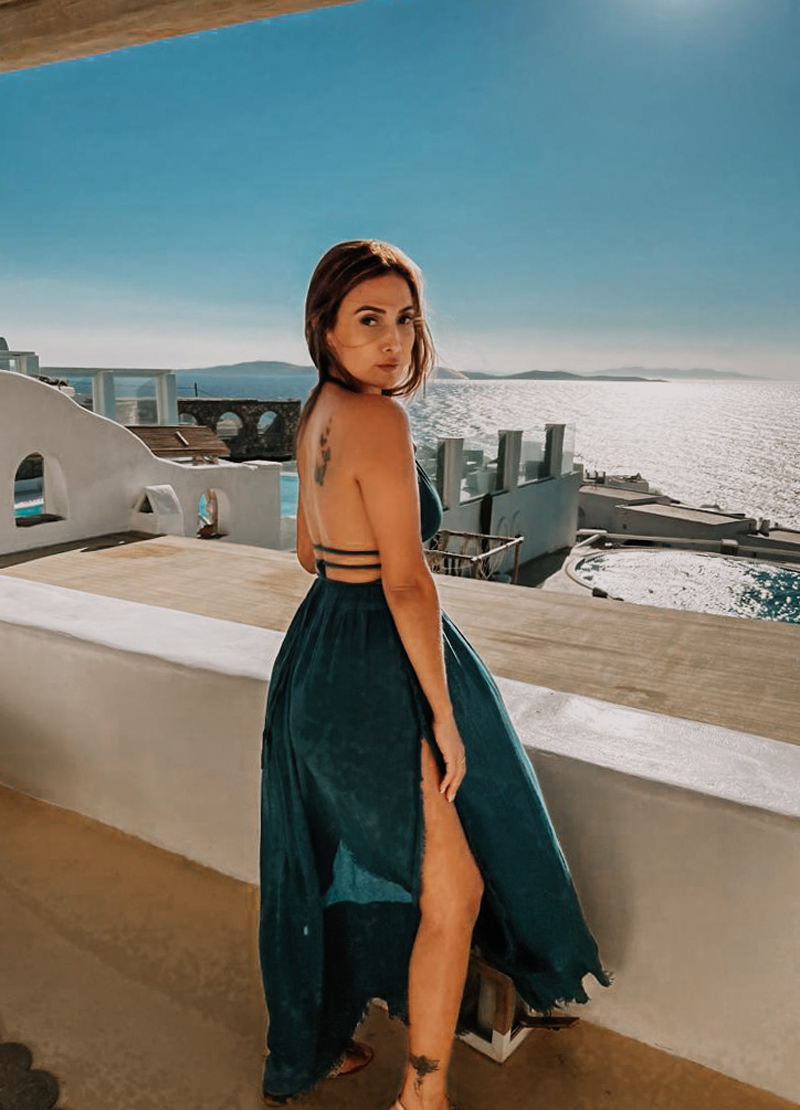 "Kelly Will Transform You In A Tulum Insider"
I hope you found our list helpful – comment below your first-ever spiritual retreat experience and share it with the world!
Tulum's Hottest Event - Crypto Fest 2023
Spice up your vacation with a seductive blend of crypto expertise and Tulum's tropical beauty?
Tulum Crypto Fest 2023 is the perfect opportunity for you to immerse yourself in 4 days of active learning, socializing, and networking, all in the breathtaking backdrop of Tulum. Join other like-minded individuals and gain insights from over 30 renowned speakers on the latest blockchain technologies, AI, tokenized real estate, and more. Participate in engaging workshops and a thrilling hackathon, pushing the boundaries of what's possible in today's technological landscape.
Experience the perfect blend of cutting-edge innovation and Tulum's vibrant expat community. Be inspired by witnessing groundbreaking projects at the captivating Whale Tank pitching session and forge invaluable connections with thought leaders from around the world, all while enjoying the unique charm of Tulum.
Register now to secure your spot and access exclusive discounts before they're gone!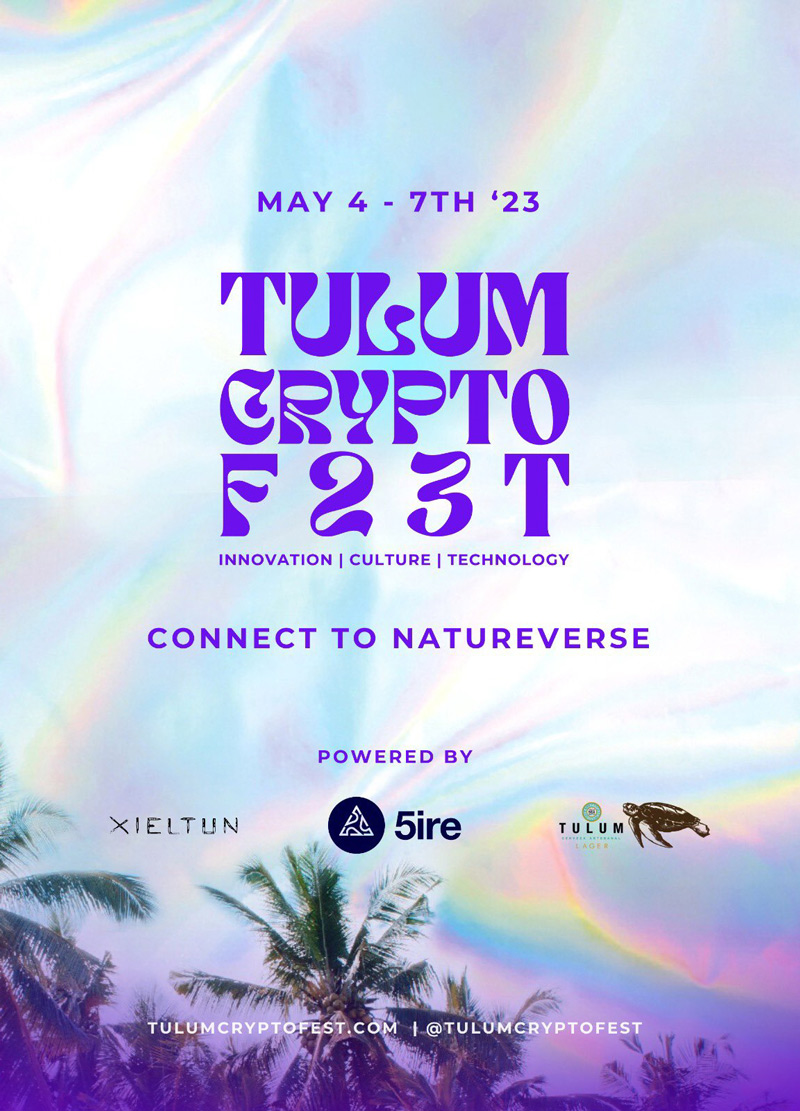 Secure Your Spot HERE
Use the promo code WELCOMETCF to receive a 20% discount on your ticket purchase.
Hurry – spots are filling up fast! 🙀 We can't wait to see you there!
Best upcoming parties in Tulum
❤️❤️❤️27th/30th April - PHILIA ART AND MUSIC WEEKEND @Papaya Playa Project❤️❤️❤️
28th March - S I N N E R Present: CRISTOPH @Vagalume
30th March - ELECTRONIC ELEMENTS @MIA TULUM
30th March - VAGALUME SESSIONS SOUND OF RITUALS @VAGALUME
30th March - POPOF @BONBONNIERE TULUM
31st March - TEN IBIZA @VAGALUME
1st April - BONOBO @Papaya Playa Project
1st April - HANNAH WANTS @BONBONNIERE TULUM
2nd April - VAGALUME SUNDAZE ROY ROSENFELD @VAGALUME
6th April - TOM & COLLINS @BONBONNIERE TULUM
8th April - PIKNIK @VAGALUME
8th April - THE FULL MOON @Papaya Playa Project
15th April - SIGNATURE @Papaya Playa Project
15th April - NIC FANCIULLI @BONBONNIERE TULUM
16th April - ANCESTRAL SOUL @BONBONNIERE TULUM
21st April - NICO DE ANDREA @BONBONNIERE TULUM
22nd April - STARVAULT @Papaya Playa Project
27th - 30th April - PHILIA ART AND MUSIC WEEKEND @Papaya Playa Project
4th May - Tulum Crypto Fest 2023 @Papaya Playa Project
6th May - THE FULL MOON @Papaya Playa Project
13th May - STARVAULT @Papaya Playa Project
20th May - ASTROBEAT @Papaya Playa Project