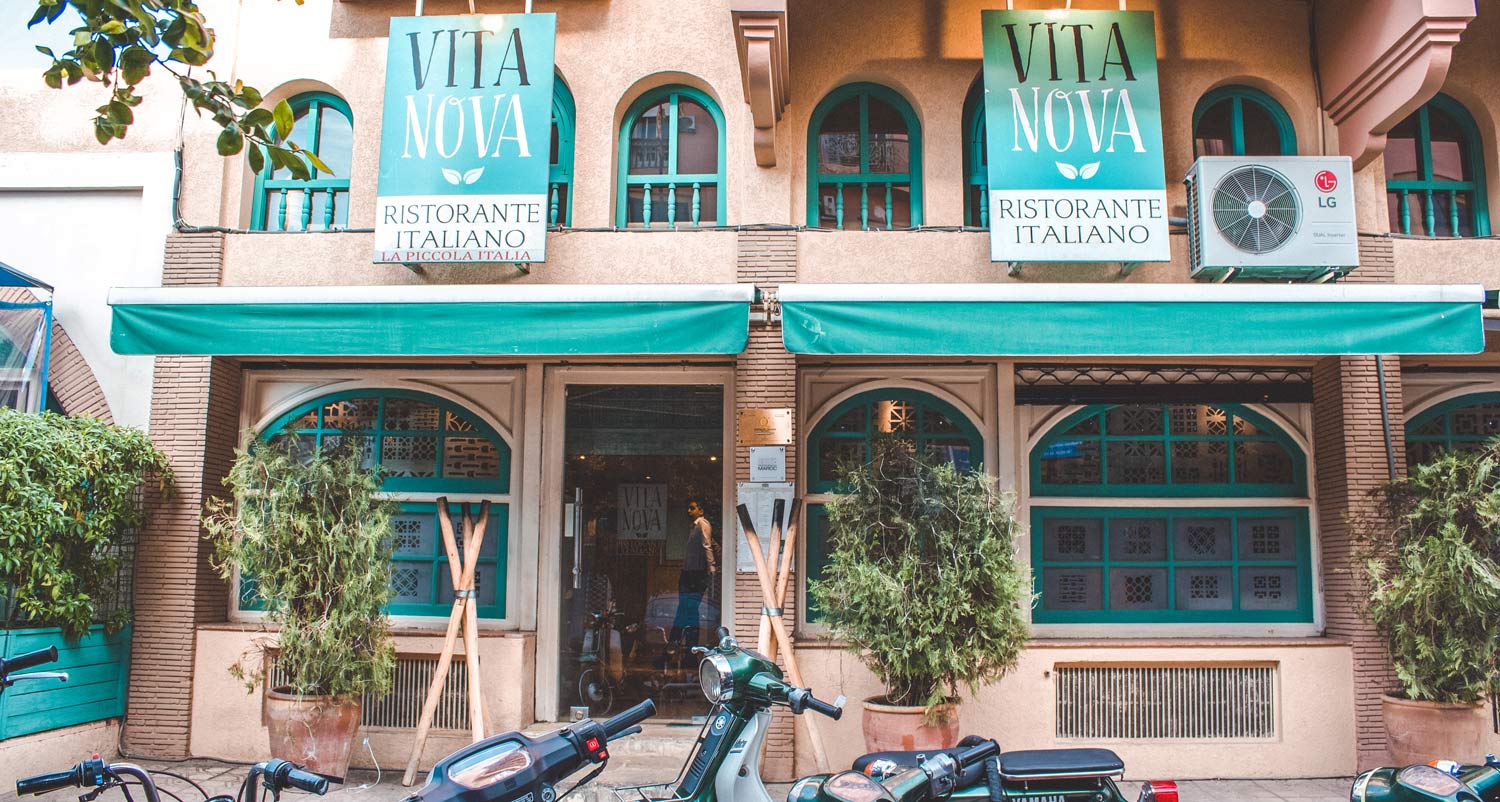 Is it possible to be vegetarian in Morocco?
Everybody knows how frustrating it is searching for a vegan or vegetarian restaurant and not finding it. Well, this will not happen during your time in Morocco. We lived three months in Marrakech and we've never had problems in finding a nice place where to eat a vegetarian or vegan meal. Moreover, being vegan in Morocco is really cheap. Of course you'll find restaurants with exaggerated prices, but the majority has a really good value for money. Luckily, Moroccan cuisine is also very versatile and you'll not have problems in finding different options and excluding meat from your meal. We wrote this vegan and vegetarian guide of Marrakech to make your travel more easy and to make you fully enjoy Moroccan traditional cuisine. 
Is Morocco vegetarian and vegan friendly?
Morocco is very vegan and vegetarian friendly, especially in the biggest Moroccan cities. If you're traveling to more remote places, don't worry: your future best friend is tagine. The most versatile dish in Moroccan cuisine, in every restaurant you'll be able to find it and ask to replace meat with some other protein, like chickpeas, or just order it only with vegetables: it will be extremely yummy. Moroccan cuisine is also made of delicious bread, well cooked vegetables with couscous, fresh salad, soup rich with spices, so we're sure you'll find something between all these dishes.
The perfect retreat for vegans and vegetarians in Morocco
In our 3 months in Morocco, we took the time for some retreats under the winter sun! The one we loved the most was definitely spending 8 days in Villa Surya, close to Imi Ouaddar on the Moroccan shores!
We just entered in the veg world, and this retreat just enlarged our vision of this beautiful and respectful way of eating. More than offering you daily meditation and yoga in incredible sceneries, the food they're preparing for you is charged with love, fresh ingredients and a pinch of Moroccan simple culinary tradition.
We just discovered now that you can even book it online, so if you need to refill your body with great veg food and some mindfulness – here's all the info you need to know about the retreat.
The restaurants who stole our heart
In this article, you will find our favourite vegan and vegetarian restaurants in Marrakech. The list is following an ascendent order, from the most veg friendly restaurant to the ones with less options for vegans and vegetarians.
Are you ready to discover our favorite restaurants and their incredible menu? Let's get started!  
Ayaso, very close to our neighborhood, is our first choice when talking about vegetarian and vegan restaurants and cafe. The owner, Monika, who we interviewed is just amazing. She will not only advise you what to take, but she will make you think about what you eat and the importance of the choice of the ingredients. In Ayaso the motto is "You are what you eat". In fact here you'll only find first choice and organic Moroccan food. On Saturday morning you'll also be able to enjoy an organic market of accurately selected farmers. Ayaso has also a selection of traditional Moroccan goods in which you'll find beauty products, vitamins, olive and argan oil, and healthy snacks and food. Ayaso hosts many events and classes: a reason to visit it! 
"Our Sunday Lunch"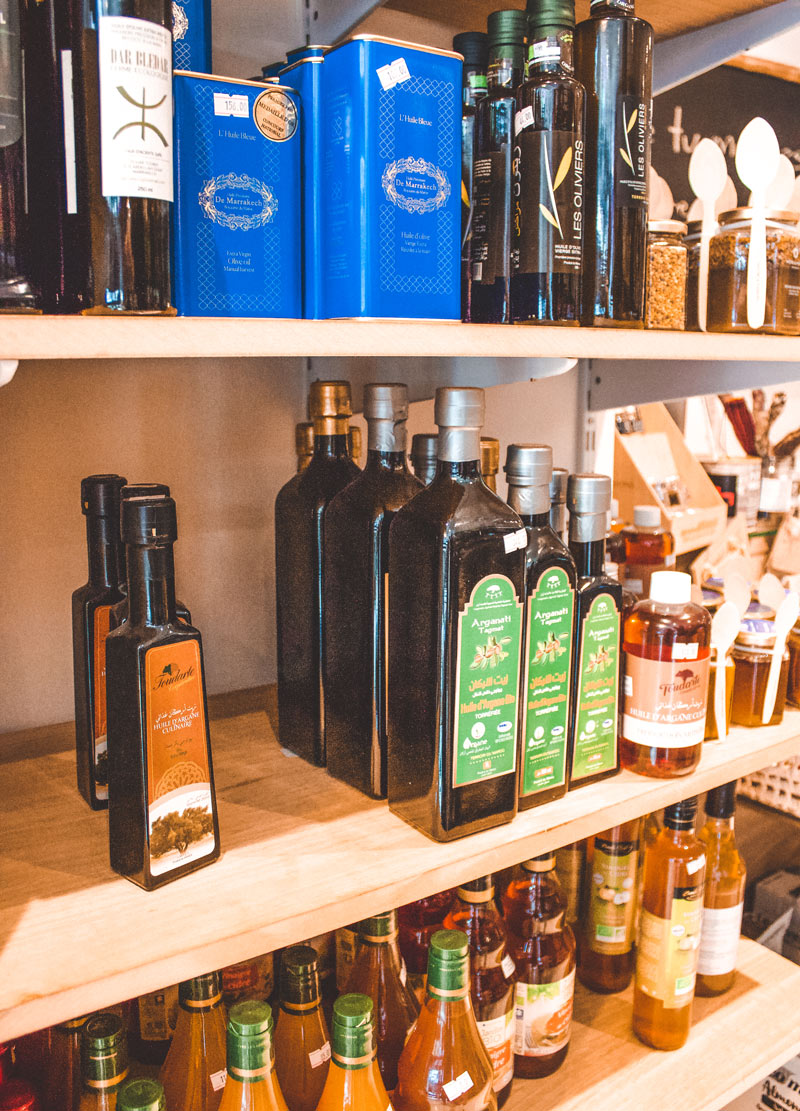 "Moroccan Products Are Incredible"
In Gaïa you'll be able to eat incredibly good vegetable picked directly from the garden of its owner. He's really passionate about what he's doing and you'll feel it in the dishes that they propose. They also expose art work of Moroccan artists which you can buy, so that's a plus if you want to have an authentic souvenir from Marrakech. As well as Ayaso, Gaïa is also in the Gueliz neighborhood, so if you're in that area, don't hesitate to enjoy these two vegan and vegetarian restaurants.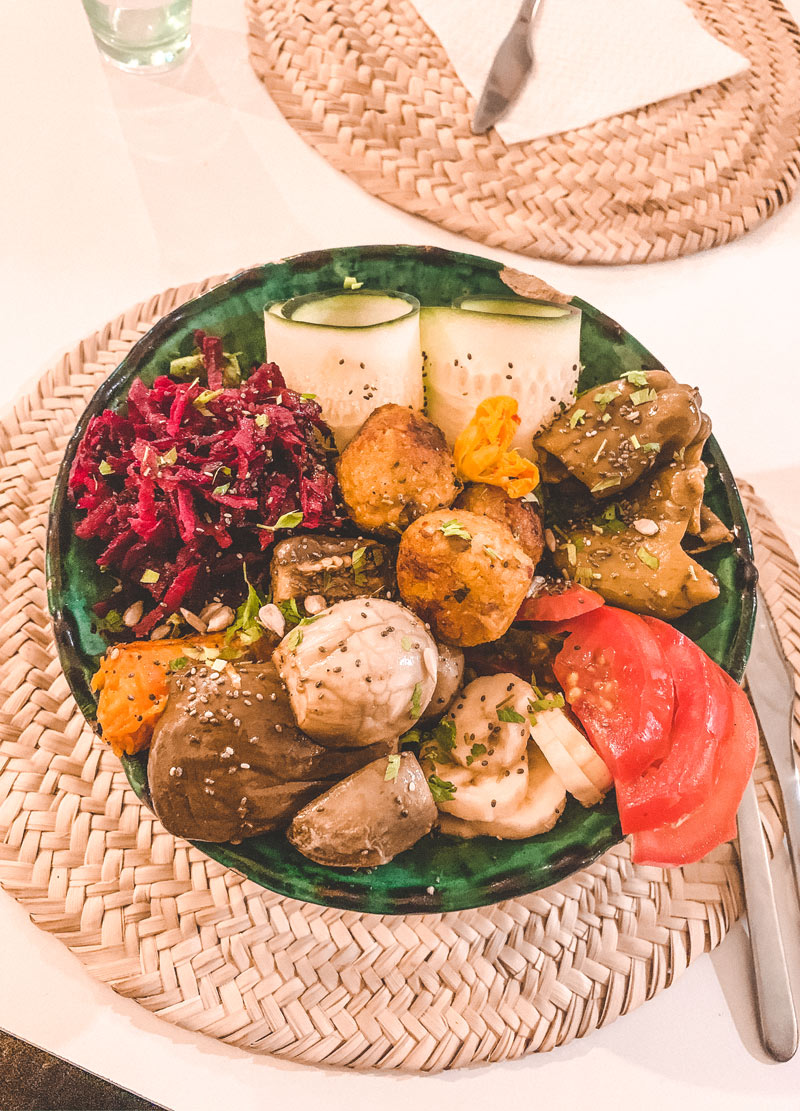 "This Dish Made Us So Happy!"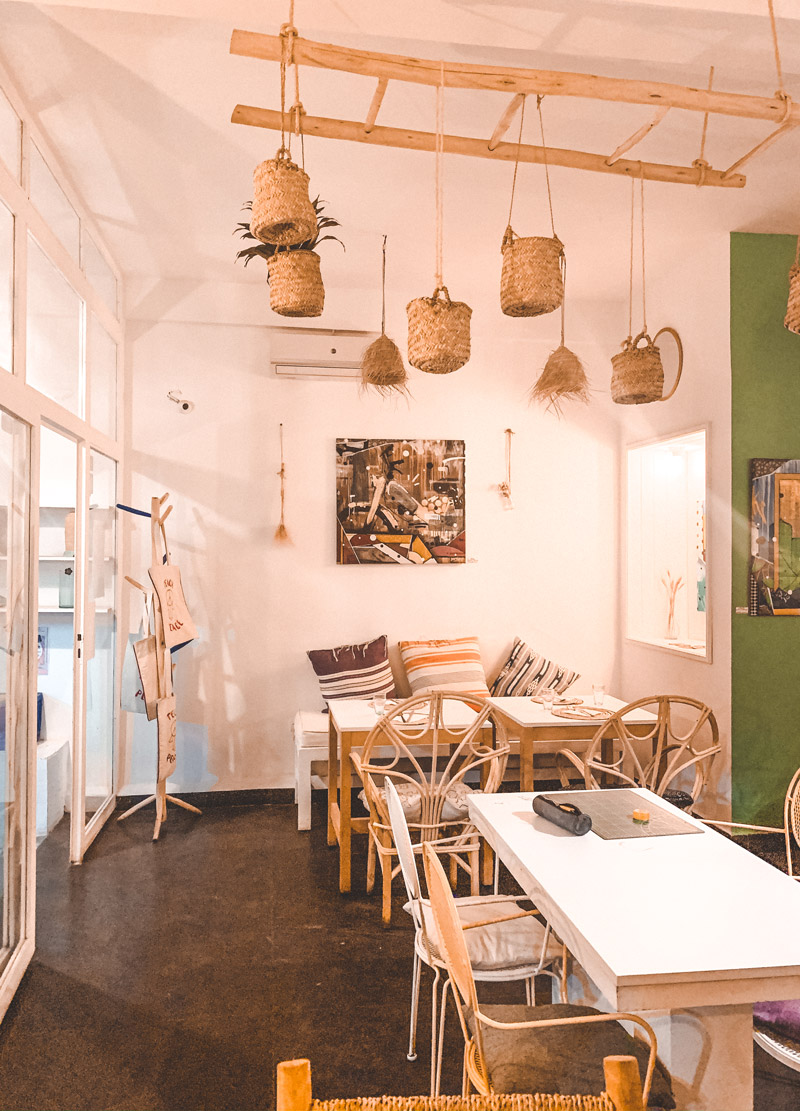 "Gaia Restaurant Is Really Lovely"
La Famille is a popular vegan and vegetarian restaurant with a beautiful garden. It's only open at lunch and, here as well, make sure to book in advance. Their menu is a bit more expensive than other places, but it's worth it. The service is great and they're also making some amazing tea to accompany your meal. It's located in the Medina, so check out the things to fo around: you'll be surprised!
Located in Medina, this restaurant is very close to Bahia and El Badi Palace, so it's perfect if you want to visit them after your lunch. From their rooftop, they have an amazing view on the souks and you'll be able to enjoy your meal under the hot Moroccan sun. Their prices are correct even if it's really in a good location. 
Located in Medina, this restaurant is very close to Bahia and El Badi Palace, so it's perfect if you want to visit them after your lunch. From their rooftop, they have an amazing view on the souks and you'll be able to enjoy your meal under the hot Moroccan sun. Their prices are correct even if it's really in a good location.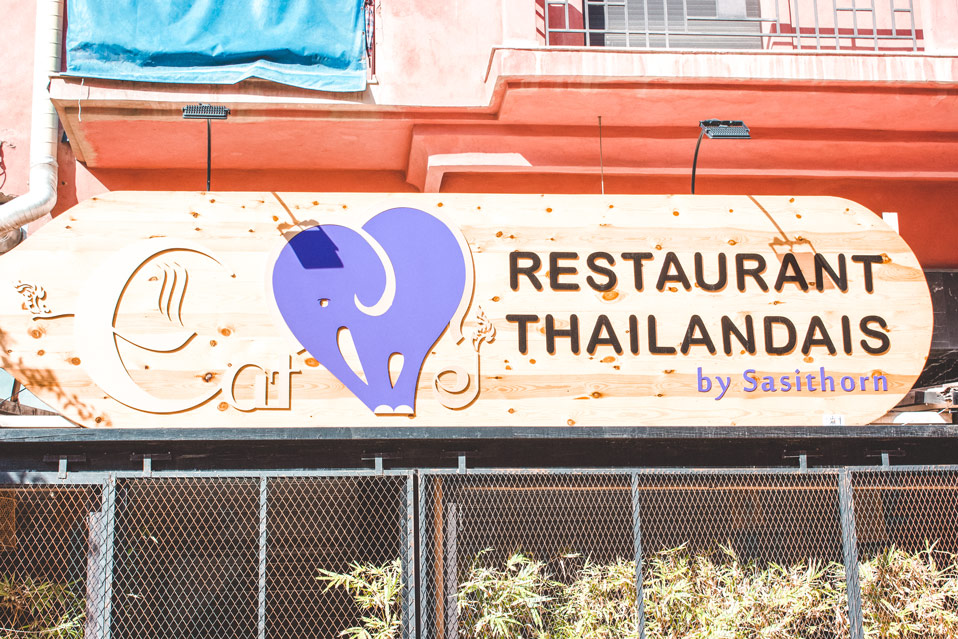 "Our Favorite Thai Restaurant In Marrakech"
This extremely famous restaurant is also the most expensive of the list. In the heart of Medina, just close to the popular "Place des Epices", we recommend you to book in advance your table because otherwise you'll have to wait. Here you'll easily find some delicious vegan and vegetarian options, but you'll pay them maybe double or triple than in other restaurants. So, if you want to go to a fancy place or if your budget permits you, Nomad is really a good place.
Plats Haj Boujemaa is a typical restaurant attended by locals. If you want to eat like a real Moroccan without being scammed in the Medina, that's your place. You'll not find it on the guides or forums, but you'll absolutely not regret it. The average cost of a meal for two is 5€. They offer to everybody many moroccan vegan or vegetarian dips with freshly made bread, and this for us was really a plus. Try their soup of the day, their delicious salad, their well cooked Friday couscous with vegetable, chickpeas and raisins. The restaurant is open the whole day and it's just close to Gueliz, so if you're staying in Medina make sure to take a cab to go there.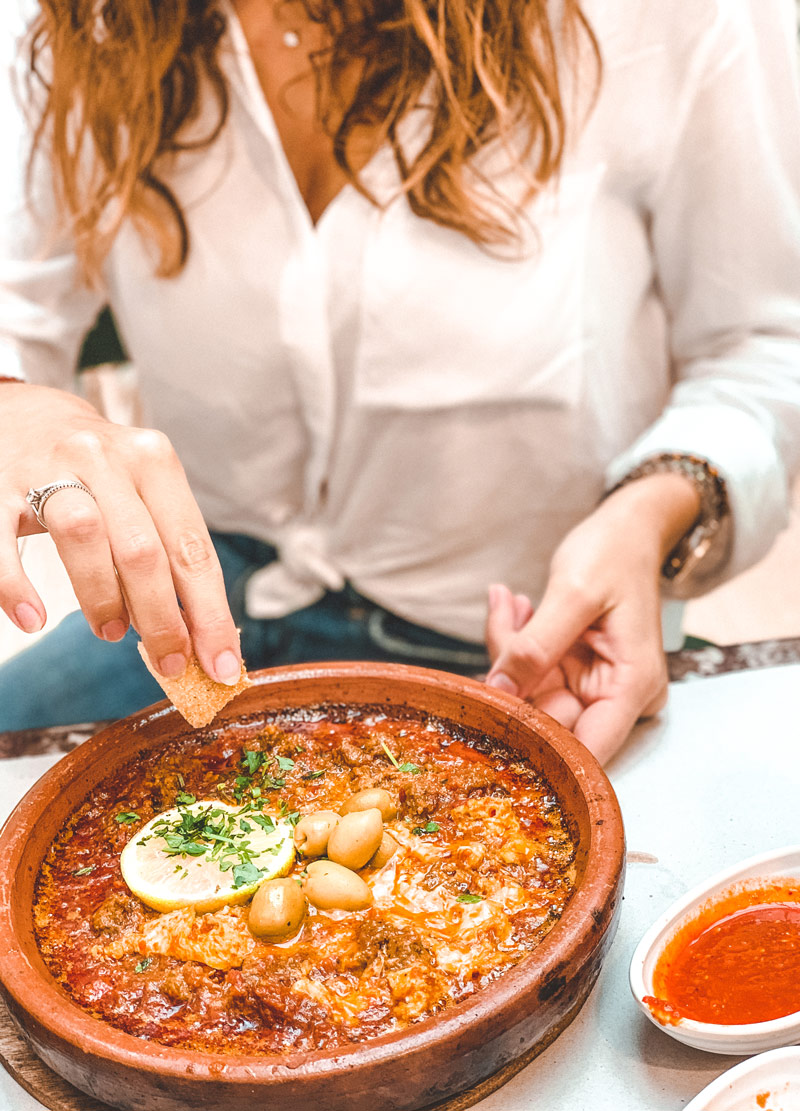 "Delicious Tajine"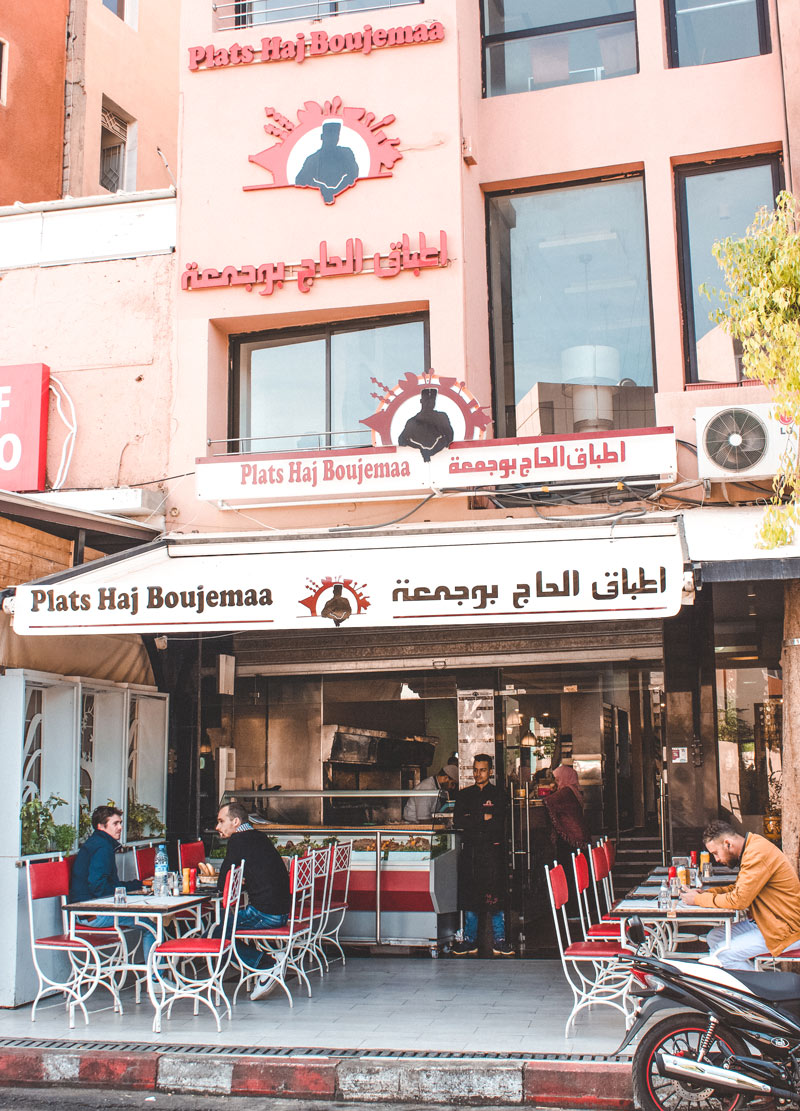 "The Best Place To Eat Like A Local"
Vita Nova is Alessia's favorite restaurant. The owner, Diego, is from Venice and he managed to recreate the Venetian/Italian atmosphere in a beautiful restaurant in the heart of Gueliz. Here, most of the pastas are vegan friendly and you can always order a delicious pizza without mozzarella. It's definitely the best deal if you're vegetarian, but we managed to eat an incredibly good vegan meal there as well. Their bread is lovely and if you close your eyes, you'll feel like in Italy. In fact, this is the most popular restaurant between Italians in Marrakech. 
This restaurant is the typical French bistro and all their recipes are definitely taken from the French tradition, so don't expect a fusion with Morocco. The owner is super funny and we really advise you to sit at the counter to have the chance to talk with him. The food here is delicious and the wine options are really large, but definitely more vegetarian friendly. If you're French, like Eddy, and you're craving for camembert with truffle oil, here's the place for you. If you're vegan, this restaurant can be inappropriate, but you can still give it a try if you want a vegetarian meal. 
We hope this article helped you and don't forget to share with us your experience if you tried one of these restaurants! 
Top Events to Make Your Trip Unforgettable
DOMINIK TULUM @MIA TULUM
When: September 9, 2023 7:00 PM
Where: Mia Restaurant & Beach Club, Tulum
🌴 Join Us for An Unforgettable Night at DOMINIK - TULUM at Mia Tulum! 🌴
Friends, clear your schedules and get ready for a magical experience at Mia Tulum! This stunning location will host DOMINIK - TULUM on Saturday, September 9th, from 7 pm to 1 am. This isn't just another event; it's a fusion of nature, culture, and sound featuring an incredible line-up with GIORGIO STEFANO, AUDICTIVE, and MAURO TORRETA. At DOMINIK, you'll find the perfect blend of Tulum's lush jungles and pulsating underground beats, creating an environment where genuine connections blossom.
🎟️ Secure your tickets now:
Early Bird: $575 MXN ($38 USD), includes a welcome drink 🍹 (Limited Availability)
Tier 1: $805 MXN ($52 USD), includes a welcome drink 🍹 (Limited Availability)
Final Tier: $1150 MXN ($75 USD), includes a welcome drink 🍹 (Limited Availability)
Dinner + Party: $1380 MXN ($90 USD) 🍽️🎉 (Limited Availability)
See you there for a night you won't forget! 🎶✨
Ready to join us? Get your ticket now! Early bird tickets are already selling out, secure them at 632 pesos (only 15 tickets available).
Hurry – spots are filling up fast! 🙀 We can't wait to see you there!
Top Parties and Club Events
17th September - ANCESTRAL SOUL @BONBONNIERE TULUM
22nd September - TONY ROMERA @BONBONNIERE TULUM
29nd September - TIM BARESKO @BONBONNIERE TULUM
4th November - HOT SINCE 82 @BONBONNIERE TULUM
13th March - LOCUS Tulum 2024