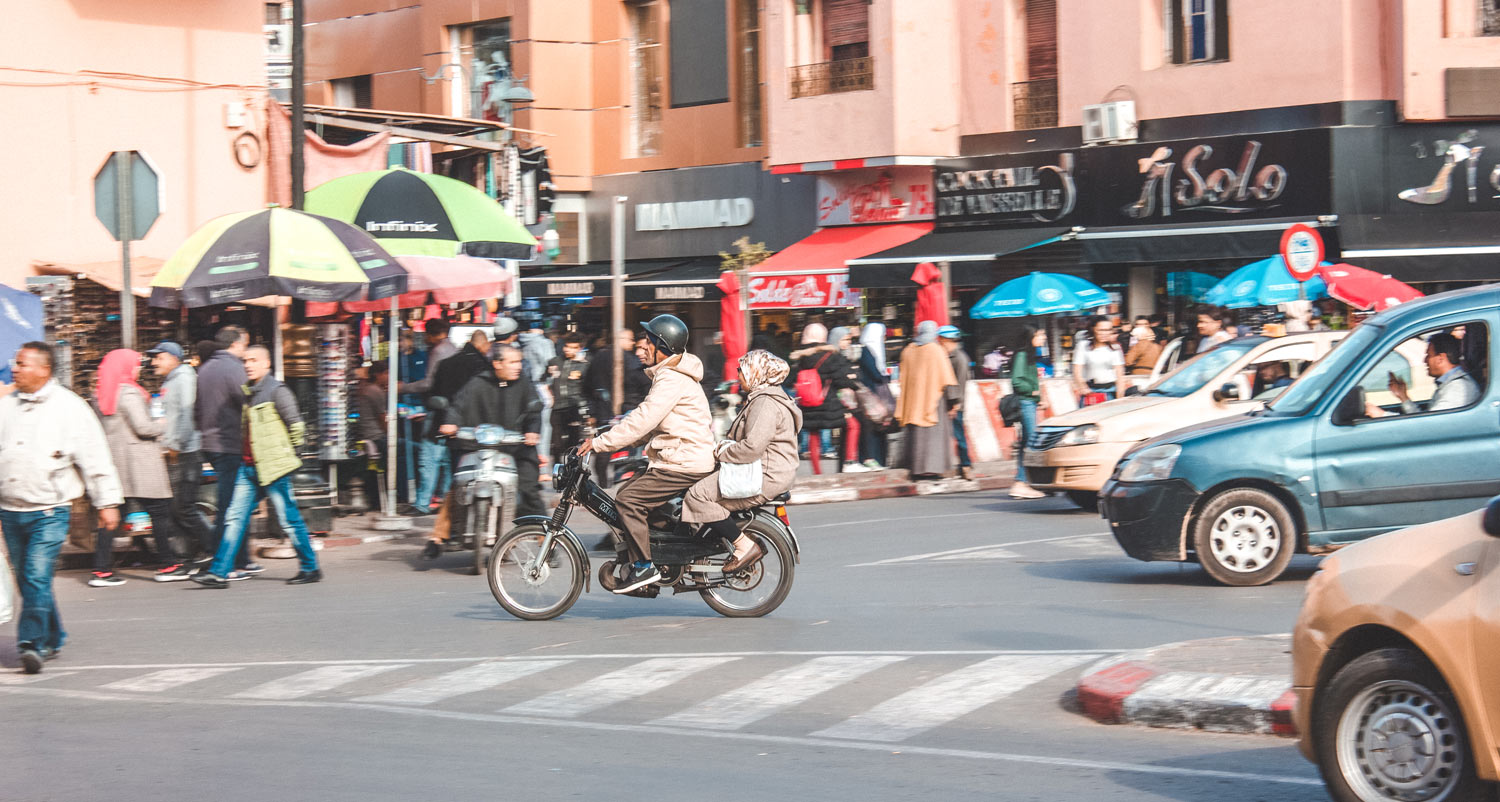 Transportation in Morocco: Getting Around Marrakech
Getting around in Morocco can be hard, we know it! But with a few tricks you'll be able to travel around this beautiful country without any problem. From the main airport of Marrakech, where groups of tourists arrive every day, you'll be able to join Casablanca, Agadir, Tangier, Rabat and other major Moroccan cities with national flights for a small price. If you're afraid of flying, taking a train can be a good option. The station is just outside Medina, tickets are cheap and you can also grab a speed train. Again, if train prices increase, you can always take a bus, private or public depending on how many people you're, and join the cities in complete safety. Taxis and cars would be our last choice: the firsts can get pretty expensive and the second can cause you problems with the corrupted Moroccan police. Keep on reading to discover which is the best transport to travel around Morocco and how was our experience.
How to reach other Moroccan cities from Marrakech?
Marrakech is the perfect starting point to visit Morocco. Right in the center of the country, there you'll find many organized private and public tours, as well as all the means of transport you can imagine. Many services have been created in the last years to permit tourists to travel around Morocco without problems, this will definitely make your trip easier. Marrakech airport is where all the international and national flights arrive and depart. During our time in the Moroccan capital, we've never taken a national flight, in part because airport's controls are pretty long in Morocco and also because trains and buses were a better option for us. With them, there is no risk of cancellation, they are very safe and it'll make you save many hours than if you were taking a plane or driving yourself.
We are not fans of organized tours, because we rather like organizing the travel ourselves. There is no bad in choosing a day tour around Marrakech, but be ready to pay ten times more the same trip you could have done by bus or by train. If you're a solo female traveler and you want to be free of any stress, then it can be a good option. Many riads and companies in Medina organize private or public tours. There you'll not have problems of cancelation, and an expert driver will take you around Moroccan roads, which are not like what you can see in Western countries. 
How to grab a taxi in Morocco
Marrakech city center is full of taxis, but grabbing one can be hard. As we said in this article, Marrakech can be very tricky and there will be many people trying to scam you. Taxi's driver are part of those people. A normal taxi ride inside Marrakech, or other major cities like Casablanca, Tangier, Rabat and Agadir, usually costs around 10 dirhams, so 1 euro. As soon as the driver will see that you're not from there, they will try to charge you 50 dirhams, 5 euro. That's a nice difference. So, after talking with locals, we discovered how to grab a taxi in Morocco. You stop it, you tell him where you want to go, if he accepts, don't talk about the price. Just get into the taxi and when you arrive at your destination, you give him something between 10 and 20 dirhams. If he tries to tell you the ride was more expensive, just reply you live there and you know the prices. If he insists, tell him that you'll call the police. At that point he will run away. Why? No taxi in Morocco switches on the taximeter otherwise the price would be too small, but that's illegal. So, scared from the fine they would pay if you call the police, they will let you in peace. Hard to understand for Western people, but that's how it works in Morocco.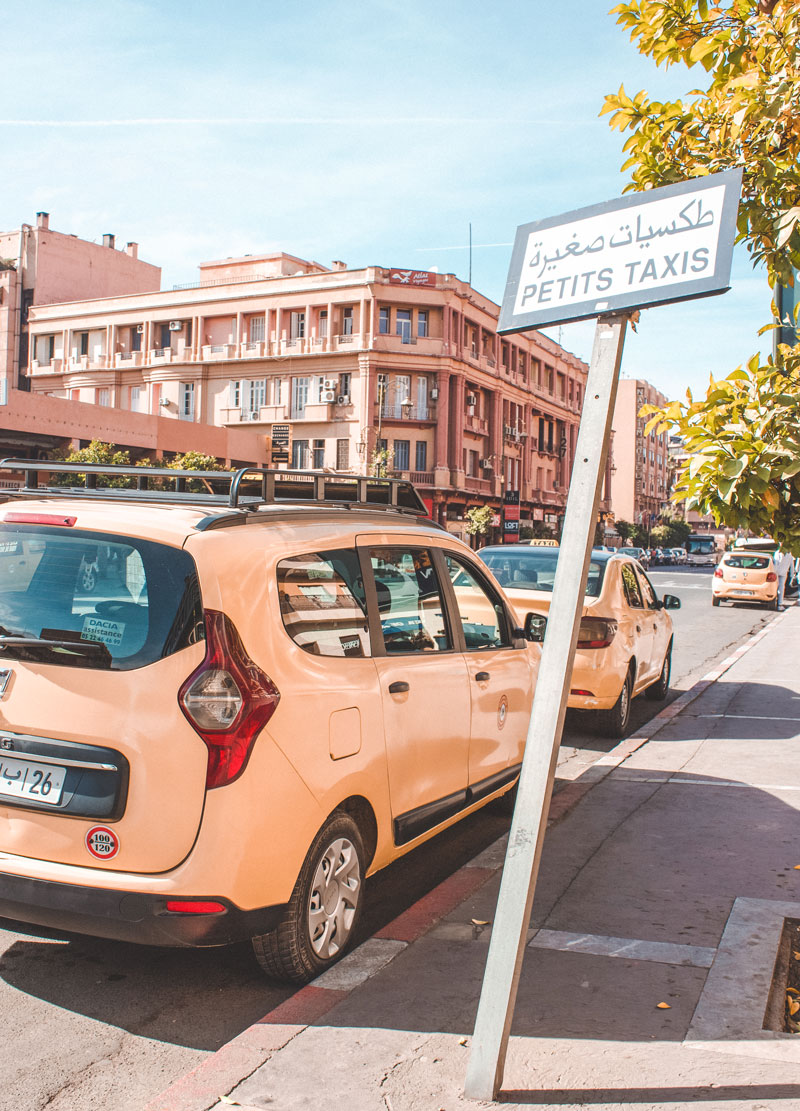 "Taxi's Station In Gueliz"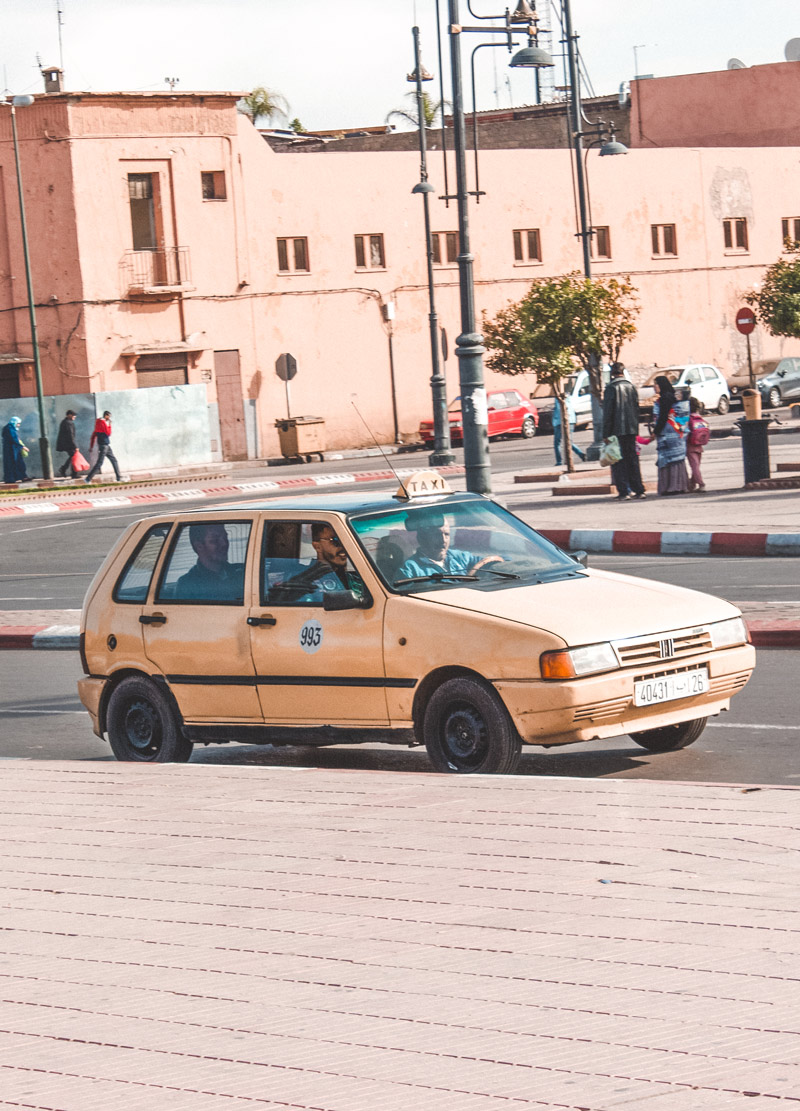 "Very Old Taxi In Medina"
Moroccan trains are really good. The central station in Marrakech is really modern, it works really well and it's close to the city center. Morocco really invested in this kind of transport service. The ultimate trick here is to buy the tickets one to two weeks before your trip. At that time, you'll have the best rates. Here's the official website of the Moroccan trains company. We've never personally taken one, but many friends did and we only have good returns about it. So, if you're traveling alone or in a couple, it can definitely be a good option. If you're traveling with a group of friends compare the prices between train and private tours or car with a driver, because if you share the total costs the second it can be cheaper than the first one. Moreover, you'll be able to open the window and breathe some fresh air and do multiple stops along the road. It will also be quicker and it will permit you to save some time. 
How to get around Morocco using buses
We took twice a bus in Morocco, from Marrakech to Essaouira (close to Agadir) and we had a great experience. This is the official company where you can buy your tickets, but you can also buy them at the bus station in Marrakech, or in the city you're in. Just make sure to be there 30 minutes before. This is definitely the best and cheapest option to move around Morocco. The trip will last at maximum a few hours and you'll have multiple pauses. This is also a cool option if you're traveling in a group and you're on a budget. The price is usually not high and it won't change, like for air transports and trains. Definitely the best option in our opinion.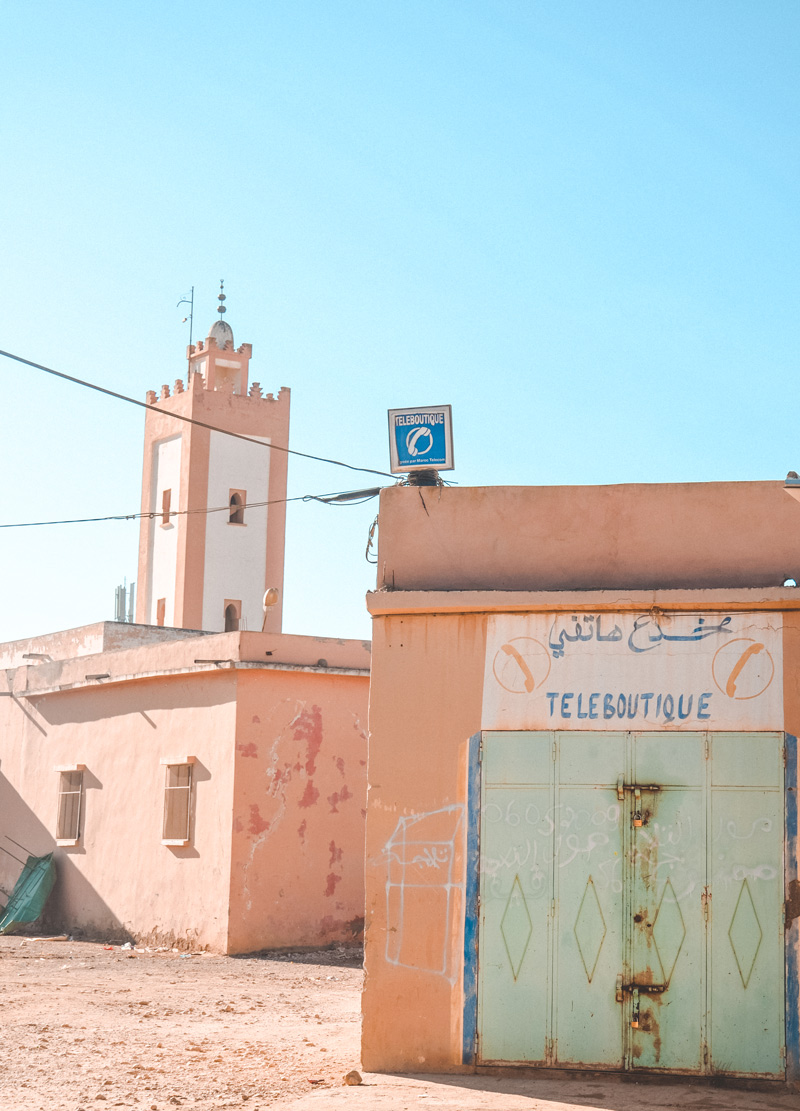 "Last Stop Before Reaching Essaouira By Bus"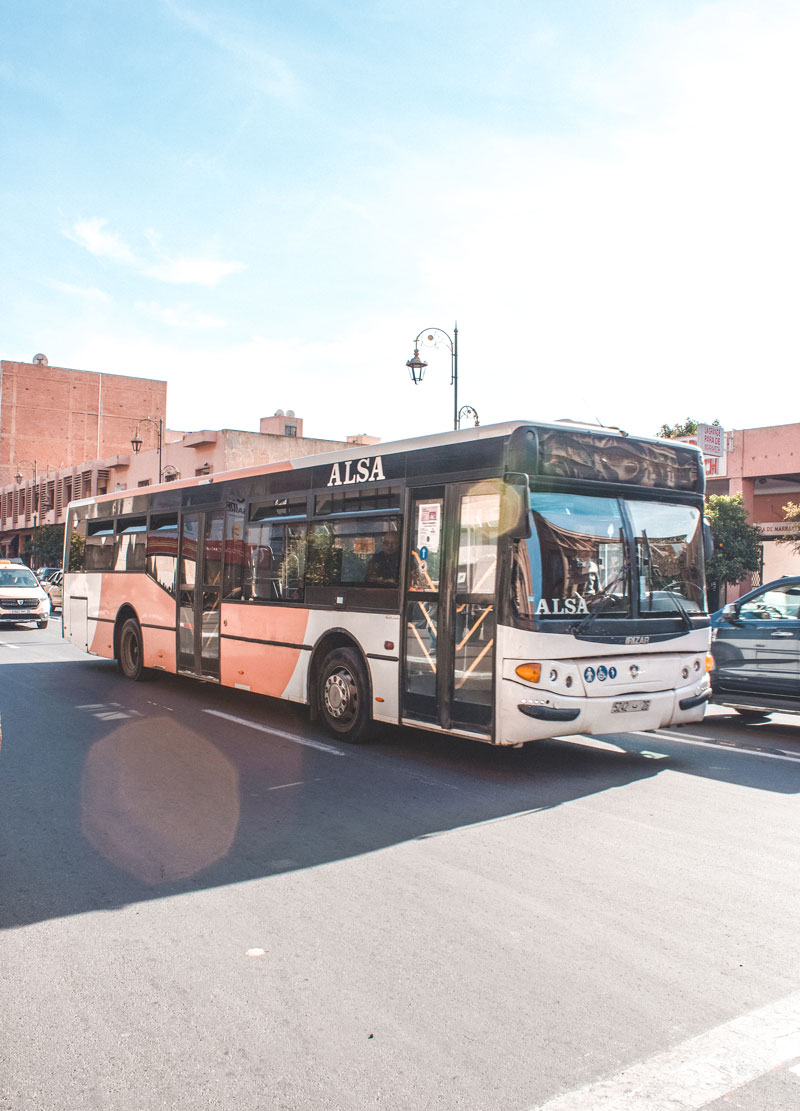 "Marrakech City Bus"
What about driving in Morocco?
Every local didn't recommend us to drive in Morocco, at least not without a private driver. Roads in Morocco can be tricky, especially if you're traveling to the desert or up to Atlas mountains. As we said, the police are corrupt in Morocco. So, as soon they will see you're traveling with a rented car and you're not Moroccan, they will stop you to ask for money. If they stop you, it's better you give them what they want if you don't want to find yourself in trouble. This is also a pretty expensive option for Moroccan standards, so we definitely recommend you to choose one of the public or private transports we talked about above.
We hope your trip around Morocco will be amazing as the beauties of this country and that thanks to our advice, you'll have avoided problems and stress. If you have any questions, don't hesitate to ask us or leave us a comment below! 
Great, let's feature the "MYSTICAL SUNSET /OLIVER HUNTEMANN" event at Mia Restaurant & Beach Club in Tulum on Wednesday, 29 November 2023. Here's the HTML snippet for your event: ```html
👉 WEDNESDAY, Nov 29
MYSTICAL SUNSET /OLIVER HUNTEMANN 🌅
📍
Mia Restaurant & Beach Club, Tulum
💵
Tier 1 Tickets: Mex$ 660 (incl. fees), Final Tier: Mex$ 880 (incl. fees)
📩
Contact Virginia
here
to book a table
Join us for an unforgettable evening at Mystical Sunset with Oliver Huntemann. Contact Virginia here to book your table and be part of this magical night on the beach! 🎶🔥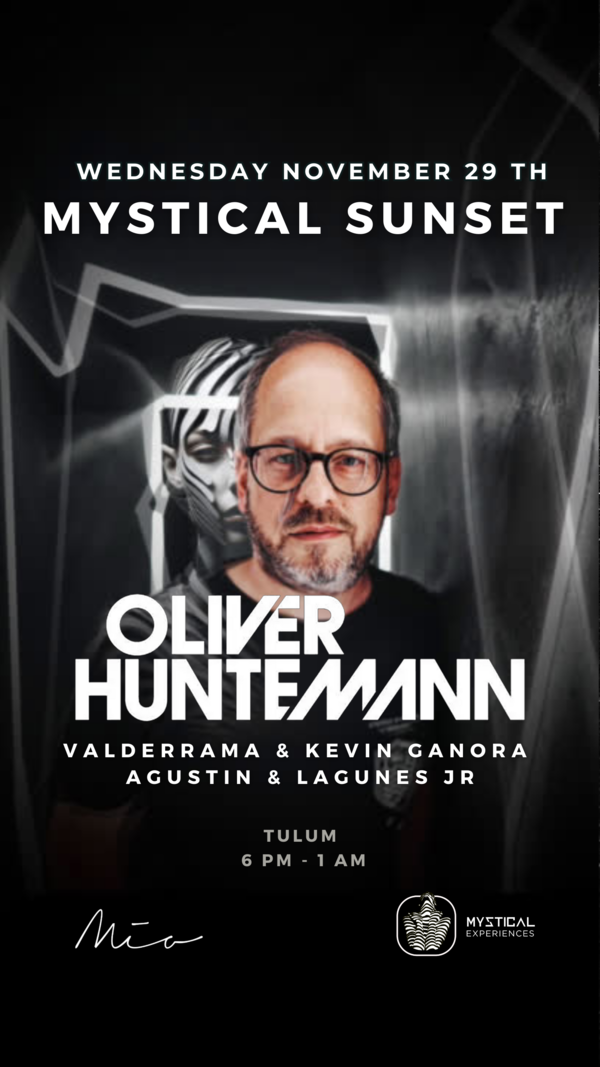 Top Parties and Club Events
23rd November - VAGALUME SESSIONS KEENE @VAGALUME
26th November - VAGALUME SUNDAZE MITA GAMI @VAGALUME
30th November - VAGALUME SESSIONS VALDOVINOS @VAGALUME
3rd December - VAGALUME SUNDAZE VALENTIN HUEDO @VAGALUME
7th December - VAGALUME SESSIONS MUSTAFA ISMAEEL @VAGALUME
30th December - PIKNIK POLO CORP & LEO LEONSKI @VAGALUME
31st December - NEW YEAR´S EVE @BAGATELLE TULUM
31st December - NYE PARTY 2024 @VAGALUME
13th March - LOCUS Tulum 2024