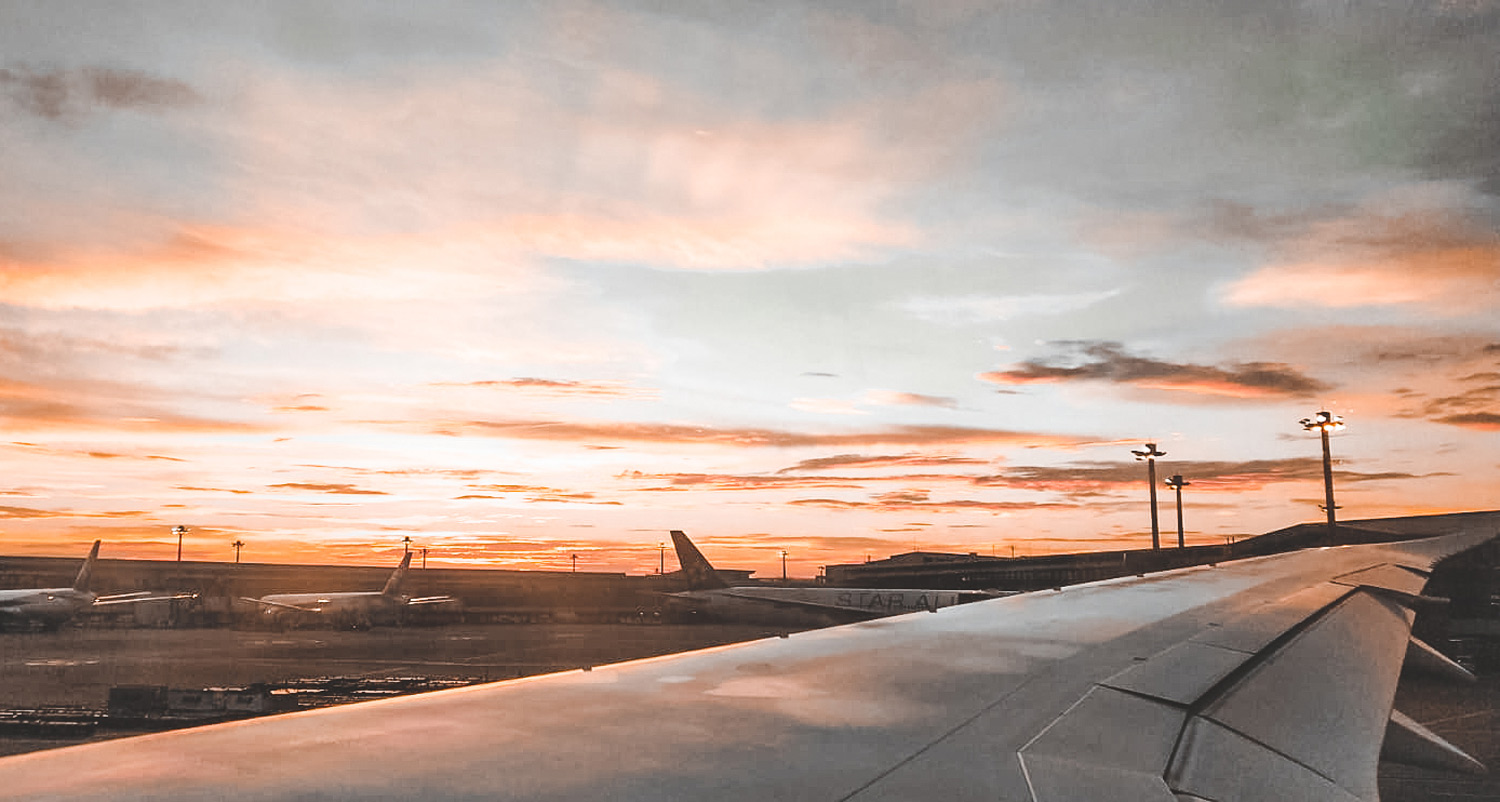 The Best Car Rental In Tulum Airport
Welcome to Mexico! Tulum airport will be soon opened in 2023, but if you are already planning your next travel in this part of Mexico, you should start checking out the best car rentals that will operate and offer pick up directly in the future Tulum airport. As you might know, the only big airport in this area is the one in Cancun, but after the quick development of tourism in Tulum, Mexico's government decided to open another international airport in Tulum. Landing in Tulum means being closer to Tulum city center and for example Coba ruins!
Most probably the car rental prices per vehicle will be even lower than the prices you can now find in Cancun airport. If you are wondering how it is to rent a car in Tulum, or in Mexico in general, we wrote here below our reviews on the type of cars you can rent, the location prices, and the insurance and the service the car companies usually offer. Let's check them out before your reservation!
*join the best parties in Tulum* – get the best tables, be on the guest lists and much more thanks to our friend Virginia. Check our her free service below!
How is renting a car in Mexico?
Renting a car in Mexico can be different from renting a car in North America, but not that much in the end. The cost per day to rent a vehicle is of course way lower and you will definitely find better deals in Mexico. The area between Cancun and Tulum is very touristy, so rental prices can be higher than the rest of Mexico, but they will always be lower than in North America. Let's check out a compact full guide of common aspects to many car rental companies in Mexico right here below!
Type of cars: automatic, economy, suv, compact
The type of cars usually rented in Tulum or Cancun city and airport are more or less the same. Almost every rental car company offers different types of vehicle: from an automatic to a suv, from an economy Chevrolet to a compact car, you will be able to choose between multiple deals.
If you are planning on visiting rural areas around Tulum or cenotes between Cancun and Tulum, deciding to rent a suv is a great idea! If you will only move to Tulum town or beach from the airport, then a compact or an economy are more than enough to enjoy your driving. If you are worried about renting a manual car, don't despair: most of the cars for rent are automatic and have all the comforts you need. 
Locations prices: paying in usd or credit card?
Talking about rental price, you will have multiple options when renting a car in Tulum. You will be able to pay in cash with Mexican pesos or usd, before or after the view of the car. Paying online with a credit card can be more advantageous because sometimes you get better deals or better cars – in a nutshell, you can get a station wagon at the price of an economy or compact.
If you decide to do so, check out the reservation contract and any eventual extra prices – it's really easy to get scammed, especially with big companies, either before or after you pick up the car. The cost of the vehicle can also change depending on how many years you have the driving license or on your age. Remember to check all these details before you pay!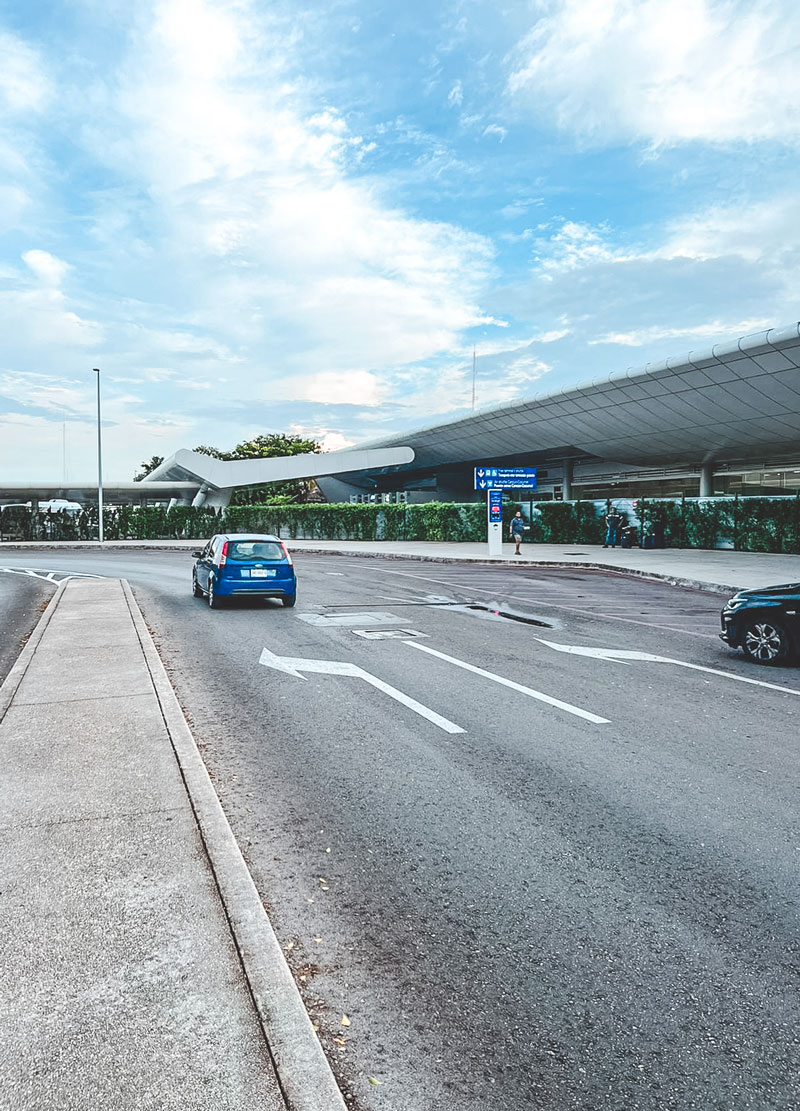 "All Car Rentals Are Just Outside The Arrivals"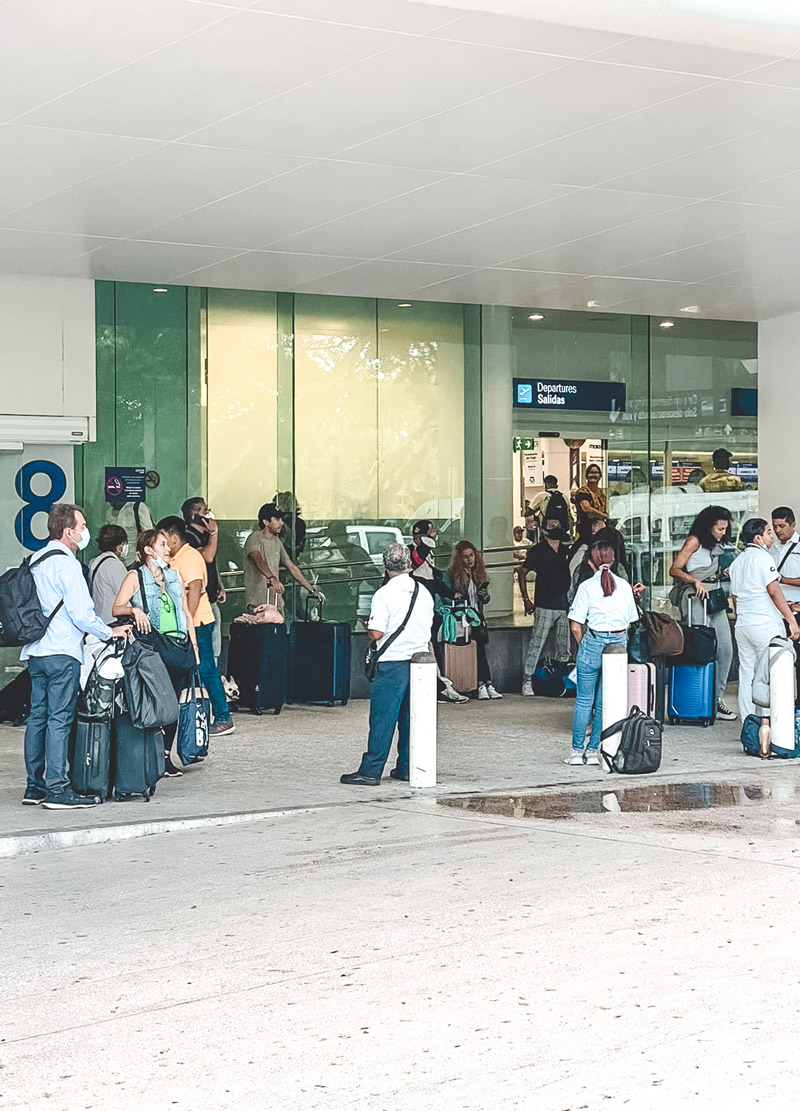 "Airport Can Get Crowded"
Vehicle insurance and service included
Many rental car companies, as it might happen in North America as well, have hidden prices, but sometimes it's really important to check them out well before making a reservation. Having a full coverage insurance vs a mediocre insurance on the vehicle you rent can make a big difference when driving in Mexico. Police are often corrupted and you can have troubles, especially if you don't speak Spanish. The best is having all the papers in order and, if you happen to have an accident, the best is always to have good insurance on the car. Check out with the rental car at the airport which kind of insurance you have included on the price, and if you have the basic one, prefer paying a few dollars more and get the extended one. It will save you a lot of time if you get in trouble!
As for the service included by the rental car, you can ask for extra services – as a private driver, a pick up, etc – and depending on how many days you rent a car, you will be able to negotiate the price of the service you want to add. Remember to do that before you pay your rental in order to get the best price.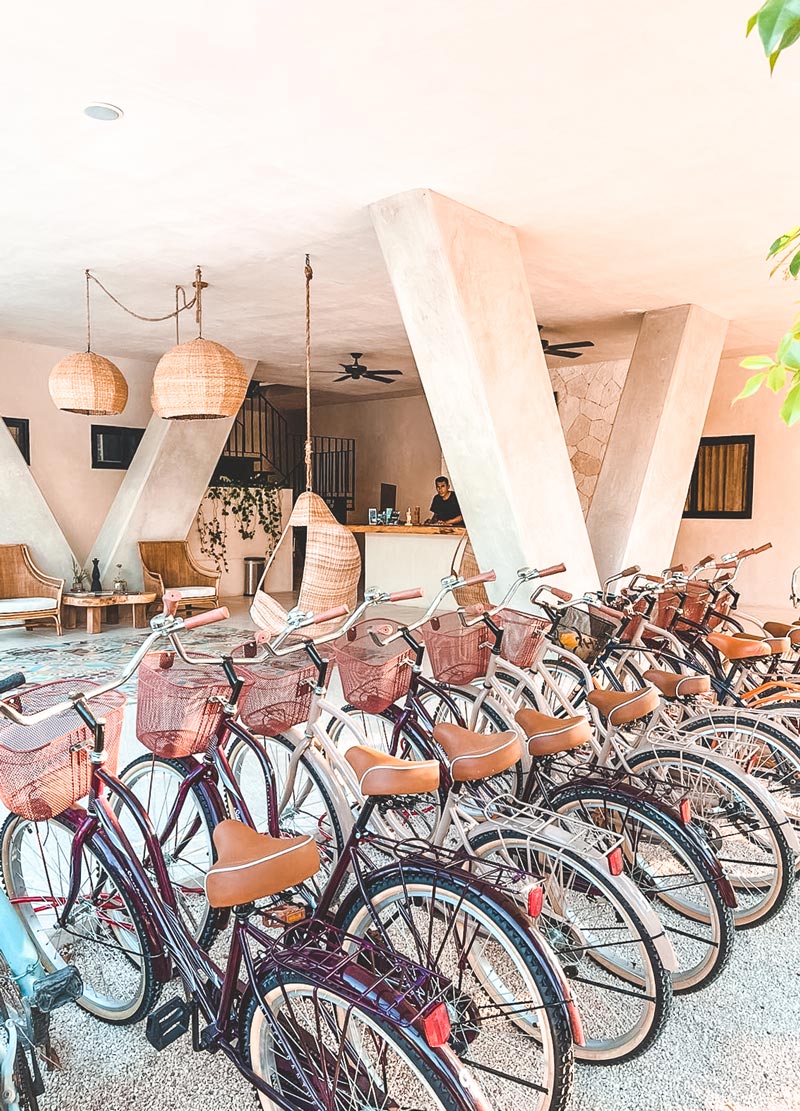 "People Love Bikes In Tulum Center"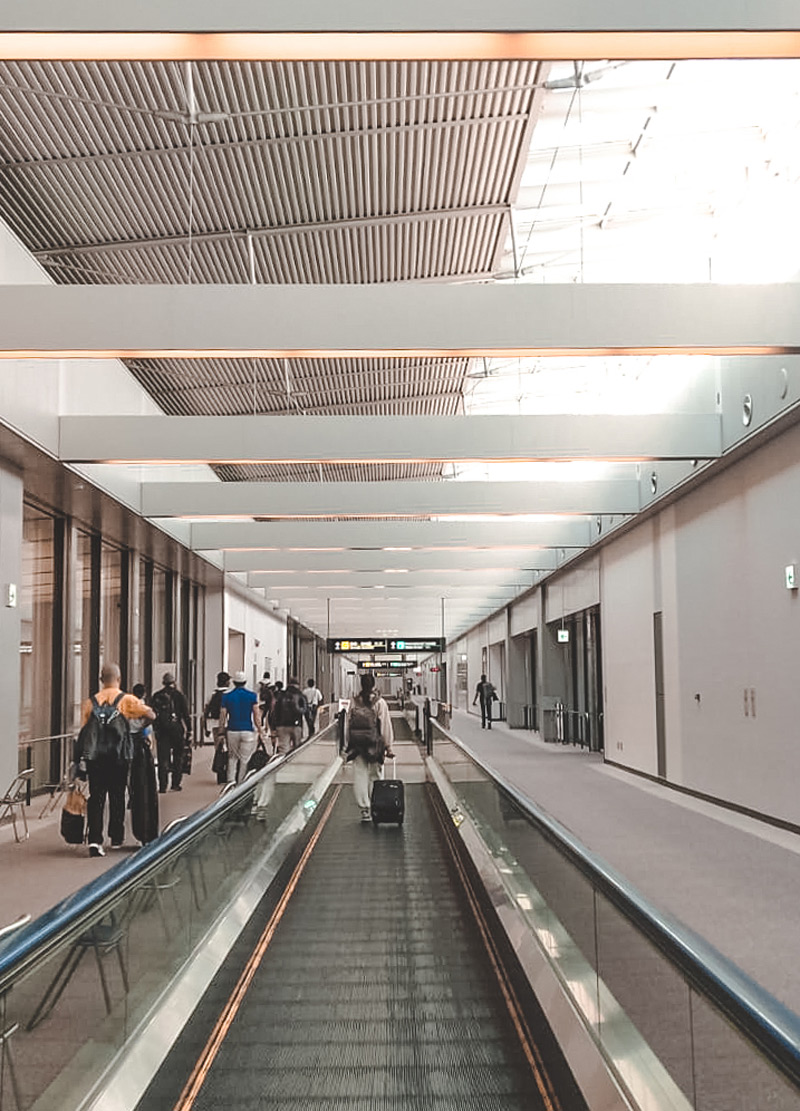 "Welcome To Mexico!"
Best car rentals companies in Tulum Airport
After renting a car with other big rental car companies in Tulum, we ran into Virginia, a really kind girl that we found out renting cars in Tulum for a while. Even if at the beginning it seemed too good to be true, we ended up renting a brand new car – Nissan Versa – with all the comforts we needed to travel around this area of Mexico. The average price to rent a vehicle with her is 40 usd, but if you rent it more than 3 days, the price will decrease to 30 usd per day!
Moreover, in the price you don't have any extra cost: high coverage insurance is included and you will also have unlimited kilometrage to tour Riviera Maya without worrying. You can contact her on Whatsapp at +529842558049 to check their availability: you will not get disappointed. Moreover, if you are looking forward to renting a car directly at the airport, they will also operate there and their office in Tulum city center will not be far away! 
Even though Alamo is a worldwide known car rental company, we had a pleasant experience. We actually rented two cars with them: one in Merida and one in Tulum and we never had hidden prices, and all in all we can recommend their service. Of course, it will be better if you speak Spanish because you can get even an extra discount on the location price at the counter if you pay in usd cash. Their reviews are also positive compared to other big rental car companies.
If you are planning to pick up the car in Tulum and leave it in Merida or Cancun, Alamo Rent a Car is great because it has many locations all over Mexico. So, check it out if you are planning a road trip in Mexico and Tulum airport is your departing point.
U Drive / Rent Your car Tulum
If you are not searching for a compact car or an economy, but you want a suv or a luxurious car, then this rental car company suits your needs! Offering for rent all time classics like Mercedes, BMW and other famous car brands, they have excellent reviews. Try to contact them a little time before your location to be sure to be able to get the best deals on the car you want to rent when you will land in Tulum airport!
Take Advantage Of Free Concierge Service
As excellent to explore Tulum and its surroundings alone, you may need help figuring out where to start. To make the most of your money and time, contact Virginia and Kelly - two incredible Mexican girls living in Tulum for more than 15 years. They're familiar with the ins & outs of the Tulum town and hotel zone like the back of their hand! 
Since we arrived in Tulum 2 years ago, many adventures wouldn't have been possible without their help - they know literally everybody in Tulum and can perfectly organize every moment of your stay. Get the best tables, skip queues and get on the guest list of the coolest places in Tulum - this's only the beginning! 
They are ready to offer you guys FREE concierge service in Tulum for the time of your stay: take advantage of it, contact them on Whatsapp and live the best experience!
Get FREE Concierge Service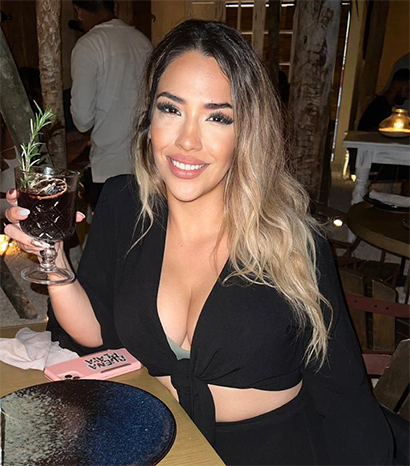 "Virginia Will Transform You In A Tulum Insider"
Is it safe to rent a car in Tulum, Mexico?
If you are wondering about renting a car in Tulum and safety on Tulum roads, don't worry, the answer is yes, you can – and you should – rent a car in Tulum. It will save you a lot of time then using common transports or taxis and you will be able to create your own tour of the Tulum region.
If you already rented a car in Tulum, let us know below how your experience was – we can't wait to read your adventures!  
👉 FRIDAY, Dec 1
OPENING PARTY X TEN IBIZA 🎉🍹
🎧
ORIOL CALVO, BASTIAN BUX, VITE
📩
Contact Virginia
here
to book a table
💵
First Release Tickets: Mex$ 550 (incl. fees)
Don't miss out on the chance to join us in "A Journey into House Music" tonight at Vagalume. Contact Virginia here to secure your spot for an unforgettable evening! 🌟🍹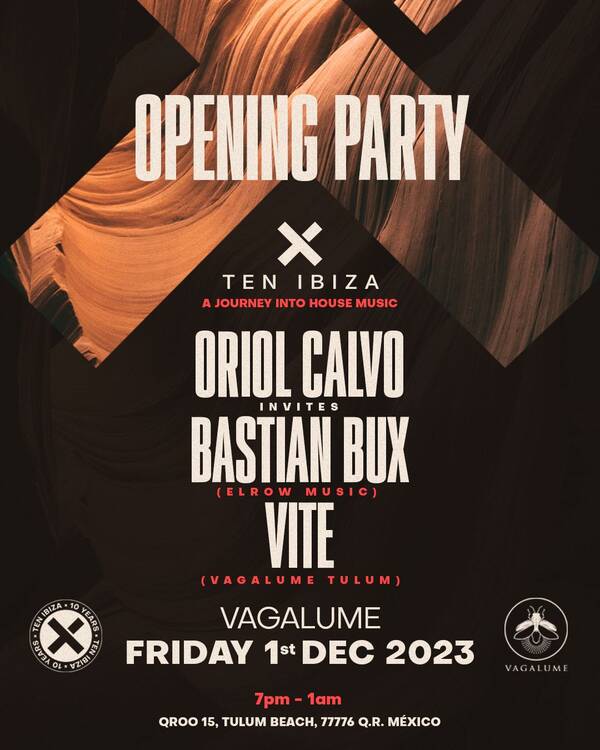 Top Parties and Club Events
23rd November - VAGALUME SESSIONS KEENE @VAGALUME
26th November - VAGALUME SUNDAZE MITA GAMI @VAGALUME
30th November - VAGALUME SESSIONS VALDOVINOS @VAGALUME
3rd December - VAGALUME SUNDAZE VALENTIN HUEDO @VAGALUME
7th December - VAGALUME SESSIONS MUSTAFA ISMAEEL @VAGALUME
30th December - PIKNIK POLO CORP & LEO LEONSKI @VAGALUME
31st December - NEW YEAR´S EVE @BAGATELLE TULUM
31st December - NYE PARTY 2024 @VAGALUME
13th March - LOCUS Tulum 2024