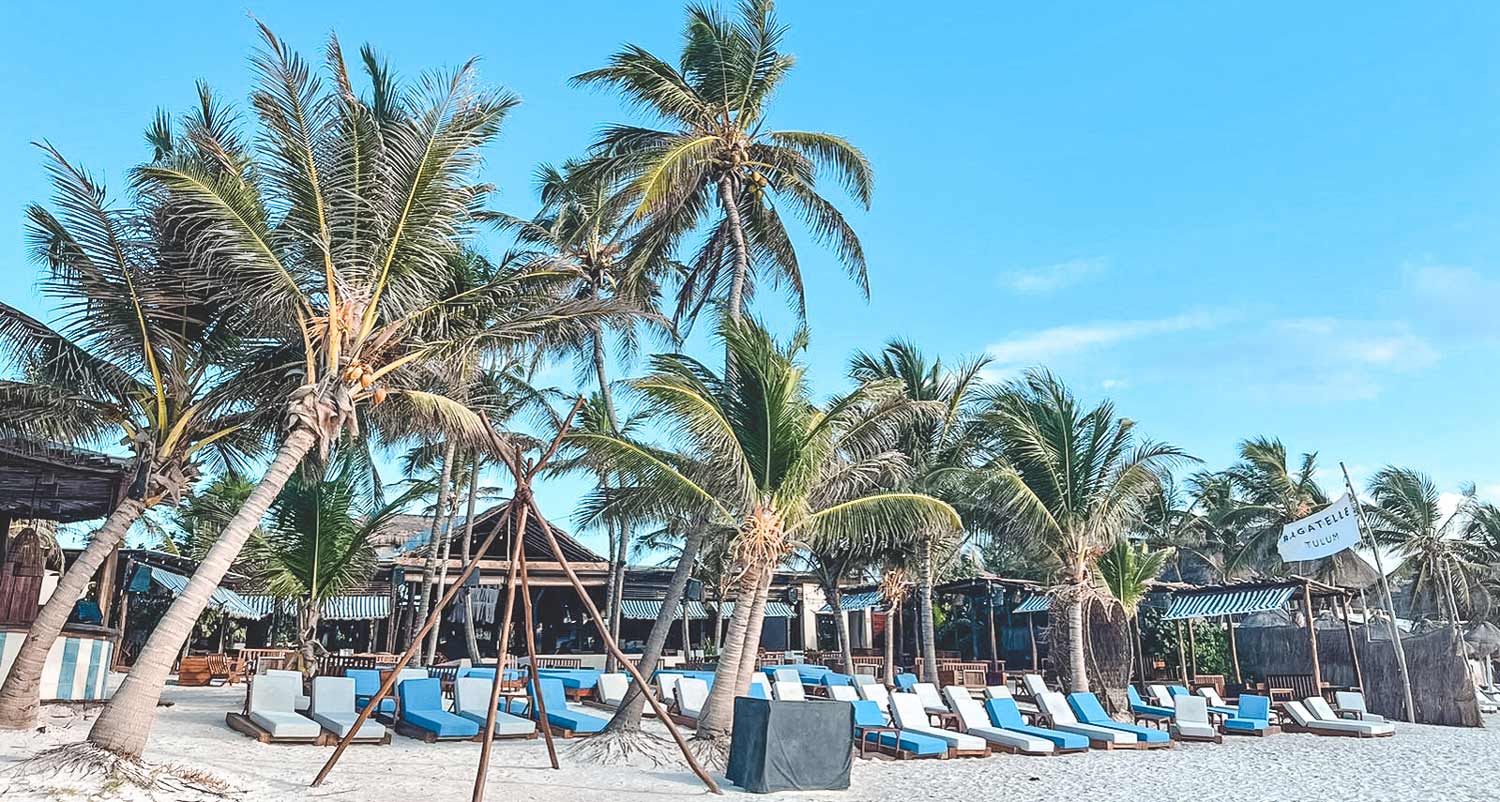 Luxury Resorts In Tulum: Which One To Choose?
Resorts are really great options to spend your stay in Mexico, and in this case, Tulum has really plenty of great resorts, both on the beach and in town. But when it comes to luxury resorts, what makes a resort different from another?
Well, for example the presence of a huge swimming pool in the jungle, private casa scattered along the property, high end suites with every service, accommodation with stunning views, a great bar and restaurant, and the list can go on.
We visited many of them and now we decided to make a top 10 of our favorite resorts in Tulum. We discovered them thanks to our dear friend Virginia – she will be able to book the best villas and resorts in Tulum for you *for free*, not to talk about the crazy parties! Take advantage of her free service down below.
Hotels vs Resorts: which one is the best?
Hotels: great rooms, but less service
We wrote many articles about hotels and the best places to stay in Tulum. I would say that if you are searching for less comfort and more improvisation, hotels are great. And even regarding comfort, the suites they offer can be pretty high end, with air conditioned and all the features you can want. But in a hotel a stay is simply thought differently: in fact, while in a resort you can even forget about going out, in a hotel that's not the case. If you stay in a hotel in Tulum you will probably miss many outdoor activities resorts organize, like yoga, meditation and so on; you will for sure have less features than in a resort and you will have to organize more the vacation all in all. In any case, if you want to check out our favorite hotels in Tulum you can find our article here.  
Resorts: all the top features thought to please guests
Everything in a resort is thought to please guests and satisfy their needs. The availability of the staff is great and the offers are many. If you are traveling with your family, choosing to stay in a resort can be smart for the amount of activities a resort offers for kids and for the whole family to create unforgettable memories. Resorts which are adults only will for sure offer you more quiet and relaxation during the day, while at night you will be free to enjoy incredible parties at the resort's bar and restaurant. Let's find out below our top 10 luxury resorts in Tulum!
Our top 10 luxury resorts in Tulum
If you love having a luxury room in a resort during your stay in Tulum, we hope our rating will help you find it. We sorted these Tulum resorts for price, from the cheapest to the most expensive. Below every description, you will find the location on Google Maps so that you can have a clear idea of where it is. Don't forget to check out the rates on Expedia, the photo and the site before checking the availability and book.
Located in the heart of Tulum town, Zereno Boutique Hotel will give you another meaning to the word luxury. With its suites decorated with beautiful colors, it offers private pools in a jungle context, with a beautiful outdoor space. If you want to live in the centro of Tulum in a super luxurious context without spending too much, this resort really has the right cards to win your heart!
At which address you find it?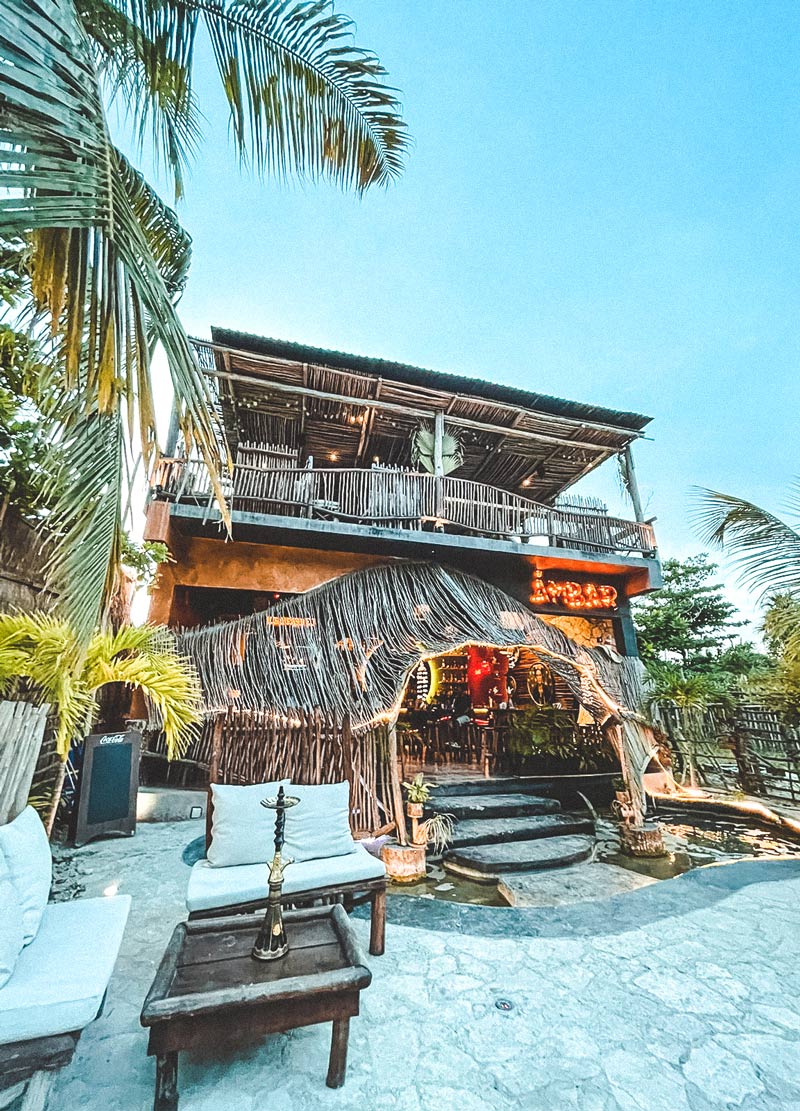 "A Nice Lounge To Spend The Evening"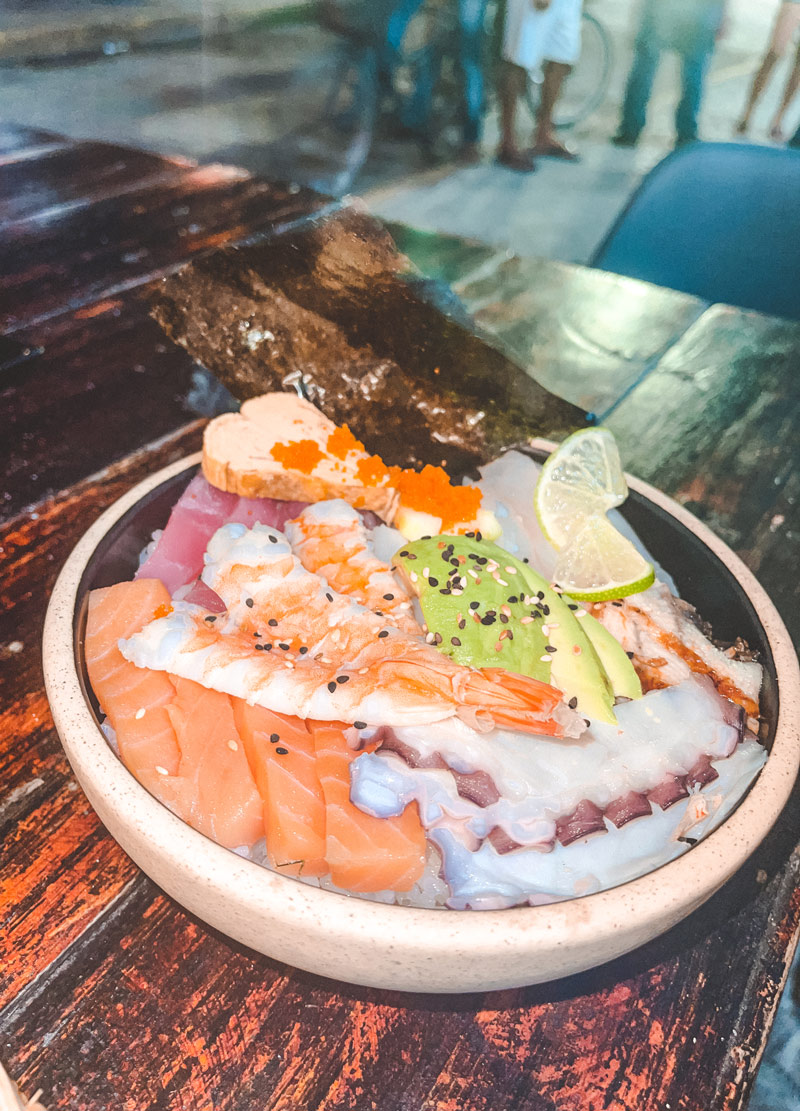 "Japanese Food Is Our Favorite!"
This resort is pretty hidden! We discovered it when we visited cenotes in the northern part of Tulum, and we immediately fell in love with it. Even if it has a really reasonable price, The Yellow Nest offers luxury cabins in the jungle with a private pool; the cabins include a bedroom and a bathroom, decorated with an exquisite taste. This area is perfect if you want to dive in multiple cenotes and discover the natural side of Tulum, always with a pinch of luxury.
At which address you find it?
What's more authentic than spending your stay in an hacienda while in Mexico? This incredible property offers suites with air conditioning and a decoration that will blow your mind! If indoor spaces are like this, wait to see the outdoors: a private pool and a cenote are waiting for you! The place is perfect to become one with nature, swimming in the cenote and chilling at the pool. The whole structure also has a great restaurant and a bar. For the price of one room, if I was you, I would run booking it!
At which address you find it?
Differently from the previous two luxury resorts, this one is definitely closer to Tulum, so you will not need to rent a car. Here you can move with a cab, rent a scooter or simply walk along the beach. But let's come to the resort! Maya Tulum Retreat & Spa, as you can guess from the name, offers yoga retreats and combines its pools (one with a view on the Caribbean sea), with a relaxing spa. Rooms are bright and cozy, and it seems guests love this accommodation according to the reviews. Don't miss out on its bar and beach club: you will never want to leave again!
At which address you find it?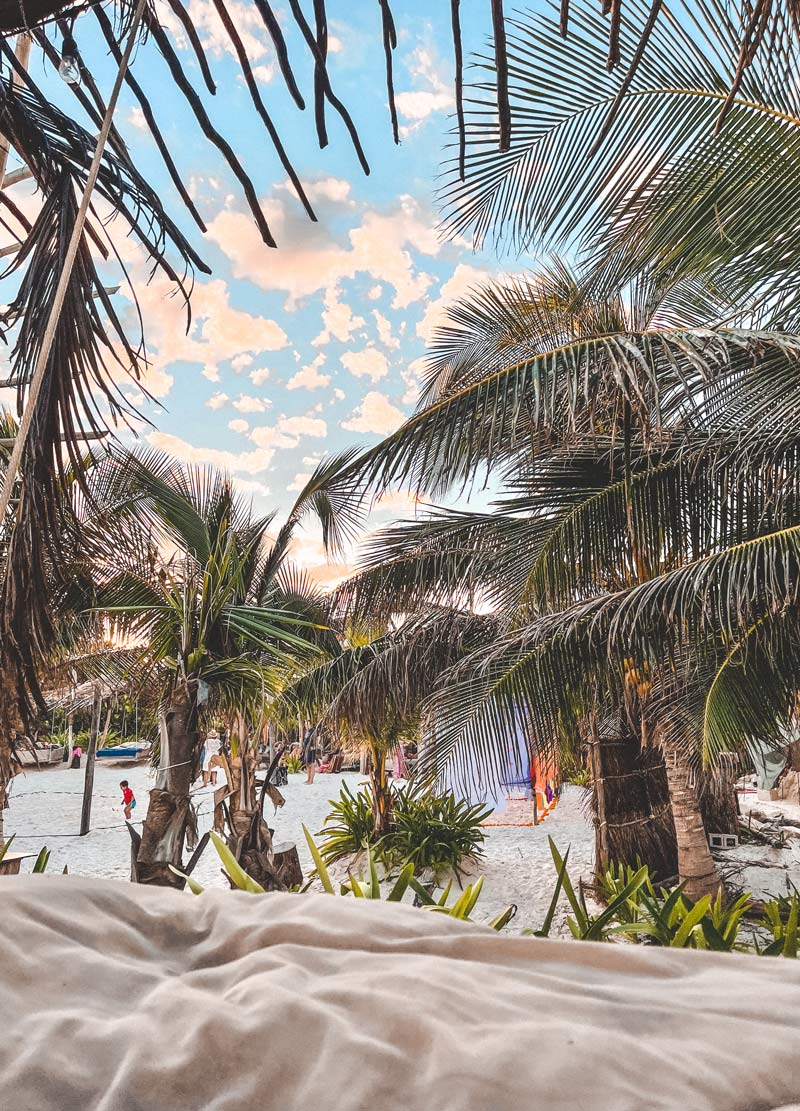 "Chilling At The Private Beach"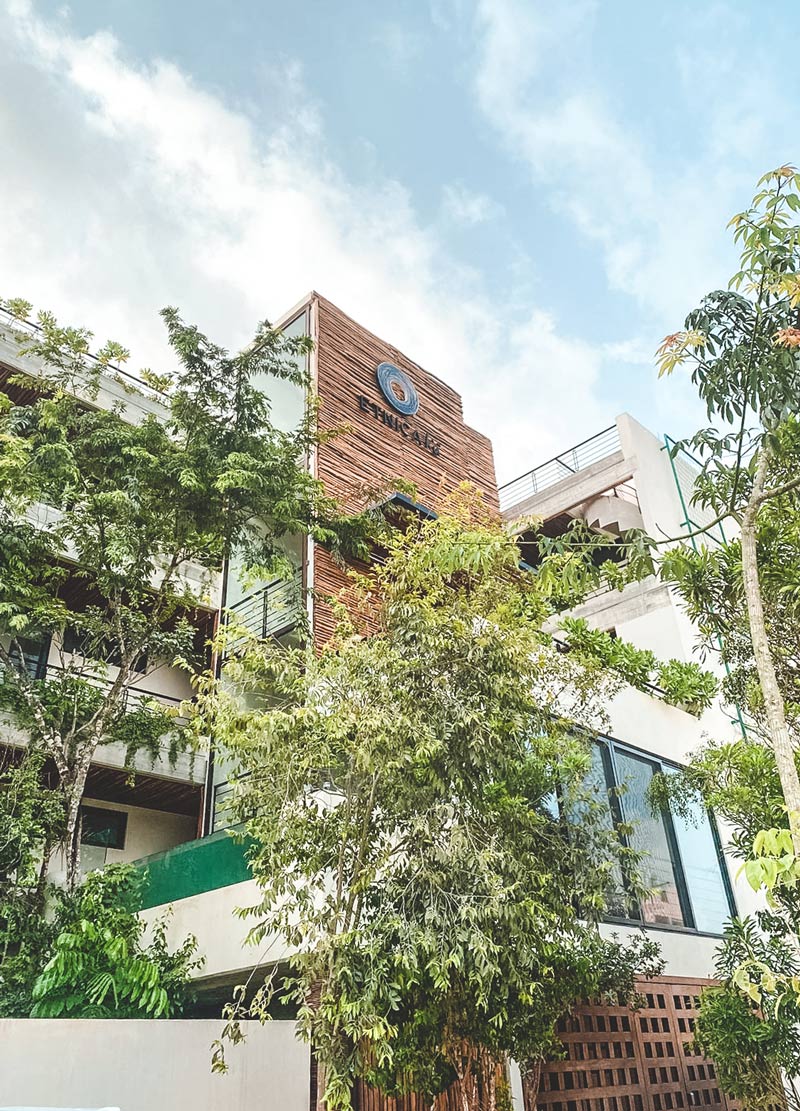 "Building Are Merged In Nature"
This glamping is the definition of luxury mixed with nature! Located South from Tulum, close to Sian Ka'an lagoon, here you will be able to book incredible suites in the nature of Tulum's jungle. Let yourself be free, and relax between the jungle and the private beach. This area is perfect to shop, go to the beach and enjoy incredible restaurant and bar with a view. Sounds good, isn't it? 
At which address you find it?
Here, we start talking about real luxury. This resort is among the best in the Tulum beach area, offering all their guests can desire. With a great view of the Caribbean sea and the beach, Chiringuito Tulum offers suites with 180 degree windows overlooking the sea's horizon, a beach club and a care for the details that will make you understand why its rates are so good! I can already see you chilling after the copious breakfast before jumping in your private pool!
At which address you find it?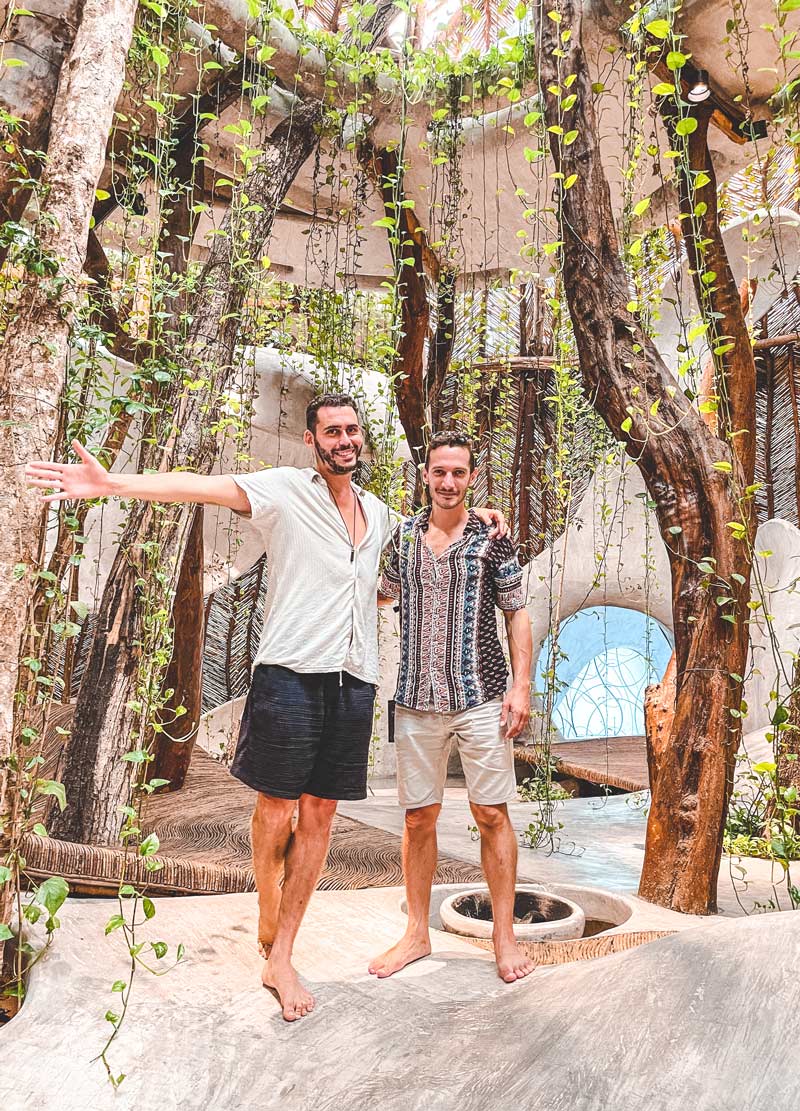 "We Love This Architecture"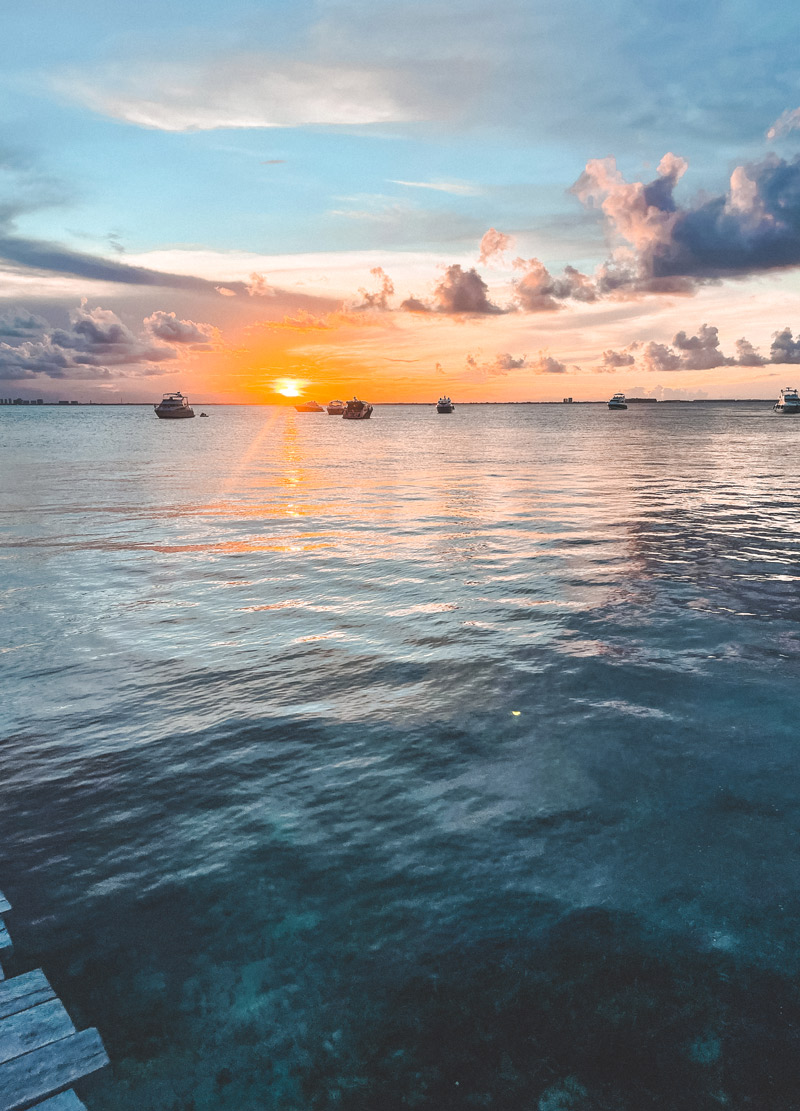 "Incredible Sunset In Tulum"
Halfway from Tulum town and Tulum beach, this resort is among the best in Tulum. Its rooms will make you feel like in a boutique hotel and will set your soul free from every stress. Well decorated, every room and accommodation has its own characteristics: from incredible views to every service you can need, they are able to satisfy even the pickiest guests. On Expedia TAGO has incredible reviews, that's why its availability can quickly finish. Check it out and book it before it's too late.
At which address you find it?
Wow, just wow. When we first saw this hotel we were speechless. The whole structure is incredible, made with materials from Mexico to make you feel the vibe of this country during your stay. This casa offers all the service its guests can need, from air conditioning to bar and restaurants with veg options. Here you will understand why the rating is so high. Why? Because it's difficult to make something better than this!
At which address you find it?
Cabañas Tulum Hotel - Beach Hotel & Spa
Cabañas Tulum Hotel offers you a property between the jungle and the beach. With private pools and well decorated rooms, this place is really a great choice if you search for luxury. With pools, a fully equipped gym and a big yoga shala, it has all the amenities you can need during your stay. Check out its photo and rates before booking it, but we are pretty sure you will love it.
At which address you find it?
"Working From The Pool"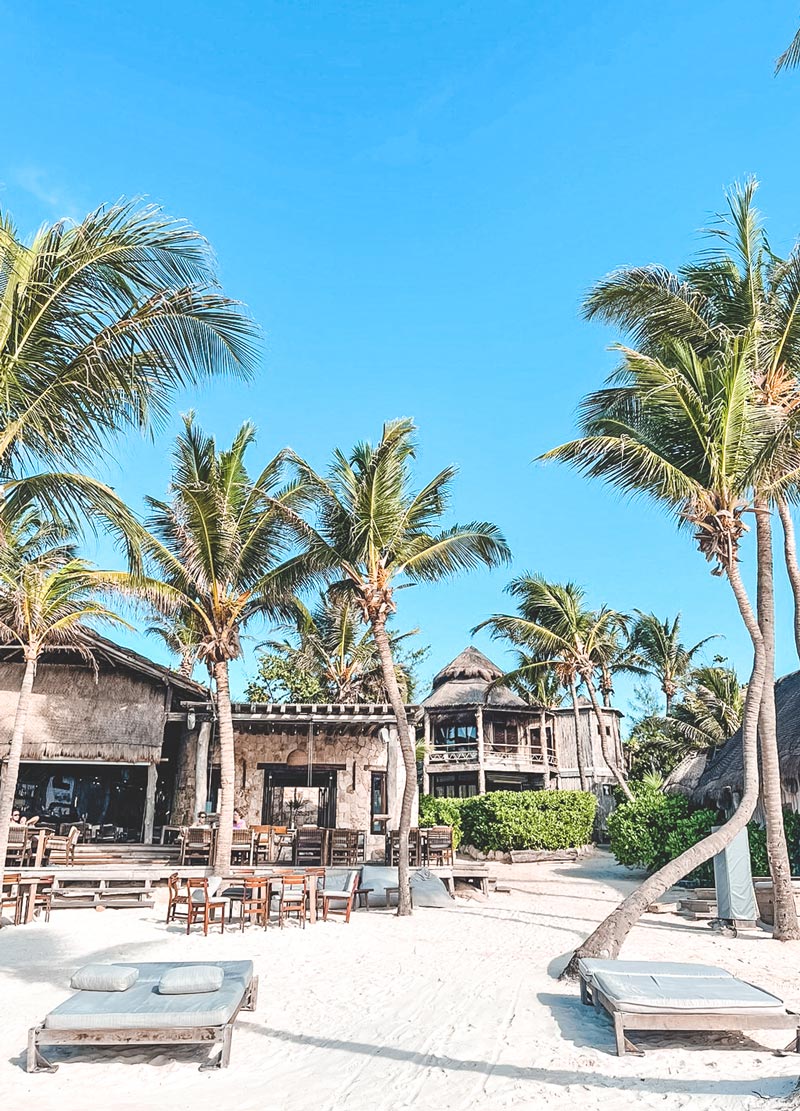 "Luxury Beach Clubs Are The Best"
Jashita Hotel & Pandano Restaurant
Jashita Hotel is a 5 stars hotel and the most expensive of our rating. Located North from Tulum, this resort in Soliman Bay brought luxury to another level. We love its colors, the spaces with multiple outdoor pools, the rooftop and the delicious restaurant and bar. The whole structure is merged in the nature of Tulum coast, leaving you the only possible thing to do: relax.
At which address you find it?
Take Advantage Of Free Concierge Service
As excellent to explore Tulum and its surroundings alone, you may need help figuring out where to start. To make the most of your money and time, contact Virginia and Kelly - two incredible Mexican girls living in Tulum for more than 15 years. They're familiar with the ins & outs of the Tulum town and hotel zone like the back of their hand! 
Since we arrived in Tulum 2 years ago, many adventures wouldn't have been possible without their help - they know literally everybody in Tulum and can perfectly organize every moment of your stay. Get the best tables, skip queues and get on the guest list of the coolest places in Tulum - this's only the beginning! 
They are ready to offer you guys FREE concierge service in Tulum for the time of your stay: take advantage of it, contact them on Whatsapp and live the best experience!
Get FREE Concierge Service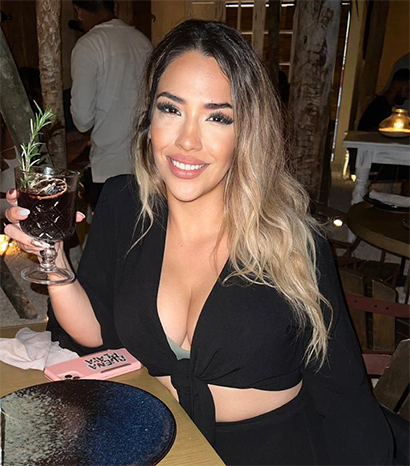 "Virginia Will Transform You In A Tulum Insider"
We hope you enjoy our rating and that you found the luxury resort in which you will stay during your vacation in Mexico. Don't forget to share the name of your favorite luxury resort below, and see you under the palm trees! 
Top Events to Make Your Trip Unforgettable
DOMINIK TULUM @MIA TULUM
When: September 9, 2023 7:00 PM
Where: Mia Restaurant & Beach Club, Tulum
🌴 Join Us for An Unforgettable Night at DOMINIK - TULUM at Mia Tulum! 🌴
Friends, clear your schedules and get ready for a magical experience at Mia Tulum! This stunning location will host DOMINIK - TULUM on Saturday, September 9th, from 7 pm to 1 am. This isn't just another event; it's a fusion of nature, culture, and sound featuring an incredible line-up with GIORGIO STEFANO, AUDICTIVE, and MAURO TORRETA. At DOMINIK, you'll find the perfect blend of Tulum's lush jungles and pulsating underground beats, creating an environment where genuine connections blossom.
🎟️ Secure your tickets now:
Early Bird: $575 MXN ($38 USD), includes a welcome drink 🍹 (Limited Availability)
Tier 1: $805 MXN ($52 USD), includes a welcome drink 🍹 (Limited Availability)
Final Tier: $1150 MXN ($75 USD), includes a welcome drink 🍹 (Limited Availability)
Dinner + Party: $1380 MXN ($90 USD) 🍽️🎉 (Limited Availability)
See you there for a night you won't forget! 🎶✨
Ready to join us? Get your ticket now! Early bird tickets are already selling out, secure them at 632 pesos (only 15 tickets available).
Hurry – spots are filling up fast! 🙀 We can't wait to see you there!
Top Parties and Club Events
17th September - ANCESTRAL SOUL @BONBONNIERE TULUM
22nd September - TONY ROMERA @BONBONNIERE TULUM
29nd September - TIM BARESKO @BONBONNIERE TULUM
4th November - HOT SINCE 82 @BONBONNIERE TULUM
13th March - LOCUS Tulum 2024