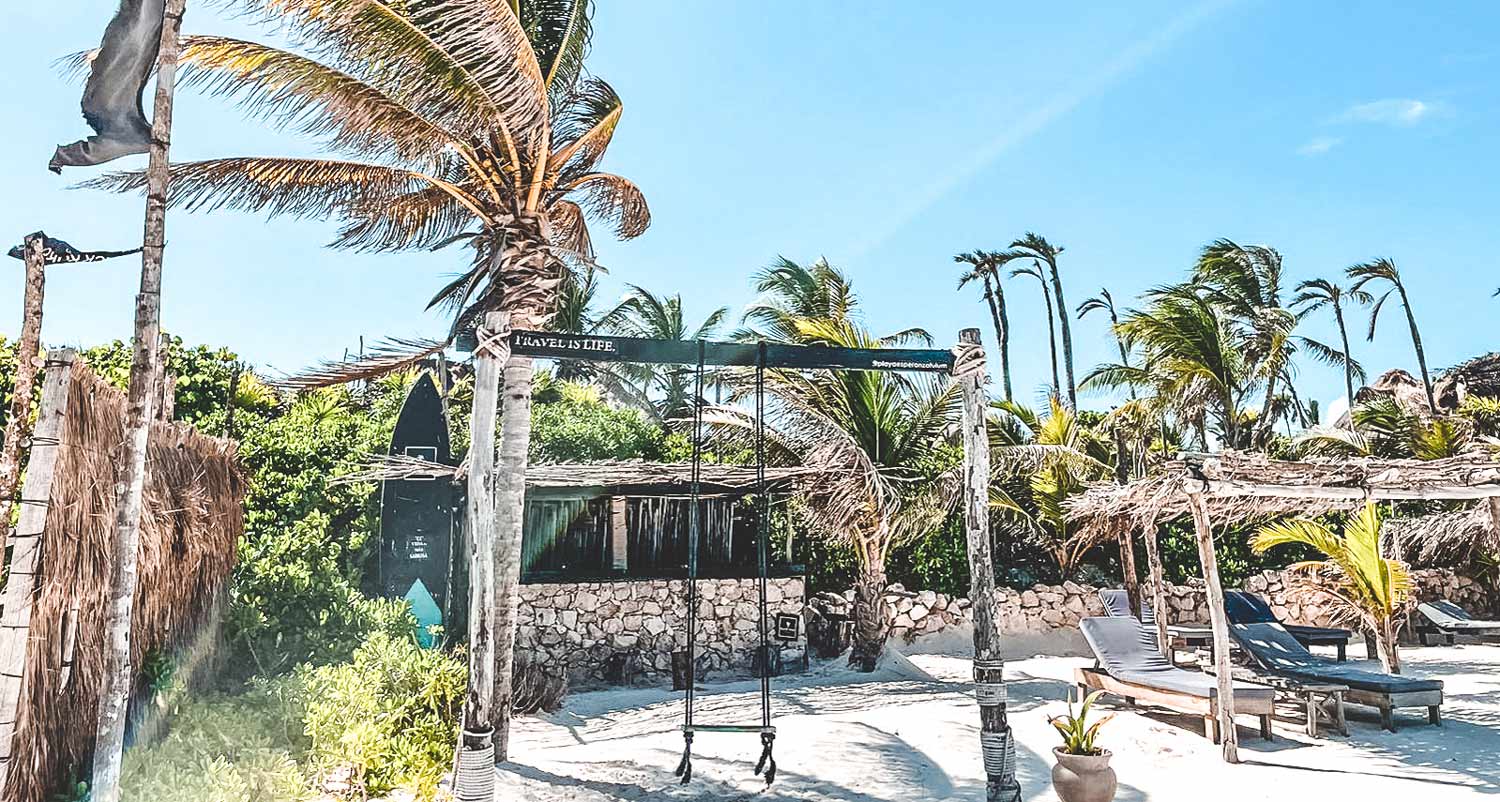 Where Is Tulum In Mexico?
If you are wondering about where Tulum is located, you will find all the answers you are searching for in our article! You will not only find where Tulum is located, but you will discover how to travel from Cancun airport or town to Tulum, which are the best things to do in Tulum and our favorite hotels and restaurants in Tulum town. So, starting from the basics: Tulum is located in Mexico, on the same coast as Cancun, Playa del Carmen and many other isla, as Cozumel. Yes, because this part of Mexico in the region of Quintana Roo is overlooking the Caribbean sea. You get it: every beach in Tulum will be incredible, the hot water will cuddle you and you will never want to travel back home. 
In the inland at the back of Tulum you will be able to visit the area of Yucatan. In Yucatan Mayan ruins and great cenotes perfect for diving are not missing, so a visit is really worth it. Whether you decide to book a guide to tour Yucatan and Quintana Roo, or you visit the places by yourself, we are sure you will love this area of Mexico and you will understand why it is so popular. But now, check out how to make your next trip to Tulum a lifetime experience with our tips below!
If you are searching for the best hotel or place to party in town, our friend Virginia is The person to know – take advantage of her FREE service below!
How to travel from Cancun to Tulum?
If you have landed in Cancun airport, don't despair: Tulum is not that far away and in 2023 it will have its own airport. Anyway, the trip from Cancun airport to Tulum is not that long and you have multiple safe ways to reach it. You can check our article on how to reach Tulum from Cancun, or see it in brief right here.
Your first option is taking the bus or colectivo, where you can reach Tulum in a short time, not talking about its affordability. For sure this option is leaving you no choice on the time you want to travel, and you will have to stick to their schedule. A second option is to take a private or shared shuttle to reach Tulum in even a shorter time. It's cool if you are traveling with friends and you can share the bill. A similar option if you are traveling in a maximum of 4 people is taking a taxi: the price will be more expensive, but if you can share the cost it will permit you to travel without any stress. The last option is to rent a car, but let's check out this point in the next paragraph!
You finally arrived in Tulum and you are starting your Mexican adventure! Before checking in at your hotel or trying some great Mexican food in a local restaurant, you should rent a car to move around in Tulum town and beach, but also to reach more distant places like cenotes or other cities in Riviera Maya.
We had unpleasant experiences with standard rental car agencies, and asking friends and locals, we had the contact of Renata, which is renting fully equipped Nissan Versa at a really convenient price. You can book it for 40$ a day or 30$ if you rent it for more than 3 days. You can contact her at +529841568080 to check the car's availability and start a stress free experience with them. Stress free because you will not need a credit card (so no credit card deposit needed) and the rental process will be simple and make you save time. Plus, a high insurance is included!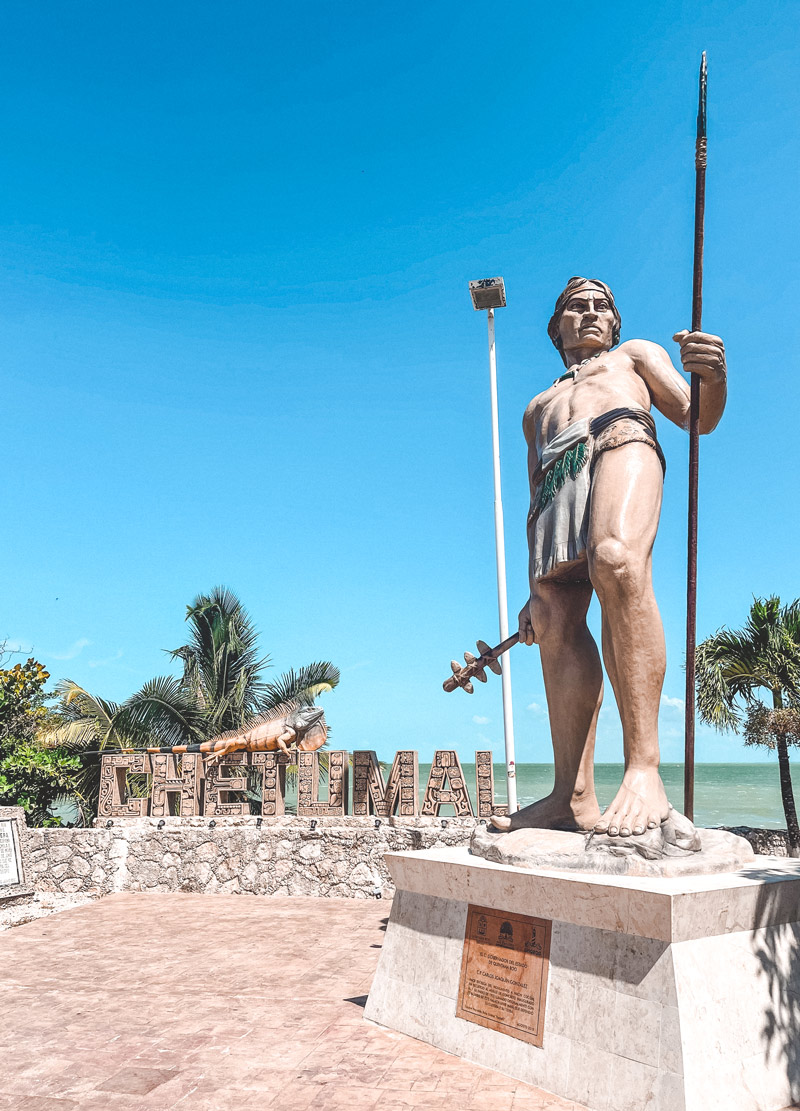 "Tulum And Its Mayan Culture"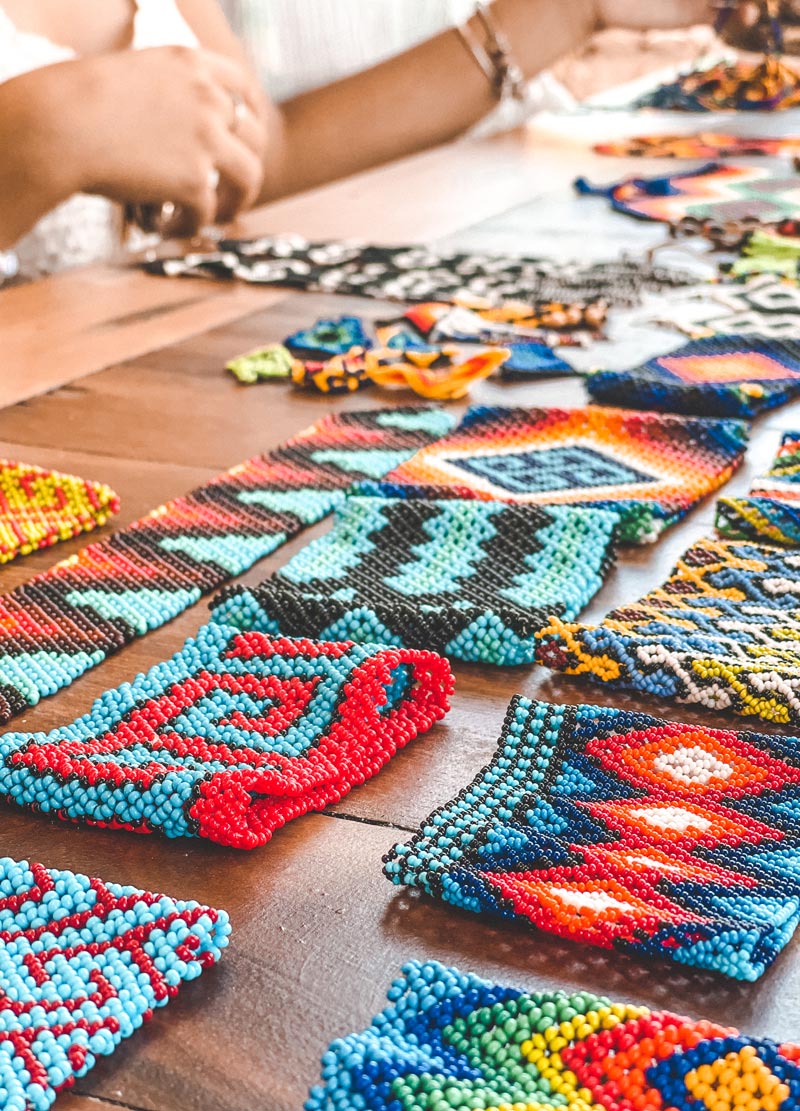 "Handcrafted Bracelets"
Best things to do in Tulum
Tulum is full of places to visit and things to do, so don't worry: you will never get bored! Shops, restaurants and bars are almost always open and if you want to merge in the nature surrounding Tulum town, you will be there in no time. Whether you decide diving in a cenote or discover Mexico's popular culture, whether you want to sunbathe the whole day at the beach or visit Maya's ruins in Yucatan, you will have plenty of great options to choose from. But now, check out our favorite activities below! 
Tulum Mayan ruins are really a great place to start exploring around. They are located just outside the town, right above one of the most famous Tulum beaches. In fact, you will be able to admire these Mayan ruins both from the clear water of the sea and from the white sand beach. Check out our article about Tulum Mayan ruins and discover all the tips on how to spend the best day there. If you have the opportunity to travel to Yucatan, you should definitely visit popular Chichen Itza and Coba. But let's find out our second favorite activity we love to pair with ruins visit! 
A diving tour to Yucatan's cenote
Yes, one of our favorite things to do in Mexico is diving in cenotes! If you have never tried it, you should definitely discover this whole new world. Most probably the first time you visit a cenote it is better to be accompanied by a guide (especially if you want to dive and you have a little experience). Cenote's water is clear and slightly fresher than the one you will find at the beach. Yucatan is the only area of Mexico where you will be able to find cenotes so you should really take advantage of that. Check out our favorite cenotes right here.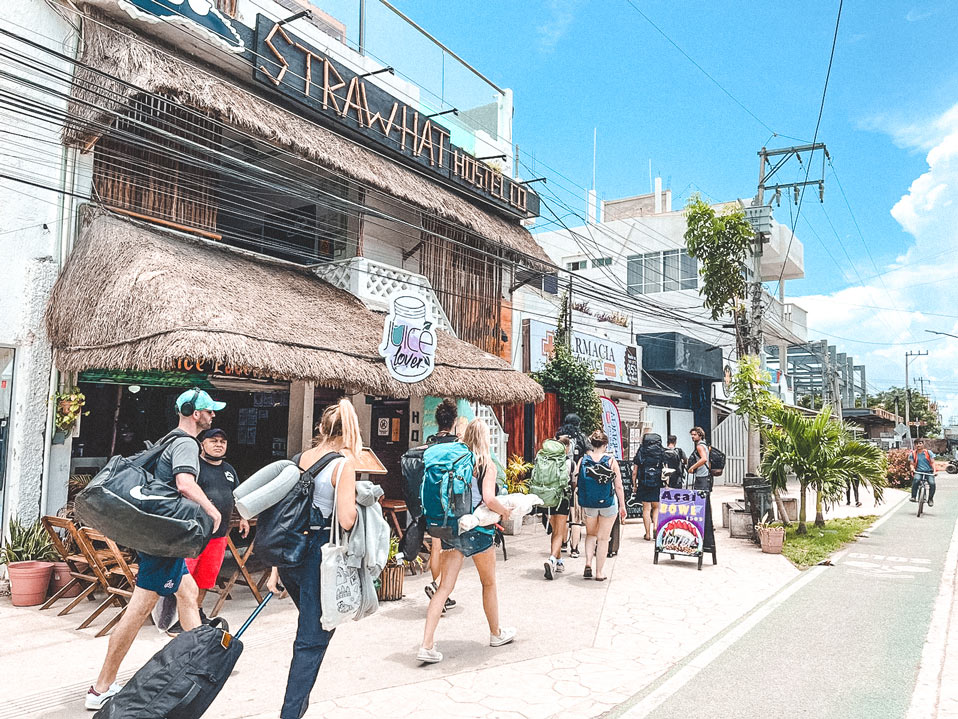 "Tulum Downtown"
Beach day is always a good idea
If you are not up to venture in Yucatan, then the high amount of beaches will largely satisfy you! In Tulum you will find many beaches, paired with great restaurants, bars and beach clubs. Many hotels are also located here and you will be able to buy many beautiful clothes and other things in the concept stores along the main beach road. Check out our Tulum beach guide here and live your best life sipping your cocktail under a palm tree!
Take Advantage Of Free Concierge Service
As excellent to explore Tulum and its surroundings alone, you may need help figuring out where to start. To make the most of your money and time, contact Virginia and Kelly - two incredible Mexican girls living in Tulum for more than 15 years. They're familiar with the ins & outs of the Tulum town and hotel zone like the back of their hand! 
Since we arrived in Tulum 2 years ago, many adventures wouldn't have been possible without their help - they know literally everybody in Tulum and can perfectly organize every moment of your stay. Get the best tables, skip queues and get on the guest list of the coolest places in Tulum - this's only the beginning! 
They are ready to offer you guys FREE concierge service in Tulum for the time of your stay: take advantage of it, contact them on Whatsapp and live the best experience!
Get FREE Concierge Service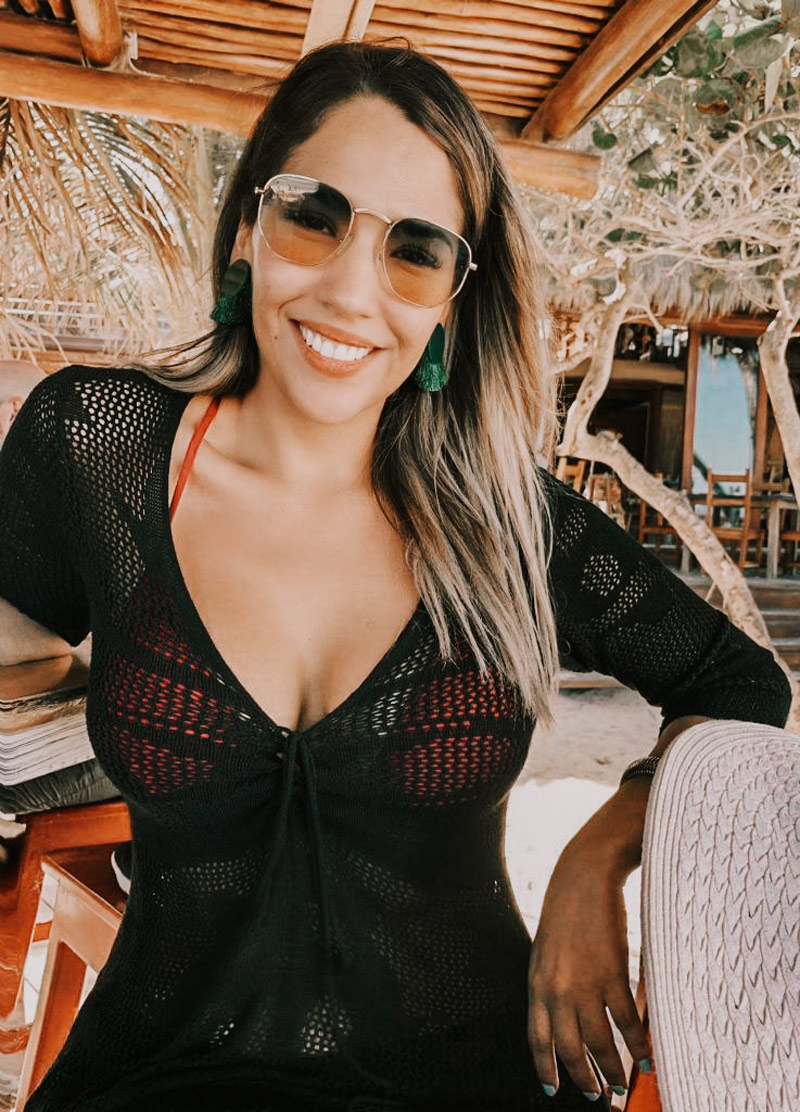 "Virginia Can't Wait To Make Your Stay Flawless"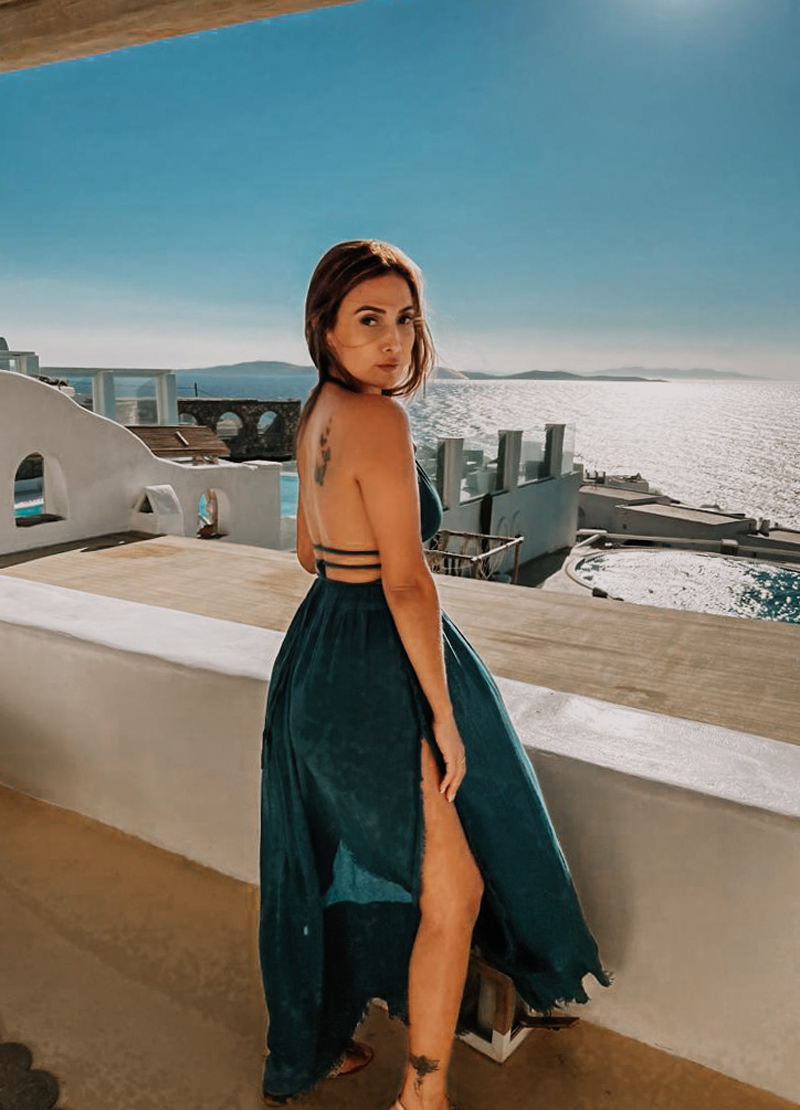 "Kelly Will Transform You In A Tulum Insider"
Day trip to Playa del Carmen, Isla Mujeres or Cozumel
Finally, if you want to explore Quintana Roo, the coastal area of the Yucatan peninsula, you will find many places to visit as well as many things to do. If you are searching for luxurious vibes, much shopping to do and a city vibe, you should make a day trip to Playa del Carmen or Cancun on your way back to the airport. If on the other hand you want to isolate yourself from the chaos and noise, you should really have a relaxing trip to Isla Mujeres or Isla Cozumel. Here the only thing you will have to think about will be diving and snorkeling in beautiful crystal clear water. If you ask us, you should definitely visit a Mexican island before leaving!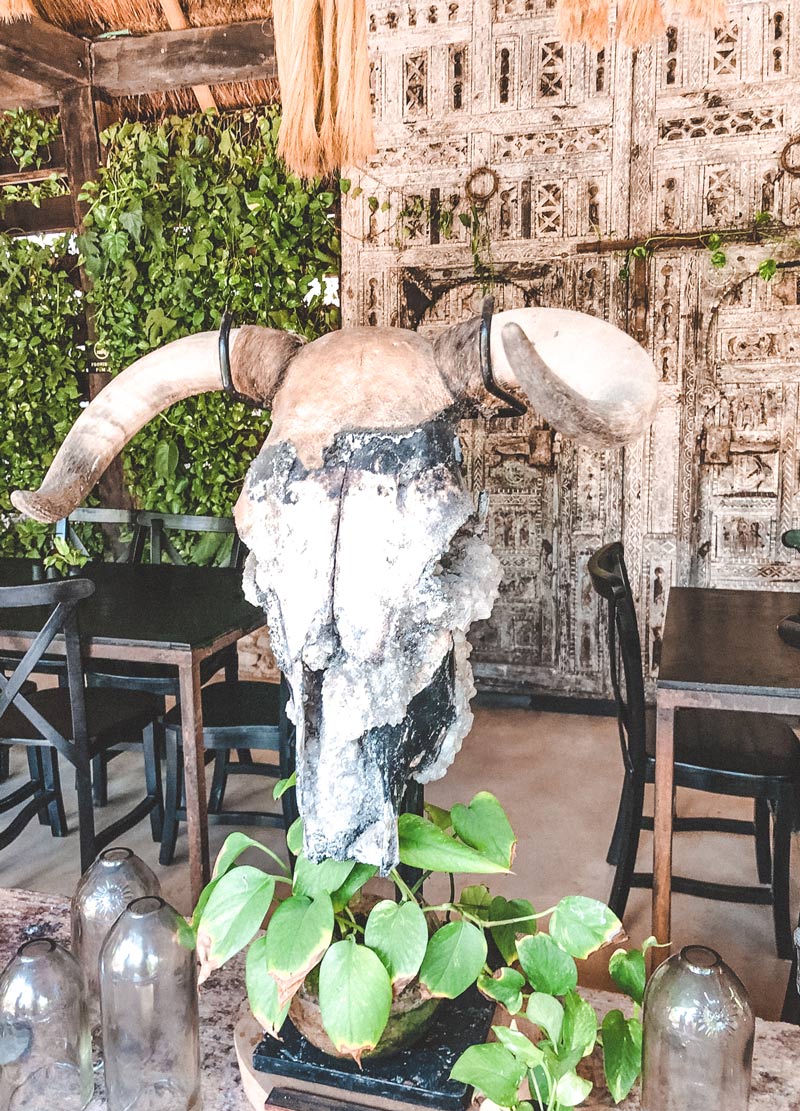 "Decoration In Hotel Bardo"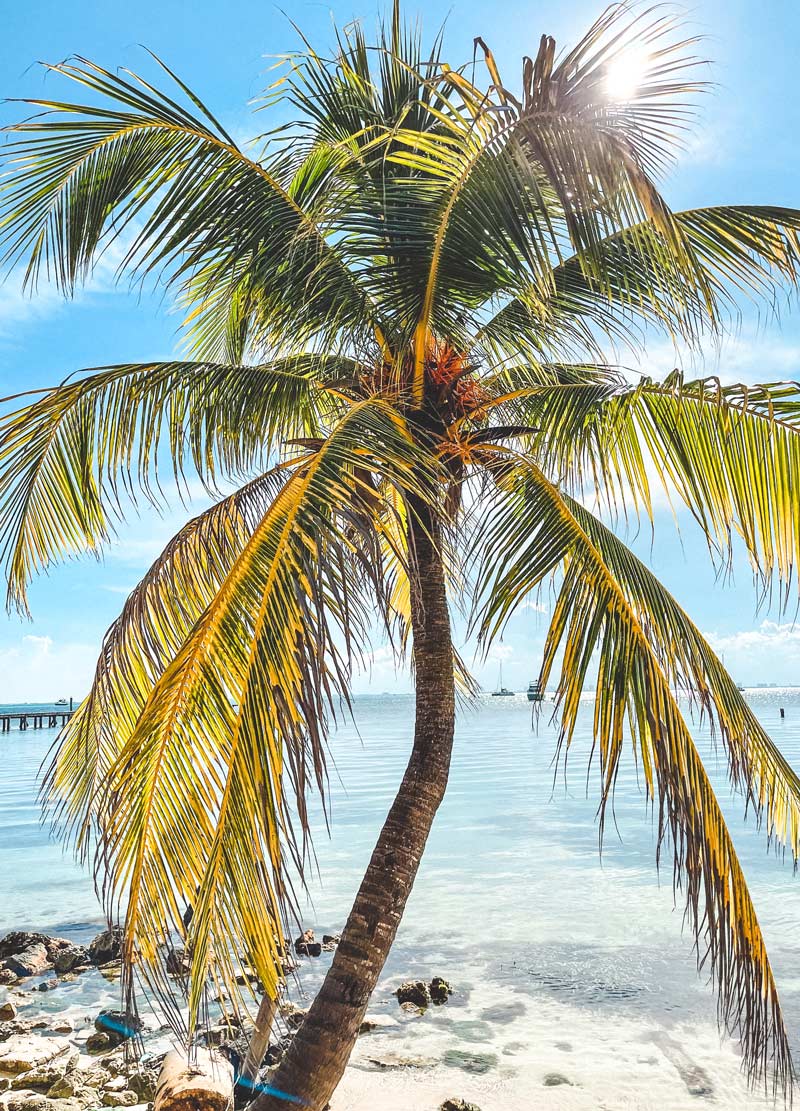 "Only Sea And Palmtrees"
If you still have to book your hotel for your trip to Tulum, don't hesitate to check out our favorite hotels in Tulum town and beach. You will find hotels for every budget and you will know they are in a safe area. If you want to know more about the neighborhoods, we wrote a guide about each of them so that you will know exactly what to expect from any area of Tulum. In any case, forget about big hotels as you could find in Cancun or Playa del Carmen: here hotels are smaller and have a completely different vibe, as if you were in a boutique hotel. You will definitely love being pampered from the kind staff!
Best restaurants in Tulum
We are foodies and if you love food like us, you will become crazy in Tulum. Restaurants are serving pretty high level dishes and you will discover many Mexican specialities you've never tried before! Street food is also very lively here, especially at night. If your stomach is delicate, prefer eating tacos without meat or fish, but all in all you shouldn't have any problems. Check out the maps of our favorite restaurants here below!
We hope this small guide of where Tulum is helped you have a more clear idea of your next trip destination. Don't forget to tell us below what you would like us to write about: we can't wait to read your suggestions!
Best upcoming parties in Tulum