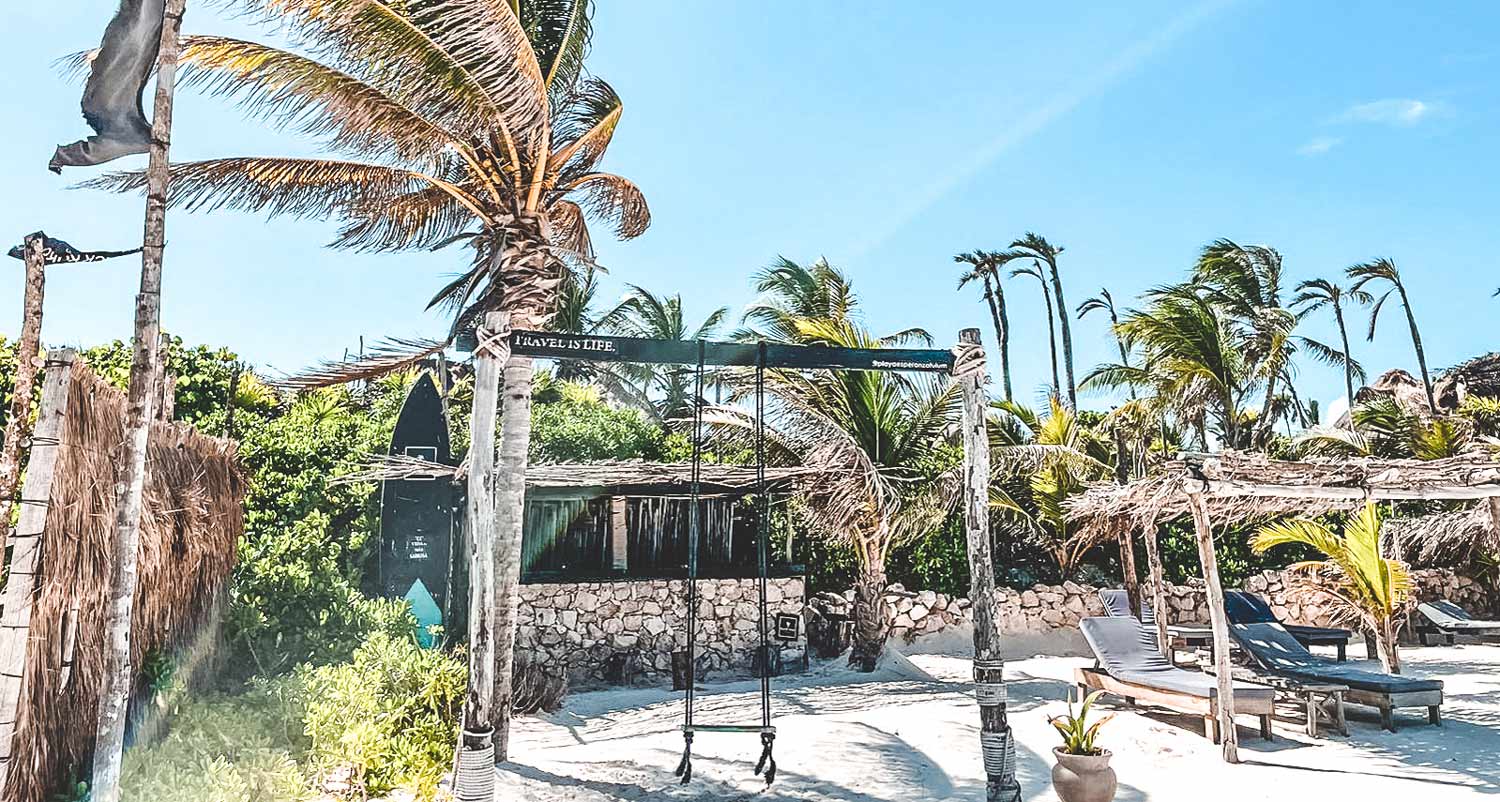 Where Is Tulum In Mexico?
If you are wondering about where Tulum is located, you will find all the answers you are searching for in our article! You will not only find where Tulum is located, but you will discover how to travel from Cancun airport or town to Tulum, which are the best things to do in Tulum and our favorite hotels and restaurants in Tulum town. So, starting from the basics: Tulum is located in Mexico, on the same coast as Cancun, Playa del Carmen and many other isla, as Cozumel. Yes, because this part of Mexico in the region of Quintana Roo is overlooking the Caribbean sea. You get it: every beach in Tulum will be incredible, the hot water will cuddle you and you will never want to travel back home. 
In the inland at the back of Tulum you will be able to visit the area of Yucatan. In Yucatan Mayan ruins and great cenotes perfect for diving are not missing, so a visit is really worth it. Whether you decide to book a guide to tour Yucatan and Quintana Roo, or you visit the places by yourself, we are sure you will love this area of Mexico and you will understand why it is so popular. But now, check out how to make your next trip to Tulum a lifetime experience with our tips below!
If you are searching for the best hotel or place to party in town, our friend Virginia is The person to know – take advantage of her FREE service below!
How to travel from Cancun to Tulum?
If you have landed in Cancun airport, don't despair: Tulum is not that far away and in 2023 it will have its own airport. Anyway, the trip from Cancun airport to Tulum is not that long and you have multiple safe ways to reach it. You can check our article on how to reach Tulum from Cancun, or see it in brief right here.
Your first option is taking the bus or colectivo, where you can reach Tulum in a short time, not talking about its affordability. For sure this option is leaving you no choice on the time you want to travel, and you will have to stick to their schedule. A second option is to take a private or shared shuttle to reach Tulum in even a shorter time. It's cool if you are traveling with friends and you can share the bill. A similar option if you are traveling in a maximum of 4 people is taking a taxi: the price will be more expensive, but if you can share the cost it will permit you to travel without any stress. The last option is to rent a car, but let's check out this point in the next paragraph!
General direct flight times to get to Tulum
New York City to Tulum: approximately 4 hours and 15 minutes
Los Angeles to Tulum: approximately 5 hours and 20 minutes
Toronto to Tulum: approximately 4 hours and 10 minutes
London to Tulum: approximately 11 hours and 30 minutes
Miami to Tulum: approximately 1 hour and 20 minutes
Mexico City to Tulum: approximately 1 hour and 20 minutes
Paris to Tulum: approximately 10 hours and 30 minutes
Chicago to Tulum: approximately 3 hours and 40 minutes
You finally arrived in Tulum and you are starting your Mexican adventure! Before checking in at your hotel or trying some great Mexican food in a local restaurant, you should rent a car to move around in Tulum town and beach, but also to reach more distant places like cenotes or other cities in Riviera Maya.
We had unpleasant experiences with standard rental car agencies, and asking friends and locals, we had the contact of Renata, which is renting fully equipped Nissan Versa at a really convenient price. You can book it for 40$ a day or 30$ if you rent it for more than 3 days. You can contact her at +529841568080 to check the car's availability and start a stress free experience with them. Stress free because you will not need a credit card (so no credit card deposit needed) and the rental process will be simple and make you save time. Plus, a high insurance is included!
There are many exciting destinations and attractions near Tulum that are worth exploring. Here are some of the top places to visit:
Playa del Carmen: Just a 45-minute drive north of Tulum, this bustling coastal town offers great shopping, dining, and nightlife, as well as beautiful beaches and water activities.
Akumal: A short drive south of Tulum, this charming seaside town is known for its sea turtles and snorkeling opportunities. It's also home to beautiful beaches and an ecological center.
Coba: Located just 40 minutes west of Tulum, Coba is an ancient Mayan city that is home to impressive ruins and beautiful jungle scenery.
Sian Ka'an Biosphere Reserve: This UNESCO World Heritage Site is located just south of Tulum and boasts stunning natural beauty, with wetlands, lagoons, and a barrier reef system. Visitors can explore the reserve through guided tours, fishing trips, and other outdoor activities.
Xel-Ha: This natural aquatic park is located just 30 minutes north of Tulum and offers snorkeling, swimming, and other water activities in a beautiful natural setting.
With so many amazing places to explore near Tulum, you're sure to have an unforgettable adventure.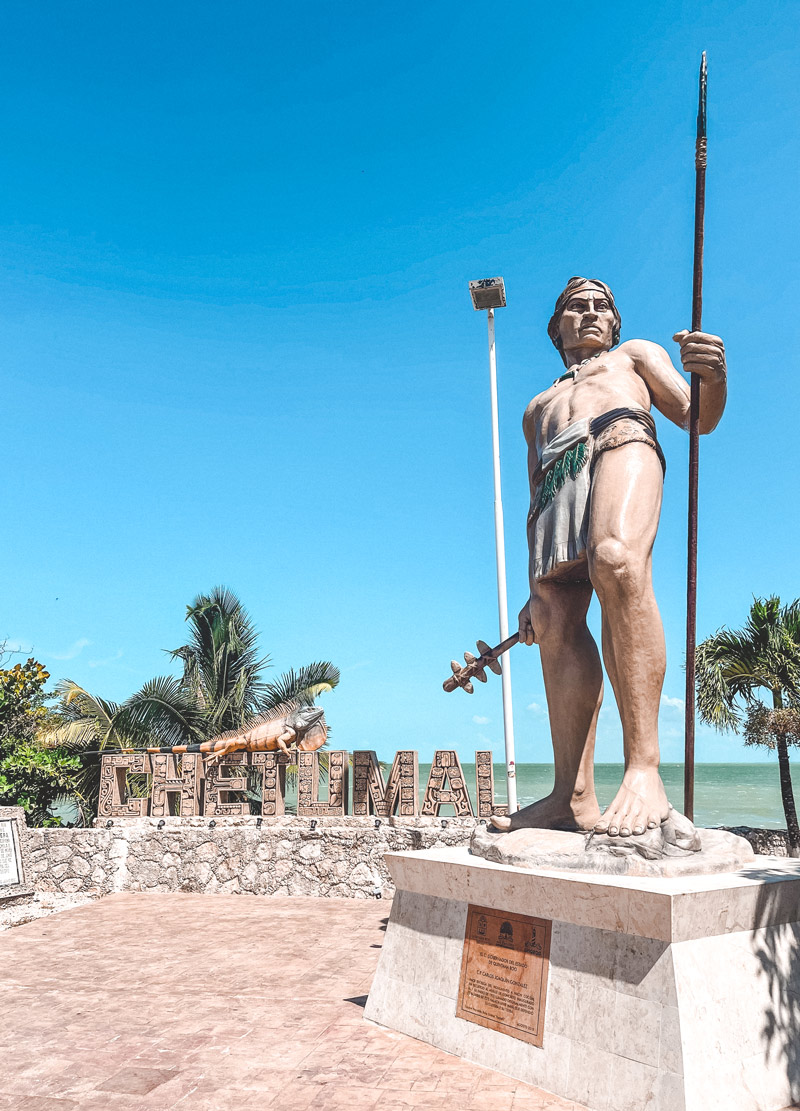 "Tulum And Its Mayan Culture"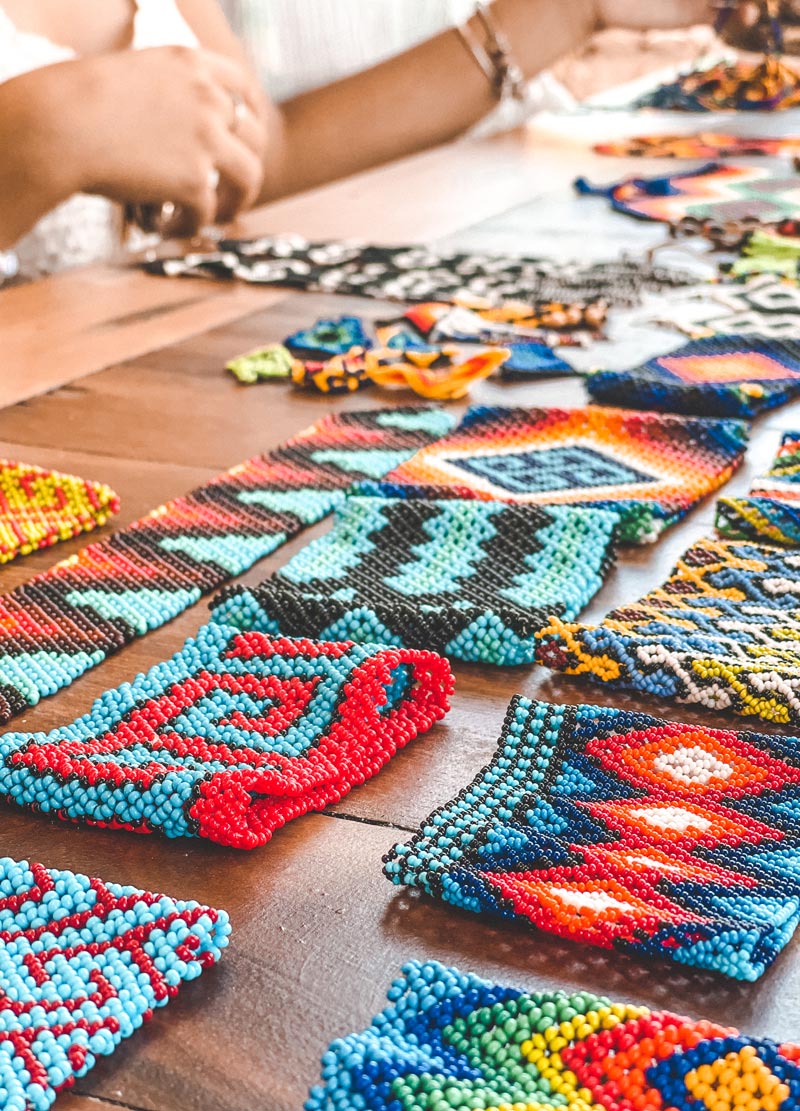 "Handcrafted Bracelets"
Best things to do in Tulum
Tulum is full of places to visit and things to do, so don't worry: you will never get bored! Shops, restaurants and bars are almost always open and if you want to merge in the nature surrounding Tulum town, you will be there in no time. Whether you decide diving in a cenote or discover Mexico's popular culture, whether you want to sunbathe the whole day at the beach or visit Maya's ruins in Yucatan, you will have plenty of great options to choose from. But now, check out our favorite activities below! 
Tulum Mayan ruins are really a great place to start exploring around. They are located just outside the town, right above one of the most famous Tulum beaches. In fact, you will be able to admire these Mayan ruins both from the clear water of the sea and from the white sand beach. Check out our article about Tulum Mayan ruins and discover all the tips on how to spend the best day there. If you have the opportunity to travel to Yucatan, you should definitely visit popular Chichen Itza and Coba. But let's find out our second favorite activity we love to pair with ruins visit! 
A diving tour to Yucatan's cenote
Yes, one of our favorite things to do in Mexico is diving in cenotes! If you have never tried it, you should definitely discover this whole new world. Most probably the first time you visit a cenote it is better to be accompanied by a guide (especially if you want to dive and you have a little experience). Cenote's water is clear and slightly fresher than the one you will find at the beach. Yucatan is the only area of Mexico where you will be able to find cenotes so you should really take advantage of that. Check out our favorite cenotes right here.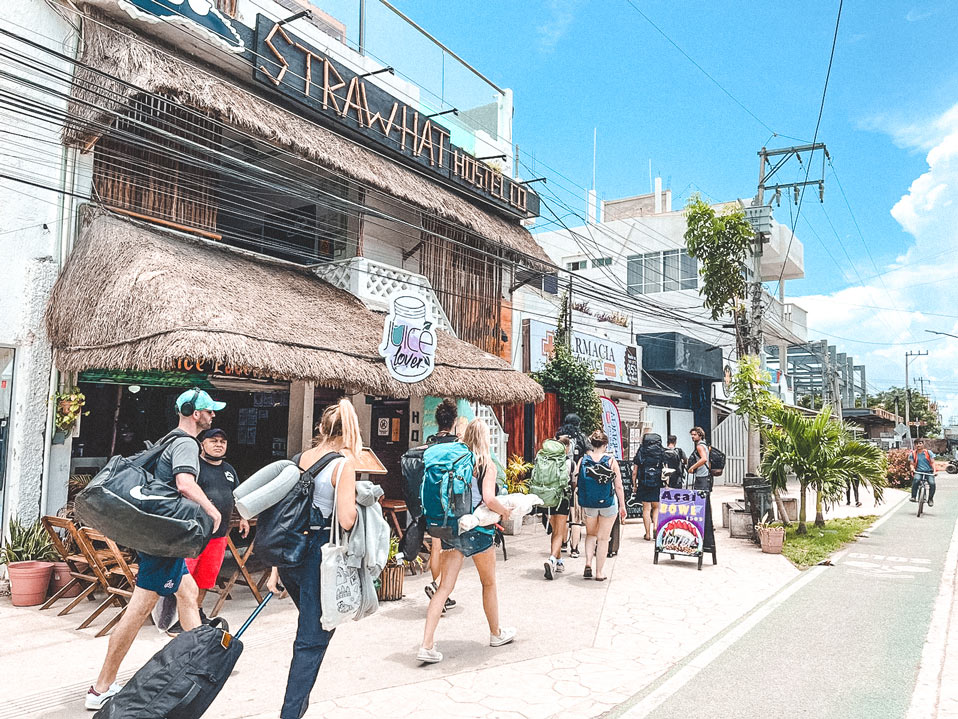 "Tulum Downtown"
Beach day is always a good idea
If you are not up to venture in Yucatan, then the high amount of beaches will largely satisfy you! In Tulum you will find many beaches, paired with great restaurants, bars and beach clubs. Many hotels are also located here and you will be able to buy many beautiful clothes and other things in the concept stores along the main beach road. Check out our Tulum beach guide here and live your best life sipping your cocktail under a palm tree!
Day trip to Playa del Carmen, Isla Mujeres or Cozumel
Finally, if you want to explore Quintana Roo, the coastal area of the Yucatan peninsula, you will find many places to visit as well as many things to do. If you are searching for luxurious vibes, much shopping to do and a city vibe, you should make a day trip to Playa del Carmen or Cancun on your way back to the airport. If on the other hand you want to isolate yourself from the chaos and noise, you should really have a relaxing trip to Isla Mujeres or Isla Cozumel. Here the only thing you will have to think about will be diving and snorkeling in beautiful crystal clear water. If you ask us, you should definitely visit a Mexican island before leaving! 
Take Advantage Of Free Concierge Service
As excellent to explore Tulum and its surroundings alone, you may need help figuring out where to start. To make the most of your money and time, contact Virginia and Kelly - two incredible Mexican girls living in Tulum for more than 15 years. They're familiar with the ins & outs of the Tulum town and hotel zone like the back of their hand! 
Since we arrived in Tulum 2 years ago, many adventures wouldn't have been possible without their help - they know literally everybody in Tulum and can perfectly organize every moment of your stay. Get the best tables, skip queues and get on the guest list of the coolest places in Tulum - this's only the beginning! 
They are ready to offer you guys FREE concierge service in Tulum for the time of your stay: take advantage of it, contact them on Whatsapp and live the best experience!
Get FREE Concierge Service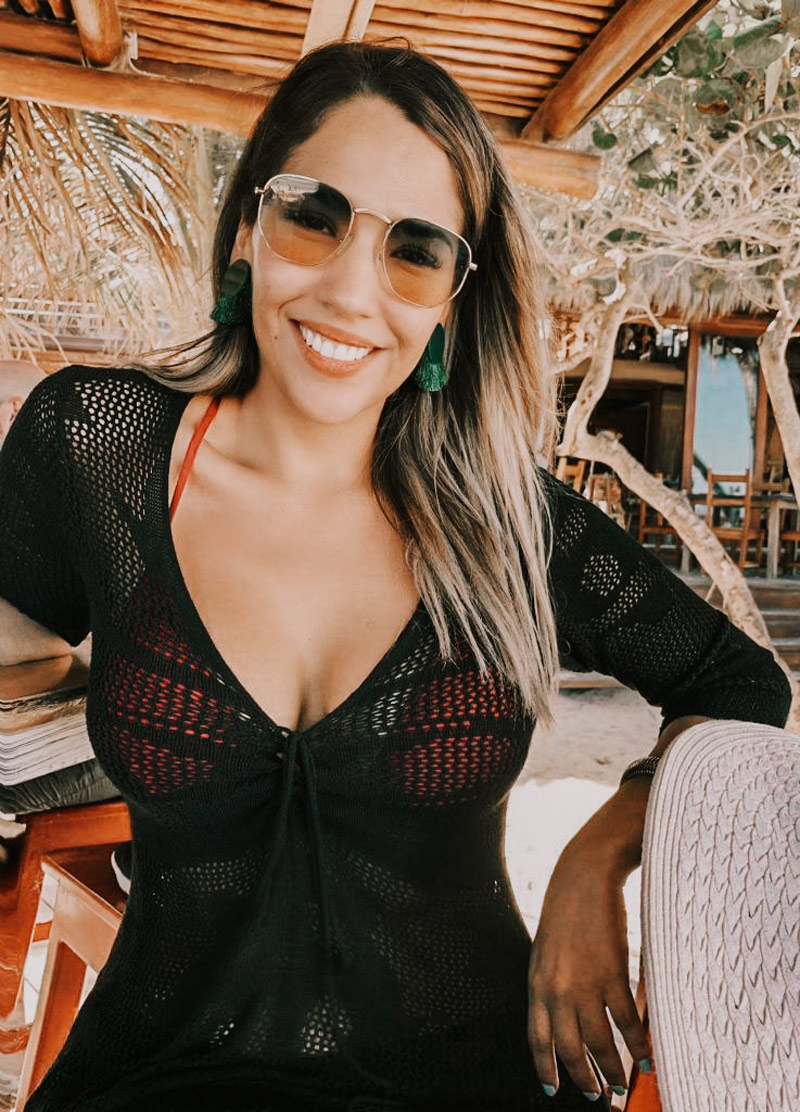 "Virginia Can't Wait To Make Your Stay Flawless"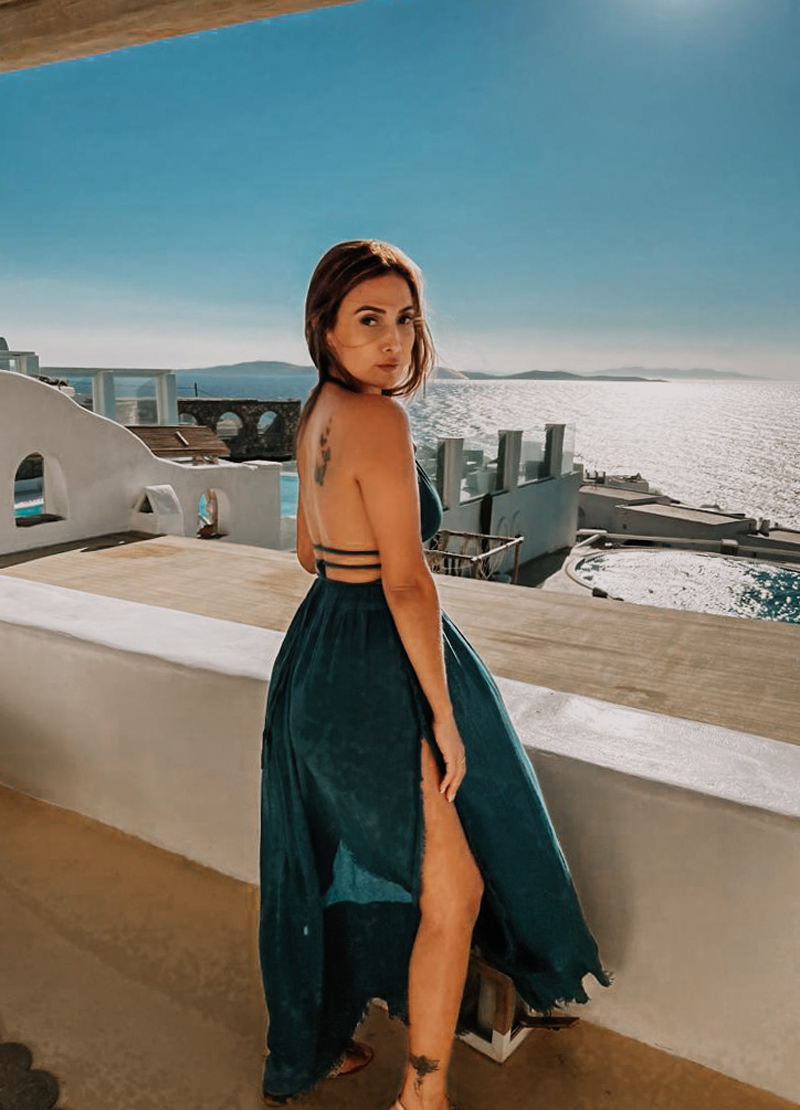 "Kelly Will Transform You In A Tulum Insider"
If you still have to book your hotel for your trip to Tulum, don't hesitate to check out our favorite hotels in Tulum town and beach. You will find hotels for every budget and you will know they are in a safe area. If you want to know more about the neighborhoods, we wrote a guide about each of them so that you will know exactly what to expect from any area of Tulum. In any case, forget about big hotels as you could find in Cancun or Playa del Carmen: here hotels are smaller and have a completely different vibe, as if you were in a boutique hotel. You will definitely love being pampered from the kind staff!
A mini tour through Tulum best 4 neighborhoods
Here are brief descriptions of four of Tulum's most popular neighborhoods and where is the best to stay:
Centro: This is the heart of Tulum, where the majority of the town's shops, restaurants, and bars are located. This area is perfect for those who want to be close to the action and experience the local culture. Centro is also home to Tulum's bus station and offers easy access to other parts of the Riviera Maya. Best for travelers who want to be close to the town center and experience the local culture.
Aldea Zama: This is a newer residential area in Tulum that's known for its upscale amenities and modern apartments and villas. Aldea Zama is located between the town center and the beach, making it an ideal location for those who want to be close to both. Best for travelers seeking a more upscale and modern atmosphere.
La Veleta: This is a quiet residential area in Tulum that's located just south of the town center. La Veleta is known for its beautiful homes, lush vegetation, and peaceful atmosphere. This area is great for those who want to be close to the town center but prefer a quieter location. Best for travelers seeking a tranquil and relaxing environment.
Tulum Beach: This area is located along the coast and is known for its stunning beaches, beach clubs, and upscale resorts. This area is perfect for those who want to spend their days lounging on the beach and soaking up the sun. Tulum Beach is located about 15 minutes from the town center by car or taxi. Best for travelers who want to be close to the beach and don't mind staying a bit further from the town center.
Ultimately, the best neighborhood to stay in Tulum depends on your personal preferences and travel style!
From budget to luxury accommodation in Tulum
Budget Accommodation:
Camping sites or hostels are the best options for budget travelers in Tulum.
Most campsites offer tents or hammocks with basic amenities like shared bathrooms and kitchens.
Hostels are also a popular option for budget travelers and offer dorm-style or private rooms with shared bathrooms.
Mid-Range Accommodation:
Tulum has a range of mid-range accommodation options, including hotels, boutique lodges, and guesthouses.
These options usually offer private rooms with en-suite bathrooms and basic amenities like air conditioning and Wi-Fi.
Mid-range accommodation can also include some additional amenities like swimming pools, breakfast, and on-site restaurants.
Luxury Accommodation:
Tulum has a range of luxury accommodation options, including beachfront resorts, villas, and eco-lodges.
Luxury accommodations offer a range of amenities, including private pools, spa services, gourmet dining options, and beach clubs.
These accommodations offer spacious and beautifully designed rooms with high-end amenities like air conditioning, flat-screen TVs, and luxurious linens.
Best restaurants in Tulum
We are foodies and if you love food like us, you will become crazy in Tulum. Restaurants are serving pretty high level dishes and you will discover many Mexican specialities you've never tried before! Street food is also very lively here, especially at night. If your stomach is delicate, prefer eating tacos without meat or fish, but all in all you shouldn't have any problems. Check out the maps of our favorite restaurants here below!
5 dishes of Yucatan and Caribbean cuisine to try in Tulum
Here are 5 dishes of Yucatan and Caribbean cuisine to try in Tulum:
Cochinita Pibil – This is a classic dish of Yucatan cuisine and is made with slow-roasted pork marinated in a blend of citrus juices, achiote, and other spices. The result is a tender and flavorful meat that is often served with tortillas, pickled onions, and habanero salsa.
Tacos al Pastor – While not originally from the Yucatan, these tacos have become a popular staple in the region. The pork is marinated in a blend of spices and pineapple juice, then roasted on a spit and sliced thinly for serving. The meat is often served in soft corn tortillas with chopped onions, cilantro, and pineapple.
Ceviche – Tulum's location on the Caribbean coast makes it a great place to try fresh seafood dishes like ceviche. This dish typically features raw fish or seafood that is marinated in lime juice and served with onions, tomatoes, and herbs. It's a refreshing and light dish that's perfect for hot days.
Relleno Negro – This dish is a unique blend of Mayan and Spanish influences and is made with a black paste made from charred chiles, spices, and other ingredients. The paste is then used to stuff turkey, chicken, or pork and is often served with rice and plantains.
Sopa de Lima – This is a classic soup from the Yucatan that is made with chicken broth, lime juice, and crispy tortilla strips. It's a comforting and flavorful soup that is perfect for cooler evenings.
These are just a few examples of the many delicious dishes you can try in Tulum. Don't be afraid to explore and try something new!
What Can I Expect From Tulum?
Tulum is a unique and exciting destination that offers something for everyone. Whether you're a nature lover, a foodie, or just looking for a relaxing beach vacation, Tulum has it all. You can expect to be amazed by the stunning beauty of the Caribbean coast, with its crystal-clear waters and soft white sand beaches. The town's bohemian vibe and eco-friendly mindset create a laid-back atmosphere that's perfect for unwinding and soaking up the sun.
Foodies will be in heaven, with an abundance of delicious cuisine that blends traditional Mexican dishes, Caribbean flavors, and international influences. You can expect to indulge in fresh seafood, tropical fruits, and mouth-watering street food.
If you're an adventurer at heart, Tulum has plenty to offer as well. You can explore ancient Mayan ruins, hike through the jungle, or go snorkeling and diving in some of the most beautiful waters in the world. And if you're looking for a break from the hustle and bustle, you can retreat to one of the town's many yoga and meditation studios.
Overall, Tulum is a destination that's sure to leave a lasting impression on anyone who visits. With its natural beauty, rich culture, and relaxed atmosphere, you can expect to have an unforgettable travel experience in Tulum 😉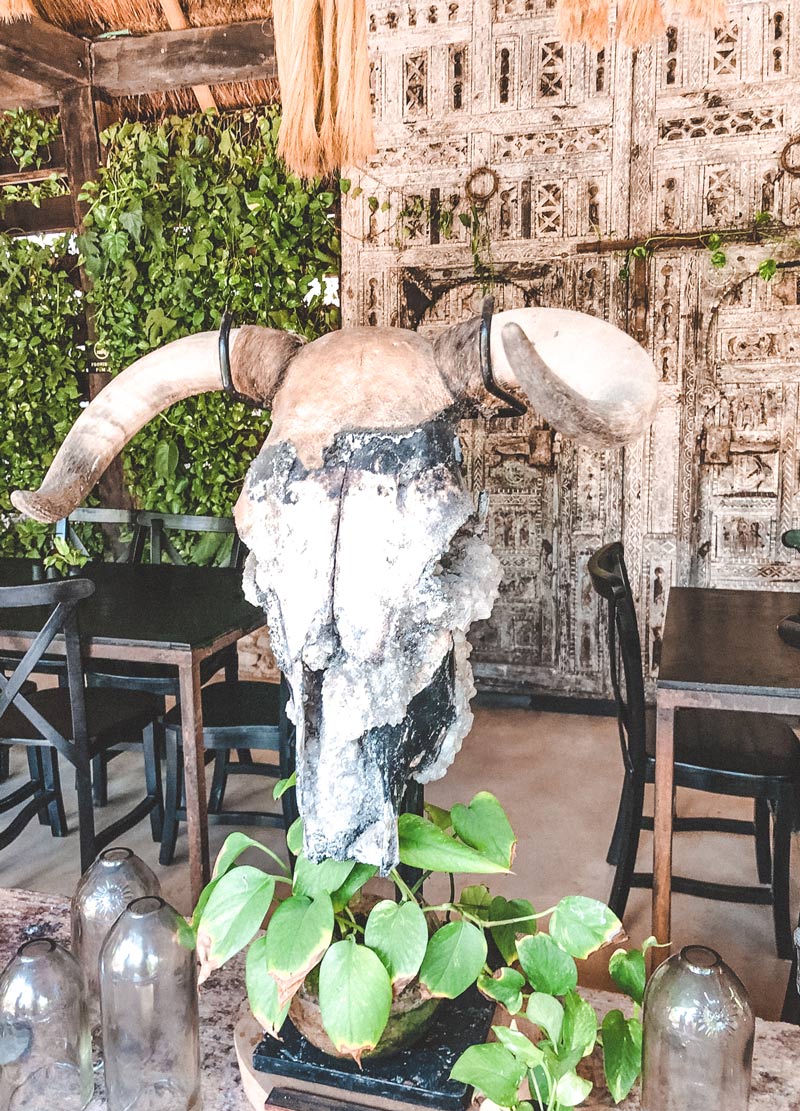 "Decoration In Hotel Bardo"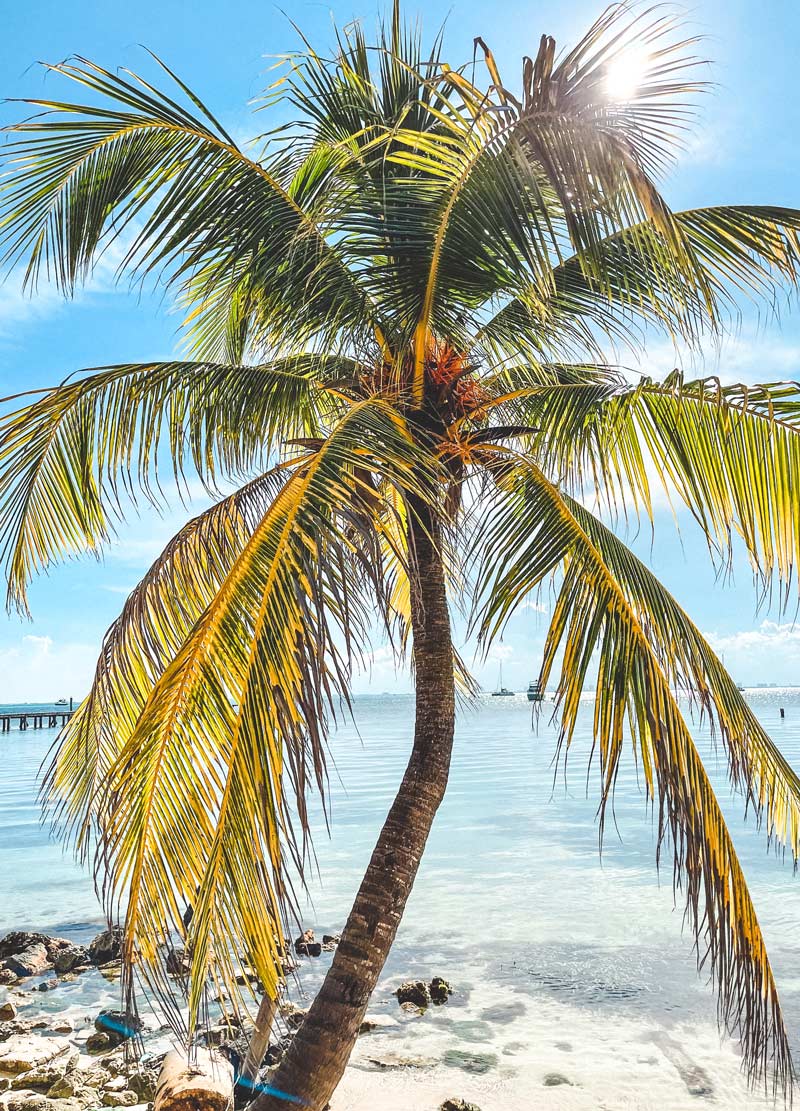 "Only Sea And Palmtrees"
We hope this small guide of where Tulum is helped you have a more clear idea of your next trip destination. Don't forget to tell us below what you would like us to write about: we can't wait to read your suggestions!
Top Events to Make Your Trip Unforgettable
MATTHIAS TANZMANN @BONBONNIERE TULUM
Join us for an unforgettable night of electrifying beats and pulsating rhythms with the incredible Matthias Tanzmann live at Bonbonniere Tulum! Get ready to dance the night away on Saturday, June 3rd, starting at 10 pm and going till late. With his signature blend of deep house and techno, Matthias Tanzmann will take you on a musical journey like no other. Prepare to lose yourself in the captivating sounds and immerse yourself in the vibrant atmosphere of Bonbonniere Tulum. Don't miss out on this extraordinary experience as we set the stage for an exceptional night of music and memories. Get your dancing shoes ready and mark your calendars for an unforgettable encounter with one of the finest DJs in the industry, Matthias Tanzmann!
🎟️ TICKETS
● Tier 1 - The entrance fee is of $1000 MXN ($55 USD)
Limited availability
Ready to join us? Get your tickets now! Early bird tickets are $55 USD (only 20 tickets available left).
Hurry – spots are filling up fast! 🙀 We can't wait to see you there!
Top Parties and Club Events
1st June - VAGALUME SESSIONS PALOMA @VAGALUME
1st June - NIÑO ARBOL @MIA TULUM
2nd June - BASTIDAS @BONBONNIERE TULUM
3rd June - THE FULL MOON @Papaya Playa Project
3rd June - MATTHIAS TANZMANN @BONBONNIERE TULUM
4th June - 8KAYS [AFTERLIFE] @MIA TULUM
4th June - VAGALUME SUNDAZE MALANDRA JR @VAGALUME
8th June - EDU IMBERNON @MIA TULUM
9th June - HARVY VALENCIA @BONBINNIERE TULUM
10th June - MOONGAZE @Papaya Playa Project
10th June - BASTIAN BUX @BONBONNIERE TULUM
11th June - SONA BEACH PARTY @MIA TULUM
11th June - VAGALUME SUNDAZE JAALEX @VAGALUME
17th June - SOEL [AFTERLIFE] @MIA TULUM
17th June - STARVAULT @Papaya Playa Project
24th June - ASTROBEAT @Papaya Playa Project
25th June - VAGALUME SUNDAZE OSCAR L @VAGALUME
1st July - THE FULL MOON @Papaya Playa Project
8th July - ASTROBEAT @Papaya Playa Project
15th July - MOONGAZE @Papaya Playa Project
22nd July - STARVAULT @Papaya Playa Project
29th July - THE FULL MOON @Papaya Playa Project
18th August - MECA @BONBONNIERE TULUM
25th August - GUYJ @BONBONNIERE TULUM
13th March - LOCUS Tulum 2024